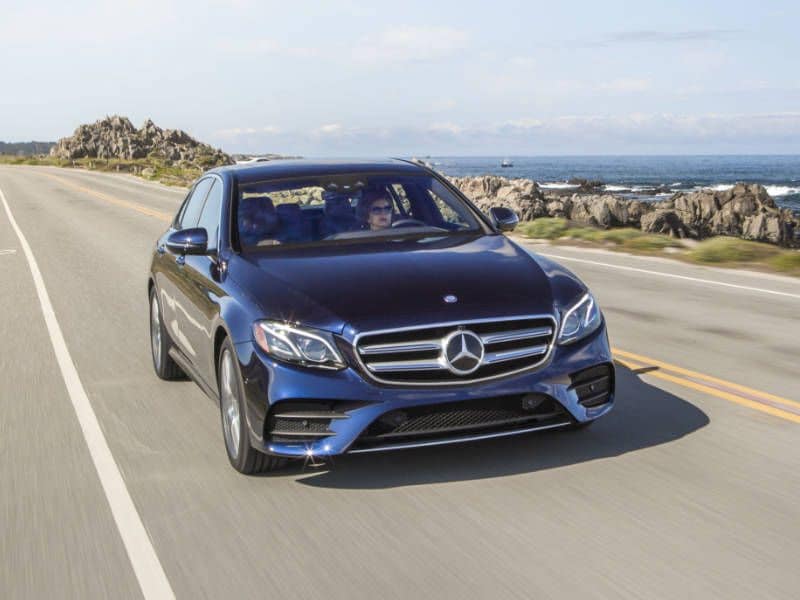 2017 Mercedes Benz E400 front three quarter ・ Photo by Mercedes-Benz
You have your eye on a stunning new luxury car — its gorgeous styling, sumptuous interior, phenomenal driving experience, and amazing features have captivated you. But then you look at the sticker price, and you just can't justify the expense.
The next best thing is a certified pre-owned luxury car. A certified pre-owned (CPO) vehicle must meet the manufacturer's quality standards — based on an extensive inspection and careful reconditioning — and comes backed with a factory warranty. And like a new car, you can often arrange generous financing terms or even a lease. If you're interested in getting a luxury car without a luxury price tag, check out these 10 great certified pre-owned cars that represent a variety of shapes, sizes, and price points.
2017 Audi A3
If you're looking for a classy, fun-to-drive, and high-tech luxury car, the Audi A3 is a stellar choice for buyers who don't need an extra-spacious cabin. This subcompact sedan and convertible has the same styling and available Quattro all-wheel drive system as larger Audis, but for less money. And starting with the 2017 model year, you can even get the company's "Virtual Cockpit" — a gorgeous digital gauge cluster that can turn into a Google Maps satellite view.
The current-generation A3 has been on sale since 2015, and we found certified pre-owned 2015 sedans for as little as $16,000. Upgrading to a well-equipped 2017 model with the optional Virtual Cockpit raises the price to about $28,000, and it's worth it if you can justify the expense. CPO Audis are covered under the factory warranty for up to five years from the vehicle's original purchase, with a minimum of one year after the CPO purchase, and unlimited miles.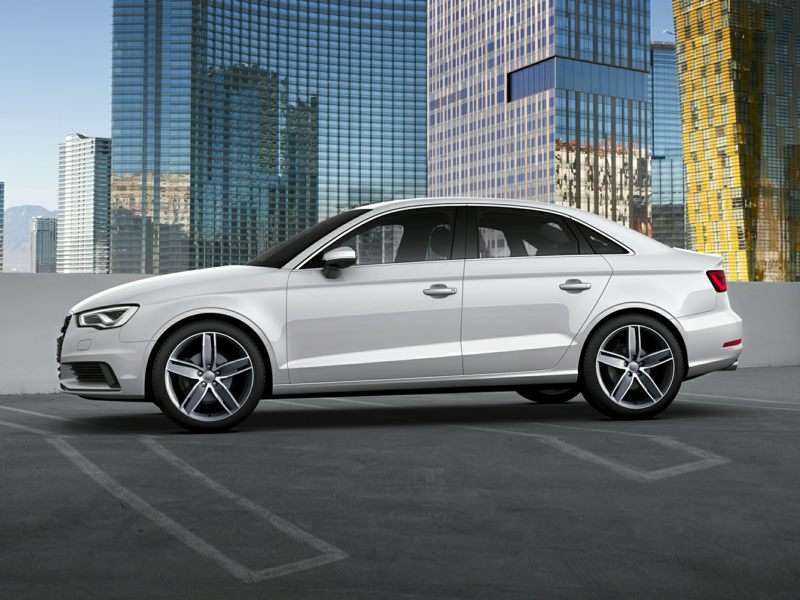 Photo by Audi
2016 BMW 4 Series
The classic compact BMW is the 3 Series sedan, but our favorite is the mechanically related 4 Series. Not only can you get a sleek two-door coupe or convertible, but you can also get a five-door liftback called the Gran Coupe that brings extra cargo space and versatility to a sedan-like body style. Like the 3 Series, the 4 Series offers exquisitely composed driving dynamics and a choice of engines ranging from peppy and fuel-efficient to blisteringly powerful.
The 4 Series two-doors debuted for 2015 and the Gran Coupe followed the next year. We think it's worth getting the 2016 for extra warranty coverage; on certified pre-owned BMWs, the company provides an extra year of warranty (with unlimited miles) after the expiration of its four-year factory warranty. Expect to spend about $26,000 for a 2016 428i Gran Coupe.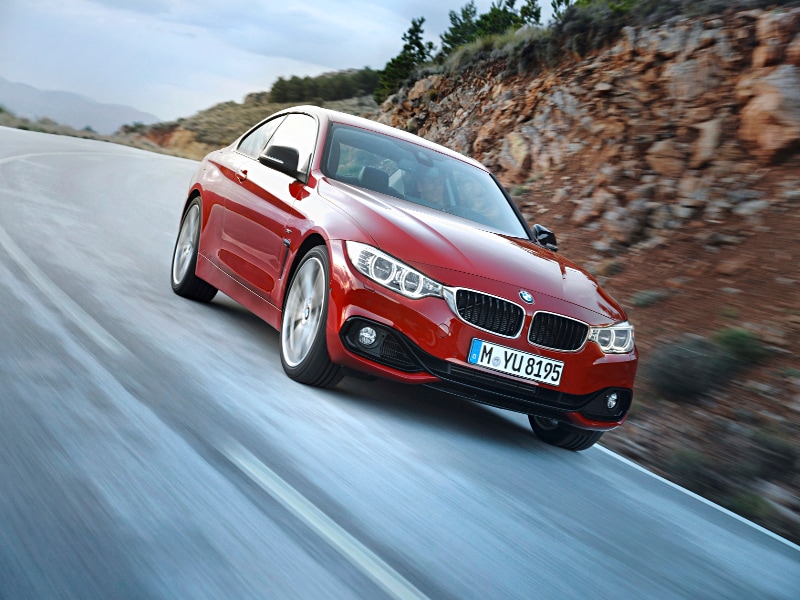 Photo by BMW
2016 Cadillac CTS
The best luxury cars offer spacious interiors along with great driving experiences. That's definitely the case with the Cadillac CTS, a brilliantly agile mid-size sports sedan from a source you might not expect. It's great news for used-car buyers when a great car can fly under the radar, because it means you can buy them for less money than the big-name competitors. The CTS costs less than some smaller European luxury cars, all while offering the handling responses of a smaller vehicle.
Certified pre-owned Cadillacs get a warranty of six years or 100,000 miles from their original purchase date. The 2016 CTS balances affordable prices against a decent amount of remaining warranty coverage, but you can get the same great-driving CTS starting from the 2014 model year. You should be able to get a 2016 CTS for as little as $25,000.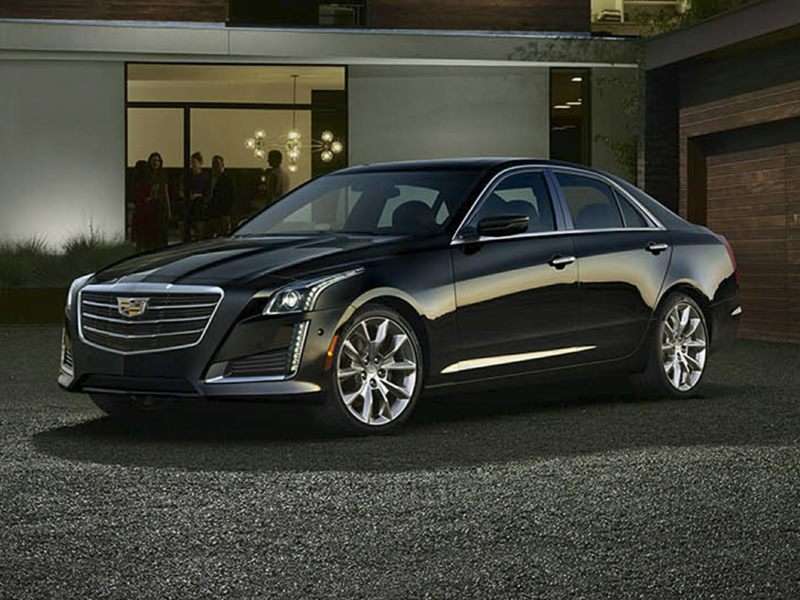 Photo by Cadillac
2017 Mercedes-Benz E-Class
A brand-new mid-size Mercedes-Benz E-Class checks all the boxes for luxury — it looks and feels like no expense was spared in creating its stunning interior or famously vault-like driving experience. The latest models also burst with technology, including large digital displays and advanced safety features, and its advanced powertrains include a fuel-sipping four-cylinder engine or a delightfully powerful V6 and V8.
Fortunately, you can get all those benefits in a certified pre-owned E-Class going back as far as 2017 for the sedan or station wagon, or 2018 for the coupe and convertible. You can spend about $37,000 for a CPO 2017 E 300 sedan, and the Mercedes program provides one year and unlimited miles of warranty coverage plus any remaining new-car warranty.
Photo by Mercedes-Benz
2016 Audi A7
If you're looking for a balance of style and utility in your luxury car, the Audi A7 can fit the bill. This mid-size car is a member of the "four-door coupe" class, with a sleeker, more hunkered-down stance than you'd find in an ordinary sedan. But its liftback configuration results in tons of trunk space and cargo flexibility. The A7 is also a delight to drive.
The A7 debuted back in 2012, but we'd pick the 2016 model for its upgraded powertrains and updated in-cabin technology. Prices should still be below $40,000 for a certified pre-owned 2016 A7, which receives the balance of five years of warranty protection from the vehicle's original purchase date.
Photo by Audi
2015 Lexus LS 460
Some buyers demand sporty performance from their luxury cars. But if your priority is tons of space, an extra-smooth ride, and the silky smoothness of an old-school V8 engine, look no further than a certified pre-owned Lexus LS 460 full-size sedan. The current-generation LS, introduced in 2018, has sportier styling and handling and a turbocharged V6 engine — but if comfort and refinement mean more to you than the latest technology and thriftier fuel efficiency, you'll prefer the older model.
It's a great value, too. We found certified pre-owned 2015 LS 460s in the low $40,000s. CPO Lexus vehicles receive two years or unlimited miles of warranty on top of any remaining factory coverage.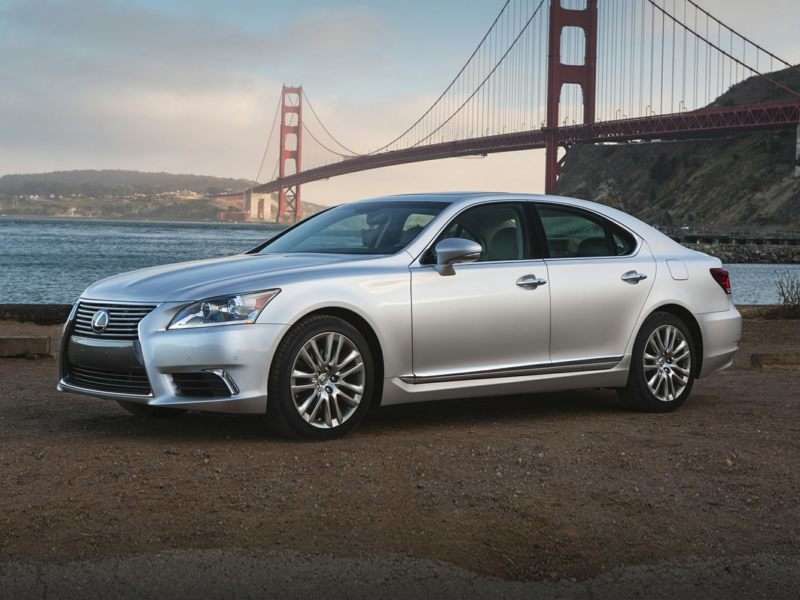 Photo by Lexus
2016 Tesla Model S
The Tesla Model 3 is making headlines as a relatively affordable electric car with premium technology, great driving dynamics, and a long range per charge. But you can get those same qualities — plus a much roomier interior — from a certified pre-owned Tesla Model S.
We found 2016 Model S vehicles in the low $40,000s, most featuring a four-year warranty with 50,000 miles of coverage for most defects and unlimited miles for battery and drivetrain issues. While electric batteries' range diminishes over time, bargain hunters who don't need to take long road trips could also consider a 2013 Model S for less than $35,000 with a two-year warranty.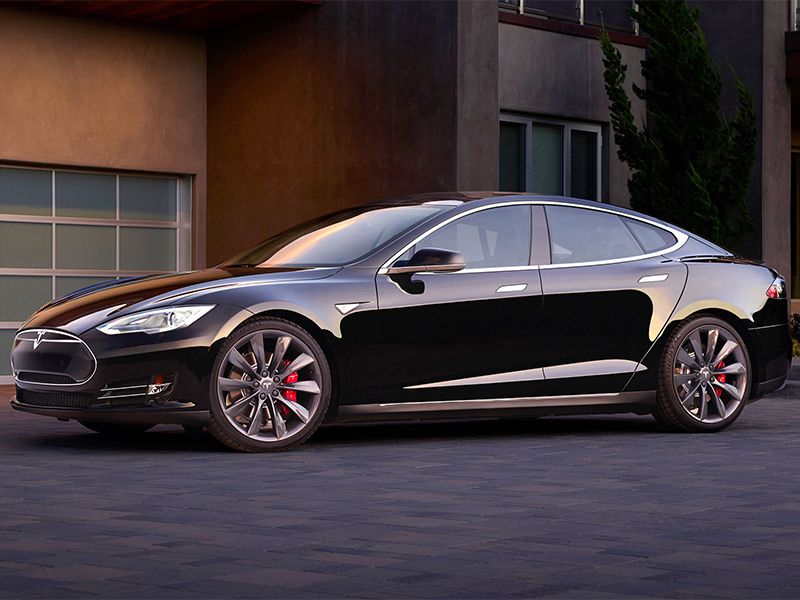 Photo by Tesla
2013 Mercedes-Benz SL
While the best-selling luxury cars tend to be sensible four-door sedans, Mercedes-Benz has a long history of providing maximum comfort and refinement from its SL convertible. Long, low, and impeccably detailed, the big two-seat SL is a styling statement that also lets you glide along comfortably — it's nothing like the stiff-riding performance convertibles that seem more at home on a racetrack. Of course, Mercedes also gives you lusty engines and composed handling.
We're comfortable going all the way back to 2013 to get this glorious machine for a great price through the Mercedes-Benz certified pre-owned program. You can get a CPO V8-powered 2013 SL 550 for less than $50,000, with one year and unlimited miles of warranty coverage.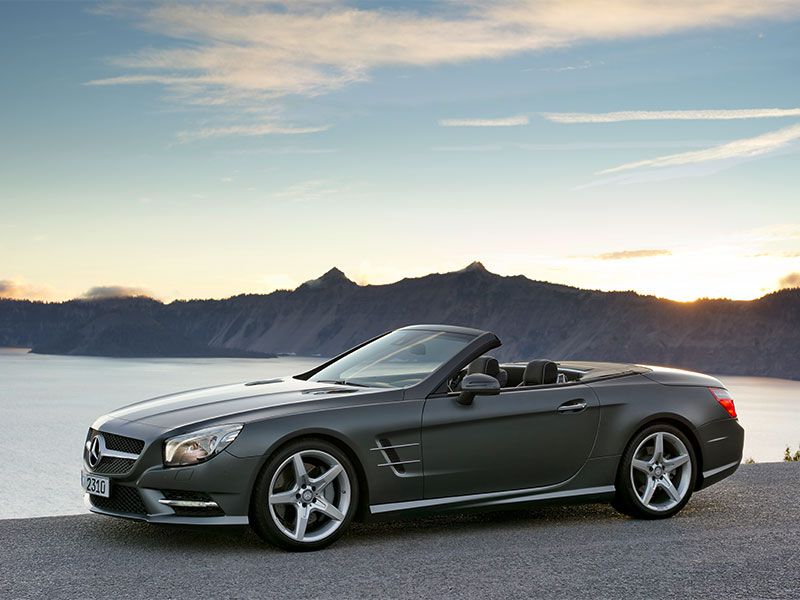 Photo by Mercedes-Benz
2017 Porsche Panamera
If owning a Porsche has always been on your bucket list but you couldn't stomach the expense or impracticality of a classic 911, a certified pre-owned Porsche Panamera is the solution. It delivers the razor-sharp precision and thrilling overall driving experience of a classic Porsche coupe, but it's instead a useful four-door, four-seat liftback with respectable room for passengers and cargo.
The current-generation Panamera arrived as a 2017 model, and it's our pick for its upgraded interior decor and enhanced technology. You'll find a gem for less than $80,000. However, because Porsche provides its two-year/unlimited-mileage CPO coverage to unusually old vehicles, folks on a tighter budget could instead spend as little as $37,000 on a 2010 model.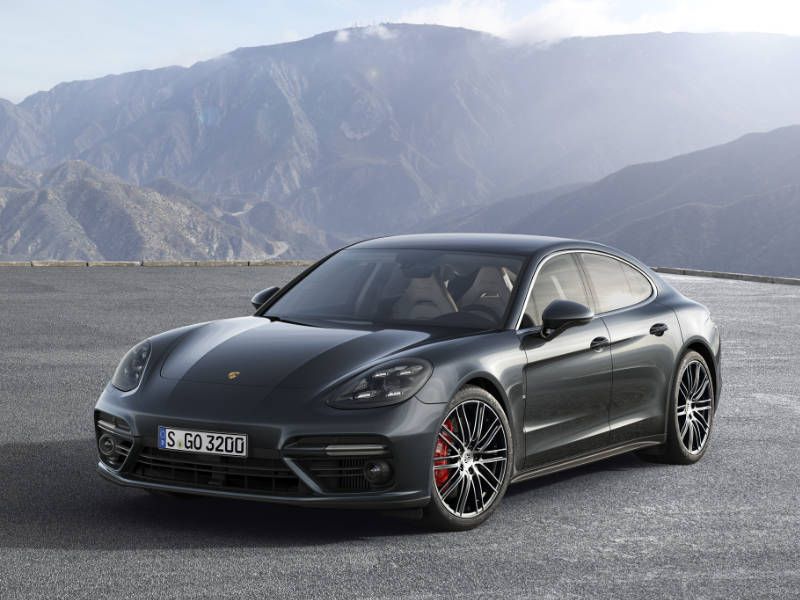 Photo by Porsche
2015 Bentley Flying Spur
While Lexuses and BMWs are everywhere, not just anyone drives a Bentley. That's not surprising, given that a new Flying Spur sedan costs $200,000-plus — and that's without options. If your luxury budget doesn't extend quite that far, or if you're trying to set aside a couple years of salary for your chauffeur, you can get a certified pre-owned model for less than half that price.
We found certified pre-owned 2015 Flying Spurs for not much more than $100,000. These cars come with one year or unlimited miles of warranty coverage, along with perks that include a guided tour of Bentley's factory in Cheshire, England, plus invitations to exclusive events at Bentley dealers.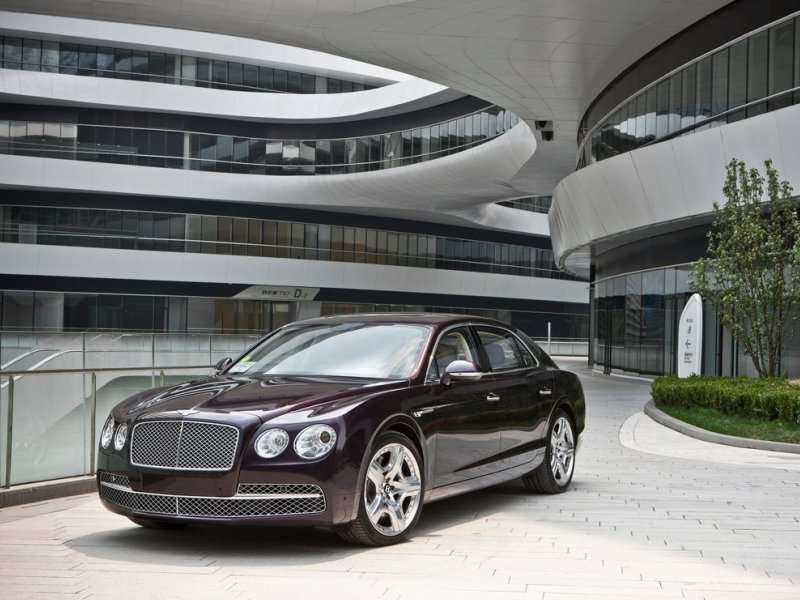 Photo by Bentley