2016 Chevrolet SS rear view on road
The need for speed never wanes. We may make poor decisions in the quest for a thrill when we're younger, but even as we age, the craving for fun continues. Fortunately, later in life, our bank accounts grant access to faster and more impressive automobiles. Perhaps the hardest part about picking our vehicular punches is finding a car with practicality and performance.
If a 2-door, 2-seater sports car won't do for those with families, the speedy car options are still intriguing. Crossovers may be based on car platforms, and performance variants may be flooding dealers, but sedans with lower centers of gravity are still more entertaining to drive. The average family man or woman can't afford the highest performing, most expensive sedans like the BMW M5 or Mercedes-AMG E63, but that doesn't mean there aren't great choices out there.
Here's our list of the 10 fastest sedans under $50,000.
Subaru WRX STI
If four doors and blistering acceleration are your criteria for sedan shopping, look no further than Subaru's WRX STI. Not only is the Subie faster than most sedans on sale, it's faster than many sports cars. Recently redesigned in 2015, the Subaru WRX STI retains its rally-bred heritage, but can tear up any paved road you put beneath its tires.
The WRX STI is powered by a turbocharged 2.5-liter 4-cylinder engine that delivers 305 horsepower and 290 lb-ft of torque. The only transmission available is a 6-speed and the only drivetrain option is Subaru's spectacular all-wheel drive system with three mechanical differentials. Not many cars can keep up with a Subaru WRX STI in a straight line, and only a handful can match it in the corners. The 2016 Subaru WRX STI also is priced thousands less than our $50k cap at $34,695.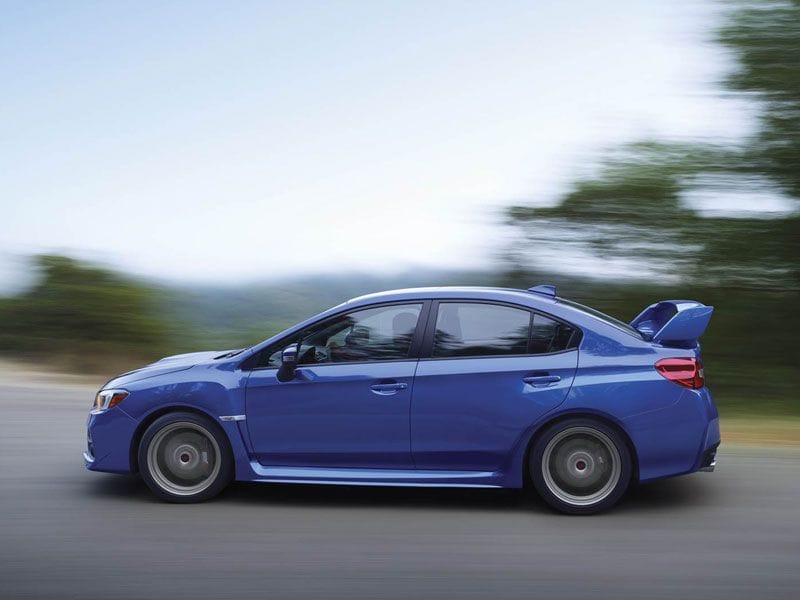 Photo by Subaru
Cadillac ATS Sedan
Cadillac may still struggle to shrug off its elderly buyer stigma, but it certainly hasn't had trouble shoving performance under the bodywork of its latest cars. While we'd love to put the 640 horsepower CTS-V or 455 horsepower ATS-V sedan on this list of 10 fastest sedans under $50k, both V-Performance models miss the price tag mark.
Instead, the standard ATS sedan with its available 3.6-liter V6 tuned to 335 horsepower will have to do. Paired with a 6-speed manual or 8-speed automatic and GM's acclaimed Magnetic Ride Control, the ATS throws the challenge flag at its German rivals.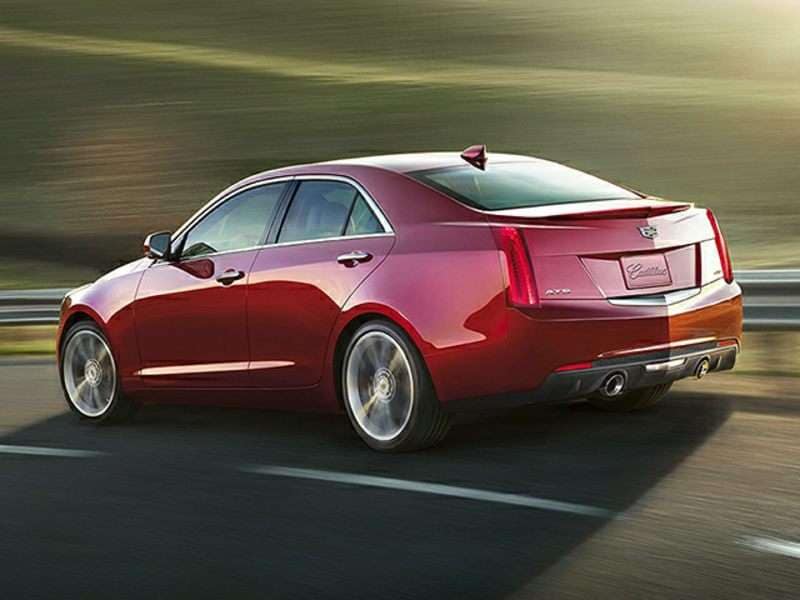 Audi S4
Yes, Audi's S4 sport sedan has been on sale in its current form for some time, and yes, its twin-turbocharged V6 is less dramatic than supercharged and V8 predecessors, but its 3.0-liter twin-turbocharged V6 still packs 333 horsepower and 325 lb-ft of torque wallop. Equally impressive is its quattro all-wheel drive system which maintains a vice grip on the pavement even during high-velocity cornering.
Audi S4 buyers can choose from either a 6-speed manual or 8-speed dual-clutch automated manual gearbox with an optional torque-vectoring rear differential. 0 to 60 mph takes just 4.7 seconds and an electronic governor will cap the S4 at 155 mph. The S4 just nudges under our $50,000 price limit at $49,200.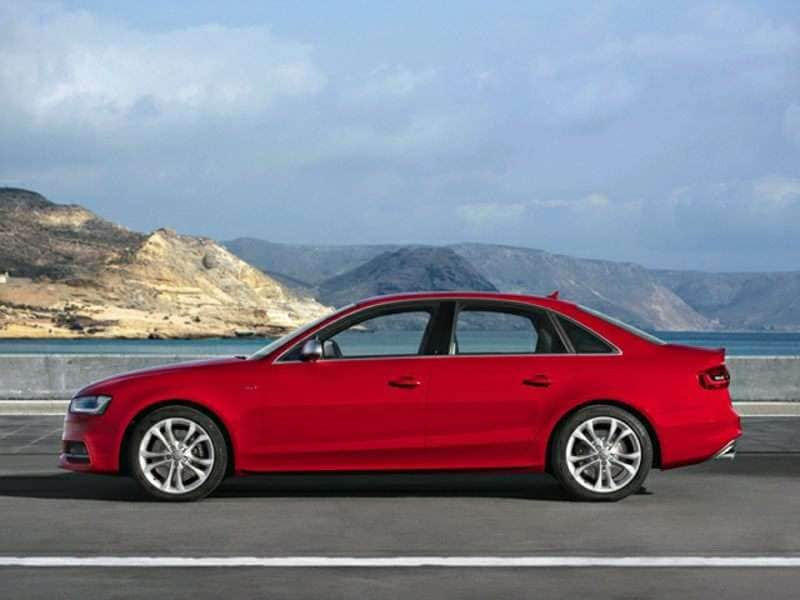 Jaguar XE 35t
Jaguar is back in a big way, with a completely revamped sedan and crossover lineup. Its volume seller will undoubtedly be the brand new XE sedan, and the range-topping 35t will do a superb job at upholding the performance mantle. Powering the compact sport sedan is a supercharged 3.0-liter V6 making 340 horsepower and 332 lb-ft of torque. Those figures are more impressive than rivals like the BMW 3 Series, Cadillac ATS, and Audi A4.
Speed is more than power, though, and Jag's XE makes it on our list of 10 fastest sedans under $50k for its handling prowess as much as its output. Its relatively light curb weight due in part to aluminum construction, smooth-shifting 8-speed automatic, and excellent suspension tuning give the XE a stellar performance package. Prices for the XE 35t start at $42,695.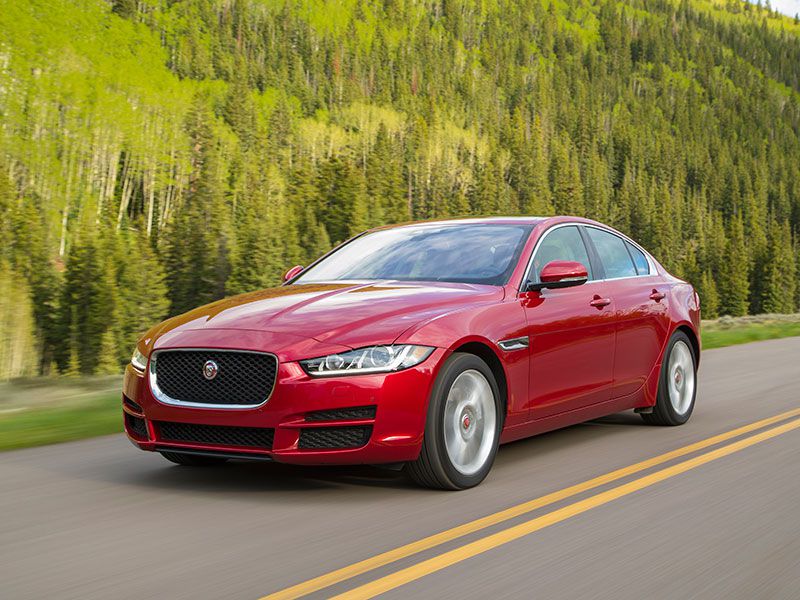 Photo by Jaguar Land Rover
Ford Fusion Sport
A Ford Fusion on a list of fastest sedans? Yes. The 2017 Fusion Sport is no ordinary midsize sedan. Without the SHO performance badge available on any Ford models, Ford has slyly inserted a thrilling 4-door into the more modest end of its lineup. We'll still leave the outright thrills to Ford Performance cars like the Mustang GT350 and Focus RS, but don't overlook this Fusion Sport.
Using the potent 2.7-liter turbocharged V6 from the F-150 and Edge Sport, Ford's quickest sedan produces 325 horsepower and an incredible 380 lb-ft of torque. No manual option available here, but the 6-speed auto gearbox is a good complement to a torque powertrain. All-wheel drive helps apply the power and adaptive dampers help keep the Fusion Sport flat in corners. Prices start at $33,475.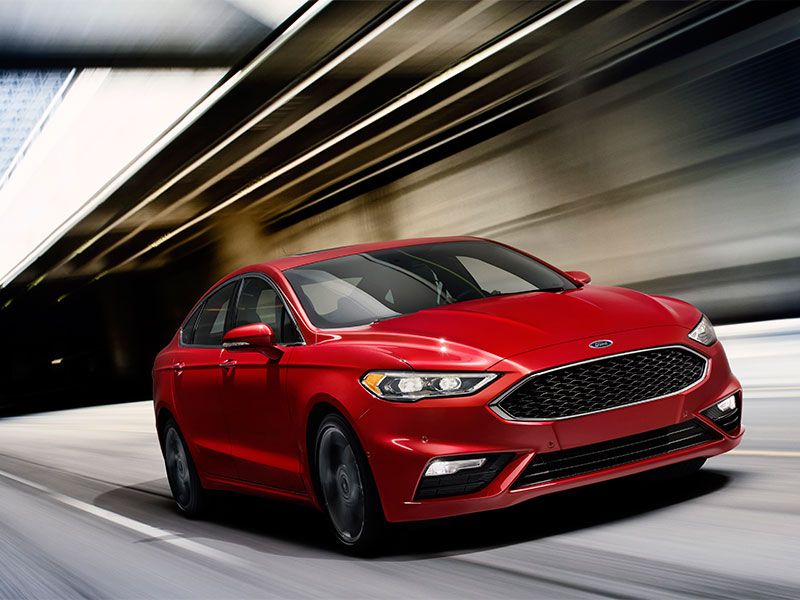 Photo by Ford
BMW 340i
No longer the BMW 335i, Bavaria's carmaker has returned to 328 and 340 badging for its sport sedan. More than just a name change, the 2016 BMW 340i packs more power, more torque, and a more sophisticated driving experience to return fire on its German, Japanese, and American rivals.
On hand is BMW's new 3.0-liter twin-turbocharged inline 6-cylinder, delivering 320 horsepower and 332 lb-ft of torque to the rear wheels or all four wheels (in xDrive guise). Standard transmission lovers will love the available 6-speed manual, but if you really want to best setup from one of our 10 fastest sedans under $50k, the 8-speed automatic is quicker to 60 mph. Buyers can add on a track handling package and performance exhaust for even more fun. Prices for the 2016 BMW 340i start at $45,800.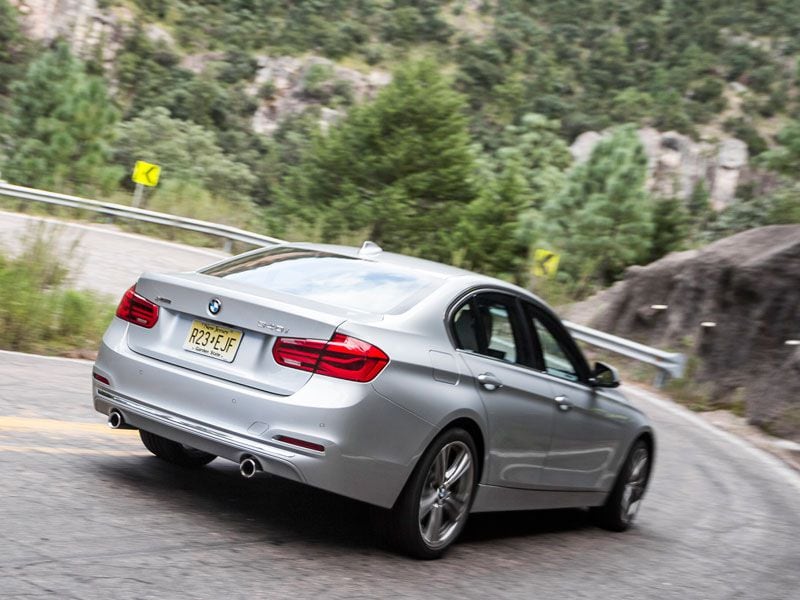 Chevrolet SS
Whatever you do, don't call it a Chevy Malibu. Perhaps the best sleeper sedan made in the last 10 years, the Chevrolet SS is one thumping fast car wrapped in a subtle package. Our second U.S.-made entry in this roundup of 10 fastest sedans under $50k may not sell in huge numbers, but it keeps up with cars costing far more.
Powering the SS is a 6.2-liter V8 making 415 horsepower and 415 lb-ft of torque. The major motor is connected to a 6-speed manual or 6-speed automatic transmission and powers the rear wheels exclusively. Holding all that power in check is a set of Brembo brakes and Chevy's stellar Magnetic Ride Control. Prices for the Chevrolet SS start at $46,575.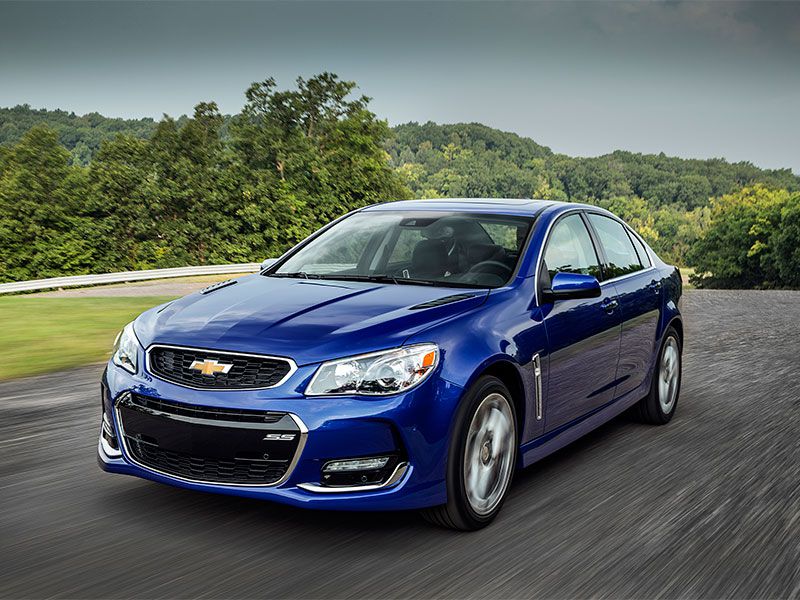 Photo by Chevrolet
Mercedes-AMG CLA45 4MATIC
What do you get when you mate a subcompact luxury car with the most powerful turbocharged 4-cylinder on sale? The Mercedes-AMG CLA45 4MATIC is a ridiculous thing. Mercedes-Benz offers its 4-door coupe styling with AMG performance tuning in larger models, but the CLA45 is the only option under $50k.
Output for the CLA45 is rated at 375 horsepower and 332 lb-ft of torque. For reference, that's more power than BMW's M2. Its turbo 4 is mated to a 7-speed dual-clutch transmission and delivers grunt to all four wheels. Though the CLA isn't the most refined luxury car, it's a kick in the pants for a relative bargain. Prices start at $49,500.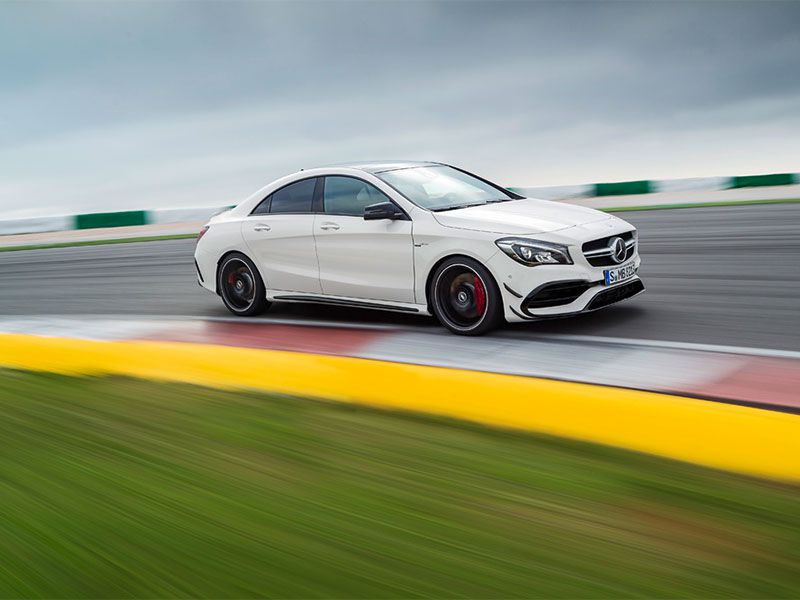 Dodge Charger R/T Scat Pack
Giving the Chevrolet SS a real run for its money as the most ludicrous 4-door on our list of 10 fastest sedans under $50k, the Dodge Charger R/T Scat Pack makes mountains of power is a big, comfortable 5-seater. Unlike the SS, however, the R/T makes no attempts to hide its muscles. Powering the Scat Pack Charger is a 6.4-liter HEMI V8 making 485 horsepower and 475 lb-ft of torque, served up via an 8-speed automatic transmission. The rear wheels are left to tame the monstrous engine, but burning out in a 5,000-pound sedan is one exciting way to spend an afternoon. Prices for the Dodge Charger R/T Scat Pack start at a very reasonable $39,995.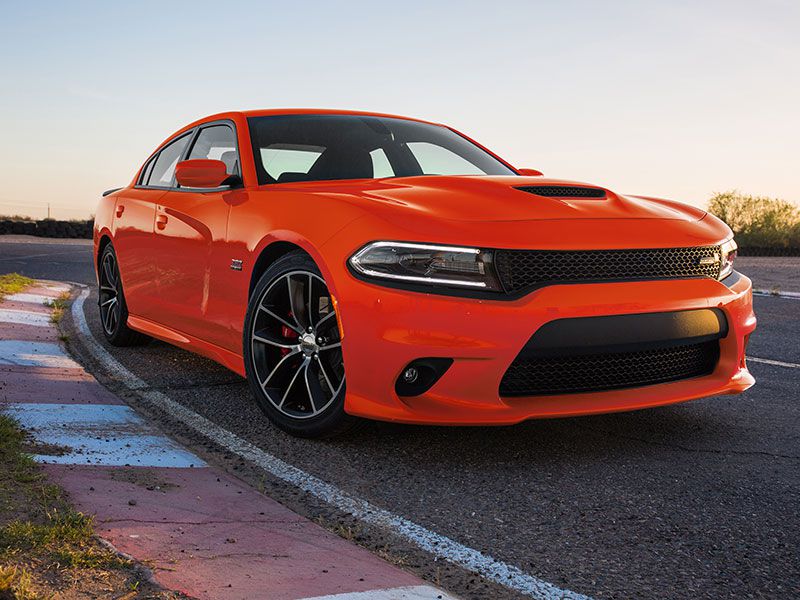 Photo by Dodge
Infiniti Q50 Red Sport 400
Japan bookends this list of 10 fastest sedans under $50k with the Infiniti Q50 Red Sport. Though the Q50 may not be the most rewarding sedan to drive thanks to a drive-by-wire steering system, it still hauls in a straight line and is impressively agile in corners. Now the luxury wing of Nissan has boosted power from its new V6 and dubbed the resulting trim Red Sport. The new range-topping Q50 Red Sport 400 model starts at $48,855 for the rear-wheel-drive model and $50,855 when equipped with all-wheel drive. Both come standard with Infiniti's new 3.0-liter twin-turbo V6 engine that makes 400 horsepower and 350 lb-ft of torque. Other performance hardware includes an adaptive suspension, 19-inch wheels, and a 7-speed automatic transmission.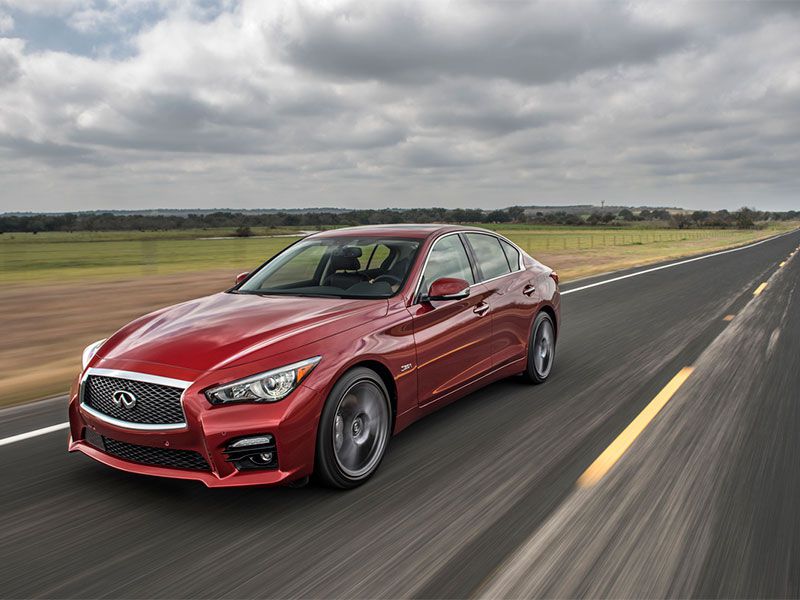 Photo by Infiniti