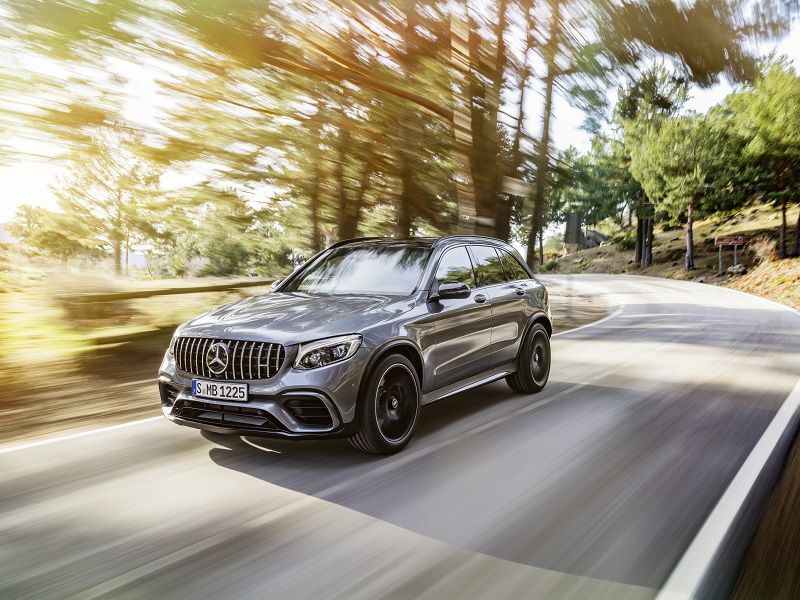 2018 Mercedes AMG GLC63 Grey Driving Front Quarter ・ Photo by Mercedes-AMG
In the modern era, performance and luxury have come to be inseparable. At the same time, the SUV has become the vehicle of choice for most people. So naturally, the best-performing SUVs also are those that offer the highest levels of luxury. With the booming global economy, every automaker is competing to bring you the best in power and advanced features.
To help you sort through the tremendous range of options, here are 10 of the fastest luxury SUVs on the market for 2019. These options range from coupe-like crossovers to some of the biggest body-on-frame traditional SUVs you can buy. These vehicles offer world-class performance as well as top-tier comfort, and they're available for purchase today.
2019 Bentley Bentayga W12
Let's start out with one of the strongest SUVs available anywhere. The midsize 2019 Bentley Bentayga W12 offers breathtaking performance from its 6.0-liter, 600-hp, turbocharged 12-cylinder engine. This SUV will get you from 0-60 in just 3.5 seconds, or about the same time as a Lamborghini Murcielago, and has a top speed of 187 MPH.
The Bentayga W12 retails at $229,100, but you can plus it up even further with the Mulliner package. At $298,000, the Mulliner comes with quilted leather seats in your choice of 15 different colors. You even can order a $32,000 refrigerated picnic kit, or a bottle cooler designed to keep champagne at the perfect temperature. The bottle cooler option comes with two handcrafted Cumbria Crystal flute glasses.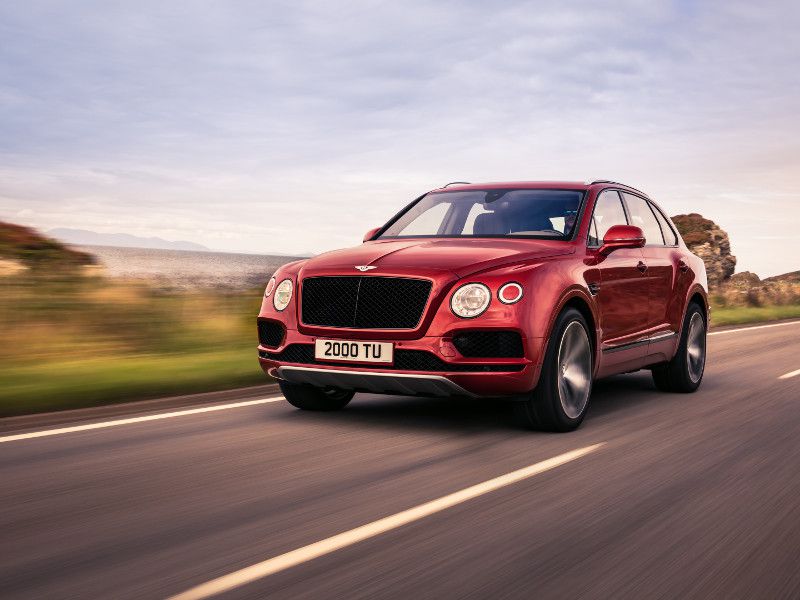 Photo by Bentley
2019 Jeep Grand Cherokee Trackhawk
Jeep normally is not considered a luxury brand, but the available 2019 Jeep Grand Cherokee Trackhawk is a notable exception. This midsize SUV carries the same 707-hp supercharged 6.2-liter V8 engine as the scary-fast Dodge Challenger Hellcat. This SUV will get to 60 MPH in just 3.5 seconds, and then its Brembo brake system will stop the Trackhawk again in less than 168 feet.
Inside the Trackhawk, you'll get leather and suede perforated sport seats for ventilation, Jeep's best technology package, and an all-digital dash. The Trackhawk is far from the most luxurious rigs you can buy, but it also retails at $86,650. That places the Trackhawk among the most affordable luxury-performance SUVs on the market, keeping it within reach of more buyers.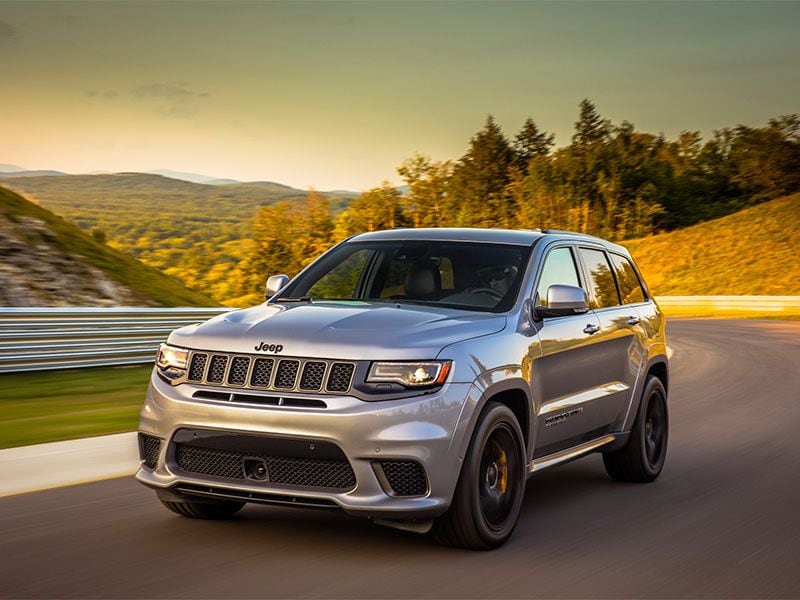 Photo by Jeep
2019 Jaguar I-PACE
This is the debut year for the 2019 Jaguar I-PACE all-electric crossover. This compact luxury SUV offers 516 lb-ft of torque from its two electric motors. The Jaguar single-speed driveline delivers linear acceleration from a standing start to a top speed of 124 MPH. The I-PACE 0-60 is measured at 4.5 seconds, and the range on a full charge is an EPA-estimated 234 miles.
Inside, the $85,900 I-PACE looks like something out of science fiction. There's a 10-inch touchscreen mounted high on the dash for navigation and infotainment, and a smaller screen lower down for climate and vehicle controls. The front seats are a new thin-shell design upholstered in red leather. The seats offer complete adjustability, excellent support, and are both heated and ventilated.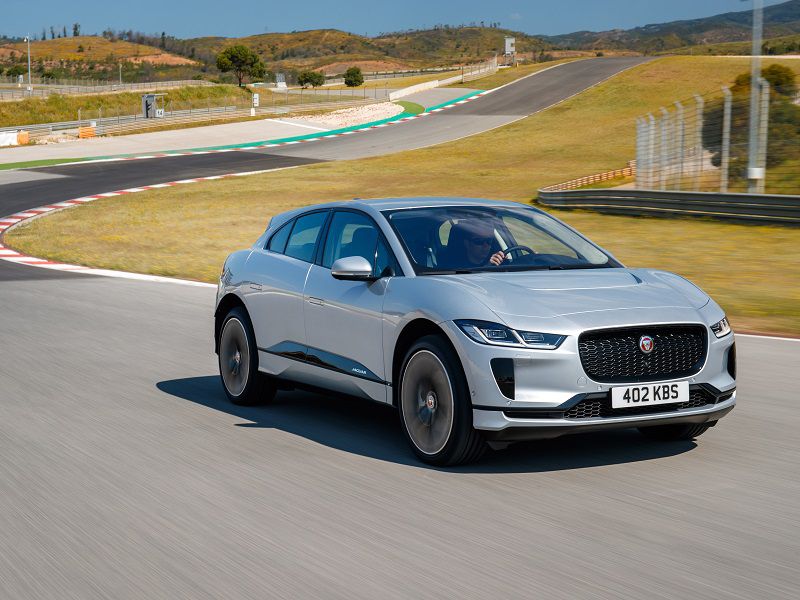 Photo by Jaguar
2019 Cadillac Escalade ESV
If you want a big traditional SUV, the eight-passenger 2019 Cadillac Escalade ESV is the vehicle you've been seeking. Built on an extended wheelbase frame, this luxury rig is powered by Cadillac's EcoTec 6.2-liter V8 engine, which is good for 420 hp. That engine will push the Escalade to 60 MPH in 5.8 seconds, which is impressive for a vehicle of that size.
Cadillac outfits the $78,195 Escalade ESV with its best interior. Buyers can specify a hand-crafted interior with real wood trim, supple leather upholstery, and a 16-speaker Bose Centerpoint audio system. Automatic climate controls offer three zones for driver, passenger, and rear passengers. Getting in and out of the Escalade is a breeze with the power assist running boards that extend when the doors are opened.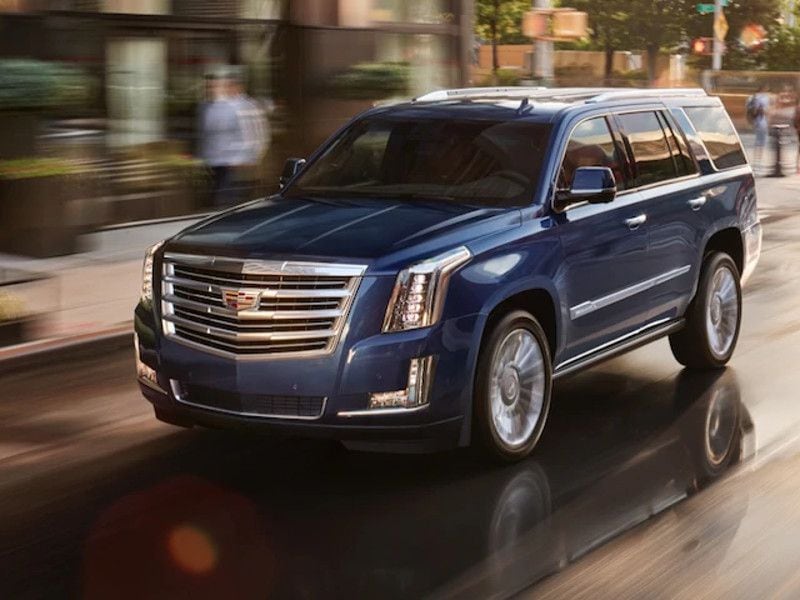 Photo by General Motors
2019 Maserati Levante Trofeo
The trend toward SUVs has attracted even traditional luxury supercar makers such as Maserati to the market. The 2019 Maserati Levante Trofeo represents a uniquely Italian take on the performance-luxury SUV segment. Maserati used a Ferrari 3.8-liter V8 engine capable of producing 590 hp. With this package, the Levante Trofeo will hit 60 MPH in 3.7 seconds on its way to a top speed of 187 MPH.
Priced at $169,980, the Levante Trofeo offers luxury features unavailable from any other brand. Buyers may choose a quilted leather interior, or seat upholstery made from Ermenegildo or Zegna silk. If you want the same luxury with a little less performance and a much more affordable price, consider the Levante Gran Lusso trim with 424 hp at $91,980.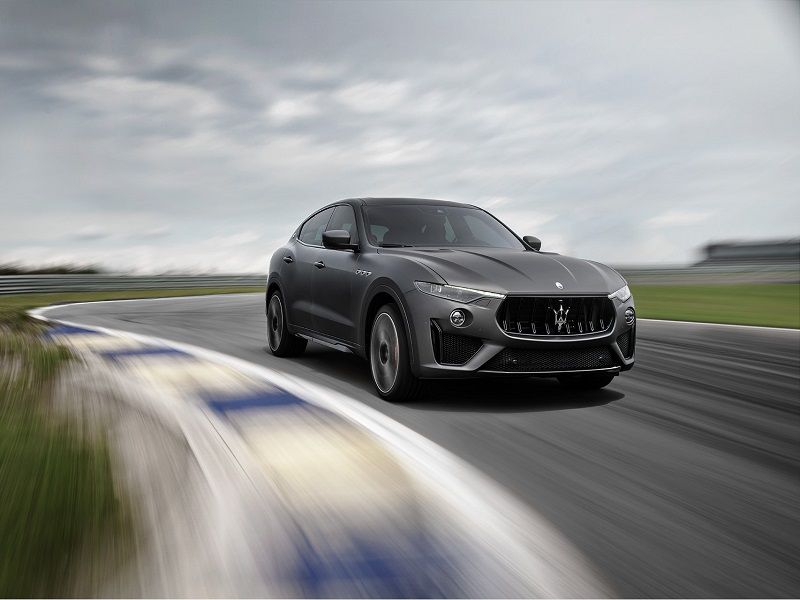 Photo by Maserati
2019 Range Rover Sport SVR
Land Rover has been in the business of performance SUVs longer than any other brand, and the 2019 Range Rover Sport SVR shows that the British still have their chops. The 5.0-liter supercharged V8 engine in the short-wheelbase midsize Range Rover Sport delivers up to 575 hp and a 0-60 time of 4.3 seconds, for a retail price starting at $113,900.
For the SVR, Range Rover has placed luxury-performance touches everywhere, from special SVR performance seats with a "cut diamond" perforation pattern, to carbon fiber accents on the steering wheel and brushed aluminum trim. Land Rover has re-engineered the SVR suspension for high performance, and this SUV comes with a vented carbon fiber hood to complete the visual impression.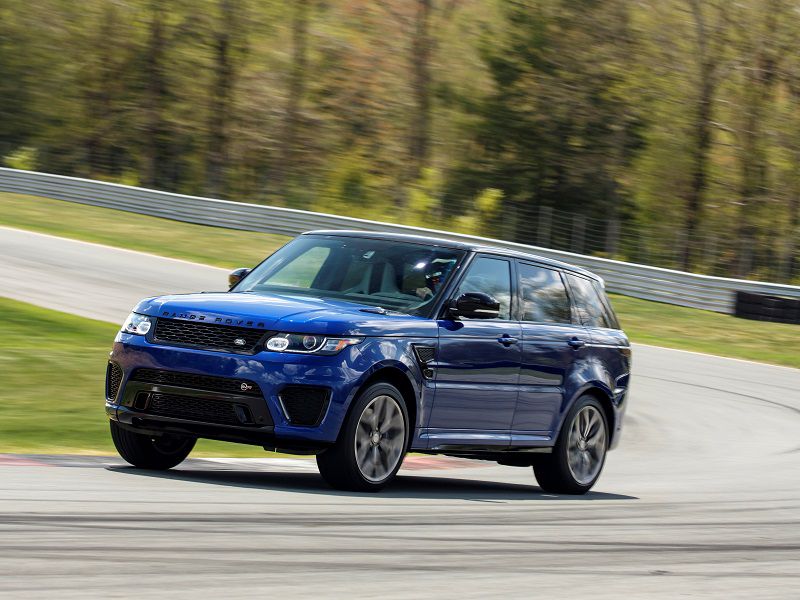 Photo by Land Rover
2019 BMX X6 M
BMW is legendary for performance, and they've brought their expertise to the midsize coupe-profile 2019 BMW X6 M crossover. This fastback SUV is equipped with a 4.4-liter turbocharged V8 engine rated at 567 hp. Using an eight-speed automatic transmission with launch control, the $105,700 X6 M will accelerate from 0-60 MPH in 4.0 seconds. Best of all, this SUV drives like a sport sedan with nimble and confident handling.
The interior of the X6 M is trimmed in soft Merino leather, and that's just the start. BMW provides tech features like a full-color head up display projected onto the windshield, wireless device charging, and BMW's latest iDrive 6.0 infotainment system. For maximum luxury, order the Bang & Olufsen surround sound system.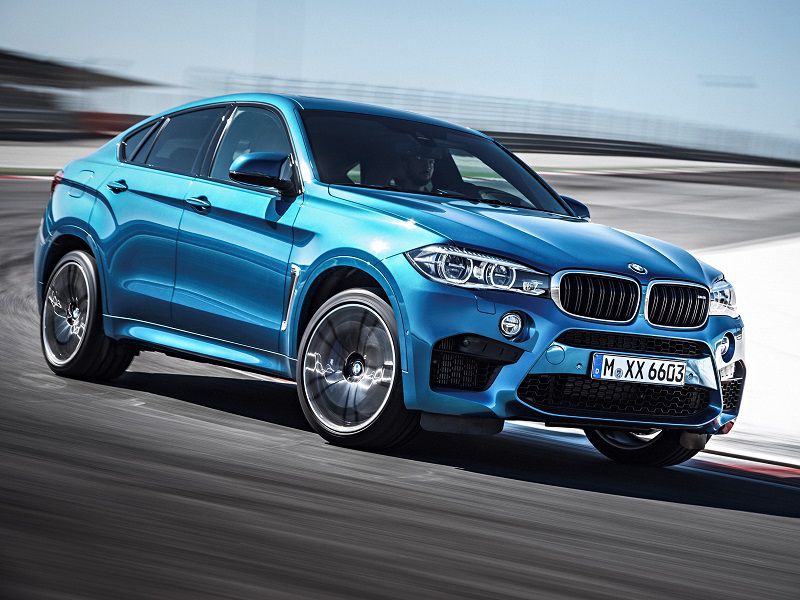 Photo by BMW
2019 Mercedes-Benz AMG GLC 63
Another luxury-performance SUV is the 2019 Mercedes-Benz AMG GLC 63. This compact Mercedes crossover activity vehicle comes with an AMG-tuned 4.0-liter twin-turbocharged V8 engine making 503 hp. Like many luxury-performance SUV options, the $81,800 AMG GLC 63 will make 0-60 times of about 3.7 seconds and will run a quarter-mile in less than 12 seconds. AMG also has upgraded the brakes and suspension, putting an exclamation point on the Sport part of Sport Utility Vehicle.
Inside, Mercedes gives the AMG crossover attractive perforated leather upholstery matched with a racing-inspired carbon fiber center stack and flat-bottomed steering wheel. The infotainment display is floated on the dash, and the entire effect is that of a minimalist, yet comfortable driver's compartment. A Burmester audio system completes the premium experience.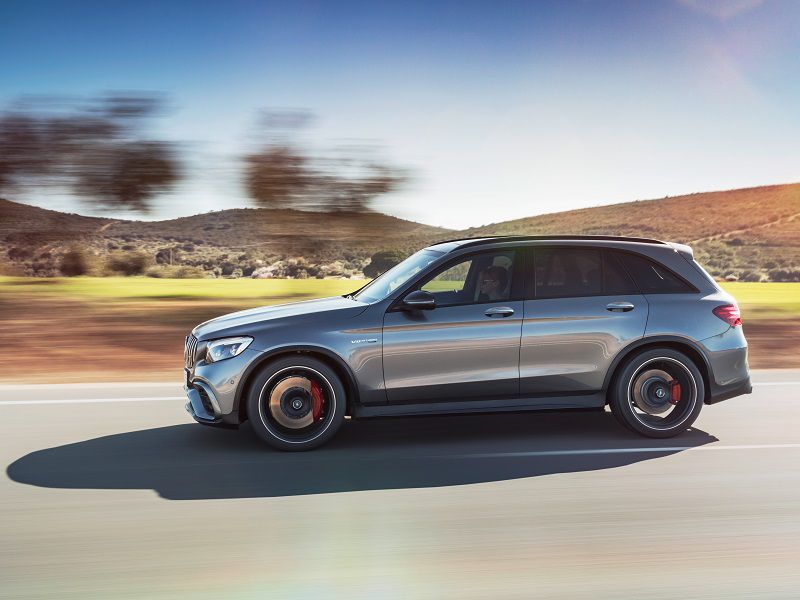 Photo by Mercedes-AMG
2019 Alfa Romeo Stelvio Quadrifoglio
The 2019 Alfa Romeo Stelvio Quadrifoglio is closely related to the Maserati Levante. Both are built on the same compact platform, but Alfa chose a twin-turbocharged 2.9-liter V6 engine with 505 hp to motivate the Stelvio from 0-60 in only 3.3 seconds. The "Quadrifoglio" name refers to a four-leaf clover, which has been a symbol of Alfa's racing and performance division since the 1920s.
Consistent with the racing heritage claimed on the badges, the Stelvio Quadrifoglio is equipped with Sparco carbon fiber seats upholstered in leather and suede with red stitching. There are a few traditional Alfa Romeo touches, like the individual gauge binnacles on the dash. Carbon fiber trim drives home the sporty orientation of this SUV. The Stelvio Quadrifoglio starts at $79,995.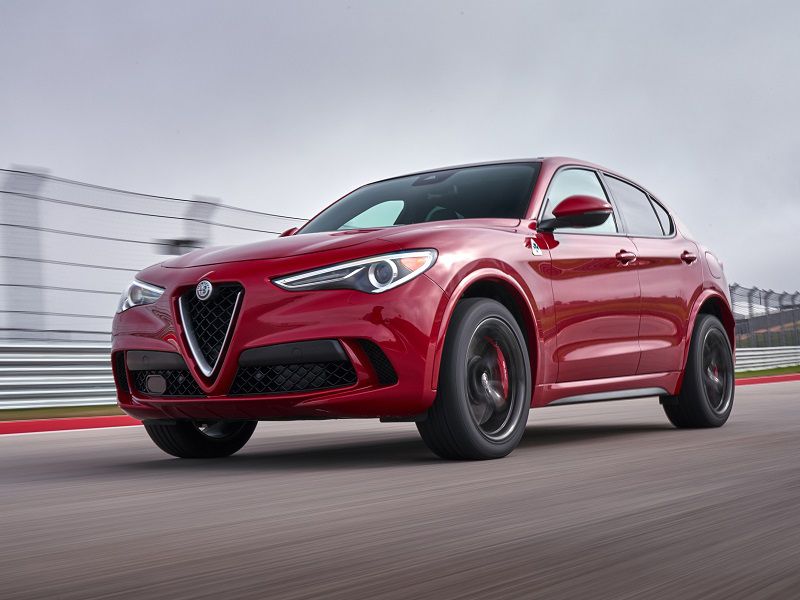 Photo by Alfa Romeo
2019 Porsche Cayenne Turbo
Porsche shocked the performance car world back in 2002 by announcing the brand's first SUV, but they proved to be ahead of their time. The midsize 2019 Porsche Cayenne Turbo delivers 550 hp from its 4.0-liter twin-turbo V8 engine, and that's enough to make the 0-60 dash in 3.9 seconds and hit 177 MPH.
The 2019 Cayenne Turbo retails at $124,600, and includes luxury features such as a wide panoramic touchscreen infotainment center and 18-way power adjustable seats with leather upholstery, heat, and ventilation. Outside, you get Porsche's active spoiler with a built-in air brake. Porsche also enhances performance with a six-mode active suspension, selectable terrain management, and enormous brakes coated with tungsten carbide to increase grip. With all that, the Cayenne truly is the Porsche of SUVs.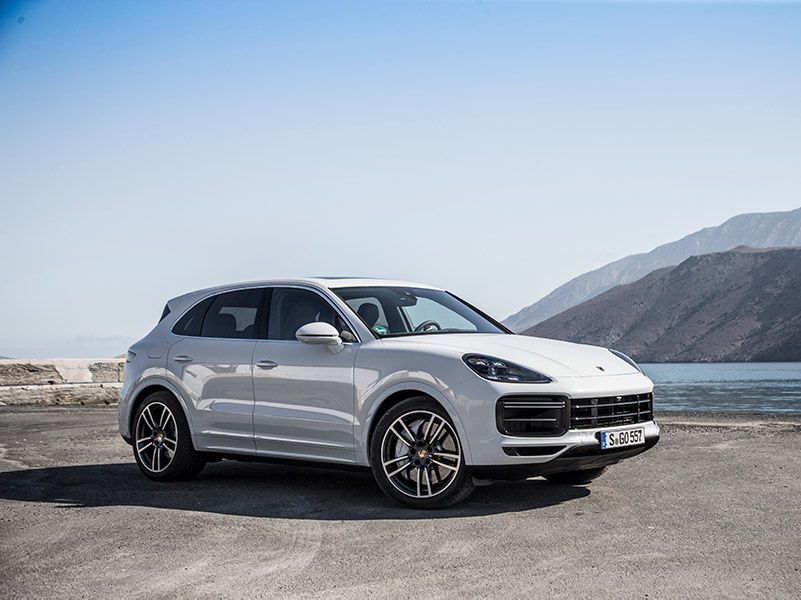 Photo by Porsche