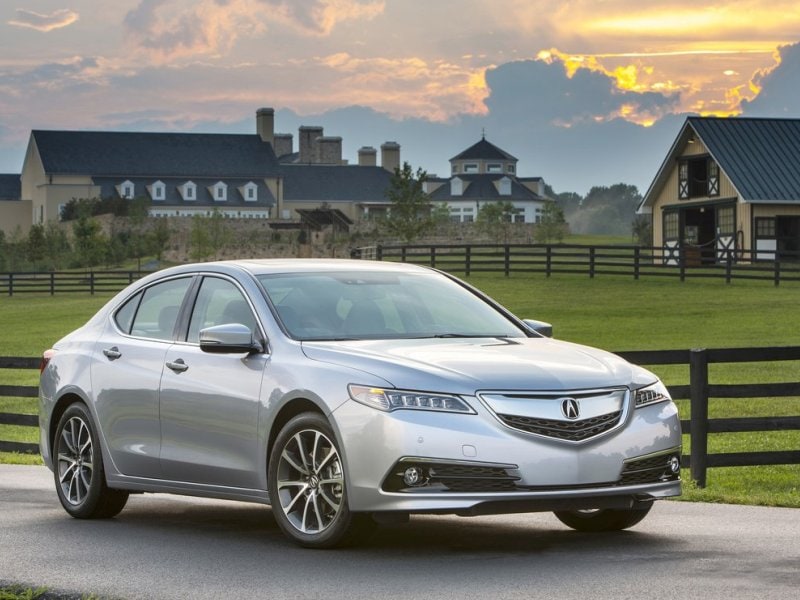 Acura TLX ・ Photo by Acura
When looking for the best fast, cheap sedans, it's best to keep in mind that 'cheap' is a relative term largely dependent on your station in life. A college student might be seeking a cheap sedan in the $25,000 range, while a more established career professional could be satisfied with anything under $35,000. With that in mind, we've put together a list of fast, cheap sedans that offer a little extra performance compared to their contemporaries, but without asking buyers to pay all that much extra in the process. 
Let's take a quick look at 10 fast, cheap sedans for 2015.
1. 2015 Chrysler 300S
One step up from the entry-level, the 2015 Chrysler 300S retails for $35,070. For your money, you get a comfortably-appointed full-size sedan that squeezes extra horsepower and torque out of its standard 3.6-liter V-6 by way of a sport exhaust system and revised tuning. With a total of 300 horses and 264 lb-ft of torque on tap, managed by an eight-speed automatic transmission, you'll benefit from a 0-60-mph time of less than seven seconds, along with 20-inch rims, a stiffer suspension system, and shift paddles that allow you to bang off gears one-at-a-time.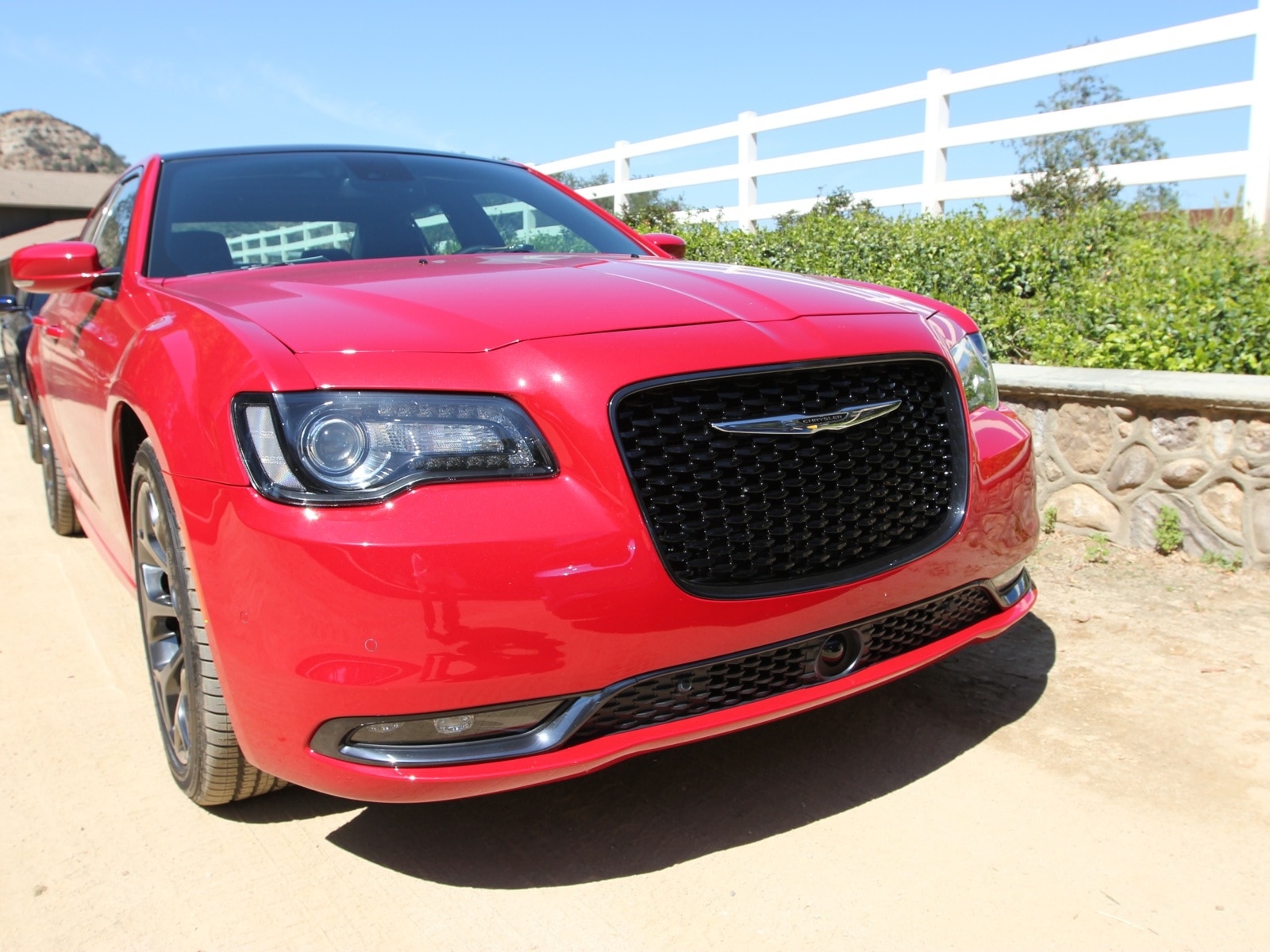 2. 2015 Honda Civic Si
The 2015 Honda Civic Si is one of the few entry-level pocket rockets that is available in sedan form, eschewing the more typical hatchback format in a bid to appeal to more traditional performance shoppers. A 2.4-liter, four-cylinder engine offers up 205 horsepower and 174 lb-ft of torque, and the only available gearbox for the Honda Civic Si is an enthusiast-friendly six-speed manual. Starting at $23,090, the Civic Si is a relative bargain even by fast and cheap sedan standards, especially considering it can sprint to 60-mph in roughly the same amount of time as the mightier Chrysler 300S.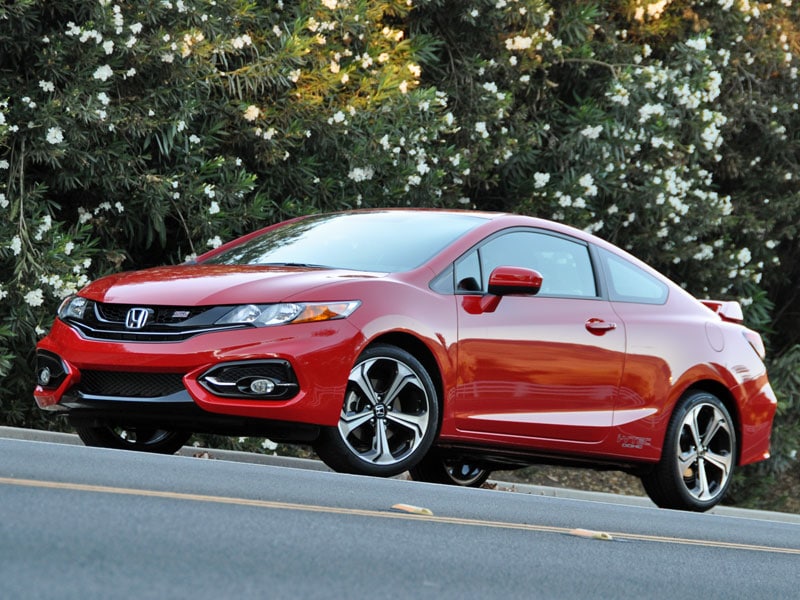 Photo by Christian Wardlaw
3. 2015 Buick Regal
The 2015 Buick Regal is aimed at premium shoppers, but if all you're concerned with is snagging a fast, cheap sedan, then even the base model should serve you well. Armed with a 259 horsepower, 2.0-liter turbocharged four-cylinder engine (which is also good for 295 lb-ft of torque), the Buick Regal leaps to 60-mph in the seven second range. It additionally features a six-speed automatic transmission, a $30,915 price tag, and an equipment list that includes a rearview camera, heated leather seats, the Buick IntelliLink touchscreen and Bluetooth interface, and dual automatic climate control.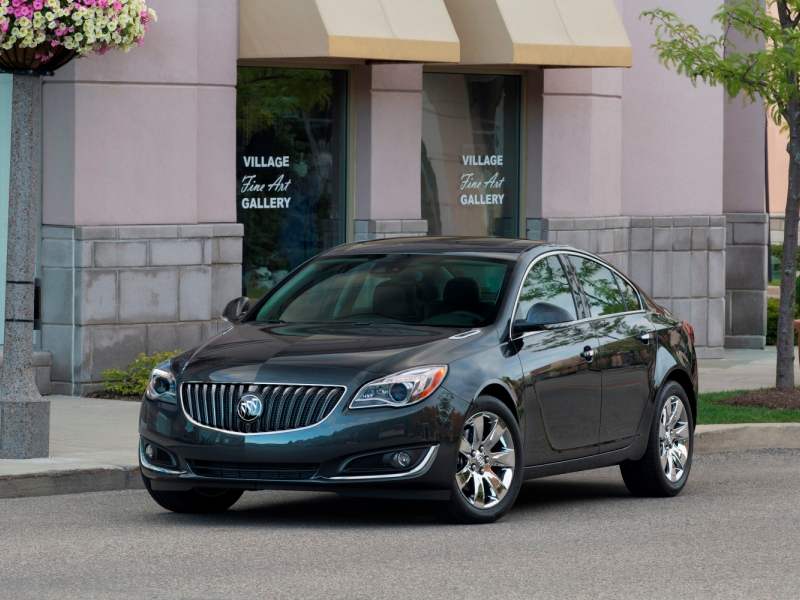 Photo by Buick
4. 2015 Volkswagen Jetta GLI 2.0T
The 2015 Volkswagen Jetta GLI 2.0T packs a lot of performance into its $26,920 starting price. It starts with a sport suspension setup and sharp 18-inch wheels, but at the heart of the Volkswagen Jetta GLI 2.OT is a turbocharged four-cylinder engine that develops a healthy 210 horsepower and 207 lb-ft of torque. Buyers are offered the choice between either a six-speed manual transmission or an advanced six-speed, dual-clutch automated manual gearbox. When outfitted with the latter, it's possible for the GLI 2.0T to reach 60-mph in roughly 6.5 seconds.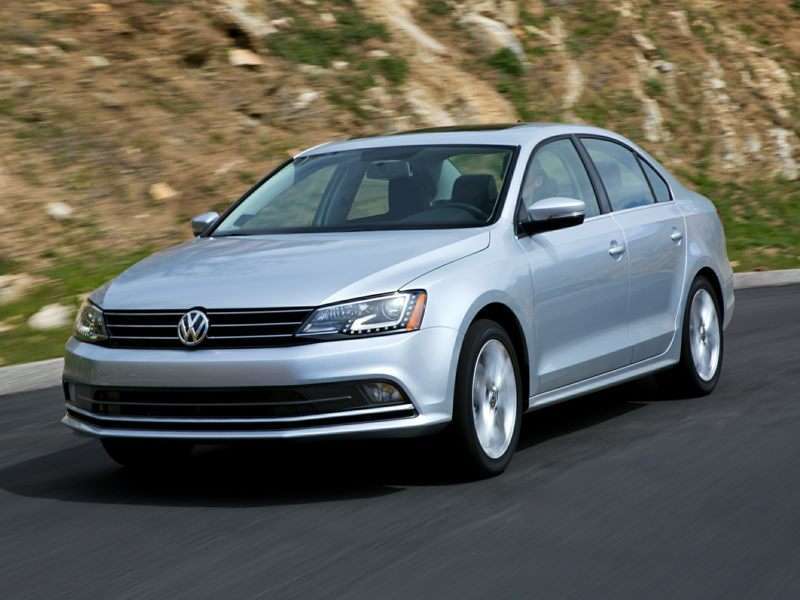 4. 2015 Infiniti Q40
The 2015 Infiniti Q40 is an odd duck in the luxury world, essentially the previous-generation of the brand's entry-level sport sedan kept on-sale alongside its replacement to help whittle down inventory. This unusual strategy is the bargain-hunting performance fan's gain, as the Infiniti Q40 provides access to a 328 horsepower, 3.7-liter V-6 for only $33,950. Also offering 269 lb-ft of torque, the sedan is the fastest on our list so far, as its seven-speed automatic transmission helps it leap to 60-mph in a very quick 5.5 seconds, which isn't that far off of the time posted by the Q50 that replaced it.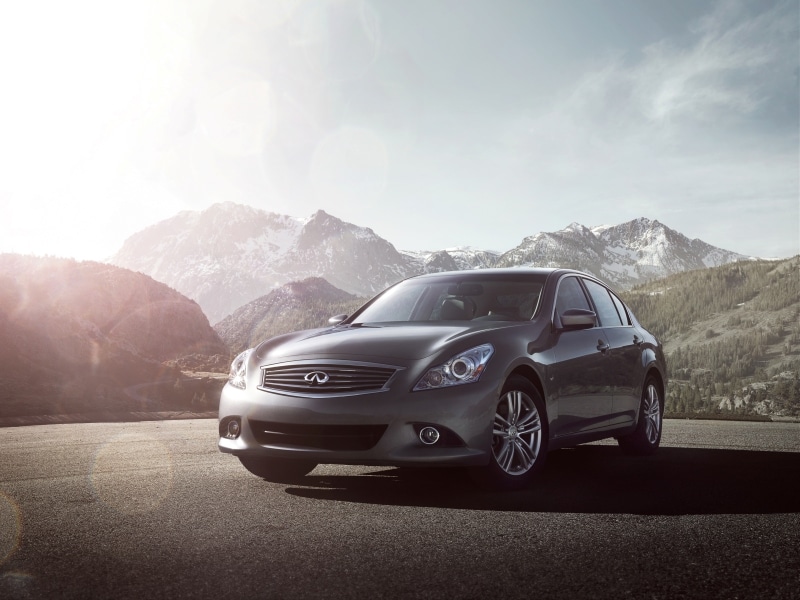 6. 2015 Mitsubishi Lancer Ralliart
The 2015 Mitsubishi Lancer Ralliart pairs the most affordable compact sedan in the automaker's line-up with a turbocharged four-cylinder engine and an all-wheel drive system in order to significantly boost its performance. For $29,495, the Mitsubishi Lancer Ralliart offers 237 horsepower and 253 lb-ft of torque from its 2.0-liter unit, which is shifted via a dual-clutch automated manual gearbox that features six forward speeds. The Ralliart model hits 60-mph in a brisk 5.8 seconds, which is almost three seconds faster than the base Lancer.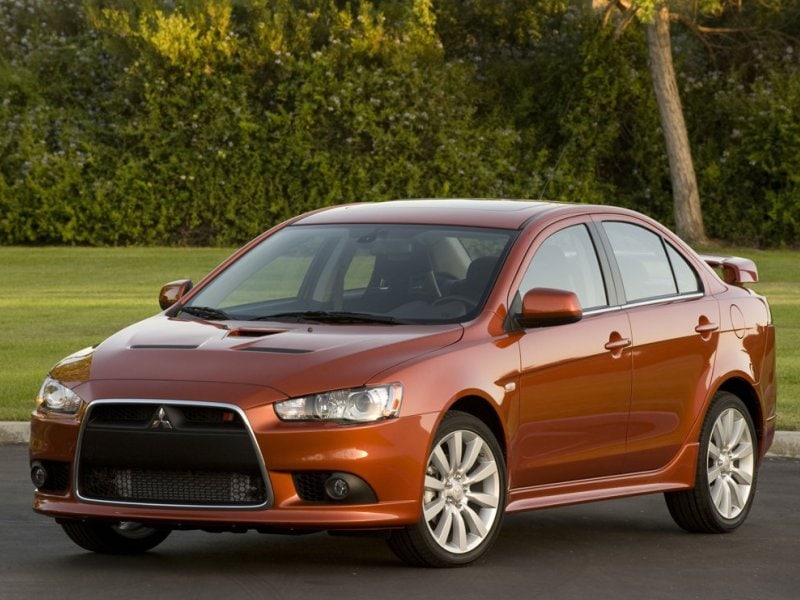 7. 2015 Subaru WRX
The 2015 Subaru WRX is all-new for the current model year, and like the lesser-known Lancer Ralliart it leverages a turbocharged, all-wheel drive platform to provide sparkling driving dynamics at an affordable price. The 2.0-liter liter, horizontally-opposed 'boxer' four-cylinder engine in the Subaru WRX uses its boost to grind out 268 horsepower and 258 lb-ft of torque, which are impressive numbers for a fast, cheap sedan. A six-speed automatic transmission is standard with the $26,595 base model, but a continuously-variable automatic gearbox is available as an option. 60-mph arrives in a scant 5.4 seconds when the four-door Subaru is launched hard.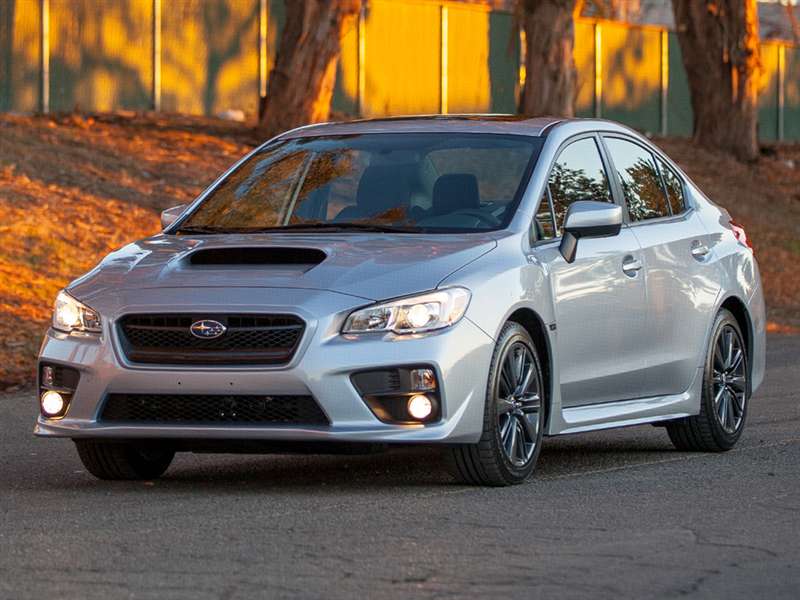 8. 2015 Dodge Charger R/T
Like the Chrysler 300, with which is shares many of its chassis and mechanical details, the 2015 Dodge Charger R/T offers respectable performance for such a large, four-door sedan. The redesigned Dodge Charger R/T's $32,995 window sticker grants you access to its 5.7-liter Hemi V-8 engine, which is good for 370 horsepower and 395 lb-ft of torque, along with a smooth-shifting eight-speed automatic transmission and a fun rear-wheel drive layout. Despite its not-inconsiderable bulk, the Charger R/T is capable of reaching 60-mph in under six seconds, which is respectable for a full-size car.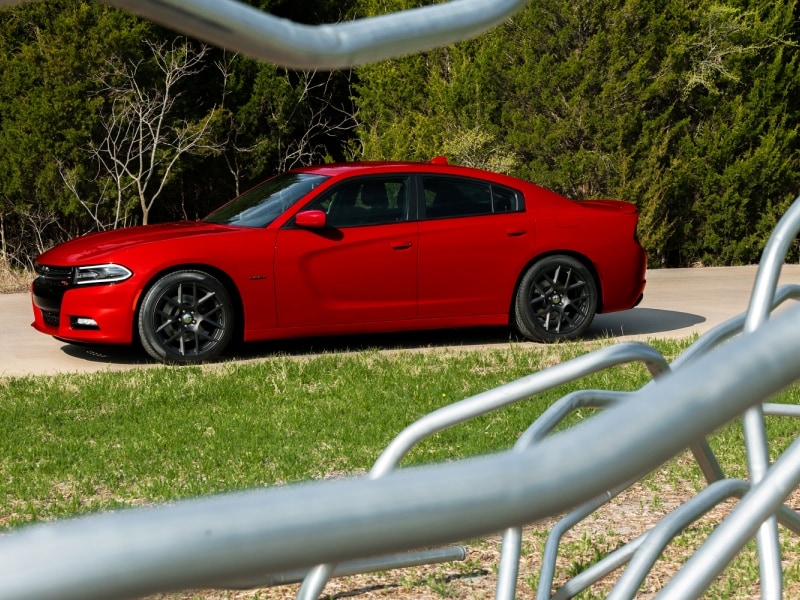 9. 2015 Chevrolet Impala
The 2015 Chevrolet Impala might seem like an unusual inclusion on our list of fast, cheap sedans, given that it's not advertised as a sporty family option. That being said, the Chevrolet Impala does offer an optional 3.6-liter V-6 engine that develops 305 horsepower and 264 lb-ft of torque, giving it roughly the same acceleration to 60-mph as the Chrysler 300 that lead off this list. You'll pay $31,110 for a six-cylinder edition of the front-wheel drive Impala, which also comes with a six-speed automatic transmission, Bluetooth connectivity, the Chevrolet MyLink touchscreen interface, and a dual automatic climate control.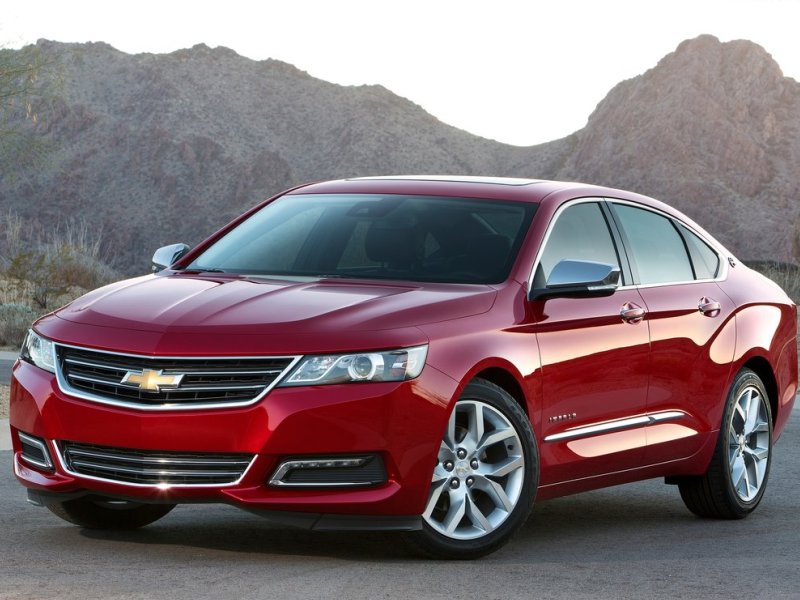 10. 2015 Acura TLX
Introduced for the 2015 model year, the Acura TLX is intended to replace both the TL and the TSX sedans previously available from the luxury brand. If you're looking for the quickest ticket to cheap speed in the Acura TLX line-up, you'll want to skip ahead to the 3.5 V-6 9-AT P-AWS model, which starts at an MSRP of $35,320. With 290 horsepower and 267 lb-ft of torque available from a 3.5-liter V-6, you're looking at a 0-60-mph time in the mid six-second range, along with a nine-speed automatic transmission and an advanced all-wheel steering system.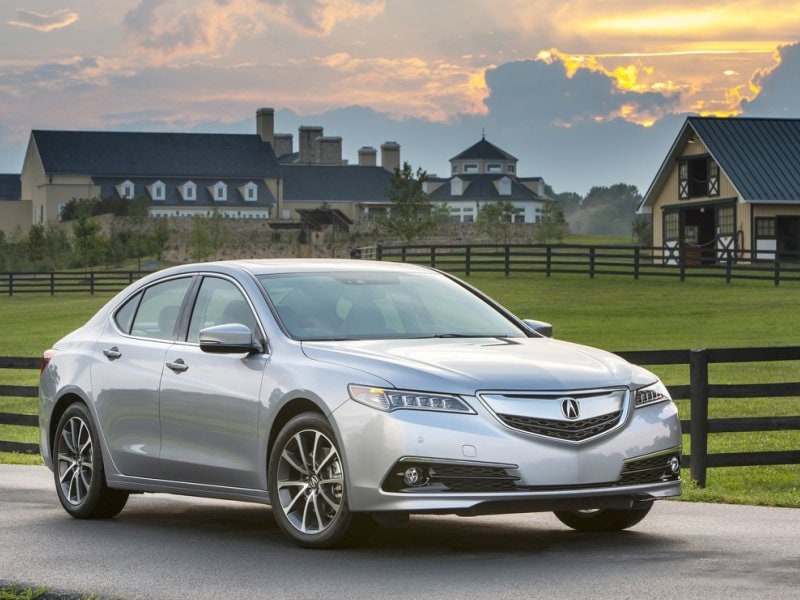 Photo by Acura