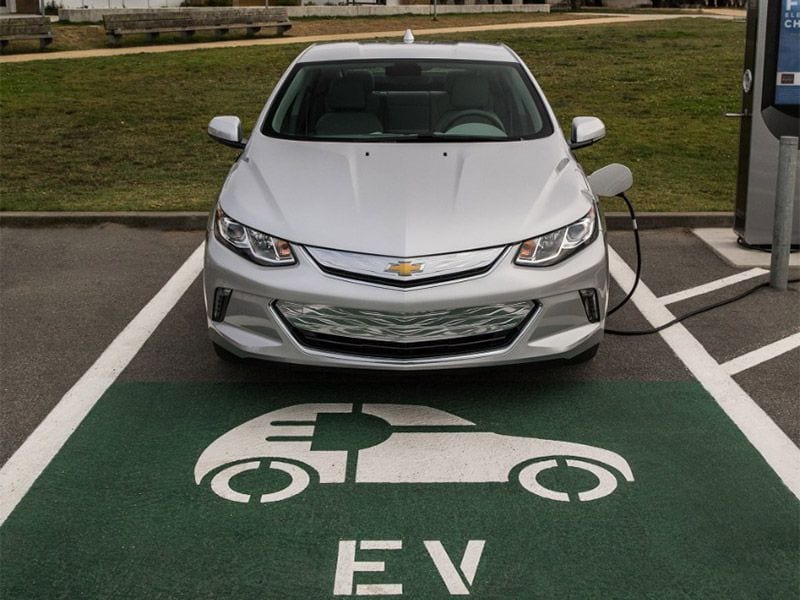 2016 Chevrolet Volt front view EV parking lot charging ・ Photo by General Motors
Electric cars are great for shorter trips, but range anxiety can take its toll as you get farther from your home. To calm some of that anxiety and make electric cars more usable, manufacturers developed electric cars with range extenders. While not quite as simple as throwing a generator into the trunk, these small powerplants are able to recharge the car's batteries on the go, eliminating the need for time consuming stops at recharging stations.  As we'll see, the range extender can be a gasoline-powered internal combustion engine, a turbine, or even a fuel cell. Now, Autobytel presents a roundup of 10 electric cars with range extenders (some historic, some current, some concepts):
1) Lohner-Porsche Semper Vivus
Despite the recent hype, cars with both electric motors and gasoline engines are nothing new. In 1900 the all-electric Lohner-Porsche Semper Vivus was shown with great fanfare at that year's Paris World Fair. With a pair of wheel-hub motors in the front, the Ferdinand Porsche-designed  car was reputedly capable of over 30 mph and had a range of approximately 40 miles (a racing version would later use four motors to become the first all-wheel-drive passenger car). Soon, Porsche added a pair of small gasoline engines to keep the batteries topped up, creating the first range extender (or series hybrid).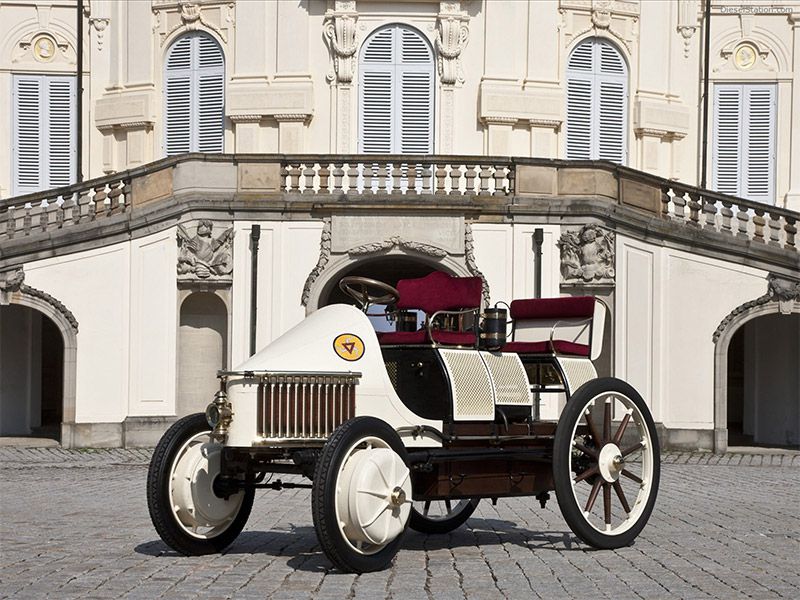 Photo by Porsche
2) General Motors EV1 Hybrid Prototypes
The EV1 was an electric car produced by General Motors from 1996 to 1999. Several range-extended prototype versions were developed, including a serial hybrid with a recuperated gas turbine capable of running on a variety of fuels including high-octane gasoline and compressed natural gas. The turbine was capable of supplying enough power to maintain 80 mph and recharge the battery at the same time while delivering fuel economy of over 100 mpg. Another version used a Stirling heat engine, and there was even a methanol-powered fuel-cell version. While these versions weren't available to the public, GM wouldn't let their range-extending experience go to waste.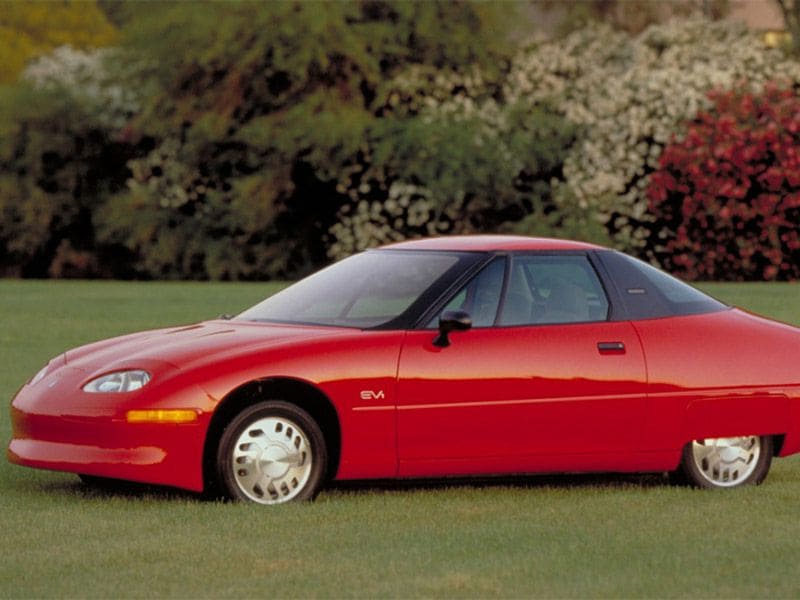 Photo by General Motors
3) Chevrolet Volt
The 5-door Chevrolet Volt hatchback builds upon the knowledge GM gained in its previous electric and hybrid cars, making it the first range-extended electric vehicle to be widely available to the general public. For the most part, the Chevrolet Volt is a series hybrid, meaning its gasoline engine is used to recharge the batteries, and the car is powered by electric motors (though the Volt can send engine power directly to the wheels in some circumstances). The newest model uses a 18.4 kWh battery that is recharged by a 1.5-liter 4-cylinder engine that makes 101 horsepower. All-electric range is 53 miles and combined fuel economy is 42 mpg when the gasiline engine is running.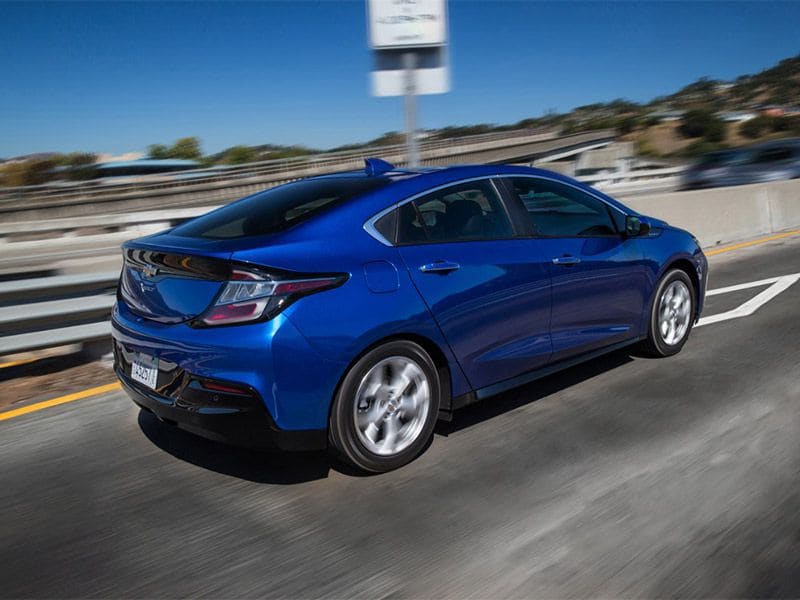 Photo by Chevrolet
4) Fisker Karma
The Fisker Karma was a short-lived luxury electric car with a range extender, produced in 2011 and 2012. The Karma is a heavy car, weighing in at around 5300 pounds, but with a pair of 201- horsepower electric motors, the exotic hit 60 mph in 6 seconds flat and reached a top speed of 125 mph. The range extender is a 260-horsepower turbocharged 2.0-liter Ecotec 4-cylinder supplied by GM that recharges a 20.1 kWh lithium-ion battery pack. The Karma's pure-electric range was rated at 33 miles by the EPA. Combined fuel economy with gasoline engine running was only 20 mpg.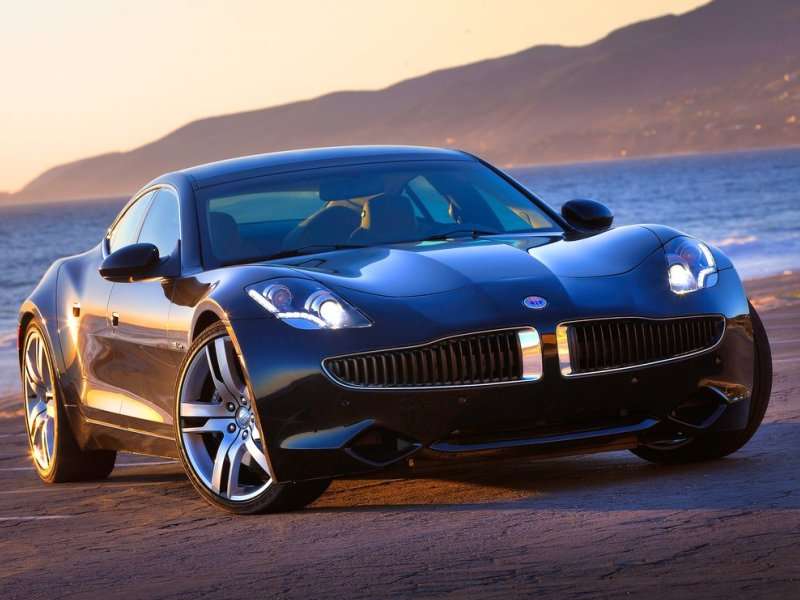 Photo by Fisker
5) Cadillac ELR
The Cadillac ELR is essentially a more luxurious, more expensive, and less efficient Chevrolet Volt with two fewer doors, a smaller battery, and a smaller engine. Despite those downsides, it is quite a bit quicker than the Volt, with the run to 60 mph taking 6.4 seconds. If that's not enough for you, a Performance Package is available that includes 20-inch summer tires, a sport-tuned suspension, and 4-piston Brembo brakes. The 17.1-kWh battery is good for an all-electric range of 40 miles and fuel economy is rated at 32 mpg combined when the 84-horsepower 1.4-liter 4-cylinder range extender kicks in.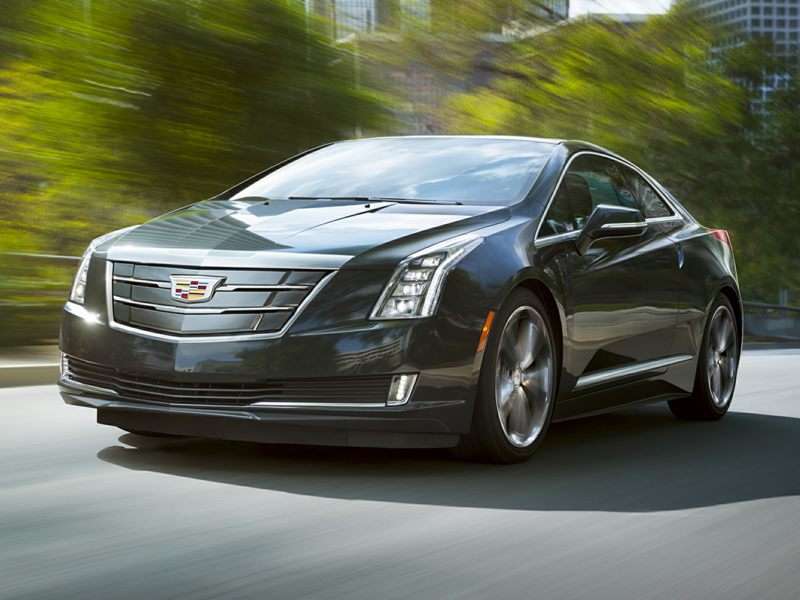 Photo by General Motors
6) BMW i3 REx
The BMW i3 is available both as a purely electric vehicle, or as the REx with a tiny gasoline-powered range extender. Both models share the same 170-horsepower electric motor and 22-kWh lithium-ion battery, but the REx adds a 34-horsepower 0.6-liter (647cc) 2-cylinder engine. The added weight of the internal combustion powerplant drops all-electric range to 72 miles and slows the sprint to 60 mph to 7.8 seconds (down from 81 miles and 7.0 seconds for the non-range extended version). The upside is that total range increases to 150 miles, and combined fuel economy with the range extender running is a respectable 39 mpg.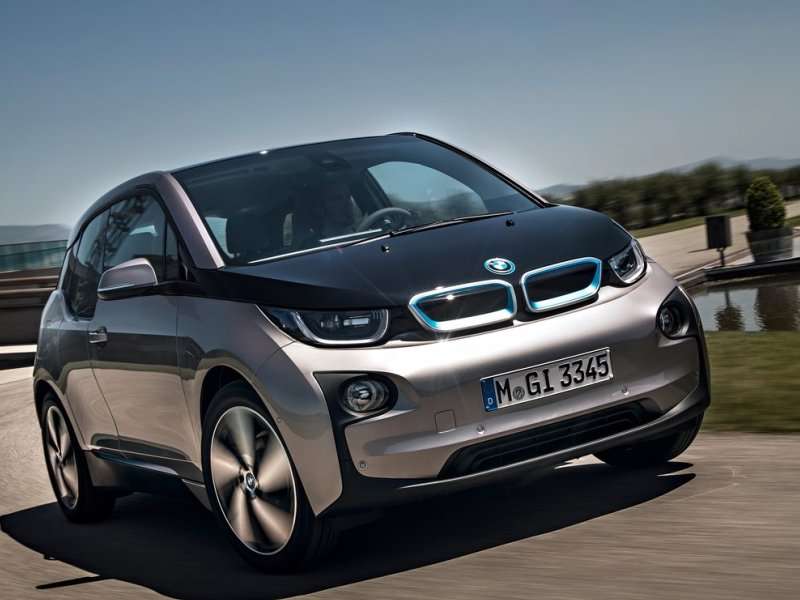 Photo by BMW
7) AC Propulsion tzero with Long Ranger
The AC Propulsion tzero was an all-electric sports car powered by lead-acid batteries. It was launched in 1997 and produced in very limited numbers. Powered by a 200-horsepower electric motor, the tzero scoots to 60 mph in only 4 seconds, though top speed is linited to 90 mph by the single-speed transmission. As we've seen, built-in range extenders are heavy, and need to carried around even when they aren't needed. AC Propulsion's solution to this problem was a removable trailer called the Long Ranger that included a 500cc engine capable of producing enough power to maintain highway speeds while producing fuel economy numbers of over 30 mpg.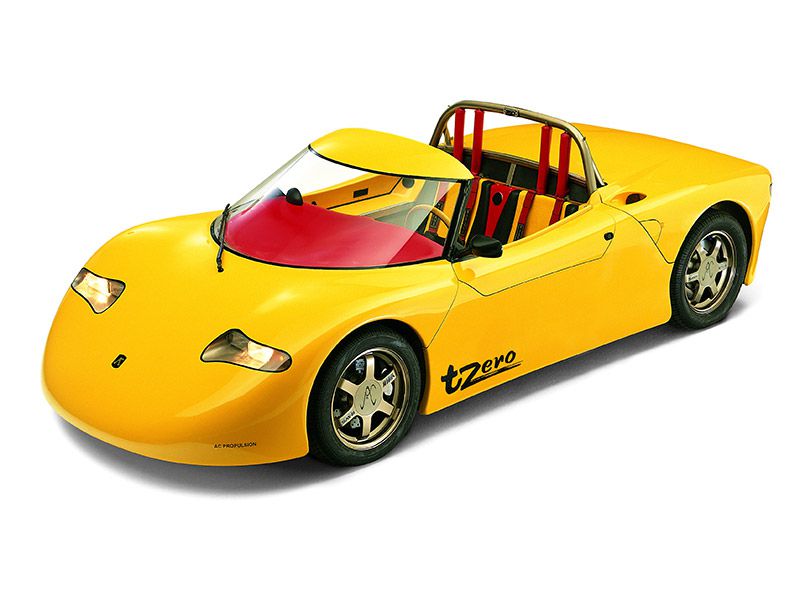 Photo by Wikipedia
8) Nissan Gripz Concept
Nissan has indicated that it plans to release a range-extended electric vehicle in the near future to complement its pure-electric Leaf. Though the Pure Drive e-Power drivetrain has been shown in the Nissan Gripz sports crossover concept that might foreshadow future Juke styling, it will probably make its appearance in something somewhat less exciting (but probably not a range-extended version of the Leaf). The Gripz uses a version of the Leaf's 107-horspower electric motor, with an efficient gasoline-powered range extender. According to Nissan, that should be enough to provide the excitement and performance of a sports car, with the practicality of a compact crossover. Let's wait and see.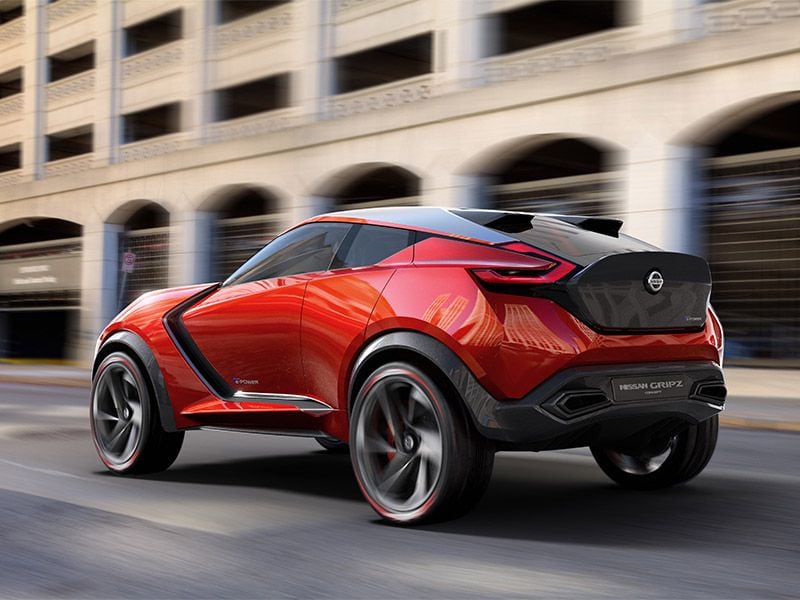 Photo by Nissan
9) Toyota Mirai
The Toyota Mirai is a hydrogen fuel-cell vehicle, using its fuel-cell stack to convert hydrogen and oxygen into electricity and water. Essentially, the Mirai is an electric vehicle, with a 151-horsepower electric motor powered by a small 1.6-kWh battery. Instead of using a gasoline-powered range extender, the Mirai uses a fuel-cell system that can generate a maximum of 153 horsepower, which is used to run the electric motor and recharge the batteries. Top speed is 111 mph, the sprint to 60 mph takes a reasonable 9 seconds, and total cruising range (with the 32-gallon tank) is 312 miles. When you get low on hydrogen, a refill is fairly simple and takes around five minutes, assuming there's a station near you, of course.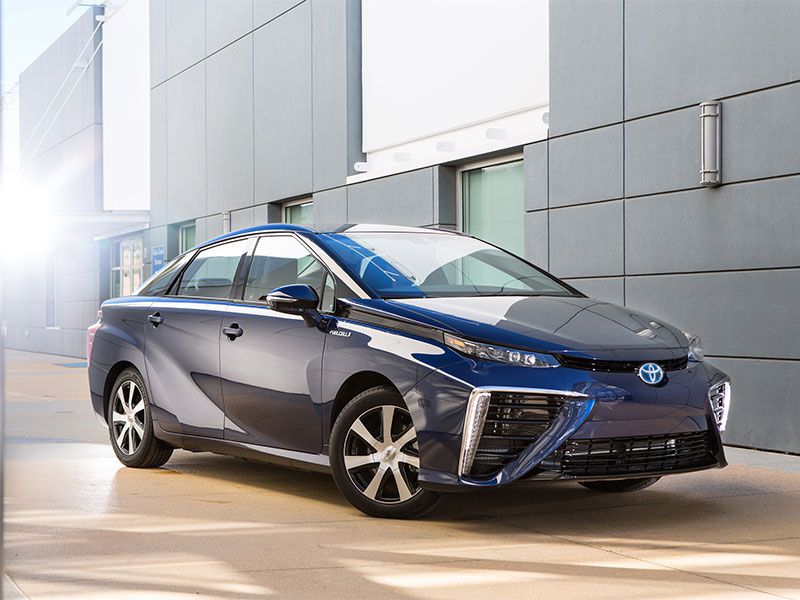 Photo by Toyota
10) Hyundai Tucson Fuel Cell
The Hyundai Tucson Fuel Cell uses a 134-horsepower electric motor and a miniscule 0.9-kWh electric battery, relying on its fuel-cell stack to keep both supplied with power. The fuel-cell stack also has a maximum output of 134 horsepower, and can run for 265 miles on a 37-gallon tank of hydrogen. Unfortunately, the Tucson Fuel Cell is a bit on the slow side, taking 12.5 seconds to reach 60 mph, though top speed is a decent 100 mph. Like many of the fuel-cell-powered vehicles, the Tucson Fuel Cell is only available for lease and only in areas with adequate hydrogen refuelling infrastructure.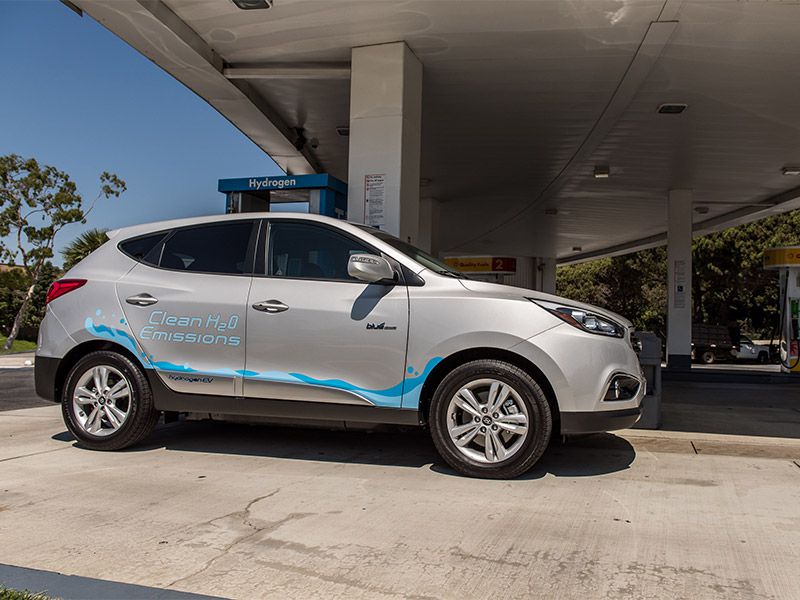 Photo by Hyundai