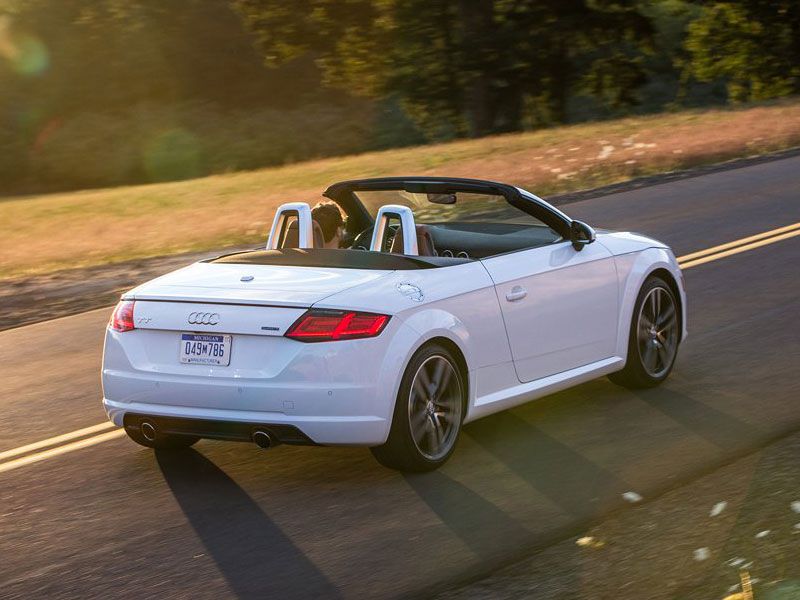 2016 Audi TT roadster rear view on road ・ Photo by Audi
A roadster isn't just any convertible: Specifically, it's a 2-seat convertible, a gift to oneself and one special passenger. A roadster is often sporty and almost certainly stylish. And there just so happens to be plenty of roadsters on the market right now, including some that are long-time favorites of Autobytel editors. Of course, we can't throw the word "cheap" in the title without admitting that "cheap" is a relative term, and that a convertible carries an inherent price premium. In other words, anyone compiling a list of truly inexpensive new roadsters would run out of options quickly. Although we're not talking about pocket change here, these cars are still a bargain for what they are.
1) 2017 smart fortwo Cabriolet—MSRP $19,650
The convertible version of the smart fortwo is about as impractical as a vehicle can get—that is, unless you're confined to a parking space that could otherwise only accommodate a couple of motorcycles. Designed as an urban runabout, the smart can't accommodate more than two people and some grocery bags. That's true of most roadsters, but most roadsters aren't marketed as utilitarian options. That said, this cheap roadster has a certain appeal. Its styling is cartoonish, yet it has an earnestness that's endearing. Some may find it underpowered, as it puts out just 89 ponies, but with the sliding roof panels moved aside, the smart fortwo Cabriolet is an inexpensive way to enjoy some rear-wheel-drive fun.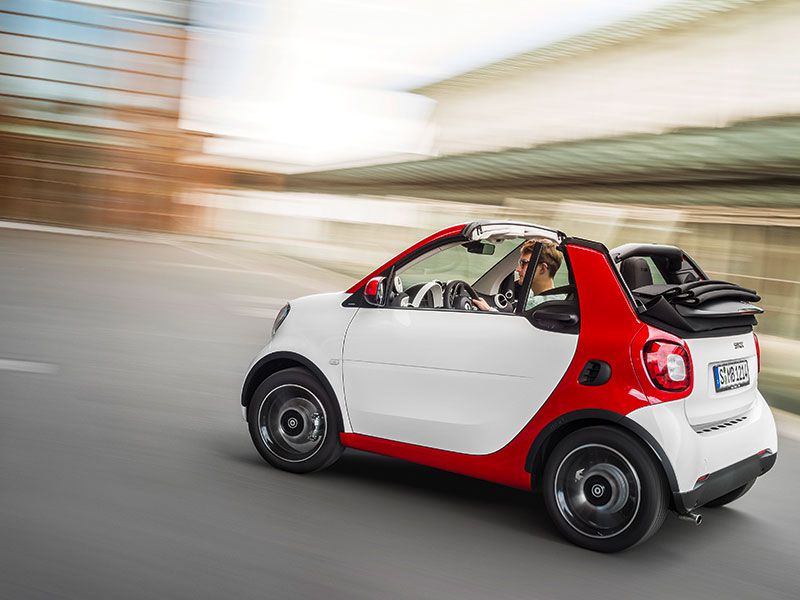 Photo by Mercedes-Benz Media
2) 2016 Mazda MX-5 Miata—MSRP $24,915
Fully redesigned for the 2016 model year, the Mazda MX-5 Miata is one of our favorite cheap and stylish roadsters of all time. Despite its revised styling and mechanicals, the basic format of the Miata remains unchanged—it's a 2-seat convertible that'll never be the fastest car on the road or on the track, but it'll always be an absolute delight to toss around. This is also one of those cars that should be purchased with a manual transmission; to do otherwise is to throw away much of the driving fun. For now, the Miata MX-5 is available only with a manual soft top, although, as you'll see, that'll soon change.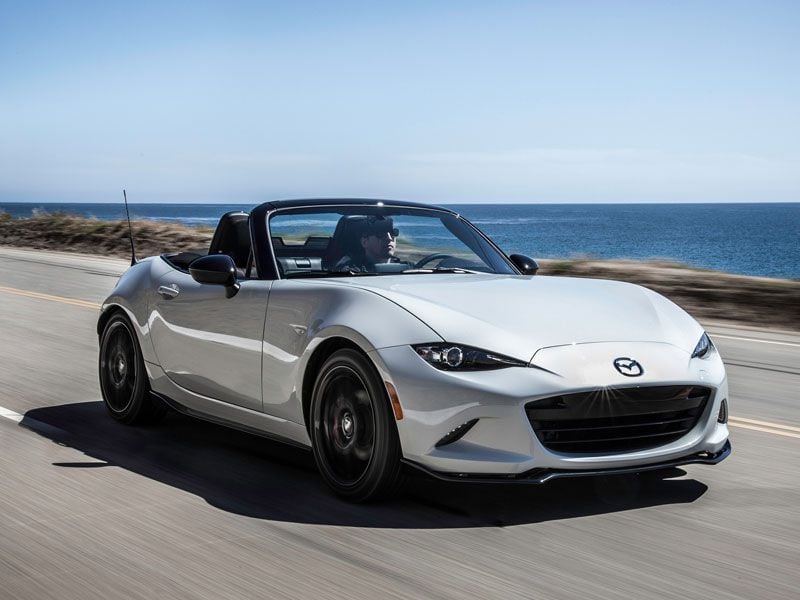 Photo by Mazda
3) 2017 Fiat 124 Spider—MSRP $24,995
The 2017 FIAT 124 Spider is an all-new roadster that's been brought in to diversify the brand's lineup that, until now, consisted entirely of hatchbacks. This little convertible is colloquially known as the "Fiata" due to the fact that the 124 Spider shares its underbody and construction with the Mazda MX-5 Miata. We're not criticizing this decision—Mazda's got the roadster equation down, after all, and the Miata's handling prowess translates well to the 124 Spider. And besides, the 124 Spider has a personality of its own, with its Italian exterior design and 160-horsepower turbocharged engine borrowed from Fiat's 500 Abarth. This new entry quickly became one of our favorite cheap roadsters with style.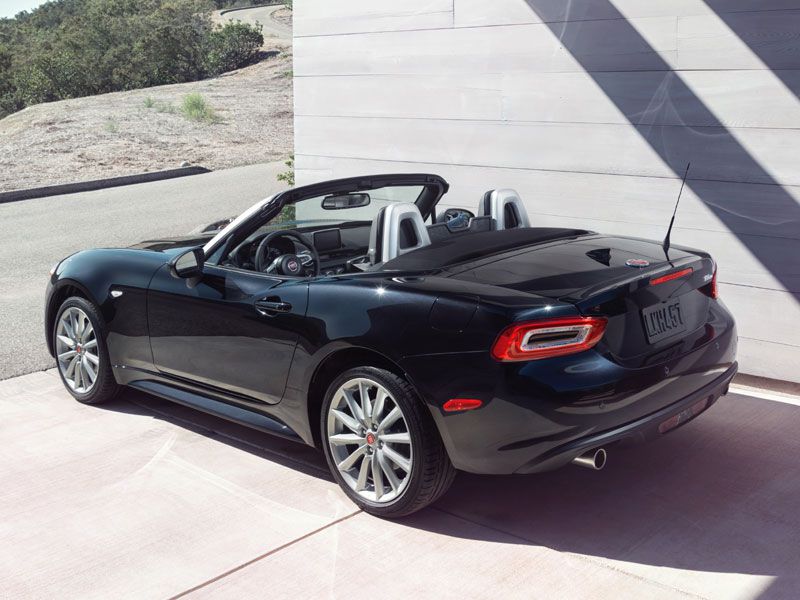 Photo by Fiat Chrysler Automobiles
4) 2015 MINI Cooper Roadster—MSRP $26,100
We know, the MINI Cooper Roadster was discontinued last year, but its inclusion here just goes to show how hard it is to actually find a good, cheap roadster. Unfortunately, the general public did not find the MINI Roadster as charming as we do; it was on the market for just four years before getting the axe. Perhaps most people just didn't see the point of a MINI Convertible that sat two fewer people and has less overall usefulness, but cost just about the same. Maybe the loss of the MINI Cooper Roadster isn't necessarily bad for the MINI brand's lineup, but it's a shame that one of the few cheap, stylish roadsters on the market failed to find an audience.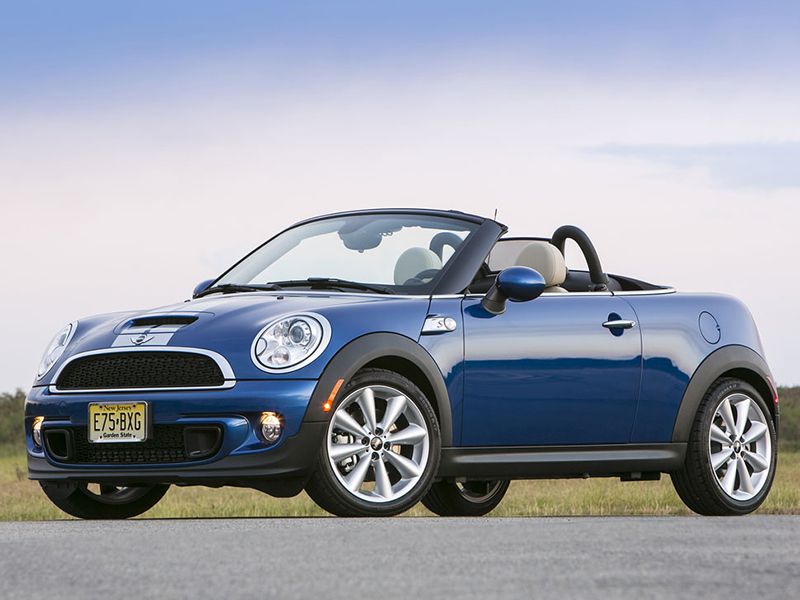 Photo by MINI
5) 2017 Mazda MX-5 Miata RF—MSRP est. $27,000
In the past, the hardtop Miata was, well, just a hardtop Miata. But with the recent announcement of the 2017 Mazda MX-5 Miata RF (which stands for "retractable fastback") all the hype (and the advance photos) make it seem like it's a different car. Mazda took the Miata and added a distinctive sloped roof that, for all intents and purposes, turns the Miata into a coupe. When it's time to get some fresh air, the rear pillars lift up to accommodate the movable roof panels, which tuck underneath. Those who have been holding out for a hardtop version of the current-generation Miata can pick up an MX-5 Miata RF later this year. Previous Miata hardtops have cost about $2,000 more than the base version of the car.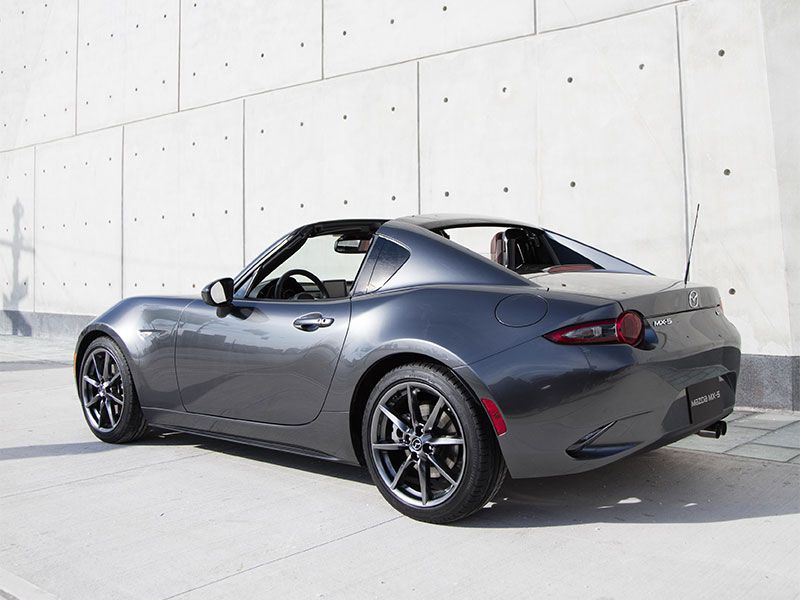 Photo by Mazda
6) 2016 Nissan 370Z—MSRP $41,820
When we started coming up with potential vehicles for our list of 10 cheap roadsters with style, we were drawn in by the 2016 Nissan 370Z's base MSRP, which is just below $30,000. In other words, the drop-top version of the 370Z costs upward of ten grand more than the coupe. That's a hefty price premium, even in this segment. That said, the Nissan 370Z still represents a reasonable value. Its 3.7-liter V6 puts 332 horsepower to the rear wheels, which almost guarantees a good time. The car's styling is contemporary, yet it's respectful of the Z-car heritage. And the 370Z is known for having excellent handling, whether it's a commuter or a track toy.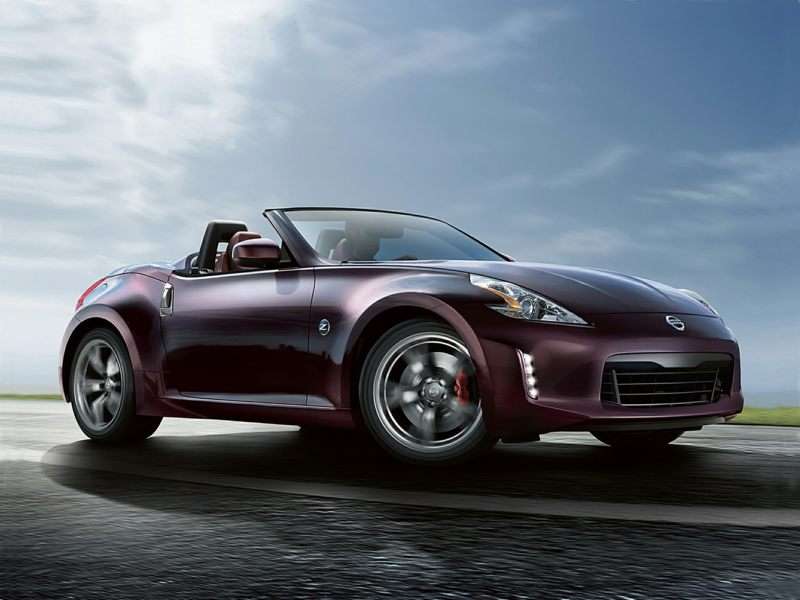 Photo by Nissan USA
7) 2016 Lotus Elise Sport—MSRP est. $40,000
So, we're teasing a bit here—while British automaker Lotus said last year that the United States would get the Elise Sport this year, that hasn't yet come to pass. The road-regulated Lotus Elise was last available on this side of the Atlantic in 2011. The entry-level price of the Lotus Elise Sport is currently 29,900 British pounds; we have yet to see how that'll play out in the post-Brexit economy. While anecdotal evidence suggests Elise Sports are quietly available for track use, Lotus paraphernalia suggests otherwise. If you'd be happy with any Lotus roadster, your closest dealership is probably very eager to sell you an Elise Cup R, which is legal here, but again, only on a track.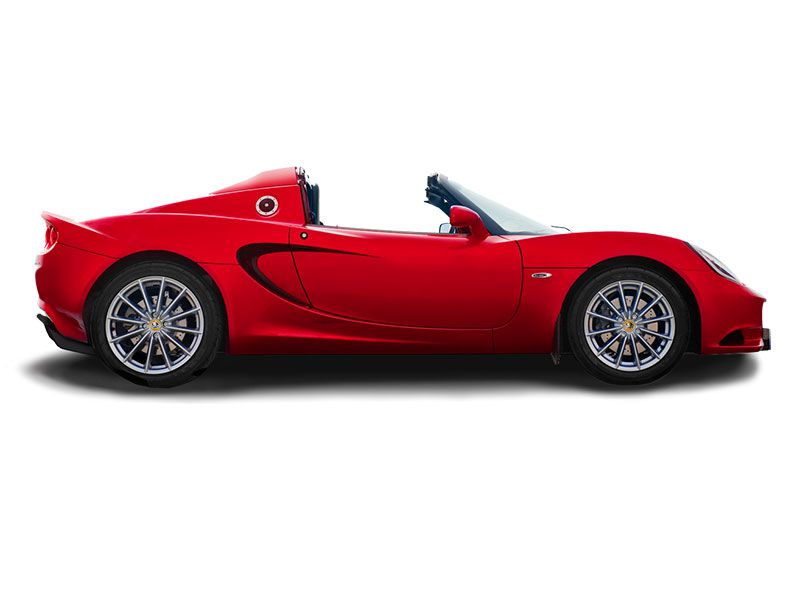 Photo by Lotus Cars
8) 2016 Audi TT—MSRP $46,400
Audi's cute coupe has been fully redesigned for the 2016 model year, and we're pleased to see that the cabriolet version has stayed in the lineup. Though the base version of the TT can accommodate four passengers, the drop-top cuts available seating down to two, placing it firmly amongst our favorite cheap and stylish roadsters (even though this car is a prime example of "cheap" being in the eye of the beholder). The 2016 Audi TT convertible does provide a lot for the money—it's got 220 horsepower courtesy of its turbo 2.0-liter engine, and it comes standard with Audi's quattro all-wheel-drive system (though quattro is one of the brand's defining characteristics, it's not always included with Audi's base models).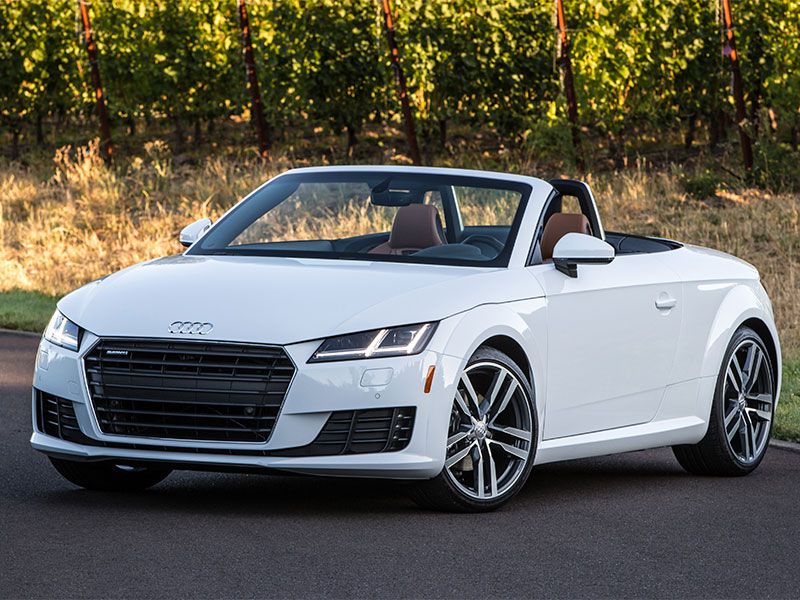 Photo by Audi
9) 2016 Mercedes-Benz SLK300—MSRP $47,000
Selecting a Mercedes-Benz for the second-to-last entry on our Autobytel list of 10 cheap roadsters with style might seem like we're no longer in the spirit of the game, but the SLK300 is truly a bargain compared to some of the other cars you might, mistakenly, think are cheaper (the Alfa Romeo 4C and Porsche Boxster both come to mind). This Benz offers the benefit of looking more expensive than it actually is, in part because the two higher-performance trim levels of the SLK are, in fact, much more expensive. The SLK300 with 241 horsepower from its turbocharged 2.0-liter engine, gives the car just enough energy to cruise around looking effortless, and a power-retractable hardtop reminds you that luxury can sometimes be had more cheaply than you might expect.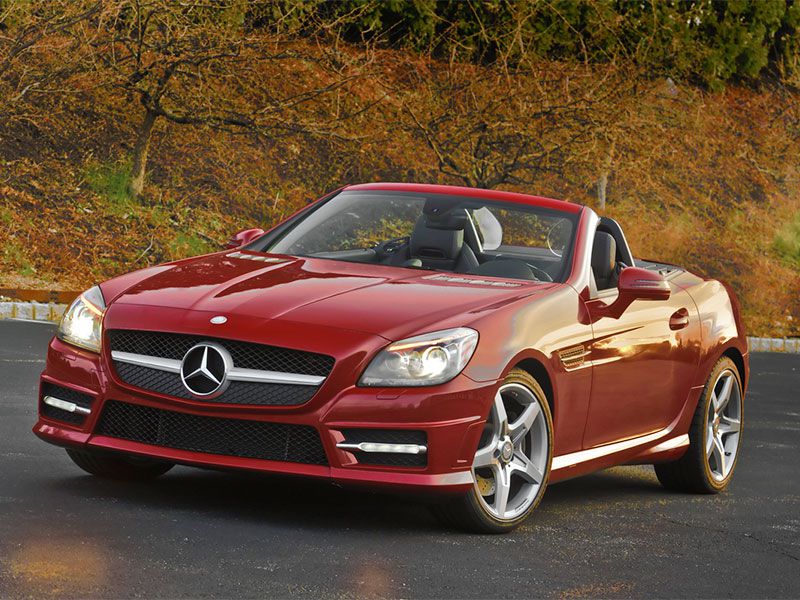 10) 2016 BMW Z4—MSRP $49,700
BMW's Z4 is a relatively cheap and stylish roadster (for a person with the means) and it has what we'd call a classic look. Being a BMW, the 2016 Z4 is likely going to cost considerably more than the MSRP presented here, but buyers who manage to locate a base model will get quite a lot for the money. This rear-wheel-drive sports car offers a peppy 240 horsepower from its turbo 2.0-liter powerplant, and of course, we're obligated to strongly recommend the 6-speed manual transmission for the best driving experience. The BMW Z4 is a particularly good option for tall shoppers, since it has one of the most spacious cabins in the class. And, as a bonus, its MSRP comes in just below the $50,000 mark.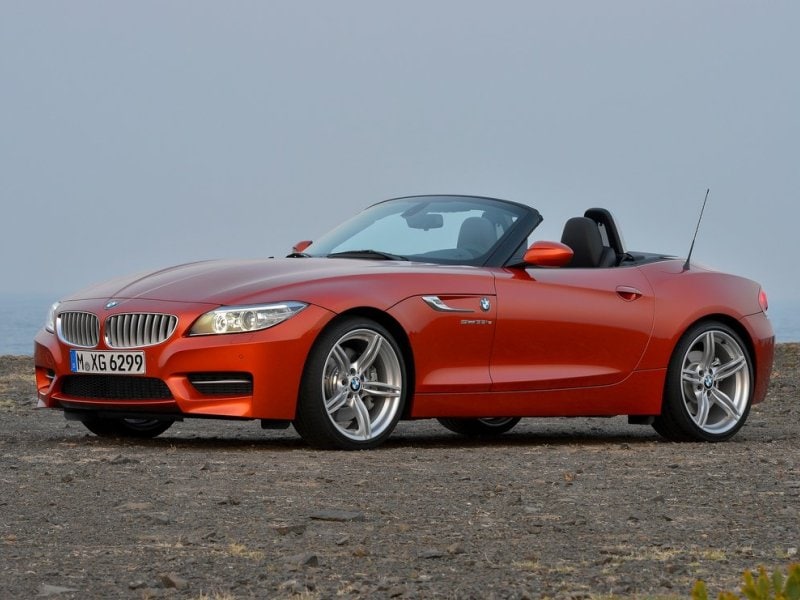 Photo by BMW