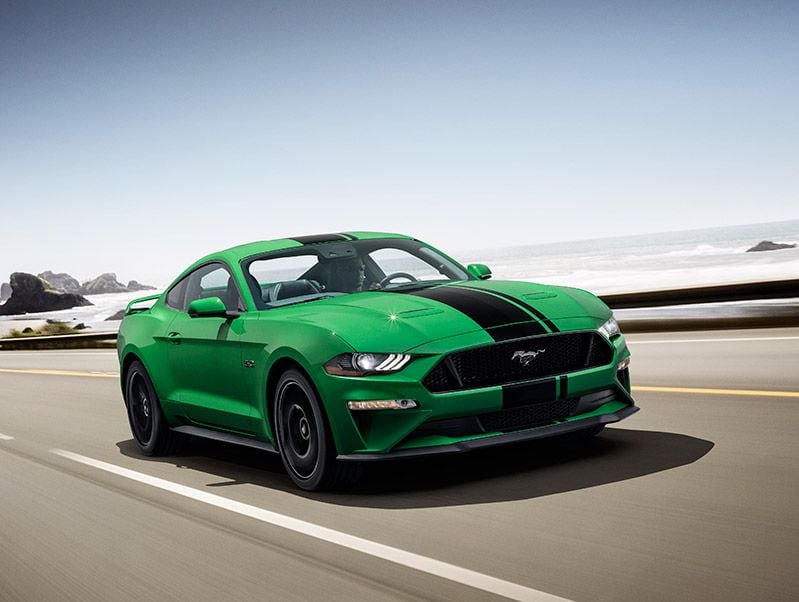 2019 ford mustang hero ・ Photo by Ford
If you're looking for a car with rear-wheel drive, be prepared to spend north of $25,000 to get one. To be clear, that sum is well under the average transaction price of a new vehicle today. Because of the high demand for expensive trucks and SUVs, that number is up above $35,000. In other words, many RWD cars are indeed relative bargains.
They'll also provide the kind of traditional performance you find in classic sports cars, along with the modern features you want in any 21st-century ride. For example, despite their pricing, all of these vehicles come standard with Bluetooth connectivity and rearview cameras. Some come standard with manual transmissions, too, but that's all part of the fun if you're a serious enthusiast.
2019 Fiat 124 Spider
The cheapest rear-wheel drive car for 2019 is a surprising name: the Fiat 124 Spider. What's also surprising is that the Spider combines its low MSRP with new standard content. As a result, even the entry model now has a rearview camera, a 7-inch touchscreen, Bluetooth, and HD radio. It has a standard turbocharged engine as well, and that unit delivers peppy performance with 164 horsepower, 184 pound-feet of torque, and a six-speed manual transmission with a short-throw shifter.
And don't forget what this Fiat is missing: namely, a fixed roof. The Spider gives the thrill of open-air driving with an easy-to-open cloth top. Standard LED taillights and dual exhaust outlets — and a starting price of $24,995 — add up to the perfect finishing touch.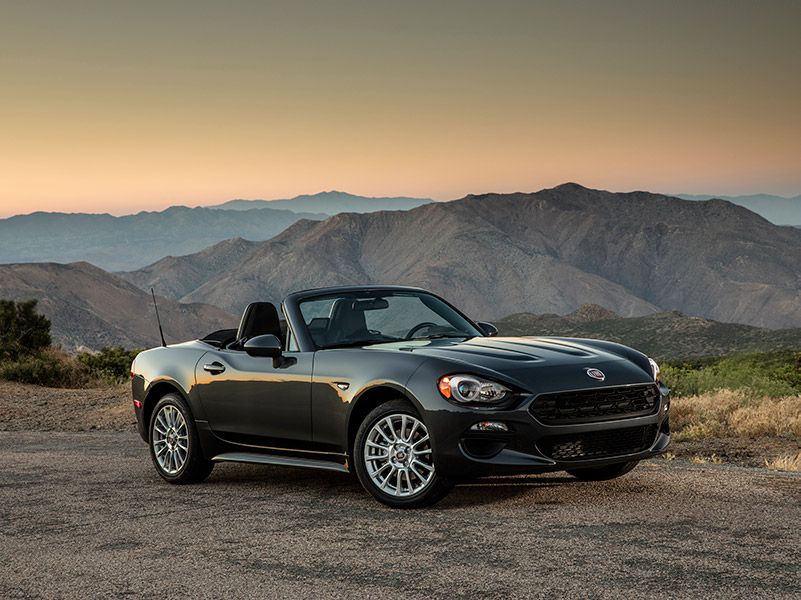 Photo by Fiat Chrysler Automobiles
2019 Chevrolet Camaro
All of the most popular modern-day rear-wheel drive muscle cars qualify as cheap, beginning with the 2019 Chevrolet Camaro. In fact, this year's model is priced more than $900 below the 2018 version. Yet the Camaro is just as exciting to drive, thanks to its standard 2.0-liter turbocharged engine. Paired with a standard six-speed manual transmission, that four-cylinder turbo can force out 275 horsepower and 295 pound-feet of torque.
Your $25,000 price of admission to the Camaro coupe also covers mobile Wi-Fi, Android Auto, and Apple CarPlay. That sort of technology is entirely missing from some luxury cars, even those that cost tens of thousands of dollars more. (Note that the Camaro convertible doesn't rank among the cheapest rear-wheel drive cars, with a higher starting price of $31,500.)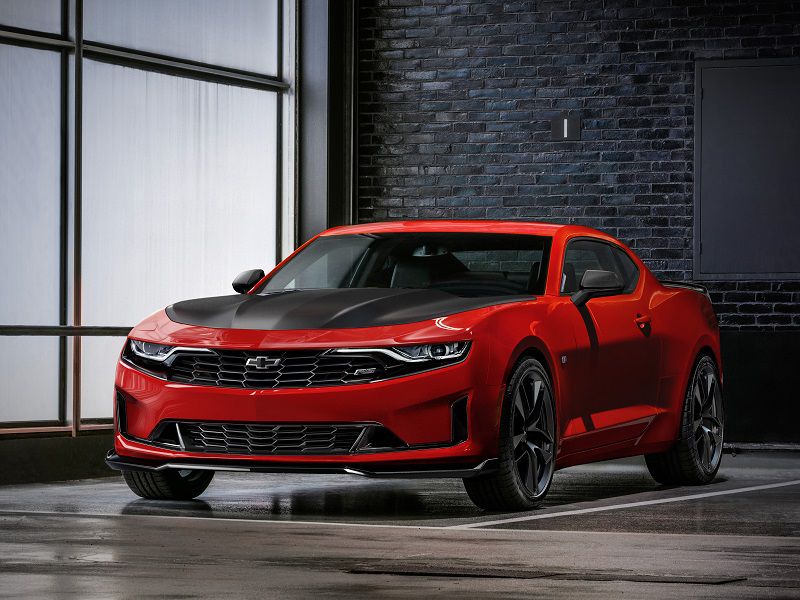 Photo by Chevrolet
2019 Mazda MX-5 Miata
The 2019 Mazda MX-5 Miata actually shares a fair amount of hardware with the first entry on our list of cheap rear-wheel drive cars. There are key differences, though, like the Miata's naturally aspirated 2.0-liter four-cylinder engine. This unit produces more horsepower and less torque than the smaller four-cylinder turbo in the Fiat 124 Spider, with the Mazda engine making 181 horses and 151 pound-feet of torque.
The Miata does match the Fiat's standard infotainment system, cloth convertible top, and six-speed manual transmission. Mazda then ups the ante with standard LED headlights and a six-speaker audio system with access to mobile apps. Of course, another important difference here is pricing. The Miata, with an MSRP of $25,730, is about 3 percent more expensive than the 124 Spider.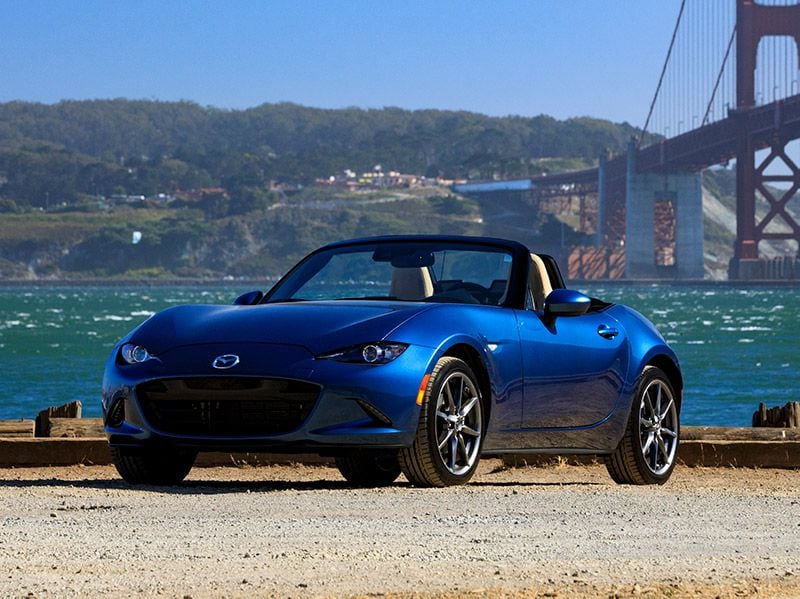 Photo by Mazda
2019 Subaru BRZ
There's also some platform sharing going on with the 2019 Subaru BRZ, which was developed in a partnership with Toyota. Both provide a sleek sports-car design, a standard six-speed manual transmission, and a 205-horsepower four-cylinder engine. Notably, that motor features a flat design for a lower center of gravity and sharper handling.
You know what else is good for the car's handling? The standard sport-tuned suspension. The BRZ also boasts standard LED headlights, a leather-wrapped steering wheel, a 6.2-inch touchscreen, and an eight-speaker audio system as part of its $25,795 sticker price. (As you'll see in a few pages, the similar Toyota 86 checks in with a $660 premium.)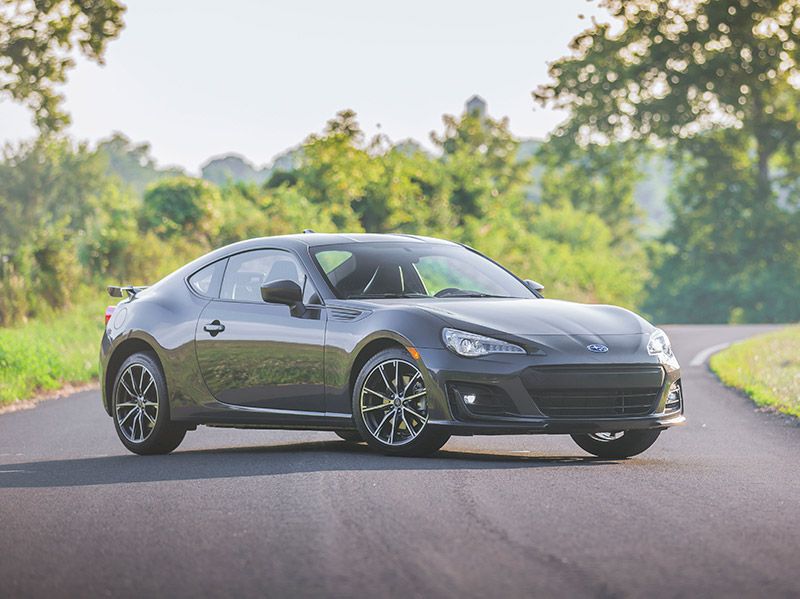 Photo by Subaru
2019 Ford Mustang
At $26,120, the 2019 Ford Mustang will cost you a bit more than a Chevrolet Camaro and a bit less than a Dodge Challenger. But you also get a bit more power than either. The entry-level Mustang is equipped with a turbocharged 2.3-liter EcoBoost engine that kicks out 310 horsepower and 350 pound-feet of torque. That's more output than in the least expensive Challenger, too.
However, just because the Mustang counts as a cheap rear-wheel drive car doesn't mean it's lacking in content. The 'Stang's standard features include LED headlights, LED signature lighting, and LEDs for its hallmark sequential taillights. Further, to help you make the most out the car's power, Ford also supplies a standard six-speed manual transmission and limited-slip differential.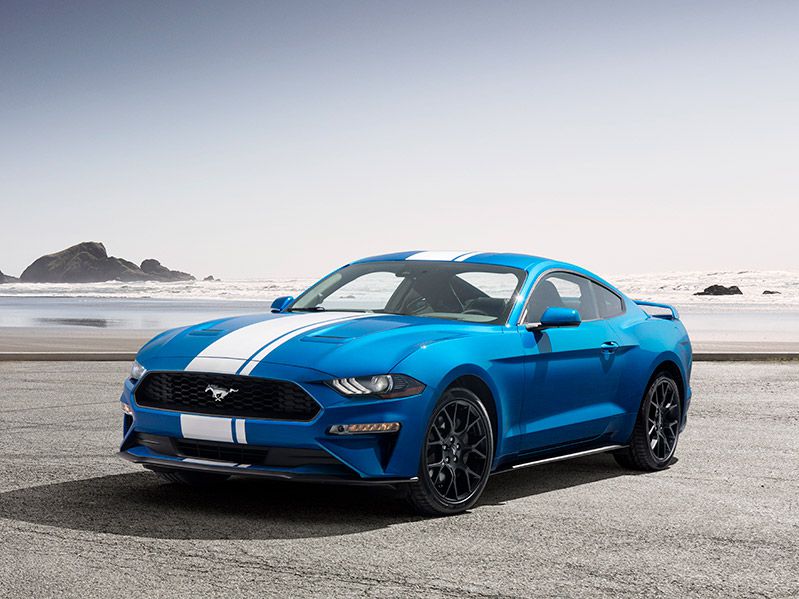 Photo by Ford
2019 Toyota 86
Remember the Subaru BRZ from a couple pages back? Well, the 2019 Toyota 86 is the BRZ's brother from another mother. Stickered from $26,455, the 86 shares the same 205-horsepower engine and six-speed manual as the BRZ, and it wears the same exotic sports-car design.
On the inside, sport seats are standard for the driver and front-seat passenger. The 86 also rides on a standard sport-tuned suspension for superior handling performance. For the most serious enthusiasts, the car's standard stability control system has a dedicated "Track" mode that takes things to the next level. Nor is there any shortage of content for daily driving; LED headlights, a 7-inch infotainment touchscreen, and a leather-wrapped multifunction steering wheel are all standard.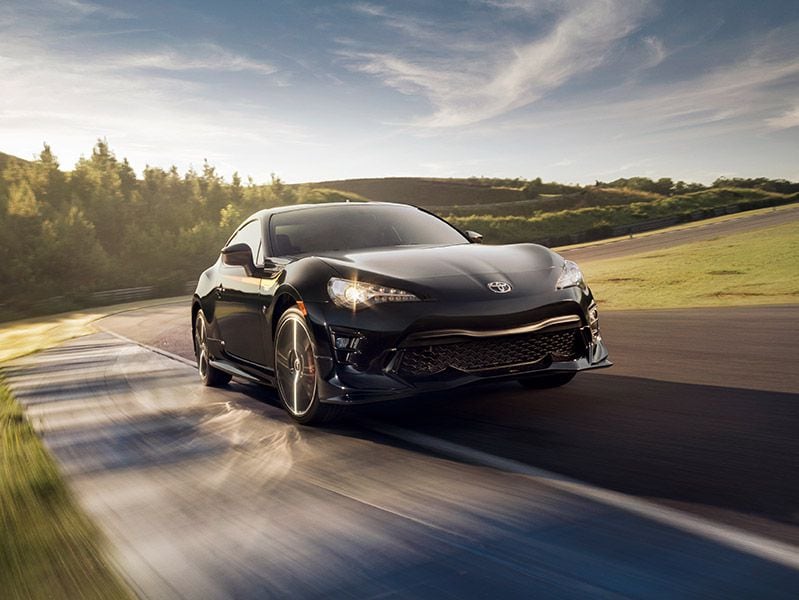 Photo by Toyota
2019 Dodge Challenger
Although the 2019 Dodge Challenger will take a bigger bite out of your bank account than a Camaro or Mustang, it does have competitive advantages against both. The Challenger, with an MSRP of $27,295, relies on a naturally aspirated 3.6-liter V6 with 305 horsepower and 260 pound-feet of torque. So it has 30 more horsepower than a comparable Camaro.
Meanwhile, the standard infotainment system from Dodge bundles a 7-inch touchscreen, Android Auto, and Apple CarPlay. None of that's standard for the Mustang. Oh, and like nearly all cheap rear-wheel drive cars, the Challenger shows off an available six-speed manual transmission for maximum driver engagement, though not with the base engine. Also standard for the Dodge: LED accent lights and daytime running lights.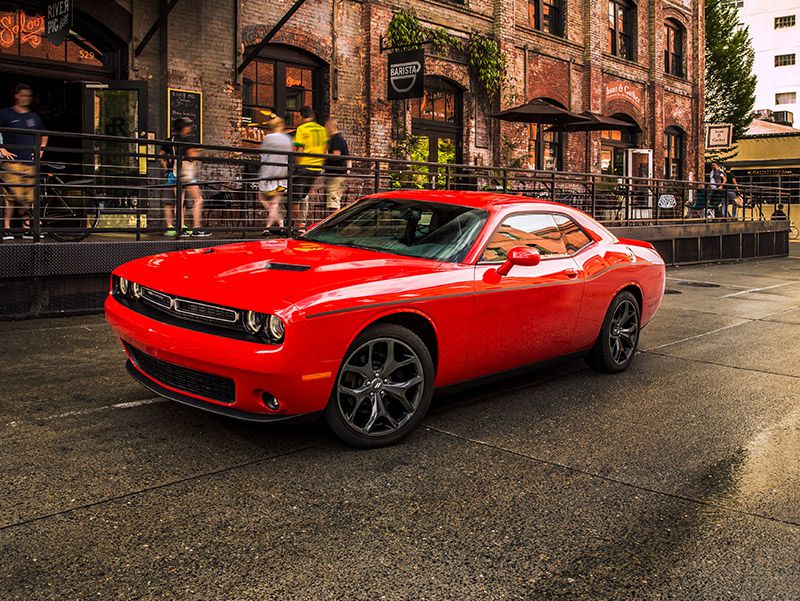 Photo by Dodge
2019 Dodge Charger
Dodge actually has two of the cheapest rear-wheel drive cars. The brand's four-door muscle car — the 2019 Dodge Charger — also makes the grade with an MSRP of $28,995. Now, the Charger certainly offers its share of standard performance cues, including a 292-horsepower V6 and a dual-exhaust system.
But what makes the car stand out on this list is the fact that it's so family-friendly. The Charger is a full-size car with more than 40 inches of rear legroom and a trunk capacity of 16.5 cubic feet. A sleeker, sportier-looking choice like the Toyota 86 is limited to 29.9 inches of legroom for rear-seat passengers, and when those seats are in use, you're left with less than 7 cubic feet of rear cargo space.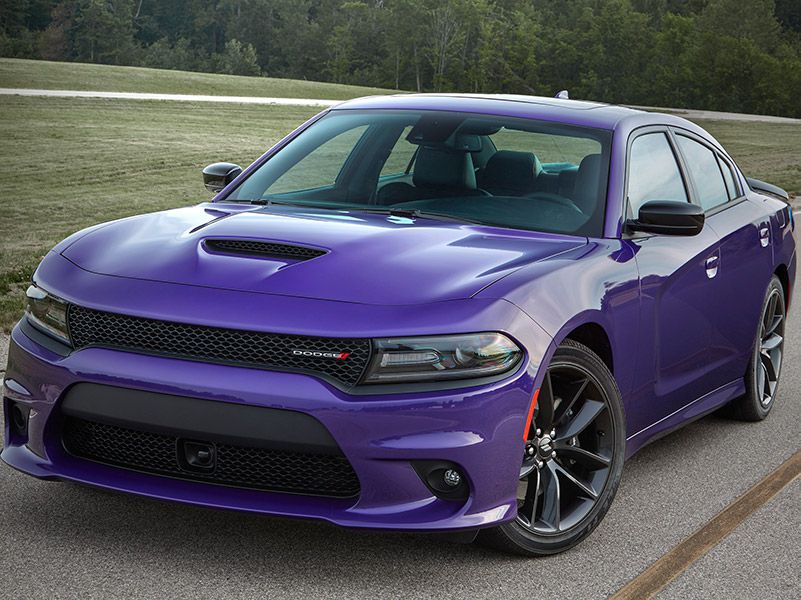 Photo by Fiat Chrysler Automobiles
2019 Nissan 370Z
An old-school choice among today's cheap rear-wheel drive cars, the 2019 Nissan 370Z hasn't changed much in recent years. Yet that's good news in a certain way, since it means the 2019 model continues to showcase the legendary performance of past Z cars. For instance, the standard 3.7-liter V6 is bigger than the base engines of other affordable rear-wheel drive cars, and it serves up the most horsepower. That's 332 horses to go with a robust 270 pound-feet of torque. Naturally, you manage that output with a standard six-speed manual transmission.
Nissan's two-seat sports car also offers a striking exterior design with standard high-intensity discharge headlamps and LED daytime running lights as part of its $29,990 starting price.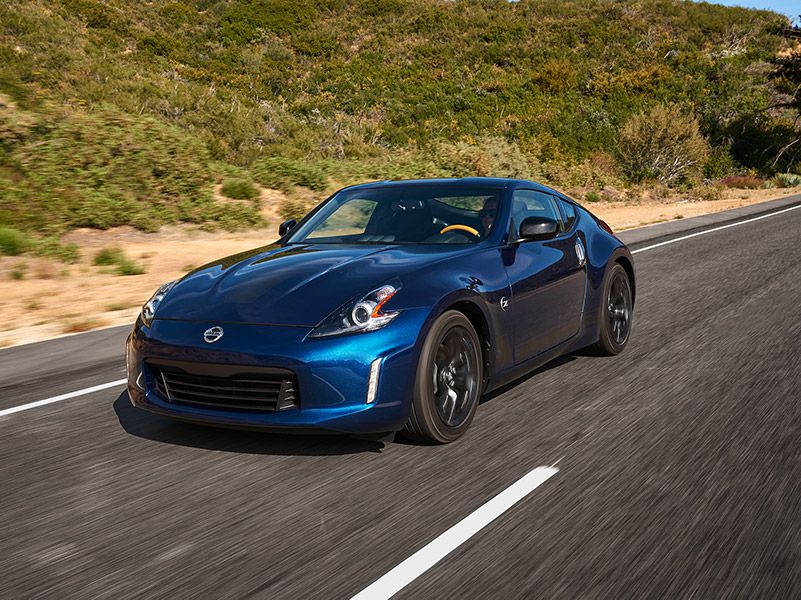 Photo by Nissan
2019 Kia Stinger
While most cheap rear-wheel drive cars are familiar names, our last one is practically brand new. The critically acclaimed Kia Stinger made its debut last year and is still gaining momentum in the marketplace.
To help matters, the 2019 Stinger opens at $32,900 with a 255-horsepower turbocharged engine, an eight-speed automatic transmission, a 7-inch touchscreen, Android Auto, Apple CarPlay, a blind-spot monitor, rear cross-traffic alert, and a surprisingly upscale cabin. Also included are premium touches like leather-trimmed seating, heated front seats, a 12-way power-adjustable driver's seat, dual-zone automatic climate control, and a leather-wrapped steering wheel. The Stinger also offers practical benefits: With a liftback design instead of a traditional trunk, there's 23.3 cubic feet of rear cargo space.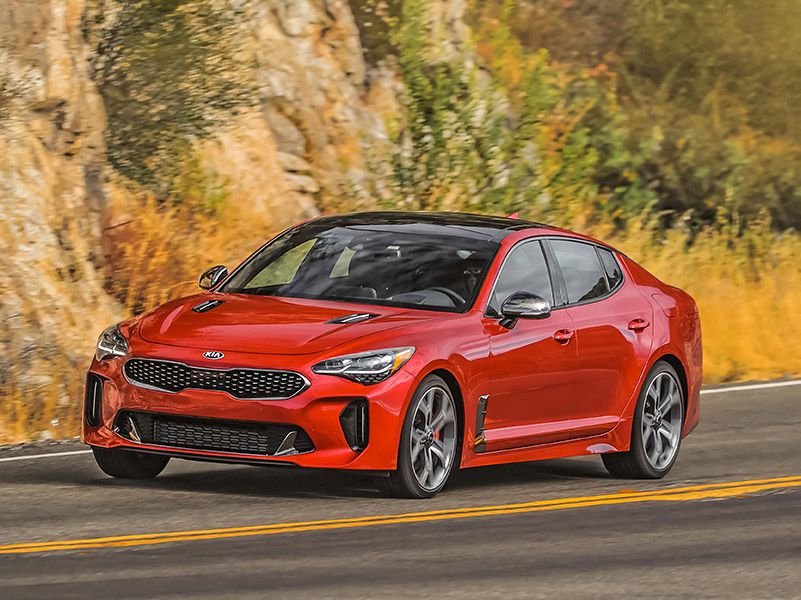 Photo by Kia