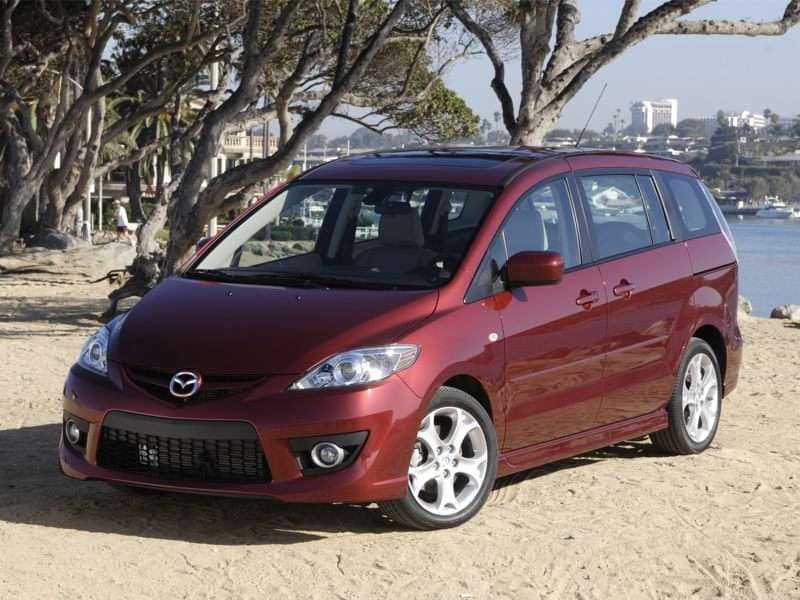 It's a little too easy to rag on the trusty minivan for being a boring "soccer mom" vehicle, but even those who dislike the boxy shape, lackluster engine options, and mushy ride have to admit that the minivan's got one undeniable thing going for it: convenience. The minivan's prized sliding doors make it very easy to strap down the kids, load in cargo, and ensure everyone is comfortable. It's easy to speculate that sliding doors are the only reason minivans still exist after the SUV and crossover boom. It should come as no surprise that minivans make up most of the vehicles on this list, but there are alternatives out there for people who just can't get over the minivan's dowdy image. Check out Autobytel's list of the best vehicles with sliding doors, perfect for your next family road trip.
1) 2015 Toyota Sienna
The 2015 Toyota Sienna, one of the most consistently popular minivans on the market, accommodates eight passengers across three rows by way of its sliding door. Selecting a 2015 Sienna is easy, in part because it comes exclusively with a 3.5-liter V-6 engine. The Sienna benefits from 266 horsepower and 245 lb-ft of torque from this unit, and a six-speed automatic transmission helps the vehicle achieve fuel mileage of 18 mpg city and 25 mpg highway in front-wheel drive models. Choosing the option of all-wheel drive saps two miles per gallon from each respective measure, but improves handling and all-weather capability. In addition to its people moving prowess, the Toyota Sienna provides an impressive 150 cubic feet of total interior storage space, more than most minivans on the market, when the second and third row seats are folded forward.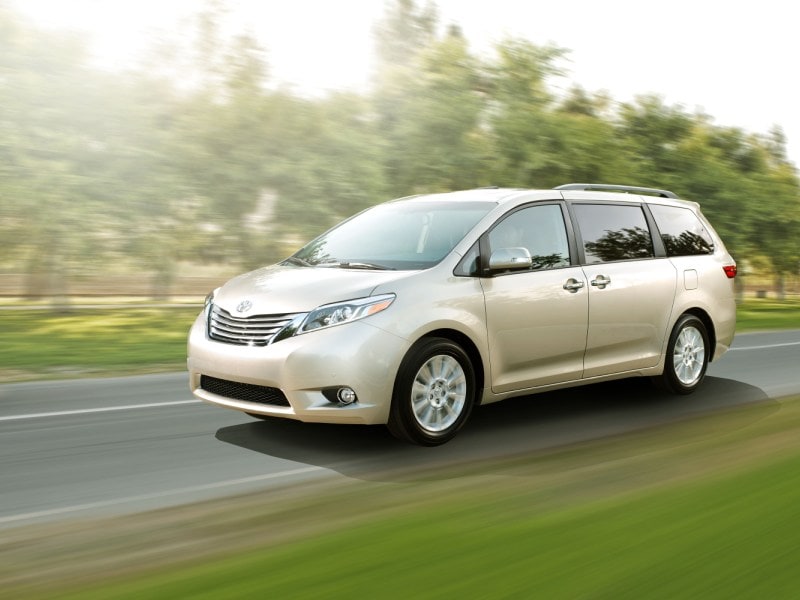 Photo by Toyota Media
2) 2015 Mazda Mazda5
The 2015 Mazda MAZDA5 is perhaps the sportiest of the sliding door vehicles to earn a spot on this list. The Mazda Mazda5 is sort of a mini-minivan, that is not only a reasonably roomy compact people mover, but is based on a chassis that has been tuned to offer responsive handling that is in keeping with its lightweight design. The peppy driving experience should be no surprise considering the sportiness of Mazda's other compact vehicles. The Mazda5 is powered by a 157-horsepower, 2.5-liter four-cylinder engine, complemented by decently sporty suspension and tuning as well as surprisingly competitive fuel economy. Unfortunately, the six-speed manual gearbox was discontinued for the 2015 model year, leaving only a five-speed automatic transmission. Pull back the sliding door to access seating for six passengers in a basic, functional interior.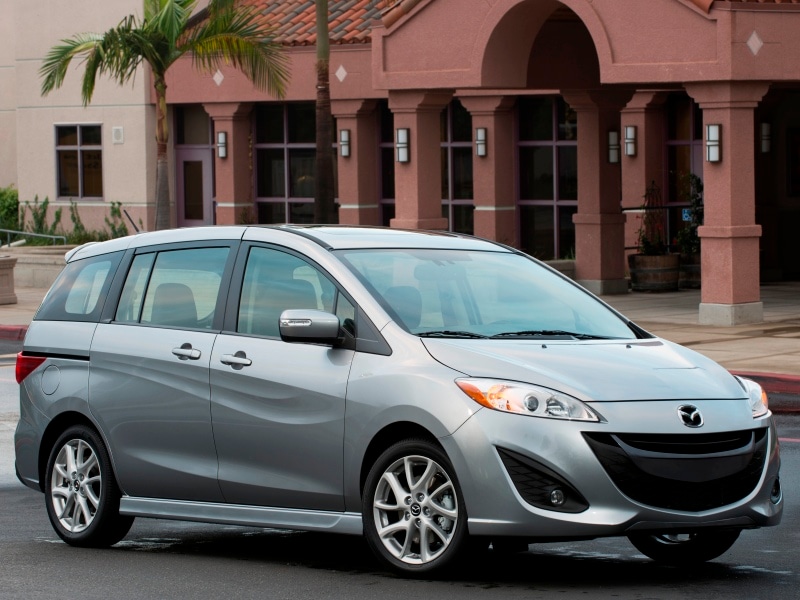 Photo by Mazda USA
3) 2015 Honda Odyssey
The Honda Odyssey is a perpetual winner, and the 2015 Odyssey is especially noteworthy for offering some of the best fuel mileage specs in the category. The 2015 Odyssey's sliding doors offer up transportation for up to eight passengers when properly configured, and it features a robust 3.5-liter V-6 drivetrain that's good for 248 horsepower and 250 lb-ft of torque. A six-speed automatic transmission handles the shifting duties for the Odysset, and fuel mileage is listed at 19 mpg in city driving and 28 mpg on the highway. As an added bonus, the Odyssey can pack in a hefty 148 cubic feet of cargo when the rear rows of seating are stowed out of the way. The 2015 Honda Odyssey provides a comfortable ride, plenty of features, and some of the best agility in the class.
4) 2015 Nissan NV
The 2015 Nissan NV represents the Japanese auto manufacturer's attempt to tap into the customizable commercial cargo van market that has traditionally been served by vehicles like the Ford Transit or Mercedes-Benz Sprinter series. As one of the newest entries to the segment, Nissan's version offers a more up-to-date take on the passenger-configured cargo van niche, with modern equipment and comfort. Some NV models can be optimized to handle up to 12 passengers across four rows, and Nissan's thoughtfully arranged the doors for comfortable and convenient access. Nissan offers a couple different engines with the NV, including a 261-horsepower, 4.0-liter V-6 or a 5.6-liter V-8 that yields 317 horsepower. A five-speed automatic transmission pairs with both. The 2015 Nissan NV's impressive towing capacity also gives this cargo van an edge.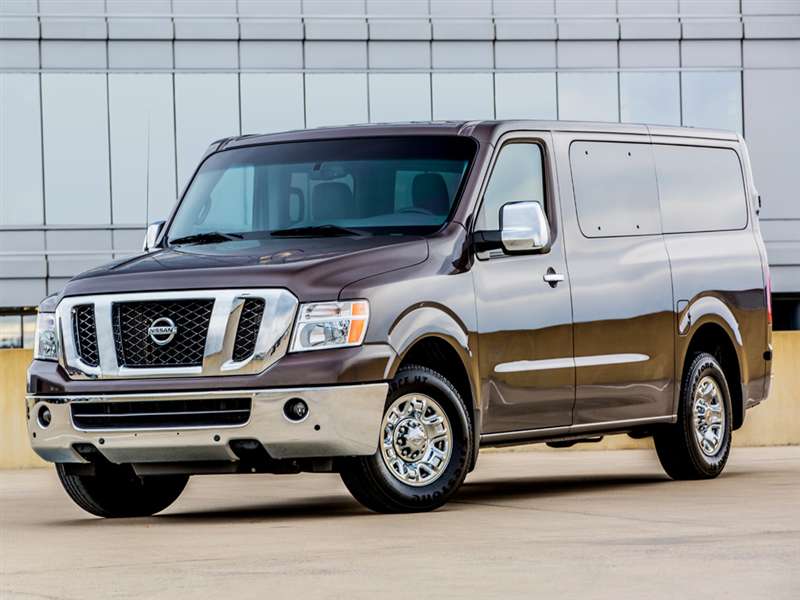 5) 2016 Chrysler Town & Country
The 2016 Chrysler Town & Country is a reliable and safe minivan that offers seating for seven passengers. It's known in part for the second-row Stow 'n Go seating system that can quickly and easily adjust to re-allocate capacity for people or gear, thanks to second-row seats that collapse flat into the floor. The Town & Country is also competitive thanks to its generous offerings of standard features and equipment, positioning it as a good value for a family vehicle. The V-6 engine is a bit thirsty compared to the competition, yielding lower-than-average fuel economy, but the 3.6-liter unit provides a competent 283 horsepower. All 2016 Town & Countrys come with a six-speed automatic transmission and front-wheel drive. Six trim levels make the 2016 Chrysler Town & Country an option for almost every new-minivan budget.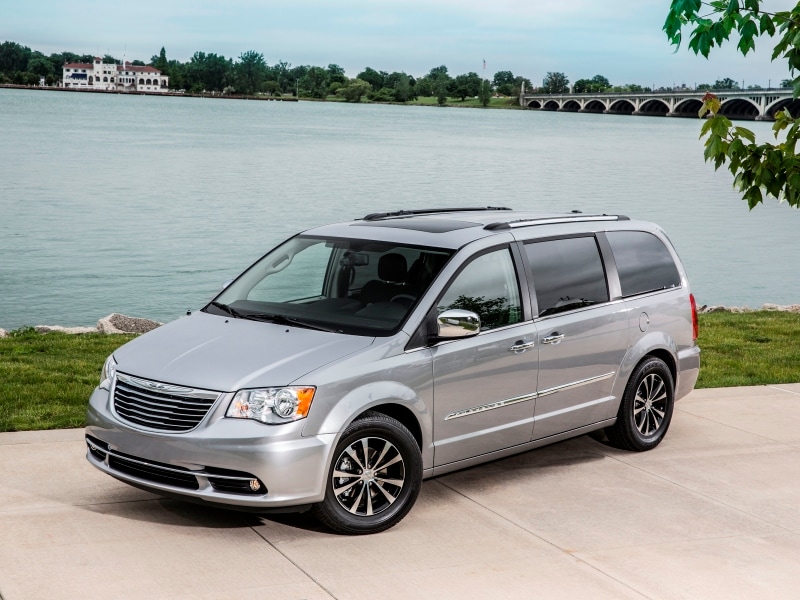 Photo by FCA Media
6) 2015 RAM ProMaster City Wagon
The 2015 RAM ProMaster City Wagon is a compact five-passenger utility van that's all new for this model year. It's designed to help the utility-focused RAM brand earn a place amongst the competition in the compact van segment. The front-wheel drive 2015 RAM ProMaster City Wagon is powered by a single engine, a 2.4-liter four-cylinder that produces 178 horsepower and 174 lb-ft of torque, which comes paired to the only nine-speed automatic transmission available in the cargo van segment. The second row of seating can be moved out of the way to increase cargo capacity when needed. Sliding side doors increase accessibility, and the 60/40 split rear doors can open to either 90 or 180 degrees. The available towing package enables the RAM ProMaster City Wagon to pull up to 2,000 pounds.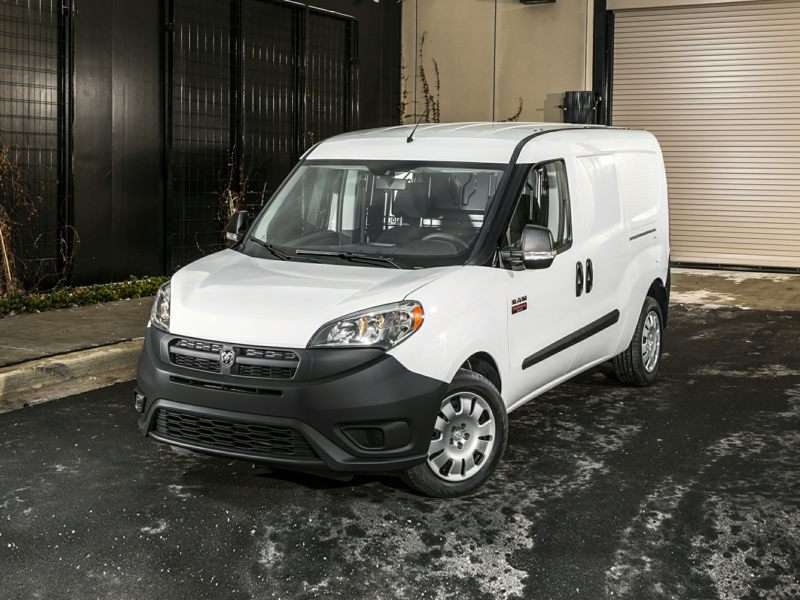 7) 2016 Kia Sedona
The Kia Sedona, which was just redesigned for the 2015 model year, carries over into 2016 mostly unchanged, which is just fine. The 2016 Sedona offers a posh and refined interior, finished in high-quality, sound-dampening materials that provide a quiet and relaxing ride for up to eight passengers. Five trim levels are available on the 2016 Sedona, but these are mostly to organize the features an equipment hierarchy, since all Sedonas are powered by the same drivetrain. A 3.3-liter V-6, paired to a six-speed automatic transmission, provides the Sedona with 276 horsepower and average fuel economy for the category. Some of the available features include power sliding doors, dual sunroofs, climate-controlled front seats, an upgraded audio system, plenty of high-end safety equipment, and reclining second row seats (which reduce available seating to seven).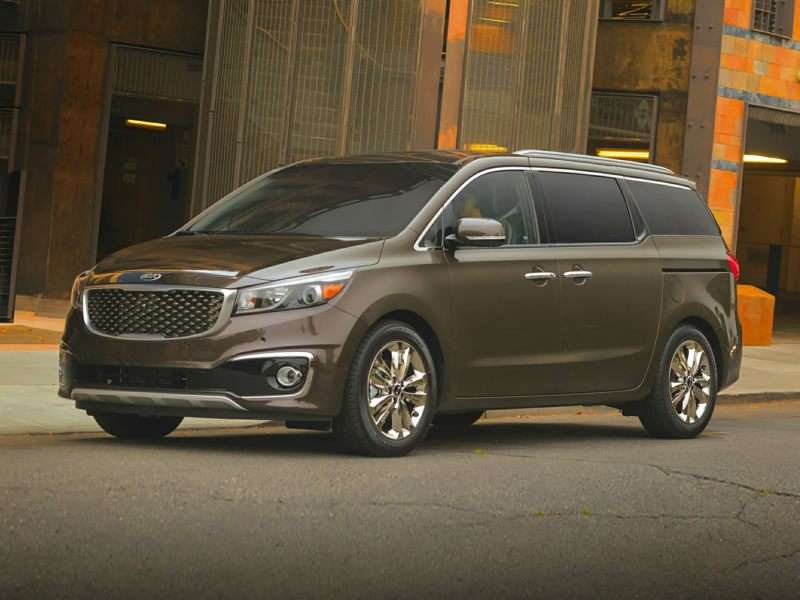 Photo by Kia Media
8) 2015 Mercedes-Benz Sprinter
The 2015 Merdeces-Benz Sprinter is a commercial van that's designed to be endlessly configurable, and is available in regular or high roof body styles. Though the 2015 Sprinter, like its predecessors, serves well as a cargo and commercial truck, it's also earned quite a following as a people-hauler. Passenger-oriented Sprinters offer capacity for 12 people, and the sliding door makes it fast and easy to embark and disembark. For 2015, there's a new four-wheel-drive system with a low-range function, which is available only with Mercedes' 188-horsepower, 3.0-liter V-6 BlueTEC diesel. Otherwise, a 161-horsepower, 2.1-liter four-cylinder diesel sits under the hood. The 2015 Mercedes-Benz Sprinter is easy to drive for a van, even with a full load, thanks to a thoughtful design that provides the driver with plenty of visibility.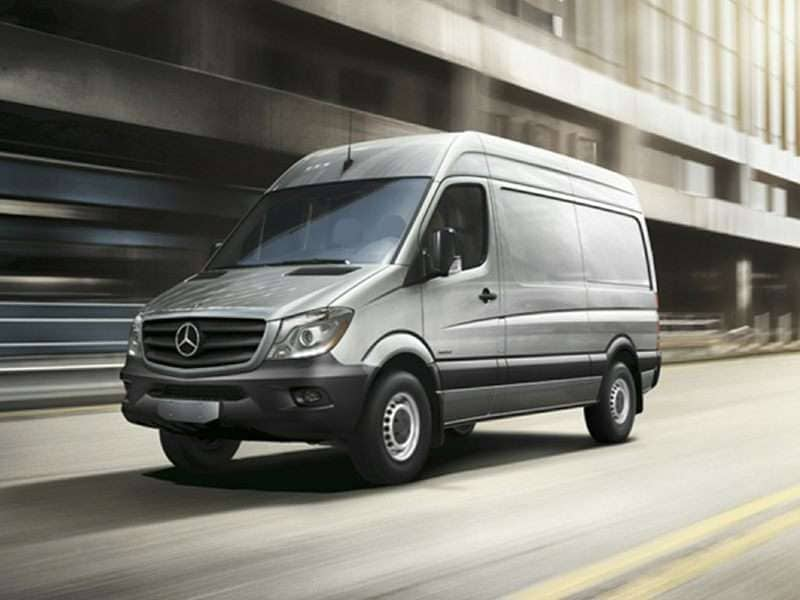 Photo by Mercedes-Benz
9) 2015 Dodge Grand Caravan
The 2015 Dodge Grand Caravan, when equipped with the highly desirable Stow 'N Go seating feature, comfortably seats seven occupants with plenty of space to stretch out and plenty of flexibility for packing in passengers and cargo. When the sliding door is open, it's quick and easy to reconfigure the seats by either stashing them away or pulling them back out, depending on whether it's a people-moving or stuff-moving kind of occasion. The Grand Caravan is easy to spec out to suit most budgets, which contributes to its popularity. But for all its available options, the Grand Caravan offers only one solidly reliable drivetrain: a front-wheel drive 3.6-liter V-6 that puts 283 horsepower through a six-speed automatic. The 2015 model doesn't have many changes from previous years, but that's fine, because it's excellent at what it does.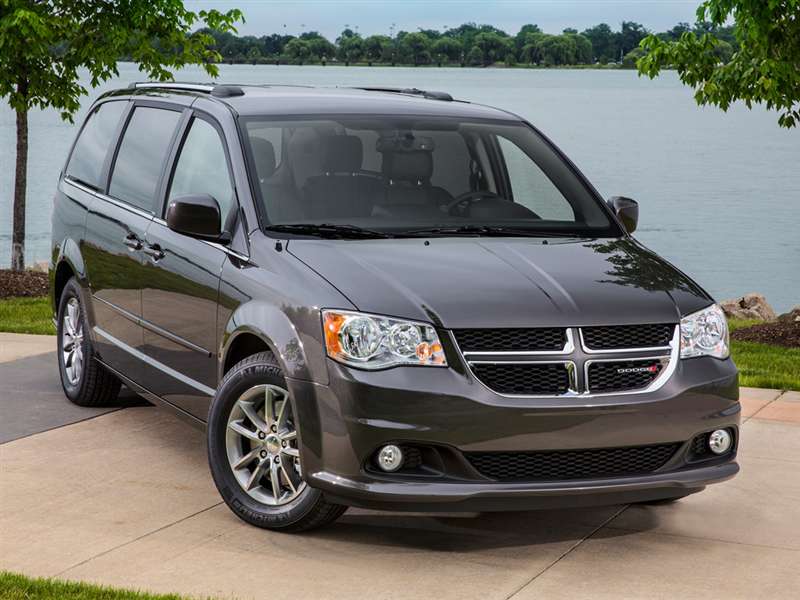 10) 2015 Nissan Quest
The 2015 Nissan Quest is a long-running and reliable minivan option that provides solid power and handling, good interior space, respectable towing capacity, and competitive fuel economy. The 2015 Quest puts down a useful 260 horsepower, courtesy of its 3.5-liter V-6 engine, which comes paired to a continuously variable automatic transmission. The CVT helps the Quest earn fuel mileage of 20 mpg city and 27 mpg highway, which is slightly above average for a minivan. The sliding door reveals a good-looking interior with sliding second-row captain's chairs that help maximize the Quest's interior space, although these chairs mean the Quest can seat only seven passengers, instead of the eight that many other minivans can accommodate. The 2015 Nissan Quest is offered in four trim levels, which help buyers sort out equipment and feature packages.