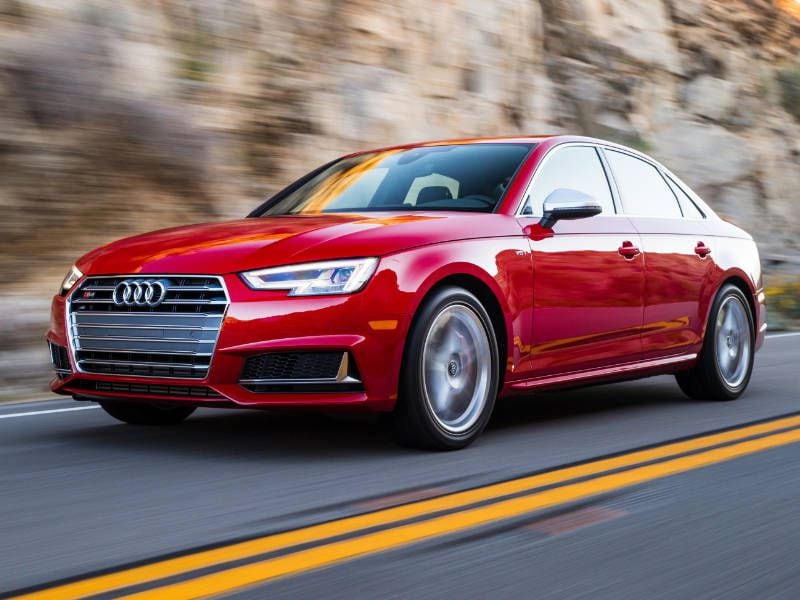 2018 Audi S4 Driving ・ Photo by Audi
Just a few years ago, adaptive cruise control was the province of luxury cars, but these days the highly sophisticated electronic driver's aid is widely available. So if you are seeking a car with adaptive cruise control, you might also seek out next-gen features like lane-keeping, lane-centering, and stop-and-go capability. Of course, before we get any farther, it is important to define "adaptive cruise control" because it sometimes goes by other names like "dynamic cruise control" and "radar cruise control." As with conventional cruise control, the driver can set a maximum speed for the vehicle, but in contrast to conventional cruise control, adaptive cruise control can recognize traffic conditions that make it unsafe or ill-advised to maintain the set speed, and it slows the vehicle to conform with those conditions. Many current adaptive cruise control systems will apply the brakes to stop the vehicle when necessary — say, when a car is stationary in front of you — and those with stop-and-go will automatically resume acceleration without driver intervention. The good news for drivers is that these systems are becoming ever-more prevalent. Here are 10 notable cars with adaptive cruise control.
2020 BMW 3 Series
The adaptive cruise control optionally available in the BMW 3 Series is one of the most sophisticated available. Images gathered by camera and additional data gathered by radar and ultrasonic sensors are used to monitor the area surrounding the sedan. Its "stop and go" braking function makes driving on long-distance trips far less demanding physically and mentally by automatically accelerating and decelerating the car to maintain the desired speed. That speed can be imported directly from the optional traffic sign recognition system or chosen by the driver. The active cruise control system also keeps a safe distance from vehicles traveling ahead of it. Operational from 0 to 130 mph, it is able to brake the vehicle to a full stop when necessary. If the vehicle in front of it begins moving forward within 30 seconds, the system will begin to accelerate the vehicle. In order to determine the ideal moment to resume acceleration, the system's sensors now monitor not only the vehicle immediately ahead, but the one in front of it as well. The system also makes steering corrections to keep the sedan in its lane.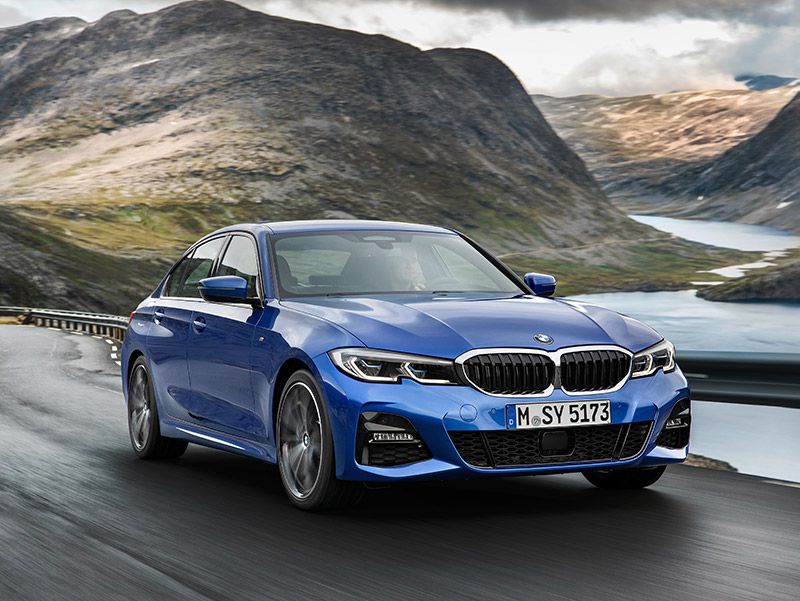 Photo by BMW
2020 Volvo S60
Volvo is world-renowned for its safety innovations, and those innovations now extend to highly sophisticated driver-assistance systems. Volvo's wide-ranging Pilot Assist supports the driver with steering, distance, and speed control in situations ranging from slow-moving traffic jams to free-flowing long-distance driving on freeways and Interstates. When the Volvo S60's adaptive cruise control is active, automatic acceleration, braking, and steering assistance help the driver follow the traffic flow within the current lane. Pilot Assist works at speeds up to 80 mph, and unlike some systems, it does not require a "lead" car, making it useful on long highway trips as long as road markings are clear. Volvo's standard lane-keeping assist gently steers the car back if it is about to cross a lane marker. It uses a windshield-mounted camera, relies on visible lane markings, and is functional between 37 and 124 mph.
Photo by Volvo
2020 Mercedes-Benz A-Class
One of the benefits of buying a less-expensive vehicle from a luxury manufacturer is that it might offer technology pioneered on the company's high-end models. So it is with the Mercedes-Benz A-Class. Mercedes-Benz's smallest sedan offers driver assistance systems with functions adopted from the flagship S-Class, including its radar-based adaptive cruise control. It adjusts your speed to accommodate the changes in speed the traffic ahead of you. If traffic slows to a crawl, the system will reduce vehicle speed automatically while maintaining a preset interval between your car and the car ahead. If the vehicle stops, it can bring your car to a stop as well. The system will bring your vehicle back up to speed as traffic ahead of you begins to move if you are stopped for less than 30 seconds. If the pause is longer, you can tap the accelerator or push the cruise control button to resume your original speed when the traffic ahead begins to move again.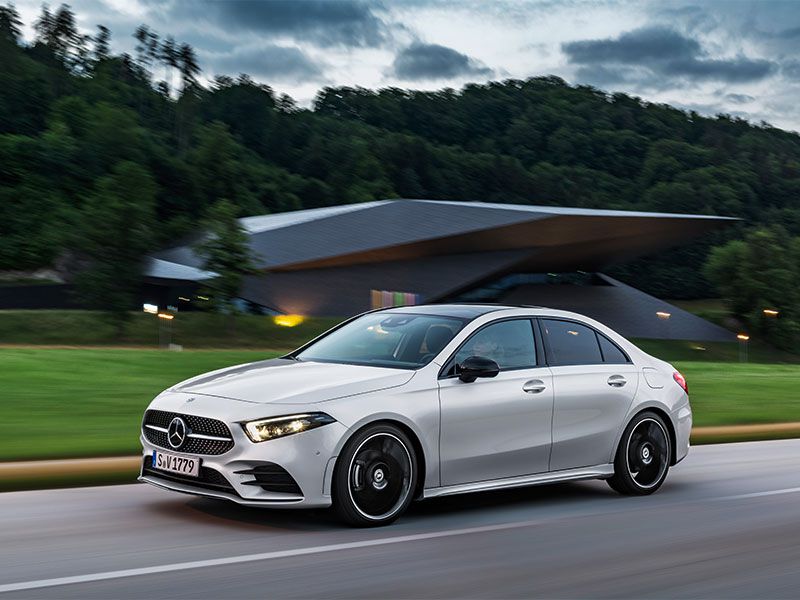 Photo by Mercedes-Benz
2020 Audi A4/S4
The current Audi A4 is a compact luxury sedan that can be filled with high tech driver assistance features. Of course, one of the best of those features is the optional adaptive cruise control with stop-and0go and traffic jam assist. The system automatically maintains distance from the vehicle immediately in front of the car. It both brakes and accelerates to maintain that distance, and it can bring the car to a full stop and then resume progress. From a stop all the way up to 37 mph, traffic jam assist combines automatic acceleration and braking with steering guidance, which can take the stress out of driving in congested traffic. In the event that a sharp maneuver is needed to avoid a collision, collision avoidance assist supports the driver when turning into the adjacent lane.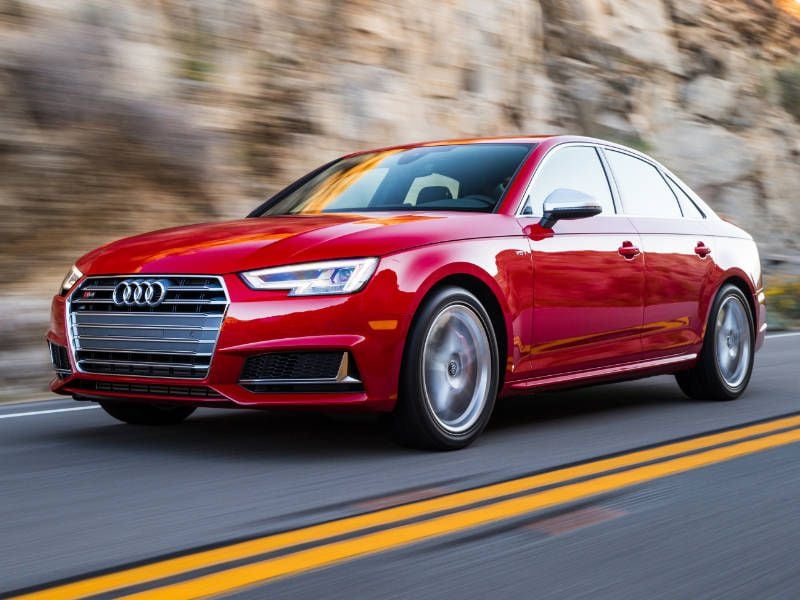 Photo by Audi
2020 Acura RLX
The Acura RLX luxury sedan features the AcuraWatch suite of safety and driver-assistive technologies as standard equipment, and it is an impressive array. One of the most valuable driver-assist features is Acura's adaptive cruise control with low-speed follow. Once you engage Acura's adaptive cruise control, the system will prompt the driver to select a short, medium, or long interval from the vehicle detected ahead. When traveling below the cruise speed set by the RLX's driver, the system will maintain the set interval by modulating the throttle and applying moderate braking when appropriate. The interval from the vehicle in front of you will remain even as it slows to a stop. The adaptive cruise control is supplemented by traffic jam assist, which helps keep the vehicle centered in the lane and at a set interval from a vehicle detected ahead even in heavy, low-speed congestion.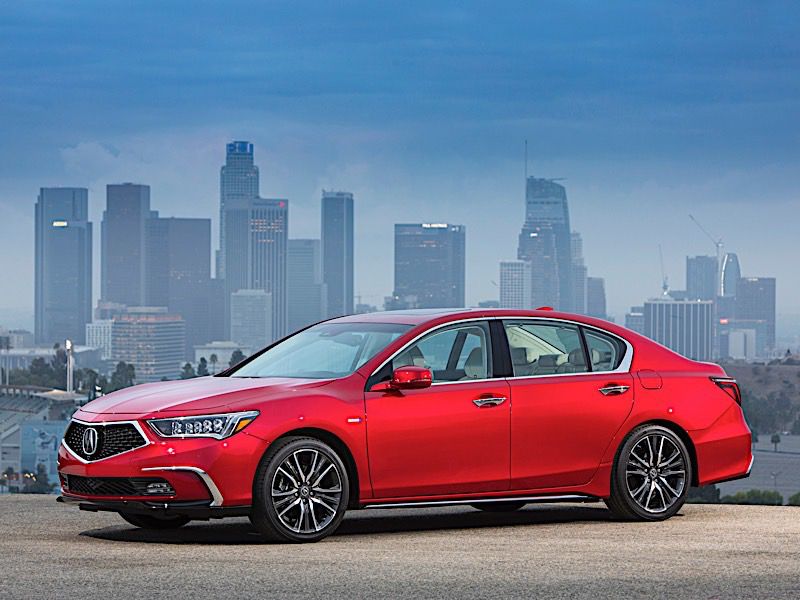 Photo by Acura
2020 Lexus ES
One of the most popular luxury sedans in the American market, the Lexus ES features a very robust array of safety and driver-assist items in Lexus Safety System+ 2.0. The previous edition of Lexus's all-speed radar cruise control has been enhanced with a more advanced forward radar sensor and computer control system that is designed to provide smoother acceleration and braking in heavy traffic. The car's lane-departure warning alerts the driver when it senses that the sedan is deviating from its lane. After audible and haptic alerts, it is also capable of providing a certain amount of steering assist to help keep the car from deviating from its marked lane. The Lane tracing assist system uses lane markings to determine lane position. If road markings are not detected, this system is also capable of following the car ahead of it when used in conjunction with the adaptive cruise control.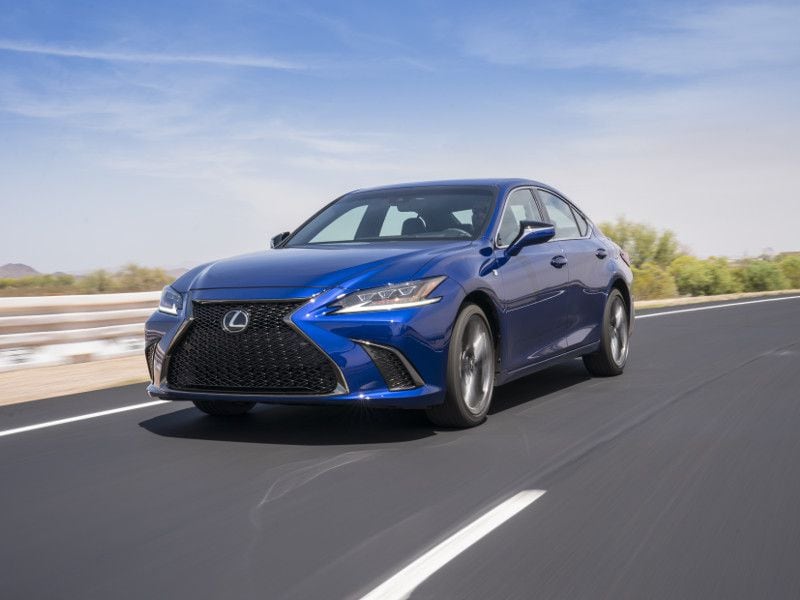 Photo by Lexus
2020 Hyundai Sonata
The 2020 Hyundai Sonata mid-size sedan is newly redesigned and filled with driver assistance technology. Hyundai is out to prove that its mid-size sedan is the equal of the ever-popular Toyota Camry and Honda Accord, and it is pulling out all the stops to prove it. Hyundai's SmartSense advanced driver assistance systems have an impressive array of inputs — three radar sensors, 12 ultrasonic sensors, and five cameras. It can issue warnings to the driver, and it takes overt action when necessary. Its advanced smart cruise control, which is standard equipment on the 2020 Sonata, features stop-and-go capability. That means it will bring your car to a full stop if traffic conditions require and will automatically resume your forward progress with no driver input. Lane following assist, also standard, can automatically adjust steering to help keep the sedan centered in its lane, and it works both on the highway and on city streets.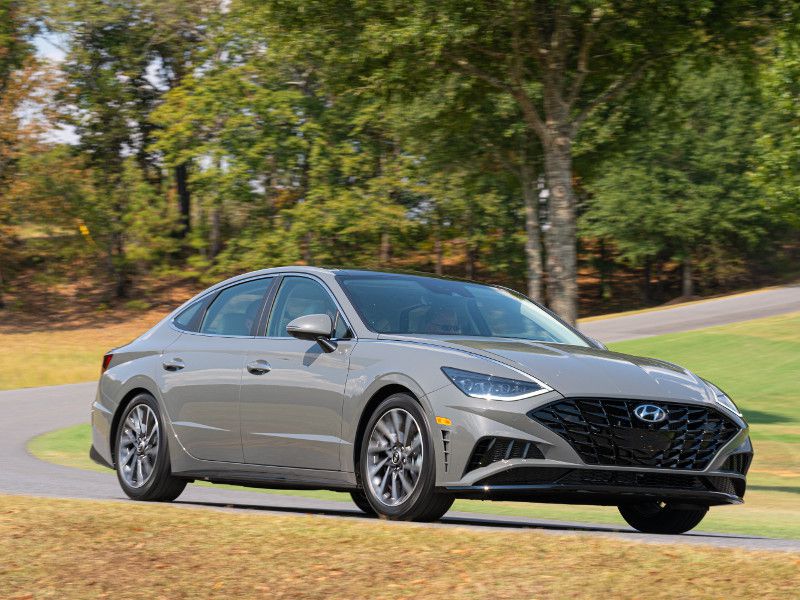 Photo by Hyundai
2020 Nissan Altima
Nissan has been one of the most vocal of the non-luxury brands in touting its intelligent driver's assists, and the popular Nissan Altima mid-size sedan has been one of the key beneficiaries of the array of technologies. Nissan calls its key system ProPILOT Assist, and it uses a forward-facing camera, forward-facing radar, sensors, and an electronic control module to work its magic. The overall goal of the system is to ease the driver's workload by reducing the amount of driver-initiated acceleration, steering, and braking inputs required under certain driving conditions, such as highway driving when the desire is to stay in a single lane. Drawing on the data from the camera, radar, and sensors, ProPILOT Assist helps the driver stay in the center of the driving lane and helps to maintain the vehicle speed set by the driver. It helps maintain a gap between the driver's car and the vehicle in front of it if the vehicle speed drops below the driver-set speed. It also can slow the vehicle to a complete stop and hold the vehicle during traffic jam conditions. ProPILOT Assist is standard on Altima SV, SL, and Platinum trim levels.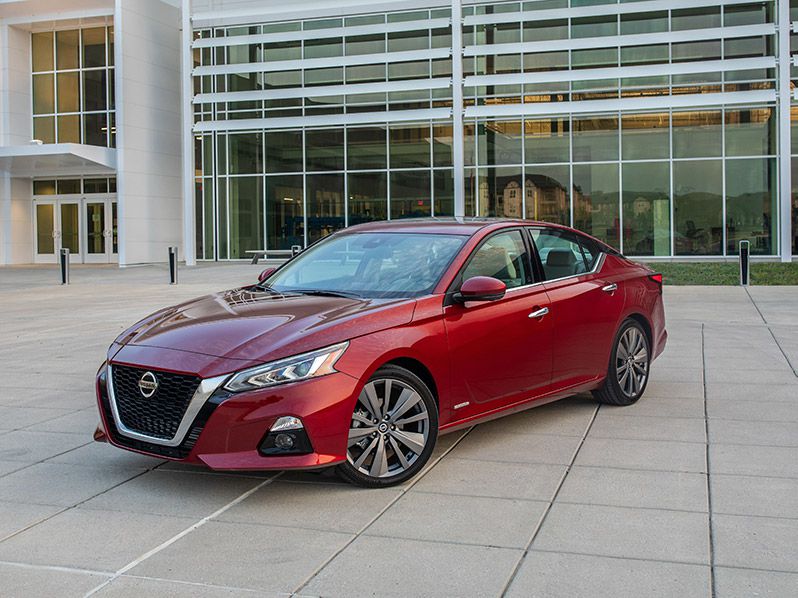 Photo by Nissan
2020 Toyota Corolla Hatchback
The Toyota Corolla Hatchback offers an adaptive cruise control system that's widely available on Toyota cars and some crossovers. It is intended for highway use and is similar to what some refer to as "constant speed" cruise control. It uses vehicle-to-vehicle distance control that automatically adjusts your speed to help you maintain a preset distance from vehicles ahead of you even when they are driving at a slower speed. Its front-grille-mounted radar and in-vehicle camera are designed to detect vehicles and their distance from your car. If a driver in front of you is traveling slower than you are, the system will automatically slow your vehicle down without deactivating cruise control. When the slower vehicle speeds up or pulls out of your lane, it will then accelerate to your preset speed. Opt for the Corolla Hatchback's automatic transmission instead of its standard manual and the system can operate from 0 to 110 mph. This more sophisticated system allows low-speed following, matching speeds, and, under certain circumstances, stopping before colliding with vehicles in front.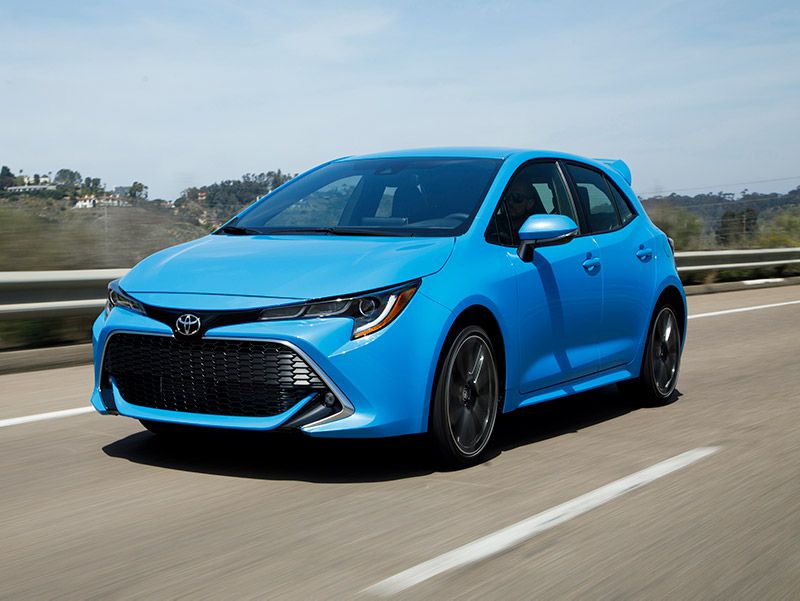 Photo by Toyota
2020 Honda Civic
The Honda Civic has won a reputation of one of the most fun-to-drive compact sedans available, and now with the addition of Honda Sensing technology as standard equipment, it is also gaining a reputation for advanced driver-assistance systems. The adaptive cruise control with low-speed follow that is part of the Honda Sensing suite of systems helps the car maintain a set following interval on the highway, so you don't have to change your speed as you encounter slower-moving traffic in your lane. Thanks to the low-speed-follow function, the adaptive cruise control will bring the Civic to a complete stop if traffic ahead warrants that. Once stopped, the driver needs to initiate acceleration by pressing on the accelerator or pressing the cruise control button. The car will then accelerate back to the set speed when traffic ahead allows. However, Honda's adaptive cruise control does not read traffic signals or road signs, so it is best used on limited-access highways like Interstates.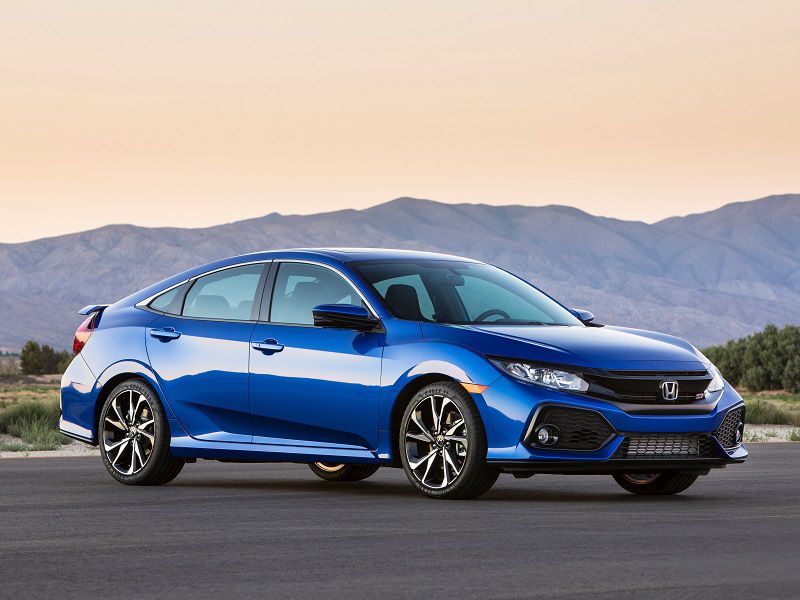 Photo by Honda