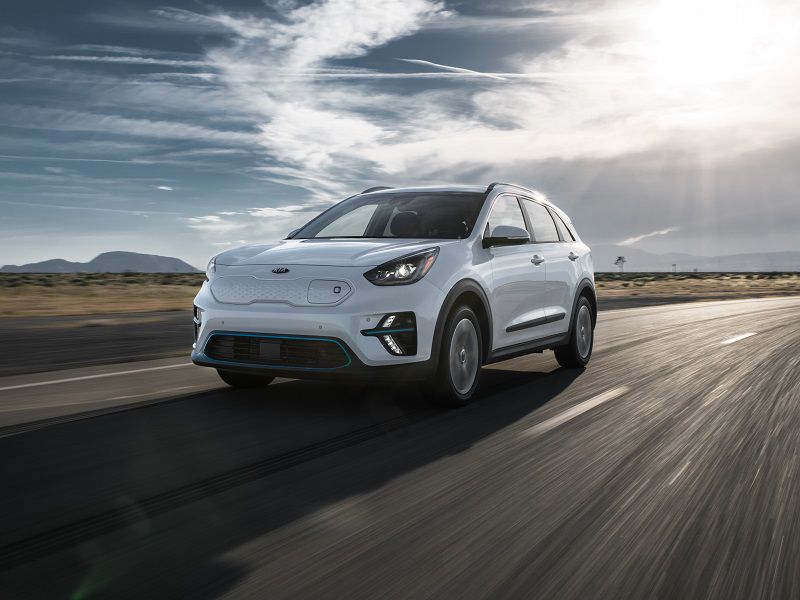 2019 Kia Niro EV ・ Photo by Kia
Everyone likes cutting their fuel bills and helping the environment. And electric cars and plug-in hybrids can be a great way to achieve both. The downside: They're often more expensive to buy than cars with old-school internal combustion engines.
To help bridge the gap, the U.S. government allows a federal tax credit of up to $7,500 for electric and plug-in hybrid electric vehicles (EVs and PHEVs). The tax credit amount varies based on the vehicle's battery capacity, along with how many EVs and PHEVs a given automaker has already sold. Today, we've rounded up 10 vehicles that qualify for a federal tax credit, representing a range of sizes, prices, and engineering approaches. Keep reading to see which seems the best fit for your life.
2020 Toyota Prius Prime
Everybody knows about the Toyota Prius, a compact hybrid hatchback that gets about 52 miles per gallon. That's pretty good. But it's not as good as the Prius Prime, which can travel up to 25 miles using no gasoline at all, and which subsequently averages 54 mpg in EPA testing.
The Prius Prime is a plug-in hybrid (PHEV), which combines plug-in electric capabilities with a gasoline engine — meaning that unlike a pure electric vehicle (EV), you can always fuel up at a gas station if you run out of range. But if you mostly drive less than 25 miles at a time and don't accelerate too hard, you'll rarely need to burn a single drop. What's more, because the Prius Prime qualifies for a federal tax credit of $4,502, it actually costs less than a standard Prius hybrid. Sticker prices start at $27,750, which fall to $23,248 with the tax credit. And for 2020, the Prime now seats five passengers instead of last year's four.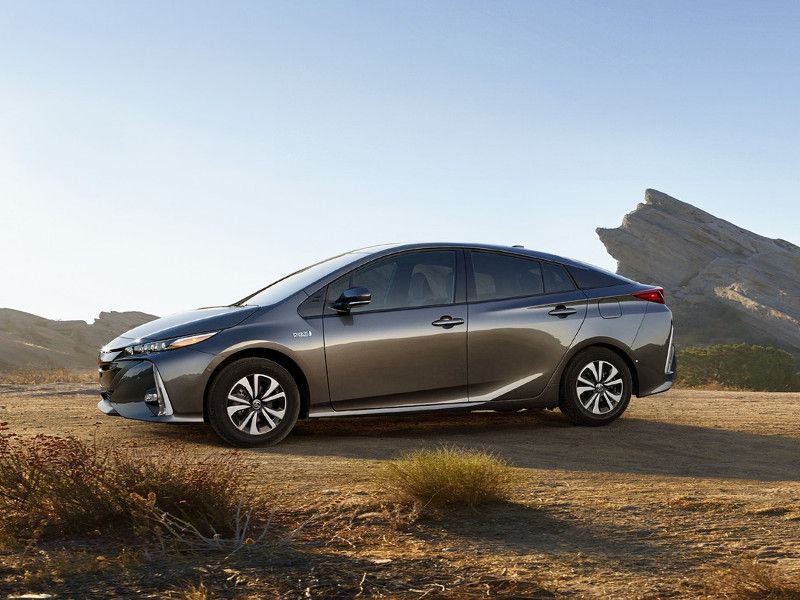 Photo by Toyota
2020 Kia Niro
There are two versions of the 2020 Kia Niro that qualify for a federal tax credit. There's a PHEV version that competes with the Toyota Prius Prime, which has a $4,543 tax credit. And there's a pure EV model that qualifies for the maximum $7,500 tax credit. (There's also a Niro hybrid with no tax credit available.)
The Niro straddles the line between a small station wagon and a subcompact crossover, but whatever you call it, it's well-built, pleasant to drive, and usefully spacious. The PHEV model can travel an EPA-estimated 26 miles per electric charge, then achieves 46 mpg once the charge is depleted. Meanwhile, the EV model manages a whopping 239 miles per charge at the energy equivalent of 112 mpg (MPGe). Although 2020 prices aren't yet available as of this writing, the 2019 PHEV starts at $28,500 ($23,597 with the tax credit) while the EV starts at $38,500 ($31,000 with the tax credit).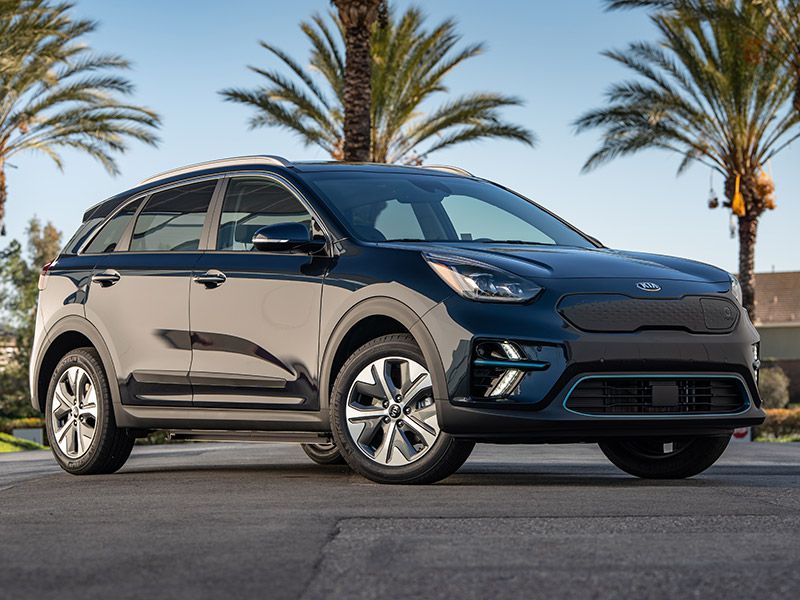 Photo by Kia
2020 Nissan LEAF
The first-generation Nissan LEAF helped Americans get used to buying fully electric cars, and the current model features more conventional styling, more up-to-date technology, superior driving dynamics, and improved range — while maintaining a relatively affordable price for a purely electric vehicle.
Most LEAF models can travel 150 miles per charge at 112 MPGe, with prices starting at $29,990 (or $22,490 with the $7,500 federal tax credit) as of the 2019 model year. However, you can also upgrade to a larger battery pack that boosts range as high as 226 miles, albeit with slightly lower fuel economy due to the larger battery's extra weight. That model starts at $36,550 (or $29,050 with the federal tax credit). Every LEAF is a compact five-door, five-seat hatchback with enough room for four adults to be comfortable.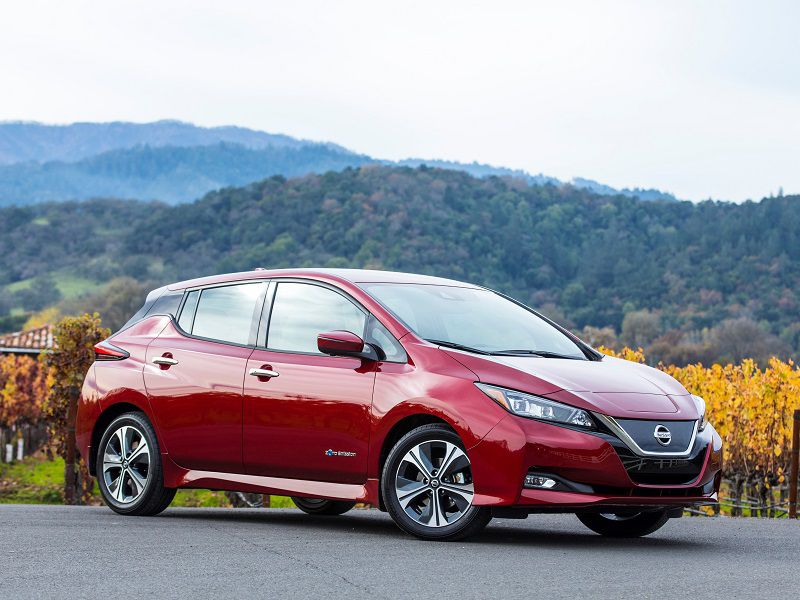 Photo by Nissan
2020 Honda Clarity
The 2020 Honda Clarity mid-size sedan combines futuristic styling with exceptional PHEV range and a spacious interior — and it qualifies for a $7,500 federal tax credit. It can travel up to 47 miles per electric charge, more than enough for many folks' daily commutes or errands. Then it gets a still-decent 42 mpg once the gasoline engine comes on. While 2020 prices aren't yet available, the 2019 Clarity PHEV starts at $33,400 (or $25,900 after the federal tax credit).
You can also get the Clarity as a fully electric vehicle in some markets. The Clarity EV nearly doubles the PHEV model's electric range, but on the other hand, there's no gasoline engine to help you go farther than 89 miles at a time. The Clarity EV starts at $36,620, or $29,120 after its $7,500 federal tax credit.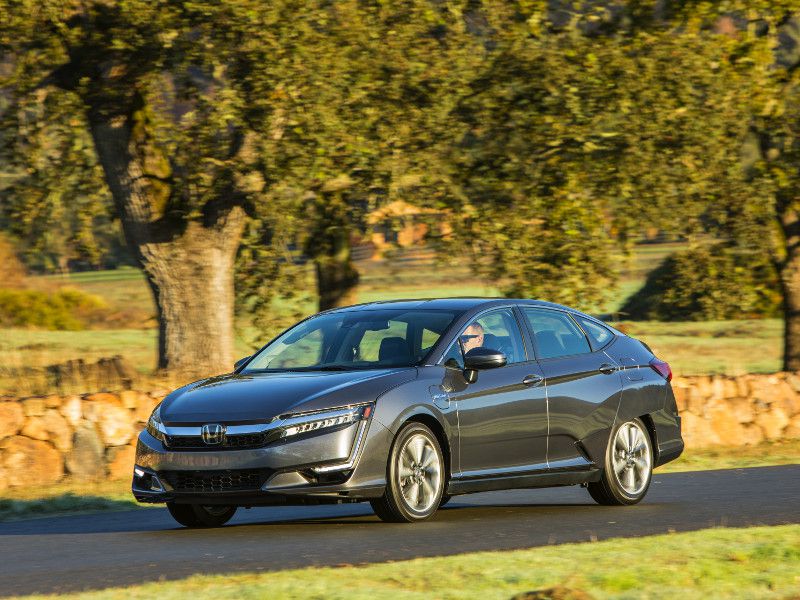 Photo by Honda
2020 Mitsubishi Outlander PHEV
While small, aerodynamic hatchbacks and sedans typically achieve the best fuel savings, sometimes you need more room and capability — but you still want a car that qualifies for a federal tax credit. Enter the 2020 Mitsubishi Outlander PHEV, the country's most affordable plug-in hybrid SUV.
The Outlander PHEV is a five-seat compact crossover with ample passenger and cargo space, plus standard all-wheel drive. It can travel up to 22 miles gas-free per electric charge, though mileage is less impressive on longer trips at 25 mpg in mixed driving. Prices start at $36,095, which drop to $30,259 when you factor in its $5,836 federal tax credit.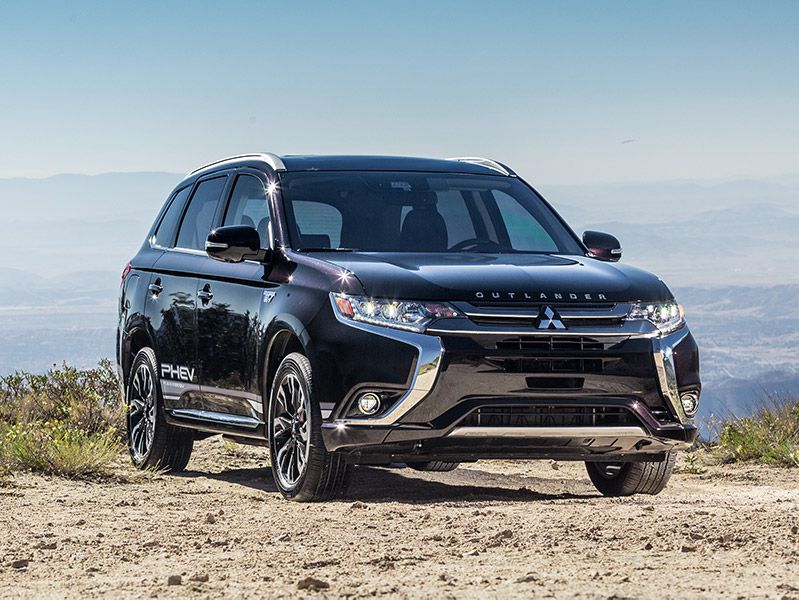 Photo by Mitsubishi
2020 Chrysler Pacifica Hybrid
Did the Mitsubishi Outlander PHEV sound good, but just not big enough for the whole family? Enter the 2020 Chrysler Pacifica Hybrid, the only gas-electric minivan available in the U.S.
The seven-passenger Pacifica Hybrid has tons of room for people and cargo, wrapped up in arguably the most attractive minivan body on the market. Its big electric battery lets it travel up to 32 miles per charge, and it achieves an EPA-estimated 30 mpg once that range is done. And unlike most PHEVs, this battery has enough capacity to qualify for the maximum federal tax credit. Prices start at $39,995, or $32,495 after the tax credit — about the same as a comparably equipped gas-only Pacifica.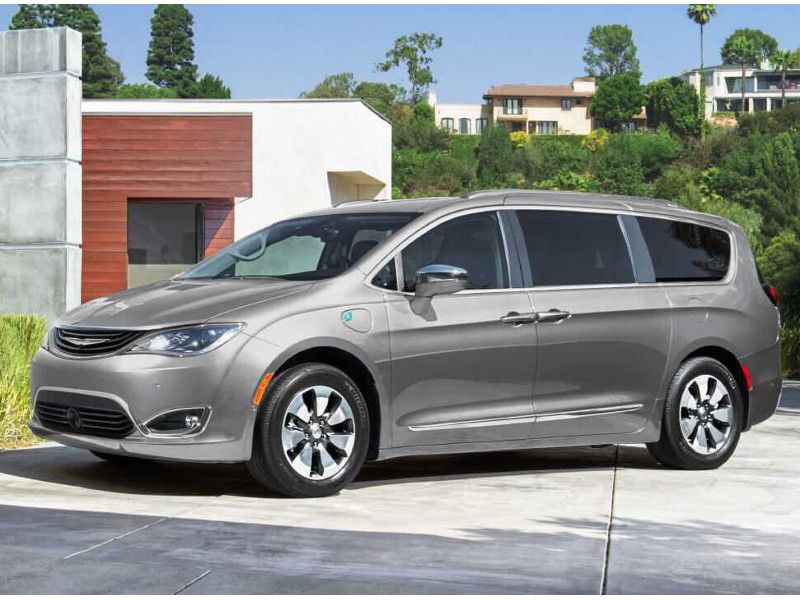 Photo by Chrysler
2020 Tesla Model 3
The Tesla Model 3 compact sports sedan is a hot commodity. It provides zippy performance, available all-wheel drive, and a high-tech vibe at starting sticker prices of $38,995 as of the 2019 model year. What's more, the all-electric Model 3 boasts EPA range estimates of 220 to 310 miles at a thrifty 116 to 133 MPGe, depending on the model.
But there's a catch when you're shopping for cars that qualify for a federal tax credit: Tesla has already sold so many electric cars, the tax credit is on its way out for the company. That means Tesla customers are no longer eligible for the full $7,500. Through December 2019, the credit for Tesla vehicles is $1,875 — and starting next year, no Tesla will be eligible for a federal tax credit. The only other automaker that's already losing the tax credits is General Motors, whose electric vehicles qualify for the $1,875 credit through March 2020.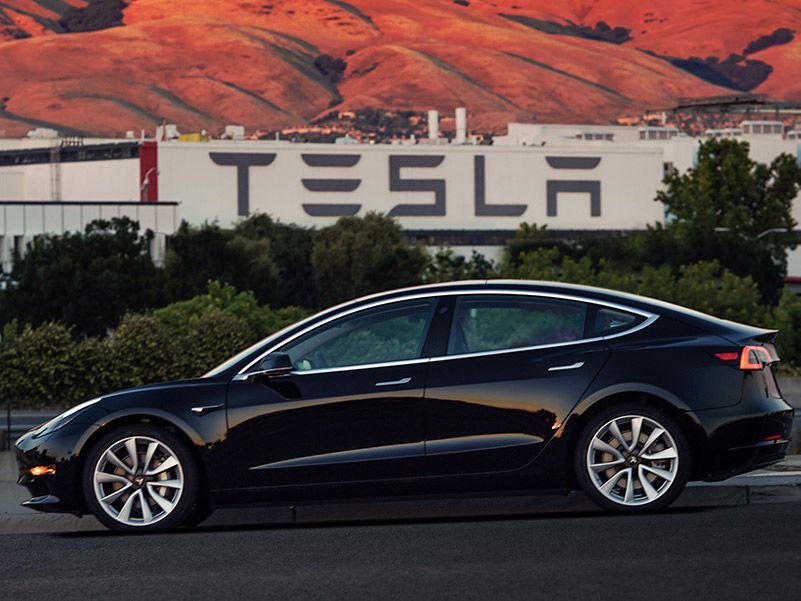 Photo by Tesla
2020 Volvo XC90 Hybrid
A number of luxury cars and SUVs have plug-in hybrid variants qualify for a federal tax credit. That means you can go green without sacrificing style, performance, and luxury — while Uncle Sam keeps fuel-saving technology from busting your budget.
One of our favorite luxury PHEVs is the 2020 Volvo XC90 T8. This is a beautiful seven-passenger mid-size crossover, and it's a fantastic family car whose appeal extends beyond carpool duty. With a newly updated battery this year, the EPA estimates it can travel up to 18 miles on fully electric power, and then average an impressive 27 mpg once the range is used up. What's more, the T8 is the most powerful XC90 model, packing 400 horsepower and a whopping 472 lb-ft of torque, nearly twice the torque of the base T5. The Volvo XC90 hybrid starts at $67,000, or $61,998 after the $5,002 federal tax credit.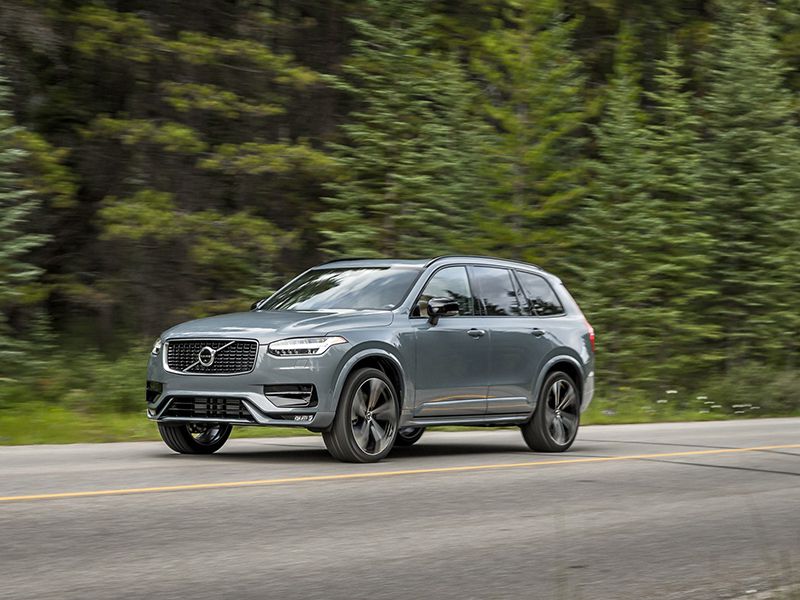 Photo by Volvo
2020 Porsche Panamera E-Hybrid
A speedy Volvo is all well and good, but if you want a luxury performance car that qualifies for a federal tax credit, it's hard to top the 2020 Porsche Panamera E-Hybrid. True, it won't rival a pure EV for energy consumption, and even a tax credit doesn't make it affordable. But the Panemera gives you extreme performance capabilities along with an eco-friendly footprint and a road-trip-ready gasoline engine.
We're talking about a powertrain that pairs an electric motor with a twin-turbo V6 engine, collectively providing 457 horsepower and 516 lb-ft of torque. And when you're not pushing your Porsche to its limits, it can travel an EPA-estimated 14 miles per charge, then achieve a moderately thrifty 23 mpg in mixed driving. It's also a useful luxury car, available as a big five-door liftback or "Sport Turismo" station wagon. Prices start at $102,900 as of the 2019 model year, but a $6,712 federal tax credit pushes it back down to five figures.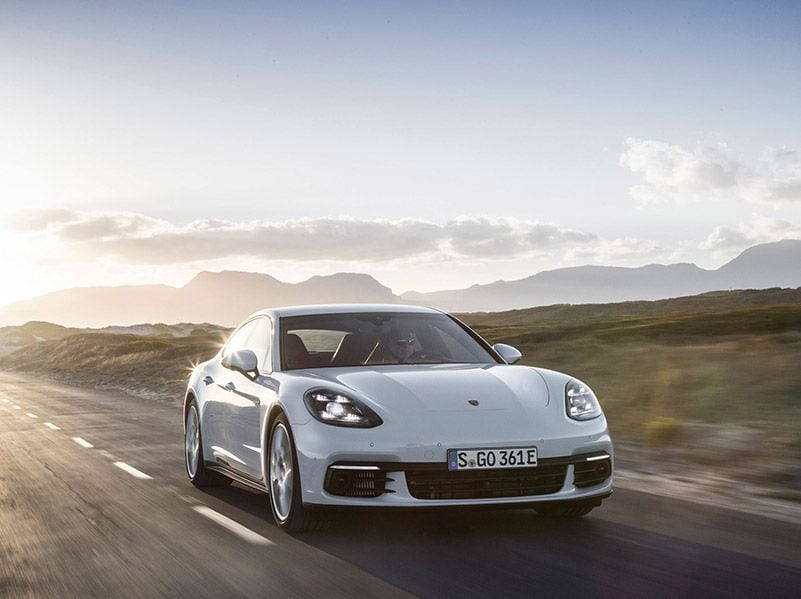 Photo by Porsche
2020 Jaguar I-Pace
Sometimes, you can get performance, luxury, and a long driving range without ever burning any gasoline. That's long been Tesla's domain, but with the brand losing its federal tax credits, we have our eye on a fresh new competitor: the 2020 Jaguar I-PACE.
This low, aerodynamic, fully electric crossover is designed to stand out from a crowd. It may not be the roomiest SUV you can buy, but it's more versatile than a sedan, and it manages an EPA-estimated 234 miles of range plus 76 MPGe. Prices start at $69,850, but because it qualifies for the maximum $7,500 federal tax credit, its effective base price drops to $62,350.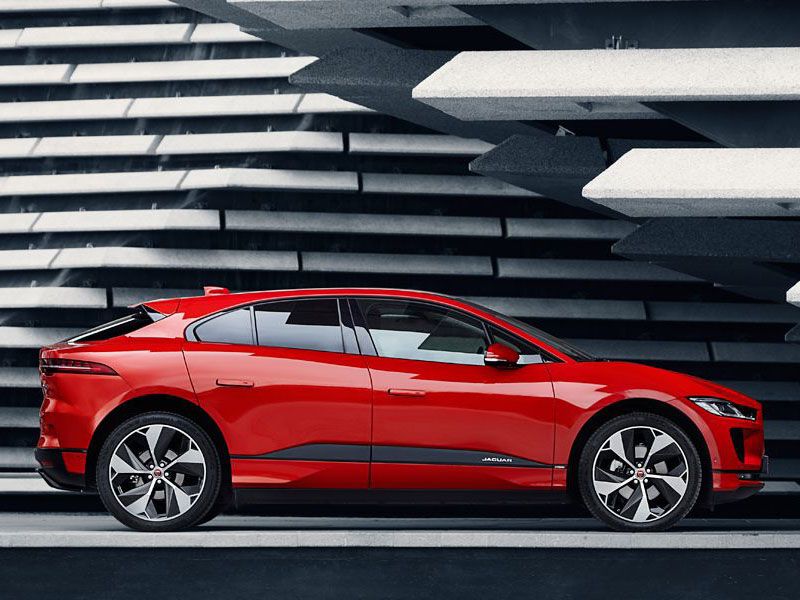 Photo by Jaguar Land Rover