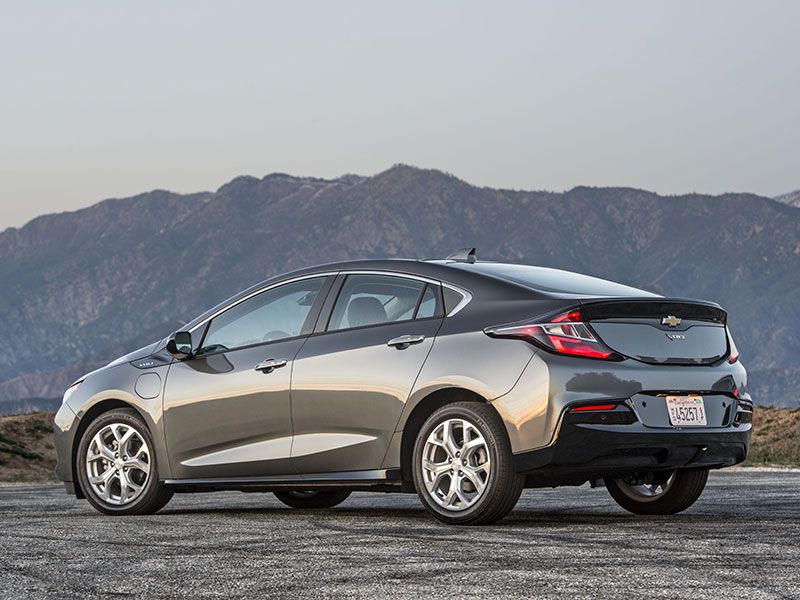 2016 Chevrolet Volt rear view ・ Photo by General Motors
Despite advances in technology, cars that get around 50 mpg in any facet of EPA testing are still exceedingly rare. Of course, that's because many of today's most efficient vehicles don't run on "gallons" of anything—they use electricity and alternative fuels like compressed natural gas or hydrogen gas. Thus, Autobytel experts have not considered those vehicles for today's rankings. Yet there is good news for customers who want to go green with traditional gasoline. (Hybrids do rely on an electrical boost from small battery packs of their own, but those get charged by onboard technologies like regenerative braking, not from outside sources of electricity.) Some of the current petroleum-powered cars not only get near 50 mpg, they actually surpass it.
2017 Toyota Prius Prime
The 2017 Toyota Prius Prime is a plug-in hybrid, which means if you charge its 8.8 kWh battery pack from an outlet, you can enjoy up to 22 miles of all-electric, no-gasoline travel. It's twice the range of the previous Prius plug-in, and the Prius Prime also is 26 percent more efficient than its predecessor in EV mode. None of which qualifies the vehicle as one of our cars that gets around 50 mpg. For that, the Prius Prime complements its EV range with traditional, gasoline-powered hybrid operation, which is still awaiting an official mpg rating. Per Toyota, that drive mode also serves up fuel-efficiency grades "equal or better than the Prius liftback"—a 50 mpg performer in its own right—and a total range of 600 miles.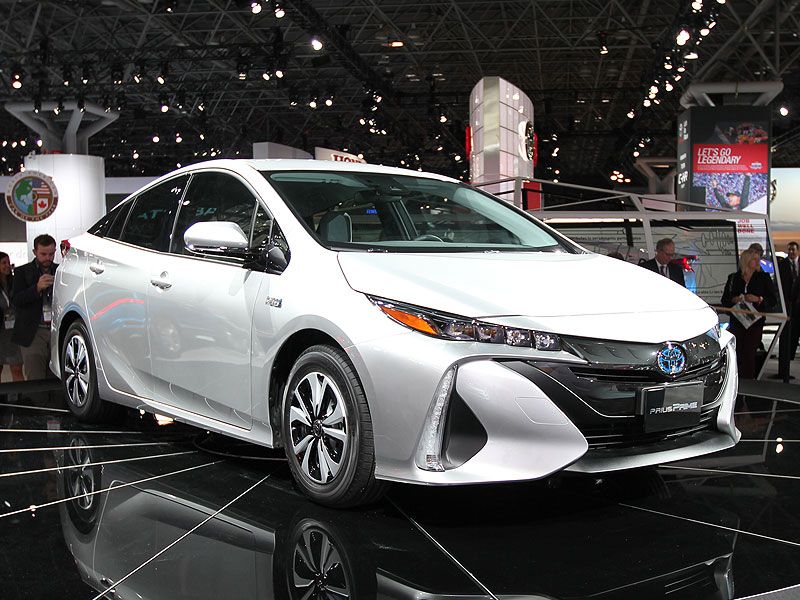 2016 Toyota Prius
Now, about that 2016 Toyota Prius. The best-selling hybrid in the world is all-new for the 2016 model year, and this time around, the brand has bumped up the car's fuel economy ratings considerably: The new model features an EPA line of 54 mpg city/50 mpg highway/52 mpg combined, which represents gains of 3 mpg/2 mpg/2 mpg over the 2015 Prius. Credit for some of that goes to the car's new and more efficient hybrid propulsion system, but its fresh and aerodynamic design helps as well. In fact, by leveraging active grille shutters and other aero enhancements, the Prius has a coefficient of drag of 0.24 that's among the lowest in the industry.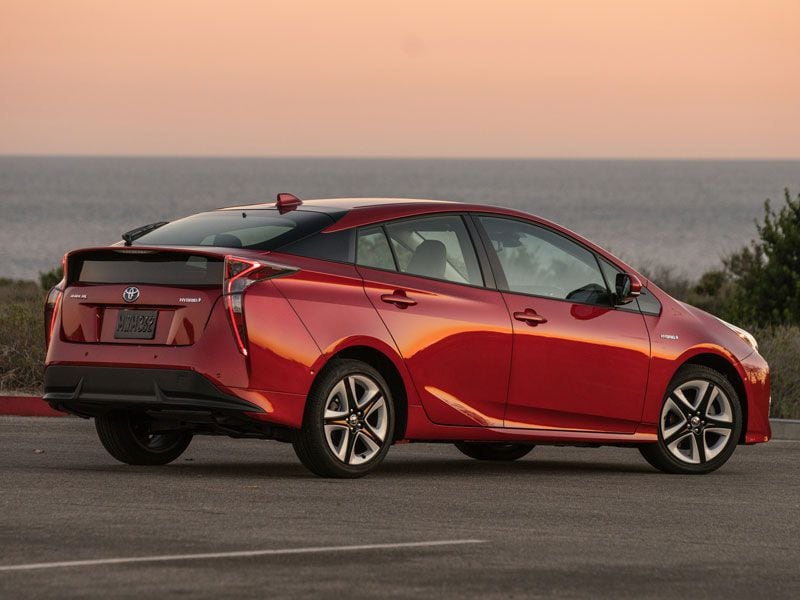 Photo by Toyota
2016 Toyota Prius Eco
The new-generation 2016 Toyota Prius also ups the ante with a hyper-efficient Eco trim, designed specifically for owners who want the ultimate in unplugged Prius fuel economy. By reducing the weight of the Prius Eco yet a bit more, and fine-tuning its aerodynamics for an even sleeker appearance, Toyota engineers were able to deliver EPA ratings of 58 mpg city/53 mpg highway/56 mpg combined for this entry--for improvements of 7.5 percent/6 percent/7.7 percent versus the standard Prius. At the same time, that lost weight didn't affect the car's content much, as the Eco edition still comes standard with premium touches like a rearview camera and an Entune infotainment system.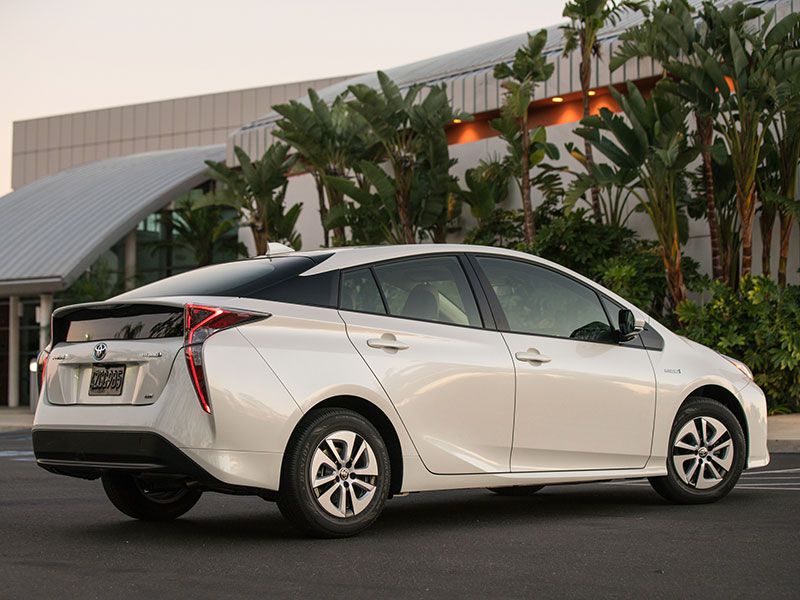 Photo by Toyota
2016 Toyota Prius c
Because weight has such an impact on fuel economy, it's mostly small cars that get around 50 mpg, including another one of the Prii: the 2016 Toyota Prius c. The most petite of the Prius models, the c is a mere 157.3 inches long, making it more than 20 inches shorter than the compact Prius liftback. On the other hand, nimble dimensions do help the Prius c achieve EPA fuel-efficiency ratings of 53 mpg city, 46 mpg highway, and 50 mpg combined. Additionally, the car's smaller footprint, and higher city grades, make it ideal for urban drivers. Also helping in this regard is its interior versatility, highlighted by 17.1 cubic feet of storage even with all seats in use.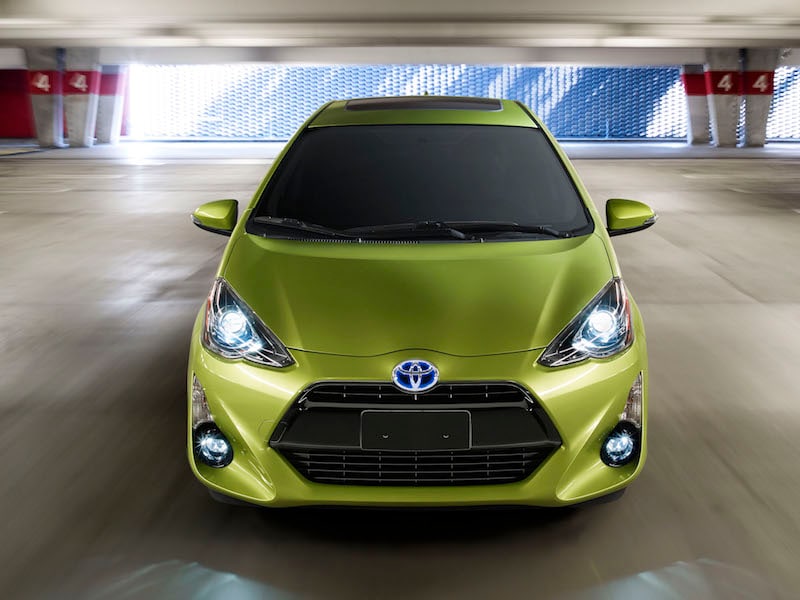 2017 Honda Accord Hybrid
If you're looking for family-friendly midsize cars that get around 50 mpg, the 2017 Honda Accord Hybrid will get just about as close as you can, thanks to projected EPA fuel efficiency marks of 49 mpg city, 47 mpg highway, and 48 mpg combined. This will be no stripped-down fuel-sipper, either. All hybrid models will boast the Honda Sensing safety bundle that includes collision mitigation braking, lane departure warning, forward collision warning, adaptive cruise control, lane-keeping assistance and more. Meanwhile, on the infotainment front, the Accord Hybrid will offer the latest smartphone-integration capability with Android Auto and Apple CarPlay. It's also worth noting that the car's smaller, more efficient battery pack enables 13.5 cubic feet of trunk space—more than any other midsize hybrid sedan.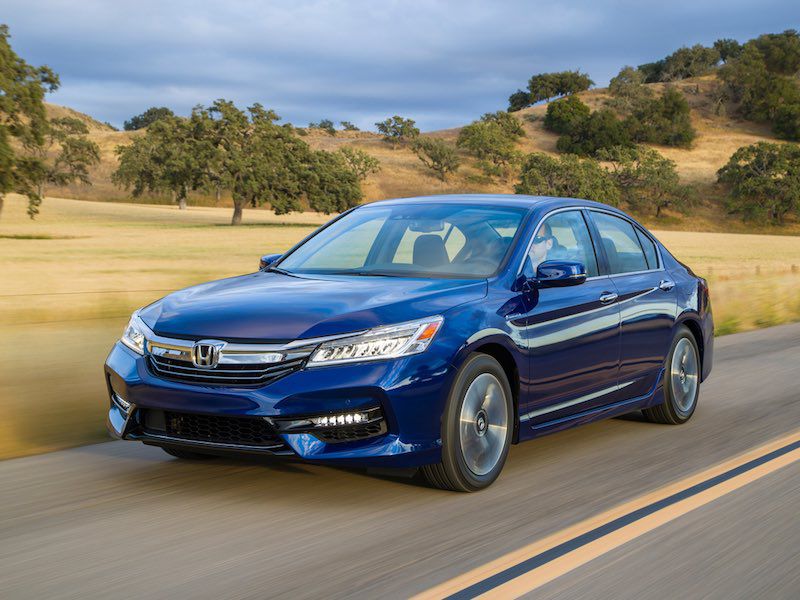 Photo by Honda
2016 Chevrolet Malibu Hybrid
With a little rounding up, the Bowtie brand also breaks into our Top 10 list of cars that get about 50 mpg—and it's another midsize sedan, the 2016 Chevrolet Malibu Hybrid. Unlike Malibu Hybrids from past generations, this next-gen entry gets a full hybrid system not just a "mild" setup, and the results are impressive. The 2016 version has raised its ratings to 47 mpg city, 46 mpg highway, and 46 mpg combined. That gives the Malibu the highest official EPA grades in the midsize hybrid segment as this story goes to press (the 2017 Accord hasn't gone on sale yet). Notably, one of the keys to the Malibu's standard efficiency comes from the 2016 Chevy Volt, which you'll learn more about soon.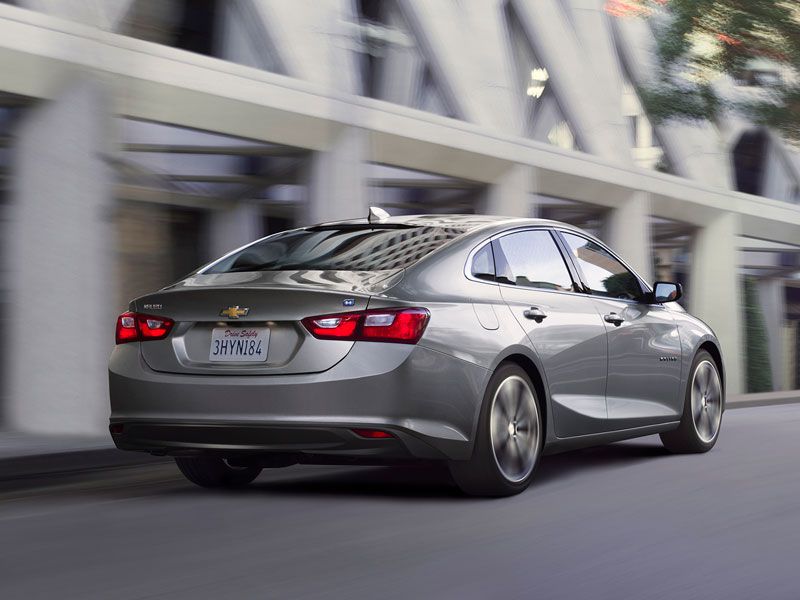 Photo by General Motors
2016 Volkswagen Jetta Hybrid
Fun-to-drive cars that get around 50 mpg are particularly rare in today's automotive marketplace, but that's what VW delivers with the 2016 Volkswagen Jetta Hybrid. Sure, it does get stellar EPA ratings of 42 mpg city, 48 mpg highway, and 44 mpg combined. Yet enthusiasts also are rewarded, since those numbers are delivered by a 1.4-liter turbocharged engine and a 1.1 kWh battery pack that work together to kick out 170 horsepower and 184 lb.-ft of torque. For extra athleticism, the Jetta is the first hybrid with a seven-speed dual-clutch transmission, and its slick shifter supplies three driving modes: automatic; manual; and a dedicated "Sport" setting for crisp, confident gear changes during extreme driving maneuvers.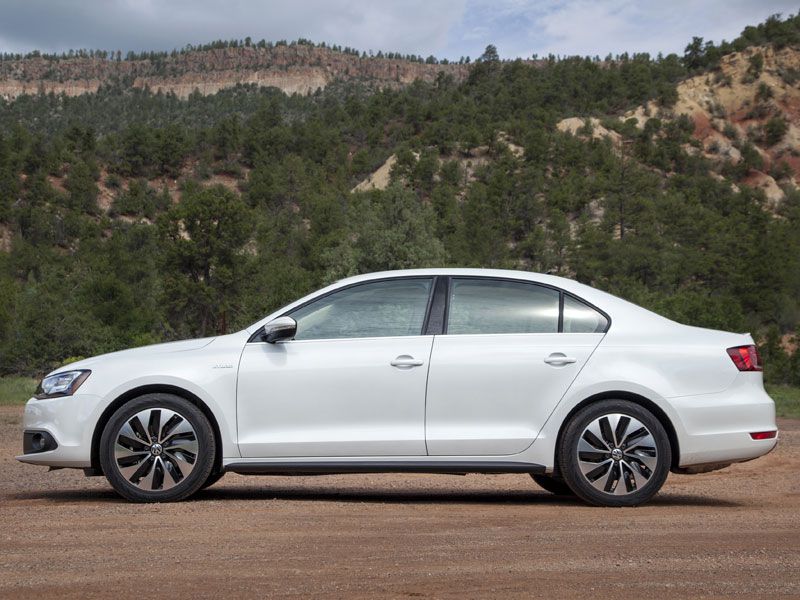 Photo by Volkswagen
2015 Honda Civic Hybrid
The Honda Civic launched a brand-new general for the 2016 model year, and though the company didn't renew the hybrid version, a limited and shrinking inventory does remain at some Honda dealerships. Moreover, who says you need to limit yourself to new vehicles when shopping for cars that get approximately 50 mpg? The 2015 Honda Civic Hybrid, for one, is rated at 44 mpg city, 47 mpg highway, and 45 mpg combined regardless of whether it's bought new or used. And even if it's not quite as technologically advanced as the 2016 Civics, the 2015 Hybrid does have standard features such as a 7-inch display audio system and rearview camera, along with available upgrades like satellite-linked navigation and Honda's LaneWatch blind-spot system.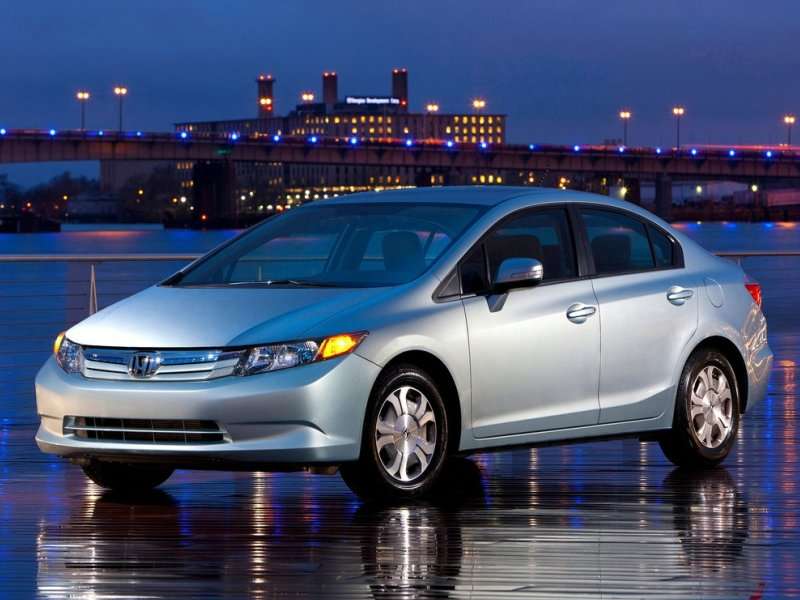 2016 Chevrolet Volt
The 2016 Chevrolet Volt—which shares the same basic two-motor drive unit as the new Malibu Hybrid—is here primarily because so few new cars get around 50 mpg. Like the Prius Prime, the next-gen Volt can be plugged into the wall for a significant all-electric travel range, although the Chevy product can more than double the Toyota's EV driving range, with 53 miles. But there's an additional similarity, too: Both serve up hundreds more miles of gas-powered driving range, with hybrid levels of fuel economy. In the case of the Volt, that's 42 mpg in combined driving; at this stage, neither Chevy nor the EPA has released city/highway ratings for the car.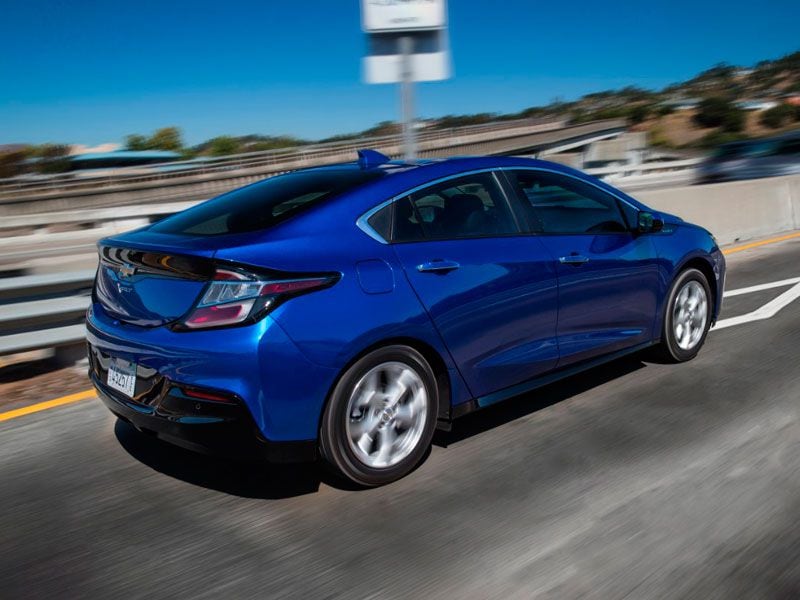 Photo by Ford
2017 Hyundai Ioniq
Toyota may dominate among the cars that get around 50 mpg right now, but that could be about to change with the debut of the 2017 Hyundai Ioniq. Coming to the United States starting late this year, with hybrid, plug-in hybrid and all-electric powertrains, the Ioniq is a major step forward for Hyundai's green efforts. It's also expected to deliver superior levels of efficiency with all of those setups. Perhaps most relevant here: Even though the sleek and stylish compact sedan has yet to be test by the EPA, the fuel-economy ratings for standard Ioniq hybrid reach the equivalent of nearly 53 mpg in its home market of South Korea, where it's already on sale.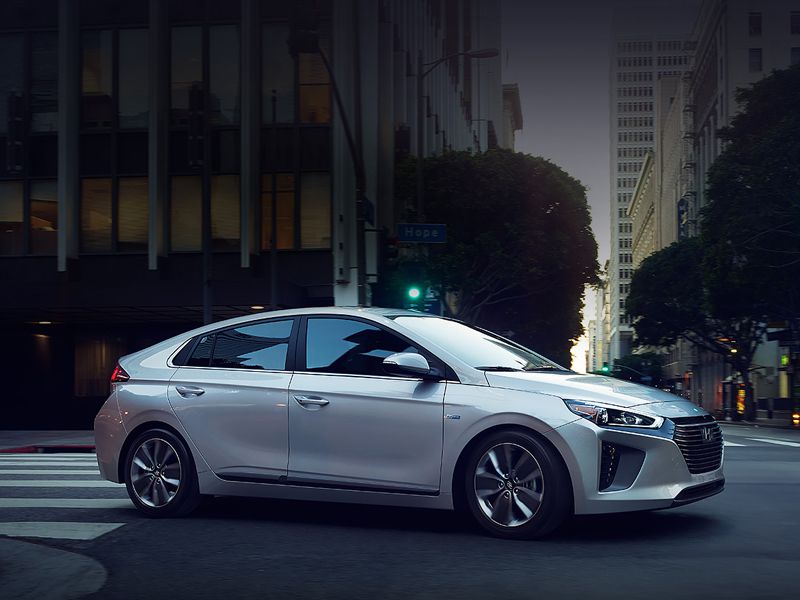 Photo by Hyundai