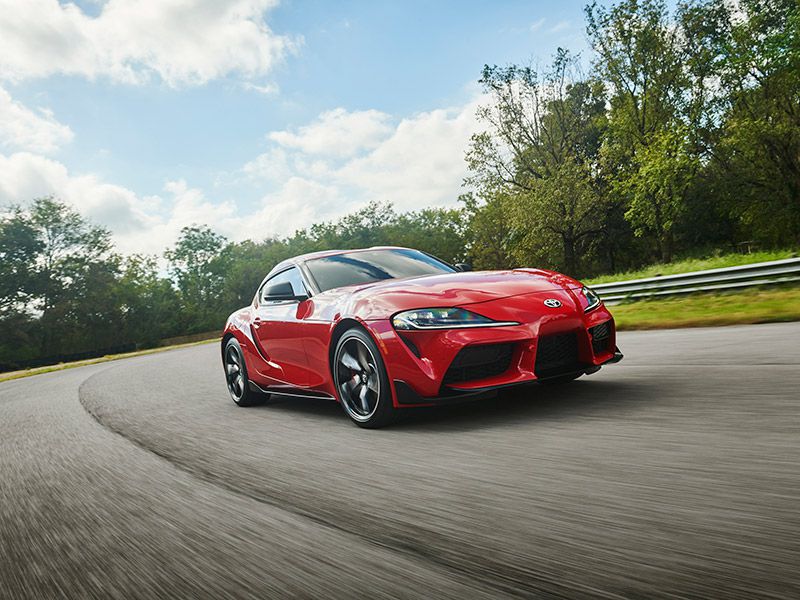 2020 Toyota Supra front three quarter ・ Photo by Toyota
When you're looking for the best possible sports car, there's a lot to consider. Are you looking for lithe agility or brute-force acceleration? Do you want a cozy driver-focused cabin or enough space for everyone? And, before you get to any of the other questions, what's your budget? 
In today's roundup of 10 budget sports cars, we haven't focused only on cars for a low budget. (If that's what you've come for, we suggest you read 10 Cheap Sports Cars.) The 10 cars we feature here deliver driving fun at a variety of price points, whether you're looking to spend under $25,000 or just need to keep things somewhere in the five figures. For the purposes of this list, we've defined sports cars as vehicles that are designed to prioritize driving pleasure, and we've sorted them by base price. 
1. 2020 Hyundai Veloster Turbo R-Spec
If you want the least-expensive brand-new sports car on the market, the 2020 Hyundai Veloster is a great place to turn. It provides lots of features for the money, a distinctive hot-hatch style, and a more functional interior than many of its peers. More to the point, its available turbocharged engines make it great fun to drive.
While you can get a Veloster for as little as $18,800 with a 147-horsepower engine, enthusiasts will consider paying extra for the Turbo R-Spec model. At a still-reasonable $23,150, this front-wheel-drive hatchback brings a zesty 1.6-liter turbocharged four-cylinder engine with 201 horsepower and 195 lb-ft of torque. The R-Spec also has a slick-shifting six-speed manual transmission and a sport-tuned suspension with capable handling. For all-out performance, an even bigger turbo engine (a 250-hp 2.0-liter) is available for about $4,000 more in the Veloster N model — still a screaming deal, but beyond a $25,000 budget.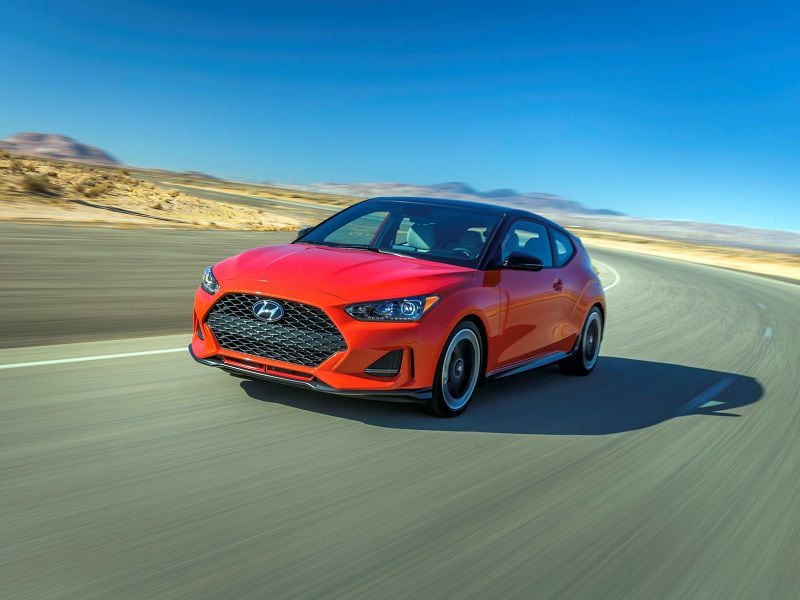 Photo by Hyundai
2. 2020 Ford Mustang
With a budget beyond $25,000, your sports-car choices start to open up dramatically. Take a look at the 2020 Ford Mustang. At its base price of $26,670, it provides a 2.3-liter four-cylinder engine from Ford's "EcoBoost" turbo line. It makes a mighty 310 horsepower and 350 lb-ft of torque through a six-speed manual or 10-speed automatic transmission.
The Mustang is a compromise between its two closest rivals, the Chevrolet Camaro and the Dodge Challenger. All three are rear-wheel-drive coupes with reasonable prices and a choice between powerful and absurdly powerful engines (the 460-hp Mustang GT starts at just $35,670). The Mustang is neither as cramped inside as the Camaro nor as stretch-out spacious as the Challenger, and not as bulky as the Challenger or as luxury-sports-sedan-poised as the Camaro. But any of these two-doors offer retro all-American styling, lots of character, and a better all-around driving experience than import-focused enthusiasts might expect.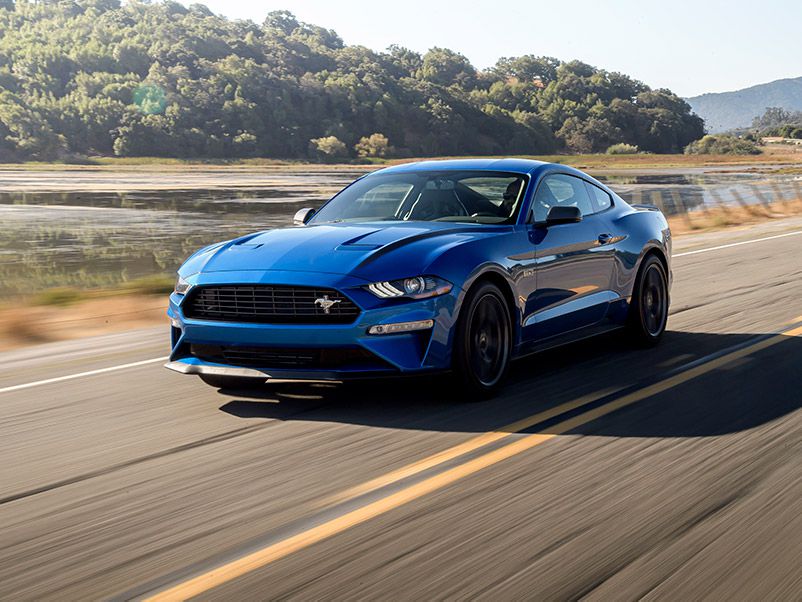 Photo by Ford
3. 2020 Mazda MX-5 Miata
Some purists insist that the only "real" sports cars have two doors, two seats, an open top, rear-wheel-drive, and a manual transmission. You won't find many cars like that in 2020, but once you've found the 2020 Mazda MX-5 Miata, you don't really need to look anywhere else.
For 30 years, the Miata has offered a modern take on the classic British roadster — an intimate connection between the driver and their surroundings, but with user-friendly ergonomics and uncompromised reliability. This is a car that's designed to delight, and which doesn't make you exceed the steering limit to have a great time. Its 181 hp and 151 lb-ft of torque don't sound amazing, but they're practically rocket-like in a car that weighs just 2,300 pounds and seats the driver just a couple of inches above the pavement. The six-speed manual transmission is almost a requirement, but a six-speed automatic is available as well. Prices start at $26,850 for one of the most fun sports cars at any budget.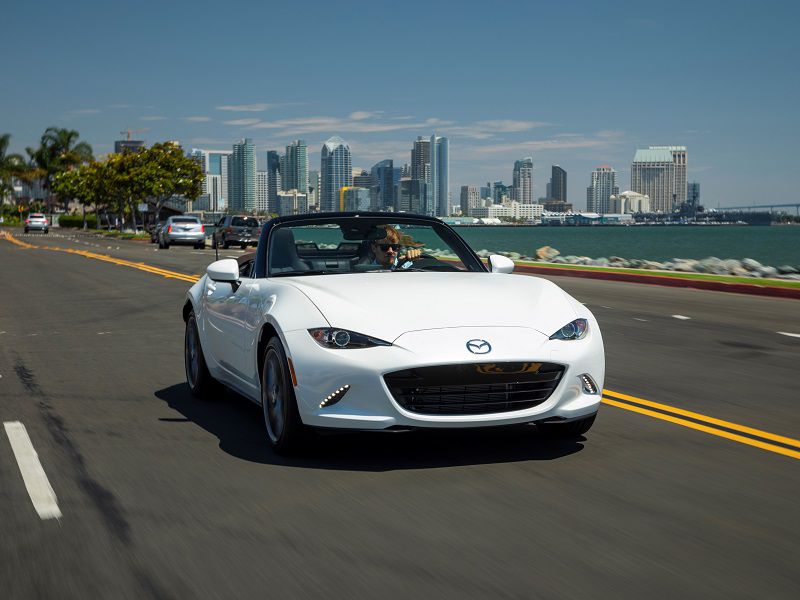 Photo by Mazda
4. 2020 Volkswagen Golf GTI
The 2020 Volkswagen Golf GTI is another delightful sports car that looks less on paper than it feels from behind the wheel. Priced from $28,595, it's a higher-performance version of the Golf economy hatchback.
That may sound steep for a front-wheel-drive hatchback, but the GTI's 2.0-liter turbocharged engine makes 228 hp and 258 lb-ft of torque through one of two excellent transmissions: a seven-speed dual-clutch automatic or a six-speed manual. More importantly, it combines lively handling and peppy acceleration with a composed, refined overall driving experience and the versatility of a boxy five-door hatchback body. Some buyers will want a more exuberantly styled sports car, but for others, the "sleeper" Golf will be perfect.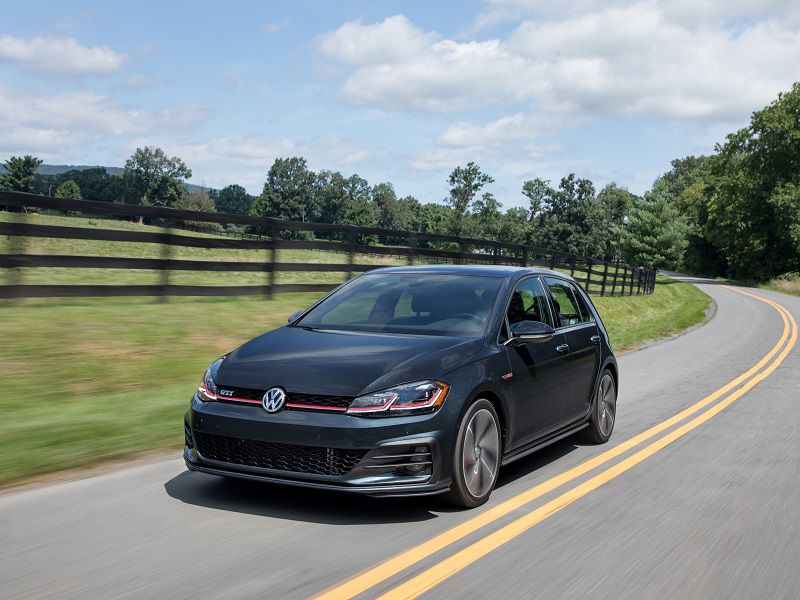 Photo by Volkswagen
5. 2020 Nissan 370Z
For just over $30,000, the 2020 Nissan 370Z is another excellent sports car that fits many budgets. Nissan kept the cost down by providing few updates since the current-generation Z-car arrived in 2009, but the driving experience didn't need any work.
The 370Z's 3.7-liter V6 engine launches this rear-drive two-seater with authority, thanks to its 332 hp and 270 lb-ft of torque, and the steering and handling are refreshingly direct and responsive. Plus, it still looks like an exotic despite its $30,090 base price — at least from the outside. The cabin is more dated, but when Nissan finally redesigns the Z in the coming months, expect a big price increase. It might even lose its available six-speed manual transmission and join the growing ranks of automatic-only sports cars.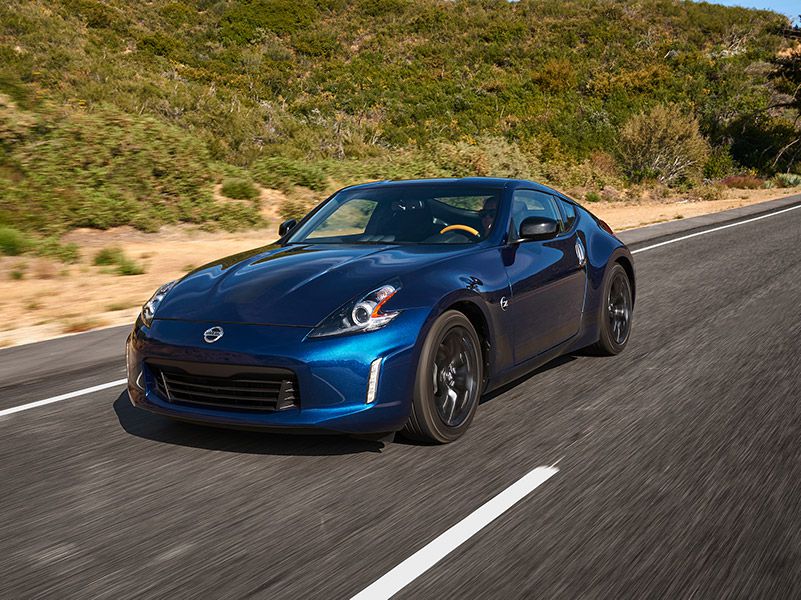 Photo by Nissan
6. 2020 BMW 2 Series
Even on a tight budget, you can find an excellent sports car from a luxury brand. Take the 2020 BMW 2 Series, which comes with rear-wheel or all-wheel drive in its two-door coupe and convertible versions. This little car doesn't look so different from other BMWs, but it's the most direct link to the company's heritage of brilliant steering and handling.
Prices start at $35,300 for the BMW 230 with a 248-hp 2.0-liter four-cylinder engine or $45,800 for the M240 with a 335-hp 3.0-liter six. You won't get an adult-friendly rear seat, the most horsepower for the money, or the most cutting-edge dashboard in the luxury class, but you'll get classically attractive styling and a great driving experience — particularly with the six-cylinder. Both engines offer only an eight-speed automatic transmission.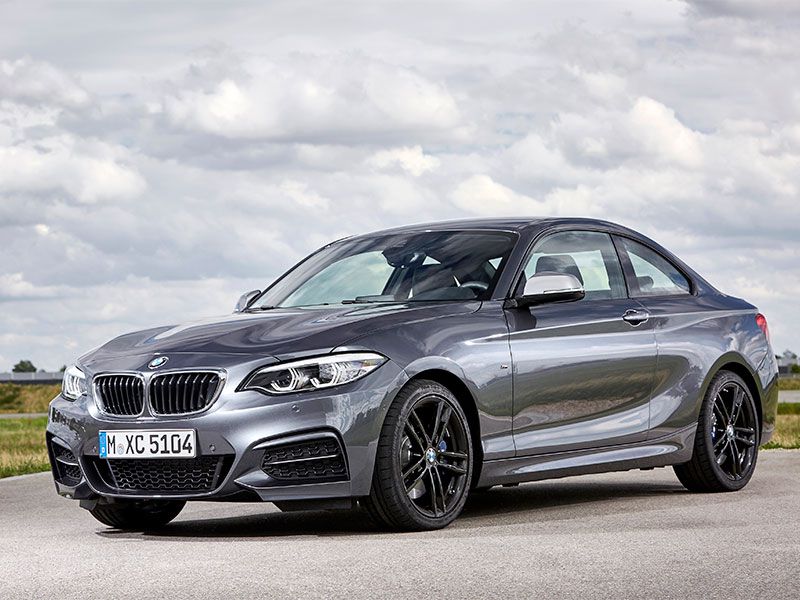 Photo by BMW
7. 2021 Toyota Supra
If you're not familiar with the Toyota Supra, you might be wondering what a Toyota is doing with prices near $50,000. But this recently reintroduced rear-drive two-seat coupe has a history of standout performance that justifies its high prices.
Toyota reintroduced the Supra as a 2020 model, but the 2021 model has already arrived. It brings more horsepower to the previously standard 3.0-liter six-cylinder (382 hp instead of 335 hp) while adding a more affordable 2.0-liter with 255 hp. These are actually the same engines (with some massaging) and the same eight-speed automatic transmission we just talked about in the BMW 2 Series, since the Supra is a mechanical cousin to another BMW model: the Z4 convertible. Prices start at $42,990 for the four-cylinder Supra and around $50,990 for the six, and both provide a performance-focused tenacity you won't find in many cars under $55,000. The Z4's base prices aren't actually that much higher, but the Toyota has more standard equipment.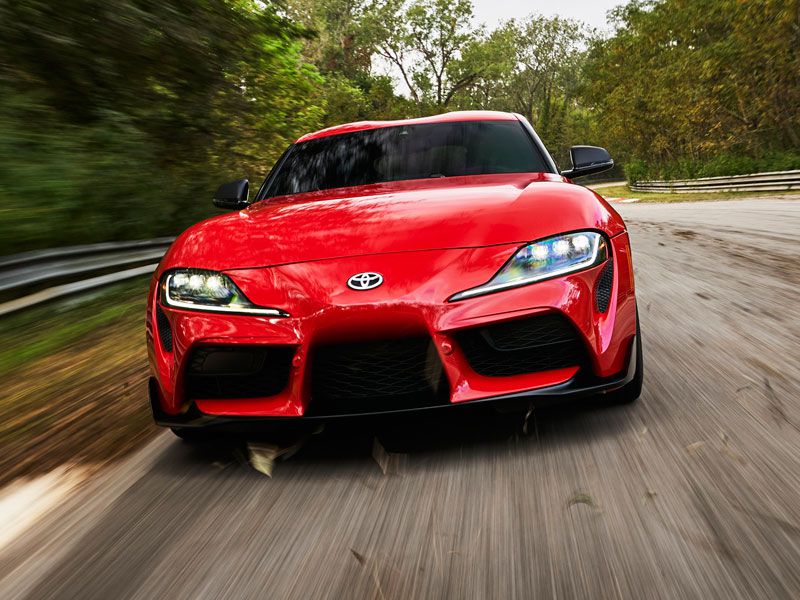 Photo by Toyota
8. 2020 Chevrolet Corvette
The Chevrolet Corvette is famous as a performance bargain, at least for those whose budgets exceed $50,000. The latest generation of this two-seat rear-drive coupe, all-new for 2020, provides style and performance you won't find anywhere else for less than six figures.
At its base price of $58,900, the new Corvette makes 490 horsepower and 465 lb-ft of torque from a 6.2-liter V8, sent through an eight-speed dual-clutch automatic transmission. This year's Corvette is the first generation to come in mid-engine configuration, which provides superior weight distribution for more balanced handling. It also helps the Corvette achieve the shape and proportions of an exotic supercar — even at relatively affordable prices. We miss the manual transmission, but it's hard to complain about much else.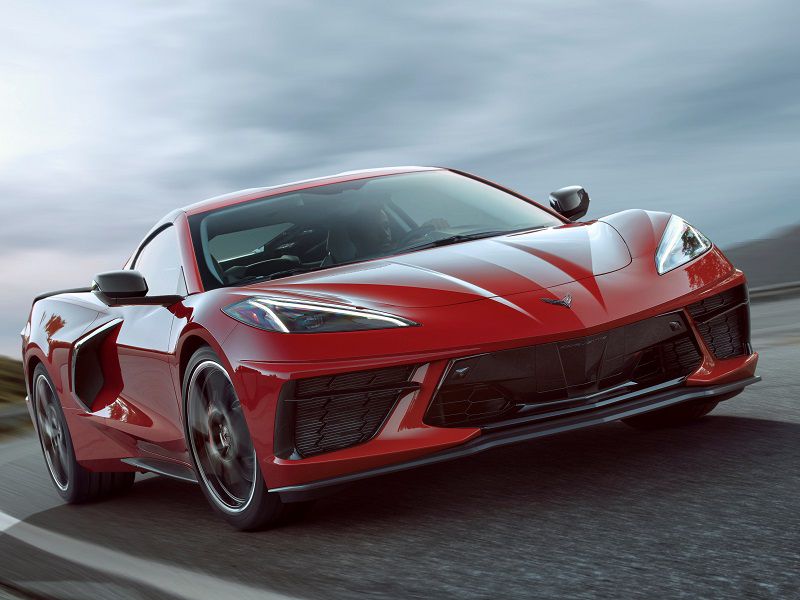 Photo by General Motors
9. 2020 Porsche 718 Boxster
It's hard to argue with the power for the money provided by the Chevrolet Corvette, especially with the latest model's upgraded exterior and interior design. But if you're looking for something more delicate and elegant, the two-seat 2020 Porsche 718 Boxster roadster (or its fixed-roof counterpart, the 718 Cayman) is a stellar choice that's priced from $59,600.
The entry level to Porsche's storied line of magnificent sports cars, the Boxster and Cayman come standard with a 300-horsepower 2.0-liter four-cylinder engine — and a six-speed manual transmission, no longer offered on many high-end sports cars. This exquisitely engineered two-door has delightful steering and handling and plenty of power. Some critics wish the base engine sounded better, but you can also upgrade to a 2.5-liter with 350 or 365 hp if your budget allows the extra $13,000.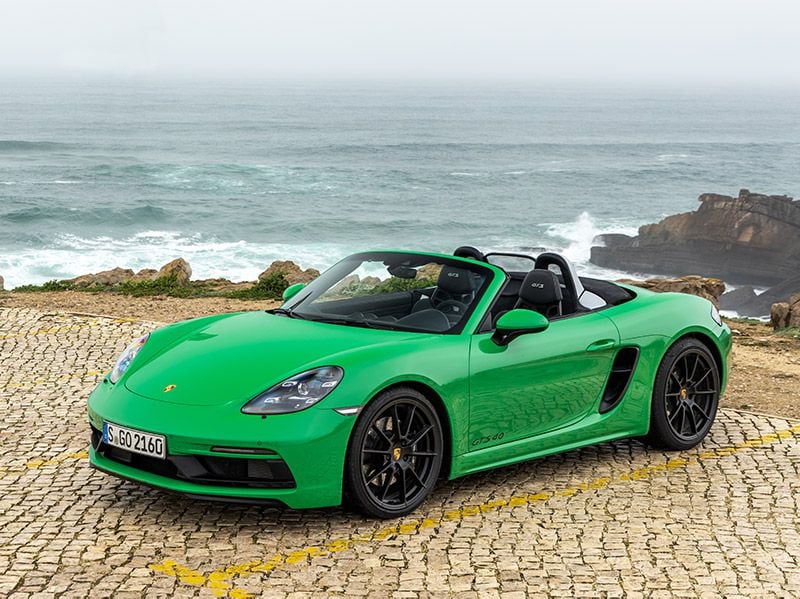 Photo by Porsche
10. 2020 Mercedes-AMG C 63
European luxury cars are known for intricate engineering more than brute strength. The 2020 Mercedes-Benz AMG C 63 — available as a luxury compact sedan, coupe, and convertible — provides both.
Priced from $68,100, the C 63 packs a 4.0-liter turbocharged V8 engine making 469 hp and 479 lb-ft of torque. That makes for an elegantly appointed rocketship with seating for five. You get all the performance of Mercedes' larger, pricier AMG performance models, just with less rear legroom. And when you're on a budget for your sports car, something has to give. And ideally, you can give up the legroom, not the sport.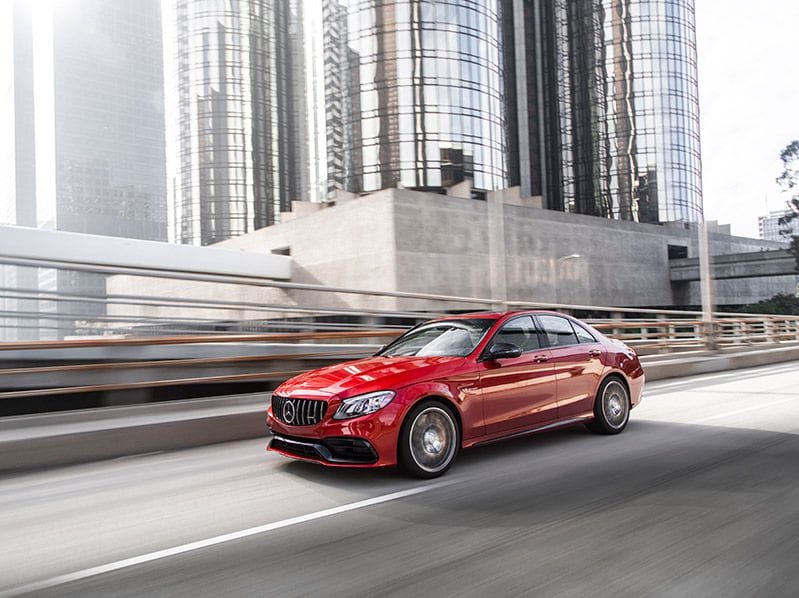 Photo by Mercedes-AMG