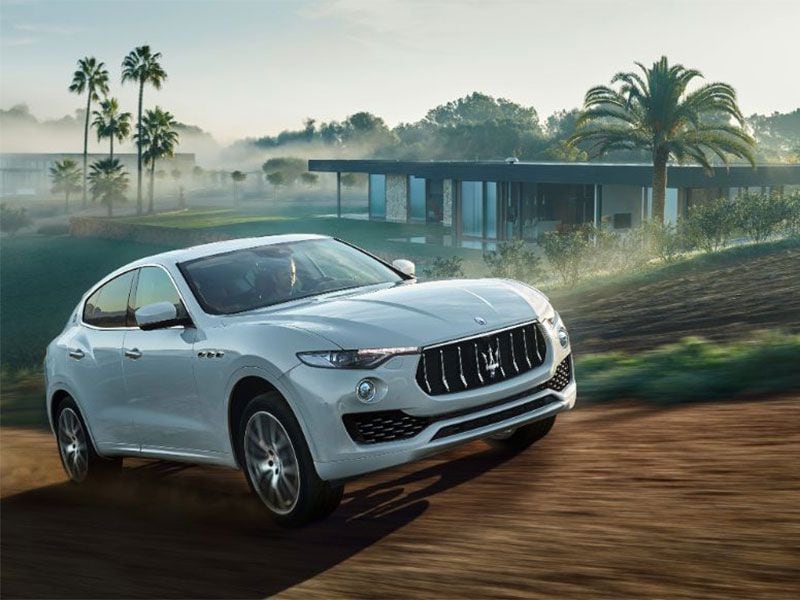 Maserati Levante ・ Photo by Fiat Chrysler Automobiles
The 2018 BMW X5 marks the tail end of the SAV's third generation, with a makeover announced for 2019. BMW jumped into the U.S. SUV market in 2000 with the first X5, which the company called a "Sports Activity Vehicle." For 2018, the X5 comes in six trim levels: sDrive35i (starting at $57,200); xDrive35i (starting at $59,500); xDrive35d (starting at $61,000); xDrive35e (starting at $63,750); xDrive50i (starting at $74,050); and M (starting at $101,700). 35i models get a 3.0-liter twin-turbo inline six-cylinder engine; 35d models use a twin-turbo diesel; 35e models use a 2.0-liter twin-turbo inline four-cylinder engine and integrated electric motor; and 50i and M models come with twin-turbo V8 engines. Seating for five is standard; an optional third row pushes that capacity to seven. Final assembly takes place in Spartanburg, South Carolina.
As broad as the mid-size premium X5 lineup is, we've identified 10 BMW X5 competitors for 2018.
2018 Acura MDX
The MDX came out in 2001, and like the X5, it has been through three generations. Also like the X5, the 2018 MDX is a mid-size luxury crossover. The MDX comes with a third-row seat as standard equipment, as it has throughout its production. While the MDX can be ordered with all-wheel drive, its engine is transversely mounted for standard front-wheel drive.
A 3.5-liter V6 gasoline engine is standard (290 hp/267 lb-ft of torque with a nine-speed automatic transmission), while a hybrid pairing a 3.0-liter V6 with three electric motors is a $3,500 option (321 net hp/289 lb-ft net torque with a seven-speed dual-clutch automatic transmission). Prices start at $44,200 for the base model and go up to $58,650 with all of the boxes checked.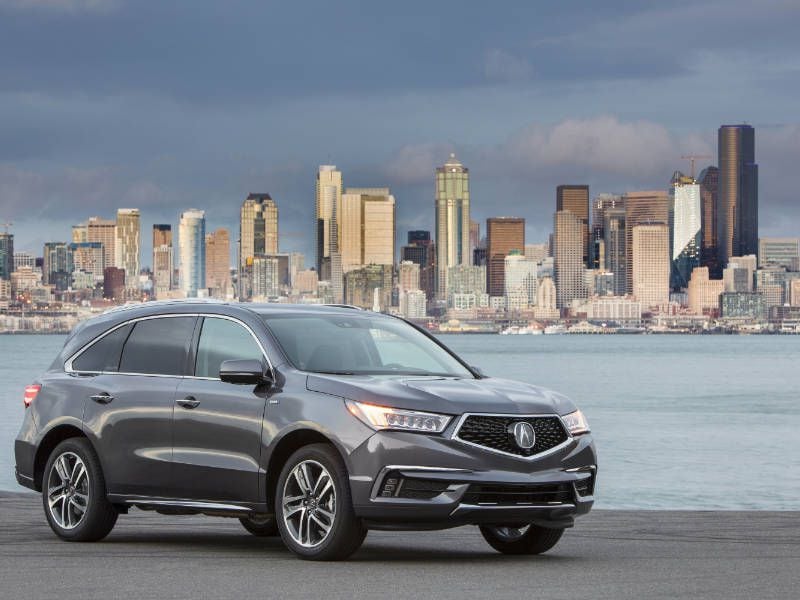 Photo by Acura
2018 Cadillac XT5
The XT5 replaced the SRX in Cadillac's lineup in 2017, and it is currently Cadillac's best-selling model. The 2018 XT5 mid-size crossover seats five and does not come with the option of a third row like the X5. The XT5 is front-wheel drive, with all-wheel drive available on all trim levels.
There's just one engine choice: a 3.6-liter gasoline V6 with direct injection, tuned to deliver 310 hp and 271 lb-ft of torque with an eight-speed automatic transmission. The base XT5 FWD starts at $41,590, and there are four trim levels total (XT5, Luxury, Premium Luxury, and Platinum), peaking at $63,395. The XT5 is a bit smaller than the X5, but it has a more distinctive exterior and interior design.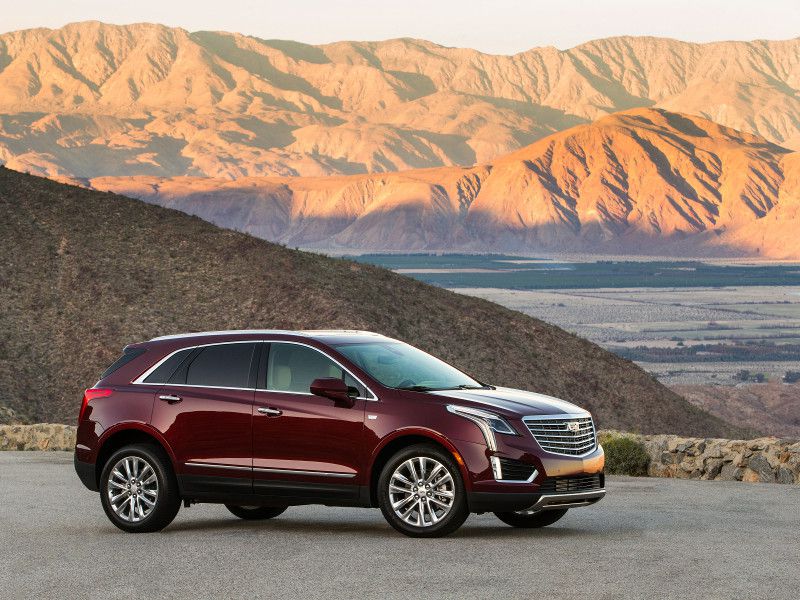 Photo by Cadillac
2018 Infiniti QX60
The QX60 is an interesting entry into the mid-size luxury crossover class. It is the only SUV on our list of X5 competitors that comes with a continuously variable automatic transmission (CVT), not a widely accepted luxury feature. There's just one engine option, a 3.5-liter V6 that is tuned to produce 295 hp and 270 lb-ft of torque.
The QX60 starts at $43,300 with front-wheel drive, while all-wheel drive bumps that price to $45,100. Infiniti adds packages of content, rather than stepping up by trim level. With all of the compatible packages — including 4G Wi-Fi, driver assistance, in-car entertainment and video, and tons of luxury features — the total goes up to $60,695. The QX60 has standard seating for seven, with a genuinely roomy third row.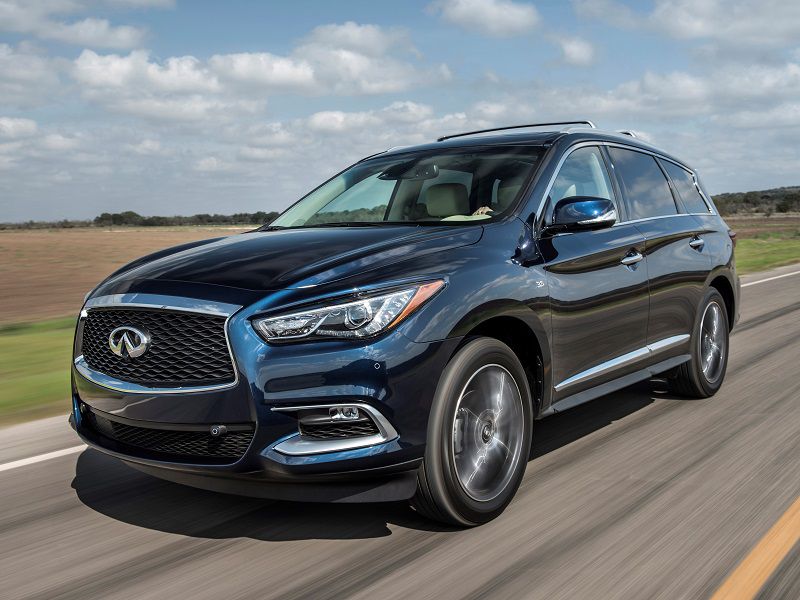 Photo by Infiniti
2018 Jaguar F-Pace
A Jaguar suv? Is the world upside-down? No, the 2018 Jaguar F-PACE is a real SUV, and it's a real Jaguar, too — and a worthy competitor for the BMW X5. Borrowing expertise (and some mechanical bits) from Mumbai-based Tata Motors stablemate Land Rover, Jaguar has built a mid-size premium crossover vehicle that is sporty, beautiful, and practical.
Starting at $42,065, the F-Pace is available with a choice of three 2.0-liter four-cylinder turbocharged engine configurations — a 247-hp gasoline engine, a 294-hp gasoline engine, and a 180-hp diesel engine — and a supercharged 380-hp V6 gasoline engine, all fitted with an eight-speed automatic transmission. Designed to seat five in Jaguar luxury and comfort, the F-Pace is part of Jaguar's newly expanded and refreshed lineup.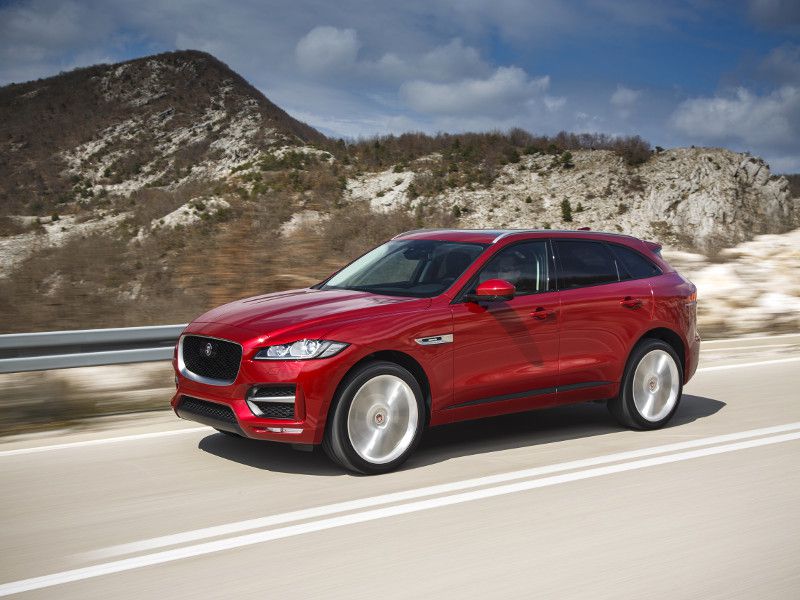 Photo by Jaguar
2018 Land Rover Discovery
Smack dab in the middle of the Land Rover lineup, the 2018 Land Rover Discovery continues the capable Disco family, having replaced the LR4 in 2017. The new Discovery is rounder and lower than the previously boxy Discovery, LR3, and LR4 models, and it's much lighter than the old vehicle thanks to extensive use of aluminum in its frame and body panels.
The latest generation still retains the Discovery's extreme prowess off-road, thanks to its high ground clearance and the introduction of Terrain Response 2, Land Rover's latest generation of traction control, suspension and engine management system. When it's not conquering new surfaces, the Discovery provides luxurious three-row seating, sophisticated telematics, and a choice of gasoline or diesel powertrains. With a starting price of $52,090, the 2018 Discovery is an excellent competitor for the BMW X5.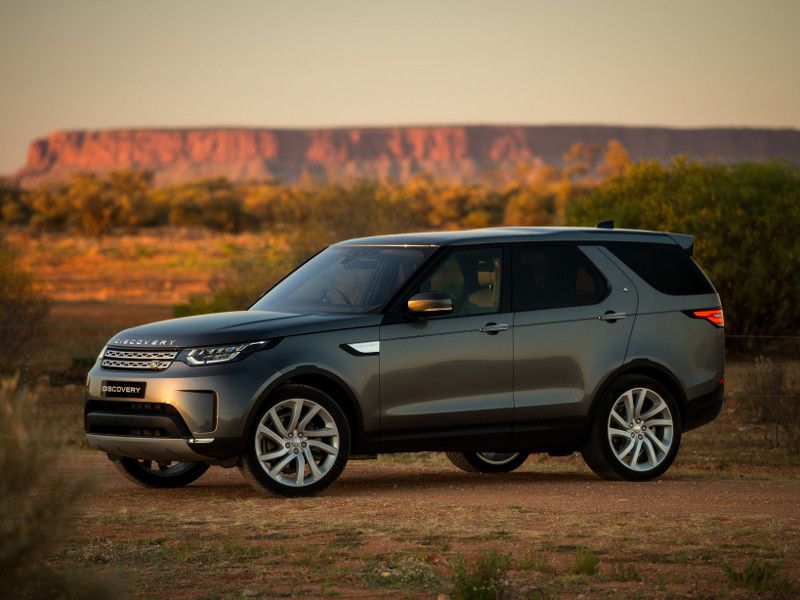 Photo by Land Rover
2018 Lexus RX
The Lexus RX has been the best-selling luxury crossover over four generations and now comes with a secret weapon — a longer variant, the RXL, that finally offers a third row to Lexus crossover shoppers. The two-row front-wheel drive 2018 RX starts at $43,470, while the RXL starts at $47,670 (add $1,400 for all-wheel drive).
RX owners treasure their crossovers for their luxury, reliability, and serene interior ambiance. The RX 350 model comes with a 3.5-liter gasoline V6 engine and an eight-speed automatic transmission, while the RX 450h hybrid uses a 3.5-liter gasoline V6, an electric motor, and a continuously variable automatic transmission. Hybrid models start at $45,895, or $50,620 for the longer L variant.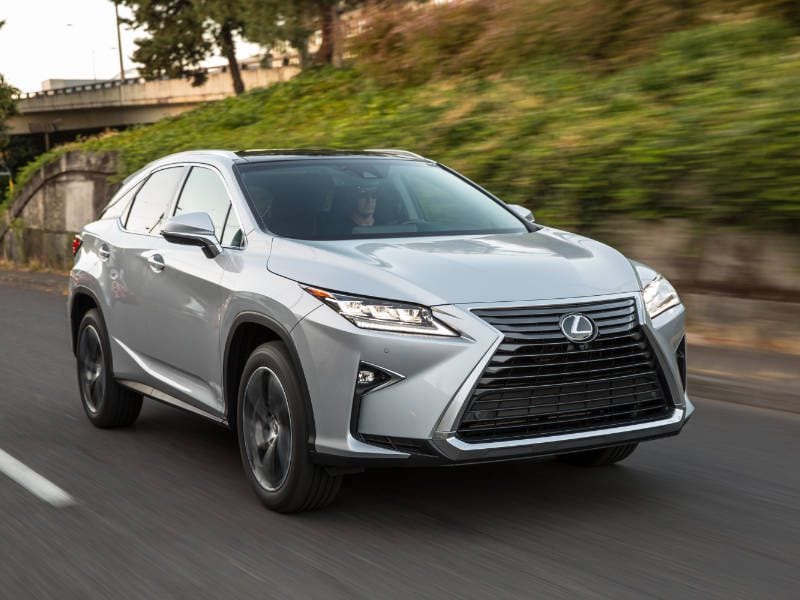 Photo by Lexus
2018 Lincoln MKT
Now the default replacement for the dearly departed Lincoln Town Car, the three-row luxury crossover 2018 MKT has become the vehicle of choice for many executive car service companies. And with good reason: the MKT makes excellent use of its interior space, with ample seating for up to seven, great luggage space, and an elegant exterior design.
Unlike the taller BMW X5, the MKT is easy to get in and out of, and it can be ordered with the best self-parking system on the market: the available Active Park Assist. Starting at $43,530, the MKT is very much at home in the queue for the opera or waiting to pick up the volleyball team after practice. All-wheel drive is an option, as is a 3.5-liter turbocharged V6 engine and an adaptive suspension system.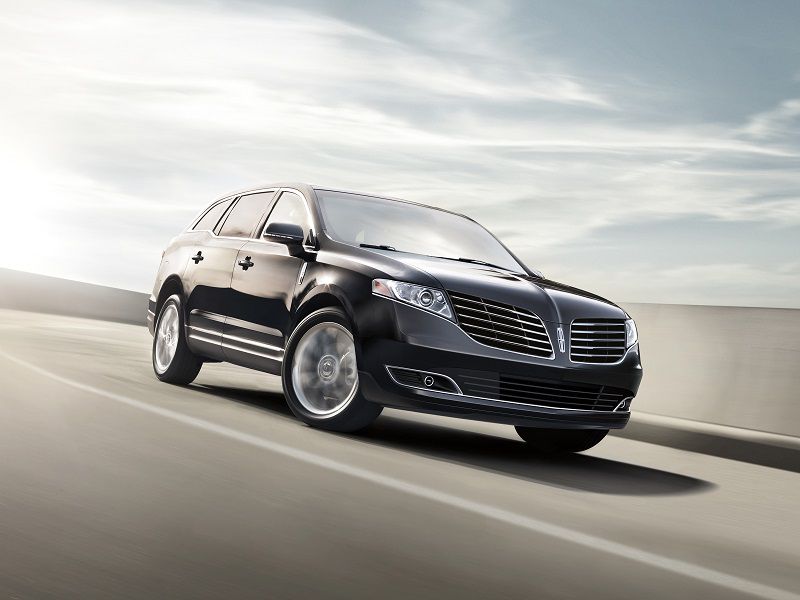 Photo by Lincoln
2018 Maserati Levante
Maserati's first SUV brought performance, luxury, and exclusivity to the mid-size premium crossover class when it debuted as a 2017 model. The 2018 Levante continues the trend, pushing its bold Maserati signature grille and trident logo out front for all to see.
With a starting price of $74,790 and the best-sounding exhaust note any crossover vehicle has ever spouted, the Levante comes with standard all-wheel drive and a choice of a 345-hp 3.0-liter V6 in the base model or a 424-hp 3.0-liter V6 in the S model (starting at $86,100). Beautiful interior materials and finishes, supremely comfortable seating, and a rear seat suitable for royalty make the Levante a premium competitor for the BMW X5 and a welcome addition to the mid-size premium crossover group.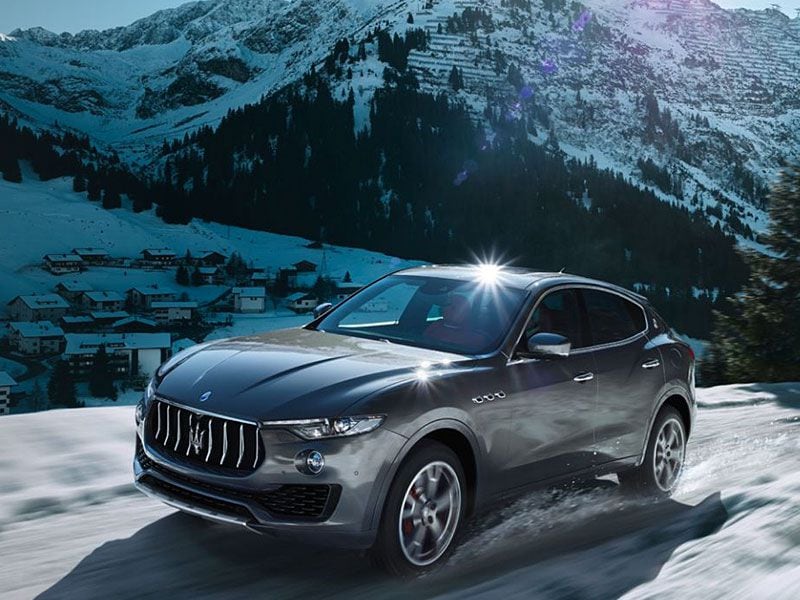 Photo by Maserati
2018 Mercedes-Benz GLE SUV
Mercedes-Benz shuffled the naming conventions for its SUVs in 2016, and the third generation M-Class became known as the GLE. The mid-sized luxury crossover 2018 Mercedes-Benz GLE SUV now wears its badge comfortably, slotting in above the GLC SUV and below the GLS SUV in size and price, with the "E" tying it into the lineup opposite the E-Class sedan — so the name now makes sense.
Starting at $52,200, the GLE SUV (not to be confused with its sportier variant that Mercedes calls a coupe) — comes in six models, from the base rear-wheel drive model all the way up to a high-performance all-wheel drive AMG GLE 63 S SUV that comes with a twin-turbocharged 577-hp V8 engine. The roomy five-passenger GLE SUV combines elegance with smooth operation to be an excellent competitor for the BMW X5.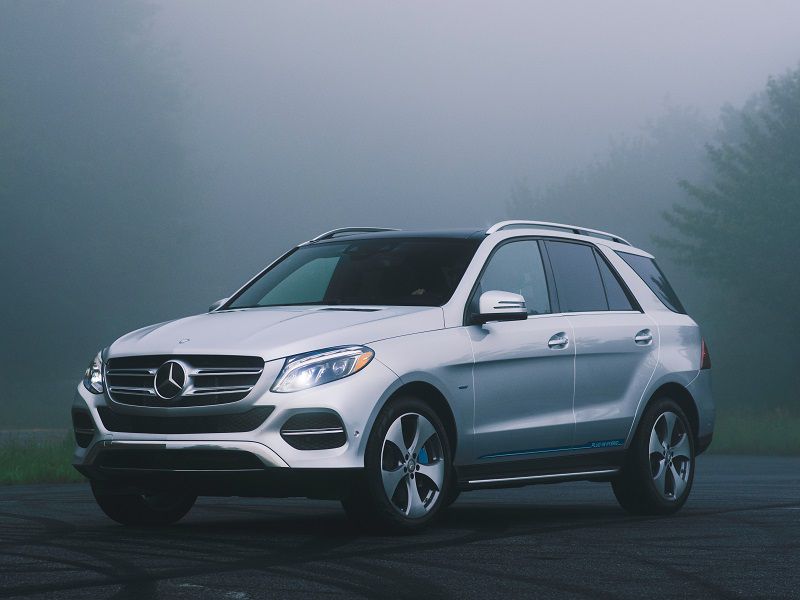 Photo by Mercedes-Benz
2018 Porsche Cayenne
If the Jaguar and Maserati SUVs caused tremors among purists, the Porsche Cayenne crossover triggered full-blown seizures when it debuted in 2003. It has since gone on to become the best-selling Porsche of all time, bringing a flood of new owners into the Porsche fold.
The 2018 Cayenne marks the beginning of the mid-size crossover's third generation, with prices starting at $65,700 for the base Cayenne to $124,600 for the Cayenne Turbo. With track-worthy performance on tap, the Cayenne still retains impressive off-road chops, all the while displaying the handling and sporty character that Porsche owners demand. In the eternal battle between the German luxury performance brands, the Cayenne represents stiff competition for the BMW X5.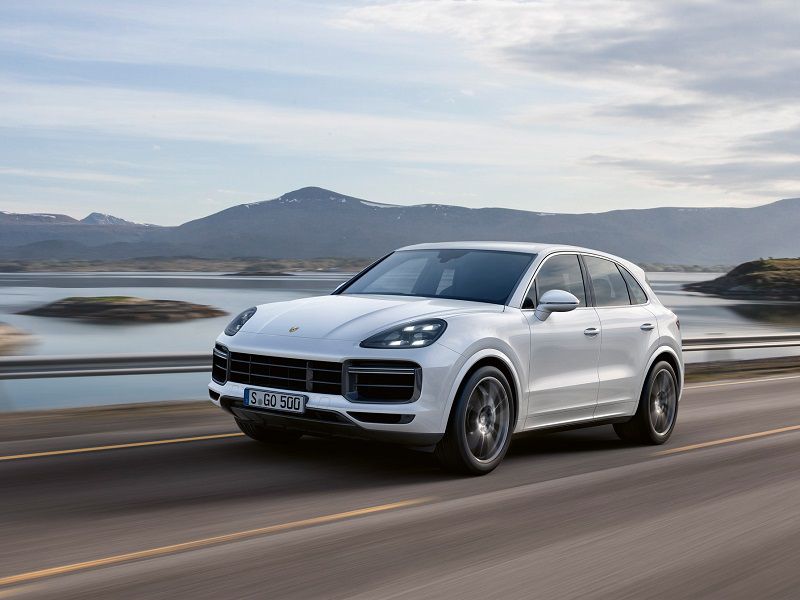 Photo by Porsche