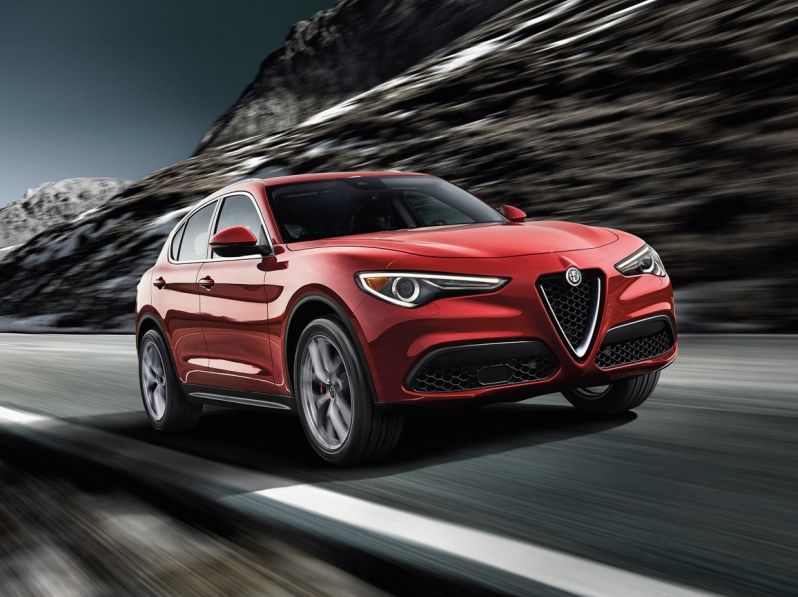 2018 Alfa Romeo Stevio driving ・ Photo by Alfa Romeo
When we considered candidates for the 10 best-looking crossovers for 2018, many of our choices come from the premium end of the spectrum, but the style of each of these vehicles separate the bourgeois from the blue-collar. Naturally, there's a pretty big dollop of subjectivity here, but we hope you'll agree with at least some of our selections.
While this may seem like splitting hairs, we're focusing on crossovers rather than heavy-duty SUVs. The Mercedes-Benz G-Class, for example, has an extreme functionality that creates its own kind of cool, and Land Rover's big Range Rover is beautifully imposing. Both have much more capability than the regular crossovers performing school-run duties all across America. However, crossovers have plenty of good looks to go around and we limited our choices to them alone.
2018 Alfa Romeo Stelvio
Alfa Romeo has produced some truly beautiful machines in its time. Heritage can sometimes be a burden, but it can also be the source of many ideas. This is the marque's first-ever crossover and some aspects of its design might be lost on modern American buyers because these elements pay homage to cars from Alfa Romeo's rich 100-year history.
Not that it matters much. Anyone today with an affinity for the aesthetic can appreciate the well-chosen arcs and forms going into the Stelvio, based on the equally fetching Giulia sedan. Another quality of good looks is authenticity. For example, Alfa Romeo says there's "no make-believe in [the Stelvio]… carbon is carbon, wood is real wood."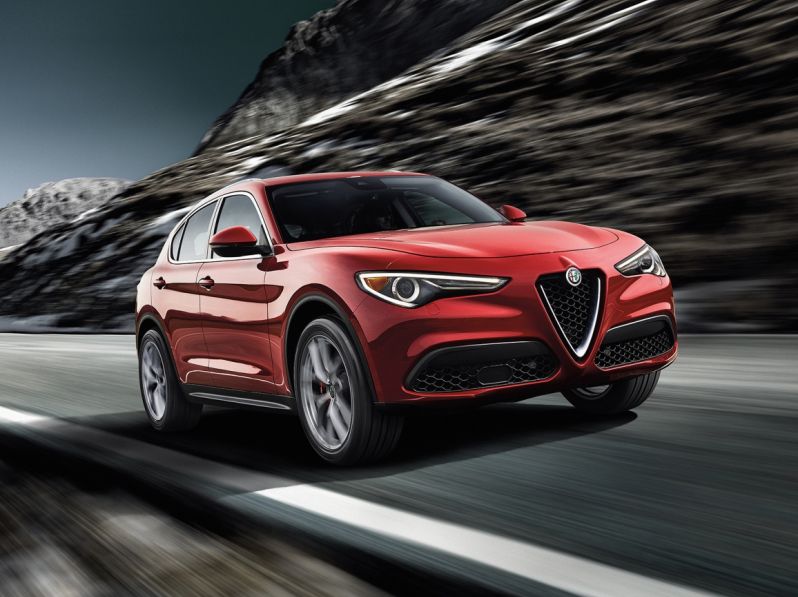 Photo by Alfa Romeo
2018 Audi Q7
One of the many impressive things about this generation of Q7 is that its sleek lines help to play down its seven-seat size. The previous generation almost seemed to exaggerate its bulk, wearing it as a badge of pride. This time around, the evolution of Audi's design philosophy brings a look that is simultaneously full of character and more streamlined. It also set a fresh template for other Audi crossovers, such as the new-generation 2018 Q5.
Plenty of technology is available to preserve these good looks from collision damage, such as semi-autonomous driving features and exit assistance — which tells anyone exiting the Q7 if there's a cyclist (or similar hazard) bearing down on their location.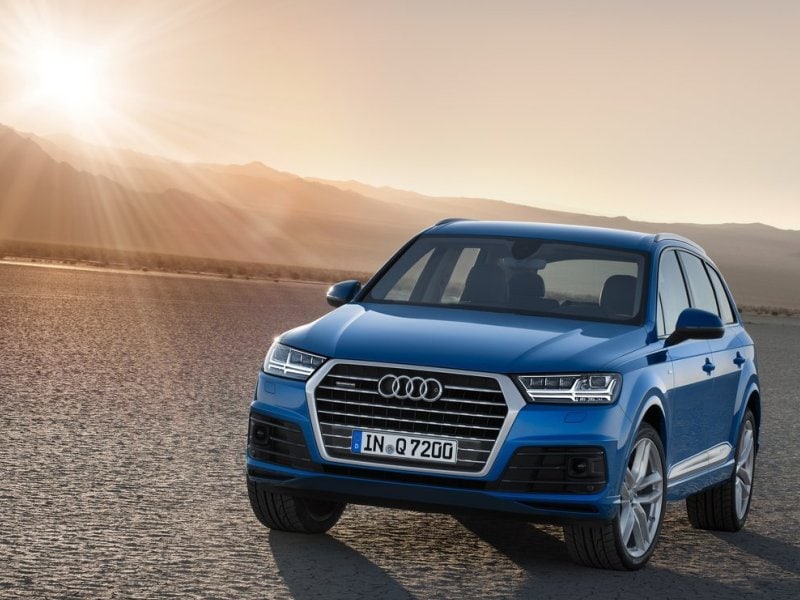 Photo by Audi
2018 BMW X6
The X6 has been around for a while; the first generation appeared in 2008, and the second generation wasn't a big departure. In all fairness, it's an acquired taste. But the X6 was the crossover that blazed the "four-door coupe" trail throughout this category of the body style. Plus, in our eyes, BMW's design vocabulary works well here in the X6's shapes, lines and proportions.
To those who are unconvinced, try driving it, especially the 50i version with the 445-horsepower V8 engine. Once the X6 gets under your skin, it won't go away. Incidentally, the designer responsible for the X6 and its more conventional X5 sibling, Pierre Leclercq, is now working for Kia. So we can expect more interesting-looking vehicles from that brand in the future.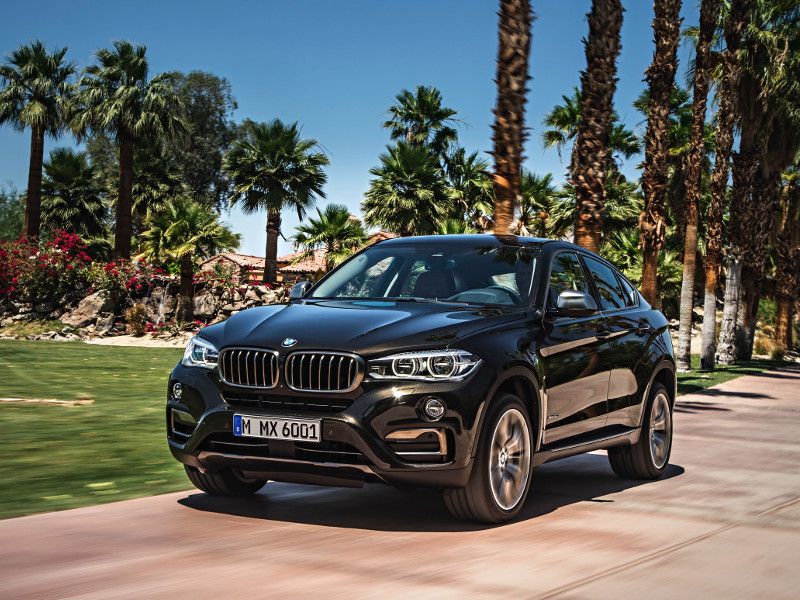 Photo by BMW
2018 GMC Terrain
Good-looking crossovers don't always have to resort to disguise or sacrifice practicality. Sometimes a cohesive collection of cool shapes and details works just as well. That's what the new-for-2018 Terrain offers. This is a compact model with a predominantly chunky look. The rear pillar is fashioned to make it look like the roof is suspended over it, which is quite trendy these days (also see the Lexus RX and Nissan Murano).
The top Denali trim, meanwhile, has the Terrain's most intricate grille variant (there are three different grille treatments in total). It harmonizes well with the rest of the vehicle and ties in nicely with the interestingly shaped headlights and chrome "top lip."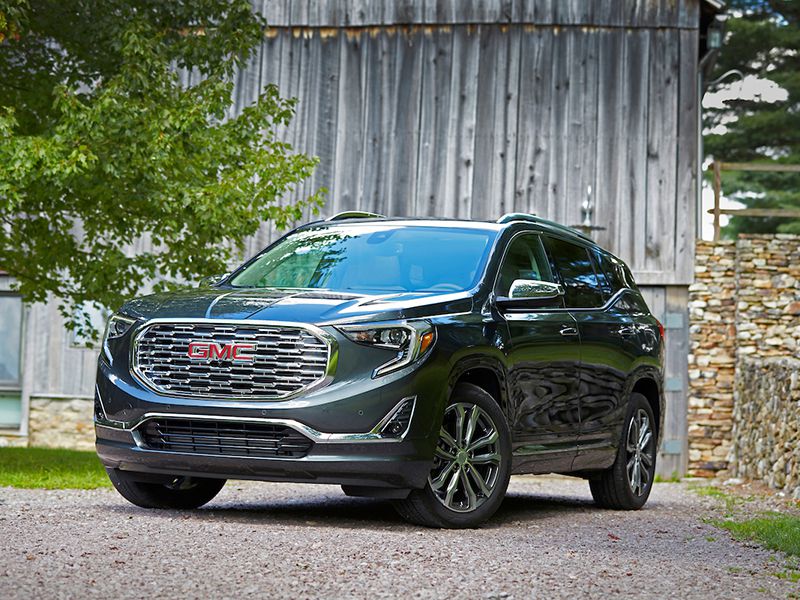 Photo by General Motors
2018 Jaguar F-Pace
It's not easy for a storied carmaker to translate its house style — traditionally applied to sports cars and/or sedans — into a successful crossover design. Porsche's initial stab at the Cayenne springs to mind. But Jaguar got it right the first time, entering the crossover fray on its own terms.
Once the design team settled on the dimensions (the F-Pace is surprisingly roomy), the intention was to create the most elegant crossover possible. There's a tautness to this vehicle, directing the onlooker's eyes from the nose to the tail. It doesn't hurt that the rear lights look like those from the F-Type sports car.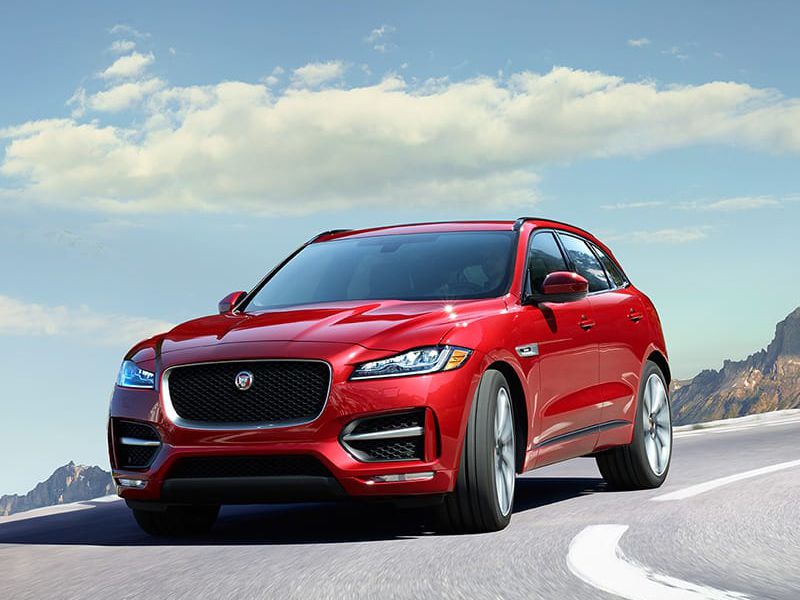 Photo by Jaguar Land Rover
2018 Jeep Cherokee
There's a good chance the Cherokee's styling didn't click with many people right off the bat. It could be argued that it has one design (a fairly sleek look) stacked on top of another (more ruggedly Jeep-like). But now, years after its 2014 debut, there are enough Cherokees on the road for familiarity to set in. And instead of making criticisms, it's more fun and constructive to appreciate the interestingly fresh take on the traditional Jeep seven-slot grille that brings it into three dimensions.
Jeep obviously wanted the Cherokee to look sophisticated yet capable, equally at home on boulders and boulevards. And really, it's succeeded. The Cherokee now has an appeal that goes beyond the bandana-and-skid-plates crowd.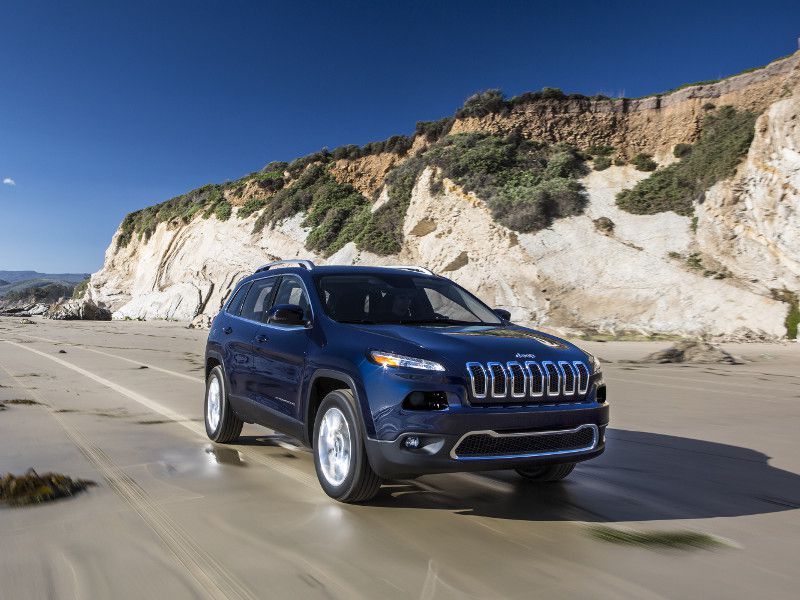 Photo by Fiat Chrysler Automobiles
2018 Land Rover Range Rover Velar
Despite every Land Rover vehicle having some substantial off-road capability, this all-new model is more crossover than SUV. Even though the short front overhang and little kick-up at the back contribute to the looks, they also help with ground clearance.
The Velar is a sister vehicle to the Jaguar F-PACE — they share the same platform. However, the Velar is especially remarkable for its styling, which is said to signify a new design direction for the marque. And this fresh approach takes advantage of the latest technology, like matrix-laser LED headlamps that can be formed into the thinnest lights ever to grace the nose of a Land Rover. And check out the door handles that are flush with the bodywork.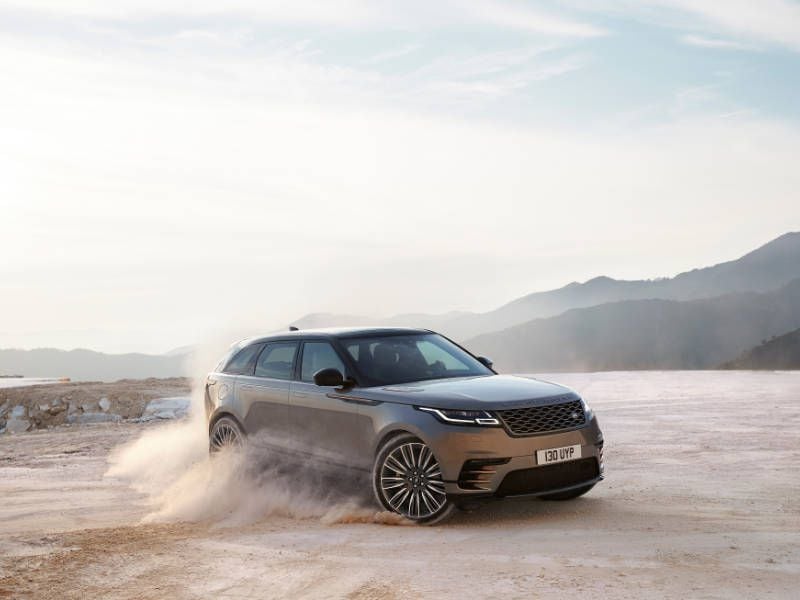 Photo by Land Rover
2018 Mazda CX-5
It's been said before, and here it comes again: Mazda is about the only Japanese car company that consistently comes up with good designs, at least within the context of Western tastes. The CX-5, an affordable compact crossover, could be wearing the badge from any one of several European marques.
Imagine how difficult it is in the first place to create a decent-looking crossover, given that it has to be shaped in such a way as to accommodate people, their stuff, a raised ride height, and probably some all-wheel-drive hardware. Mazda has not only accomplished this feat but did it with panache. The fine-handling CX-5 has been updated for 2018 with better gas mileage and more standard features.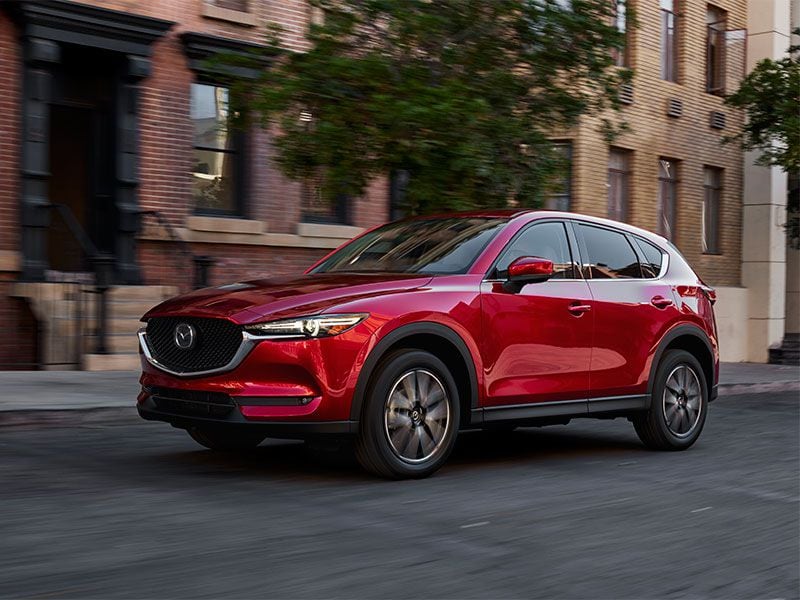 Photo by Mazda
2018 Porsche Macan
We hinted earlier that the larger Cayenne crossover started life looking somewhat awkward. That hasn't happened with the Macan. The sloping roofline helps a lot, but the size and proportions are all well-calibrated. The liftgate release hidden near the rear wiper is just one clever little detail.
It's hard to tell if Porsche's general design language has morphed to better accommodate crossover bodies, or whether its crossover designs are improving over time. Either way, it's the buyer who wins and end up with a good-looking vehicle that's also great to drive. Among premium compact crossovers, this is the enthusiast's choice. The Macan's interior, meanwhile, is another example of excellent taste and luxurious touches.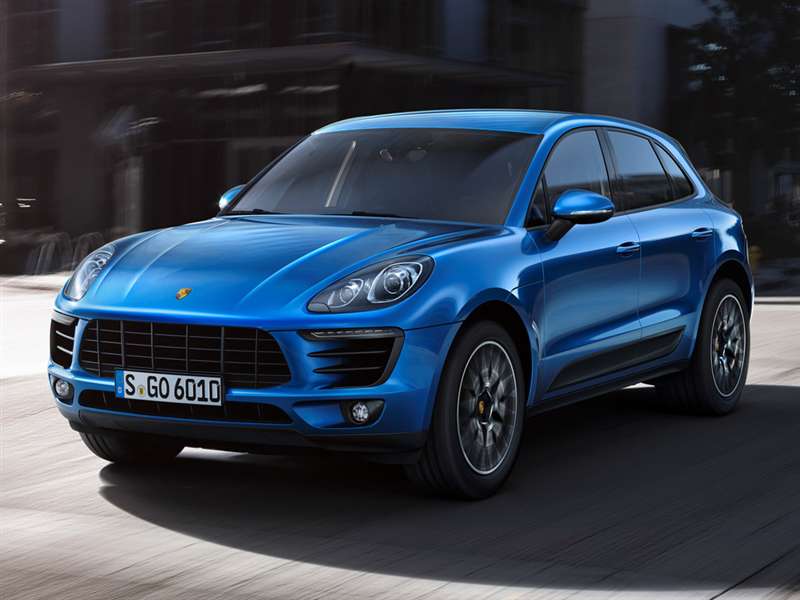 Photo by Porsche
2018 Volvo XC60
Not so long ago, people used to buy crossovers almost in spite of their looks. They could live with dull and boxy as long as they had that raised driving position and some decent practicality. Now more than ever, though, they can be quite discerning.
The XC60 is all new for 2018, with a strong family resemblance to the more substantial XC90. But when something is that handsome, complaints will be few. Because of its more compact dimensions, the XC60 has a certain pertness to it that big brother can never attain. And since this crossover should sell in greater numbers than its more expensive sibling, we commend Volvo for putting fantastic design — inside as well as out — into the hands of more people.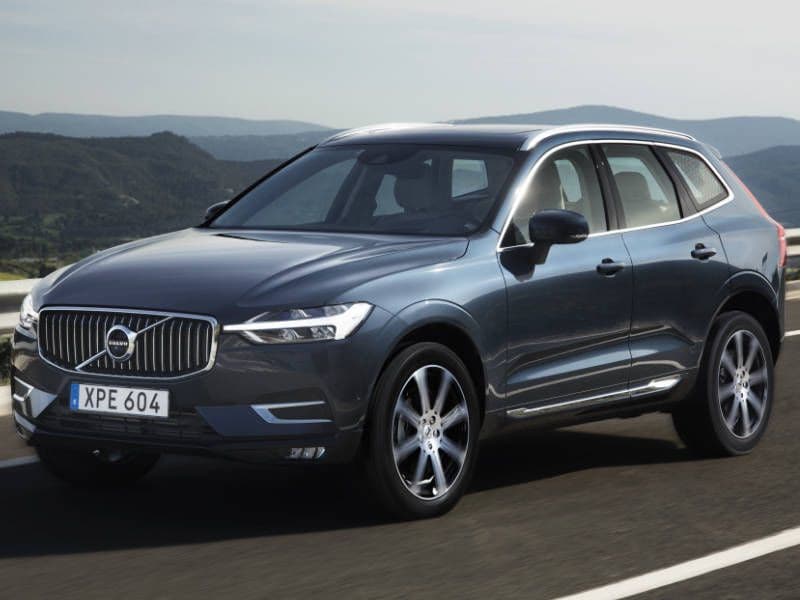 Photo by Volvo