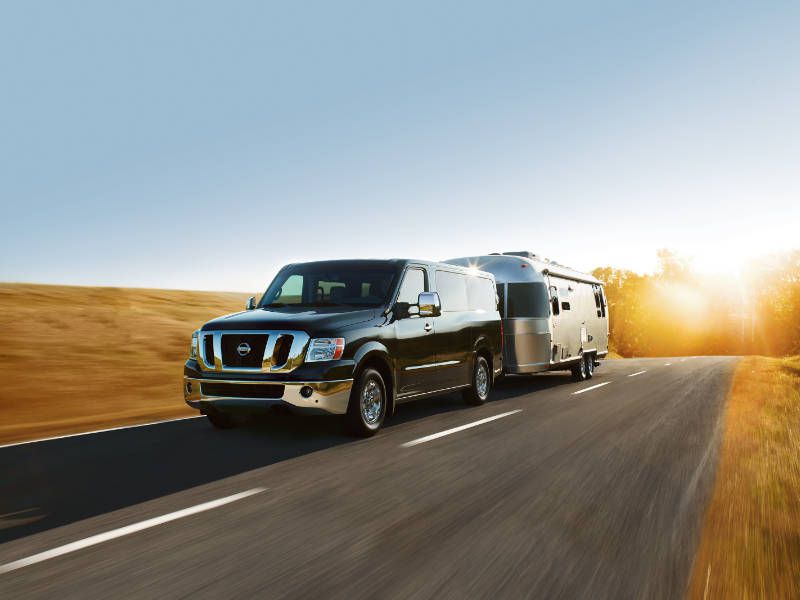 2016 Nissan NV Passenger Van Towing1 ・ Photo by Nissan
Don't automatically think that you need a pickup truck or an SUV to tow the occasional trailer; vans can be more economical than SUVs, while towing nearly as much or more. If you need to tow a trailer while also hauling a ton (or more) of weather-sensitive cargo, or carry up to seven of your friends or family members, then a van might be the way to go. After all, what's the point of having a camper trailer that can sleep eight if you can only bring three or four people with you? Take a look at our list of the 10 best vans for towing (sorted by their towing capacity) to see if there's a van that's right for you.
10) 2017 Ford Transit Connect
Though the Ford Transit Connect is a compact front-wheel drive van that has to make do with a 2.5-liter 4-cylinder engine, it can still tow a useful 2,000 pounds in both Cargo Van and Passenger Wagon configurations (when equipped with the Trailer Tow Package). Depending on the configuration, there is seating for up to seven passengers, but the engine is a bit underpowered for a full load (and also quite noisy), especially when also towing a trailer. In addition, the interior is somewhat spartan, with few of the regular minivan trappings. Still, the Transit Connect represents an alternative to the regular minivan, especially if you occasionally need to do some light towing.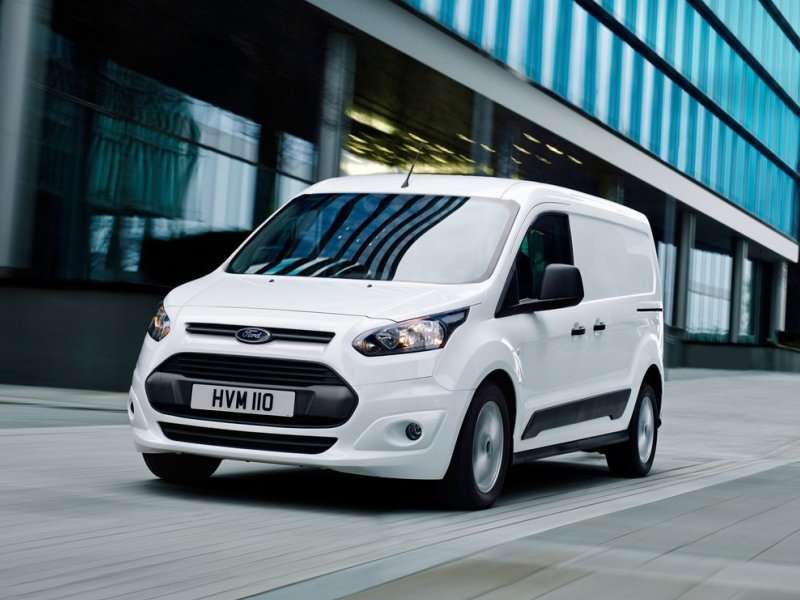 Photo by Ford
9) 2017 Kia Sedona
The Kia Sedona is a minivan with seating for up to eight passengers and a towing capacity of up to 3,500 pounds. The only available engine is a 3.3-liter V6 that should provide adequate power, even when towing or carrying a full load. If you opt for the top-of-the-line SXL trim, there's an available Prestige Package that almost turns the Sedona into a limousine, with First-Class Lounge Seating (with premium Nappa leather seat trim), a premium headliner, and dual power sunroofs. We'd add the optional tow hitch (since this is a list of the 10 best vans for towing) and the optional rear seat entertainment package (to help keep the children occupied on the way to the campsite).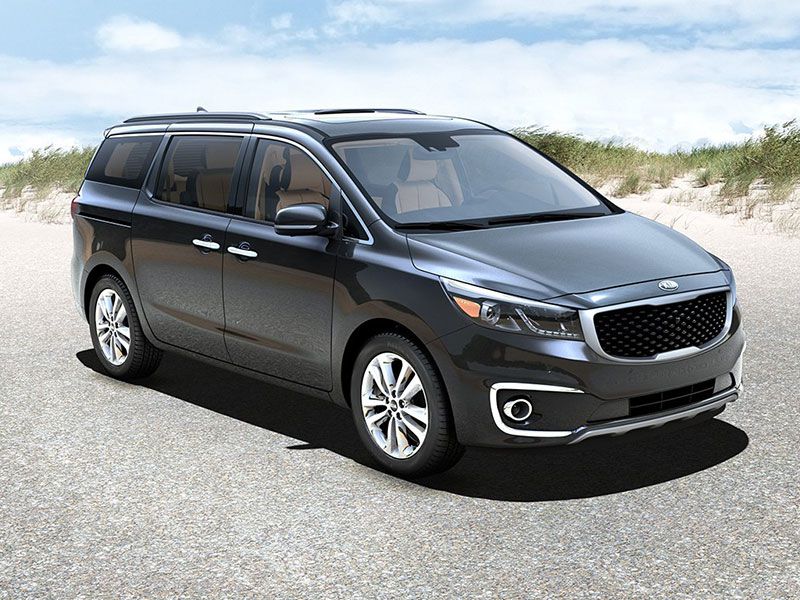 Photo by Kia
8) 2017 Toyota Sienna
The Toyota Sienna is minivan that now comes standard with an updated (and quite powerful) 3.5-liter V6 engine. Front-wheel drive models can seat up to eight, while all-wheel drive models (the Sienna is one of the few vans that still offers this option) are limited to seven passengers. Towing capacity for all models is 3,500 pounds, but unfortunately, a trailer hitch is not a factory option, so you'll need to have an aftermarket unit installed if you want to use the Sienna as your tow vehicle. Most trims are fairly well equipped, and there are few options available separately. You may want to hold off before buying, however, as a facelifted Toyota Sienna is expected for the 2018 model year.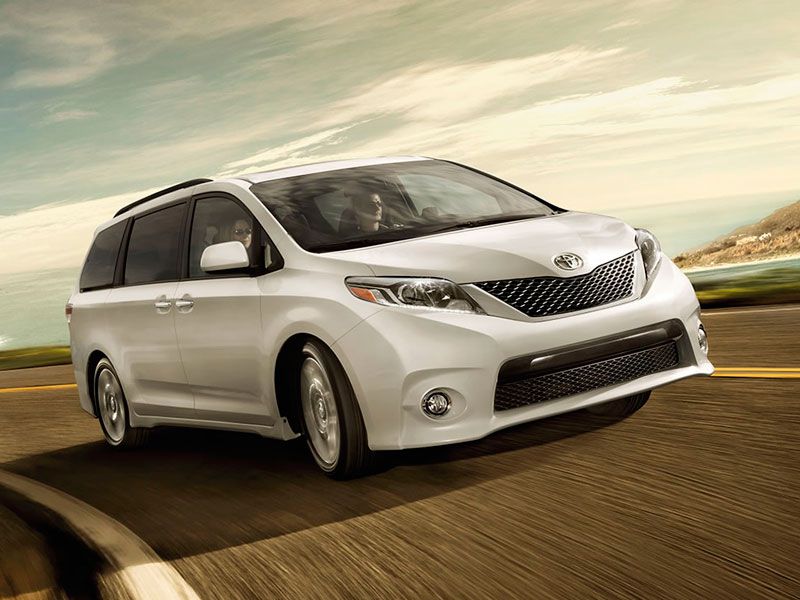 Photo by Toyota
7) 2017 Honda Odyssey
The Honda Odyssey is powered by a 3.5-liter V6 that is adequately powerful for towing or carrying a full load, and it's also one of the best-handling minivans, a feature that could come in handy if you ever face an emergency while towing. A trailer hitch and 1 7/8-inch or 2-inch trailer balls are optional, but unfortunately, a trailer hitch harness is still required before you can tow. If you want to rough it for a weekend, a tent that sleeps six and fits over the rear hatch is also available. An all-new version of the Odyssey should be available soon for the 2018 model year, and we expect it to be even better.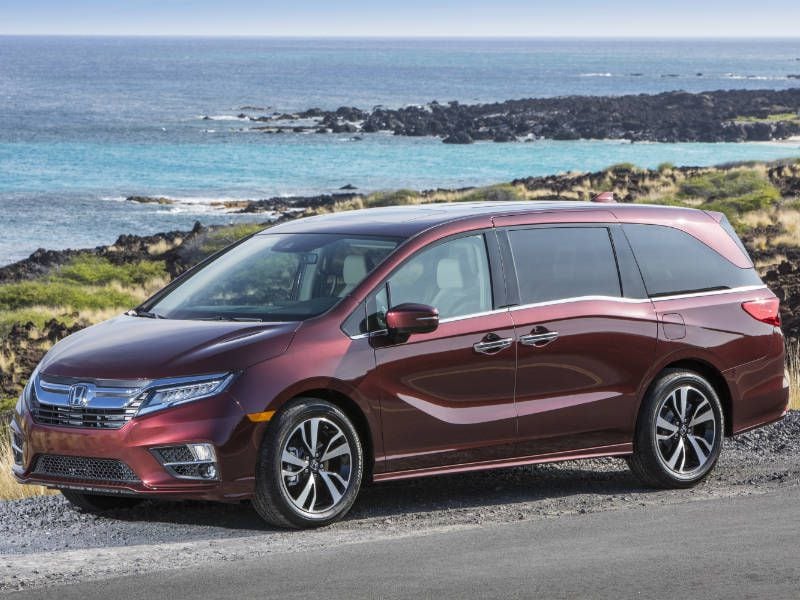 Photo by Honda
6) 2017 Chrysler Pacifica
Though Chrysler is credited with introducing the first minivans in North America, its recent models have languished at the bottom of the ratings. The new Chrysler Pacifica changes that with a modern design, a powerful yet economical 3.6-liter V6, and even a built-in vacuum. With its 3,600-pound towing capacity, the regular version outclasses its rivals in the minivan segment (albeit by only 100 pounds) but unfortunately, towing is not recommended with the hybrid model of the Pacifica. We'd equip the Pacifica with the Emergency Kit Group (just in case) and the Trailer Tow Group, which includes a heavy-duty radiator, a 220-amp alternator, a tow wiring harness, a Class II hitch, and trailer sway control.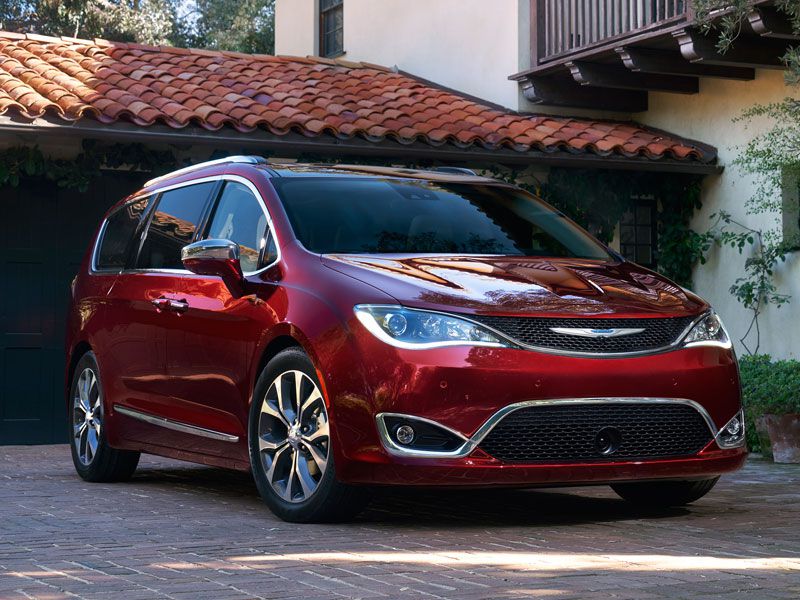 Photo by Chrysler
5) 2017 Mercedes-Benz Sprinter
The Mercedes-Benz Sprinter is the vehicle that first introduced the idea of the European cargo van to our shores, and it continues to be a workhorse. Available in both cargo and passenger versions with seating for up to 12, the Sprinter is capable of hauling an immense amount of cargo (well over a ton, even for passenger versions) and towing capacity for all models is at least 5,000 pounds. A 3.0-liter diesel V6 is the standard engine in Passenger Van models and a 4x4 configuration is also available, with little to no negative affect on the Sprinter's cargo hauling capabilities. We'd order ours with the Trailer Hitch Package and the Additional Battery Package.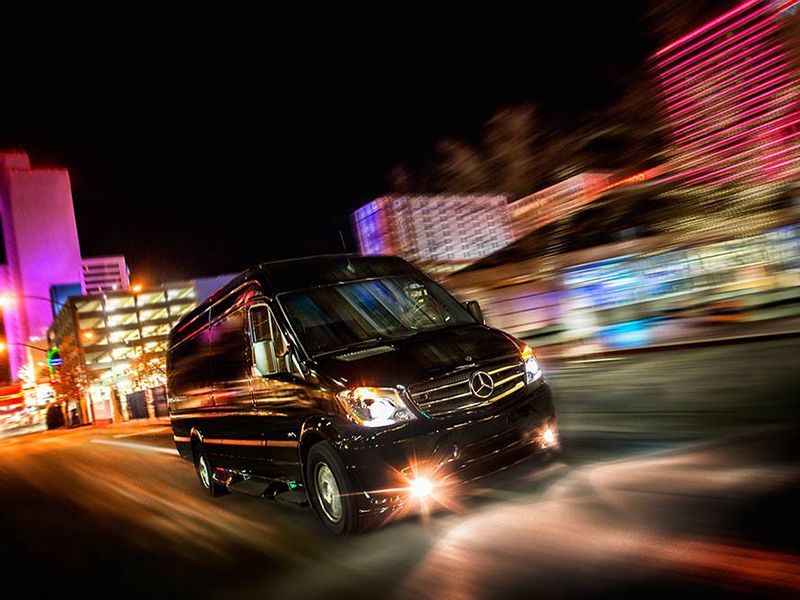 Photo by Mercedes-Benz
4) 2017 Mercedes-Benz Metris
The Mercedes-Benz Metris is a mid-size van that straddles the difference between compact and full-size vans, yet offers full-size capability, such as seating for up to eight and a towing capacity of up to 5,000 pounds. The only engine offered is a turbocharged 2.0-liter 4-cylinder, which offers adequate power but can feel a bit sluggish when towing a heavy load. Despite being a Mercedes-Benz, the Metris isn't a luxury vehicle, but if it were up to us, we'd add the Premium Interior Package, the Driver Comfort Package, the Enhanced AC Package, and the trailer hitch. If you decide that the Metris (or Sprinter) is for you, note that Mercedes-Benz uses a separate website to provide information about its vans.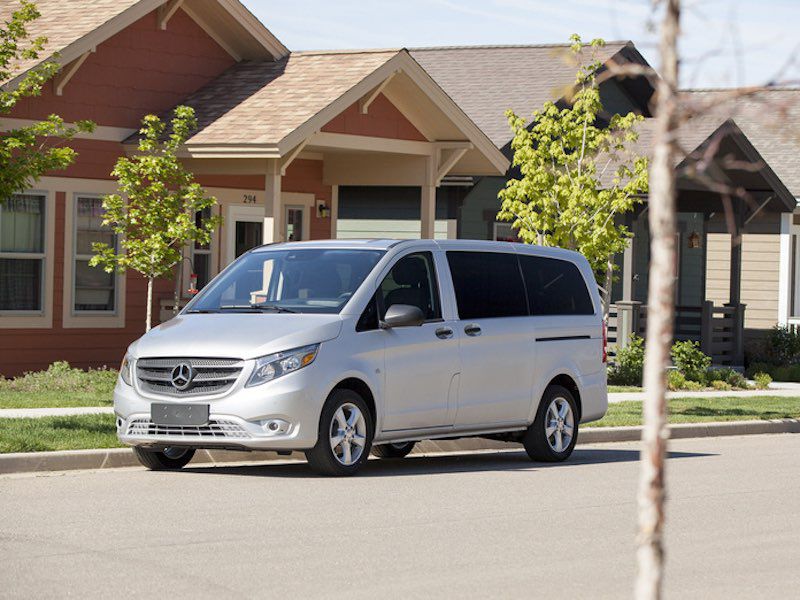 Photo by Mercedes-Benz
3) 2017 Ford Transit
The Ford Transit is a European-inspired full-size unibody van. Though the Cargo Van version can tow up to 7,500 pounds, the Passenger Wagon has a maximum towing capacity that ranges between 3,800 and 5,100 pounds when equipped with the top of the line 3.5-liter turbocharged V6. If it were our vehicle, we'd equip it with 15-passenger seating, the Heavy-Duty Trailer Tow Package (which includes a Tow/Haul mode, a frame-mounted hitch receiver and a 4-pin and 7-pin connector), a trailer brake controller, dual heavy-duty batteries, long-arm power heated mirrors with turn signals, and a limited-slip rear axle. With those options, the Transit is near the top of the pack when it comes to the best vans for towing.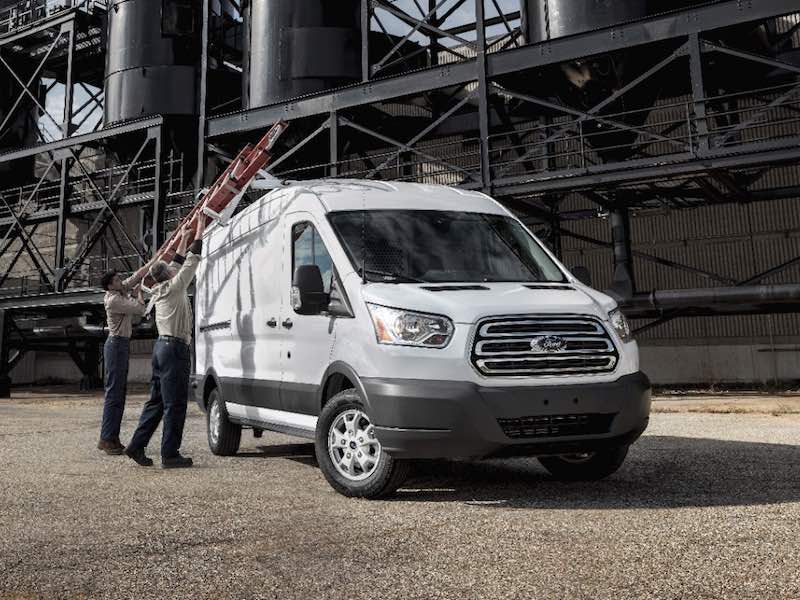 Photo by Ford
2) 2017 Nissan NV
The Nissan NV is a traditional body-on-frame van, but it eschews the typical flat-front design for a longer pickup-type front end. The passenger version has seating for up to 12 occupants and a maximum tow rating of 8,690 pounds when equipped with the 5.6-liter V8, making it ideal for bringing the entire extended family to the campsite. For towing duties we'd be sure to order the class IV weight-distributing hitch, the trailer tow brake jumper sub-harness, and the 7-pin trailer tow harness. Once you get the van loaded up and the trailer coupled, you'll realize why the NV is near the top of our list of the 10 best vans for towing.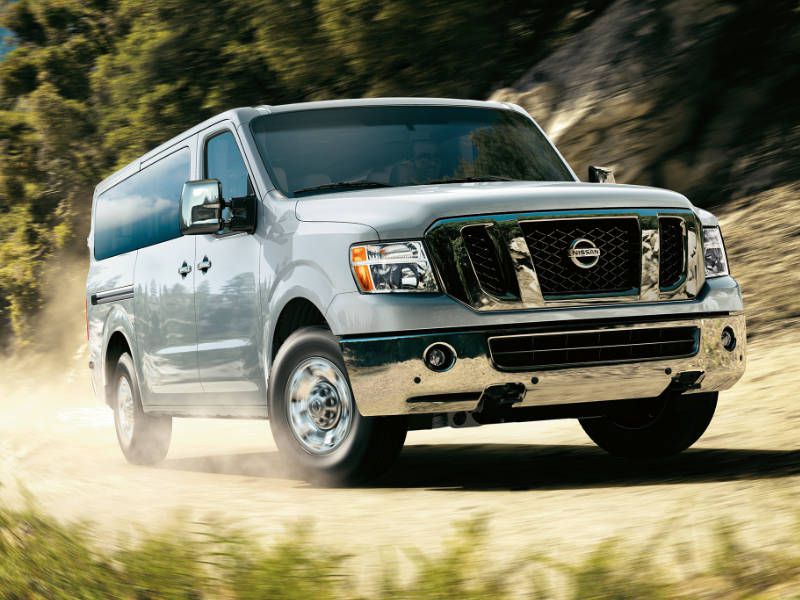 Photo by Nissan
1) 2017 Chevrolet Express/GMC Savana
If you need the van that can tow the most, then the old-school full-size Chevrolet Express and GMC Savana are the way to go. General Motors has downsized diesel motors in its heavy-duty vans (gone is the 6.6-liter Duramax, replaced by a version of the 2.8-liter that's used in the diesel Colorado and Canyon) so it's now the big 6.0-liter gasoline-powered V8 that is the towing king, capable of pulling a maximum of 9,600 pounds in 12-passenger van configuration. For the ultimate tow rig, we'd add the optional heavy-duty trailering equipment, a heavy-duty locking rear differential, 150- or 220-amp alternator, isolated second heavy-duty battery, heated power-adjustable mirrors, and the rear vision camera.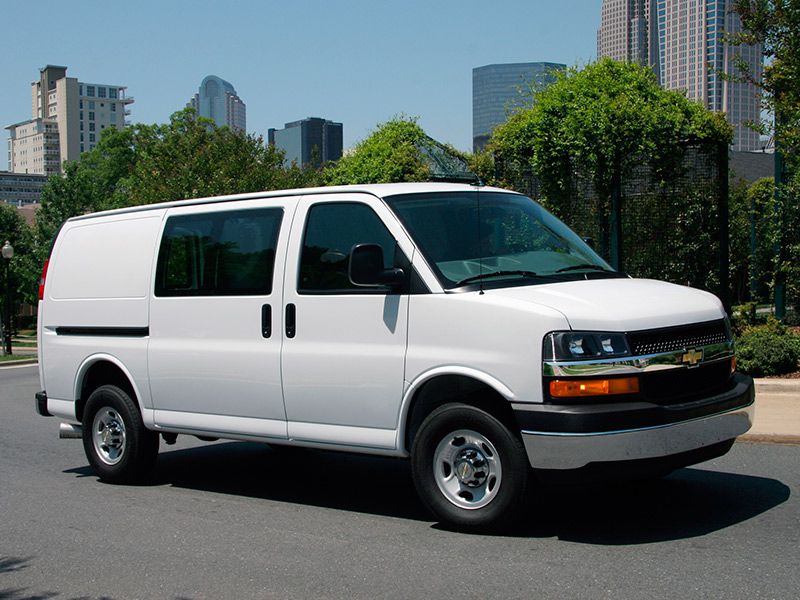 Photo by Chevrolet