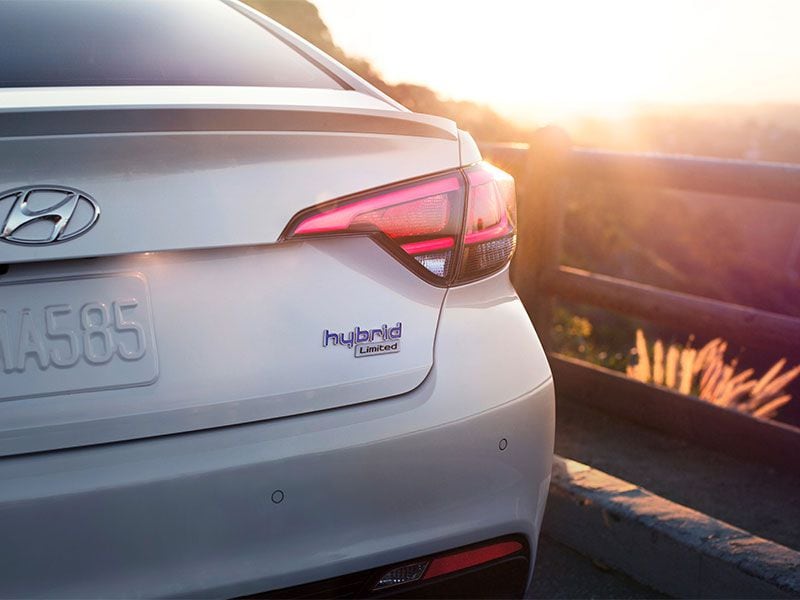 2017 Hyundai Sonata Hybrid rear badge ・ Photo by Hyundai
Hybrid vehicles used to be premium by default—developing new technology is an expensive investment that needs to be recouped, after all—but we're getting to the point that, while hybrid drivetrains are still improving, they aren't exactly new. That means prices have come down considerably, and affordable hybrid cars are becoming the norm as manufacturers get competitive over market share and boastful about their fleets' environmental friendliness. So, here are some of our favorites. Though we're putting each car's MSRP right out there, it's not the only factor in the order of this list. We'll describe other subjective factors, as determined by Autobytel editors, that affect each car's standing. Now, here are 10 of the best-value hybrid vehicles on the market.
10) 2016 Toyota RAV4 Hybrid — MSRP $28,370
Toyota's RAV4 has been one of our favorite value-oriented crossovers for quite some time. It's surprising that it took so long for the company to introduce a hybrid model of the RAV4, but not surprising that it, too, quickly became one of our favorite best-value hybrids. Sure, it's a little on the expensive side if you're used to the price tags of, say, compact sedans and hatches. But the RAV4 Hybrid, which is all-new for 2016, jumps toward the front of the pack with fantastic fuel economy, generous cargo space, familiar styling, and the same easy-to-drive, go-anywhere cheerfulness that makes the regular RAV4 so popular. It's got stellar safety ratings and great projected reliability, too.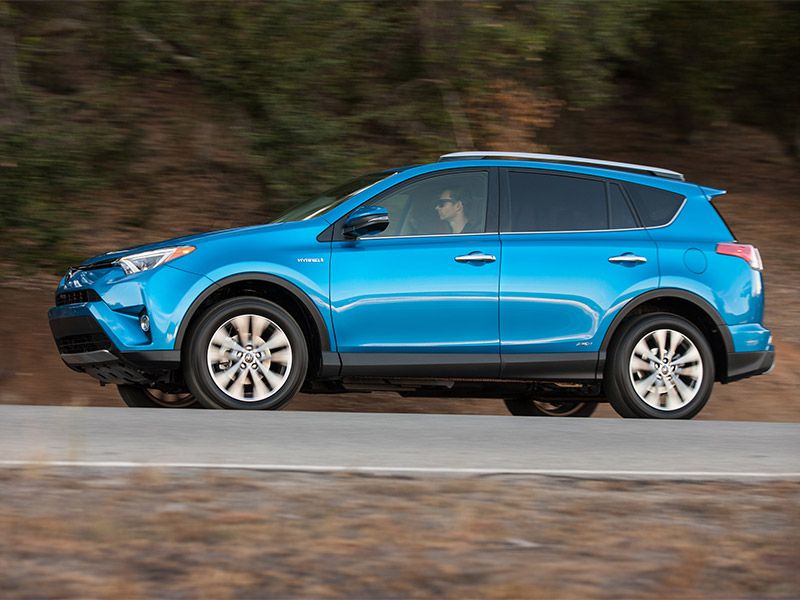 Photo by Toyota
9) 2017 Ford Fusion Hybrid — MSRP $25,675
The 2017 Ford Fusion Hybrid is a midsize sedan that's based on the regular, straight gasoline-powered Ford Fusion. The Fusion's such a solid workhorse that Ford's adapted it into a plug-in hybrid (the Fusion Energi), too. Among affordable hybrid midsize cars, the Fusion Hybrid is one of our favorites because it's reasonably fun to drive—it's not fast by any stretch of the imagination, but it handles well, which goes a long way toward keeping things interesting from behind the wheel, and really, that's all you need—most speed demons wouldn't even be considering a hybrid car anyway. With sporty styling and an upscale passenger compartment, the Ford Fusion Hybrid provides a strong value for its price.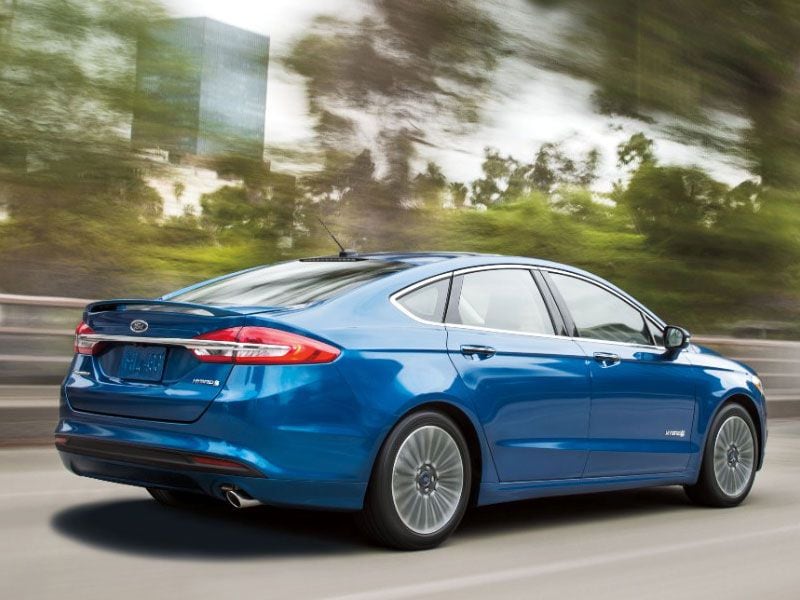 Photo by Ford
8) 2016 Hyundai Sonata Hybrid — MSRP $26,000
The Hyundai Sonata is widely recognized as one of the best values in the midsize car class. It's comfortable and it has plenty of standard equipment. It was a smart move for Hyundai to capitalize on this car's popularity by creating the Sonata Hybrid model a few years back, and it's a smart choice for consumers, too. The Sonata Hybrid was redesigned for the 2016 model year, bringing with it a bunch of updated standard equipment and options. The cabin is one of the most comfortable and quiet in the class, a spacious place that ensures a serene experience for passengers. Strong safety and reliability scores, typical of Hyundai vehicles, underscore the value of the Sonata Hybrid.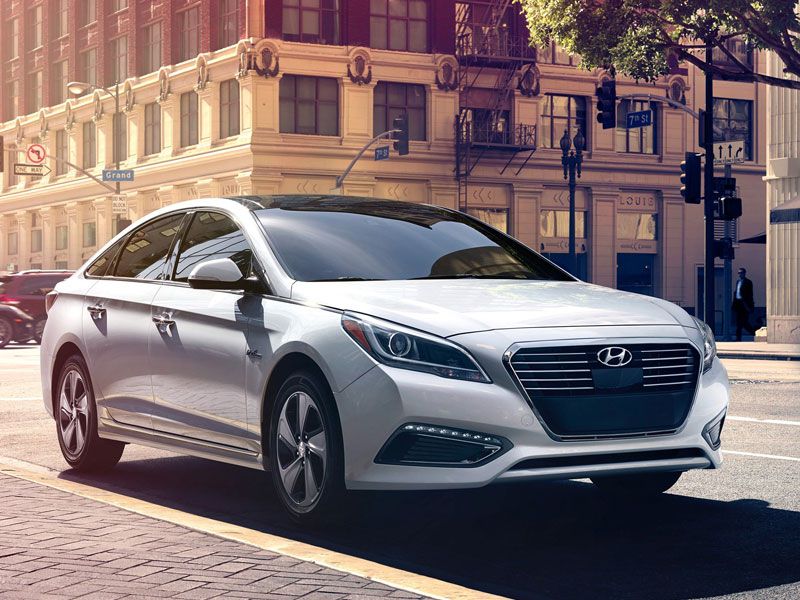 Photo by Hyundai
7) 2017 Kia Niro — MSRP not yet announced
It's hard to peg a vehicle as a good value when we don't yet know what it'll cost, but given Kia's reputation we think the upcoming Niro earns the benefit of the doubt. The 2017 Kia Niro is a subcompact hybrid crossover with an anticipated 50 MPG combined EPA rating and a 600-mile range. Kia is reportedly leveraging the Niro to expand into plug-in hybrid and fully electric versions, too. Kia hasn't yet announced pricing or a release date for the Niro, but interested parties can sign up on Kia's website to receive updates. We're looking forward to reporting more on the 2017 Kia Niro as information becomes available.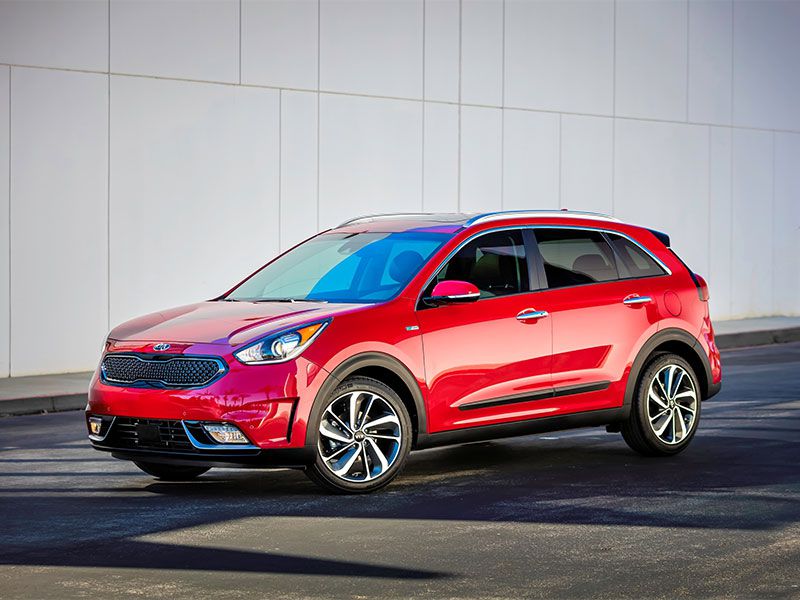 Photo by Kia
6) 2016 Toyota Prius — MSRP $24,685
In recent years, Toyota has taken the Prius nameplate and applied it to a whole family of hybrid vehicles, but for simplicity's sake, we're just going to talk about the original. The compact Prius is one of the vehicles that brought hybrids into the mainstream and, over time, it's matured into a car that stands out much less than the original. Don't get us wrong, it's still distinctive, but it's more about being a good car overall, and less about being a hybrid. For 2016, Toyota's added the brand's Safety Sense collection of driver assistance technology to the list of standard features, further enhancing this hybrid's already-impressive value. And again, if you like the vibe of the Prius but want something smaller, larger, cheaper, or more expensive, well, Toyota's got plenty of options.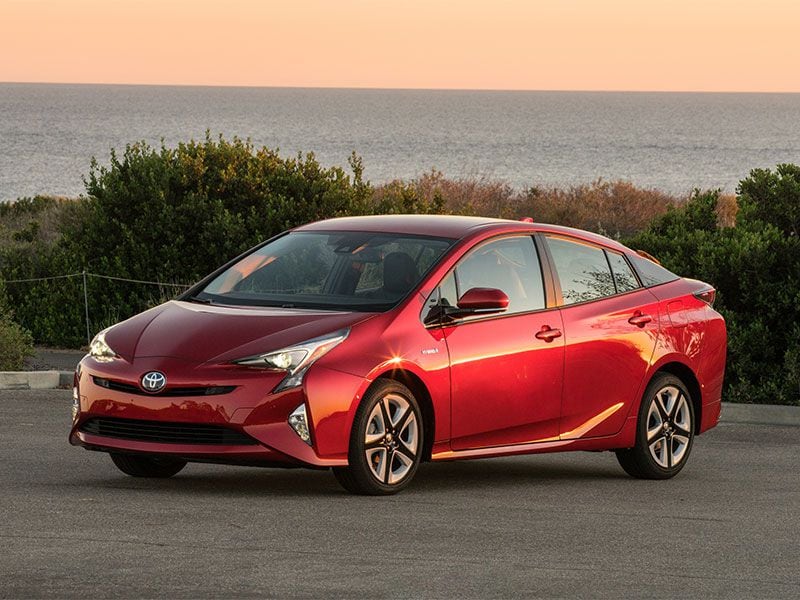 Photo by Toyota
5) 2017 Chevrolet Volt — MSRP $33,170
When we were assembling our list of the 10 best-value hybrids, we focused on traditional hybrids (a gas engine paired to an electric motor) though we decided to make an exception for the Chevy Volt, because it's worth highlighting this car's value. The 2017 Chevrolet Volt represents the recently introduced second generation of this plug-in extended-range hybrid. What that means is that the Volt can travel a short distance on electric power, a much longer distance on combined electric and gas power, and can run on the gas engine alone when the battery's reserves are tapped. The updated Volt features extended ranges, so it's more useful than before, and Chevrolet's provided this compact sedan with a fresh list of standard creature comforts.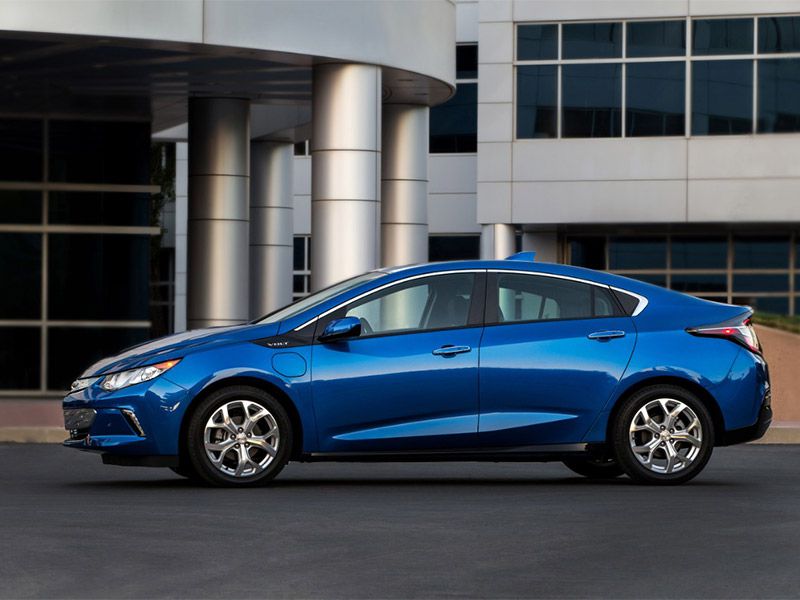 Photo by Chevrolet
4) 2017 Lincoln MKZ Hybrid — MSRP $35,190
The 2017 Lincoln MKZ Hybrid is one of the more expensive vehicles we're featuring on our list of the 10 best-value hybrids, but believe us, we have our reasons. For example, that $35,190 MSRP is the same as the regular version of the MKZ, which is practically unheard of, and that alone makes this hybrid midsize luxury sedan a good value. If only more manufacturers did it that way. The MKZ Hybrid gets great fuel economy (of course) and provides a smooth and comfortable driving experience. Safety and reliability scores are solid, meaning this sedan will be a good value over the long run. Lincoln's been stepping up the brand's styling lately, too, so it's worth giving this one a chance.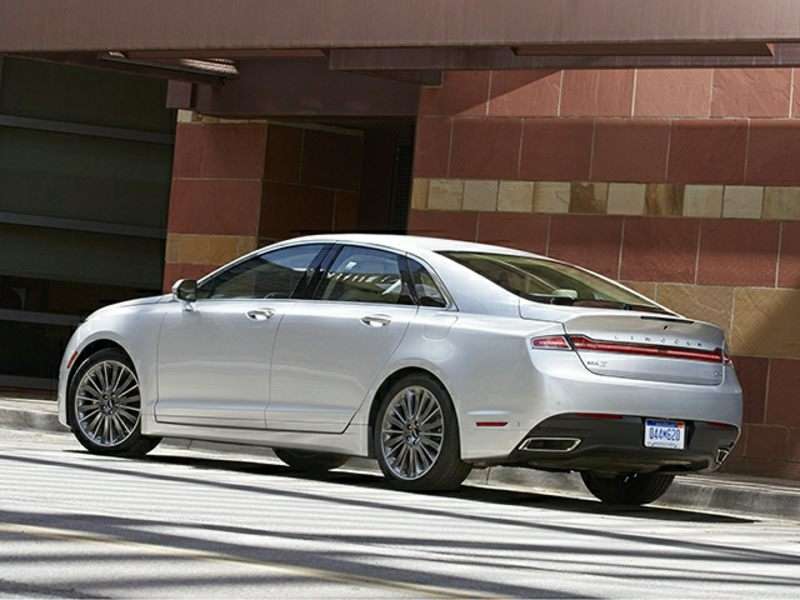 Photo by Lincoln
3) 2017 Chevrolet Malibu Hybrid — MSRP $27,875
The 2017 Chevy Malibu Hybrid is yet another midsize sedan that's based on a mainstream gas-powered model, and like the others we've already discussed, the Malibu Hybrid has its own perks. Primarily, the Malibu Hybrid has earned a reputation for being one of the best-performing cars in its class, providing very strong acceleration for a hybrid without compromising its fuel efficiency. For 2017, Chevrolet added the Android Auto and Apple CarPlay smartphone integration systems to the Malibu Hybrid's list of standard features, giving it another edge in value over the competition. At $27,875, it's a strong value and well worth considering.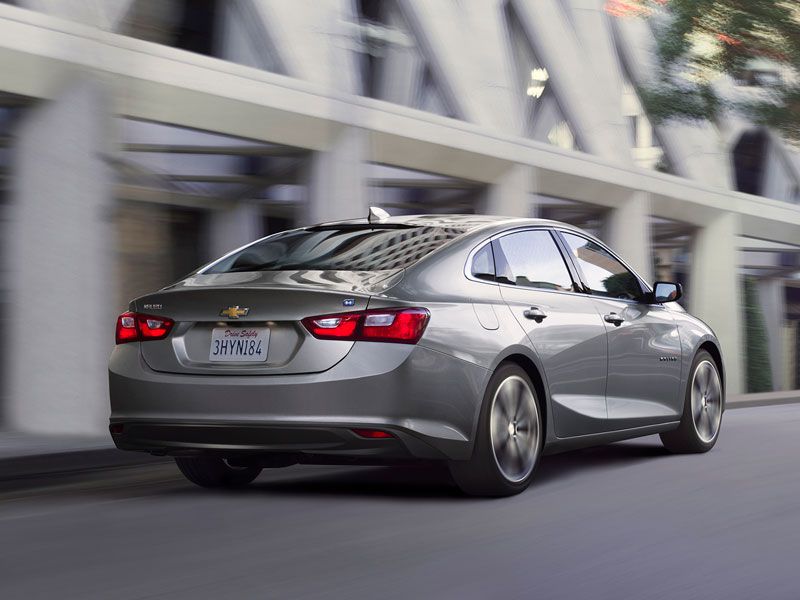 Photo by General Motors
2) 2017 Honda Accord Hybrid — MSRP $29,605
Though there's been an Accord Hybrid model in past Honda lineups, the 2017 Accord Hybrid is new, reintroduced after a lengthy hiatus. Previous versions of this hybrid midsize sedan failed to gain traction, but we don't think that'll be a problem this time around. The Accord Hybrid has one of the highest horsepower ratings out there for a hybrid midsize sedan, yet provides excellent fuel economy, and that makes its relatively high price quite a bit more palatable. The 2017 Accord Hybrid provides a generous list of standard features, too, which also helps increase its overall value.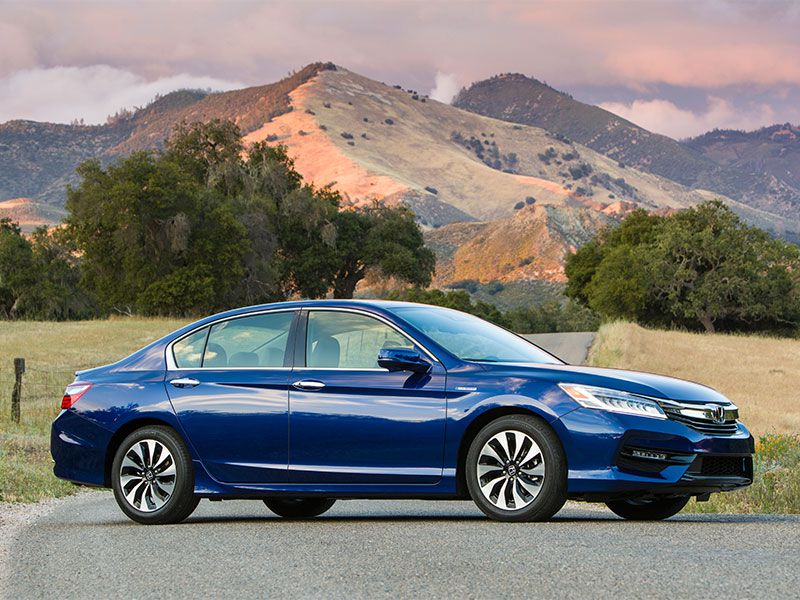 Photo by Honda
1) 2017 Toyota Camry Hybrid — MSRP $26,790
If nothing else, it should be clear by now that Toyota's one of the best brands overall when it comes to finding the best-value hybrids. We've given you a crossover SUV and a compact to consider, and now a hybrid version of Toyota's best-selling midsize sedan. The 2017 Camry Hybrid earns praise for its spacious and comfortable passenger seating, and an easy-to-use infotainment system that makes life easy for the driver. It's not the most fuel-efficient option of its competitors, which could be a turnoff for some buyers, but it's still a high-value easygoing choice for a midsize car.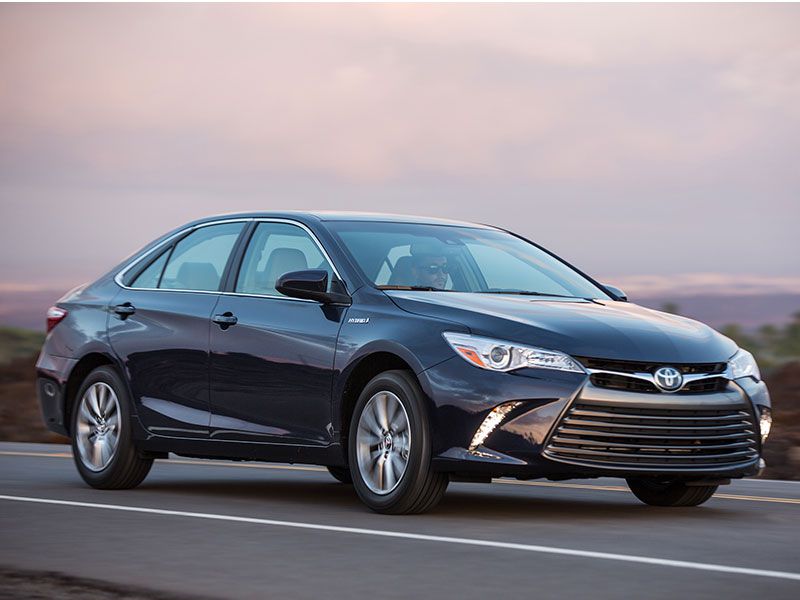 Photo by Toyota