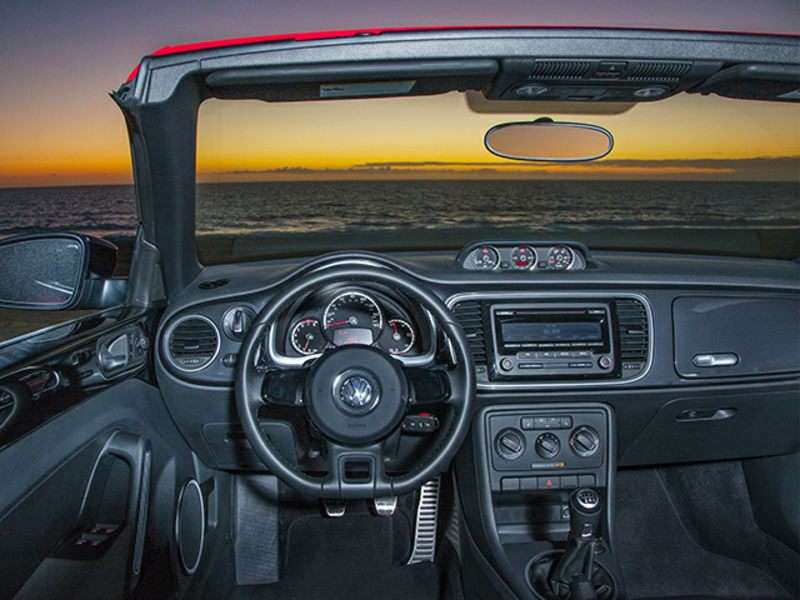 Convertible at Sunset
Convertibles give off an air of excitement, of risk-taking, of seizing the day (even if the convertible in question is as bland as a used Chrysler Sebring). A lot of this perception comes from marketing and advertising, but there's actual science behind it, too. According to Consumer Reports, convertibles generally aren't as safe as cars with solid roofs. Some studies suggest that crashes in convertibles don't actually lead to more fatalities, though, and new cars have plenty of supplemental safety equipment. They generally cost more than the solid-roof version of a car,offer only two or four seats, and sacrifice some cargo space to make room for the roof's moving parts. All caveats aside, we still have our favorite open-air cars. Some are even relatively practical. Take a look at some of Autobytel's favorite (and least-expensive) ways to enjoy a new convertible this year with our list of the 10 best value convertibles for 2016.
10) 2016 Alfa Romeo 4C
The aggressive two-seat 2016 Alfa Romeo 4C Spider is in its second year, but we wouldn't be surprised if some mainstream or value-oriented car shoppers still aren't really acquainted with it. It's difficult to enter and to exit, it's uncomfortable and loud, and it has very little storage. On top of that, it can be a challenge to drive, since visibility around the car's carbon-fiber shell isn't great, and the 1.7-liter turbocharged four-cylinder engine requires some taming. 237 horsepower and 258 lb-ft of torque are put to the ground through a six-speed automated manual gearbox that sends the Alfa Romeo 4C's power to the rear wheels. The 2016 Alfa Romeo 4C starts at $65,900, making it by far the most expensive vehicle on the list as well as one of the least practical... but it's still a deal for an Italian sports car and one of the best value convertibles for 2016.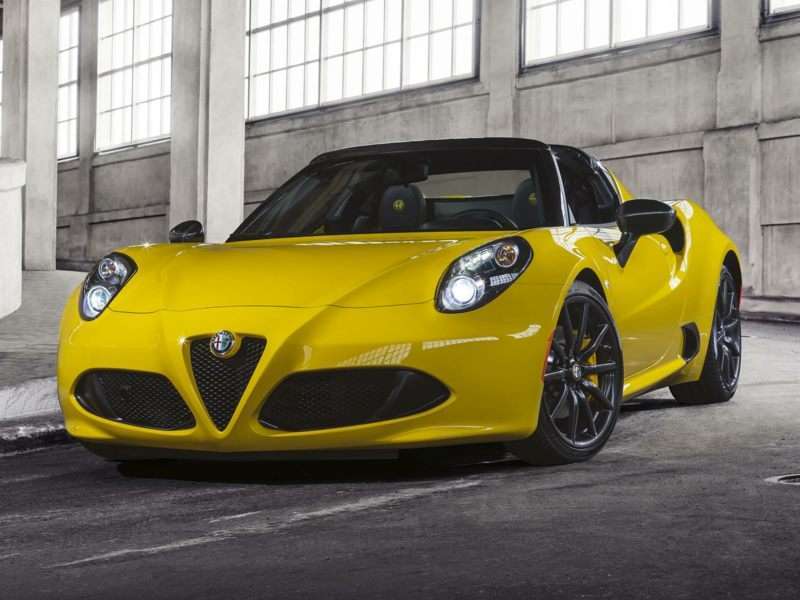 Photo by Fiat Chrysler Automobiles
9) 2016 Nissan 370Z
The 2016 Nissan 370Z is an affordable two-seat performance car (although, to be fair, it's quite a bit more affordable in its base coupe body style). All examples of the 370Z convertible come with a 3.7-liter V-6 engine that makes 332 horsepower and 270 lb-ft of torque. Transmission options are a six-speed manual or a seven-speed automatic, and standard rear-wheel drive lends this roadster even more performance cred. Note, though, that both the seating area and cargo area are a little cramped, making this a somewhat less practical option. Though Nissan hasn't updated the 370Z since 2009, its  sleek appearance is still pleasing, and the power soft top helps change things up a bit. This best value convertible starts at $41,820.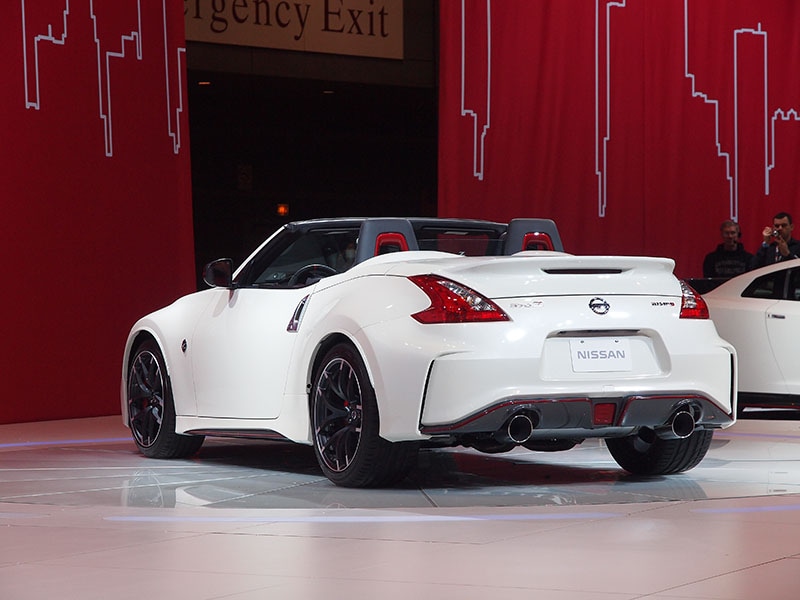 8) 2016 Chevrolet Camaro
The totally redesigned 2016 Chevrolet Camaro is a great option for buyers who need a four-seat convertible, and this generation still represents a consistently good value for a performance car. The base engine is a turbocharged 2.0-liter four-cylinder that produces 275 horsepower. Other options include a 3.6-liter V-6, good for 335 horsepower, and a 6.2-liter V-8, good for 455 horsepower; understandably, prices at this end of the order sheet escalate quickly. Transmission offerings include a six-speed manual and an eight-speed automatic. Of course, with the top down, any of these combinations is a joy to drive. In addition to the new engine lineup, the Camaro's driving and handling dynamics are also vastly improved over the previous generation. The convertible version of the 2016 Chevrolet Camaro starts at $33,695.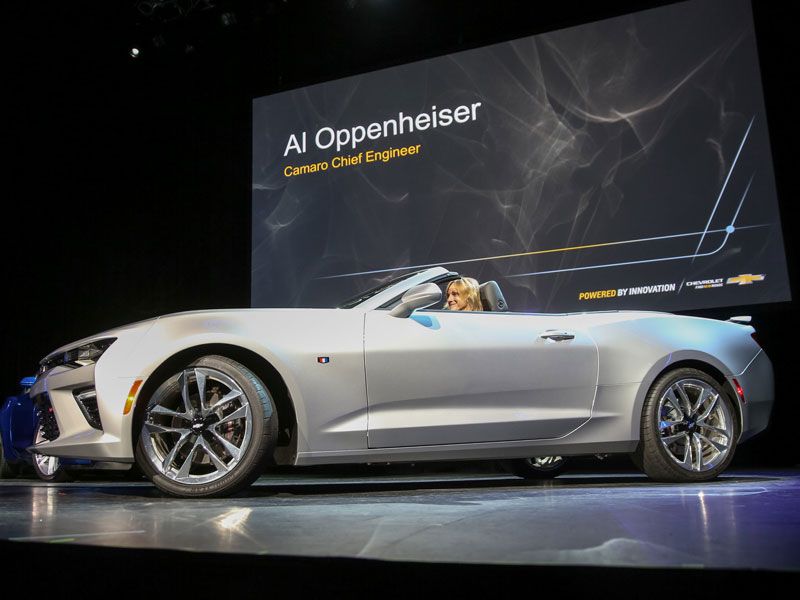 7) 2016 Buick Cascada
Buick's making an aggressive push to reach new customers, and vehicles like the sporty Encore and the all-new 2016 Cascada convertible are the pillars of that strategy. The Cascada's styling is edgier than many shoppers might expect, and with good reason; the Cascada is borrowed from General Motors' international Opel brand, and was designed for more Euro-centric sensibilities. The Cascada offers comfortable seating for five passengers, and comes with a 200-horsepower turbocharged 1.6-liter four-cylinder engine, paired with a six-speed automatic transmission. The Cascada makes it easy to change the experience at the touch of a button, thanks to its power top that can open or close in just about 17 seconds, and can be operated while the vehicle's moving at speeds of up to 30 mph. Buick's new best value convertible starts at $33,065, not bad for a stylish drop-top with luxury aspirations.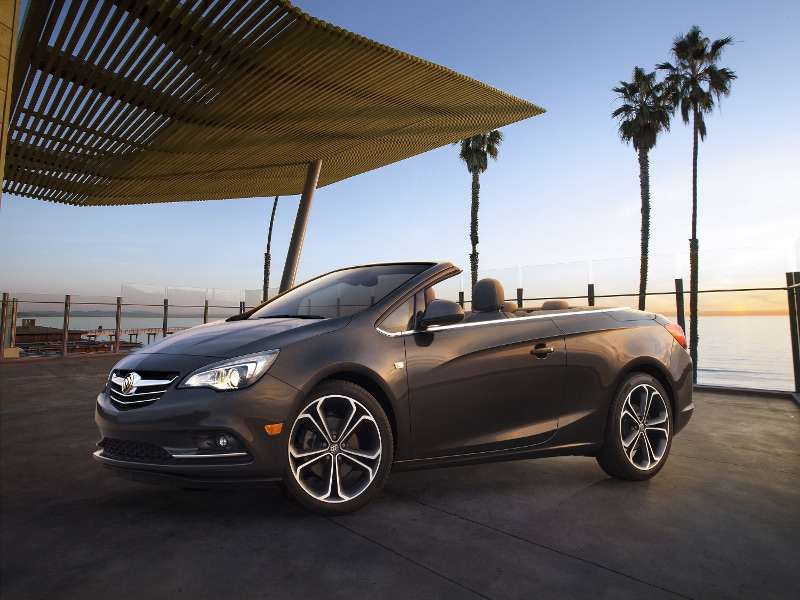 6) 2016 Ford Mustang
For the 2016 model year Ford's classic Mustang can be had in configurations ranging from basic to ballsy, with the entry-level convertible version falling somewhere in the middle. Of course, it doesn't stop there; this is a performance car, after all. The 2016 Ford Mustang convertible is offered in a 300-horsepower 3.7-liter V-6, a 310-horsepower EcoBoost turbocharged 2.3-liter four-cylinder, and a 435-horsepower 5.0-liter V-8 GT trim. Obviously, the concept of value means different things to different people, but in any case the Mustang convertible will feel like money well spent. For a solid choice of a four-passenger drop-top sports car, check out the 2016 Ford Mustang, one of our best value convertibles at a starting price of $29,645.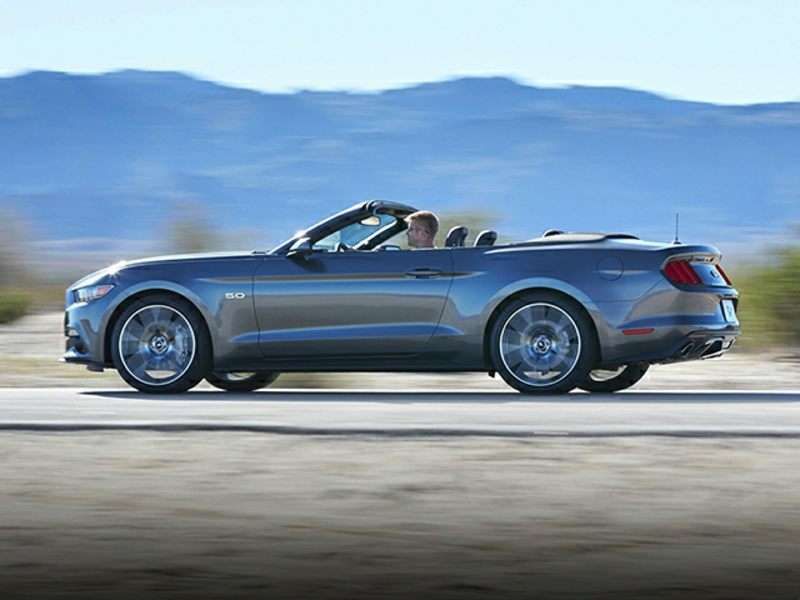 Photo by Ford
5) 2014 Chrysler 200
Though Chrysler discontinued the open-top version of its 200 sedan after the 2014 model year, it seems like there are still a few unsold examples still darkening dealership lots. What's the point of buying a new car that's two years old, you might ask, especially considering the strong competition that's already been mentioned? The Chrysler 200 should appeal to customers who would rather blend in than stand out (which is possible, even in a convertible) and want a relatively basic midsize car that just happens to have open-top benefits. Two engines are available, a 173-horsepower 2.4-liter four-cylinder and a 283-horsepower 3.6-liter V-6, with a six-speed automatic transmission. The 2014 Chrysler 200 convertible had an MSRP of $27,950, though it's an excellent candidate for negotiation, which could make this best value convertible even better.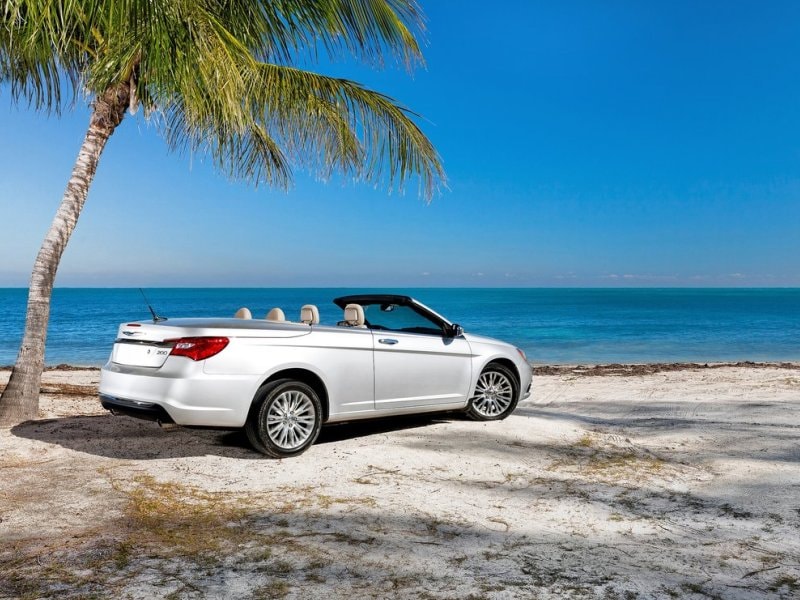 4) 2016 Volkswagen Beetle
The Volkswagen Beetle's on-again/off-again trendiness may be waning these days (the current version has been around since 2012), but the drop-top version of the Bug still provides a peppy, fun ride for four passengers and is easily one of our best value convertivle options. The Beetle's driving dynamics aren't exactly thrilling, but not everyone cares about that. The base model provides 170 horsepower from its turbocharged 1.8-liter four-cylinder engine, which is plenty for the little car, and buyers get the choice of a six-speed automatic or a five-speed manual. Power and acceleration are smooth and satisfying, and the Beetle's handling is responsive. Overall, the drop-top Bug is a compelling, well-rounded package. The convertible version of the 2016 Volkswagen Beetle comes with an asking price of $25,490.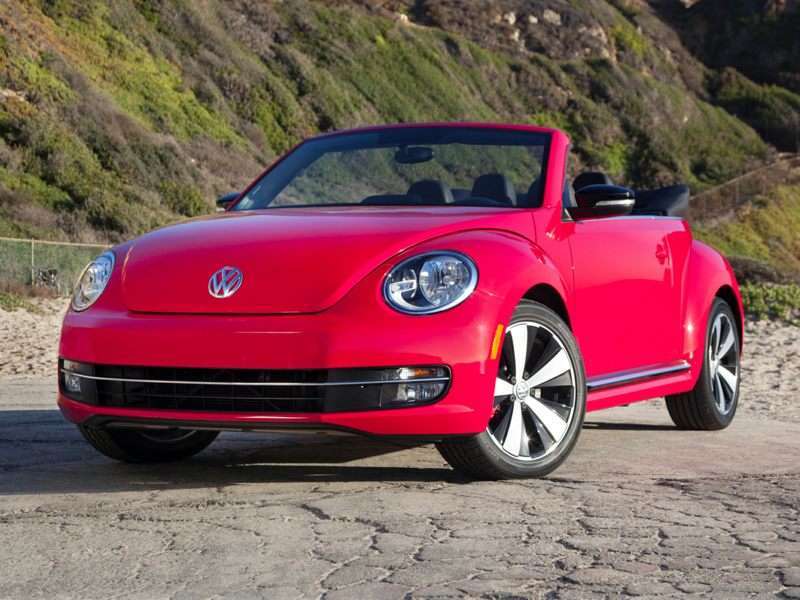 3) 2016 Mazda MX-5 Miata
One of the best and most beloved sports cars on the market (now in its 25th year) is also one of the most value-oriented convertibles. For those who can deal with a two-seat vehicle, the 2016 Mazda MX-5 Miata might be the way to go. Mazda keeps things really simple, and even though the MX-5 is redesigned for this year it sticks to a tried-and-true formula. The compact MX-5 is rear-wheel drive and low in mass, an engineering achievement that provides excellent, predictable handling while still allowing some thrills. The engine, a 2.0-liter four-cylinder, makes 155 horsepower and 148 lb-ft of torque. Miata enthusiasts will notice that the previous generation actually had a bit more power, but the current version offers more torque. Six-speed manual and automatic transmissions are available. All the charm of the Mazda MX-5 can be had at an opening price of $24,915.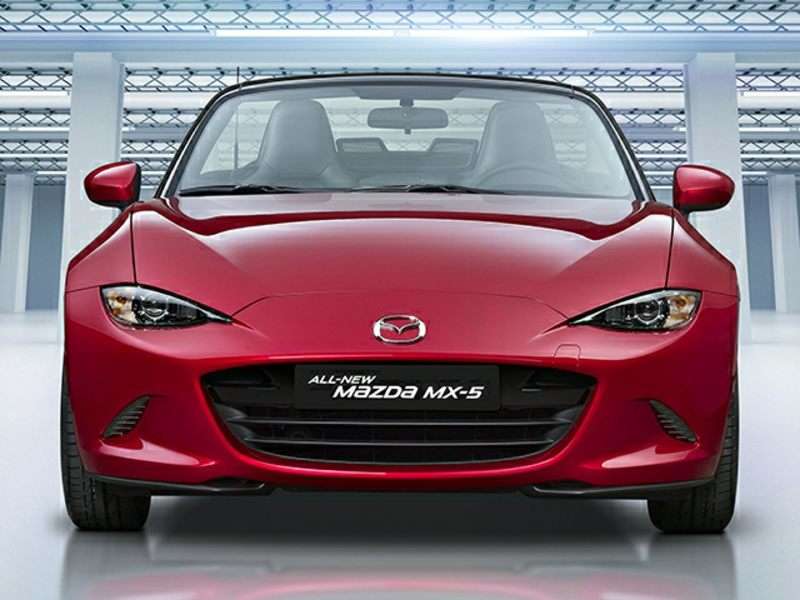 Photo by Mazda
2) 2016 Jeep Wrangler
The Jeep Wrangler rages on as, arguably, the best open-top sport utility vehicle in history. And if not the best, it's almost certainly the most popular. Time-tested standard four-wheel drive can get the 2016 Jeep Wrangler just about anywhere, helped along by the 285 horsepower and 260 lb-ft of torque from the standard 3.6-liter V-6 engine. A couple notes of caution, though; whether outfitted with the standard soft or optional hard roof, going topless in the Wrangler is something of a commitment, as it's a bit harder to use than a regular convertible. And the ride won't exactly be comfortable. Though the 2016 Jeep Wrangler can be loaded up to your heart's content, its starting price is a totally reasonable $23,895. The choice of two- and four-door (Wrangler Unlimited) body styles and numerous trim levels can make things complicated, but the standard V-6 engine helps provide some simplicity.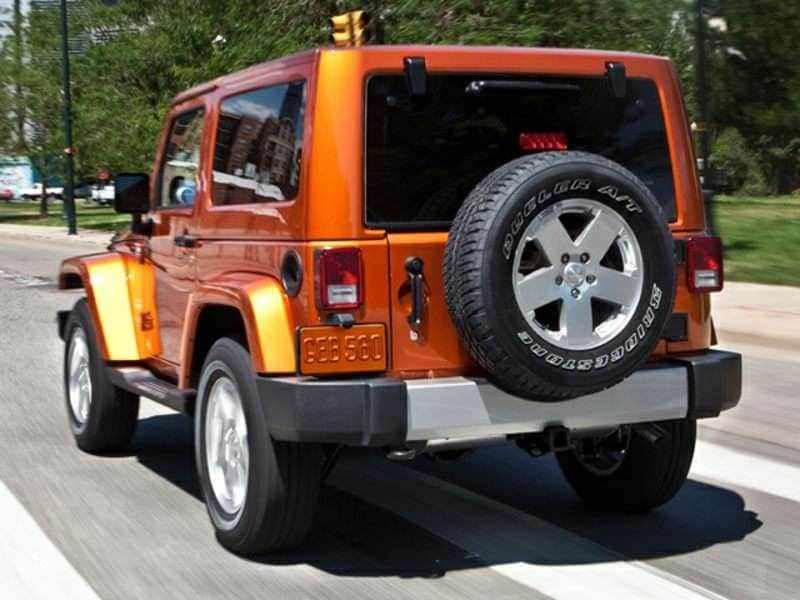 1) 2016 FIAT 500C
The 2016 FIAT 500C is marketed as a convertible, although it really looks more like a sliding ragtop version of the regular 500 hot hatch. A power-operated cloth roof panel folds like an accordion along the rails and c-pillars, coming to a stop in four positions for preferred airflow. The cloth top offers a fun retro look that complements the brand's overall aesthetic, and buyers can take the look to the extreme, choosing from 15 exterior finishes and a handful of roof color choices. The FIAT 500C has two doors and seats four passengers. Output is modest in the base models, just 101 horsepower from a 1.4-liter inline-four, paired to either a five-speed manual or six-speed automatic transmission. However, the premium Abarth model offers better turbocharged performance. The 2016 FIAT 500C is offered at an accessible starting price of $20,345, and comes in four trim levels.
Photo by FCA Media