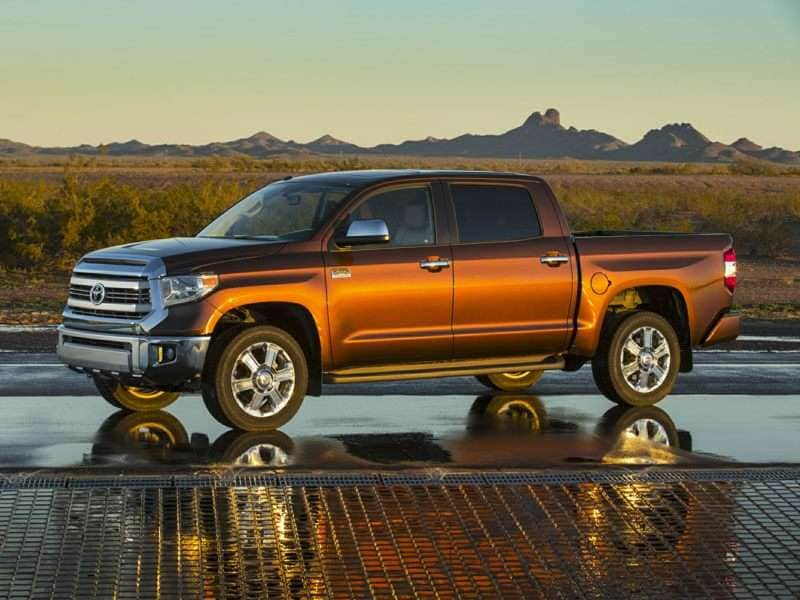 People buy pickup trucks to carry stuff, to haul stuff, and to tow stuff. That means good used trucks need to be as close to bulletproof as possible when it comes to the engine, transmission, and drivetrain. And that means that in order to create this list of the 10 best used trucks, we needed to figure out which ones break, and which ones don't. As it turns out, and as you will see in the pages that follow, the best used pickup truck made during the past eight years is the Japanese equivalent of a Chevy El Camino. But since you likely need to carry, haul, or tow more stuff than a Honda Ridgeline can handle, we give you some alternative good used pickups to consider. Nine of 'em, actually. Each of the following models offers a solid track record for engine, transmission, and drivetrain dependability, displaying multi-year proficiency in this regard. Other aspects of these trucks might not prove particularly reliable, or safe, or aesthetically pleasing, but chances are excellent that you can count on well maintained used examples of these models to start in the morning and to get the job done.
1) 2009-2013 Chevrolet Avalanche
The Chevrolet Avalanche is a 5- or 6-passenger, crew-cab, short-bed pickup truck based on the Chevy Suburban platform. It is unique in that it offers a rear cab wall that can be removed and rear seats that can be folded down to expand the length of the cargo bed. Chevy calls this feature a midgate.The 2009-2013 Avalanche was equipped with a 5.3-liter V-8 engine generating 310-320 horsepower, depending on whether or not it was configured to burn E85. An optional 6.0-liter V-8 generated 366 horsepower, and was offered until the end of the 2009 model year. A 6-speed automatic transmission arrived for 2009, and 4-wheel-drive was optional. Active Fuel Management technology allowed the V-8 engines to operate on just 4 cylinders under low-load conditions. In 2013, the Avalanche was rated to carry a payload of up to 1,231 lbs. and to tow as much as 8,000 lbs. Buyers seeking the look and passenger capacity of an SUV combined with the open-bed practicality of a truck may want to investigate a 2009-2013 Chevy Avalanche, one of our 10 best used trucks.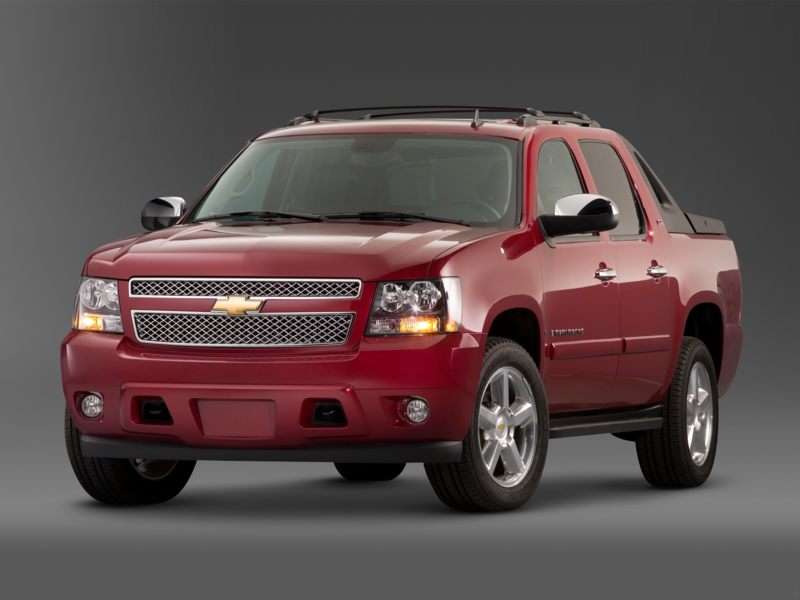 2) 2009-2012 Chevrolet Colorado
Once upon a time, small trucks were clearly more fuel-efficient than large trucks, and small trucks offered a distinct size advantage in crowded urban areas. Today, most of the truly compact pickups are gone, discontinued or replaced by larger midsize models that don't really get better gas mileage than the big pickups. Against the shifting pickup truck landscape, the compact 2009-2012 Chevy Colorado is a survivor and, as it turns out, proves to be a reliable one. Introduced in 2004, the Colorado's bugs were apparently worked out by the 2009 model year, when the little Chevy was sold in regular-, extended-, and crew-cab styles with a choice of trim levels, and offered with option packages that turned the truck into a rugged off-roader or a street-tuned performance truck. Three different engines were available: a 185-horsepower, 2.9-liter 4-cylinder; a 242-horsepower, 3.7-liter 5-cylinder; and a 300-horsepower, 5.3-liter V-8. In 2012, the Colorado was rated to carry up to 1,741 lbs. of payload and to tow up to 5,500 lbs. of trailer, depending on body style and powertrain. 
The Colorado was discontinued after 2012 as interest in smaller trucks waned, but was reintroduced in 2015, making a used example an especially good bargain. If there's a good reason to skip buying a Chevy Colorado, it's related to safety. The Colorado's crash-test ratings for side-impact protection are abysmal. But as we said at the outset, this list of the best used trucks is focused on powertrain and drivetrain reliability, and in this regard, the 2009-2012 Colorado models make the cut.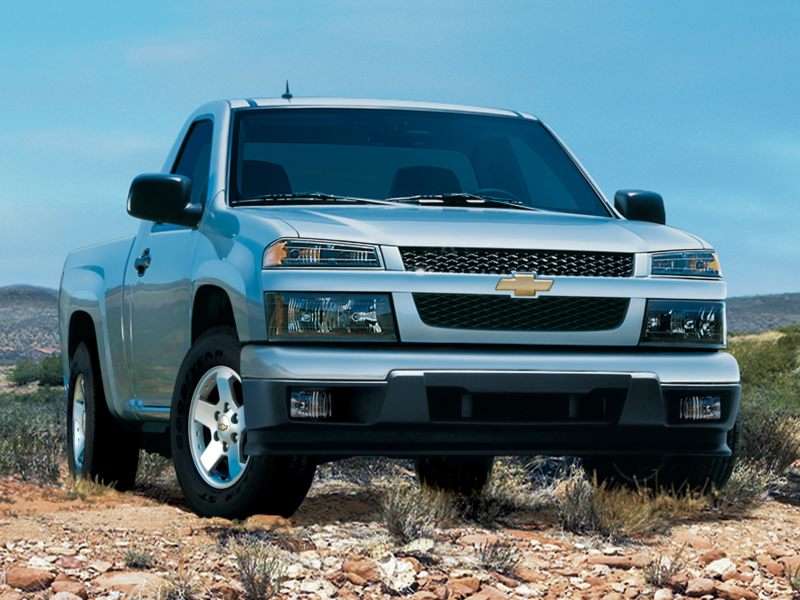 3) 2005-2014 Ford F-150
Long the best-selling vehicle in America, the Ford F-150 is also one of the best used trucks you can buy – as long as you avoid the four-wheel-drive models. Those were troublesome until 2010. Spanning two generations of production of Ford's venerable F-150 pickup, the 2005-2008 models and the redesigned 2009-2012 models were offered in regular-, extended-, and crew-cab styles combined with several bed lengths and numerous powertrain combinations. Engines ranged from a 202-horsepower, 4.2-liter V-6 to a 411-horsepower, 6.2-liter V-8, all paired with a 4- or a 6-speed automatic transmission except for the V-6, which was offered with a 5-speed manual gearbox. In 2012, the F-150 was rated to tow up to 11,300 lbs. and haul up to 3,120 lbs. when properly equipped.
Used F-150 buyers can choose from a variety of trim levels, ranging from the bare-bones basic XL work trucks to the luxurious Limited, with the special-edition Harley-Davidson and baja-ready SVT Raptor models standing far apart in terms of appearance and equipment. No matter which version of the F-150 you choose, however, rest assured knowing that mechanically it is one of the best used pickups available – as long as you skip the 4-wheel-drive system until the 2010 model year.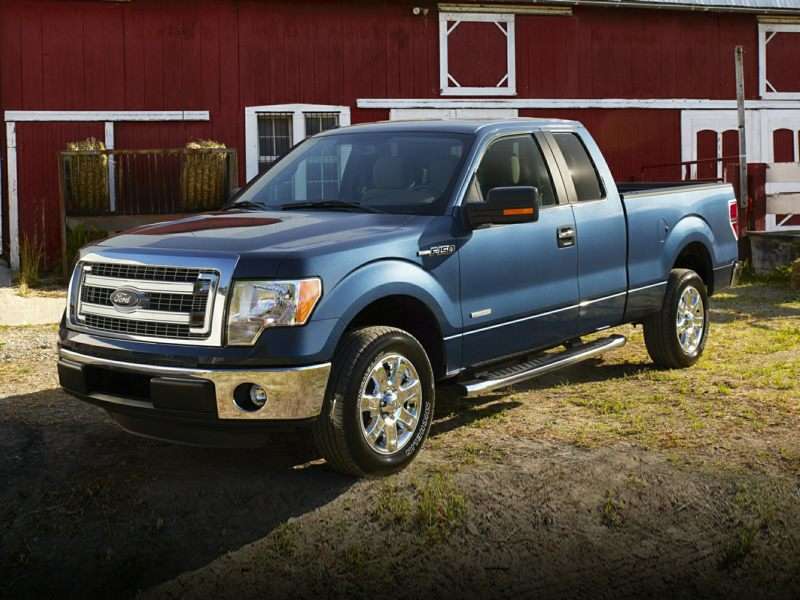 4) 2011-2014 Ford F-Series Super Duty
If a heavy-duty pickup is what you require, our research shows that the 2011-2014 Ford F-Series Super Duty equipped with the PowerStroke turbo-diesel engine is the best bet in terms of powertrain and drivetrain durability.
The PowerStroke turbo-diesel offered different horsepower and torque ratings in each of these three years. In 2010, it was a 6.4-liter V-8 good for 350 horsepower and 650 lb.-ft of torque. In 2011, the F Series Super Duty received a significant update, including new engines. A 6.7-liter PowerStroke turbo-diesel generated 390 horsepower and 735 lb.-ft. of torque. In 2012, the 6.7-liter turbo-diesel V-8 was upgraded to 400 horsepower and 800 lb.-ft. of torque. Clearly, the F-Series Super Duty suffers no shortage of towing and hauling power, to the tune of 24,500 lbs. of maximum towing capacity and 7,110 lbs. of payload capacity in its most recent state of tune. Super Duty buyers could choose from a wide variety of cab, bed, and trim configurations, ranging from a basic F-250 XL work truck with single rear wheels to a loaded F-450 King Ranch luxury truck with a dually rear axle. This generation of the F-Series Super Duty is still available as of the 2015 model year, which means that recent used examples are still up to date.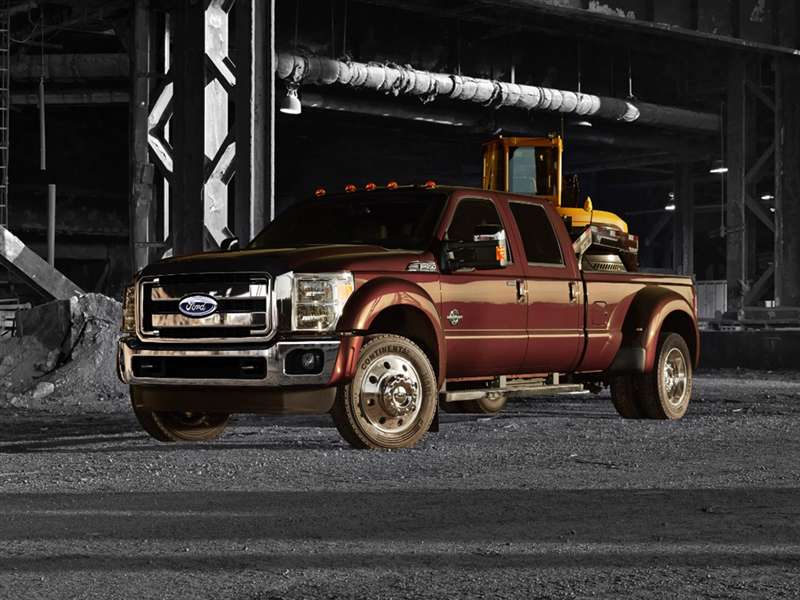 5) 2009-2012 GMC Canyon
The GMC Canyon is a twin of the Chevy Colorado, a compact pickup truck displaying strong mechanical reliability in recent years. GMC sold the 2009-2012 Canyon in regular-, extended-, and crew-cab body styles and with a choice of trim levels that could be equipped with packages that added extra credibility on the street or in the dirt. 
The Canyon offered a choice between a 2.9-liter 4-cylinder making 185 horsepower, a 3.7-liter 5-cylinder generating 242 horsepower, and a 5.3-liter V-8 producing 300 horsepower. As of 2012, a GMC Canyon could, depending on configuration, carry up to 1,741 lbs. of payload and tow a 5,500-lb. trailer. Unfortunately, the Canyon suffers from the same poor side-impact crash-test rating as the Colorado, so while its recent dependability qualifies the GMC for inclusion on this list of good used pickups, it might be worthwhile to consider other models before settling on a Canyon. Like the Colorado, GMC revived the Canyon in 2015, indicating a resurgence in the compact pickup segment and signaling that it's a good time to search for a solid used example.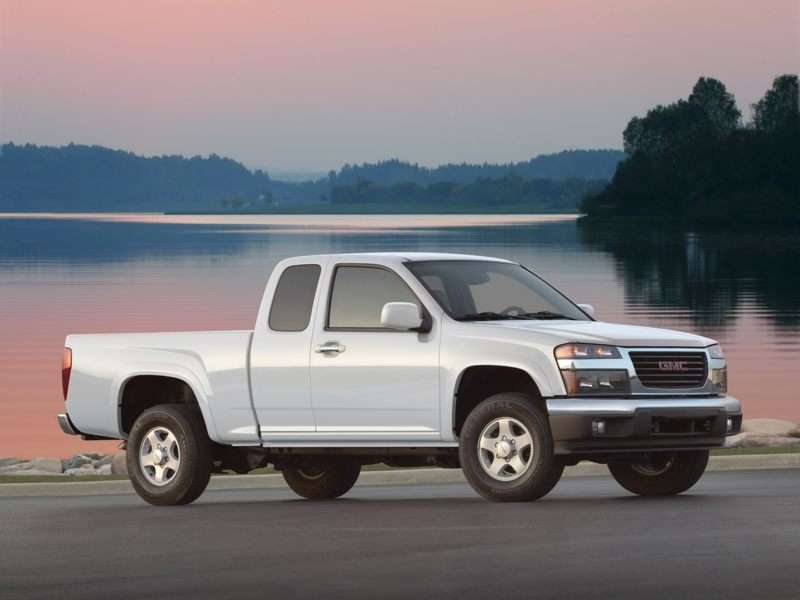 6) 2008-2013 GMC Sierra
As demonstrated by the Chevy Colorado and GMC Canyon, General Motors sells two different versions of its pickup trucks. The same is true in the full-size truck segment, but in this class only the GMC Sierra qualifies for our list of the best used pickups by virtue of the fact that its owners are, apparently, happier with the Sierra than Chevy owners are with the mechanically identical Silverado.
Offered in regular-, extended-, and crew-cab styles with a choice between 2- and 4-wheel drive, the GMC Sierra's engine lineup spanned from a 195-horsepower, 4.3-liter V-6 to a 403-horsepower, 6.2-liter V-8. In 2012, the truck was rated to tow up to 10,700 lbs. and carry up to 2,000 lbs. of payload, when properly equipped. Many Sierras were fitted with a 5.3-liter V-8 engine, which offered 315 horsepower, E85 flex-fuel capability, and an Active Fuel Management system that shut down half of the engine's cylinders under low-load driving conditions to conserve fuel. A gas/electric Sierra Hybrid model provided full-size truck capability with compact truck fuel economy. The EPA rated this model to get 21 mpg in combined city and highway driving. From the aptly named Work Truck and the popular SLE to the upscale SLT and the outright luxurious Denali model, there is a GMC Sierra to fit almost any requirement. And they're all reliable enough to land on our list of the best used pickups.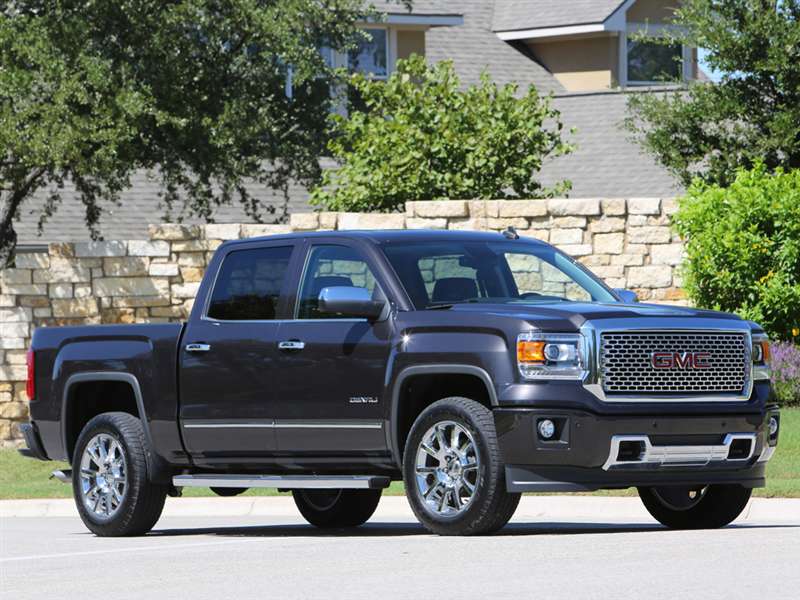 7) 2006-2014 Honda Ridgeline
Lots of pickup truck buyers immediately dismiss the Honda Ridgeline, a 5-passenger vehicle equipped with a 5-foot cargo bed, but this is the best used pickup truck you can buy if your key criteria are reliability and dependability. Based on what Consumer Reports and J.D. Power and Associates say in this regard, the Ridgeline is basically bulletproof.
Like the Chevy Avalanche, the Ridgeline is based on an SUV platform, but it doesn't resemble the Honda Pilot with which it shares its underpinnings. It can tow just 5,000 lbs. and carry no more than 1,100 lbs. in its composite cargo bed, limitations dictated by the Ridgeline's unibody structural design, and modest 250-horsepower, 3.5-liter V-6 engine. The Honda is equipped with standard 4-wheel-drive, and the power split can be locked 50:50 front-to-rear at low speeds, but otherwise this truck is front-wheel drive until wheel-slip shunts power rearward. So the truck people are right. The Honda Ridgeline is more of a pickup trucklet than a traditional truck. But its capabilities are directly aligned with the requirements of the typical American weekend warrior, the do-it-yourselfer looking for the right tool for the job. Plus, it has an ultra-cool 8.5 cu.-ft. trunk under the cargo bed, one with a drain plug that makes it perfect for tailgate parties and fishing trips. The Honda Ridgeline was discontinued after the 2014 model year, but its unique characteristics make it a compelling used option.
Photo by Honda
8) 2009-2014 Nissan Frontier
The Nissan Frontier is bigger than the Chevy Colorado/GMC Canyon twins, but smaller than the Toyota Tacoma. In the bite-size pickup truck class, that might make it just right. Though largely unchanged following a complete redesign for the 2005 model year, it wasn't until 2009 that Frontier owners stopped complaining about the optional 4-wheel-drive system, and so our good used trucks list is focused on the 2009-2014 models. The 2009-2014 Frontiers were sold in extended-cab or crew-cab styles with a choice of trim levels ranging from basic to upscale. Off-road enthusiasts will want to consider the PRO-4X model, which is designed for boulder bashing. 
A 2.5-liter 4-cylinder engine with 154 horsepower was standard on the basic Frontiers, but most were equipped with a 261-horsepower, 4.0-liter V-6 engine. In 2014, the Frontier was rated to tow up to 6,500 lbs. or carry as much as 1,524 lbs. of payload, depending on configuration. Rugged in appearance and construction, equipped with plenty of power and capability, recent examples of the Nissan Frontier are among the best used trucks you can buy, especially since this generation is still current as of the 2015 model year.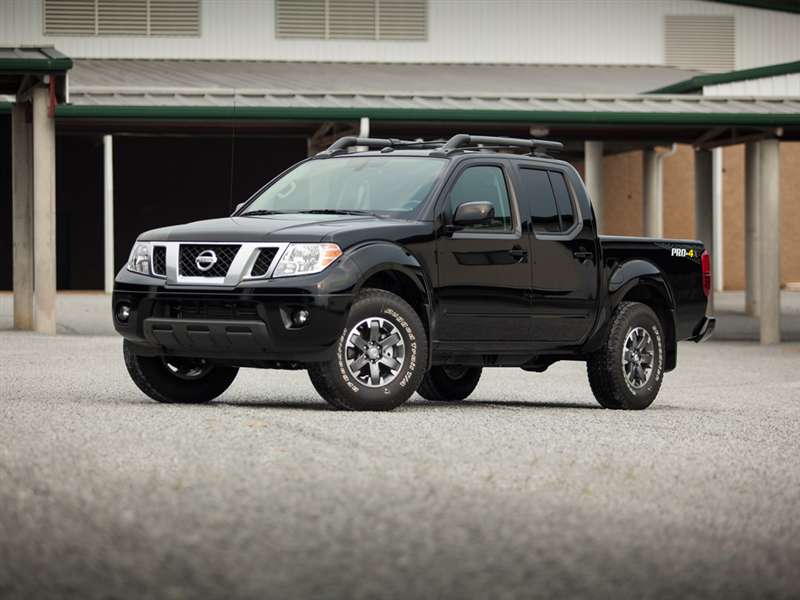 9) 2005-2014 Toyota Tacoma
For decades, used pickup buyers have turned to Toyota for a reliable workhorse. And so it is with the Tacoma, last redesigned for the 2005 model year when it grew significantly in size and became a true midsize pickup. Offered in regular-, extended-, and crew-cab styles with 2- or 4-wheel drive, the Tacoma came with a 159-horsepower, 2.7-liter 4-cylinder engine or a 236-horsepower, 4.0-liter V-6 engine. In 2012, maximum towing capacity measured 6,500 lbs. and maximum payload capacity measured 1,510 lbs. 
The PreRunner model, a 2-wheel-drive truck with the appearance of a 4-wheel-drive model, proved popular. The performance-tuned XRunner, sold continuously during the Tacoma's run, is a rarity. Off-roaders will want to find a Tacoma outfitted with Toyota Racing Development (TRD) gear. Since the late 1960s, small Toyota trucks have proven their dependability in the face of daunting odds, perhaps most famously in an episode of the BBC's "Top Gear" in which the hosts seemingly could not kill one no matter how hard they tried. The current version of the Tacoma is a worthy heir to the legacy, and as it's still available as of the 2015 model year, used truck shoppers can rest assured that late model examples are still relevant.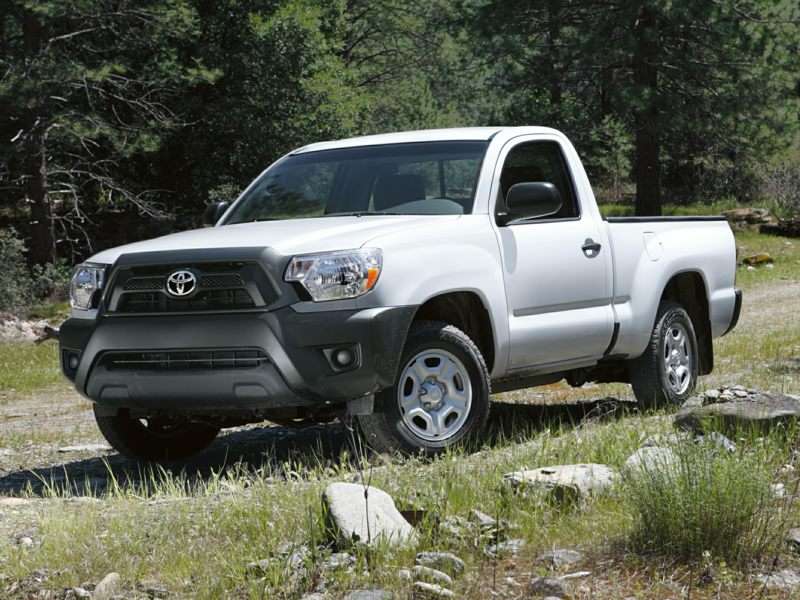 10) 2007-2014 Toyota Tundra
Toyota has tried on three different occasions to build a full-size pickup capable of grabbing market share from the Detroit Big 3, but truck buyers have proved stubbornly loyal to the F-Series, Ram, Silverado, and Sierra. Toyota's first attempt, the T100, wasn't big enough or powerful enough. The second try, a larger model with a proper V-8 engine and new name, gained greater acceptance but still didn't hit the bull's eye. To ensure that the third time was the charm, Toyota went big but didn't go home, preferring instead to construct a dedicated assembly plant in the heart of truck country: Texas. That didn't quite work, either.
If Toyota has struggled to sell the Tundra, fault cannot be placed at the truck's contact patches when it comes to durability. These are tough workhorses, sold in regular-, extended- and crew-cab styles with a choice between a V-6 or a V-8 engine. When the 2007 Tundra arrived, it offered three engines ranging from a 236-horsepower, 4.0-liter V-6 to a 381-horsepower, 5.7-liter V-8. Payload and towing ratings were dramatically improved, and in 2014 the Tundra could handle up to 1,885 lbs. of payload and a 10,400-lb. trailer. A variety of Tundra models are available, from bare bones basic work trucks to the luxurious Limited model, with TRD Sport and TRD Rock Warrior models tossed in for buyers seeking to maximize the truck's prowess on paved and unpaved roads. No matter which one you buy, the Tundra is one of the best used trucks available today.