2010 Nissan 370z coupe ・ Photo by Nissan
Sports cars are fun, which is why people want to drive them. Some are fast, some handle like a go-kart, some are convertibles, some are luxury models, but they all have one thing in common, and that's the ability to put a smile on a driver's face.
When they're new, many sports cars are expensive and can cost lots of money to insure. But when sports cars are used, they represent a terrific return on investment in terms of bang for the buck. Especially when you find one that's been lovingly maintained and driven only on occasion.
In trying to find the 10 best used sports cars under $10,000, we started with that financial price cap and scoured used car listings from across America. Based on that research, we identified those sports cars that are worth consideration.
As always, it is important to perform vehicle identification number (VIN) checks on used cars and to get them inspected before purchase. With that said, continue reading to see the 10 best used sports cars under $10,000, presented in alphabetical order.
1. BMW Z3 and Z4 (1996-2008)
The BMW Z3 debuted in a movie trailer for the James Bond flick "Goldeneye." It was a smart move, associating the 2-seat roadster with the debonair cinematic spy, played at the time by Pierce Brosnan. But during the car's inaugural year it was a bit of a letdown, offered only with a 4-cylinder engine.
A 6-cylinder engine arrived for 1997, and BMW also sold the Z3 as a coupe that was actually more of a lovably misshapen shooting brake. All Z3s had a classically retro aesthetic, and drivers sat high in relationship to the door sills for a particularly gratifying open-air feeling when the top was down.
The BMW Z4 replaced the Z3 for 2004. It was a better sports car, with a lower driving position and a properly proportioned coupe body style in addition to the standard roadster. But the angular and modern styling was not to everyone's tastes.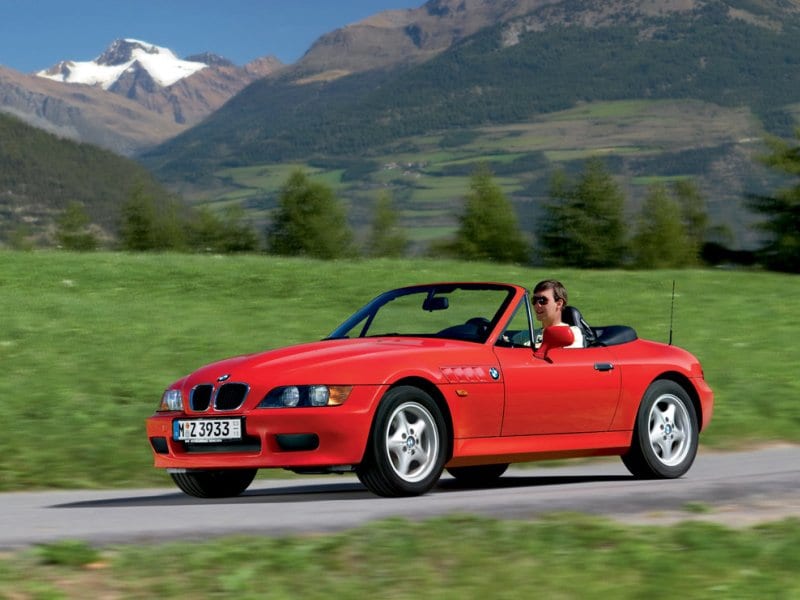 Photo by BMW
2. Chrysler Crossfire (2004-2008)
When Daimler merged with Chrysler, one of the goals of the combined company was to share engineering in a trickle-down manner. Once Daimler was done with a platform or powertrain, Chrysler could have it.
Thus, the often-overlooked Chrysler Crossfire was born in both coupe and convertible format. Based on the first-generation Mercedes-Benz SLK, it was built in Germany and came with a smooth and powerful V6 engine. There was even a Crossfire SRT-6 with AMG-engineered hardware for maximum performance.
Crossfires are rare on the used-car market, but when they do become available you can find low-mileage, well-maintained examples. And because it's a Chrysler and not a Mercedes, prices are usually quite reasonable.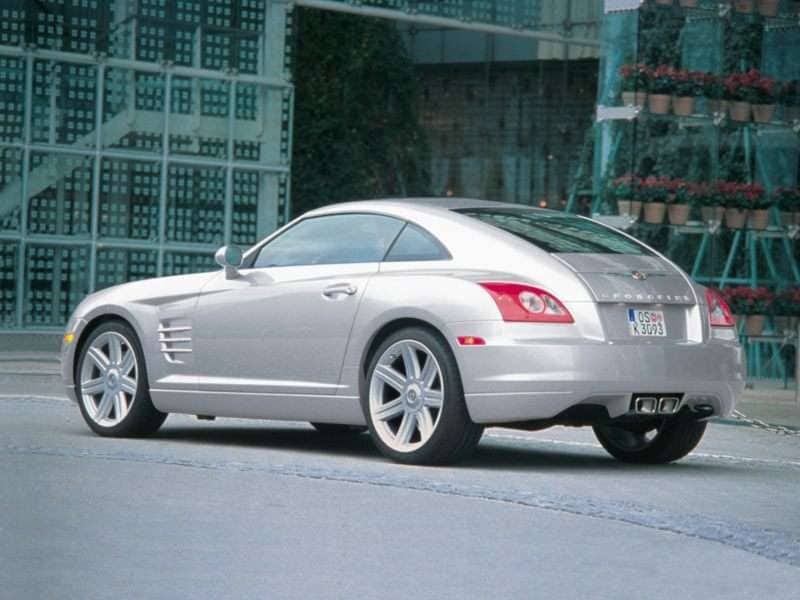 Photo by FCA Media
3. Fiat 500 Abarth (2012 and newer)
This choice might surprise you, but it makes the cut for a couple of reasons. First, it's a blast to drive. From the jaunty looks and tall seating position to the swell of turbocharged torque and farting exhaust note, everything about this speedy little city car is cause for a chuckle if not outright laughter. Second, because it's a FIAT 500, low-mileage examples are really cheap.
Fiat sold the 500 Abarth in 3-door hatch and 2-door convertible formats. A turbocharged 1.4-liter 4-cylinder whips up 160 horsepower and 170 lb.-ft. of torque, but the car doesn't weigh much, so it's really quite quick. Versions with an automatic don't make as much power but are still lots of fun to fling around corners.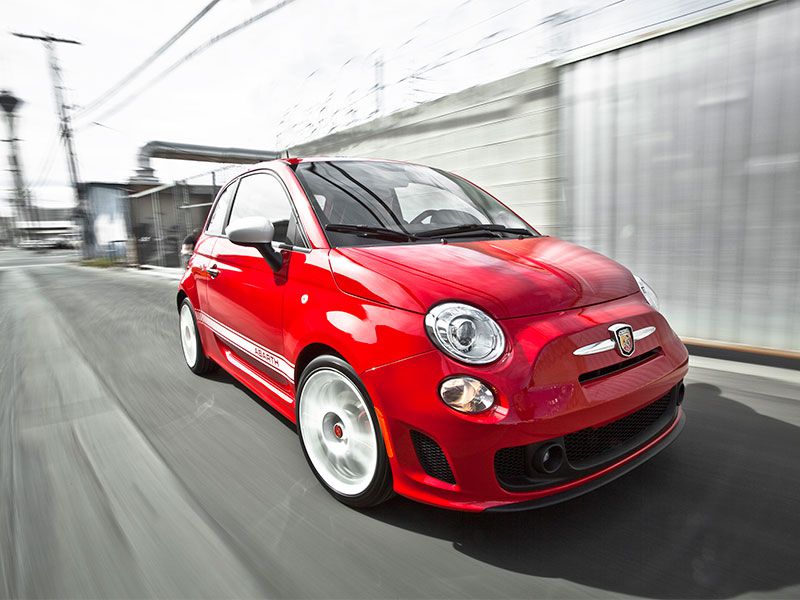 Photo by FIAT
4. Ford Mustang GT (1994-2004)
Sometimes, nothing but a V8 engine, rear-wheel drive, and the ability to execute a smoky burnout will do. If you're of that mindset, look for a Ford Mustang GT made between 1994 and 2004.
When these were new, middle-aged people longing for their fading youth bought them in droves, kept them in the garage, and only drove them on weekends when the sun was out. As a result, you can find well-maintained examples with relatively low mileage, and because the Mustang GT was a relatively popular car, parts are easy to find and fix when something breaks.
The newer the car, the better off you'll be, though any clean example of the SVT Cobra is a smart purchase as long as it passes a professional inspection.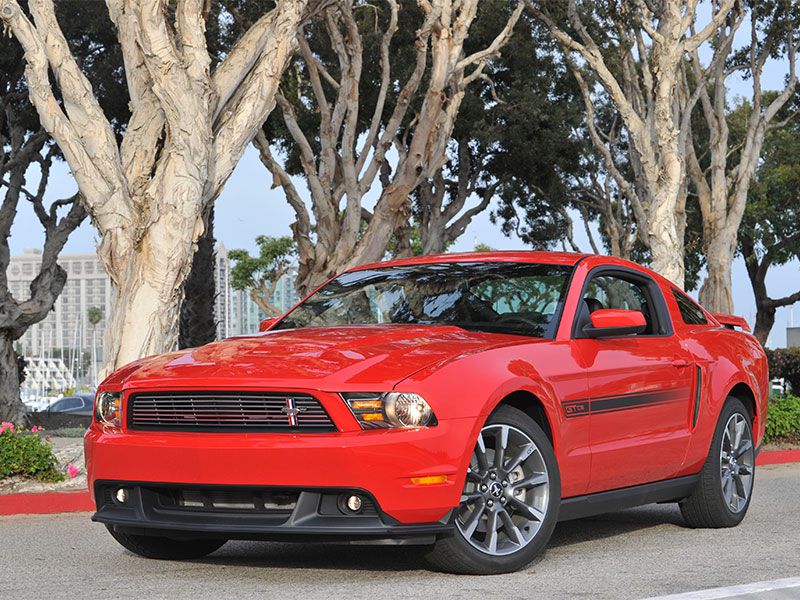 Photo by Ford
5. Mazda MX-5 Miata (1990 to 2005)
There is a reason that car enthusiasts often proclaim that a Miata Is Always The Answer (MIATA). When it arrived for the 1990 model year, the MX-5 Miata resurrected the left-for-dead 2-seat roadster, blending the design simplicity of a Lotus Elan with the reliability of a Toyota Corolla. Light in weight, rear-wheel drive, and impeccably engineered, there's really nothing quite like driving a Miata on a road you know well.
Clean, low-mileage examples of the first- and second-generation Miata are easy to find. As is true of many of the cars on this list, enthusiasts bought them, babied them, and cared well for them. More than any other affordable used sports car on this list, this is the one we'd buy with our own money. And with a stick, of course.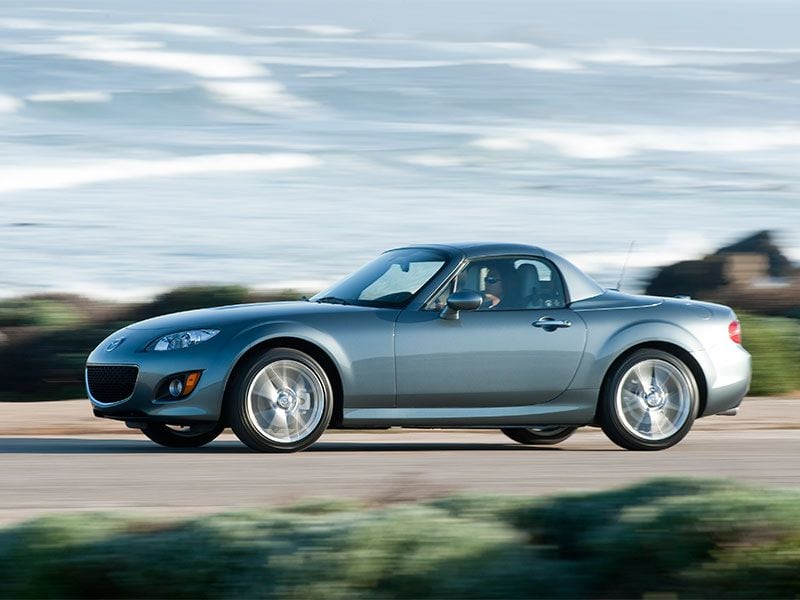 Photo by Mazda
6. Mazda RX-8 (2004 to 2009)
When Mazda decided to bring its RX rotary-powered sports car back for 2004, it wrapped the exceptionally well-balanced platform and driver-focused interior in a 2+2 body with clamshell doors and odd design details. Clearly, a 1993-1995 RX-7, one of the most gorgeous automobiles of all time, the RX-8 was not.
With that said, the RX-8 was fantastic fun to drive. Laser-sharp steering, a perfectly balanced chassis, and a delightful growl from the 1.3-liter rotary engine made every drive enjoyable, though the car's prodigious fuel consumption could easily dampen spirits.
Today, the RX-8 is not particularly sought after, which means you can find decent examples for less than $10,000. Just be sure to get one closely examined by a Mazda specialist before you buy.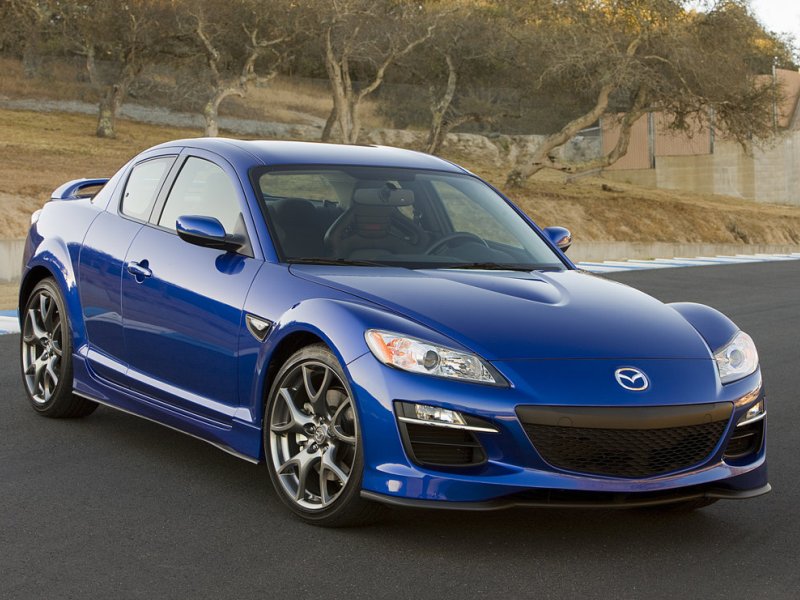 Photo by Mazda
7. Mercedes-Benz SLK (1998 to 2009)
Like other 2-seat roadsters, the first- and second-generation Mercedes-Benz SLK was pleasurable to drive on warm, sunny evenings with the top down and good company along for the ride. And like other German-engineered cars, the SLK had a heavy, firm, solidity about it to suggest stability at extra-legal speeds. But the trick up the SLK's sleeve was its top.
Every SLK came with a power-retractable hardtop that served a couple of purposes. First, it made the SLK a year-round sports car (provided you put winter tires on it, of course). Second, it made the SLK less susceptible to thieves because a metal roof is much harder to slice through than a fabric one. Third, when driven with the top up, the SLK was quieter inside than a typical convertible.
The second-generation car debuted for 2005 with dramatically different styling inside and out. We recommend it for its engineering improvements, but the original SLK is more of a classic Benz in terms of its design.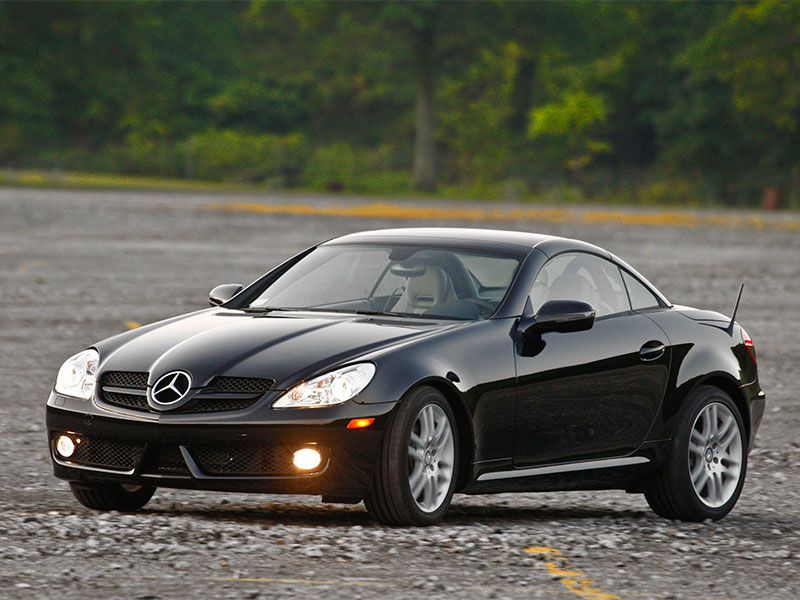 Photo by Mercedes-Benz
8. Nissan 350Z (2003 to 2008)
When Nissan resurrected the legendary Z for the 2003 model year, enthusiasts went wild for the car, which to this day still looks good thanks to its timeless design. And the 3.5-liter V6 engine under its long hood, among the best of its kind for decades, is equally appealing.
But here's the thing. After used 350Z prices fell far enough to make the car accessible to young drivers enamored with the "Fast & Furious" movie series, well, many wound up ruined and wrecked.
That makes finding a clean, low-mileage example harder. And because demand continues to this day, the best 350Zs are also pretty pricey. But if you stumble across one that's in great shape and passes a close inspection, you should probably buy it.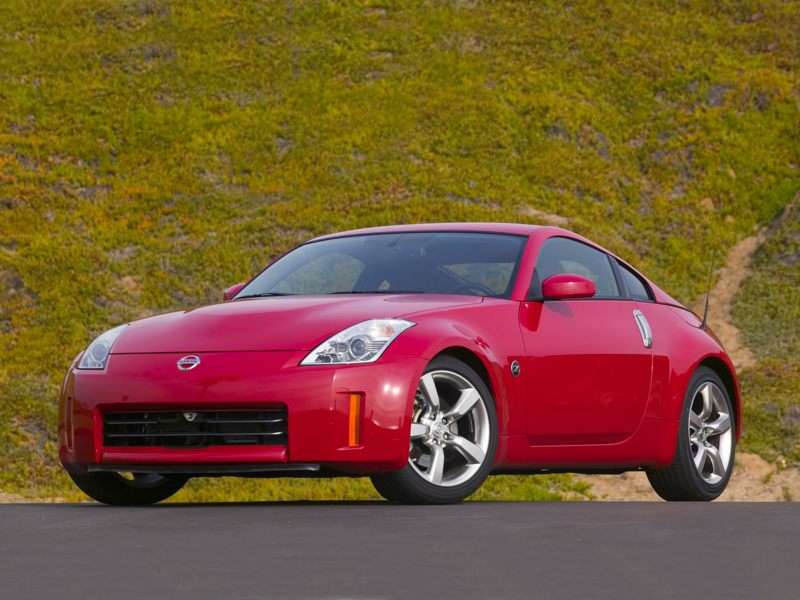 Photo by Nissan
9. Pontiac Solstice (2006 to 2009)
When Pontiac introduced the 2006 Solstice to Americans, the crowd went wild. It had two seats. It had a convertible top. It had drop-dead-gorgeous looks. It even had a manual transmission and rear-wheel drive. But like the Pontiac Fiero from three decades prior, it also looked and felt slapped together, and its standard 2.4-liter 4-cylinder engine was anything but a model of power and refinement.
As happened with the Fiero, a program of continuous improvement followed, and by the 2009 model year, the turbocharged Solstice GXP coupe and convertible were fairly competitive sports cars. But then the Great Recession hit, General Motors canceled Pontiac, and the Solstice was no more.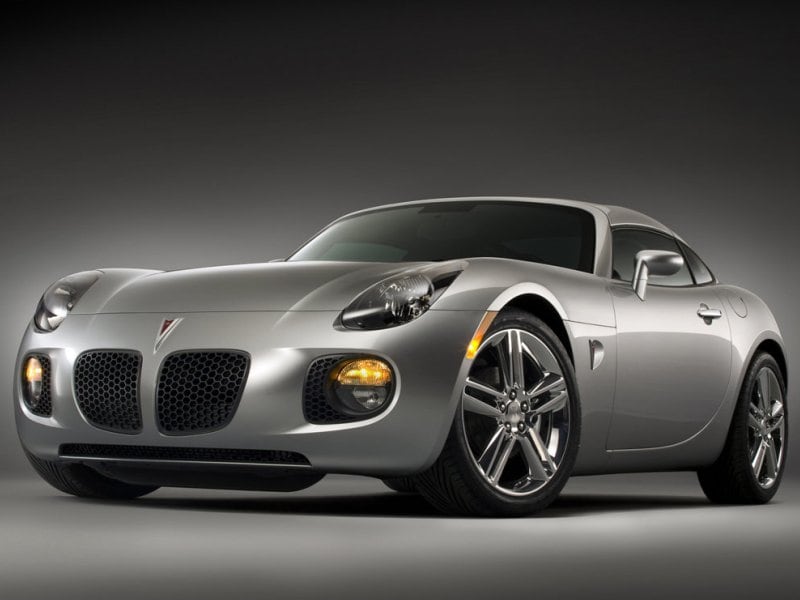 Photo by Pontiac
Saturn Sky (2007 to 2009)
To help spread the Pontiac Solstice's development costs across more than just the one car, General Motors offered Europeans an Opel version with different styling. That car became the Saturn Sky, arriving in the U.S. for the 2007 model year, equally attractive but just as flawed as the Solstice.
As is true of the Pontiac, the newer the Sky you can buy, the better off you'll be. The fun one is the Red Line version, which came with a turbocharged engine producing thrilling acceleration. Like the Solstice, the Sky's manual convertible top is a hassle to use. Unlike the Solstice, the Sky never came in a coupe body style.
When General Motors accepted federal bailout money and was reborn as a new company free of debt, New GM shuttered Saturn and the Sky went dark.