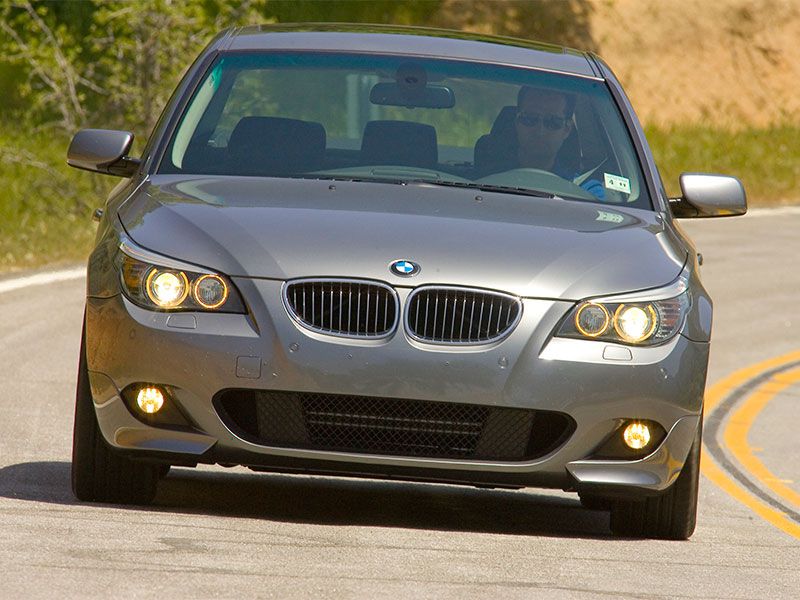 2010 BMW 550i Sedan front view w grille ・ Photo by BMW
If you're shopping on a budget, but you still want to enjoy a premium ride, the best used luxury cars under $10,000 offer a wide range of interesting choices. Now, you won't necessarily find all of today's high-tech doodads on these vehicles. After all, these are going to be older cars, and while they were among the most sophisticated vehicles of their time, that time is years in the past. Yet they can offer classic comfort cues, upscale engines and timeless design. Even better, they come with a big discount as compared to their modern day counterparts: The flagship luxury sedans for the 2017 model year can be up in the 6-figure range when you're shopping the most common luxury brands. And you might be surprised at what's available for one-tenth that cost.
Cadillac CTS
Despite launching some fairly impressive vehicles in recent years, the Cadillac brand still doesn't have quite the reputation on the pre-owned market as its foreign rivals. Which is good news if you're looking for the best used luxury cars under $10,000. Consider: The second-generation Cadillac CTS can be found under $10K in a number of configurations, including Premium and Luxury trims, from as recently as 2011. At that stage, Cadillac's acclaimed sport sedan had been named a Car and Driver "10Best" car for three years in a row, and had just placed in the industry's top 10 in the 2010 J.D. Power Initial Quality Study. Bose audio, navigation, real wood cabin trim, and heated leather seating are all available as well at this price point.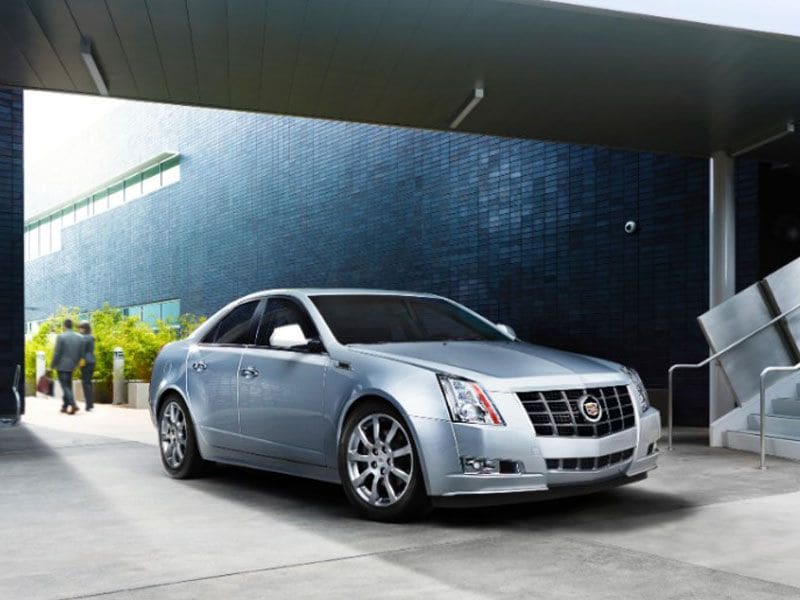 Photo by General Motors
BMW 5 Series
The current BMW 5 Series starts north of $50,000, yet fifth-generation examples, from 2004 to 2010, can be among the best used luxury cars under $10,000. These cars were notable for the introduction of BMW's iDrive controller interface and Chris Bangle's dramatic exterior design, both of which had major influences on the company's product lineup. That said, this 5 Series did maintain traditional brand performance features like a standard 6-cylinder engine in an inline configuration—instead of the more common "V" setup. Customers may be able to find models with BMW's xDrive all-wheel drive technology, too. The 5 Series models in this price range then appeals to luxury lovers with upscale touches such as in-console beverage coolers, heated windshield washers, and genuine wood to accent the interior.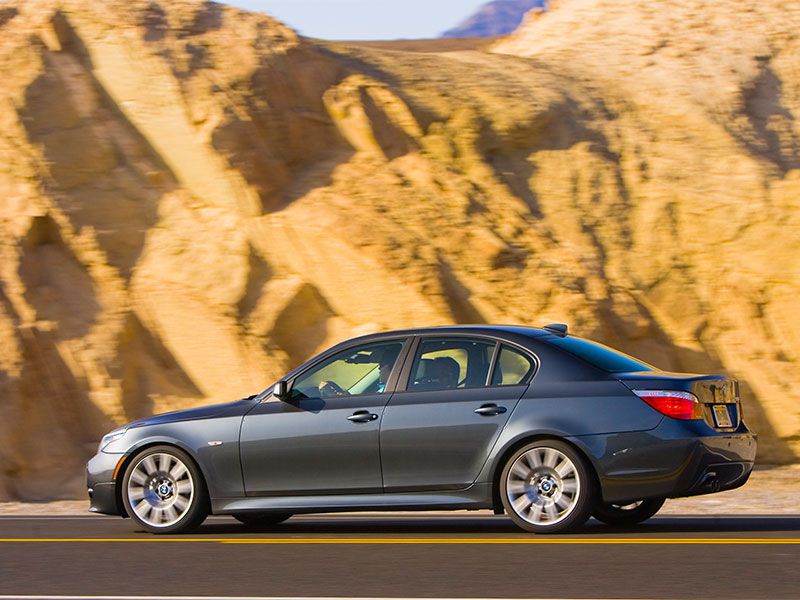 Photo by BMW
Lexus ES
Finding the best used luxury cars under $10,000 sometimes takes a bit of effort. However, with a vehicle like the fifth-generation Lexus ES, it would be more than worth it. The ES was all-new for the 2007 model year, and Lexus lavished much effort in boosting its premium positioning. Thus, all models have a new, smooth-running 3.5-liter V6 engine and high-end cabin appointments, and some boast surround sound audio with leather and wood cabin trim. Indeed, with all the Lexus luxury on board, Autobytel's used-vehicle valuation partner does list the 2007 ES at closer to $11,000 than $10,000. Shoppers, however, should remember that that's for a car in pristine shape, at full retail price, and before any negotiations.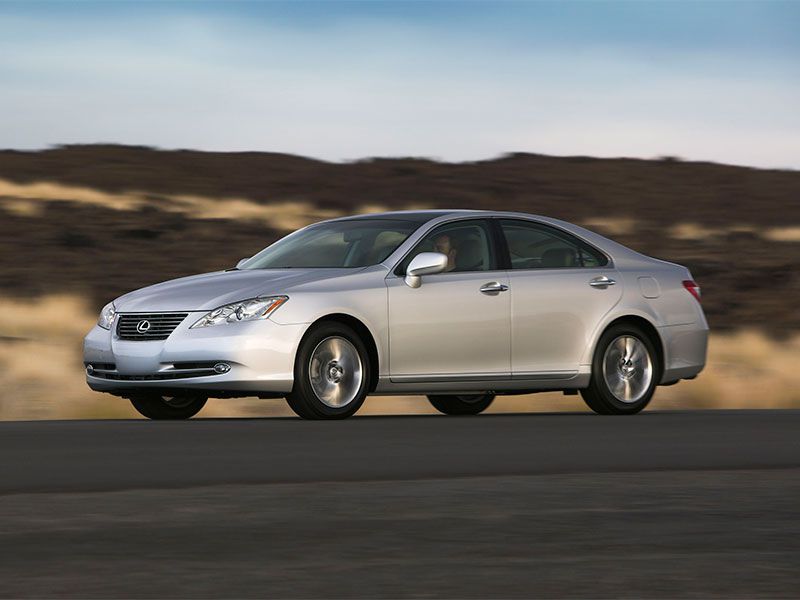 Photo by Lexus
Mercedes-Benz S-Class
The Mercedes-Benz S-Class is known as the flagship of flagship sedans, combining both precision German engineering and plenty of premium content. Moreover, models from the middle of the last decade are indeed below the financial cutoff point for the best luxury cars under $10,000 (according to Autobytel's vehicle-valuation partners). To be clear, that's for a fullsize, 4-door Mercedes with a powerful V8 engine, 4Matic all-wheel drive and an opulent cabin. Highlights there include heated leather seating with three memory settings for the driver's position, an uplevel Bose audio system with 12 speakers, and a power rear sunshade for backseat comfort and privacy. The 2005 S-Class also has a number of modern driver assistance technologies, such as navigation, adaptive cruise control, braking assistance and Mercedes' "Parktronic" parking-assistance system.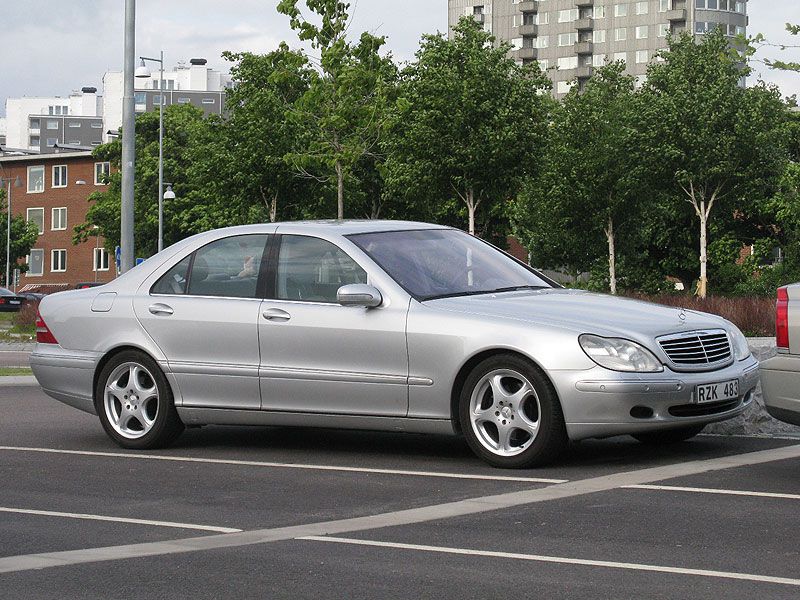 Photo by Wikimedia Commons
Audi A4 Cabriolet
Before the introduction of the Audi A5 Coupe and Cabriolet as part of the 2008 model year, the Four-rings brand featured the Audi A4 Cabriolet as its compact drop-top, and the 2007 editions are sitting at just a tick over $10K retail in excellent condition. For real-world shoppers, though, the A4 Cabrio is one of the best used luxury cars under $10,000 when you prioritize premium open-air driving. Of course, the car itself prioritizes enthusiastic driving, thanks to Audi's performance-oriented quattro all-wheel drive technology and a 3.1-liter V6 engine; that unit sends 255 horsepower and 243 lb.-ft. of torque through a 6-speed automatic transmission. The car's quattro system also ensures it's an all-season all-star, and its heated leather seats further help in this regard.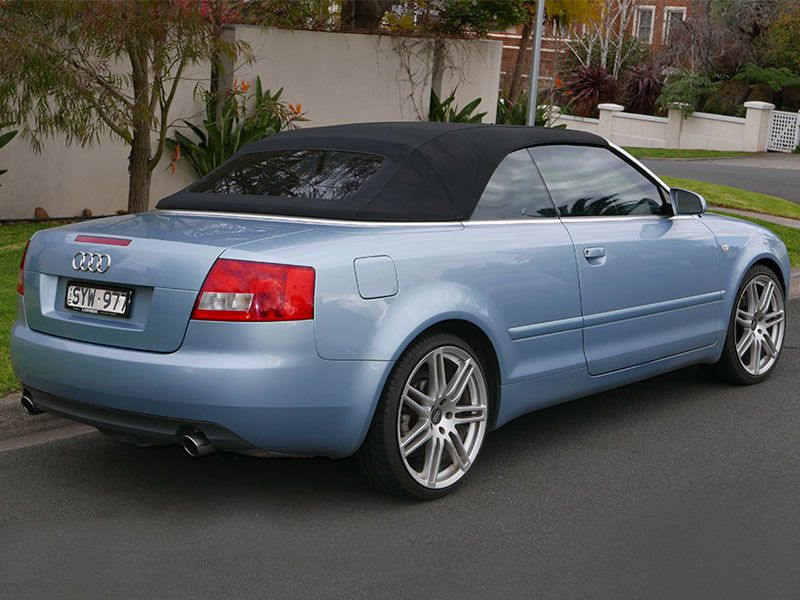 Photo by Wikimedia Commons
Jaguar S-Type
The best used luxury cars under $10,000 also include a few of the more unexpected alternatives. The 2008 Jaguar S-TYPE, for instance, brings together a 21st-century approach to engineering—backed by a partnership with Ford—and classic exterior styling that features a prominent Big Cat hood ornament out front. As for what's underneath that hood, you can get Jaguar's 4.2-liter V8 and still stay under our pricing limit here, and you'll benefit from 300 horsepower, sumptuous leather seating and Bluetooth connectivity at the same time. The 2008 S-Type also marked the final model year for this particular Jaguar luxury sedan, following a long-ish production run that saw the brand continuously fine-tune the car over the years. As a result, this is peak S-Type.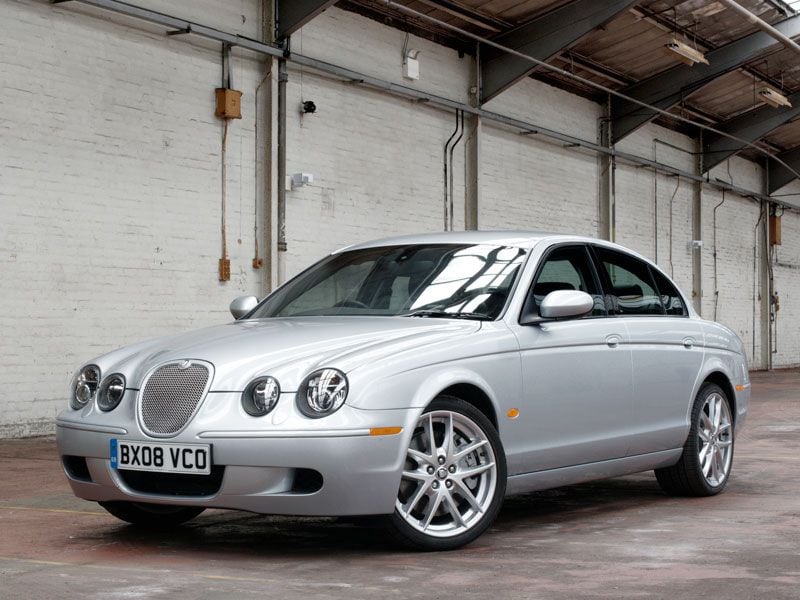 Photo by Jaguar Land Rover
Volvo S80
The best used luxury cars under $10,000 may not have the same focus on occupant protection as the newer premium vehicles, but the 2008 Volvo S80 naturally stands out as an IIHS Top Safety Pick for that year. This was before the IIHS "+" designation was introduced, too, so that was the highest possible IIHS recognition at the time. The S80 also has the requisite high levels of elegance in the cockpit, where the 8-way power-adjustable seats are swathed in soft leather and a subtle application of genuine wood trim adds to an environment of Scandinavian elegance.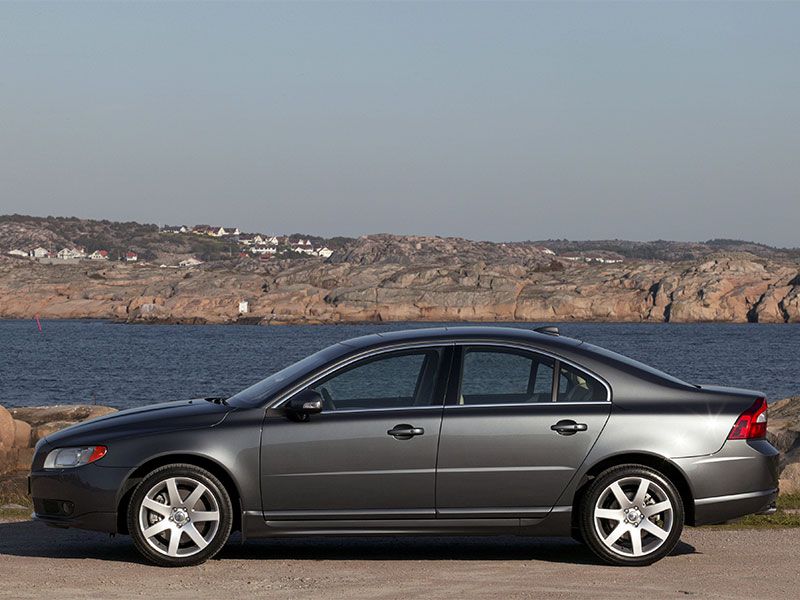 Photo by Volvo
Acura TL
Although the Acura brand doesn't have quite the same reputation as the likes of Lexus, the 2008 Acura TL, for one, actually matches up well with many of the best used luxury cars under $10,000. The TL was Acura's most popular premium sedan at the time, and it had been significantly refreshed for the 2007 model year. This means the 2008 TL can furnish heated leather seats with 8-way power adjustability, one of the brand's typically excellent surround-sound audio systems, navigation, and even a rearview camera system. Motivation for the TL is provided by a responsive 3.2-liter V6 engine that's good for 258 horsepower. For better performance, the 2008 TL S ups the output ante with a bigger V6 that belts out 286 horses.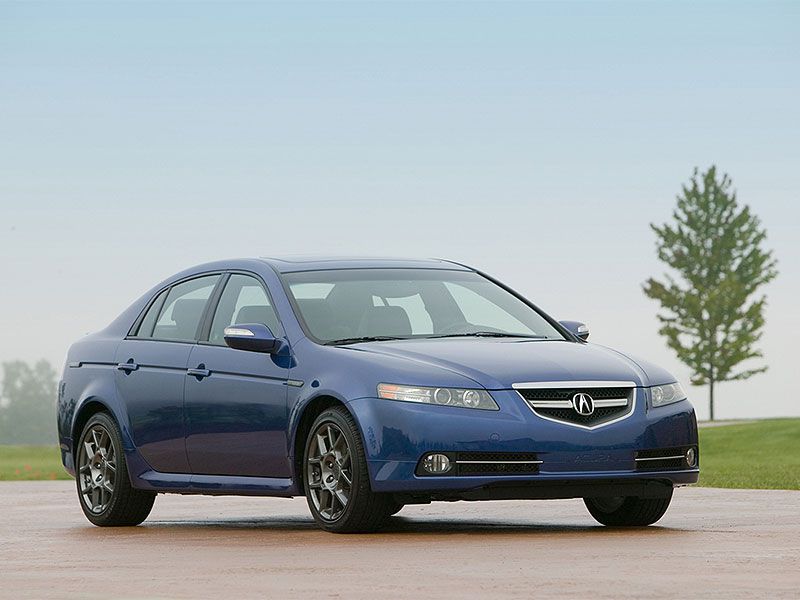 Photo by Acura
Volkswagen Phaeton
To maximize bang for your buck with the best used luxury cars under $10,000, there's a fullsize German sedan that remains below that ceiling with a massive 12-cylinder engine, wood and metal-alloy trim in the cabin, premium audio and navigation, and supple leather seating for both rows. Up front, the driver and passenger relax with multi-stage heating, ventilation and massage functionality. Rear-seat occupants are then coddled with heating and climate ducts of their own. Meanwhile, the car's 6.0-liter engine pours out a whopping 444 horsepower and 406 lb.-ft. of torque. What car can check all those boxes and have a price tag of below $10K? The 2006 Volkswagen Phaeton, VW's erstwhile entry in the luxury flagship sedan segment.
Photo by Volkswagen
Lincoln Town Car
The last of the old-school U.S luxury sedans—with rear-wheel drive, a limousine-like footprint and Ford's legendary Panther platform—was the 2011 Lincoln Town Car that's next on our list of best pre-owned premium cars under $10,000. Stretching more than 215 inches in length, the Town Car was about a foot longer than the brand's current fullsize sedan. That's the kind of road presence that you can't often find in any of today's relatively downsized flagship entries—and the same goes for the Lincoln's trunk, which has a capacity of 21 cubic feet. The Town Car also touts a V8 engine and soft-riding suspension, plus navigation, leather seating for up to six, parking sensors, adjustable pedals, and Lincoln's digital-keypad power door locks.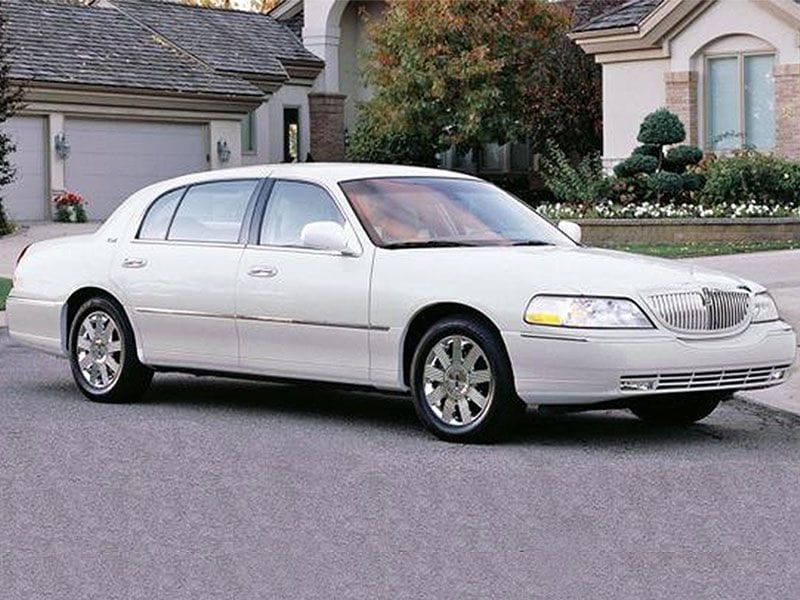 Photo by Lincoln