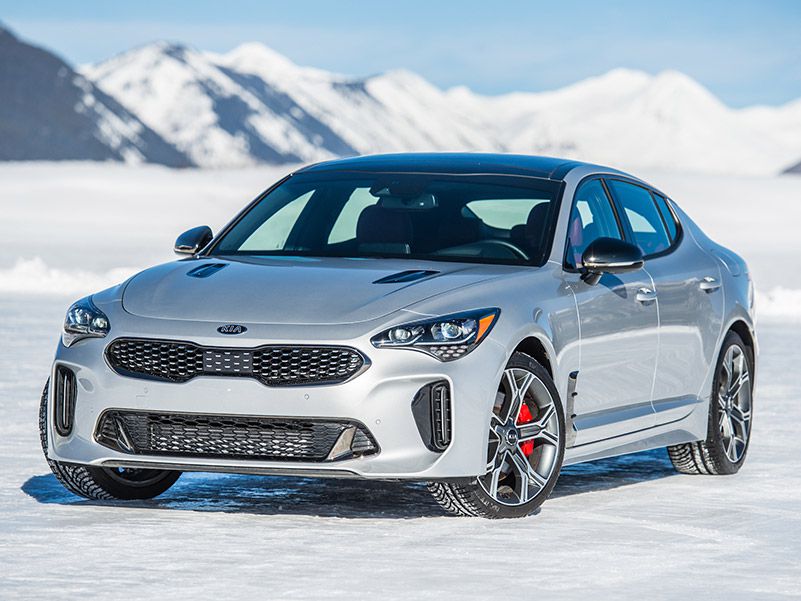 2020 Kia Stinger ・ Photo by Kia
Crossovers and SUVs are taking over the automotive landscape, and one of their notable strengths is the widespread availability of all-wheel drive. All-wheel drive improves your traction in slippery conditions, helping you put power to the road when it's wet, snowy, or muddy.
But you don't need an SUV to get all-wheel-drive. In recent years, many cars have offered AWD as well. Some are about bad-weather confidence, while performance models focus on superior traction when you gun a powerful engine. We've rounded up the 10 best used all-wheel drive cars that represent both types of AWD vehicle — performance and utility — from a variety of sizes and price points. They're all from the 2018 or 2019 model year, and we've focused on just one car per brand.
1. 2018 Subaru Impreza
For more than two decades, nearly every Subaru model has come with all-wheel drive as standard equipment. It means Subarus are a go-to when you want a sedan or a hatchback with AWD, and today, we're focusing on its most affordable model.
The 2018 Subaru Impreza is a compact four-door sedan or five-door hatchback with an uncommonly spacious interior for its size, along with a smooth ride. The 2.0-liter four-cylinder engine makes a modest 152 horsepower but returns EPA fuel economy ratings of up to 32 mpg in mixed driving, depending on the model you choose. This isn't a fun-to-drive or luxurious vehicle, but it's a comfortable four-season workhorse. If that's not your flavor, you can opt for the more refined mid-size Subaru Legacy or the higher-performance Subaru WRX. Just be aware that used Subarus often command a premium.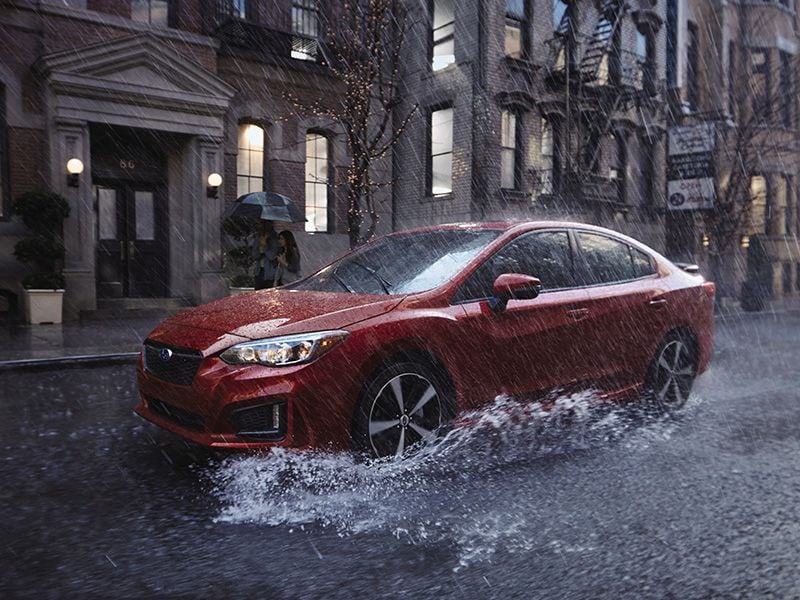 Photo by Subaru
2. 2019 Nissan Altima
The Subaru Legacy may be the best-known AWD mid-size sedan, but two of the class's three best-sellers are now offered with the system as optional equipment: the Nissan Altima and the Toyota Camry. However, all-wheel-drive Camrys are too new to the market to be widely available used, so for now we'll focus our attention on the Altima.
Freshly redesigned for 2019, the Altima delivers more assertive styling and sharper handling than the Legacy, along with more power and better fuel economy — a 2.5-liter four-cylinder with 182 hp and an EPA-estimated 30 mpg in mixed driving. And since it's less known for all-wheel drive than a Subaru, the Altima is a better bargain on the used market.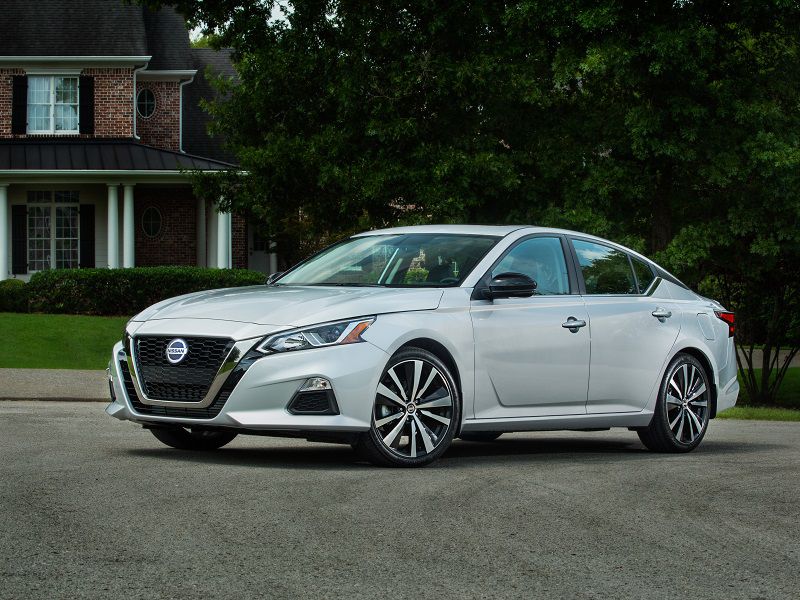 Photo by Nissan
3. 2018 Buick Regal
More luxury cars are available with all-wheel-drive than mainstream models. The 2018 Buick Regal offers a mix of mainstream and luxury qualities for less money than many cars that have no pretense of luxury.
The mid-size Regal's subtly elegant European styling (the car is also sold in Europe as the Opel Insignia), composed ride and handling, and peppy 250-horsepower four-cylinder turbo engine give it an upscale flavor. The cabin isn't opulently finished, but you still get tons of space for the money — whether you pick the five-door liftback "Sportback" body style or the TourX station wagon. Set aside some gas money, though, as the AWD four-cylinder Regal returns a mediocre 24 mpg in mixed driving on premium-grade fuel. You could also choose the GS performance model, which sports a 310-horsepower V6; it manages 22 mpg on regular-grade fuel.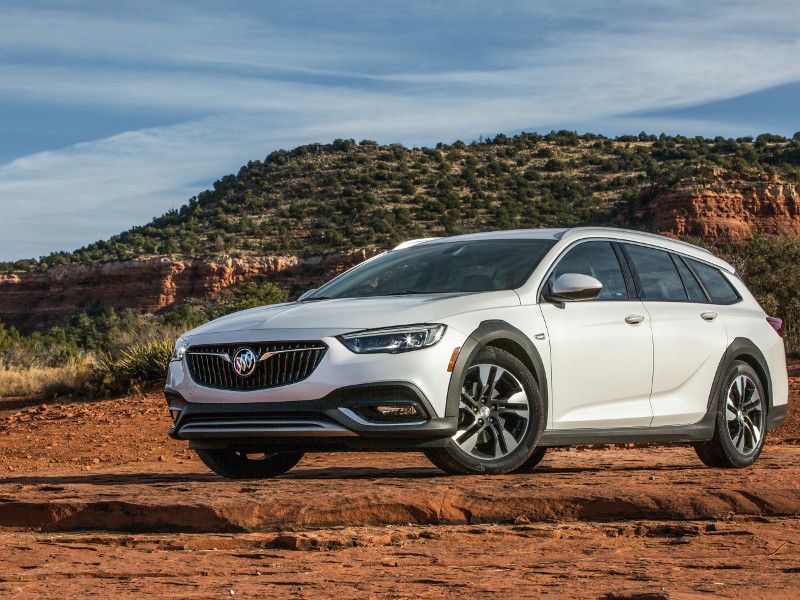 Photo by General Motors
4. 2018 Ford Fusion
The Ford Fusion is best known as a mainstream family sedan, but you need its luxury or performance trim levels to get all-wheel-drive. That's not too bad, though, when you consider that this sharp-looking and great-driving car could be worthy of a luxury badge.
The AWD Fusion is quick, quiet, comfortable, spacious, and filled with advanced technology. We like the affordability of a 2017 or 2018 model, but you could also spring for a 2019 to get even more high-tech safety equipment. Another option is the Fusion's luxury-badged cousin, the Lincoln MKZ, that's typically a great used-car value. You get just 23 mpg with a 231-horsepower four-cylinder engine and 20 mpg with a 325-hp V6, but at least on regular fuel.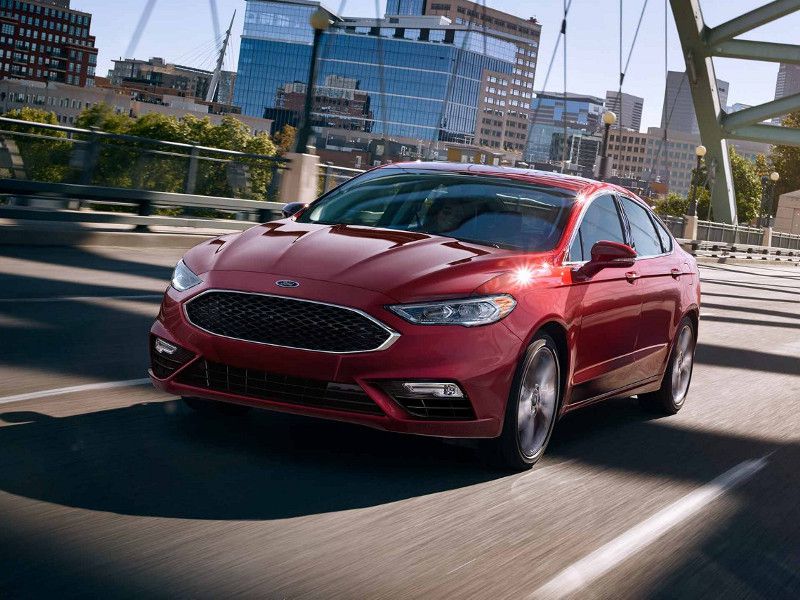 Photo by Ford
5. 2018 Dodge Challenger
You may not think of American muscle cars as winter-ready, but the 2018 Dodge Challenger's optional all-wheel drive means you can enjoy its brash looks in any weather conditions. Its unexpected practicality extends to its habitable back seat and enormous trunk, while truly sensible buyers can go with one of its platform-mates: the Dodge Charger and Chrysler 300 full-size sedans.
Just don't expect Dodge's famous Hemi V8 engine under the hood. All-wheel-drive is paired only to the base 3.6-liter V6. Still, even that motor makes a healthy 305 hp. You may not dominate the drag strip, but you'll have no trouble getting up to speed even when traction is limited.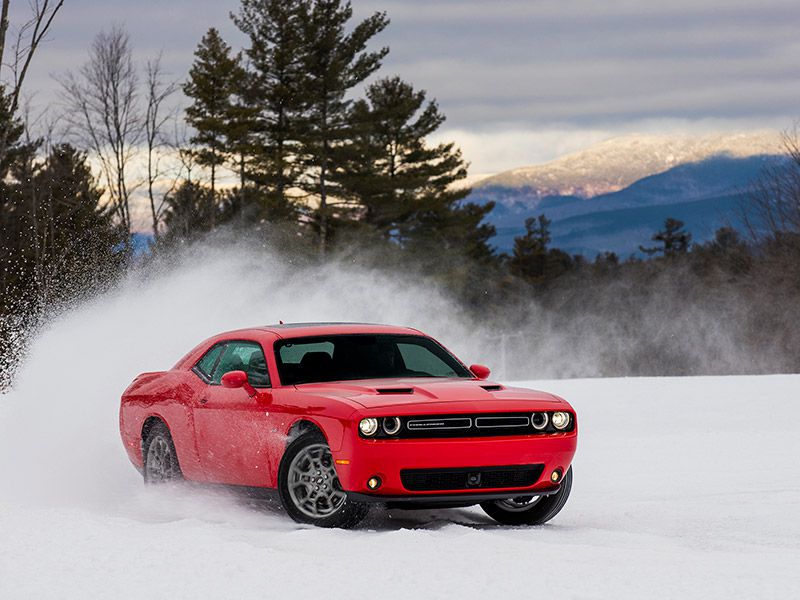 Photo by Fiat Chrysler Automobiles
6. 2018 Kia Stinger
The Kia brand is known for bringing affordability to every segment it enters, and that's certainly true with the 2018 Kia Stinger. This is a mid-size five-door liftback with rear-wheel-drive architecture (and optional all-wheel-drive), tenacious handling, and an upscale cabin.
The Stinger also provides zippy acceleration if you choose the base 2.0-liter four-cylinder engine with 255 horsepower, and it gets downright ferocious with the optional 365-hp 3.3-liter V6. And all the while, you get generous more rear-seat and cargo space than you'd normally find in a lively and relatively affordable sports sedan. It's a little rough around the edges compared to a full-on luxury car, but we're not complaining.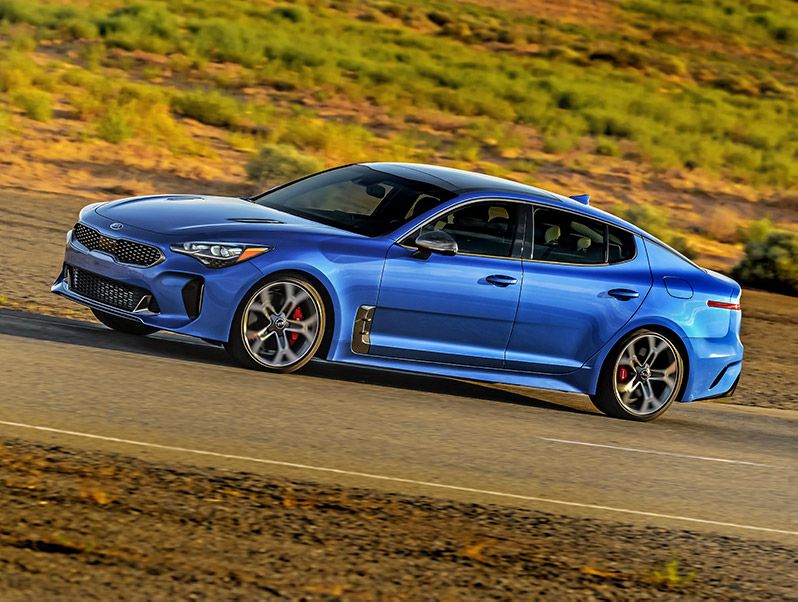 Photo by Kia
7. 2018 Audi A4
Moving on to traditional luxury brands, Audi is perhaps the best known for its all-wheel-drive. The system is called Quattro, and it's famously masterful for performance conditions and slippery weather alike.
While we could choose many great all-wheel-drive Audi cars, we'll focus on the compact A4 sedan. This is a classically handsome, well-proportioned luxury car with a high-tech interior. It's comfortable yet fun to drive, and most used A4s we see include the optional AWD system. (That's not the case with the smaller, more fun, and more affordable A3 sedan, which we like but which is most often found with front-wheel-drive.) This is a used car that will beat many new cars' in-cabin technology, and one with an AWD system you can count on.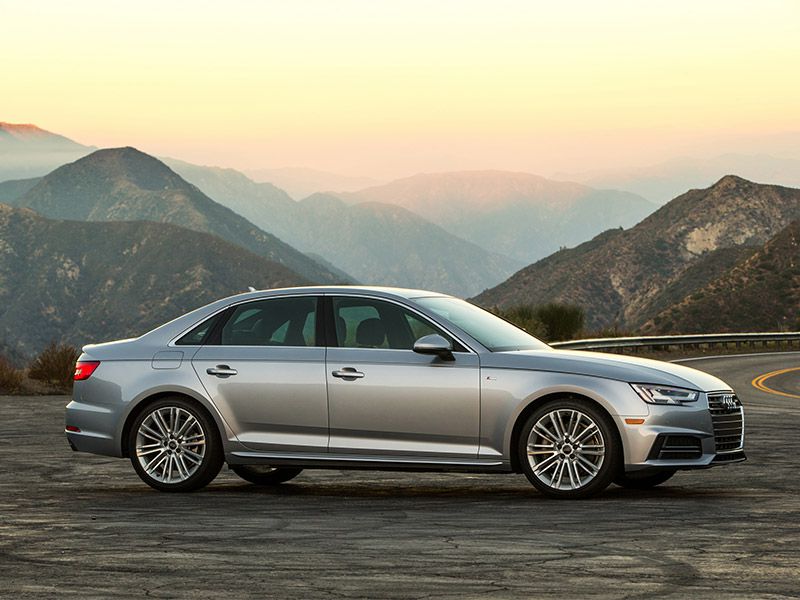 Photo by Audi
8. 2018 BMW 3 Series
The BMW 3 Series is a top rival to the Audi A4, and its xDrive all-wheel-drive system is also widely available and respected. The biggest difference is behind the wheel.
The A4 is already a fun car to drive, but that's just one of its many talents. It's more of a priority in the BMW. It's not an all-out performance car like a growing number of its competitors, but it exhibits a lithe confidence that only grows as you drive faster. Choose among a range of fuel-efficient and extra-zesty powertrains, and if you get lucky, you might even find the spacious station wagon version. This is a car you'll enjoy driving hard without being beaten up if you want to drive gently. The A4 has the advanced infotainment and posher cabin materials, though.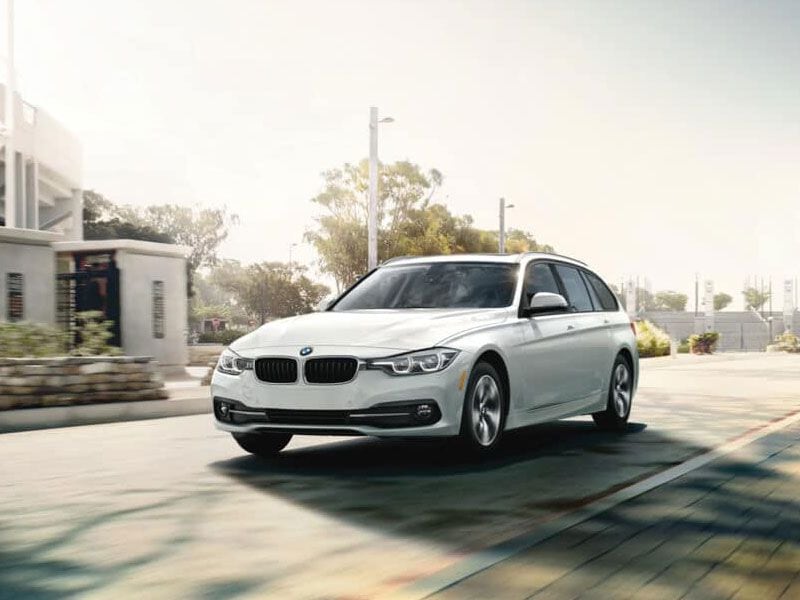 Photo by BMW
9. 2018 Tesla Model 3
There's another fun-to-drive compact sports sedan that you may not be thinking of. That's the Tesla Model 3, a fully electric car that's both eco-friendly and delightful fun to drive.
Tesla offers what it calls dual-motor all-wheel-drive. That means the Model 3 has one electric motor to power the front wheels and a second for the rear wheels. One is optimized for power and one is optimized for range, but working together they also deliver improved traction. The AWD Long Range model will travel an EPA-estimated 310 miles per charge and can reach 60 mph in a near-silent 4.4 seconds. For more zip, the Performance model drops to a supercar-like 3.2 seconds. Every Model 3 delivers zippy handling and an aggressively high-tech interior, featuring a beautiful touchscreen that replaces nearly all physical controls. One thing to watch for: Tesla has brought prices of new Model 3 vehicles down while adding standard equipment, so make extra sure your used vehicle is a good discount from a brand-new vehicle.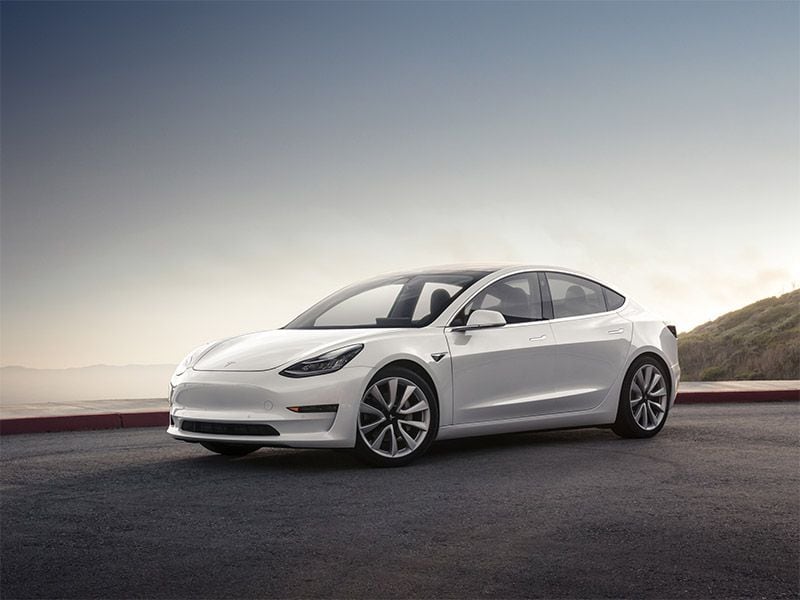 Photo by Tesla
10. 2018 Genesis G80
Not every luxury sedan with all-wheel-drive needs to focus on performance. Instead, the full-size Genesis G80 delivers gorgeous design, a relaxing driving experience, and plenty of space for everyone.
This isn't a snoozer to drive. The G80's rear-wheel-drive-based architecture is related to the spicy Kia Stinger's, and you get a choice of two powerful V6 engines or a rich V8. It handles with composure, especially for its size. This is just more of a peaceful car that can go fast than a lively, frenetic one. As an added bonus, it's roomy and laden with features even at relatively affordable prices compared to more popular luxury brands.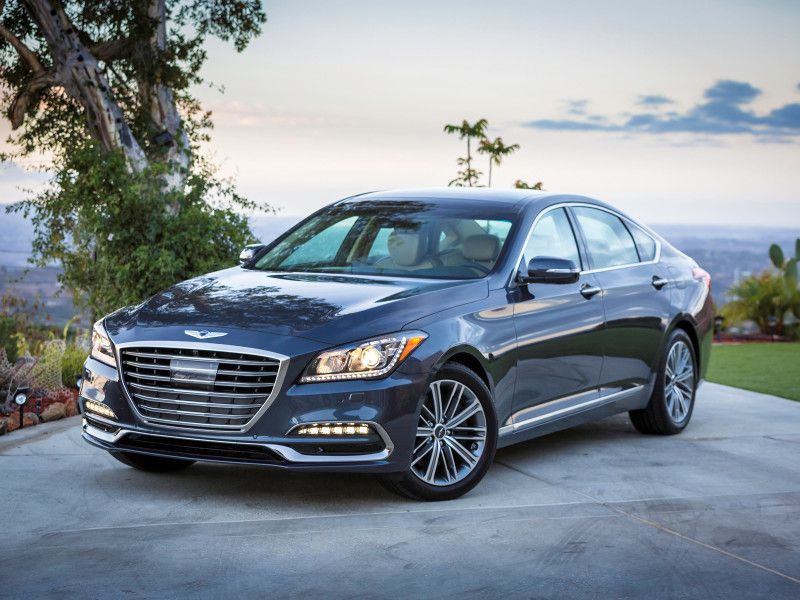 Photo by Genesis