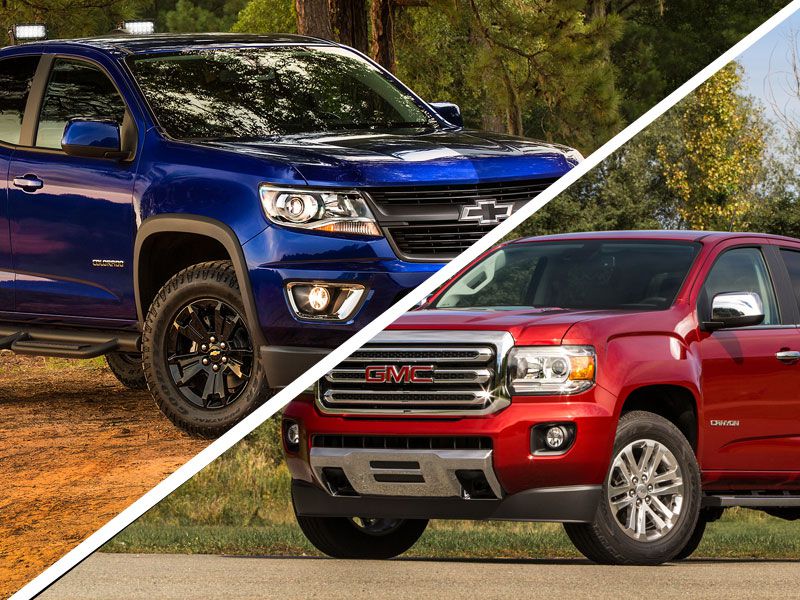 GMC Canyon Chevrolet Colorado ・ Photo by General Motors
The capabilities of pickup trucks have been steadily increasing, and today's compact trucks can tow and haul as much as the heavy-duty pickup trucks from only a few years ago (and heavy-duty pickups are almost as capable as semi-trucks). Interiors are no longer all-vinyl affairs, trucks are much less agricultural, and at the same time, fuel efficiency is up. The result is that it's now easier than ever to buy more pickup than you'll ever need, without breaking the bank or your back. Whether you need a pickup truck for work or for play, there's at least one model (and probably three or four) that will fit the bill. Let's take a look at some of the best trucks that you can buy today, and see which is right for you.
Chevrolet Colorado / GMC Canyon
The GMC Canyon and Chevrolet Colorado twins aren't identical, but they do share lots of common DNA. While the pair of compact trucks don't get a V8 option, available engines include a four-cylinder, a powerful V6, and a torquey and economical Duramax four-cylinder turbo diesel. Features such as a tow-haul mode, trailer sway control and hill-descent control systems prove that these trucks were designed to work (and play) hard. Towing capacity with the V6 and diesel engines is competitive with many of the entry-level V6-powered full-size trucks, and payload capacity should be more than enough for most jobs. When you aren't using them to haul stuff around, the Canyon and Colorado have a suspension setup that makes them seem even smaller than they are, with decent handling and a good ride, making them two of the best trucks to buy.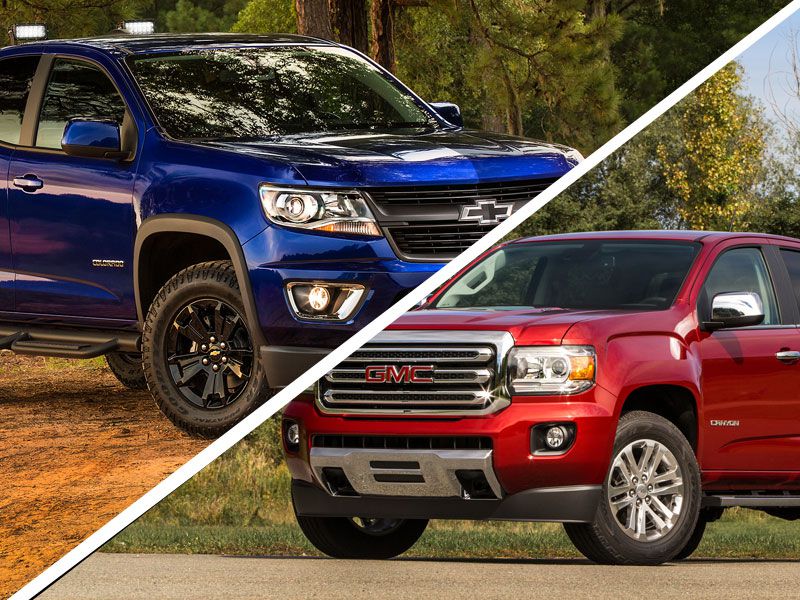 Photo by General Motors
Chevrolet Silverado 1500 / GMC Sierra 1500
Another pairing of the best trucks to buy, the Chevrolet Silverado and GMC Sierra are some of the most traditional trucks on the market, eschewing aluminum bodies, turbochargers and small diesel engines, yet these manage to remain very competitive thanks to continual incremental upgrades. The engines retain their old-school pushrod overhead-valve design, but use aluminum blocks and heads, direct injection and cylinder-deactivation, and some are backed by an eight-speed automatic transmission. Their front-end looks can be polarizing, but the proven technology in the Chevrolet Silverado and GMC Sierra means that they are always ready to work, while the quiet interior and good ride quality mean that you aren't constantly reminded that you're on the job.
Photo by General Motors
Chevrolet Silverado 2500HD/3500HD / GMC Sierra 2500/3500
The capabilities of modern three-quarter and 1-ton trucks are amazing, and the Chevrolet Silverado and GMC Sierra are no exception, making these some of the best trucks on the market when a lot of capacity is needed. Available engines include a gasoline powered V8 that makes 360 horsepower and 380 lb.-ft of torque, or a turbocharged Duramax diesel that makes 397 horsepower and 765 lb.-ft of torque. Depending on the model, maximum payload capacity is over 7,000 lbs and maximum towing capacity is over 23,000 lbs. To keep your trailer where it should be, the trucks are available with Digital Steering Assist, Trailer Sway Control, and a Trailer Brake Controller, while the diesel engine comes with a diesel exhaust brake. Like most models these days, even these workhorses can be had with a high-end leather interior, making them a nice (though not smooth-riding) place to be.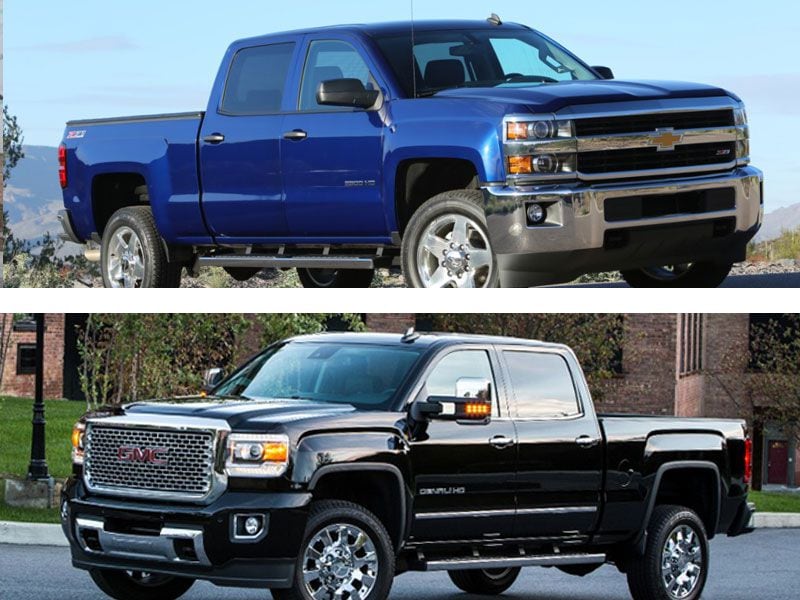 Photo by General Motors
RAM 1500
The Dodge Ram has long been one of the nicest and best riding trucks on the road, and the latest versions are no different. The Ram is available with a turbocharged EcoDiesel V6, and when combined with aerodynamic grille shutters, low rolling resistance tires, and the eight-speed TorqueFlite transmission the result is the most economical full-size truck on the market. A four-wheel air suspension features automatic load-leveling and can lower the truck at speed to improve aerodynamics, raise it for increased ground clearance, or fully lower it to ease loading and unloading. Inside, the rotary shift knob is a bit gimmicky, but otherwise the interior is well layed out and full of storage compartments, while the Uconnect system is one of the best in-car communications and entertainment systems available.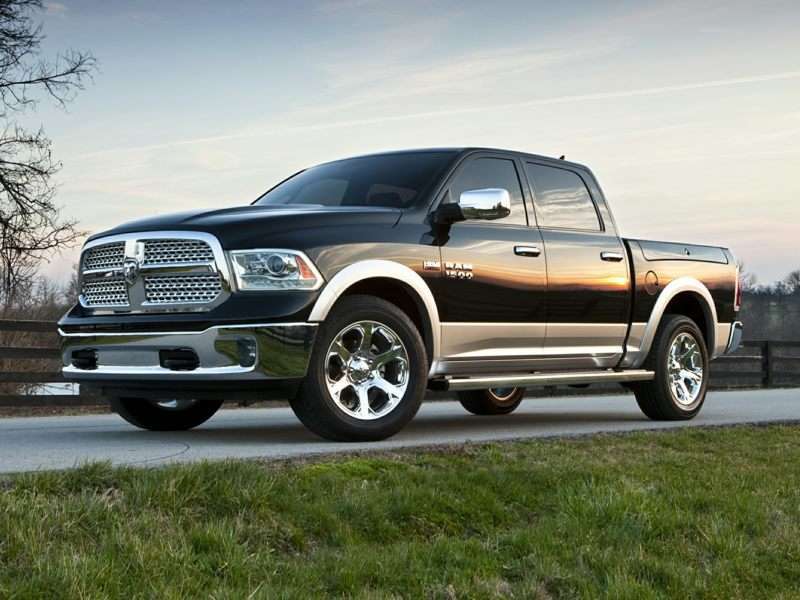 Photo by Ram Trucks
RAM 2500 / 3500
The heavy-duty Rams are some of the torquiest and most powerful vehicles on the road, and also some of the best trucks to buy. Engine options in the heavy-duty Ram 3500s include the 5.7-liter Hemi with 383 horsepower, a 6.4-liter Hemi with 410 horsepower, and a 6.7-liter turbocharged Cummins diesel engine that makes 385 horsepower and 900 lb.-ft of torque. When equipped with the diesel engine, the Ram is rated to tow over 31,000 lbs, while gas versions have a payload ratings of up to nearly 4,500 lbs. For those who like to be in control, the big diesel engines can also be paired with a six-speed manual transmission. Like its light-duty sibling, these trucks can be had in top of the line Laramie trim with an interior that could rival the best luxury sedans.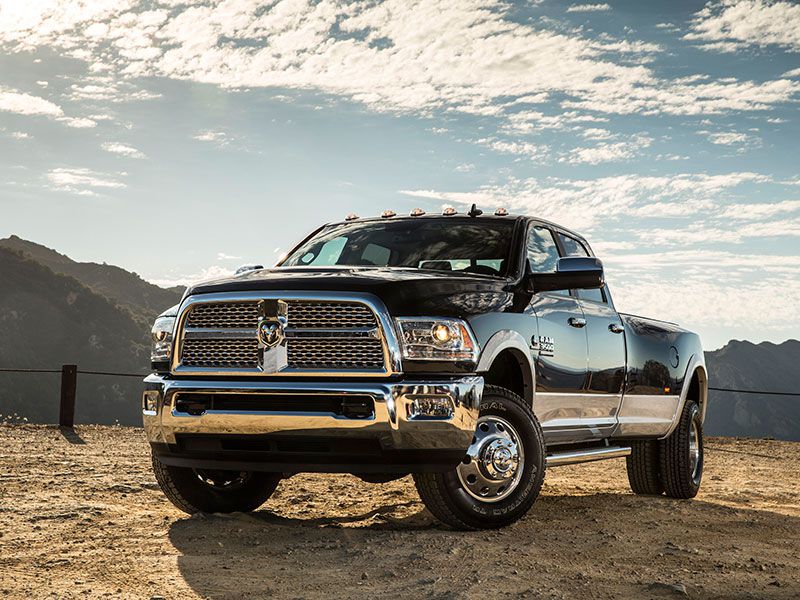 Photo by Fiat Chrysler Automobiles
Ford F-150
It might not look like it at first glance, but with an aluminum-alloy body on a high-strength fully-boxed steel frame and a choice of powerful V6 and V8 engines, the Ford F-150 uses updated materials and technology to perform traditional tasks better than ever. The optional Pro Trailer Backup Assist makes it easy for anyone to expertly reverse a trailer and the Deployable Box Side Steps, Remote Tailgate Release, and Integrated Tailgate Step with Lift Assist make it easy to get in and out of the bed. The F-150's relative light weight and its suspension tuning mean that whether loaded or empty it feels more like a big old car than a truck. The F-150 is also very safe, with a five-star overall NHTSA rating, reinforcing its reputation as one of the best pickups to buy.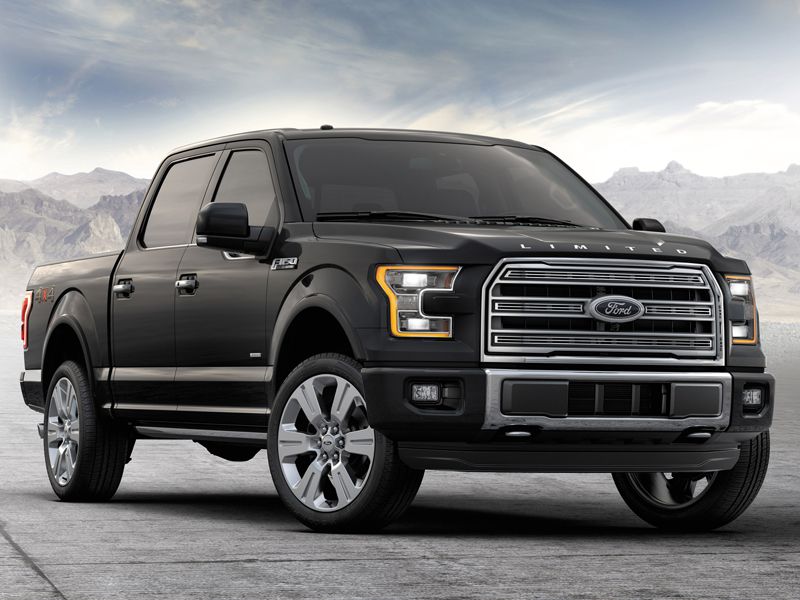 Photo by Ford
Ford F-Series Super Duty
Unlike the other best truck brands, Ford distinguishes its heavy-duty (or Super Duty) pickups from the rest of its pickup line by using different styling. Engines include a 6.2-liter overhead cam gasoline engine that makes 385 horsepower, or the latest version of Ford's 6.7-liter Powerstroke turbocharged diesel engine that makes 440 horsepower and 860 lb.-ft of torque. In top spec, the Ford is rated to tow over 31,000 lbs and has a payload capacity of over 7,000 lbs, and a factory-installed fifth-wheel and gooseneck substructure attached to the frame maintains a flat cargo load floor. Like its competitors, the Ford is available with a super-luxurious interior in the King Ranch models. A new version of the Super Duty pickups is expected soon, complete with an aluminum skin that should result in at least moderately increased capabilities.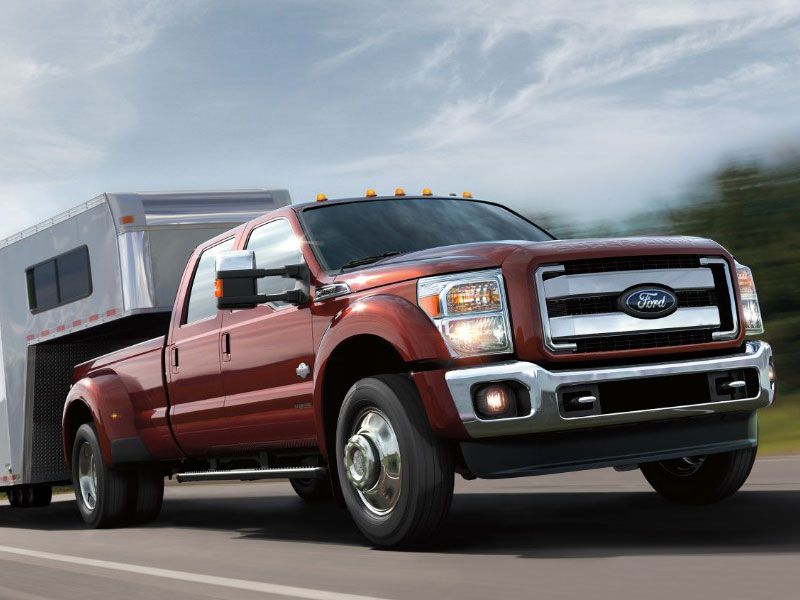 Photo by Ford
Nissan Frontier
The Nissan Frontier remains one of the best trucks to buy even though it hasn't been redesigned since 2005, and though its exterior remains attractive, the interior is out of date and the ride is a bit less refined than its more up-to-date competition. It is ready to work, however, assuming you choose the V6 over the anemic four-cylinder, which we'd avoid; unlike most of its competitors, both engines are available with a manual transmission. Nissan has shown a prototype of the Frontier powered by a small Cummins diesel, but so far hasn't confirmed a production model. For those who spend as much time off the road as they do on it, the four-wheel drive PRO-4X models feature Bilstein off-road shocks, skid plates, hill descent control and a locking rear diff. If you spend more time on sand, the Desert Runner is a two-wheel drive model with the same Bilstein shocks.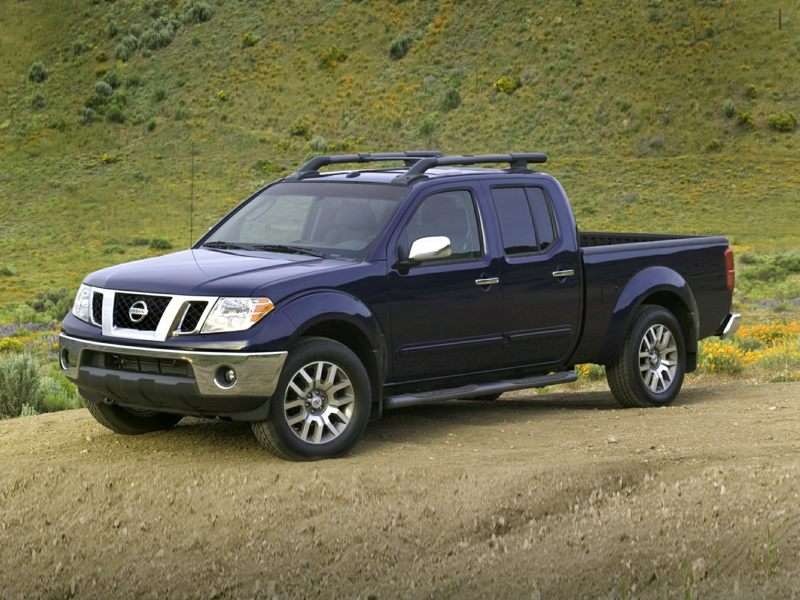 Photo by Nissan
Nissan Titan XD
The Nissan Titan XD was designed to fill the gap between light-duty "half-ton" pickups and the heavier-duty "three-quarter" ton pickups, and so uses a stronger frame and beefier suspension than the normal Titan for a unique take on the best pickup truck to buy. To make use of its strength, it is available with either a 5.6-liter V8 (ideal for those interested in payload capacity) or a powerful Cummins turbodiesel engine backed by an Aisin transmission (perfect for towing heavy loads). The Titan XD is still a big truck, but because it isn't quite as heavy-duty as some of its rivals, its ride is significantly less harsh, especially when unloaded.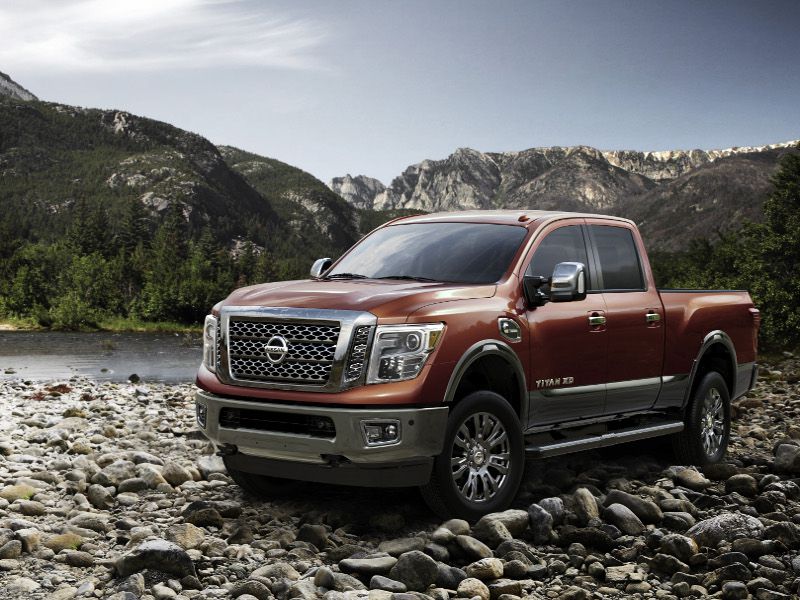 Photo by Nissan USA
Toyota Tacoma
The Toyota Tacoma is a compact truck with a hugely loyal customer base that helps reinforce its reputation as one of the best trucks on the market. While not quite as refined as some of the other models on the list, the Tacoma has many features that help it stand out from the rest of the crowd, especially off-road. The locking rear differential makes sure that one wheel without traction doesn't slow you down, the Multi-Terrain Select System lets you choose between loose rock, mud, and sand driving modes that adjust the throttle and brake pressure to help make the most of available traction, and Crawl Control is essentially cruise control for speeds between 1 and 5 miles per hour (to let you concentrate on steering). The Tacoma is also one of the few trucks that still lets you shift your own gears. Towing and payload capacity are competitive for the class, as is the power from the available V6, though we'd avoid the underpowered (and not much more economical) base four-cylinder engine.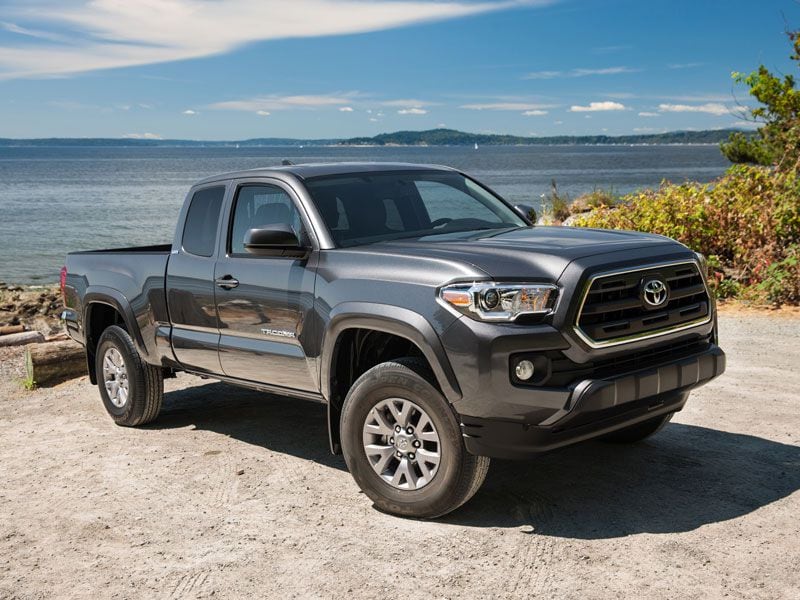 Photo by Toyota