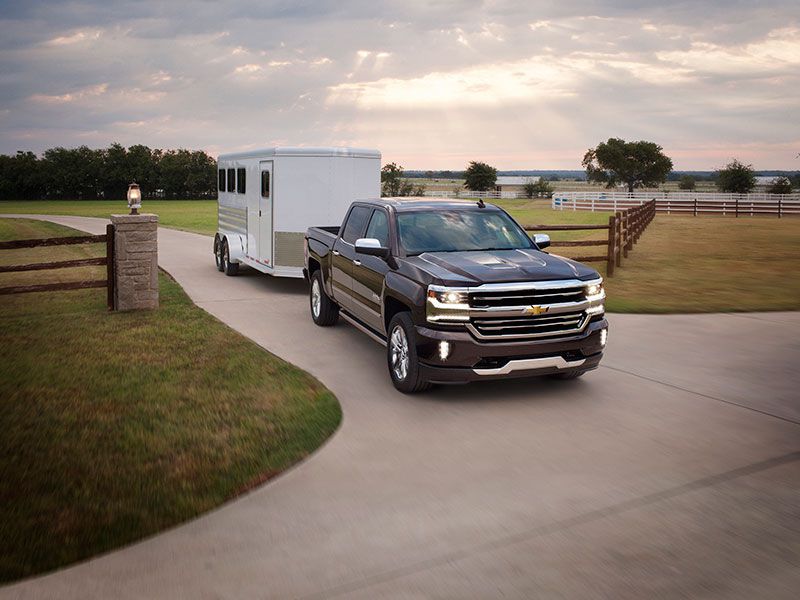 2017 Chevrolet Silverado High Country 023 ・ Photo by Chevrolet
Travel trailers bring family vacations to an entirely new level; they are a great way to see the country and the continent. Naturally, if you buy a travel trailer, you're going to need a vehicle with which to tow it. We've put together a list of 10 trucks and SUVs that we think make great tow vehicles for your travel trailer. The actual towing capacity of the vehicles on this list can vary depending on how they are equipped. Know the LOADED weight of your trailer and the gross combined weight rating (GCWR, the limit on weight of the vehicle, trailer, luggage, passengers and fuel) of your vehicle. Overloading your trailer or vehicle can lead to a crash, and we don't want that to happen!
Ford F-150
Among half-ton pickups, Ford's F-150 is one of our favorite towing vehicles. Not only does it offer exceptional stability, but it features an optional backup assistance feature that actually steers the trailer in reverse—you simply twist a dial on the dashboard to indicate which way you want the trailer to go, and the F-150 does all the steering-wheel-twirling for you. Ford offers a variety of engines, and we've been especially impressed by the 2.7-liter EcoBoost V6, which delivers strong power and good gas mileage. Note that the F-150's towing capacity varies broadly depending on how it is equipped, from 4,900 lbs up to 12,200 lbs, so be sure to consult Ford's towing chart (see the dealer) and buy one that is properly configured to tow what you need.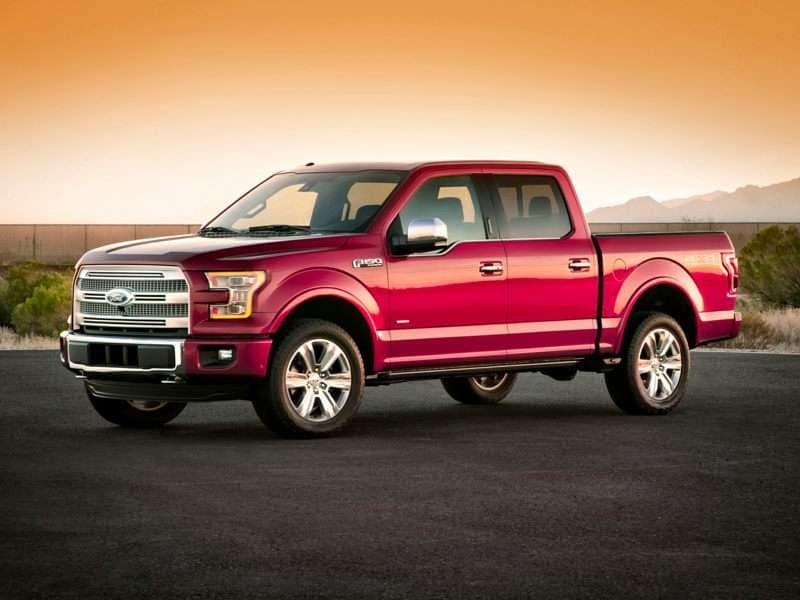 Photo by Ford
Dodge Durango
We were pleasantly surprised to learn what a good tow vehicle the Durango is—we know of other SUVs that have promising tow ratings but don't deliver in the real world. So we hooked up our 5,000-lb trailer to a V6-powered Dakota, and were pleased to see how well it performed—not just in terms of power, but of stability (especially important when towing a tall trailer on a windy day). Opt for the towing package and the Durango is rated to tow up to 6,200 lbs with the V6 engine and 7,200 lbs with the V8. You will need a trailer brake controller; we used a Tekonsha P3, which plugs right into the Dakota's electrical system with an inexpensive wiring harness. If you do tow with the Dakota, be sure to check the GCWR (maximum permissible weight of the vehicle, occupants, cargo and trailer) and stay within those limits.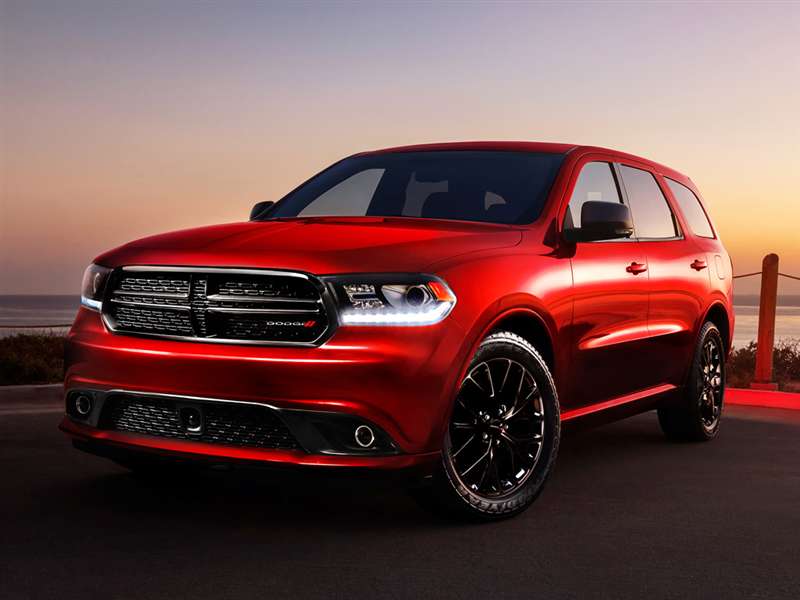 Photo by Dodge
Mercedes-Benz Sprinter
Not many people realize it, but vans make great towing vehicles—especially the Mercedes-Benz Sprinter. Sprinters have a nice, long wheelbase, which gives them added stability, and they offer diesel power, which helps keep those fuel bills low. The Sprinter is rated to tow between 5,000 to 7,500 lbs, which is enough capacity for a small- to medium-size travel trailer; more importantly, the Sprinter has a GCWR of up to 13,500 lbs—which means you can tow a trailer at or near the Sprinter's max towing capacity and still safely carry plenty of cargo and passengers inside the van.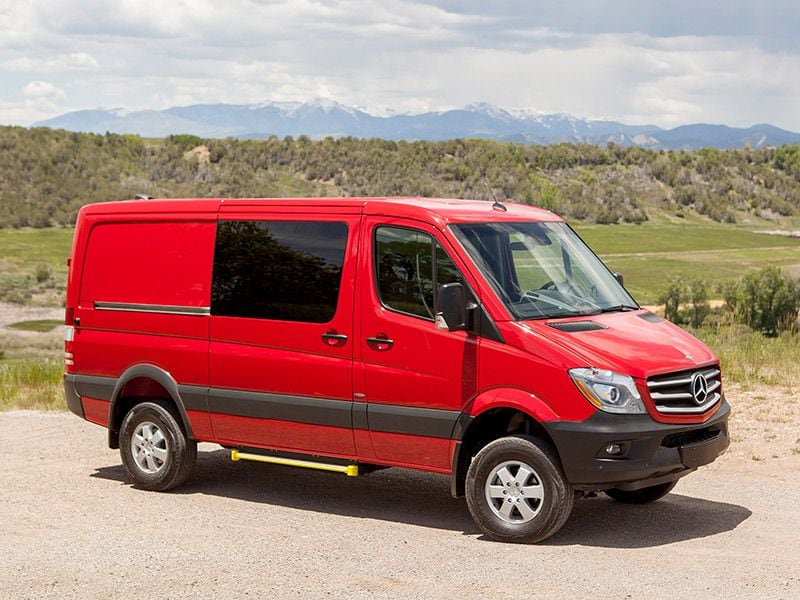 Photo by Mercedes-Benz
Chevrolet Colorado/GMC Canyon
We've towed our 5,000-lb horse trailer with most of the mid-size pickup trucks on the market, and the Chevrolet Colorado is by far the best. Crew-cab long-bed models have a wheelbase nearly as long as some full-size pickups, and stability approaches that of half-ton trucks—and is much better to other mid-size pickups which are intended for use as off-roaders or family cars. 4-cylinder gas-powered Colorados can only tow 3,500 lbs, which isn't enough for a decent-sized travel trailer; you'll want either the V6, which tows 7,000 lbs, or the diesel, which can tow up to 7,700 lbs. (The diesel is our pick.) The GMC Canyon is basically the same truck but with a slightly more upscale interior, and it tows just as nicely.
Photo by General Motors
Chevrolet Tahoe/Suburban
These classic full-size pickups are a go-to for travel trailer owners: They provide the day-to-day comfort of an SUV with the towing capacity of a half-ton pickup truck. These trucks have the stability and the muscle you need for a medium-sized travel trailer. Equipped with a trailering package, the Tahoe can pull up to 8,600 lbs; the long-wheelbase Suburban tows slightly less owing to its greater weight, but its longer wheelbase provides added stability for longer trailers. If you'd like something a little more upscale, the GMC Yukon and Cadillac Escalade are nicer versions of the same vehicle (though the Caddy tows slightly less, again owing to greater weight). Unlike the Tahoe/Suburban, the GMC and Cadillac versions offer a larger 420-horsepower engine, which doesn't increase towing capacity but does give them extra muscle in the hills.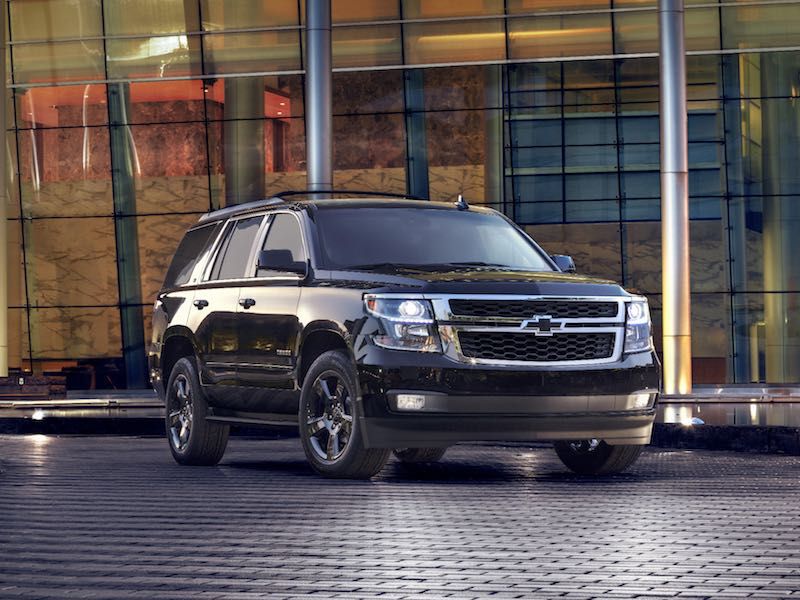 Photo by Chevrolet
Ford Expedition
The Expedition competes against the Chevrolet Tahoe and Suburban, but it takes a different approach: It uses a twin-turbo V6 engine instead of a traditional V8 and an independent rear suspension instead of a truck-like solid axle. The latter gives it a better ride and improved handling, but it also increases towing capacity. An Expedition with the Class IV towing package can handle a trailer up to 9,300 lbs, and the long-wheelbase Expedition EL maxes out at 9,200 lbs. That gives it the muscle to tow bigger travel trailers than most of the SUVs on this list. Note that Ford will introduce a new version of the Expedition for the 2018 model year; we expect it to offer superior towing capacity as well as the Pro Trailer Backup Assist function that we know and love from the F-150 pickup truck.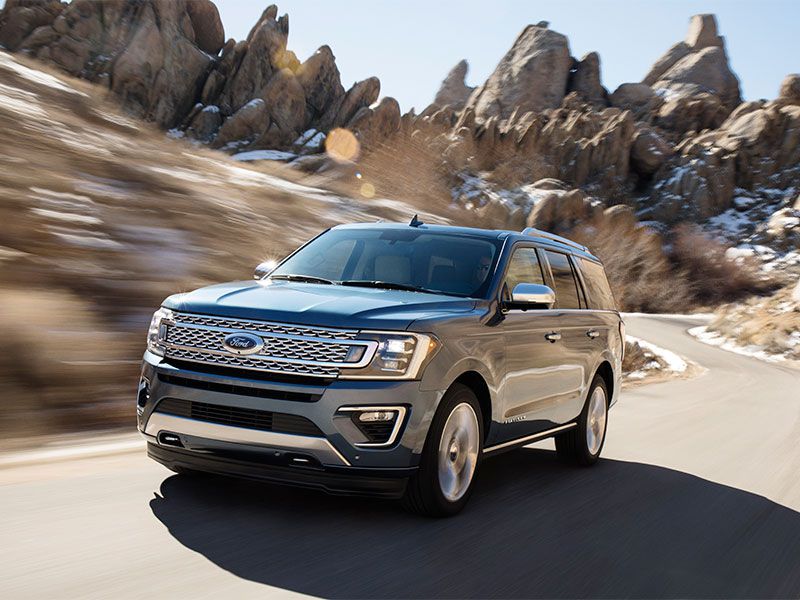 Photo by Ford
Nissan Titan XD
Most pickup trucks are offered in so-called half-ton (150/1500 model designations) and three-quarter-ton (250/2500) models, but the Titan XD lands somewhere in the middle: Nissan sometimes refers to it as a "heavy half-ton", with max towing capacity in the 11,000 to 12,500 lb range and the ability to haul gooseneck trailers. We've towed extensively with the Titan XD, and we love that it offers stability comparable to a three-quarter-ton truck, but in a smaller and easier to park package. The Titan XD can be had with a Cummins-sourced V8 diesel, which offers lots of torque and a big-rig soundtrack (though, in our experience, fuel economy is only slightly better than big gas V8s). We think the Titan XD is a great solution for those that want to tow larger travel trailers with a truck that's easy to drive on a daily basis.
Photo by Nissan
Toyota Land Cruiser
The Land Cruiser is an icon in the off-roading world, and the modern day version is known both for its serious off-road abilities and its high-lux cabin. But the Land Cruiser also makes an excellent tow vehicle: It has a stout 381-horsepower V8 engine and is rated to tow up to 8,100 lbs, which is within shouting distance of the Chevolet Tahoe. A towing package is standard equipment on the Land Cruiser; just add an aftermarket trailer brake controller and you're set to go. Another advantage: The Land Cruiser comes standard with all-wheel drive, which can be a real boon when camping on dirt roads (or when the rain turns dirt to mud).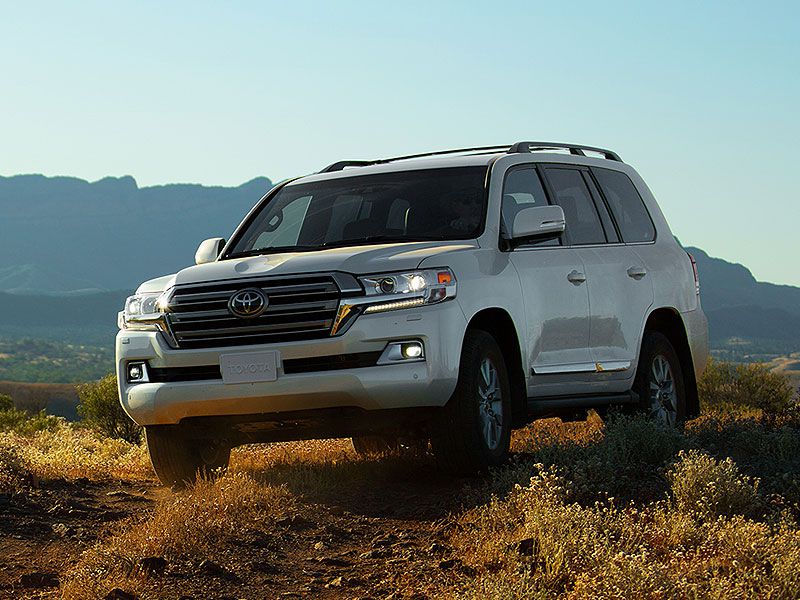 Photo by Toyota
Ram 1500 EcoDiesel
pickup trucks are a great choice for towing travel trailers; after all, it's what they are meant to do. But most people can't afford to buy a dedicated tow vehicle, and for families on a budget, using a pickup truck as a daily driver can rack up ruinous fuel bills. That's the advantage of the RAM 1500 EcoDiesel. Its V6 turbodiesel is EPA-rated at 19 mpg city and 27 mpg highway, numbers that are similar to a large car. In our experience, the Ram 1500 really does deliver those numbers in real-world driving, and its quiet demeanor makes it easy to forget you're driving a diesel. While it's designed for fuel economy, the diesel engine has plenty of pulling power, and depending on how it's equipped, the EcoDiesel-powered Ram can tow between 7,960 and 9,290 lbs, which gives it plenty of muscle for a good-sized travel trailer.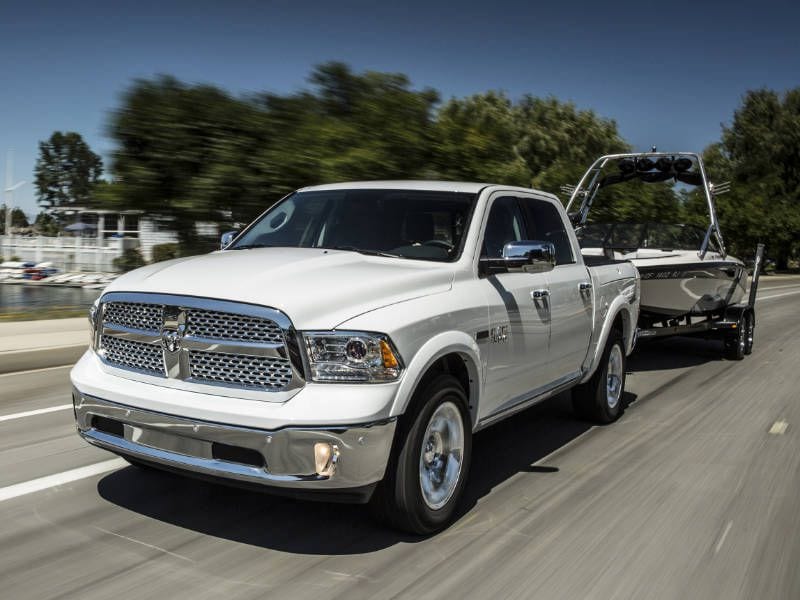 Photo by Ram Trucks
Ford Super Duty
Most of the vehicles on this list will tow small- to medium-sized travel trailers, but what happens when you want to pull something bigger? You'll need a heavy-duty truck, and we recommend Ford's freshly-redesigned 2017 Super Duty. This is the most sophisticated heavy-duty truck on the market, with sophisticated safety and driver aids that aren't offered on other HD trucks. We especially like the truck's towing-specific technology; the truck is festooned with cameras, including a remote camera that can be mounted on the trailer, which makes maneuvering and parking easier and safer. The F-250 and F-350 are tall trucks that can be difficult to get into, and they ride harder than the other vehicles on this list. But they have the brawn to do the big jobs. They can tow between 12,000 and 19,000 lbs on the bumper, and if you move up to a fifth wheel trailer, the Super Duty can tow up to 26,500 lbs.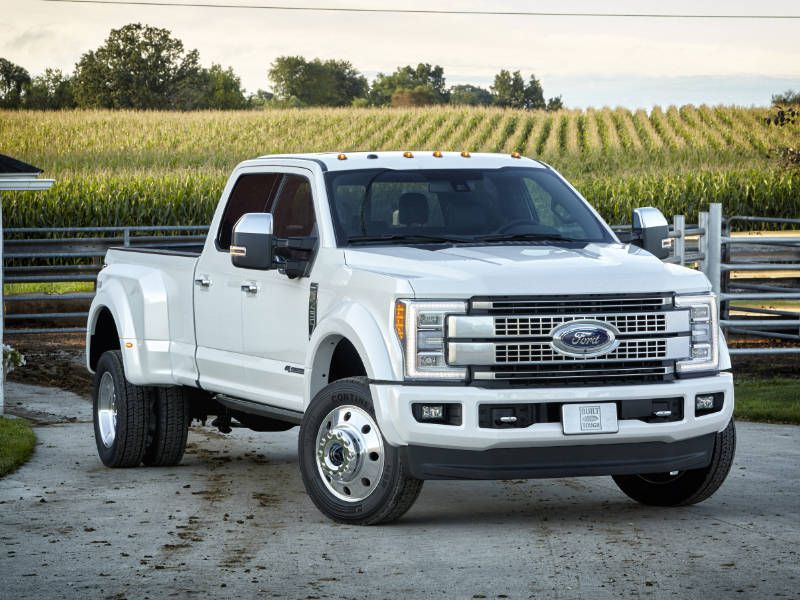 Photo by Ford