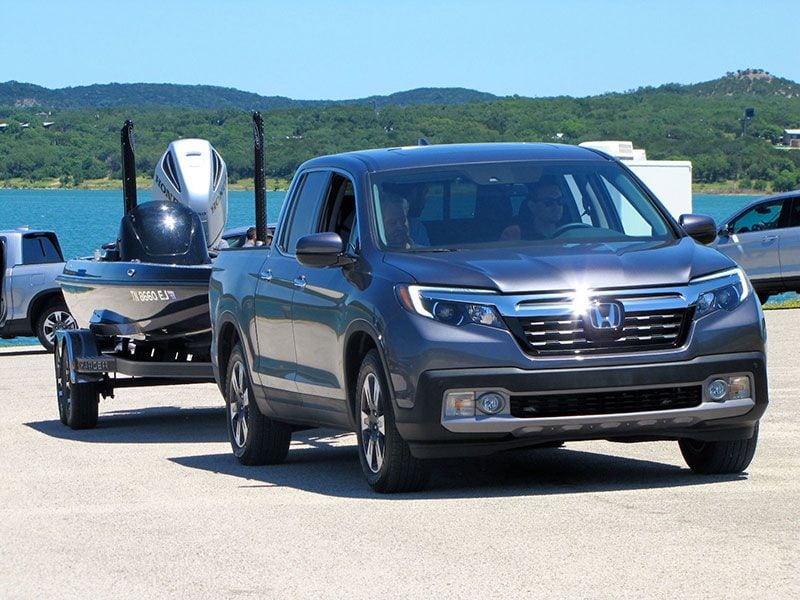 2017 Honda Ridgeline towing boat ・ Photo by Ryan ZumMallen
Finding the best trucks for the money isn't a matter of simply finding the least expensive trucks on the market. The old saying, "You get what you pay for," isn't just a cliché – it's a mantra for the budget-minded buyer.
We took a look at the trucks available in the United States right now, and considered the balance of price vs. features vs. capabilities. We thought about the intent of each truck – was it designed to be a heavy-duty work vehicle, or was it designed as a lifestyle accessory? Ultimately, we have identified 10 truck categories, and sought out the best values in each.
Read on to find the 10 Best Trucks for the Money, and let the debate begin.
Best Lifestyle Truck for the Money: 2016 Ford F-150 King Ranch
Putting a $50,050 truck on this list may seem controversial, but when you examine the equipment, heritage and overall impression that the 2016 Ford F-150 King Ranch brings to the party, the fullsize crew cab starts to look like a bargain. King Ranch is a real place, an enormous spread in Texas famous for its leather work and craftsmanship. The Ford truck comes equipped with gorgeous leather seats and trim, distinguished with the King Ranch brand. Powered by a 5.0-liter V8, it has the sound and performance truck owners love to experience. Roll up at a fancy restaurant in a Shadow Black King Ranch F-150, and watch heads turn and $200,000 sports car owners quiver.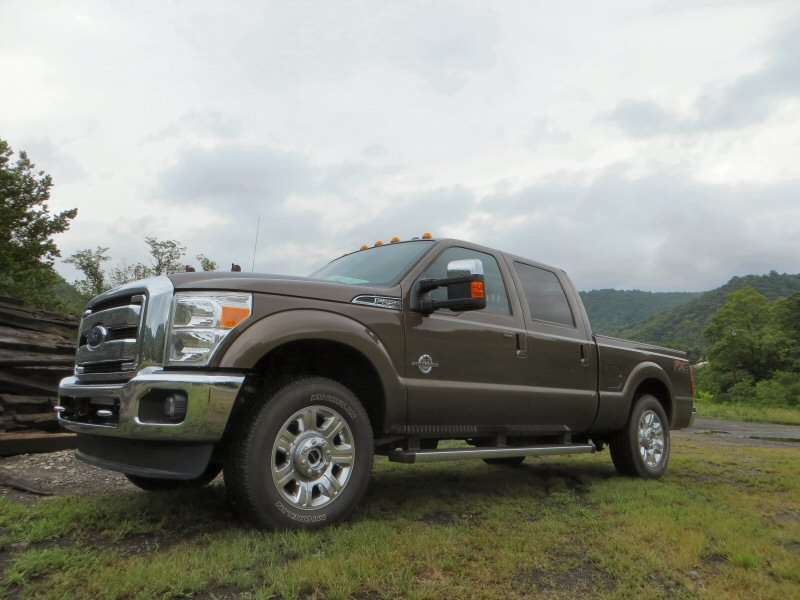 Photo by Bentley Media
Best Work Truck for the Money: 2016 Ram 1500 Tradesman
When your truck is a work tool, you want to avoid overkill. You want a "just right" solution that will be affordable, capable, efficient and durable for years to come. The 2016 RAM 1500 Tradesman strikes a great balance with a standard 3.6-liter Pentastar V6 engine and Torqueflight 8-speed automatic transmission, and can deliver up to 20 MPG city/28 MPG highway, according to the EPA. Despite its work truck intentions, this Ram is no stripped-down model. It comes with a spray-in bed liner, Class IV tow receiver hitch and Ram's Radio 3.0. When work time comes, RAM 1500 can tow up to 10,650 and carry a payload of up to 1,880 lbs - enough for serious work, starting at just $26,145.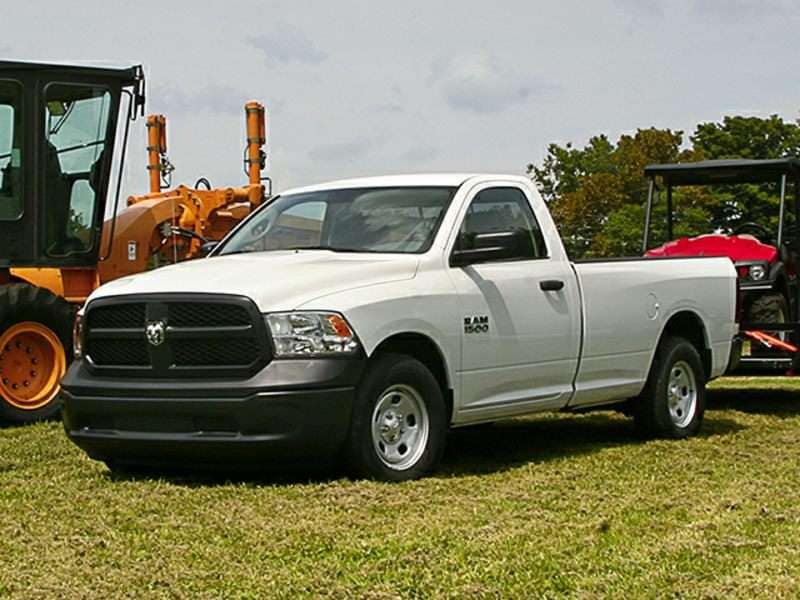 Photo by Ram Trucks
Best Off-Road Truck for the Money: 2016 Toyota Tacoma TRD Off-Road
When the pavement ends, the 2016 Toyota Tacoma TRD Off-Road shines. "TRD" stands for Toyota Racing Development, and the Tacoma TRD benefits from the company's experience in off-road competition. While the $34,860 price tag for a midsize 4x4 truck may not seem like a bargain at first glance, the list of specialty equipment and off-road specific setup would be much more expensive if you tried to duplicate it in the aftermarket for a standard truck. As a bonus, Toyota redesigned its midsize truck completely for 2016, resulting in a modern, attractive truck that's a comfortable everyday driver, too. Tacoma has a reputation for toughness, capability and durability, characteristics that are essential in an off-road pickup at any price.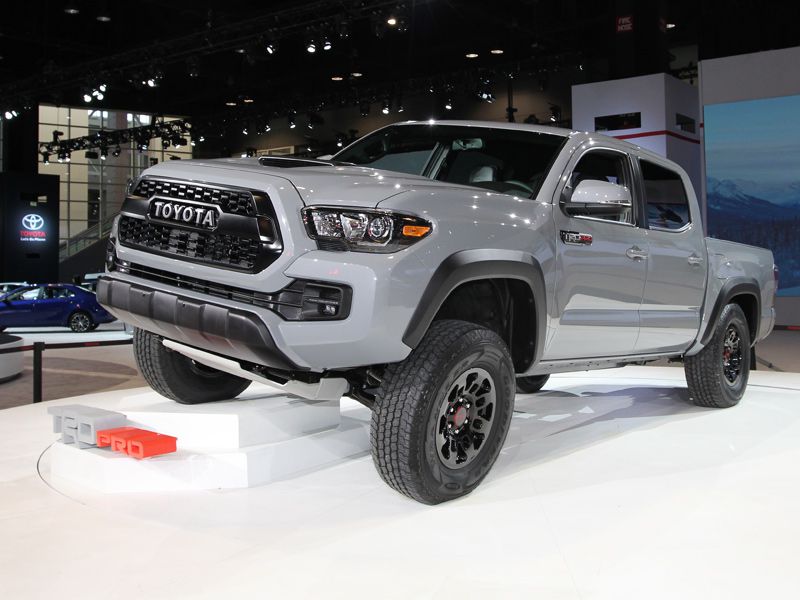 Photo by Toyota Media
Best Midsize Truck for the Money: 2016 Chevrolet Colorado
A full makeover for the Colorado in 2015 transformed the midsize truck from an also-ran into a segment leader, and the 2016 Chevrolet Colorado carries on with style, utility and – best of all – bang-for-the-buck. Order up a base Colorado, and you get a 200-hp 2.5-liter 4-cylinder gasoline engine and a fun 6-speed manual transmission. Even on the base model, Chevy includes a 4-way power driver's seat, rear view camera, power windows and door locks and a 4.2-inch video screen to access the audio system, which features USB and Aux connection ports. Even with this level of equipment, the extended cab long box Colorado starts at just $20,995 – a bargain for a highly awarded midsize truck.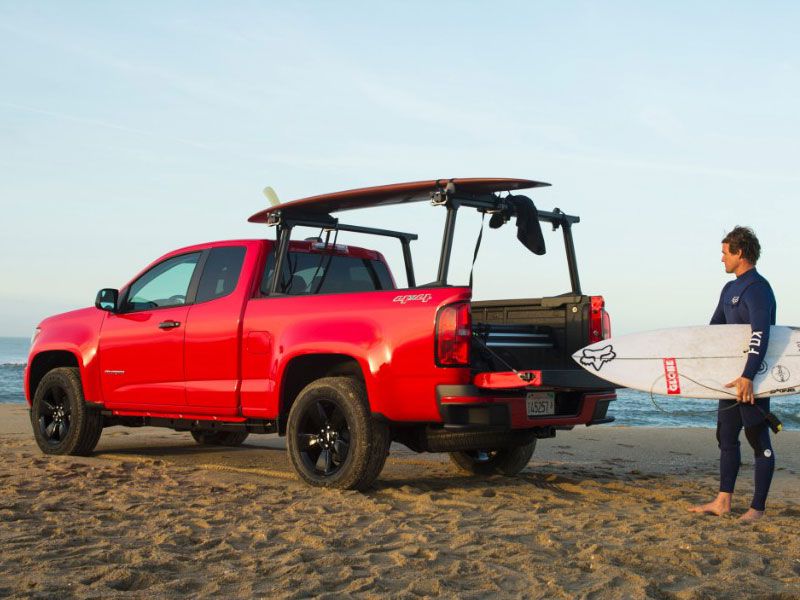 Photo by General Motors
Best Full-Size Truck for the Money: 2016 Nissan Titan XD Diesel
Nissan shocked the truck world with its new 2016 Nissan Titan XD Diesel this year. While other manufacturers concentrated on high horsepower/high torque fullsize diesels, Nissan recognized that there was a gap in the marketplace, and came in with a 5.0-liter turbodiesel-powered truck that produced a "modest" 310 hp and 555 lb-ft of torque. While fully-dressed Platinum models of the Titan XD start north of $57K, the base S model begins at $40,290, nicely equipped. Standard features include Nissan Connect, keyless entry and push-button start, a 12,000-lb towing capacity and 2,000-lb payload. Nissan's bold move resulted in a truck that defies easy classification, and stands out for its unique level of capability and price-performer status.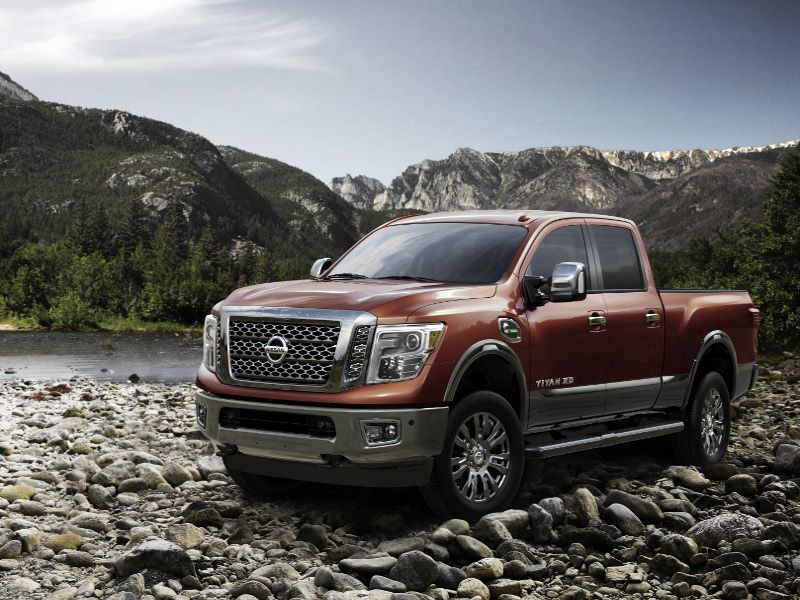 Photo by Nissan USA
Best Luxury Truck for the Money: 2016 GMC Sierra Denali
If there were a graphic way to display "bling-for-the-buck," the 2016 GMC Sierra Denali would be off the charts. Starting at $51,190, Sierra Denali announces that you have arrived from the moment it shows its enormous shiny grille. If it can be chromed, it has been chromed. If it was big on the regular Sierra, it's bigger on the Denali. Inside, luxury features abound, like heated and ventilated leather front seats with contrast stitching, soft touch materials all around, wireless phone charging, and an 8-inch color touchscreen with Apple Car Play. Denali has standard OnStar, a great feature. Sierra Denali delivers comfort and style, and does it at a price point that belies the overall effect of its luxury features.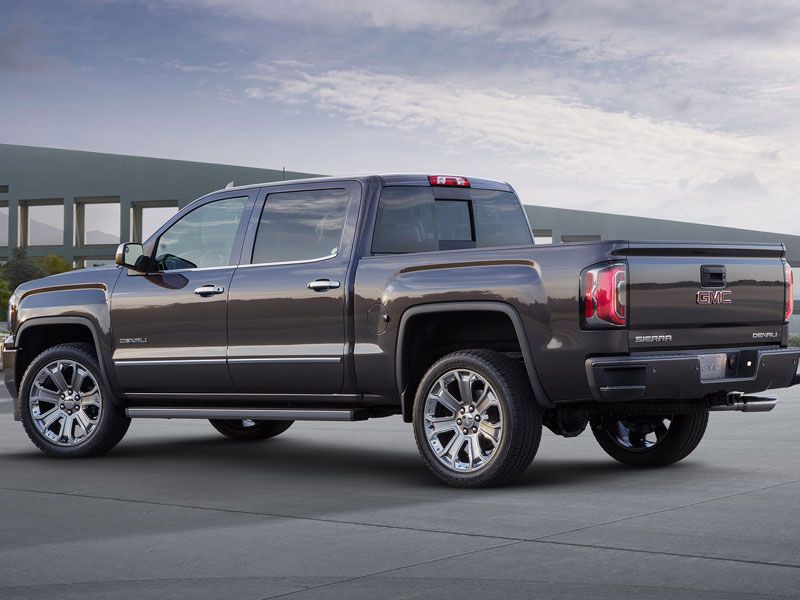 Photo by General Motors
Best Everyday Driver Truck for the Money: 2017 Honda Ridgeline
A truck requires compromise. To get the passenger comfort of a crew cab, you might wind up with a long wheelbase. To get security, you may have to add a bed box, compromising utility. You have to choose a suspension setup that can handle a healthy payload without bouncing like a pogo stick without cargo. The 2017 Honda Ridgeline manages these compromises with 4-wheel independent suspension that leaves room for a lockable underbed trunk while delivering a smooth ride with or without a load. Because the Ridgeline can be used like an SUV on the weekdays and like a truck on the weekends, it is a price performer and the best everyday driver for the money, starting at $29,475.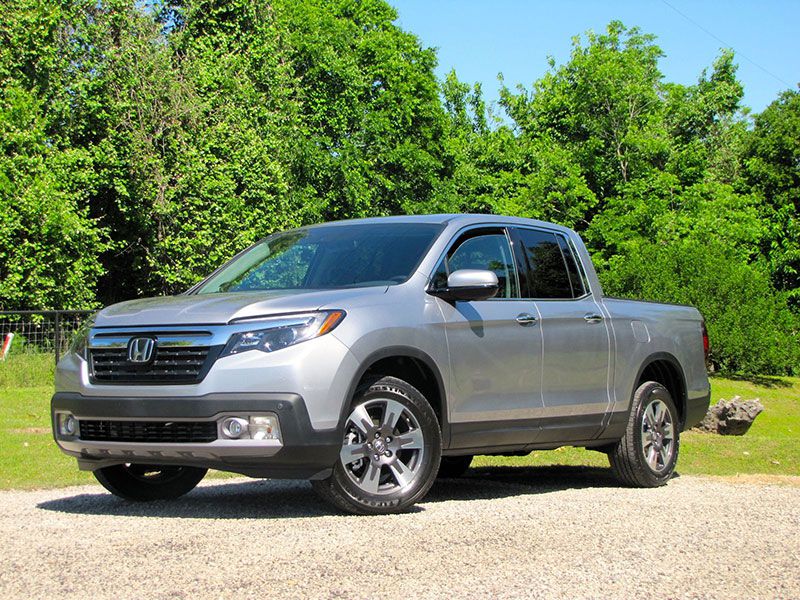 Photo by Ryan ZumMallen
Best Crew Cab Truck for the Money: 2016 Chevrolet Silverado
The second row of a crew cab truck has a dual purpose. It has to be as comfortable and roomy as a fullsize SUV, and then swallow cargo that won't fare well traveling in the truck bed. The 2016 Chevrolet Silverado Crew Cab does both of these things well, and with a starting price of $36,640, it delivers a lot of content for the money. Silverado got a complete makeover for 2014 and a mild cosmetic touch-up for 2016 turned it from a bench-warmer into a starting player. It's easy to pile on the extras when you buy a pickup truck, but there's no need with Silverado Crew Cab, which comes with a good array of features in WT trim.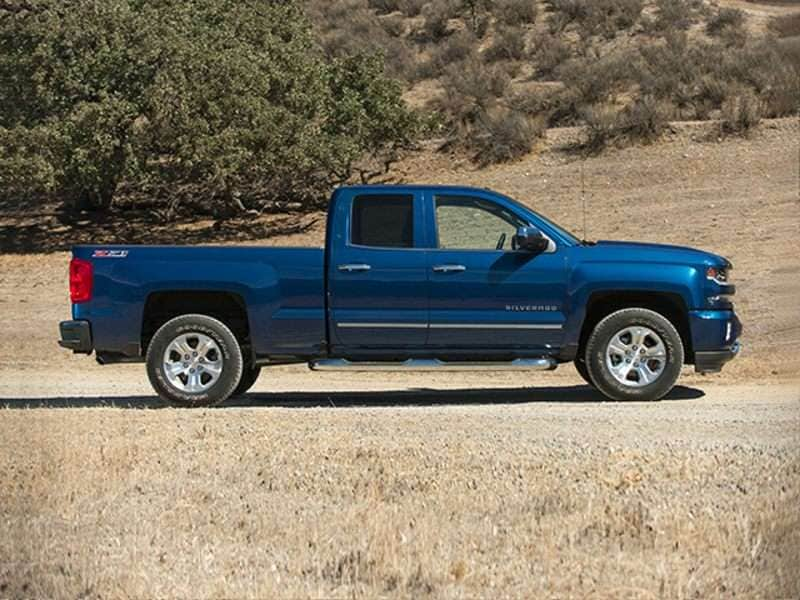 Best Towing Truck for the Money: 2016 Ford F-350 XL
A bit of a surprise here, but our best towing truck for the money doesn't have a diesel powerplant, yet still manages to sport a tow rating of 12,900 lbs and a price tag that starts at just $33,280. The 2016 Ford F-350 XL comes with a powerful 6.2-liter V8 gasoline Flex-Fuel engine and a heavy-duty 6-speed TorqShift automatic transmission with overdrive. You can set up your F-350 for a gooseneck or fifth-wheel hitch with factory accessories starting at just $250. Befitting a modern tow vehicle, F-350 comes with standard trailer sway control included in the base price. F-350 not only tows a healthy load, it can also haul up to 4,370 lbs, so this is no one-trick pony.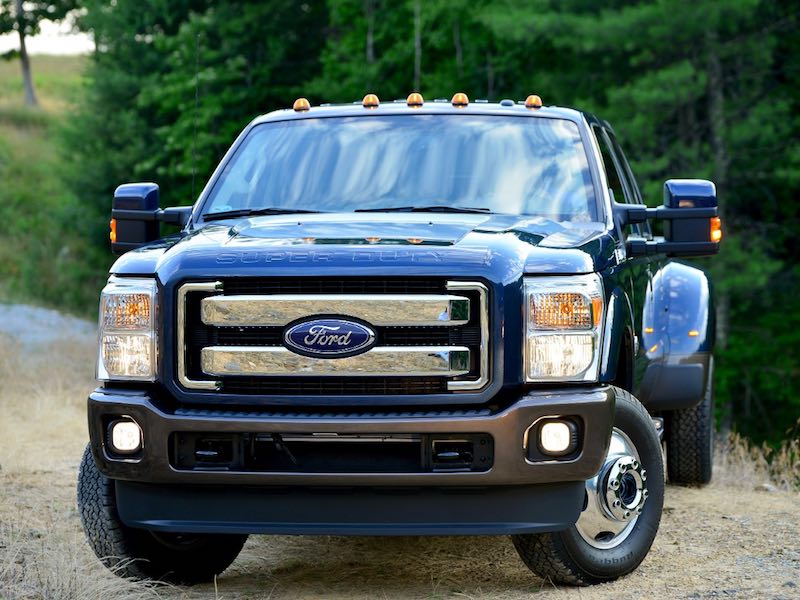 Best Outside the Box Truck for the Money: A Used Classic Truck
Sometimes the best new truck is a used or classic truck, especially when you're looking for one that delivers the most for your money. New truck makers have pretty much abandoned the compact truck, but there are still plenty of used ones out there to be found. How about a classic Chevrolet El Camino or Ford Ranchero? Perhaps a Subaru Brat, Volkswagen Rabbit Pickup or Toyota truck from the 1980s has always held a place in your heart? Nothing's cooler than a vintage 1950s Ford, Chevy or Dodge pickup, and many have been upgraded with modern powertrains for everyday driving. Look for somebody else's completed project – they tend to be the best trucks you can find for the money.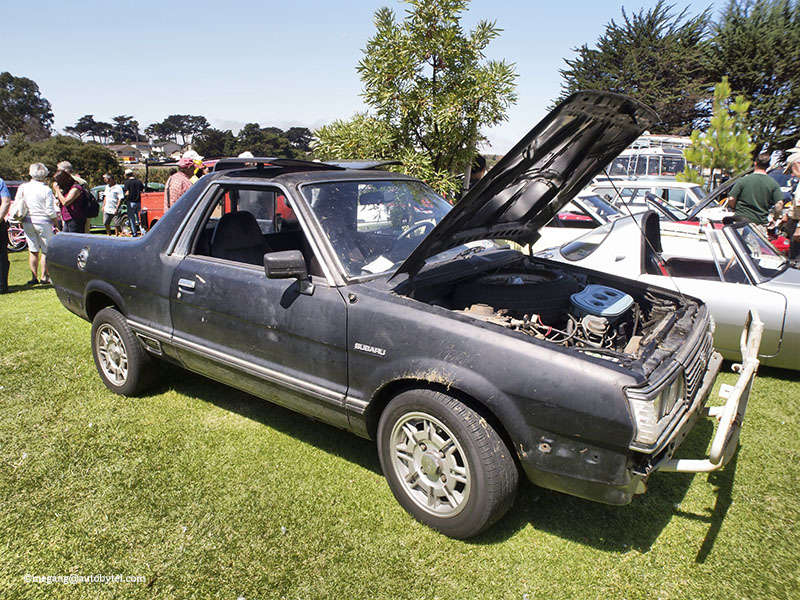 Photo by Megan Green