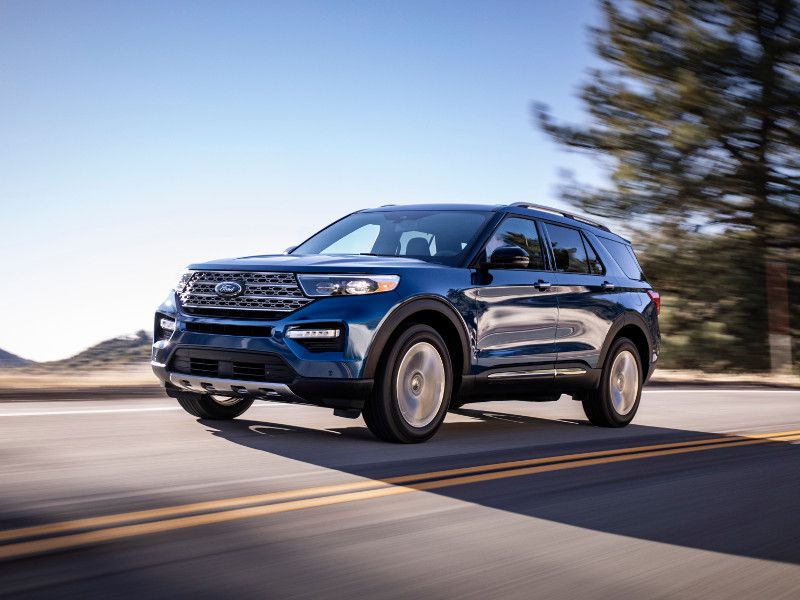 2020 Ford Explorer Limited blue driving ・ Photo by Ford
The family sedan market has melted as quickly as an ice-cream cone at the county fair in August, and one obvious reason for that is the 3-row SUV. In mid-size and full-size forms, the 3-row SUV has become the family hauler of choice, despite the fact that the minivan still has its share of adherents.
As millions of families across the country have discovered, there is something extremely useful about a 3-row SUV. They offer a significant amount of interior space for passengers and cargo, and they are as comfortable and quiet as the typical car. If you want to tow a boat, a camper, or some snowmobiles, you will find many of these 3-row SUVs more than up to the task. Some of the 3-rows are crossovers based on front-wheel drive car platforms, while others are based on rear-wheel drive trucks. Either way, they are very refined and very versatile family haulers. Here are the 10 best 3-row SUVs to look at.
2020 Ford Explorer
What's old is new again with the 2020 Ford Explorer. Originally launched on a rear-drive platform way back in the early 1990s, the Ford Explorer went through a front-drive crossover stage and, for its 2020-model redesign, returns to a rear-drive platform.
We believe the popular SUV is better for the change. It improves the vehicle's profile and makes the interior more useful. And after a long stint behind the wheels of several 2020 versions, we were impressed with the new Explorer's drivability. The Explorer offers an intriguing list of powertrain choices, including a 300-horsepower turbocharged inline four-cylinder and several V6 options, including a 400-horsepower engine in the hot-rod ST. Because of its many iterations, the Explorer offers plenty of utility and a wide variety of equipment to suit many budgets.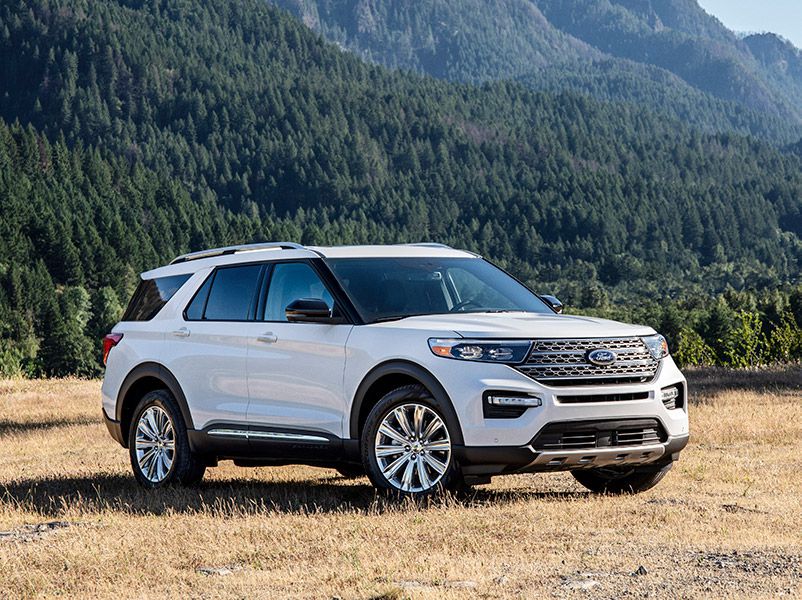 Photo by Ford
2020 Hyundai Palisade
All-new for 2020, the Hyundai Palisade immediately establishes a strong beachhead in the mid-size SUV market. Previous Hyundai attempts to compete in the segment were just too small to make a dent, so this time around Hyundai product planners pulled out the stops to hit the hot buttons of the 3-row SUV buyer. This included making power-folding rear seats available, a feature that many in the segment lack.
The Palisade is styled like a full-sized SUV, so viewing pictures might fool you into thinking that it is larger than it is. At the same time, its interior room is comparable to other mid-size SUVs like the Ford Explorer. It's powered by a 291-horsepower 3.8-liter V6 backed by an eight-speed automatic transmission.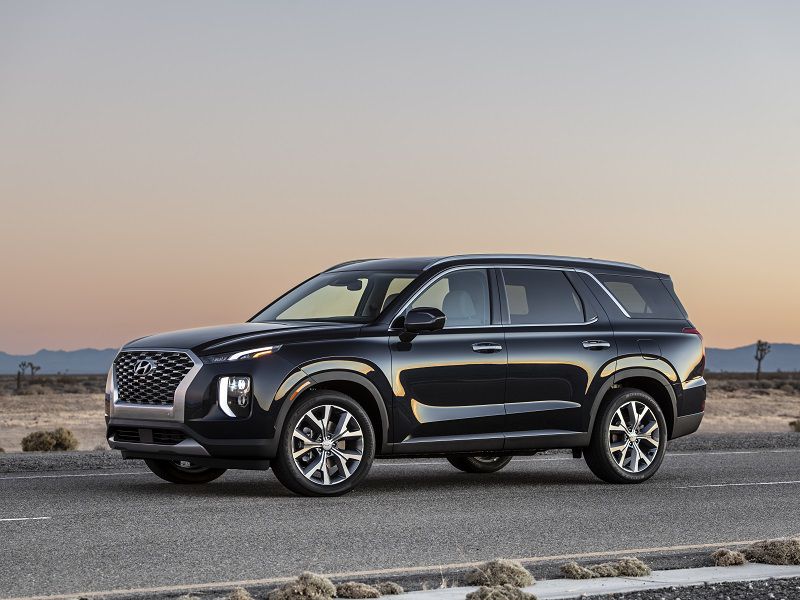 Photo by Hyundai
2020 Honda Pilot
The Honda Pilot might be termed the most minivan-like of the 3-row SUVs, and we mean that as a compliment. Mechanically, this crossover shares a lot with the well-reviewed Odyssey minivan, making it very people-friendly.
Under the hood is a very conventional 3.5-liter V6 engine, and in base form it drives the front wheels via a six-speed automatic transmission. In the fast-changing world of today's SUV market, this vehicle might sound almost archaic, but in practice the Pilot is a well-finished vehicle with an excellent interior that does a very good all-around job of delivering the things a 3-row SUV buyer is looking for. It's among the least expensive of our 10 best SUVs with 3-row seating, and it delivers fuel economy that puts some of the truck-based full-size SUVs to shame.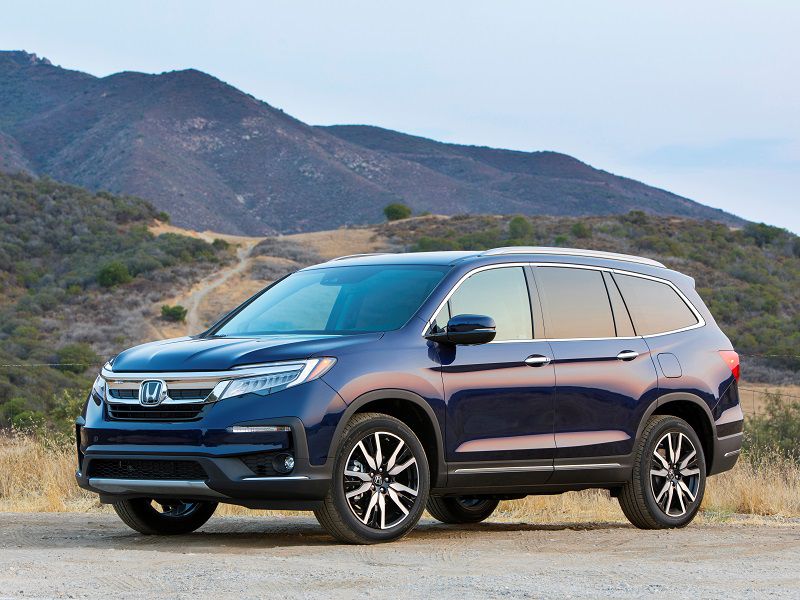 Photo by Honda
2020 Chevrolet Tahoe
The Chevrolet Tahoe has been a volume leader among full-size SUVs for decades now, and though the recently redesigned Ford Expedition is very worthy competitor, it still merits plenty of attention.
One challenge to these truck-based vehicles is fuel economy. Some manufacturers, notably Ford, have gone to turbocharging, while Chevrolet's approach has been to use traditional V8 engines equipped with active fuel management that deactivates unneeded cylinders. In base form, the Tahoe offers a 5.3-liter V8 with 355 horsepower, and an optional 6.2-liter V8 delivers 420 horsepower. Fuel economy in the base model is more than acceptable at 15 miles per gallon city and 22 mpg highway. Inside, the Tahoe can be equipped like a luxury sedan, and it features a stellar infotainment system that is easy to use.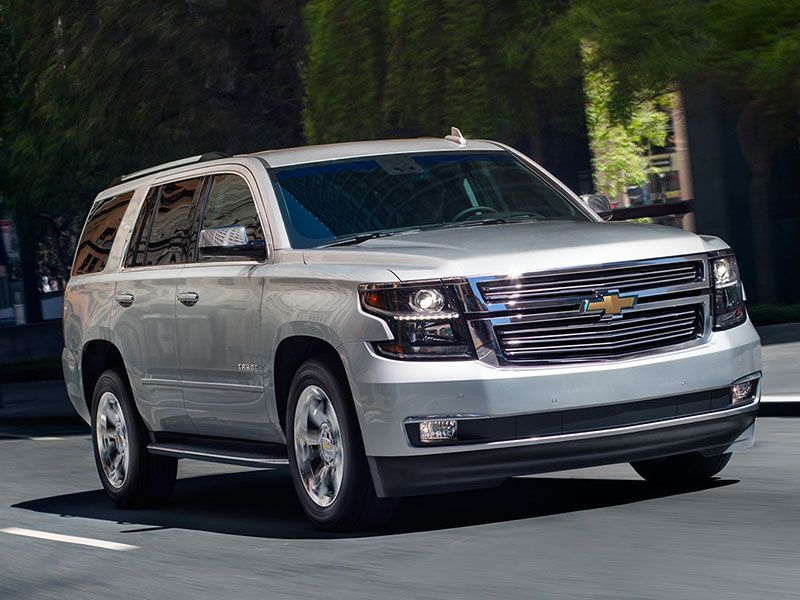 Photo by General Motors
2020 Kia Telluride
The 2020 Kia Telluride mid-size SUV recently launched to almost unanimous rave reviews. Although Kia had an entry in the 3-row crossover SUV segment with its Sorento, the Telluride is roomier, more spacious, and also more impressive in any other ways.
This platform-mate to the Hyundai Palisade is good-looking; it offers excellent ergonomics and creature comforts; and it rides and handles in a manner that SUV buyers will appreciate. Add to that a long warranty to give peace of mind, and you have yourself the makings of a sales winner. Behind the Telluride's attractive grille is a 291-horsepower naturally aspirated 3.8-liter V6 engine driving the front wheels — or optionally all four wheels — via an eight-speed automatic transmission. Fuel economy is comparable to the rest of the mid-size SUV pack.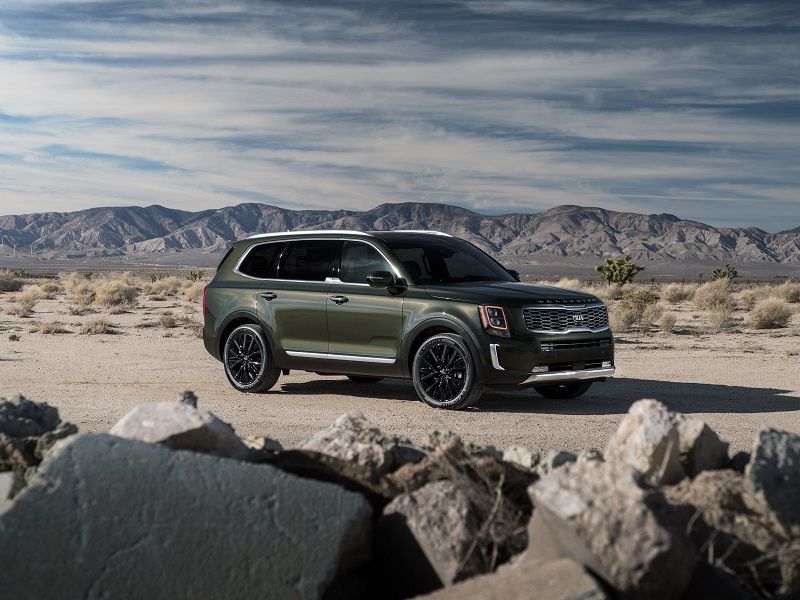 Photo by Kia
2020 Chevrolet Suburban
The Chevy Suburban is one of the longest-running nameplates in America, and part of its staying power is explained by its unmatched usefulness. About 20 inches longer than the otherwise very similar Chevrolet Tahoe, the Suburban offers superior interior space for both passengers and cargo.
One big benefit of the Subaruban's longer length is a much more accommodating third row of seating, which is comfortable for three adults. When it comes to powertrain offerings, the Tahoe and Suburban are identical. Both can be equipped with 5.3-liter or 6.2-liter V8 engines that offer seamless power and tons of torque. The Tahoe and Suburban are based on the full-size Silverado pickup truck, and what might surprise you is their superior ride quality and exceptional quiet. In many ways, the Suburban is a modern limousine.
Photo by Chevrolet
2020 Ford Expedition
After years of being moribund, the Ford Expedition has recently charged back onto the scene as a very credible competitor to the Tahoe and, in extended-length Expedition Max form, to the Suburban. In contrast to the General Motors SUVs, the Ford Expedition features turbocharged V6 engines. The base engine offers 375 horsepower, while an optional upgrade packs 400 horsepower. Both engines have 3.5 liters of displacement.
Ford also stepped up its game big-time in the interior and infotainment departments. Niceties like power-folding third-row seats and hands-free liftgate operation add to the Expedition's overall convenience quotient. One great thing about all the big SUVs these days is their towing ability. Not only will the Expedition carry seven or eight passengers comfortably, it can also tow a giant boat or heavily laden horse trailer.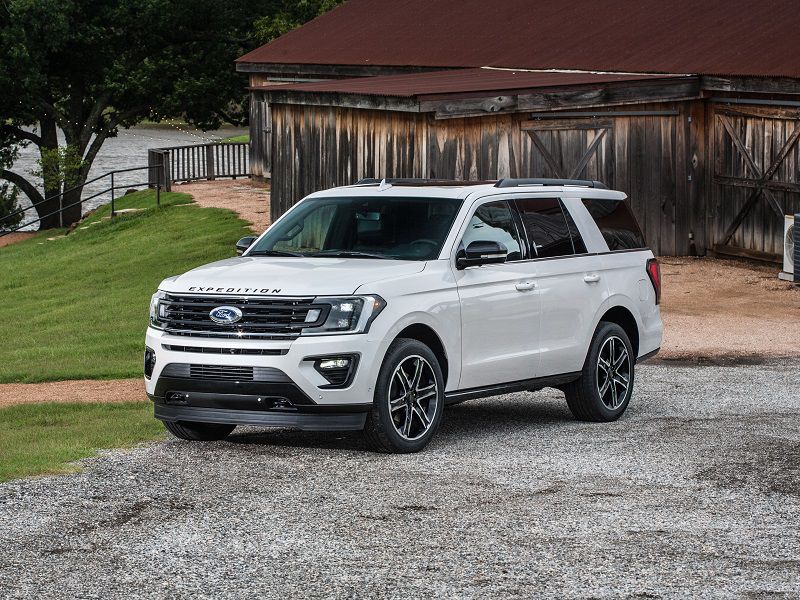 Photo by Ford
2020 Lincoln Navigator
A luxury version of the Ford Expedition, the Lincoln Navigator has virtually identical performance. The big differences are looks and prestige — not to mention price. Both vehicles are based on the Ford F-150 full-size pickup truck, and both share the extensive use of aluminum body pieces in a quest for better fuel economy.
Despite the mechanical similarities, though, Lincoln has made serious efforts to differentiate the Navigator from the Expedition in equipment, exterior and interior design, and even under the hood. For instance, the Navigator comes standard with the Expedition's optional 400-horsepower 3.5-liter turbocharged V6 engine, packing an extra 25 horsepower compared to most Expedition models. The Navigator also offers a number of "theme" models including the "Black Label" edition. Like the Expedition, the Navigator is available in short- and long-wheelbase models, and as you'd guess, the longer models have a roomier rear seat and more cargo space behind it.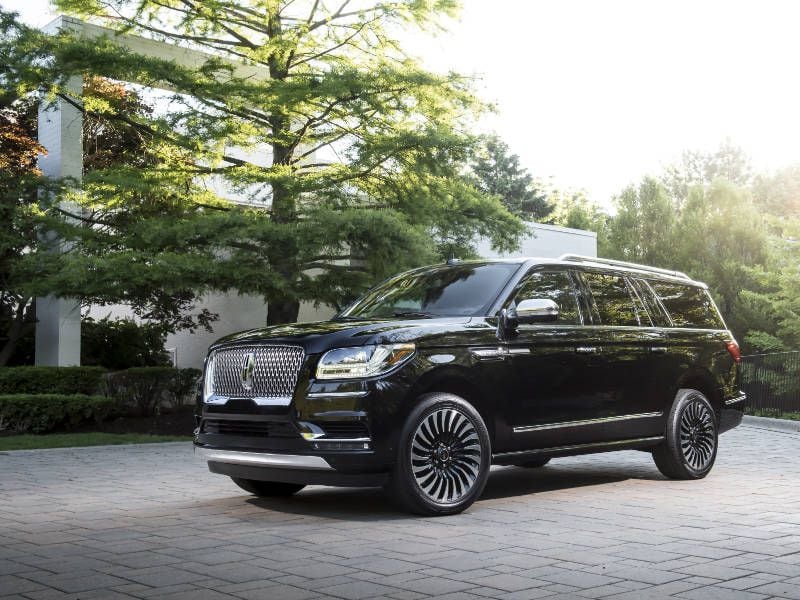 Photo by Lincoln
2020 Toyota Sequoia
The Toyota Sequoia has remained largely unchanged for years now, and there are other vehicles in the segment that are more modern. At the same time, the Sequoia offers a lot of advantages to those who need three rows of seating.
First, it is a full-size, truck-based SUV but not as bulky as the Suburban or Expedition Max. It remains a high-quality vehicle with that famous Toyota reputation for reliability, and in an attempt to mitigate its age, Toyota has added things like adaptive cruise control as standard equipment. The Sequoia offers three-row seating capacity and significant utility, but its interior style and infotainment system are more rudimentary than its newer competitors. The Sequoia is powered by a naturally aspirated 381-horsepower 5.7-liter V8 backed by a six-speed automatic transmission.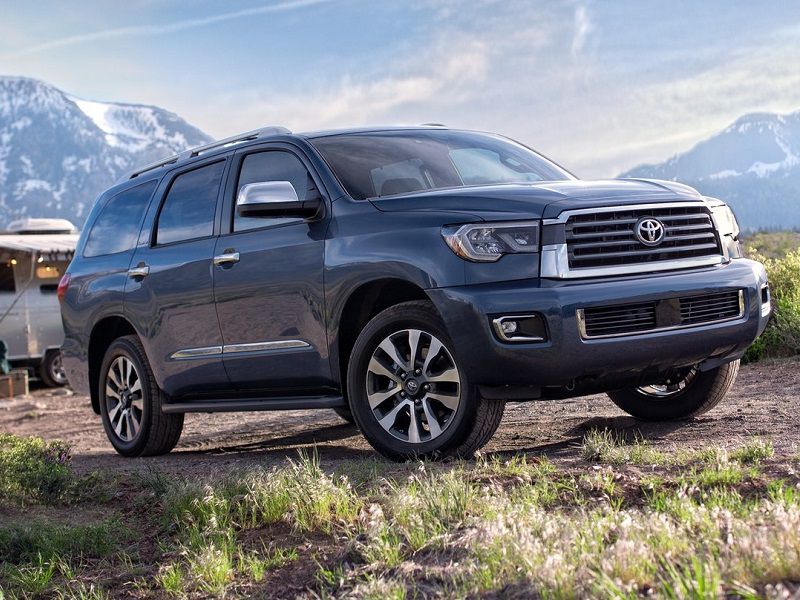 Photo by Toyota
2020 Nissan Armada
The Nissan Armada is based on the Nissan Titan truck chassis, and it is powered by a 5.6-liter V8 engine delivering its 390 horsepower through a seven-speed automatic transmission. That is old-school full-size SUV. On the other side of the coin, the Armada offers adaptive cruise control as standard equipment, while it is only optional on many of the others in the segment.
One of the Armada's strong suits is its upscale interior. The dashboard is well-designed, and the seating comfort is a cut above many others in the segment. The Armada is available in only one length, equivalent to the Ford Expedition or Chevrolet Tahoe, so third-row seating, while more than adequate, is not as sumptuous as the Suburban or Expedition Max.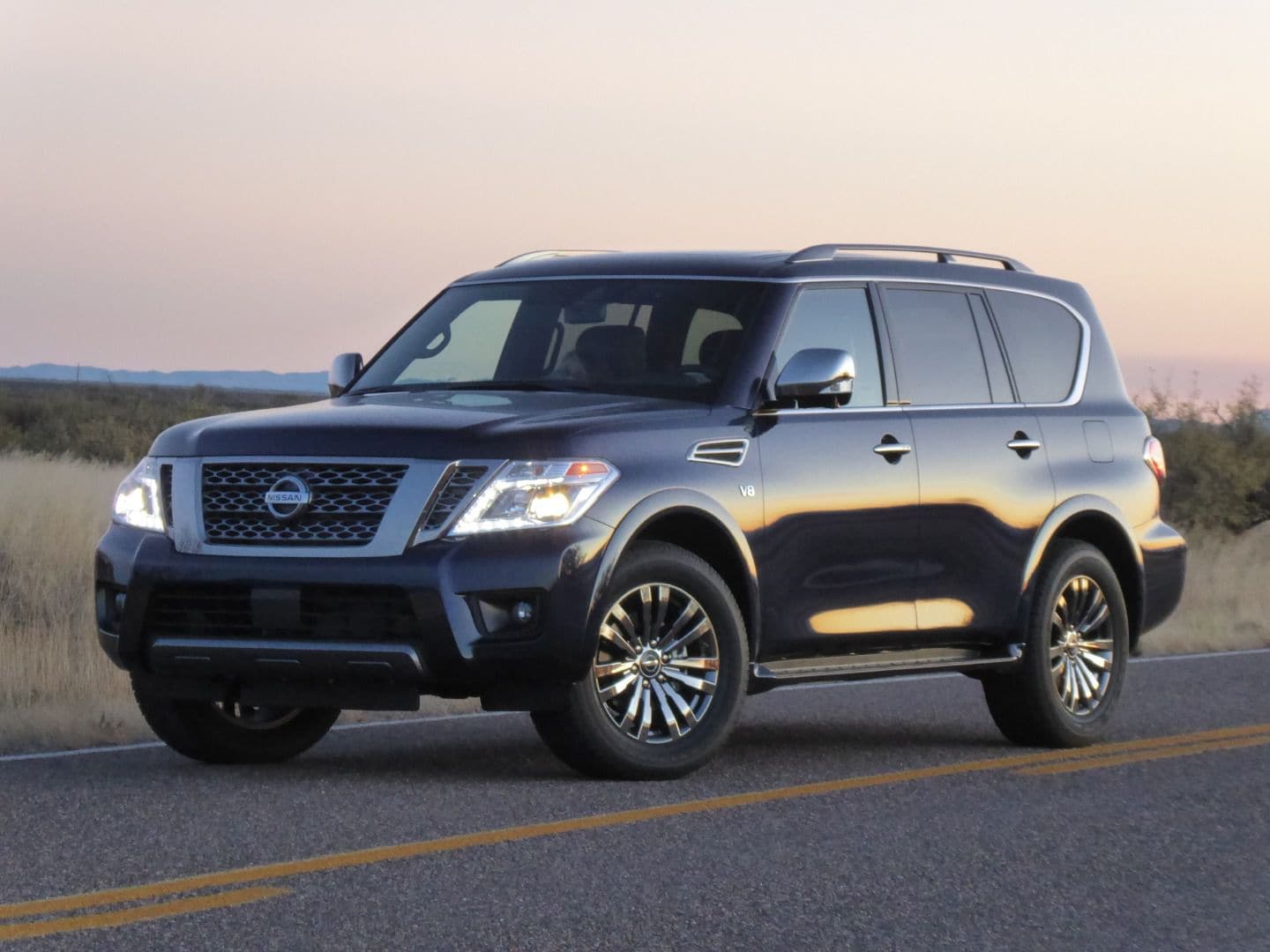 Photo by Ron Sessions