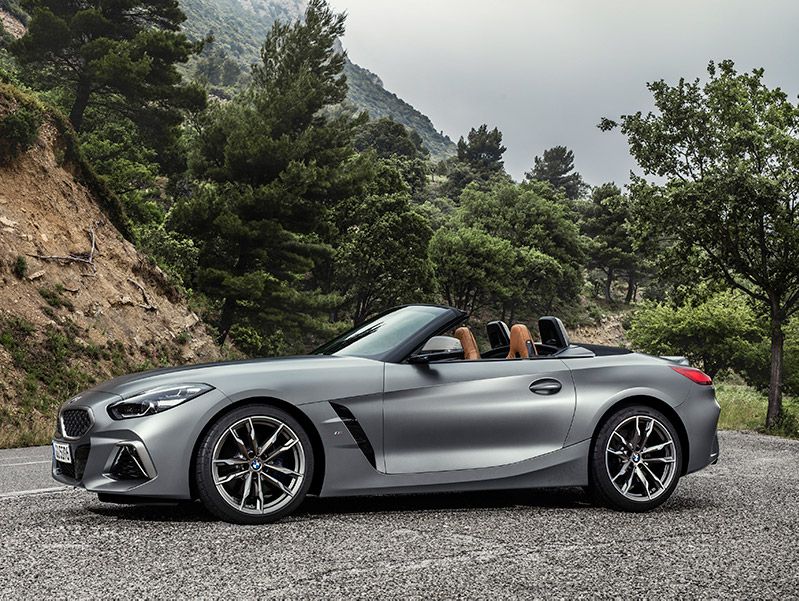 2019 BMW Z4 ・ Photo by BMW
A few years ago, Road and Track magazine published an article a few years ago proclaiming, "No One Knows What 'Sports Car' Actually Means Anymore." This article narrowly defined them based on what 1950s-era Sports Car Club of America (SCCA) founders had decided: cars with two seats and a soft top that can be used for competition.
However, this is a list of the 10 best sports cars for the money, and there aren't enough sports cars still on sale in America to fill every slot based on the SCCA definition (let alone to define them by value). And of those that remain, several are likely to be gone in the near future. So we're going to need to expand our horizons and our definition of sports car. But don't worry. You can take any of our picks to the track without suffering embarrassment, even if some of them have a back seat and a fixed roof. You'll find our choices for the 10 best sports cars for the money on the pages that follow, in alphabetical order. Prices do not include destination charges.
1. 2020 BMW Z4 ($49,700)
With the Audi TT on life support and the Mercedes-Benz SLC canceled, the BMW Z4 is one of the last of the quartet of German sports cars that first went on sale 20 years ago or more.
Better yet, the Z4 isn't a stale leftover like the TT and SLC. Redesigned for 2019, it is thoroughly modern in every way, offering turbocharged four-cylinder and six-cylinder engines that power the rear wheels through an eight-speed automatic transmission. True, there isn't a manual gearbox available, but with two seats, a soft top, and M Sport spec for track duty, the Z4 meets the official definition of a sports car while zooming to 60 mph in as little as 3.9 seconds.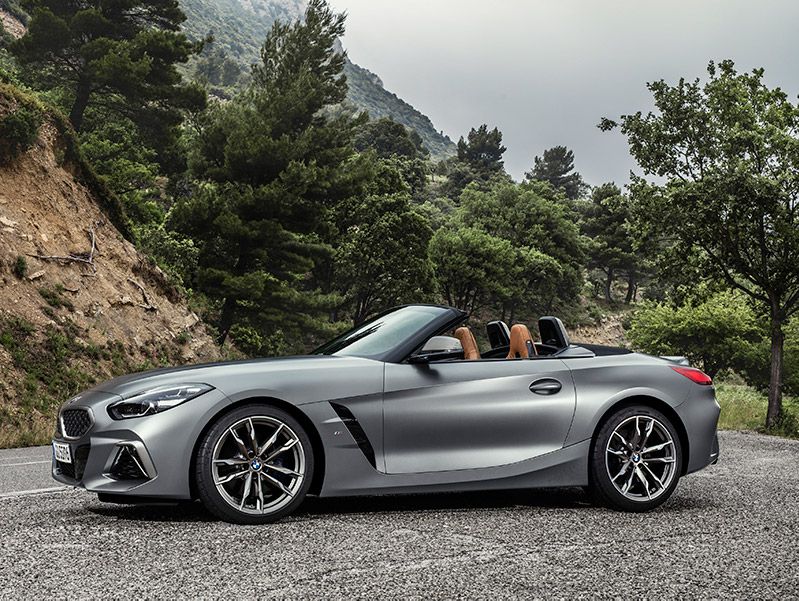 Photo by BMW
2. 2020 Chevrolet Camaro LT1 ($34,000)
Introduced for 2020, the Chevy Camaro LT1 is a basic LT model fitted with go-fast goodies borrowed from the pricer SS. Offered as a coupe or a convertible, it includes a 6.2-liter V8 engine good for 455 horsepower and 455 lb-ft of torque, a choice between a manual or an automatic transmission, and acceleration to 60 mph in just four seconds flat.
Suspension and brake upgrades are a part of the LT1 package, and options include Recaro performance seats and an active exhaust system. And if you're adamant about meeting the SCCA definition of a sports car, get the Camaro LT1 convertible and remove the back seat. Done.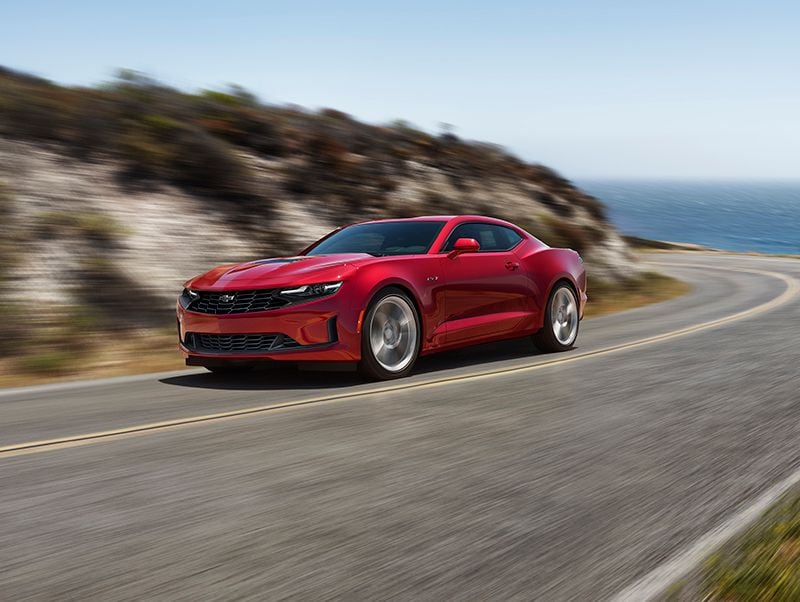 Photo by General Motors
3. 2020 Chevrolet Corvette ($58,900)
Unless you've been on a year-long retreat without internet access, you know about the all-new, mid-engined 2020 Chevrolet Corvette. An all-new 490-horsepower 6.2-liter V8 engine is mounted behind the car's front seats, and an eight-speed dual-clutch transmission is standard.
Right out of the box, equipped with nothing more than the optional Z51 Performance Package, the new 'Vette screams to 60 mph in 2.9 seconds and hits a top speed of 194 mph. Technically, because it has a power-retractable hardtop, the 2020 Corvette Convertible isn't a sports car by SCCA standard. Puh-leeze.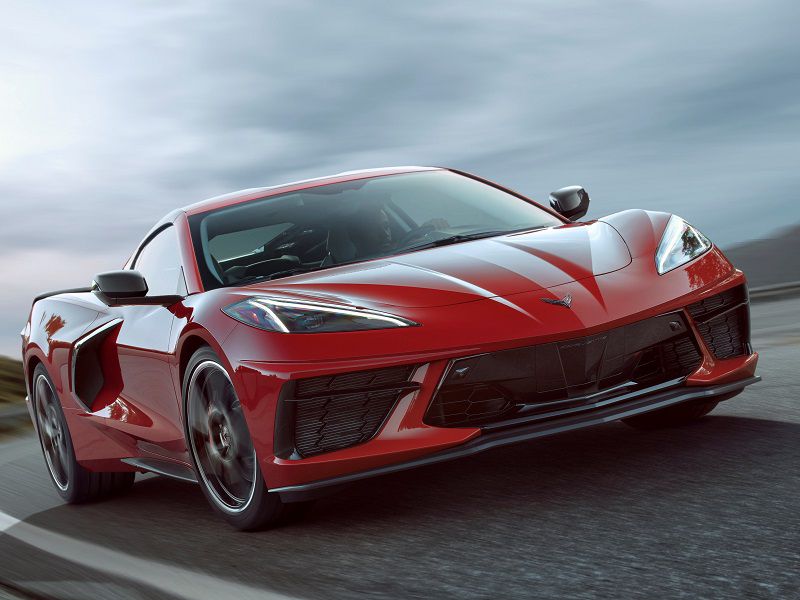 Photo by General Motors
4. 2020 Fiat 124 Spider ($25,390)
Built in Hiroshima, Japan, through a partnership with Mazda, the 2020 FIAT 124 Spider is Italian in name, styling, and powertrain only. It shares much with the brilliant MX-5 Miata but wears a retro-themed look that hearkens back to the beautiful Pininfarina-penned 124 Spider of the late 1960s.
Under the car's scalloped hood, a Fiat-sourced turbocharged 1.4-liter four-cylinder engine supplies 160 horsepower and 184 lb-ft of torque, and both manual and automatic transmission are available to power the car's rear wheels. The optional Abarth specification prepares the car for track duty, right down to a Record Monza exhaust system.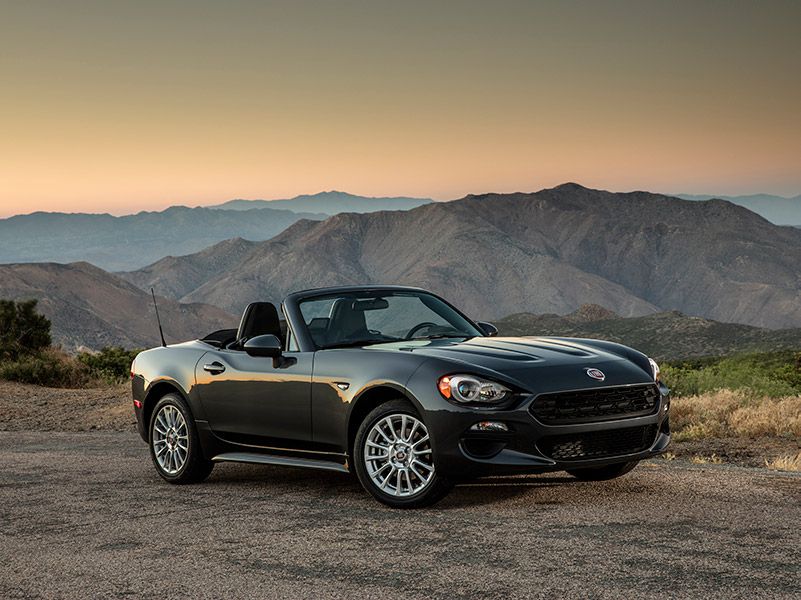 Photo by Fiat Chrysler Automobiles
5. 2020 Ford Mustang EcoBoost High Performance Package ($31,665)
Available for both the Ford Mustang coupe and convertible variants, the new-for-2020 High Performance Package equips the car with a long list of hardware upgrades designed to make the best use of the turbocharged 2.3-liter four-cylinder engine. This is the same powerplant Ford used in the Focus RS, putting a robust 330 horsepower and 350 lb-ft of torque to the rear wheels through a six-speed manual or 10-speed automatic transmission.
Better yet, you can order the car only with the High Performance Package and nothing else, providing sports car buyers with incredible value. And to comply with that SCCA sports car definition, get the convertible and rip out the back seat.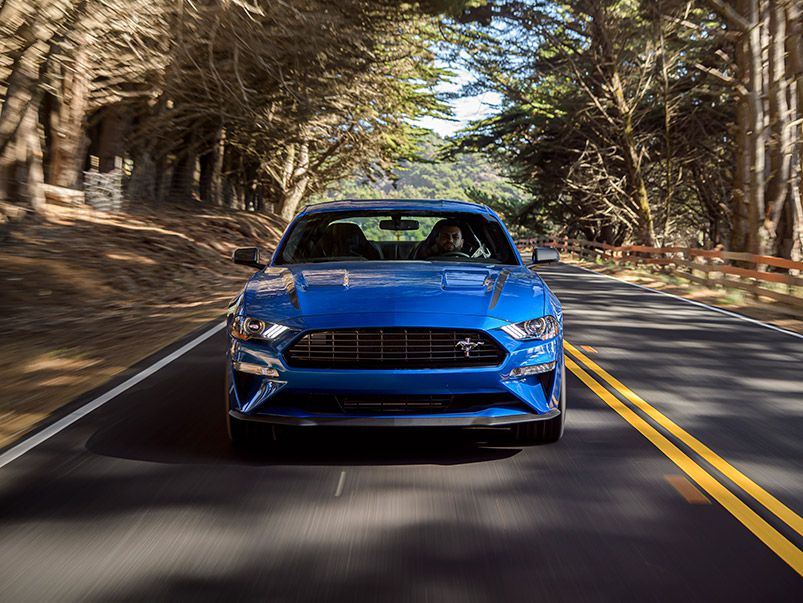 Photo by Ford
6. 2020 Hyundai Veloster N ($27,600)
OK, maybe we're stretching the boundaries of what constitutes a sports car here, but hear us out. The Hyundai Veloster N might have its roots in a stylish but innocuous little shooting brake of a car, but this 275-horsepower, Nurburgring-tuned, and affordable little screamer meets two of the three definitions in this article's introduction.
Fun doesn't even begin to describe the Veloster N, and the optional Performance Package ($2,100) translates into uncontrollable laughter. Plus, you can bring friends along for the ride, stuff it with up to 44.5 cubic feet of cargo, and enjoy all of the considerable ownership perks that come with owning a Hyundai — including a long warranty and three years of free scheduled maintenance.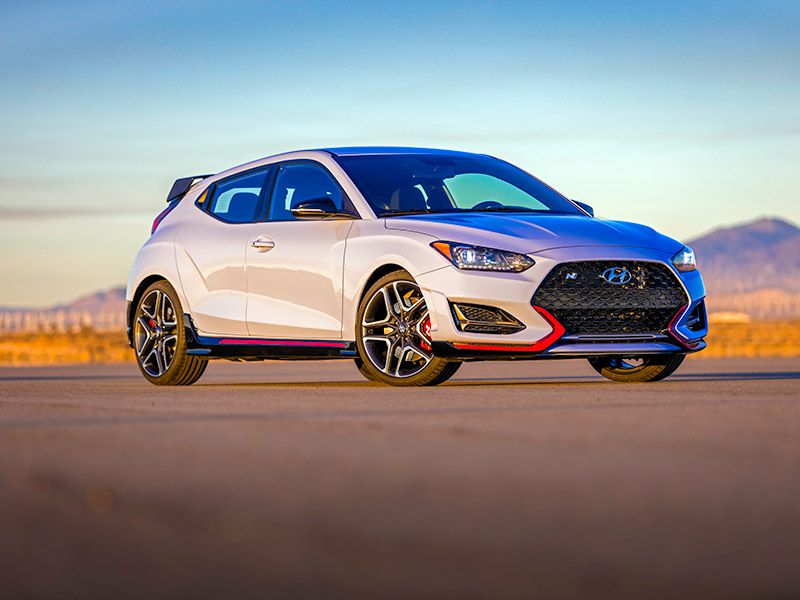 Photo by Hyundai
7. 2020 Mazda MX-5 Miata ($26,580)
If a truly modern sports car ever existed, the Mazda MX-5 Miata is it. When it debuted in 1989 as a 1990 model, the Miata singlehandedly revived interest in traditional sports cars, leading to a renaissance that is now starting to fade.
What's more, over the course of four generations, the Miata has steadfastly adhered to what makes driving enjoyable: a light weight, sharp handling, a convertible top, and just one extra seat for your favorite passenger to come along for the fun. Today's MX-5 Miata is the best one ever, offering plenty of power and refinement at what still constitutes a bargain price. It has been said before and we'll say it again: Miata is always the answer.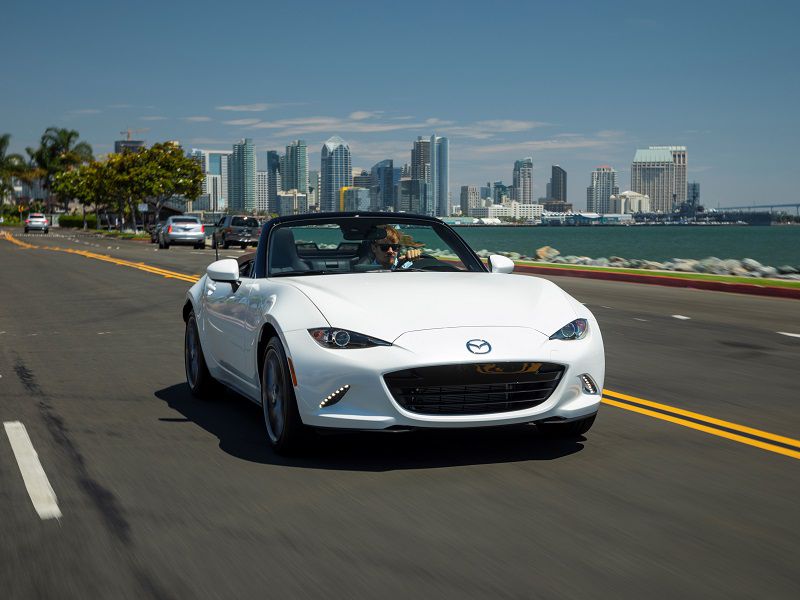 Photo by Mazda
8. 2020 Porsche 718 Boxster ($59,600)
Value is a malleable concept. Among two-seat, rear-drive, convertible sports cars, the Mazda MX-5 Miata essentially defines it. But at the same time, so does the 2020 Porsche 718 Boxster at more than twice the price. How so?
For starters, the Porsche is considerably more powerful, with its midship-mounted, turbocharged four-cylinder delivering 300 horses and 280 lb-ft of torque. Larger and heavier than the Mazda, the mid-engined 718 Boxster also has a different driving character. The Porsche is no less visceral and intimate but is more immediate and demanding of its driver due to the sheer velocities that can be reached in a shorter span of time. It's not the cheapest sports car you can buy, but there's nothing quite like the sensations you enjoy while behind its steering wheel.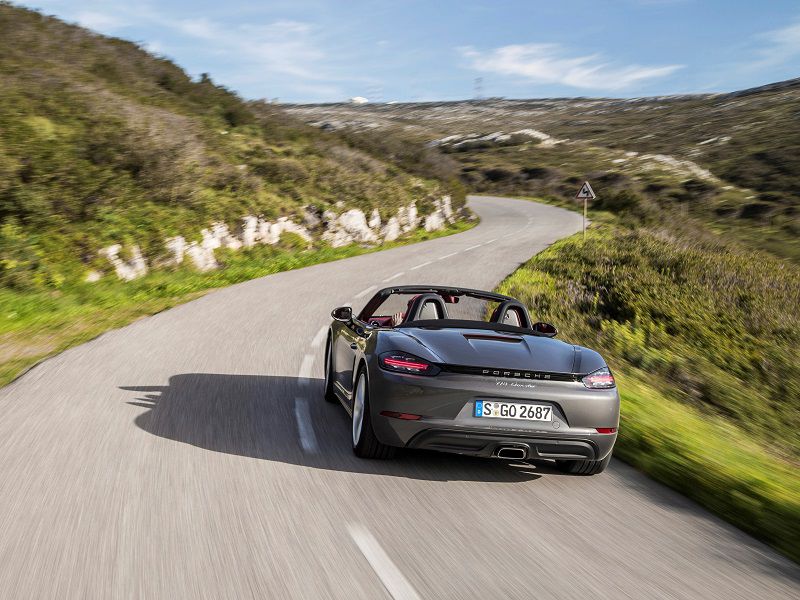 Photo by Porsche
9. 2020 Subaru WRX STI ($36,995)
How can a four-door sedan with a cartoonishly sized hood scoop and boy-racer rear wing be a sports car? Drive one, and you'll find out.
With a legacy rooted in World Rally Cross, this turbocharged all-wheel-drive sedan might have seating for five and a fixed roof, but it's clearly designed for competition on the street, at the track, and in any kind of weather. The fun starts with a turbocharged 2.5-liter four-cylinder engine making 310 horsepower and 290 lb-ft of torque, put to all four wheels through a manual transmission and a driver-controlled center differential. Steering, suspension, and braking upgrades over a standard WRX help you to keep the shiny side up.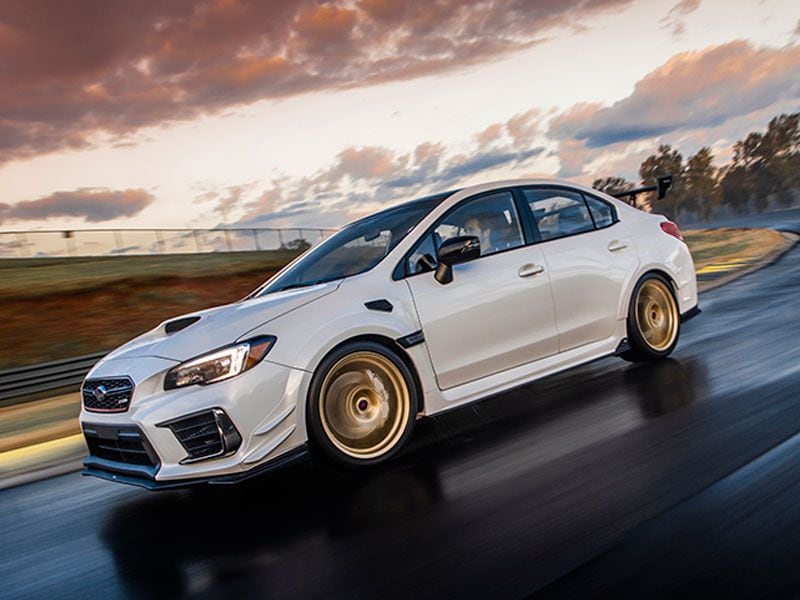 Photo by Subaru
10. 2020 Volkswagen GTI ($28,595)
Based on a ubiquitous and innocuous European five-door hatchback, and equipped with a turbocharged four-cylinder engine mustering no more than 228 horsepower and 258 lb-ft of torque, and offered only with front-wheel drive and either a manual or dual-clutch transmission, how can the Volkswagen GTI possibly be a sports car?
Technically, by SCCA standards, it isn't. But given its small size, as well as its emphasis on handling, performance, and the thrill of driving, it certainly is a sports car when using a broader definition. And we're OK with applying that label to the GTI, because once you've driven one and lived with one on a daily basis, you might wonder why you've ever owned anything else.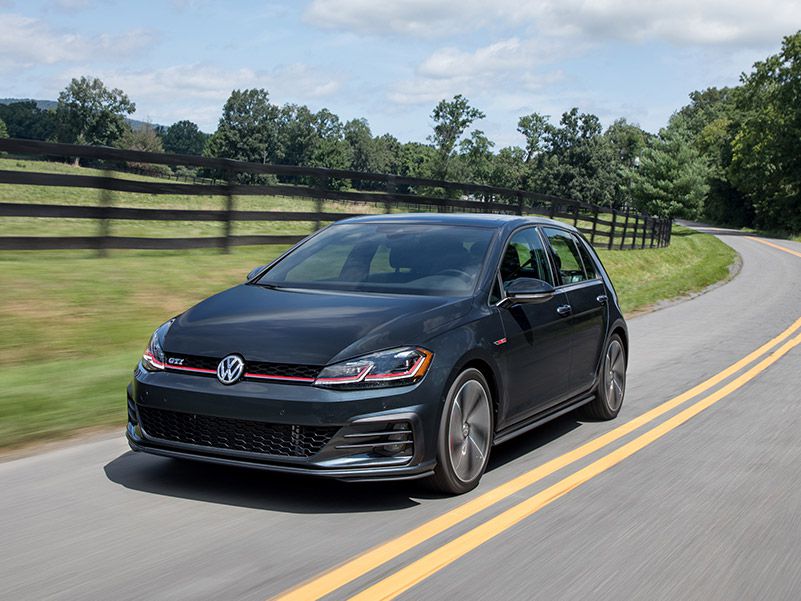 Photo by Volkswagen