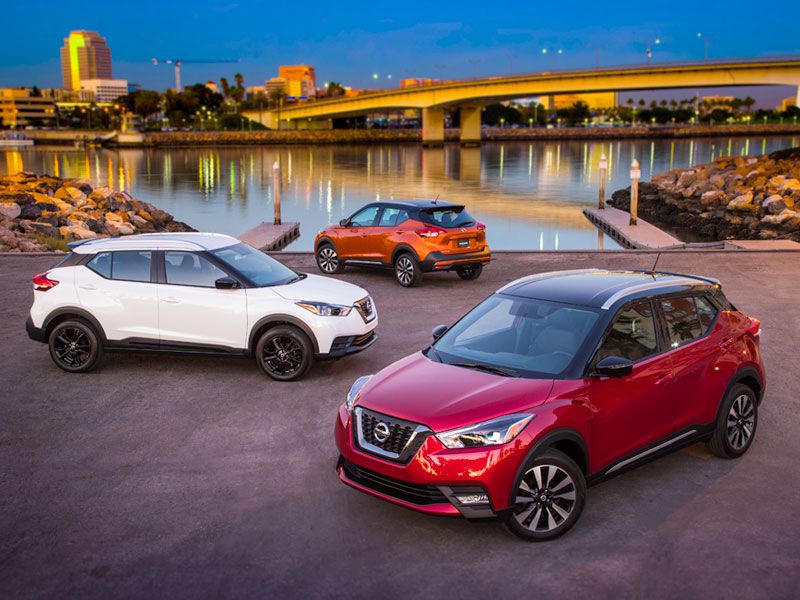 2018 Nissan KICKS exterior lineup ・ Photo by Nissan
These 10 best small SUVs represent a lot of what's happening out there in automotive land. Subcompact crossover SUVs are becoming some of the most popular new vehicles. This has the effect of increasing the competition, with manufacturers trying to make their products as attractive as possible, from the amount of standard equipment to the degrees of driving fun.
This has the happy outcome of making buyers the ultimate winners in this closely contested race. We have a multitude of great choices at relatively affordable prices, which we're listing alphabetically. When forming a decision, some things to keep in mind are safety features, space, resale values, and whether all-wheel drive is available. Let's get started.
2020 Ford EcoSport
It's a bit of a stretch to include the 2020 Ford EcoSport among our 10 best small suvs. That's not because it isn't good; it most certainly is. But a replacement is only a year or two away. Between then and now, however, the EcoSport makes an engaging small SUV/crossover.
Much of that is down to its base, which is the Ford Fiesta. Although the Fiesta is now history regarding Ford's efforts in the United States, it offered a rare amount of fun for the class. The EcoSport also provides the option of all-wheel drive. This comes in the SES trim, which also has a punchy 166-horsepower 2.0-liter engine, sport-tuned suspension, and blind-spot monitoring.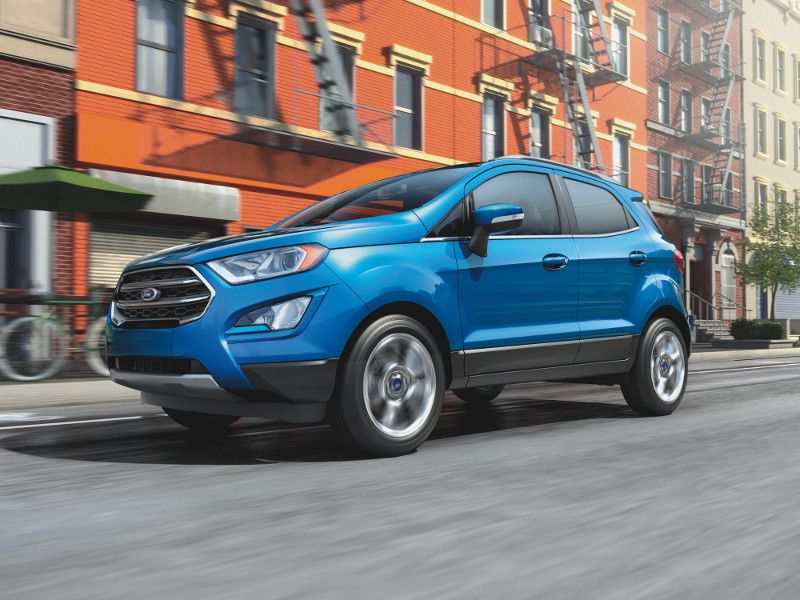 Photo by Ford
2020 Honda HR-V
Strong resale values aren't necessarily the most pulse-racing aspect when buying a new small SUV/crossover, but this is just one of the HR-V's many attributes. Another is generous interior space. Rear legroom is an expansive 39.3 inches and maximum cargo capacity is 58.8 cubic feet — almost as good as the next-size-up Kia Sportage.
The 2020 HR-V starts at $21,915, but consider the Sport trim from $23,615 since it has a 7-inch infotainment touchscreen and more advanced smartphone integration. However, the mid-level EX (from $25,065) is where the HR-V's most high-tech safety features come in. All versions have a 1.8-liter engine that makes an unremarkable 141 hp but can average 30 mpg. Honda's build quality and reliability, meanwhile, are beyond dispute.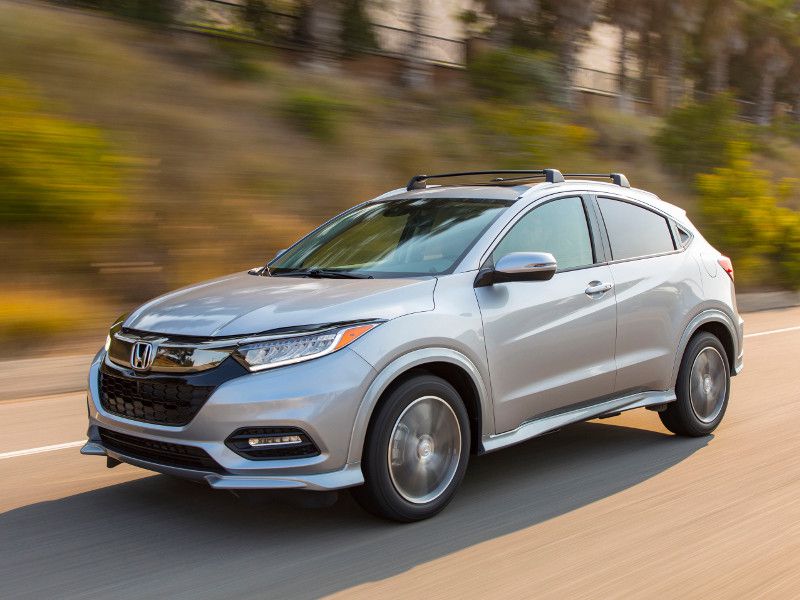 Photo by Honda
2020 Hyundai Kona
The 2020 Hyundai Kona is of the best of our 10 best small suvs. The Kona is still fresh, having debuted in 2018. This is yet another example of how Hyundai keeps going from good to better with virtually every new vehicle.
Previous Hyundai cars have often been low on the fun factor, but the Kona has its charms, especially when the optional 175-hp turbocharged engine is part of the package. That means choosing at least the Limited trim, but that model's starting price of $27,000 is not crazy money. The 2020 Kona Electric is also available in some states, starting at around $38,000 before any federal and local incentives. All-electric subcompact SUV/crossovers are still rare, and this model has an impressive maximum range of 258 miles.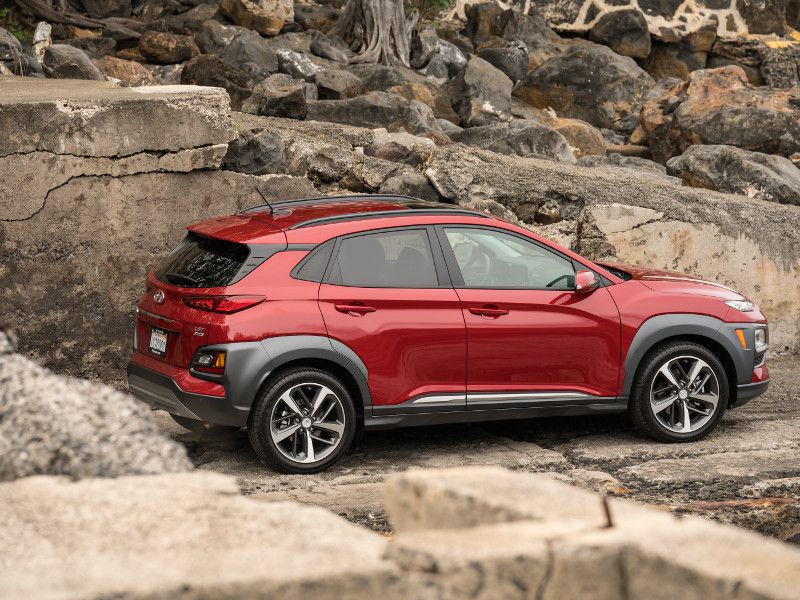 Photo by Hyundai
2020 Jeep Renegade
The 2020 Jeep Renegade is the most SUV-like of our 10 best small SUVs. The specialized Trailhawk version certainly has the potential to go further off-road than the other vehicles on this list. The 2020 Renegade range starts with the Sport trim at $23,770. Despite Jeep's mud-squelching, rock-climbing reputation, the default setup here is front-wheel drive. Even so, the Renegade's basic design includes short overhangs (useful over tough terrain) and a headroom-friendly chunkiness.
Standard equipment isn't as good as some rivals, but the Renegade offers parking assistance for parallel and perpendicular spaces. That shows Jeep's understanding of buyers' requirements and how the call of the wild isn't quite as compelling as the need not to dent bumpers.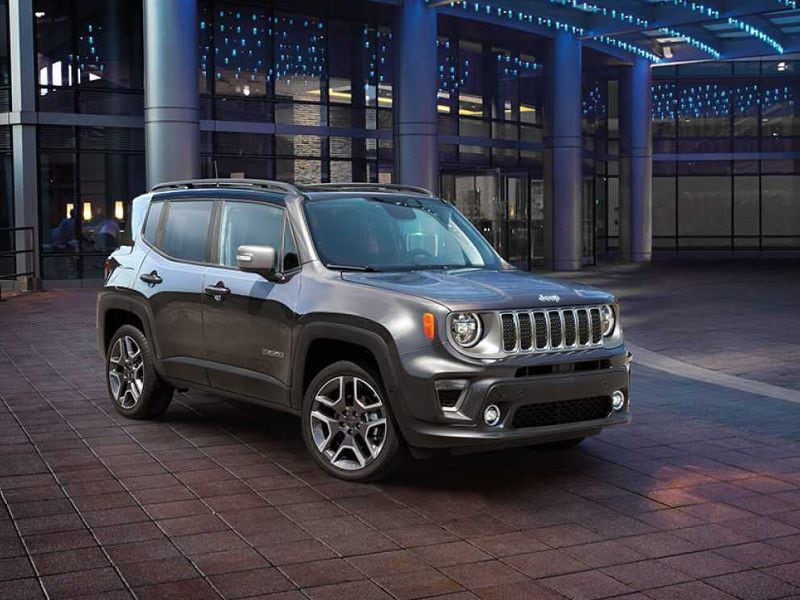 2020 Kia Sportage
It's odd that Kia doesn't yet have a true subcompact SUV/crossover in its range — a sister to the Hyundai Kona, for example. (We'd argue that the Kia Soul and Niro, sold only with front-wheel drive, are more hatchbacks than anything.) The good news is that although the Sportage is a compact crossover and therefore one increment bigger than the rest of our 10 best small SUVs, it's still a superb vehicle. And whereas the 2020 Honda HR-V starts at almost $22,000, the 2020 Sportage is priced from just a little over $25,000. So it's not much of a financial stretch to get something bigger.
The Sportage has also been refreshed for 2020, gaining an 8-inch infotainment touchscreen with Apple CarPlay and Android Auto smartphone integration. This is a great "little" crossover.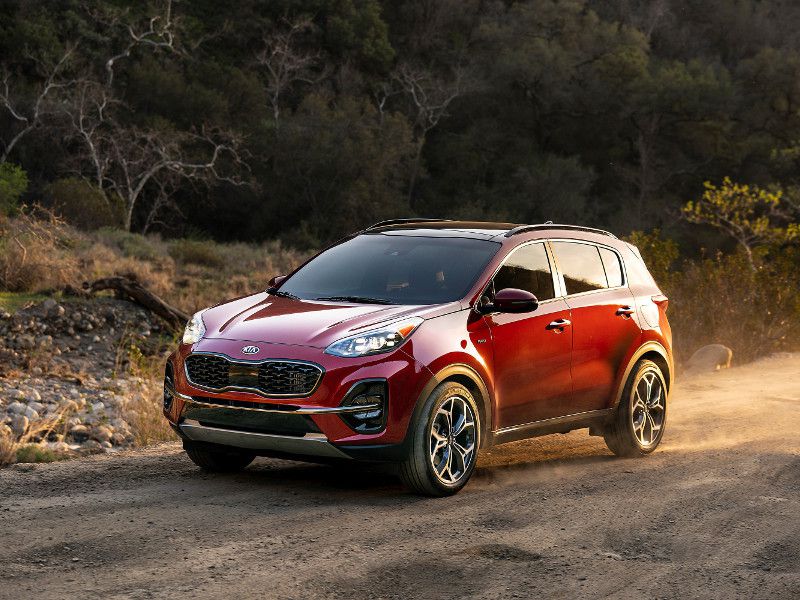 Photo by Kia
2020 Mazda CX-3
Buying a brand-new small crossover SUV doesn't have to mean saying goodbye to driving fun. Of all the mainstream manufacturers (and even some premium ones), Mazda has some kind of special sauce when setting up the chassis.
The CX-3 is a fine example. There's a poise that appeals to anyone who loves to attack a corner, blended with a suppleness that keeps the passengers happy. Yet this is also a practical and affordable subcompact crossover, starting in the low $20,000s. The 2.0-liter engine makes a so-so 148 hp, but it is at least linked to a conventional six-speed automatic transmission rather than an economy-focused continuously variable automatic transmission (CVT). And excuse us for being subjective, but we think the CX-3 also looks fabulous.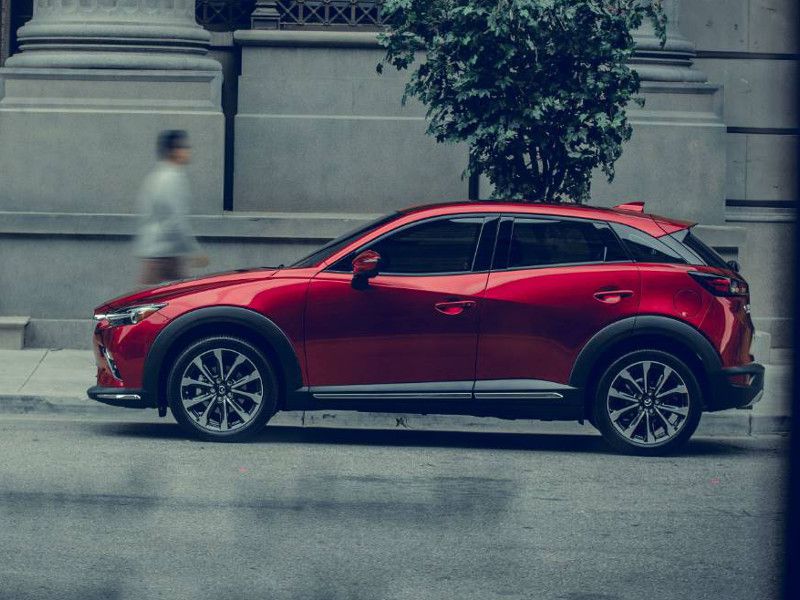 2020 Mitsubishi Eclipse Cross
Although most of Mitsubishi's portfolio is rather old, the Eclipse Cross subcompact crossover is the newest, having debuted in 2018. It follows the usual company formula, though, where quite a bit of standard equipment is offered for a relatively low price. It also has a 10-year/10,000-mile warranty for the powertrain, which is great for the class.
We'd be inclined to skip the entry level and look at the next LE trim, bringing heated front seats along with Apple CarPlay and Android Auto smartphone integration. However, for $26,590, the mid-range SE version has blind-spot monitoring and a leather-wrapped steering wheel (this is a great feature, as holding a plastic steering wheel can be pretty horrible).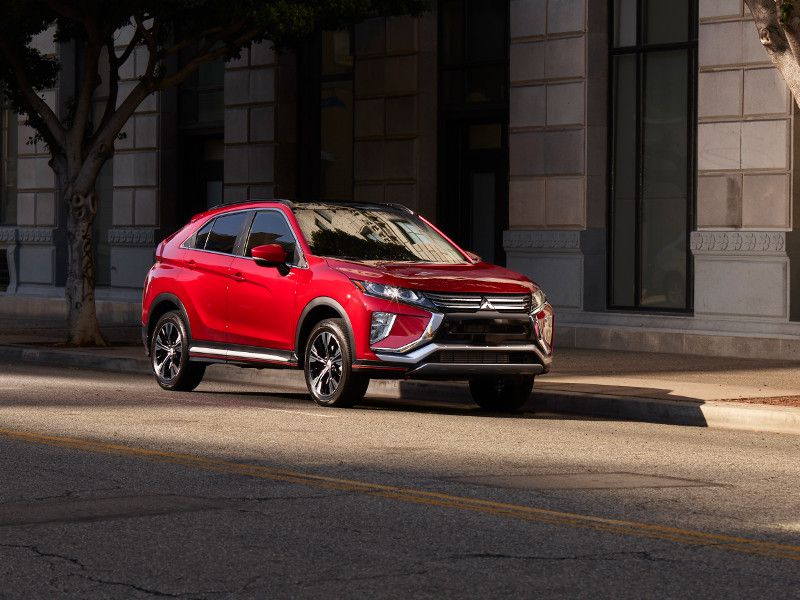 2020 Nissan Kicks
Stupid name, nice small SUV/crossover — the Nissan Kicks is best for kicking about the city and the suburbs, scaling such difficult obstacles as a speed bump.
It's comfortable and spacious for its class, the rear seat will accommodate adults, while a 125-hp engine does its best to propel the Kicks and achieve an impressive 33 mpg. The Kicks also has the rare distinction of offering two-tone paint schemes. Standard equipment includes forward collision mitigation with automatic emergency braking and seven airbags. All this adds up to a sweet deal that starts off at $19,685. The SV trim is only about $1,500 more and has 17-inch alloy wheels, blind-spot monitoring, satellite radio, and Apple CarPlay and Android Auto.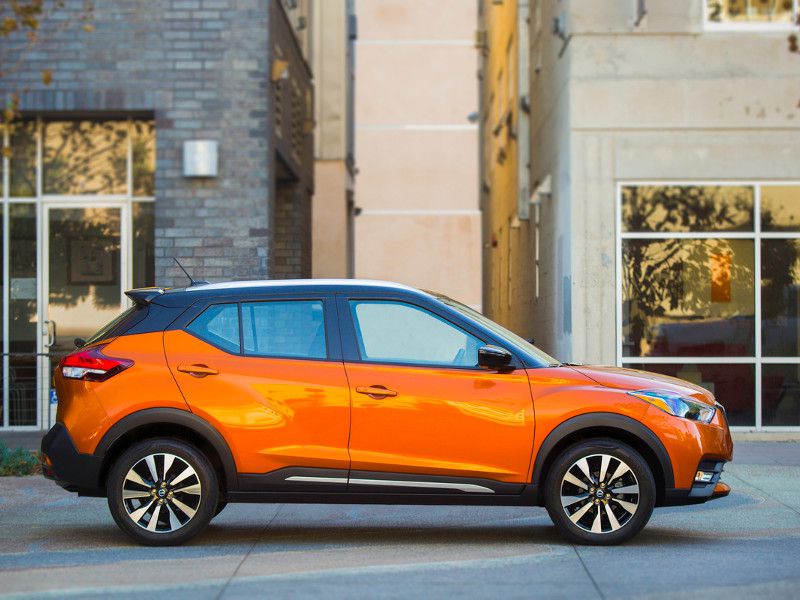 Photo by Nissan
2020 Subaru Crosstrek
The 2020 Subaru Crosstrek only one of our 10 best small SUVs with all-wheel drive as standard — along with 8.7 inches of ground clearance, which gives it more SUV-like capability than most rivals. It's also a Top Safety Pick +, according to the Insurance Institute of Highway Safety.
The Crosstrek is spacious and practical, and it has generous levels of standard equipment. If there's a gripe, it's that the engine/transmission combination is short on thrills. Even though many rivals have similar outputs and use continuously variable transmissions, this one seems rather ponderous. Now there's an alternative: The Crosstrek plug-in hybrid model is pricey, at $36,155, but it comes with a lot of equipment. And the torque from the electric motor provides a bit more thrust.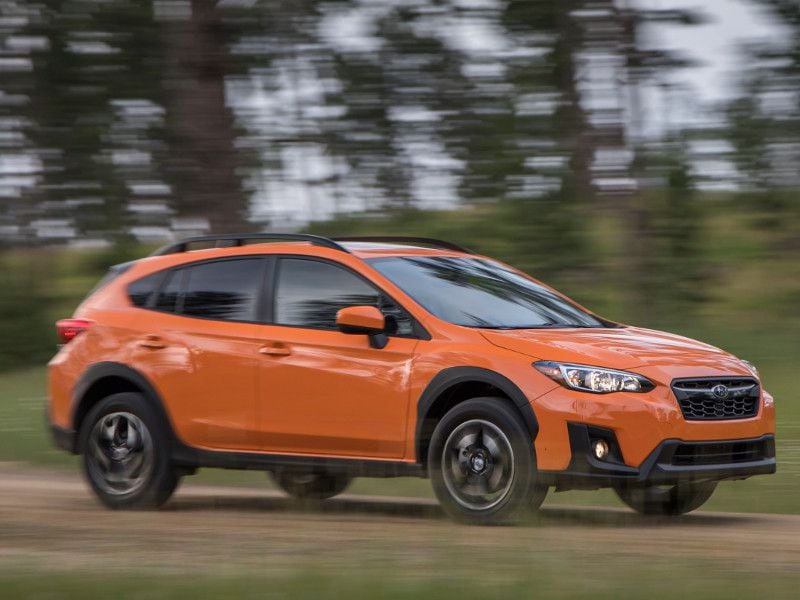 Photo by Subaru
2020 Toyota C-HR
According to Toyota, C stands for coupe and HR refers to a high ride height. Actually, the C-HR isn't a coupe and doesn't ride particularly high (5.9 inches of ground clearance), but it's still one of the best small SUVs.
With 144 hp, it's not a driver's dream, but still handles tidily. We've also found the seats to be comfortable and supportive. The main selling point, though, is how much standard equipment comes with a starting price of $22,415 for the entry-level LE trim. Safety features include 10 airbags, radar-based adaptive cruise control, a lane-departure warning, and forward collision mitigation. Among the tech toys are an 8-inch touchscreen, Apple CarPlay/Android Auto/Amazon Alexa connectivity, and (new for 2020) satellite radio.