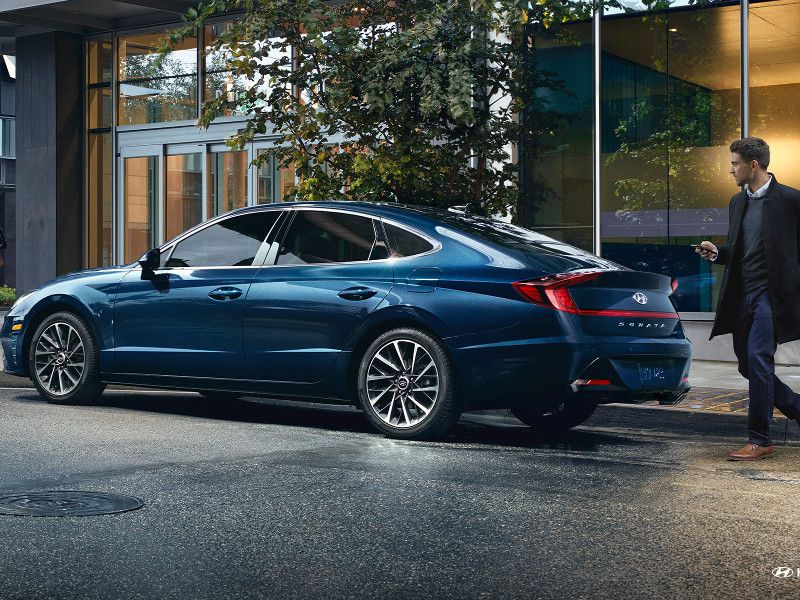 2020 Hyundai Sonata blue parked profile ・ Photo by Hyundai
The best self-parking cars provide an ingenious solution to one of the trickiest driving tasks: parallel parking. These vehicles use an array of sensors to first identify whether a spot is large enough for you to fit. Next, most of the cars will automatically steer you into the space while guiding you to work the gas pedal, brakes, and transmission. Other choices up the ante with full automatic operation. In some, you can be standing outside of the vehicle as it parks — or unparks — itself.
And while some of the fanciest tech is reserved for upscale brands, the more basic automatic-parking technology — often with perpendicular-parking assistance — is offered in a number of mainstream cars. Our favorites naturally include alternatives from across the market, beginning with one vehicle priced under $26,000.
2020 Toyota Prius
The 2020 Toyota Prius is a prime example of how the best self-parking cars don't have to be all that expensive. Despite an MSRP of $25,410, the Prius LE comes with Toyota's Intelligent Parking Assistance as standard equipment.
But that's only one of the many standard tech features you'll enjoy with the Prius LE, a compact hybrid hatchback. The bang for the buck continues with standard automatic blind-spot monitoring and a rear cross-traffic alert, plus features standard in all Prius models. Among the highlights: forward emergency braking, pedestrian detection, adaptive cruise control, Android Auto, Apple CarPlay, and mobile Wi-Fi. The LE is also available with Toyota's new AWD-e system, which incorporates a rear electric motor for electrically enabled all-wheel drive and EPA ratings of 52 mpg city/48 mpg highway/50 mpg combined.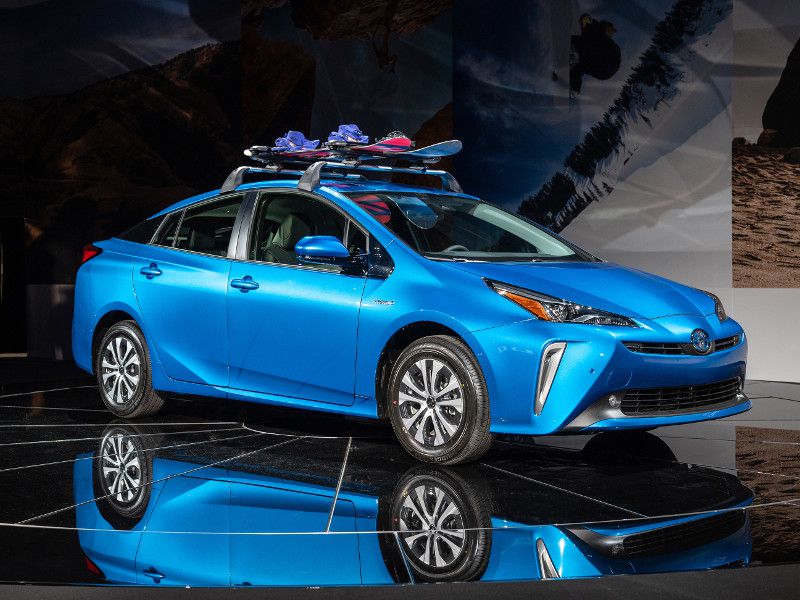 Photo by Toyota
2020 BMW 7 Series
Thanks to a standard Parking Assistant Plus package, the 2020 BMW 7 Series full-size sedan brings extra functionality to our list of the best self-parking cars. The advantage is from the bundle's new Back-Up Assistant. It was developed to help with steering as you back out of particularly tight or otherwise challenging spaces.
This system stores the steering motions made to pull into the spot and then follows them in reverse order to pull out. You can think of it as an automatic un-parking system for perpendicular spots. All of the parking technology is especially important for a car like the 7 Series. As BMW's flagship sedan, it's 2.25 feet longer than the Toyota Prius and that much harder to fit into a parking spot.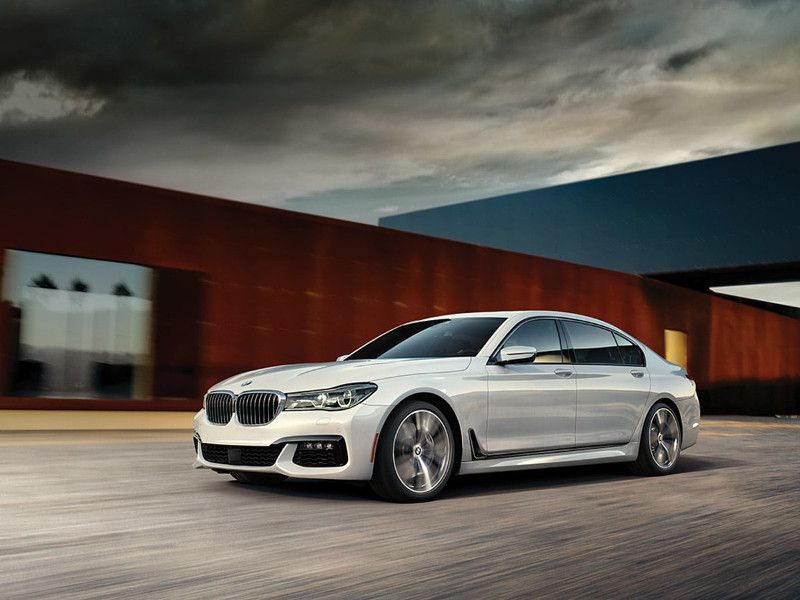 Photo by BMW
2020 Mercedes-Benz E-Class
The brands with the best self-parking cars generally offer the technology across their lineups. So like BMW, Mercedes has different ways to help you get in and out of the tough spots.
With the mid-size 2020 Mercedes-Benz E Class, for instance, the optional Parking Assistance package is the way to go. It delivers Active Parking Assist along with a surround-view camera system and rear cross-traffic alert. That means the setup can take over key vehicle functions — such as steering, shifting, braking, and accelerating — to park the car. When it's time to leave, the system can automatically steer you out of the spot. Also, just to be clear, this technology is available for the entire E-Class roster: sedan, coupe, wagon, and convertible alike.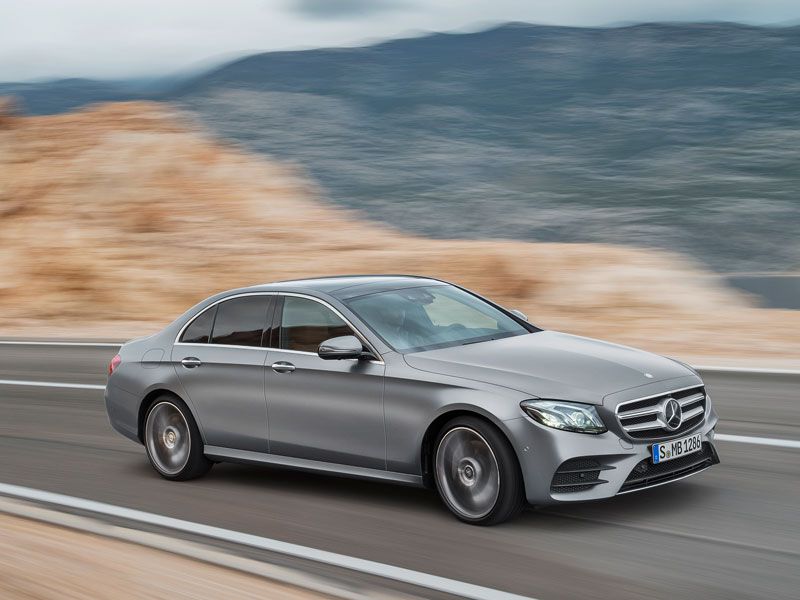 Photo by Mercedes-Benz
2020 Chevrolet Malibu
Moving back to the mainstream side of the street, the 2020 Chevrolet Malibu is next on our list of the best self-parking cars. To be more specific, ordering the Premier trim unlocks the ability to add Automatic Parking Assist as an option.
If you also add that into the Enhanced Driver Confidence package, the result is a well-equipped sedan with an MSRP of about $35,300 and content like mobile Wi-Fi, Android Auto, Apple CarPlay, heated front and rear seats, a heated steering wheel, Bose audio, navigation, LED exterior lighting, and a comprehensive range of safety technology. The Malibu also makes the most of its mid-size sedan body with more front-seat headroom, more rear legroom, and more trunk space than the similarly sized Mercedes-Benz E-Class.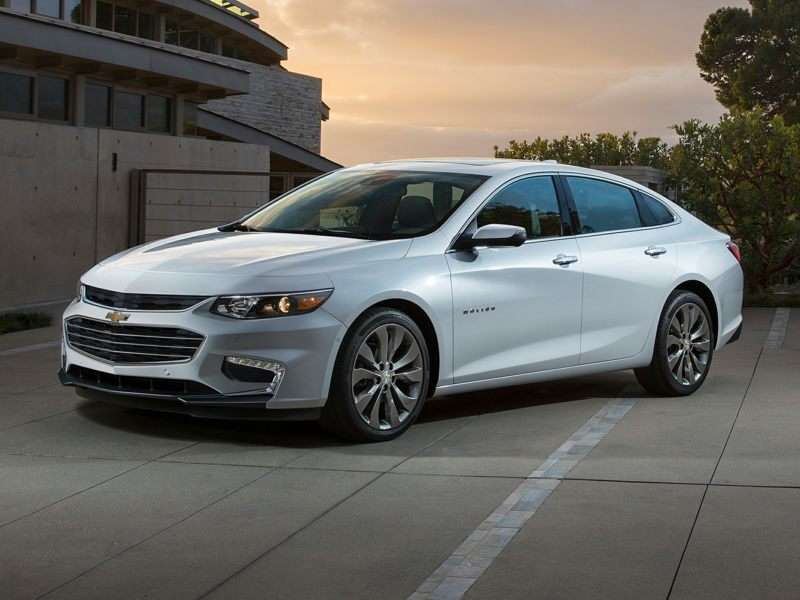 2020 Volkswagen Arteon
The 2020 Volkswagen Arteon splits the difference between the best self-parking cars from the luxury brands and those from the mainstream automakers. On the one hand, the Arteon's starting price is a bit above what you'd pay for a range-topping Chevrolet Malibu. Yet Volkswagen's flagship sedan is also about $20,000 less than the similarly sized Mercedes E-Class.
This price point puts the Arteon in a sweet spot for content and cost, complete with high-end standard features like tri-zone automatic climate control, heated front seats, and an adaptive-damping suspension. Yes, Volkswagen's Parking Steering Assistant will cost you more money, since it's reserved for the highest Arteon trim level. You do see more luxuries, though, like heated and ventilated leather front seats with a driver's-side massage function.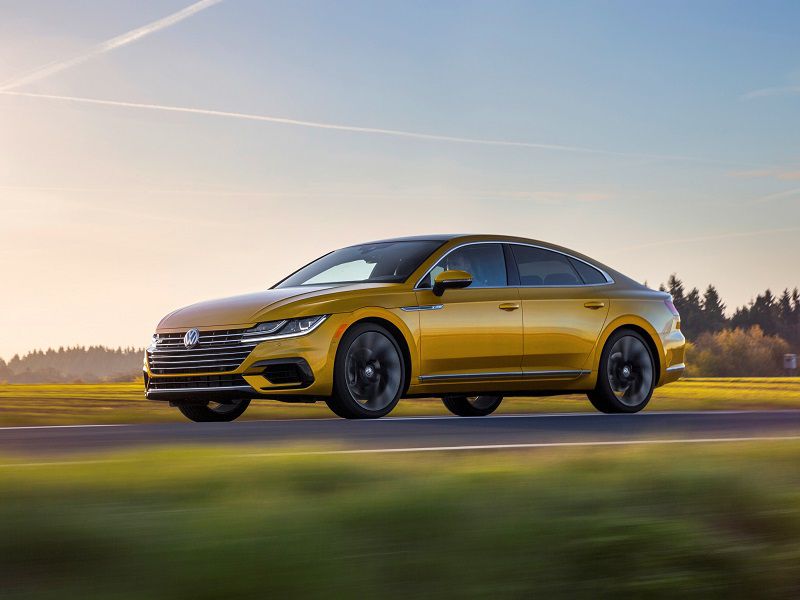 Photo by Volkswagen
2020 Lincoln Continental
The best self-parking cars also include the 2020 Lincoln Continental. In fact, the Continental's steering-assistance feature is standard with the Reserve trim level. It's a good thing, too, since the Continental is a full-size sedan that's more than 200 inches long. With a footprint that big, a little extra parking help comes in extra handy.
The Continental Reserve also makes life easier on the driver with standard content ranging from the Lincoln Co-Pilot360 safety bundle to "Perfect Position" front seats. These thrones more than live up to their name with supple leather surfaces, 24-way power adjustability, and both heating and ventilation. To combine luxury and performance, the Continental is further available with a twin-turbo V6 that makes 400 horsepower and 400 pound-feet of torque.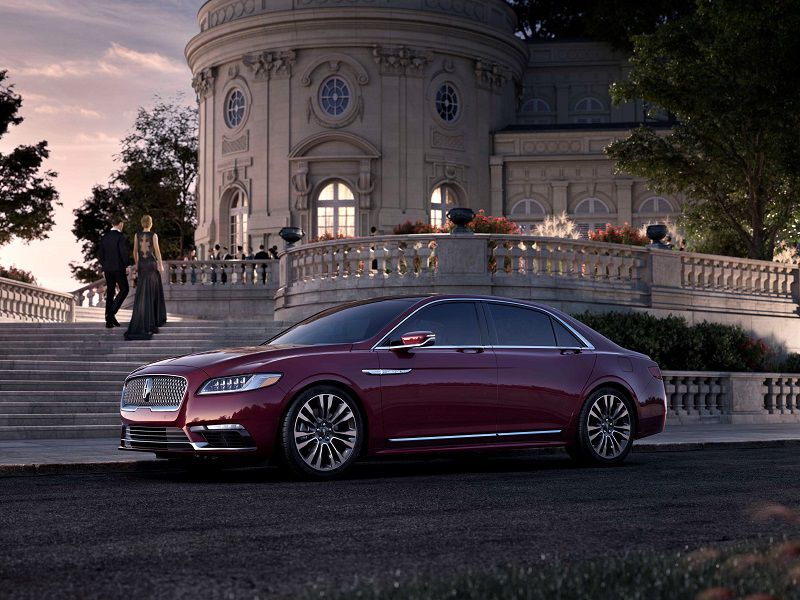 2020 Cadillac CT5
The all-new 2020 Cadillac CT5 raises the bar for the best self-parking cars. This is because it showcases an automatic-braking feature to go with its automatic steering assistance.
In typical situations, the Cadillac system handles the steering as you work the pedals and transmission. The difference-maker here is that if the technology detects an imminent collision with a parked car or other obstacle, it can automatically deploy the brakes to try to prevent an impact. Naturally, the CT5 also leverages the same technology for automatic forward and reverse braking in other scenarios. It's exactly the sort of cutting-edge technology you'd expect from the company behind Super Cruise — which Cadillac claims is a "true hands-free driver assistance feature for limited-access freeways."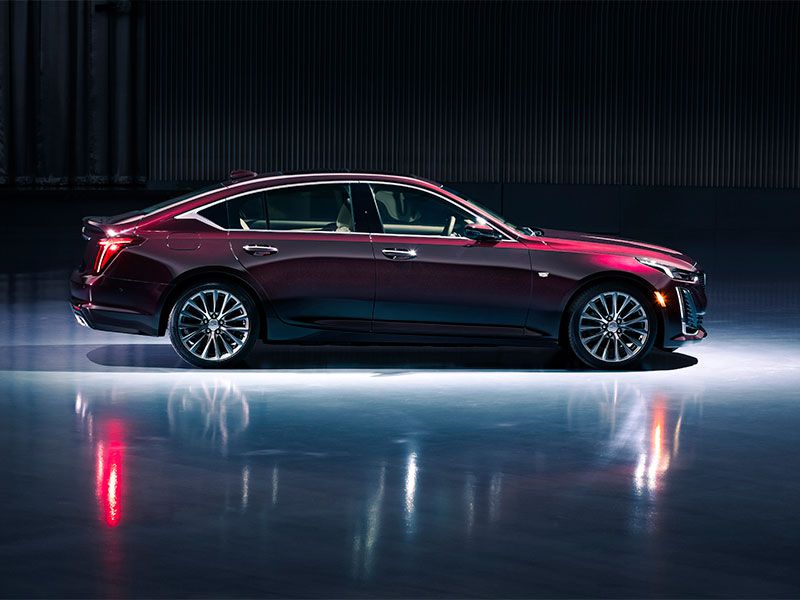 Photo by Cadillac
2020 Volvo S90
You probably won't be surprised to find a Volvo on our list of the best self-parking cars: The brand's reputation for automotive safety has evolved right along with the industry itself, and the newest models combine structural strength with cutting-edge driver assistance.
Consider the 2020 Volvo S90. The company's range-topping sedan blends a high-strength steel safety cage with high-tech features such as Volvo's available Park Assist Pilot. When that's on board, you can rely on automatic steering assistance to slip into parallel parking spaces that are only 1.2 times the vehicle's length. You can also count on the system to steer you out of the spot — and/or into a perpendicular space.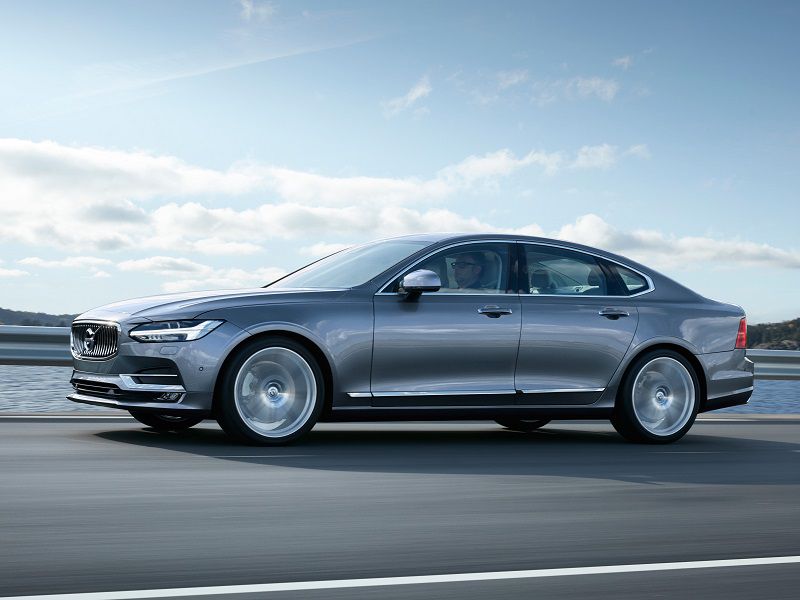 Photo by Volvo
2020 Tesla Model 3
Tesla's take on the best self-parking cars makes the situation about as simple as possible. With entries like the 2020 Tesla Model 3, you don't have to steer, or use the pedals, or touch the shifter, or be inside the car at all. Instead, Tesla's innovative Summon mode lets you control the Model 3 with a smartphone app.
The system extends the benefits of automatic parking in a variety of cool ways. For example, it can even pull the Model 3 in and out of spaces that are so tight you may have trouble opening your doors. The innovative Summon technology does require a few minutes to set up, but that's easily done on the Model 3's massive 17-inch touchscreen.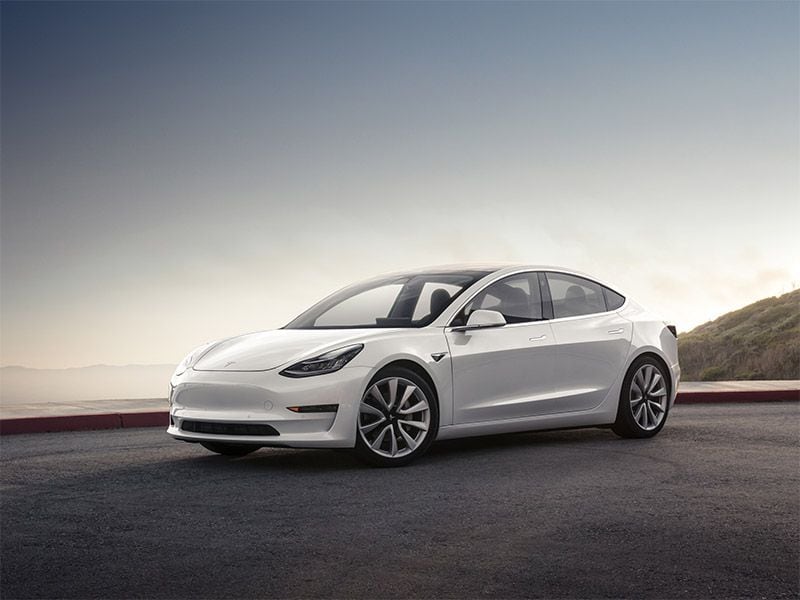 Photo by Tesla
2020 Hyundai Sonata
The 2020 Hyundai Sonata is another reminder of how technologically advanced some mainstream mid-size sedans can be. As one of the country's best self-parking cars, the newly redesigned Sonata offers the same kind of remote-parking system as on a fancy Tesla.
Nor is that the only premium technology that's provided by Hyundai. The Sonata Limited trim has a standard 12.3-inch digital instrument cluster, a 10.25-inch touchscreen, Android Auto, Apple CarPlay, wireless charging, a head-up display, and a full complement of the brand's advanced driver-assistance systems. Hyundai also ups its luxury game for the Sonata Limited: Additional standard features include a heated leather-wrapped steering wheel and leather-trimmed front seats with heating and ventilation — all for an MSRP of just $33,300.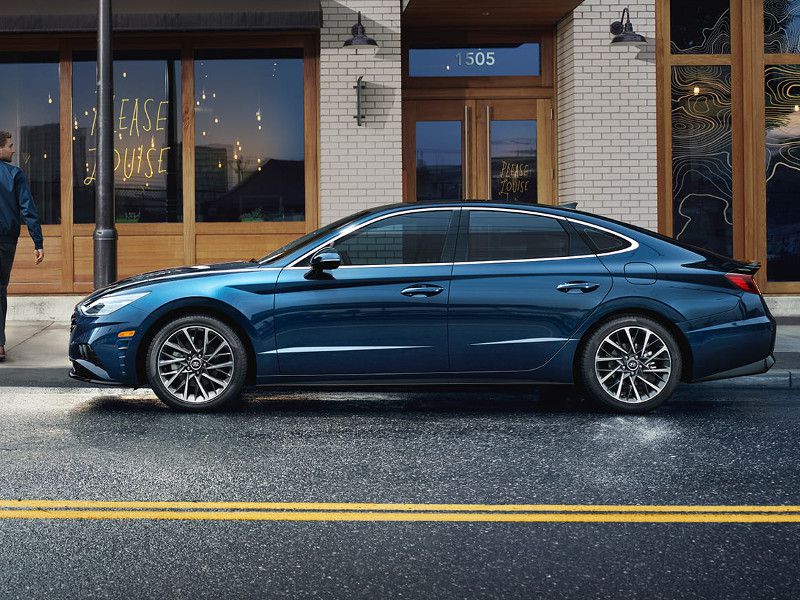 Photo by Hyundai