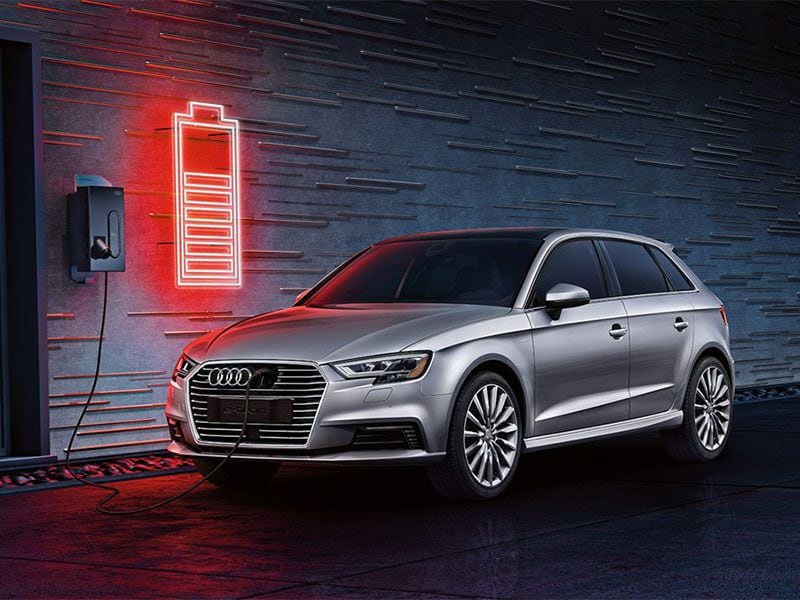 2017 Audi A3 Sportback e tron exterior plugged in charging ・ Photo by Audi
Energy-efficient plug-in hybrid drivetrains aren't just for compact cars anymore. More luxury vehicle makers are adding plug-in hybrid options to their lineups, making it more sustainable (and affordable) to drive an upscale or high-performance vehicle. Our list of the best plug-in hybrid luxury cars is arranged by the vehicles' MSRP (or, at least, our best approximation of it). It should come as no surprise that some of these cars are quite pricey, especially when compared to their respective gas versions. Keep in mind, though, that federal and state energy rebates and tax incentives might be available for some of these vehicles, depending on where you live, which can significantly reduce the cost of buying a plug-in hybrid.
2017 Audi A3 Sportback e-tron — MSRP $38,900
The Audi A3 Sportback was a distinctive offering in the entry-level luxury segment, though Audi discontinued it after 2013 in favor of a more mainstream compact sedan. It's clear that Audi felt some fondness for this underrated bodystyle, though, since it's the basis for the Sportback e-tron, the plug-in hybrid version of the Audi A3 that was introduced last year, and one of the most affordable plug-in hybrid luxury cars on the market. The Sportback e-tron's electric-only range is 16 miles, a little on the low side, but it makes up for it with an EPA rating of 35 mpg combined on gas power, and 83 mpg-equivalent on gas and electric combined.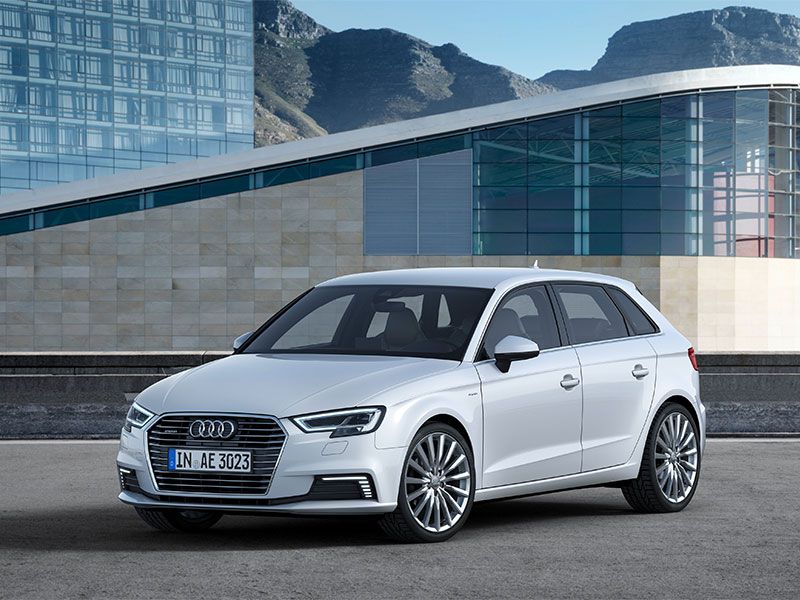 Photo by Audi
2017 Mercedes-Benz C350e — MSRP $40,425
Mercedes is coming to market with a few new plug-in hybrid variants of its luxury coupes and sedans, and the most affordable of the bunch is the forthcoming 2017 Mercedes-Benz C350e. This new plug-in hybrid missed its late-2016 anticipated launch date, but it's expected to be available for sale in the United States in early 2017. The plug-in hybrid drivetrain is composed of a 4-cylinder gasoline engine paired with an electric motor and a 7-speed automatic transmission. Though it doesn't make the C-Class compact luxury coupe any easier on the wallet at purchase time, it should prove to be more frugal and efficient over time while providing the high luxury standards the brand is known for.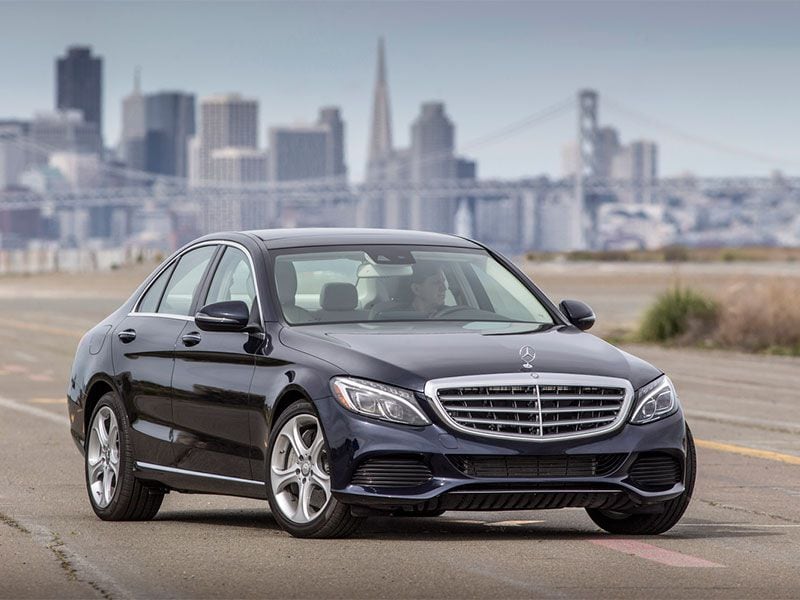 Photo by Mercedes-Benz
2017 Chrysler Pacifica Hybrid — MSRP $43,090
Okay, so strictly speaking, the all-new Chrysler Pacifica Hybrid isn't a luxury vehicle, but it is really, really nice. It's also the world's first and only hybrid minivan, according to Chrysler, and it's more expensive than a couple other models on our list of plug-in hybrid luxury vehicles. We're going with it. Chrysler says the Pacifica Hybrid has an all-electric range of 30 miles, and also has EPA ratings of 80 mpg-equivalent on combined gas and electric power (a V6 engine paired to two electric motors), which will allow parents to cruise right by the gas station more often than not. Though the Pacifica Hybrid's price is steep, this van is loaded with tons of standard equipment.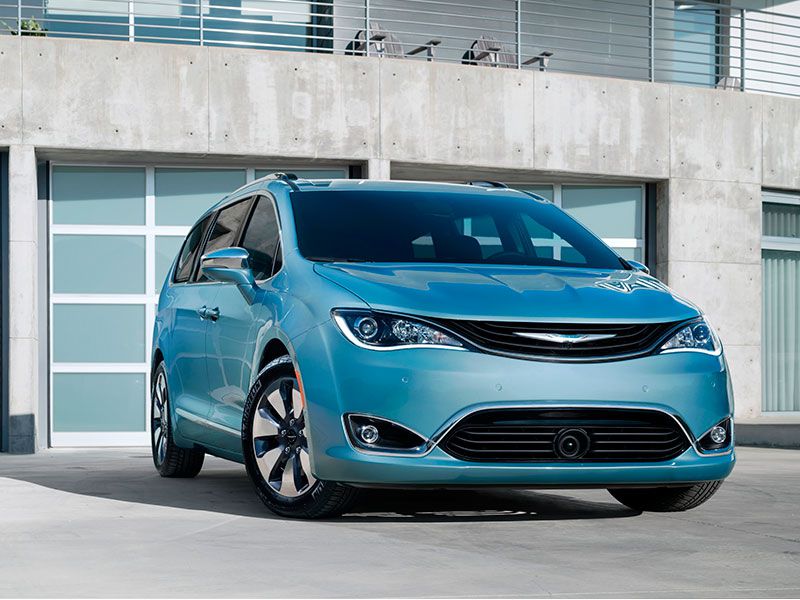 Photo by Fiat Chrysler Automobiles
2017 BMW 330e — MSRP $44,100
Though the available plug-in hybrid drivetrain adds a considerable amount to the cost of the base BMW 3 Series sedan, we can see how some drivers might appreciate the balance of power and efficiency. The 2017 BMW 330e offers an all-electric range of 14 miles and an EPA combined rating of 71 mpg-equivalent, while still providing a decent 248 horsepower. The BMW 3 Series is one of the top contenders in the entry-level luxury market, a position it has enjoyed for quite some time and with good reason. The 3 Series is upscale and comfortable without being ostentatious, and is a smart way for BMW to get its plug-in hybrid technology out there.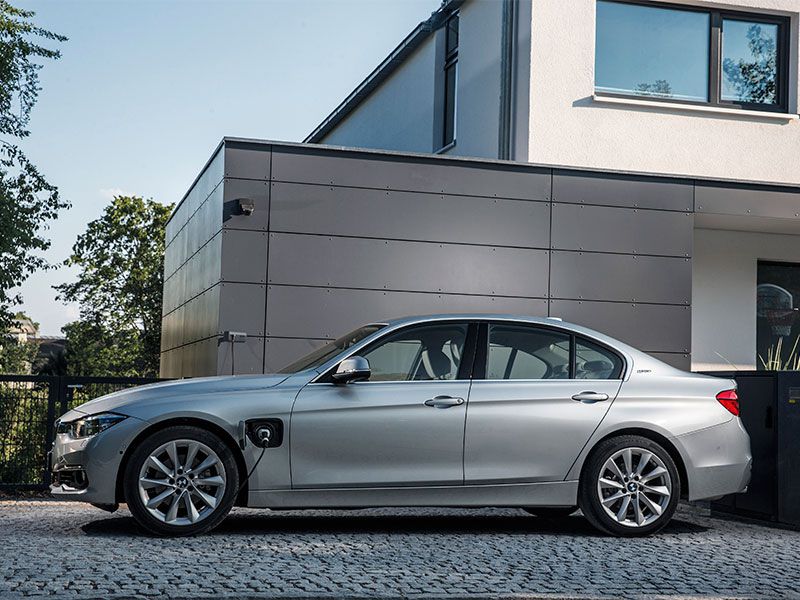 Photo by BMW
2017 BMW i3 with Range Extender — MSRP $46,250
The i3 is BMW's distinctive electric compact hatchback, less opulent than some of the brand's models but luxurious nevertheless. Some readers might point out that the i3 is, in fact, a fully electric car rather than a plug-in hybrid. That's why we specified the Range Extender version which (though not marketed as such) is close enough to a plug-in hybrid that we're including it here. The Range Extender adds a small gasoline engine to the i3, which works like a generator to recharge the i3 on the go. The Range Extender adds about $4000 to the base price of the i3, and, though it reduces EPA estimates somewhat compared to the base i3 (117 mpg-e compared to 124 mpg-e) it improves overall functionality enough to be worth it.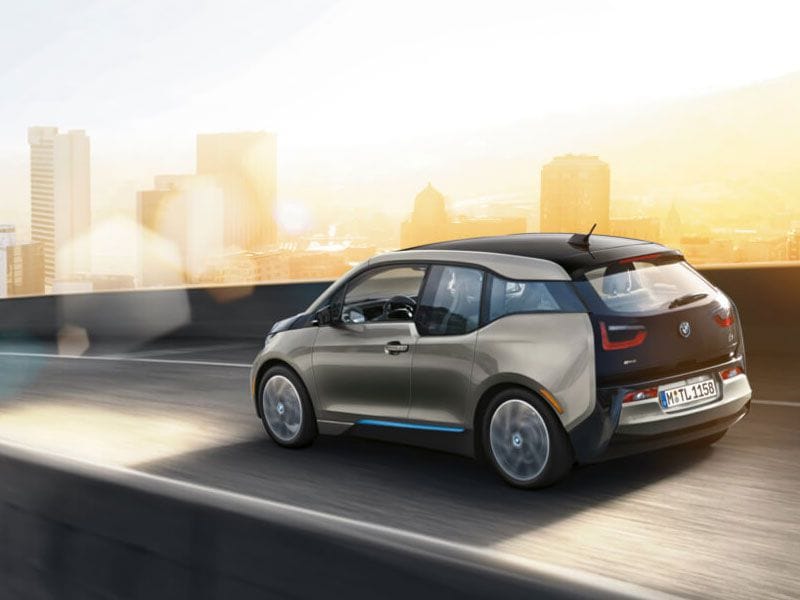 Photo by BMW
2017 Volvo S90 — MSRP unknown
Volvo might never shed its "boxy, but safe" image, although that's not for a lack of innovation on the part of this traditionally Swedish luxury brand. The S90 is Volvo's latest midsize sedan, all new for 2017. And, while the first examples of the S90 to land on dealer lots featured the typical lineup of Volvo forced-induction, gas-powered engines, there's a lot more to come. At some point in 2017, Volvo will roll out a plug-in hybrid version of the S90, with a projected range of 20 miles on a full electric charge and an enticing 400 horsepower. As of this writing, we don't have pricing information for the 2017 Volvo S90 luxury plug-in hybrid, but it's expected to be a bit more than the regular S90, which starts at $46,950.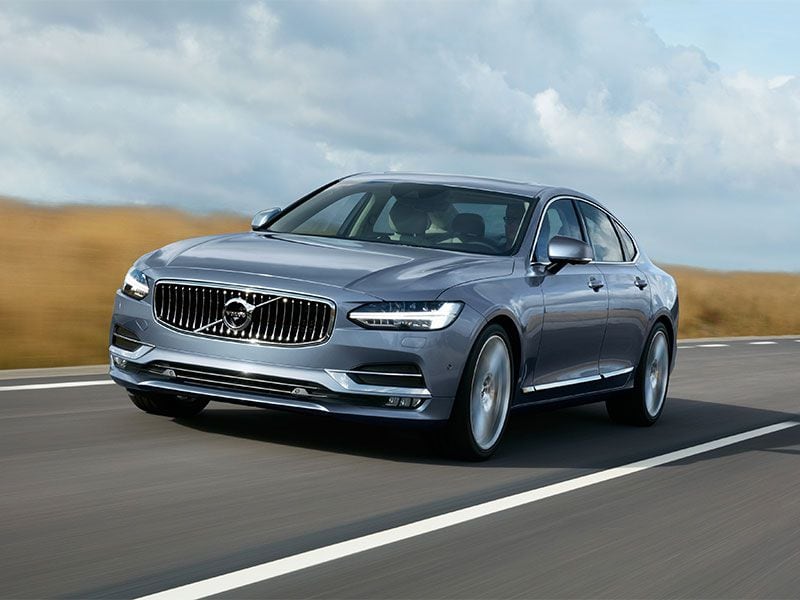 Photo by Volvo
2017 Mercedes-Benz E350e — MSRP unknown
The Mercedes-Benz E-Class, quite simply, represents one of the best midsize lineups on the market. Available in sedan, coupe, convertible, and wagon configurations, and with gasoline and diesel drivetrains, the E-Class stands out even in a class full of high quality contenders. For 2017, Mercedes is expanding the E-Class lineup with a new plug-in hybrid option, which isn't available as of this writing but should be hitting showrooms soon. A 4-cylinder gas engine pairs with an electric motor for a total of 286 horsepower and improved driving efficiency. We don't yet know how much the 2017 E350e will cost, but it won't be cheap. The base 2017 E-Class, for reference, starts at $52,150.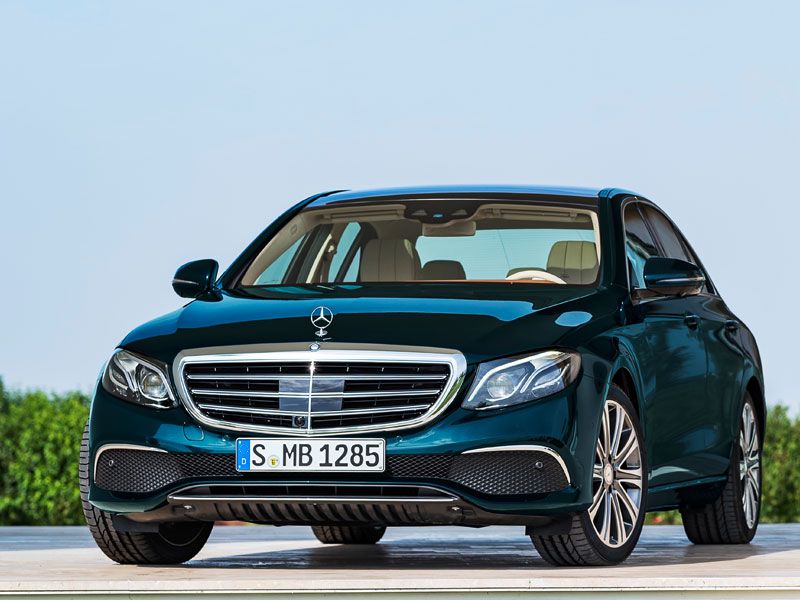 Photo by Mercedes-Benz
2016 Cadillac ELR — MSRP $65,000
Cadillac joined the fray of plug-in hybrid luxury cars with the 2016 ELR. It's a coupe with seating for four passengers that looks like a sophisticated modern Cadillac. However, the overall experience is quite different. When the ELR is operating in fully electric mode, it's smooth and elegant, but when the electric motors are working with the gas engine, the power delivery is somewhat less refined. That may be why the ELR didn't quite take off the way Cadillac expected, but it's still got some great assets—a sumptuous interior, comfortable seats, a generous menu of standard equipment, and fuel economy estimates of 85 mpg-equivalent in electric mode.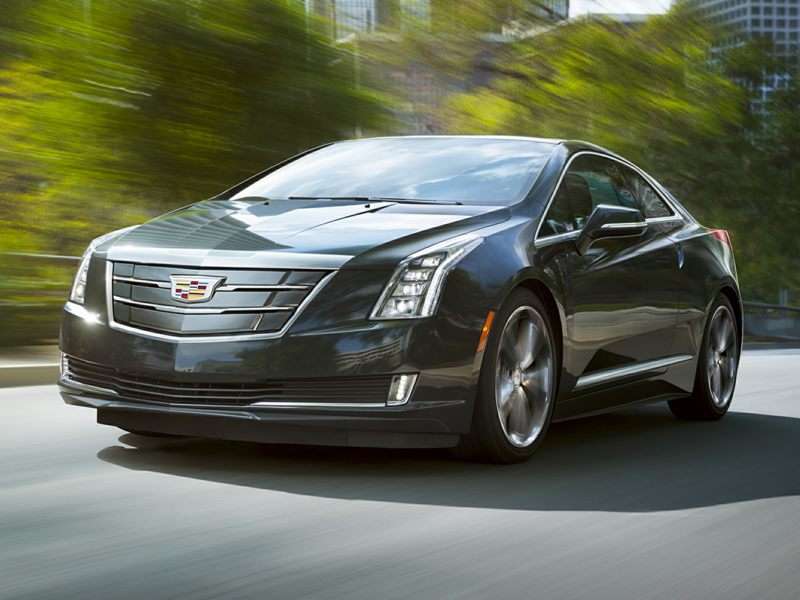 Photo by General Motors
2017 Mercedes-Benz GLE550e — MSRP $66,300
After all we've seen in this Autobytel list of plug-in hybrid luxury cars, can anyone be surprised that Mercedes-Benz stuffed one of these drivetrains into the midsize GLE-Class? We're certainly not. The GLE-Class has been around for a while (at least, if you consider it an extension of its predecessor, the M-Class) yet its modern looks and undeniable upscale appeal make it a great platform for buyers willing to spend a bit more to get a powerful yet frugal drivetrain. There's 436 horsepower on tap from the GLE550e's twin-turbo 3.0-liter V6, paired to an electric motor. The stylish and fun-to-drive 2017 GLE550e comes with Mercedes' 4Matic all-wheel-drive system, too.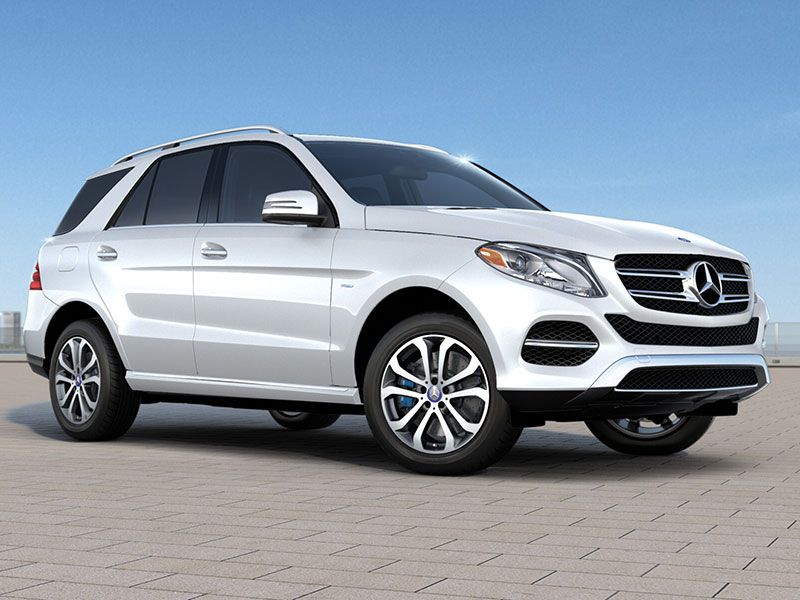 Photo by Mercedes-Benz
2017 BMW i8 — MSRP $141,695
Don't mistake the BMW i8 for a sportier and more expensive version of the aforementioned BMW i3. The i3 is an electric car, first and foremost. The i8 is a BMW, first and foremost, and it doesn't sacrifice its luxury, style, or performance for the sake of also being a plug-in hybrid. The i8 is a fantastic-looking sports coupe, hitting the perfect proportions of sleek, wide, and low. Extensive use of aluminum and carbon fiber helps keep the weight low (and the price high), and the plug-in hybrid setup yields 357 horsepower and up to 420 miles of range. This sports car gets 29 mpg highway on gas power, and up to 76 mpg-equivalent on combined gas and electric power.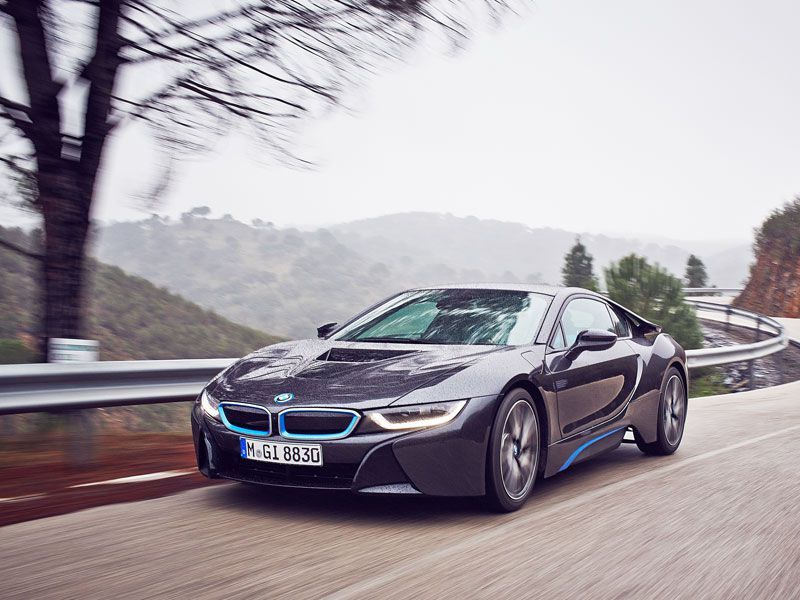 Photo by BMW