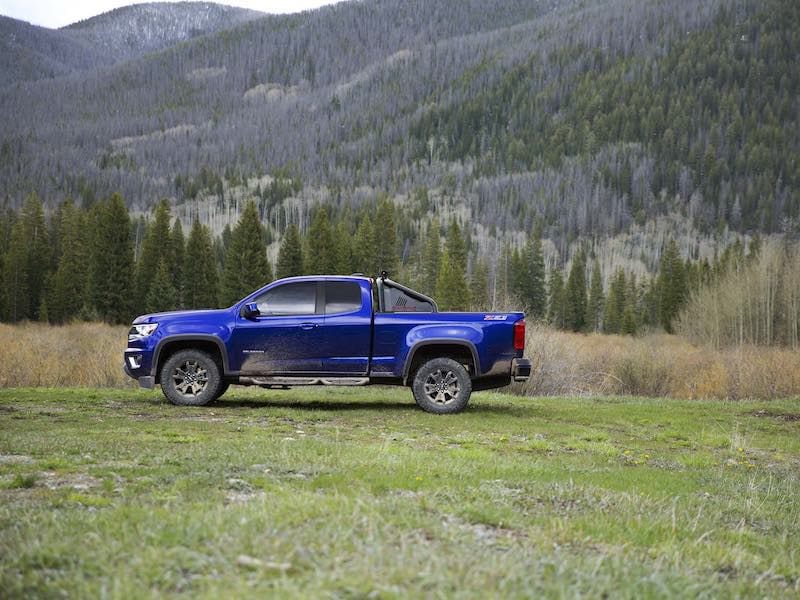 2016 Chevrolet Colorado Trail Boss field ・ Photo by General Motors
The best off-road pickup trucks will give the most rugged SUVs a run for their money, even when that running occurs on the nation's toughest rocks and trails. But they'll also deliver the cargo-carrying benefits of an open bed for when you don't really want to leave it all behind. Turning to the 10 trucks below, these are Autobytel's top choices for off-road fun from the industry's 10 light-duty pickups, leaving off the RAM Power Wagon that's based on that brand's 2500HD entry. (We've also taken a pass on the upcoming Honda Ridgeline, at least until more is known about its off-road prowess.)
2016 RAM 1500 Rebel
A certain Blue Oval bird of prey may have something to say about things when the 2017 model year rolls around—see below—but for now, the 2016 RAM 1500 Rebel remains king of the hill among the best off-road pickups (full-size division). That's according to both Autobytel experts and Four Wheeler magazine, the latter of which has named the Rebel its Pickup Truck of the Year. Supplying the kind of hardware needed to wear that crown, RAM's rock-crawling Rebel also wears new 17-inch wheels for 2016, with massive 33-inch off-road tires wrapped around them. The rubber also combines with a factory lift kit for a best-in-class 10.3 inches of ground clearance. As for what the Rebel has to run over, RAM's hi-po pickup leverages a specially tuned suspension, Bilstein shocks, skid plates and a revised steering calibration to do just that.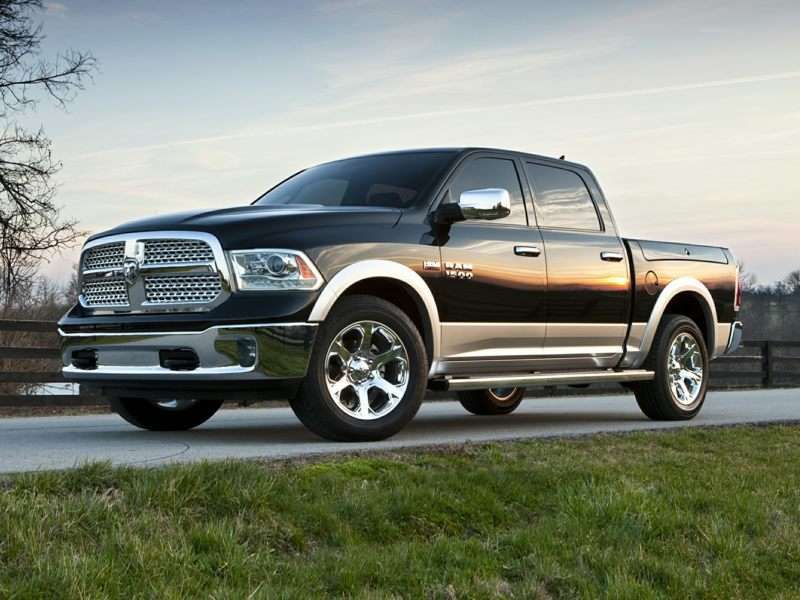 Photo by Ram Trucks
2017 Ford F-150 Raptor
Now that the 2016 Ford F-150 has solidified the success of its aluminum-alloy manufacturing materials, the Blue Oval is bringing those benefits to bear on the next generation of one of the best off-road pickup trucks ever produced. It's the 2017 Raptor, and that military-grade metal helps reduce its curb weight by up to 500 lbs. as compared to the previous edition. The results include nimbler reflexes, enhanced overall performance and a noticeably improved power-to-weight ratio. Nor does the truck merely sport fewer pounds. There's also additional power, too, thanks to a tuned-up version of Ford's 3.5-liter EcoBoost V6. Exact specs for that unit have yet to be released, but the Blue Oval does promise more than the 411 horsepower and 434 lb.-ft. of torque in the Raptor's current, naturally aspirated V8.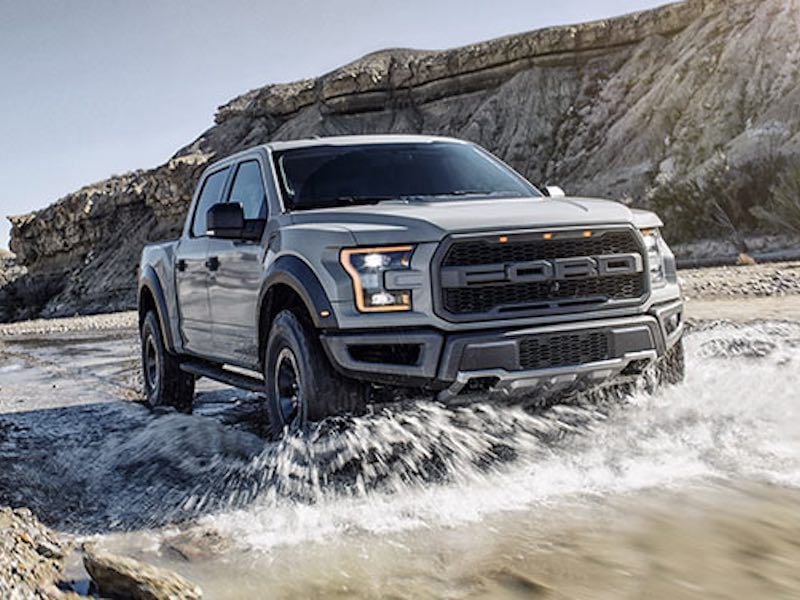 Photo by Ford
2016 GMC Sierra All Terrain X
Trail-friendly trucks are getting so popular that even the Professional Grade brand is getting in on the action. Of course, when the 2016 GMC Sierra All Terrain X leaves the pavement, it does so with plenty of premium touches. Thus, owners enjoy heated, 10-way power-adjustable bucket seats in the front row, a leather-wrapped multi-function steering wheel, dual-zone automatic climate control and high-performance LED headlights. But like all the best off-road pickups, the All Terrain X also backs up its rugged style with robust hardware such as an Eaton locking rear differential, trail-tackling 18-inch Wrangler DuraTrac tires and a Z71 off-suspension package, which bundles Rancho monotube shocks, a high-capacity air cleaner, protective underbody shield for the transfer case, and Hill Descent Control. There's a bonus beneath the hood, as well. The All Terrain X marks its spot with a performance exhaust system that adds 10 more ponies to the truck's standard 5.3-liter V8—for a total of 365.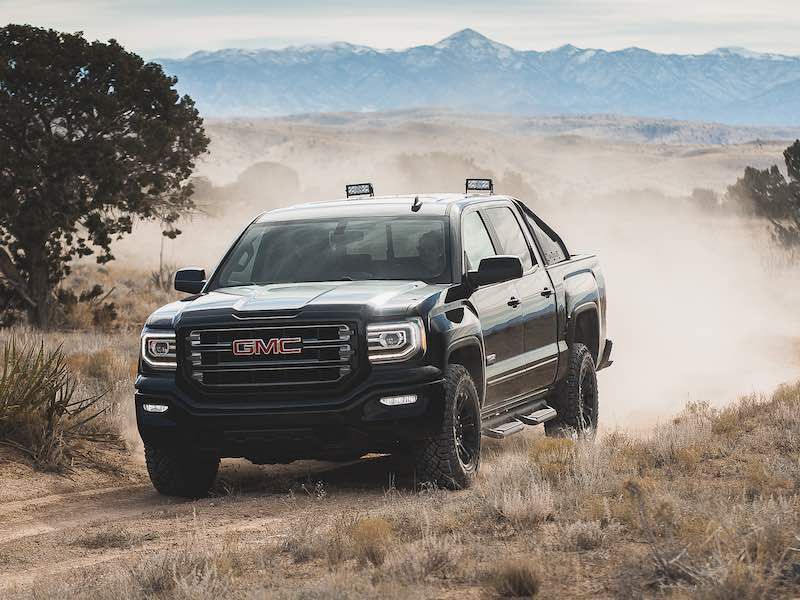 Photo by GMC
2016 GMC Canyon All Terrain
Yes, it's a bit of a lightweight compared to some of the other best off-road pickups, but the 2016 GMC Canyon does deliver an All Terrain edition of its own—sans the Sierra's available "X"—featuring a Z71 off-road suspension that's been fine-tuned to fit the truck's midsize dimensions. That said, rear-wheel drive is standard, albeit with an also-standard locking rear diff; four-wheel drive is available, though, and it's matched by a standard transfer-case shield for protection against the rough stuff. Further functional upgrades for the Canyon All Terrain include Hill Descent Control and a body-color CornerStep rear bumper. CornerStep is a handy advantage that gives GMC trucks a leg up against the competition when it comes to cargo bed access. When it comes to design cues, the trail-edition Canyon carries 17-inch cast-aluminum wheels in a Dark Argent Metallic, along with heated front seats in Jet Black/Cobalt Red.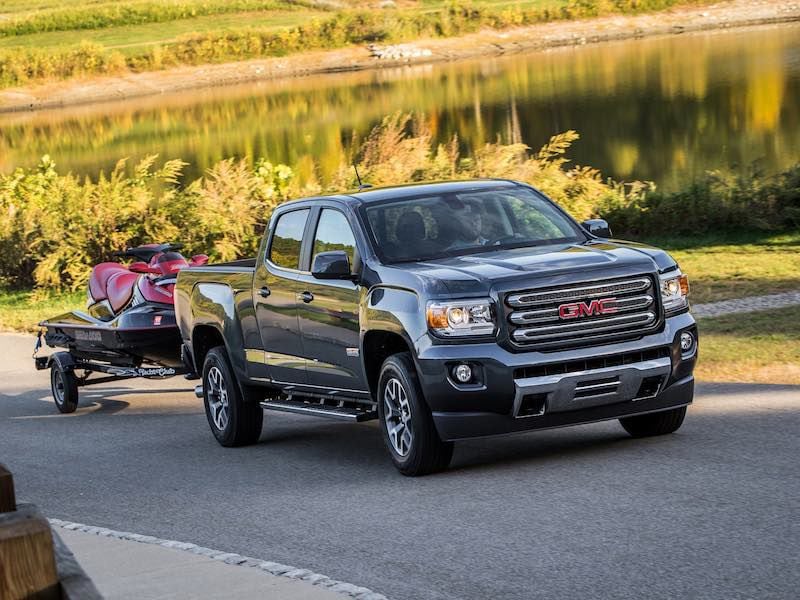 Photo by General Motors
2016 Chevrolet Silverado Realtree Edition
If your preferred environment for the best off-road pickup trucks run more to the hunting trail, the 2016 Chevrolet Silverado Realtree Edition just might hit the target. Naturally, it's got GM's robust Z71 four-wheel drive package, providing highlights like monotube shock absorbers and a locking rear differential, but Bowtie brand designers then teamed with Realtree's camouflage experts to create an exclusive, outdoors-themed appearance. Camo graphics are on display inside and out, as are details like embroidered Realtree logos for the front-seat headrests and a bevy of blackout exterior accents. For those cues, Chevy deployed black Bowties, off-road assist step and 20-inch wheels (that are shod with all-terrain tires). Meanwhile, to pair that premium style with premium amenities, the Realtree truck serves up heated, leather-appointed front seating, high-performance LED headlamps, and a sophisticated infotainment system. That offers standard connectivity features such as a mobile Wi-Fi hotspot and Android Auto/Apple CarPlay advanced smartphone integration.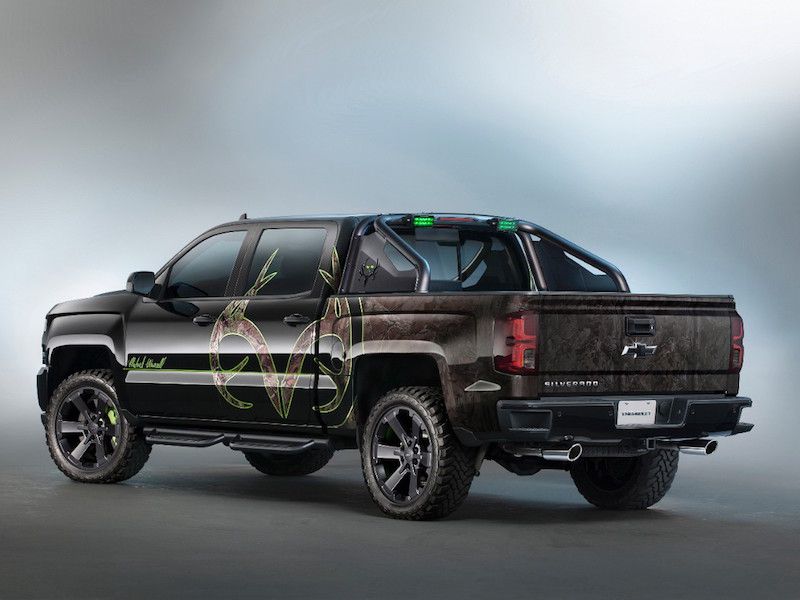 Photo by Chevrolet Media
2016 Chevrolet Colorado Z71 Trail Boss
Per Tony Johnson, marketing manager for the Bowtie brand's midsize pickup, the 2016 Chevrolet Colorado Z71 Trail Boss "is equally at home blazing an urban trail or following one to a favorite remote campground." More to the point for our purposes, it's also at home with the best off-road pickup trucks. GM's Z71 off-road truck suspension ensures that, with a little assistance from Goodyear Wrangler DuraTrac all-terrain tires, 17-inch cast-aluminum wheels, black fender flares, similarly shaded Bowtie logos and a gaggle of GearOn cargo-management accessories. Engineered to meet the demands of the toughest truck customers, GearOn goodies like cargo tie-down rings, a load bar and a cargo divider are all standard on the Trail Boss. Shoppers should keep in mind, however, that that's just a starting point, and a comprehensive range of GearOn goodies are available for all GM pickups, including the Chevy Silverado, GMC Sierra and GMC Canyon.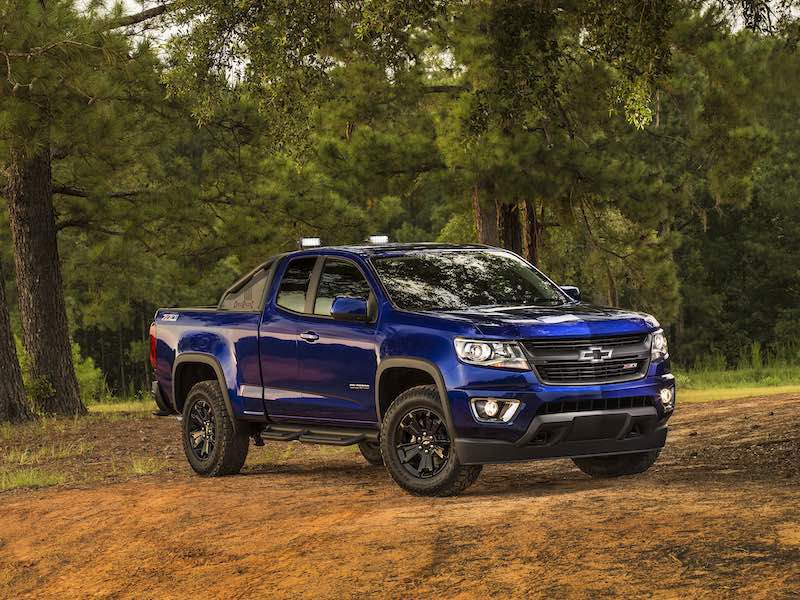 Photo by Chevrolet Media
2016 Nissan Titan XD Pro-4X
The 2016 Nissan Titan XD stretches the definition of "light duty," but since it's not quite an HD entry—and it does come with Nissan's Pro-4X package—we'll fit it in with today's list of best off-road pickups. The Titan XD certainly fits in on the trail, complete with an upgraded suspension that comprises Bilstein off-road shocks, an electronic locking rear diff, a skid plate to keep rocks away from the radiator, and six-lug wheels. For help with hauling, in either direction, the Titan XD also furnishes front tow hooks and a trailer harness, receiver hitch and hitch member. But what really sets the Titan XD apart, even from the other giants of the pickup game, is that it's the only one to offer a V8 diesel engine in a non-HD configuration. Developed by the long-time diesel experts at Cummins, the turbocharged powerplant produces 555 lb.-ft. of torque, 310 horsepower and a top towing limit that exceeds 12,000 lbs.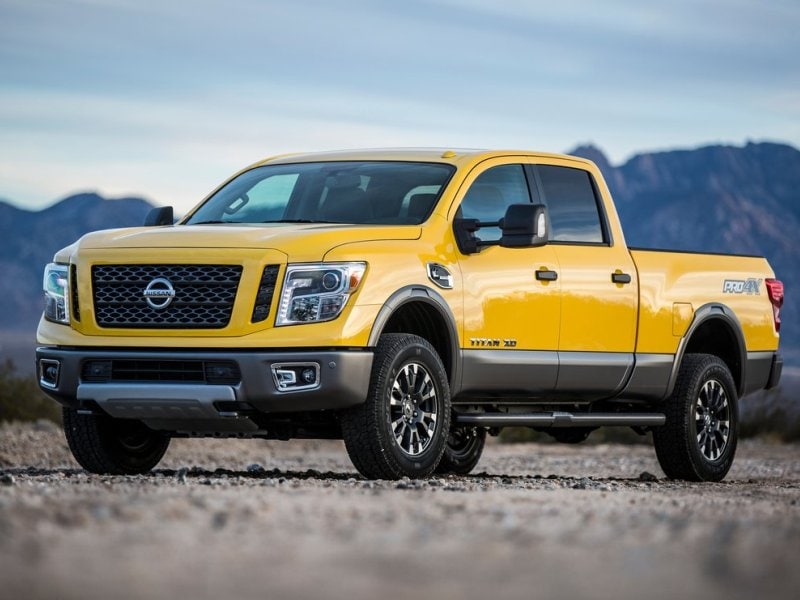 2016 Nissan Frontier Pro-4X
The 2016 Nissan Frontier Pro-4X—as you might guess—provides the automaker's trail-truck traits for the midsize pickup segment. More specifically, what's provided are Bilstein's high-pressure off-road shock absorbers, an electronic rear differential locker, and rock-resisting skid plates for the fuel tank, oil pan and transfer cases. It's also worth noting that the Frontier Pro-4X supplies a standard six-speed manual transmission, something that can't be said for the best off-road pickup trucks with automatic-only powertrains. Further, although the Frontier isn't quite as fresh as some of its rivals, it can be configured with a modernized NissanConnect infotainment system with navigation and access to online apps, as well as with an ear-popping 10-speaker Rockford-Fosgate audio setup. In terms of output, the Frontier Pro-4X tops out with 261 horsepower and 281 lb.-ft. of torque from a 4.0-liter V6 engine.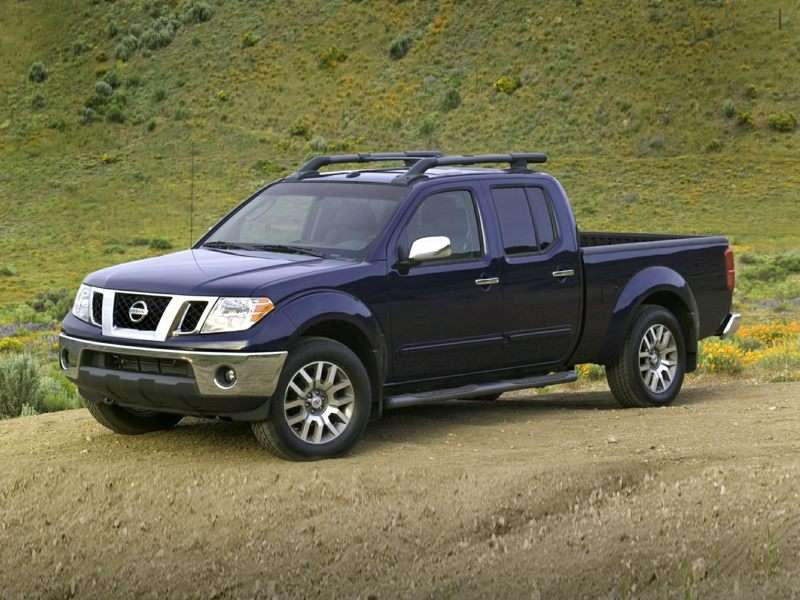 Photo by Nissan
2017 Toyota Tacoma TRD Pro
After being thoroughly redesigned and reengineered for the current model year, the 2016 Toyota Tacoma has reinforced its position as the No. 1 seller in the midsize pickup segment. But now it's time for new challenges, and they'll be tackled by the 2017 Tacoma TRD Pro. This truck takes advantage of Toyota's long history of success in off-road racing, blends it with the next-gen foundation of the new standard Tacoma, and ends up furnishing owners with perhaps the best of the best off-road pickups from the midsize category. To do so, Toyota Racing Development has deployed a TRD-tuned suspension with Fox racing shocks, 16-inch black alloy wheels with Kevlar-reinforced all-terrain tires, and numerous off-road-ready resources, with LED fog lights from Ridgid Industries and an aluminum front skid plate leading the way. The Tacoma TRD Pro also relies on a recent round of updates for modern-day safety must-haves such as a blind-spot monitor and rear cross-traffic alert.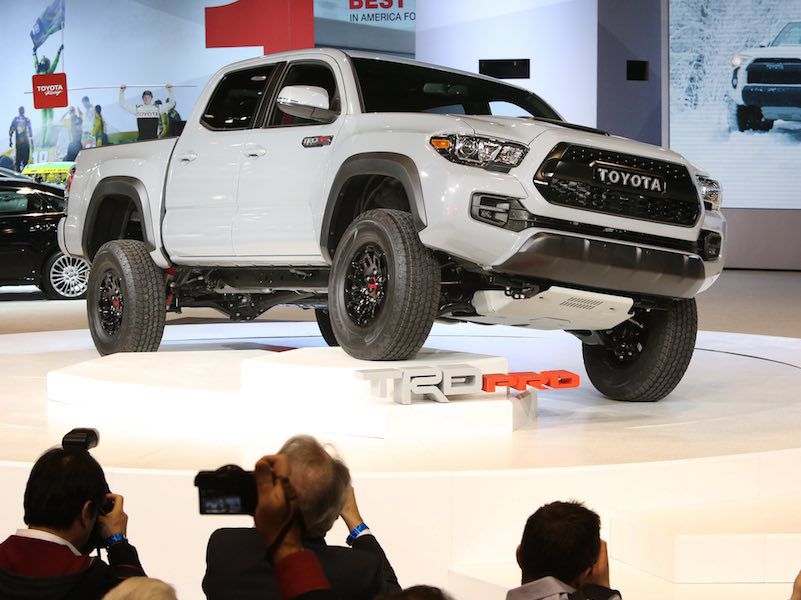 Photo by Toyota Media
2016 Toyota Tundra TRD Pro
To appeal to more customers shopping for the best off-road pickups, the 2016 Toyota Tundra can be configured with a TRD Pro package for the popular SR5 model, the mid-range Tundra Limited and the range-topping 1794 Edition, which is named for a historic Texas ranch that's located on the grounds of Toyota's San Antonio truck plant. Yet for the dedicated trail enthusiast, the standalone Tundra TRD Pro stands out. In this model, the truck's TRD off-road suspension is additionally bolstered by an extra two inches of ride height, to clear more obstacles and allow for increased wheel travel—all while fitted with 18-inch black-alloy wheels and Michelin off-road tires. New for 2016 in the Tundra TRD Pro: black leather seating with red stitching and a newly available exterior finish, Quicksand; returning to the pickup's palette are White and Magnetic Gray.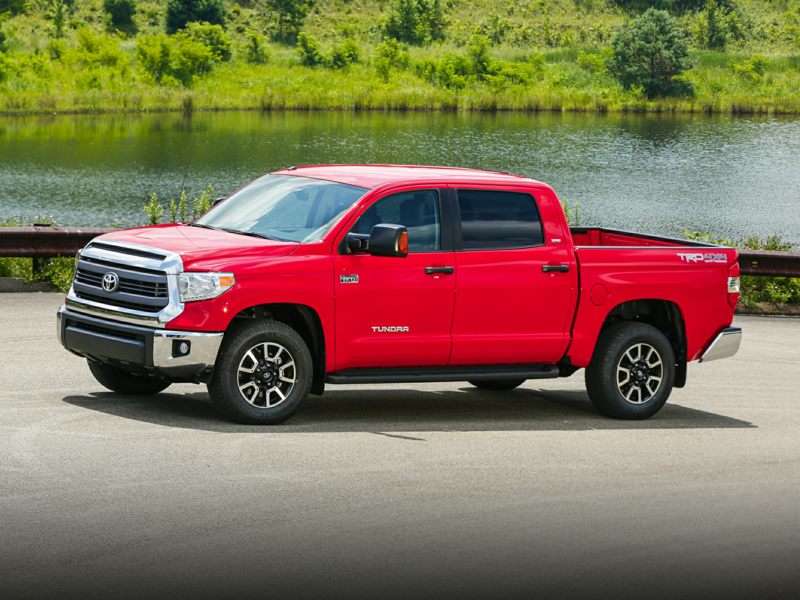 Photo by Toyota