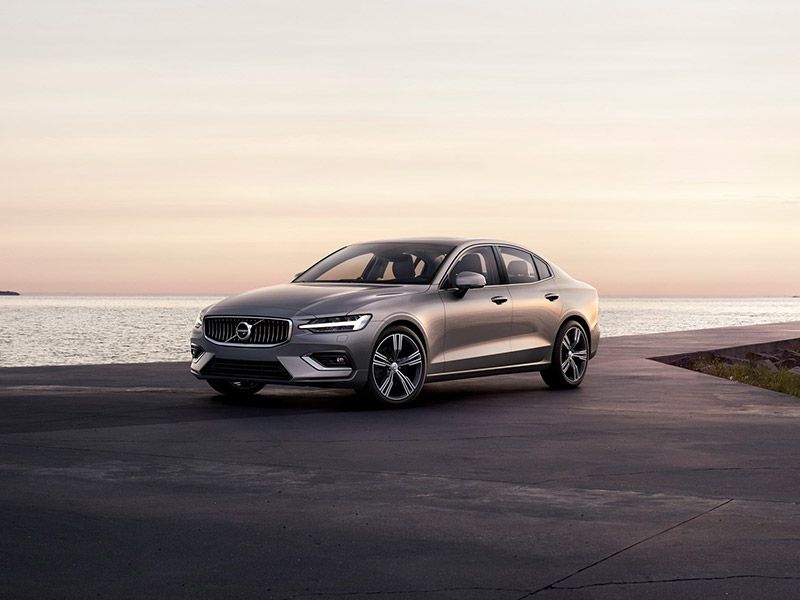 2019 Volvo S60 hero ・ Photo by Volvo
Picking the 10 best new European sedans is always a moving target (in more ways than one), and we like it that way. When it comes to technology, driver aids, and out-of-the-box innovation, the Europeans pull out all the stops. Sometimes their desire to innovate gets ahead of their ability to build, but that simply adds to the charm — especially if you're just committing to a lease.
The 10 sedans identified and described here each advance the art of the four door in their own special way. With both leading-edge technology and avant-garde style, they tell us where the industry is going. And it is going fast. Please sit back, relax and enjoy our look at Europe's most anticipated sedans.
2019 Audi A8
As the flagship sedan of the progressive Audi line, the A8 is expected to be the technology leader for the brand. The upcoming 2019 Audi A8 won't disappoint. With more cameras, scanners, sensors, and lasers than an international summit meeting, the A8 won't do your work for you, but it will drive you to work with only your minimal participation in the process.
Audi's AI Traffic Jam Pilot will drive for you in slow-moving traffic (up to 37 mph). It is designed for use on divided highways where there is very little chance of oncoming vehicles. But despite the automation, the A8 is also a very satisfying sedan to drive. Even with its relatively expansive 208.7-inch length, it is lithe and agile thanks in part to its 335-horsepower 3.0-liter turbocharged V6. Its interior is a touchscreen dream.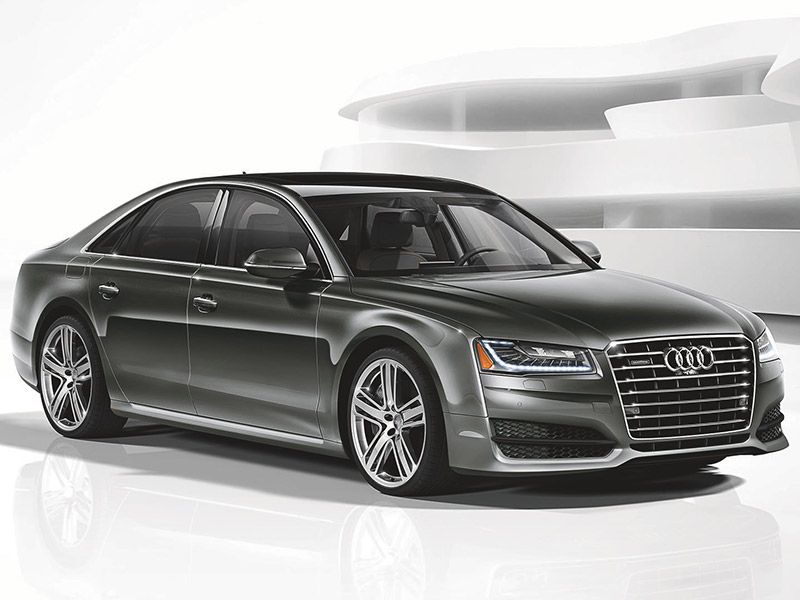 Photo by Audi
2019 Mercedes-Benz CLS
The third-generation Mercedes-Benz CLS takes the "four-door coupe" concept to its next expression of loveliness. While some cars are purposeful, the CLS is pretty. But it is also smart. It is the first vehicle in the Mercedes-Benz lineup to feature 48-volt technology with ISG, and it takes full use of the extra juice with its electronic systems.
The inline six-cylinder engine boasts 362 horsepower with a 21-horsepower boost from the starter-generator. Air Body Control suspension offers both sporty handling and a comfortable boulevard ride, depending upon the circumstances. The fully digital cockpit can be configured in three different styles — classic, sport, or progressive — depending on your mood. The ambient cabin lighting is adjustable in 64 colors so it never clashes with your necktie.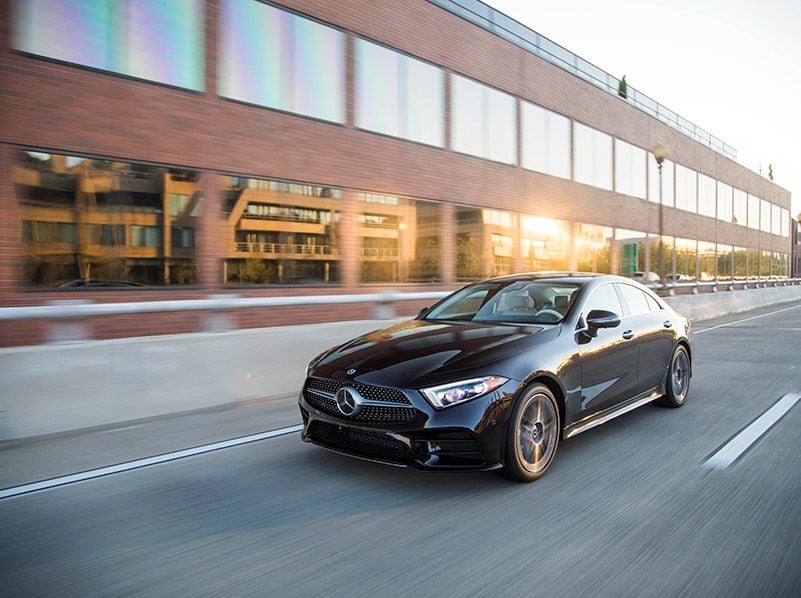 Photo by Mercedes-Benz
2019 BMW M5 Competition
Those who consider a BMW M5 are looking for performance. They need look no further than the new 2019 BMW M5 Competition sedan, which takes four-door fun to the next level of excitement.
Teeing it all up is the 4.4-liter V8 that delivers 617 horsepower at 6,000 rpm. The wide band of peak torque (553 pound-feet) lives between 1,800 and 5,860 rpm, so whenever the driver's foot tromps the gas pedal, acceleration results — pronto. How pronto? The 0-60-mph acceleration time is a scant 3.1 seconds. The M5 Competition will hit 124 mph (200 km/h) in just 10.8 seconds. The transmission is an eight-speed M Steptronic that you can shift yourself if you really want to. Amazingly, in day-to-day life the M5 Competition is refined and accommodating, too.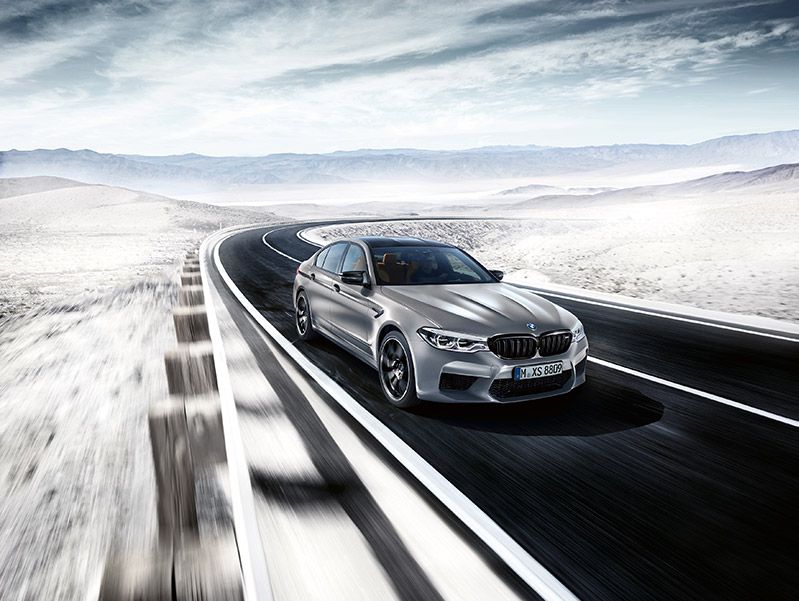 Photo by BMW
2019 Audi A6
Can the Audi A6 sedan really be entering its eighth generation? Well, yes — and the newest model breaks with tradition in a number of ways, including its innovative 48-volt electrical system that offers it mild-hybrid capabilities. While previous A6 iterations were known as good-handling, pleasant cars that cried out for more horsepower, now that cry has been answered. Here in America, the new A6 will be equipped with a 340-horsepower turbocharged 3.0-liter V6 with a seven-speed twin-clutch transmission.
The integration of 48-volt power enables near-instantaneous starts from the starter-generator, which allow the car to coast engine-off in some conditions. The newest go-round of Audi's MMI infotainment system includes a touchscreen with haptic feedback. It lets the user arrange the location of critical vehicle functions on the display using drag-and-drop operation.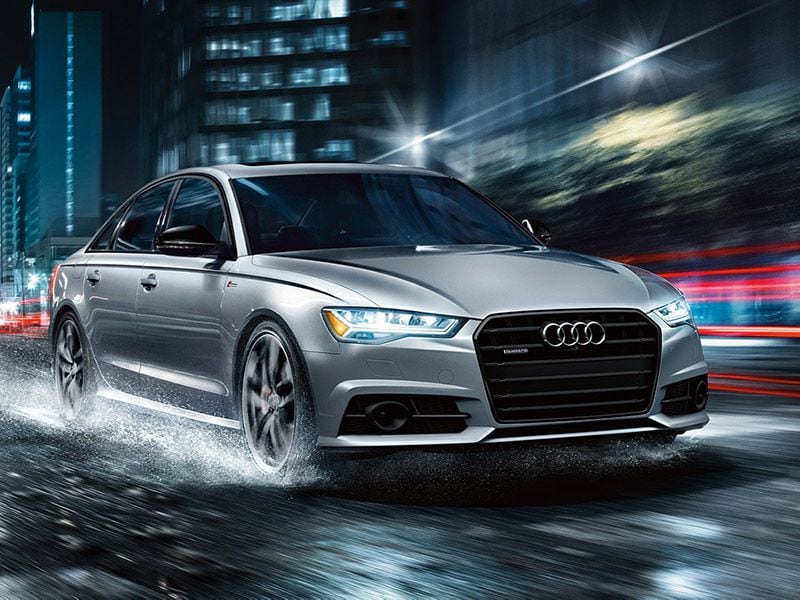 Photo by Audi
2019 Volvo S60
The new Volvo S60 is as interesting for where it is assembled as for what it is. Built in South Carolina, it is the first Volvo car made in the United States. The S60 shares Volvo's Scalable Product Architecture platform with the recently introduced V60 midsize station wagon. The similarities extend to safety technology and infotainment as well.
Like the V60, the S60 features road-departure mitigation, oncoming lane mitigation, and City Safety with automatic braking. Its Sensus Connect infotainment system includes Apple CarPlay, Android Auto, and 4G. The top-of-the-line powerplant is the turbocharged and supercharged T8 Twin Engine plug-in hybrid offering 400 combined horsepower — 313 horsepower from its gasoline engine and 87 from its rear electric motor. Instead of buying or leasing the car, you can order a shorter-term subscription.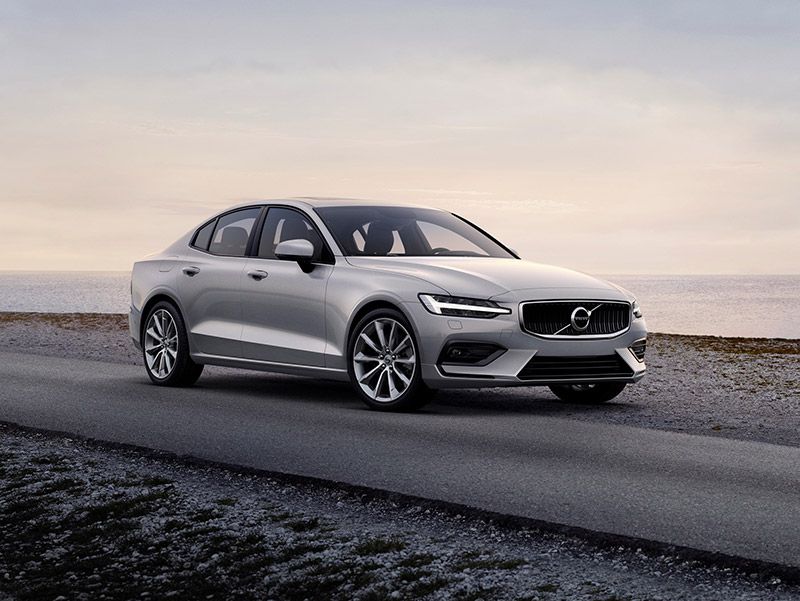 Photo by Vovlo
2019 Audi RS 5 Sportback
By now you have likely heard of the "four-door coupe" concept. It has been used, overused, and abused for the better part of a decade now. But the 2019 Audi RS 5 Sportback takes it one step farther to the new era of the "five-door coupe." In other words, it's a good-looking hatchback with serious performance capabilities — 0-60 mph-in-under-four-seconds capabilities, to be specific.
Making that happen is a 444-horsepower twin-turbo 2.9-liter V6 engine with Audi's Quattro all-wheel-drive system offering four-wheel traction. As you might guess, the RS 5 gets appearance tweaks as well. The wide grille is the most obvious, accompanied by a matte-finished front spoiler and mirror housings. Inside, stainless steel pedals liven things up.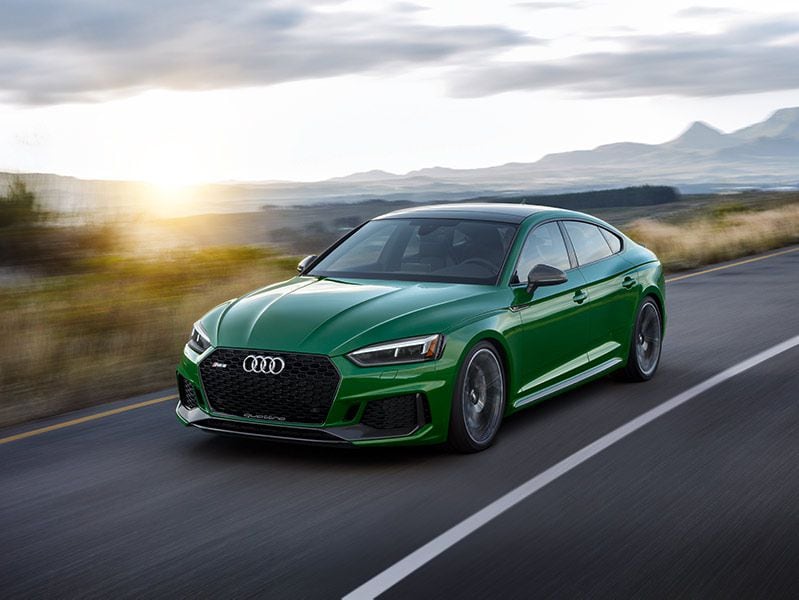 Photo by Audi
2019 Volkswagen Jetta
While many of the vehicles on this list have daunting price tags, the fully redesigned Volkswagen Jetta is a remarkable bargain. Based on VW's innovative MQB architecture, the sleek new design presents a bold face to the world. The 2019 Jetta has more headroom, knee room, and shoulder room than the previous edition. Trunk space is a substantial 14.1 cubic feet, and 60/40 split-folding rear seats are standard.
The interior is driver-focused with infotainment and climate controls angled towards the driver. Automatic emergency braking, blind-spot monitoring with a rear cross-traffic alert, adaptive cruise control, lane assist, and light assist are all available. The 2019 Jetta is powered by the 147-horsepower turbocharged 1.4-liter four-cylinder engine used by the previous generation. Both six-speed manual and eight-speed automatic transmissions are available.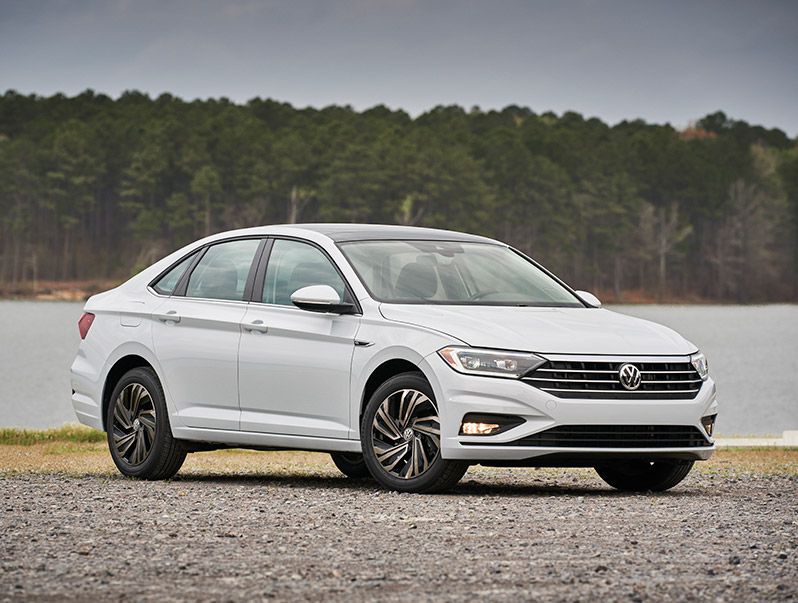 Photo by Volkswagen
2019 Mercedes-Benz C-Class
The Mercedes-Benz C-Class isn't all-new for 2019, but it has a new look and new features that help land it on this list. With both front and rear ends benefiting from the hands of plastic surgeons, the C-Class has a more expensive appearance, exemplified by its updated LED headlights and taillights.
Inside C-Class adopts the display concept of the flagship S-Class, with an optional digital instrument array offering three different styles — classic, sport, and ocean fish. No, actually the third is "progressive." The new engine adds 14 more horsepower for a total of 255 from the 2.0-liter four-cylinder turbocharged engine. The C-Class uses map and navigation data for some electronic driver assistance functions, and Mercedes-Benz says it can "drive semi-autonomously in certain situations."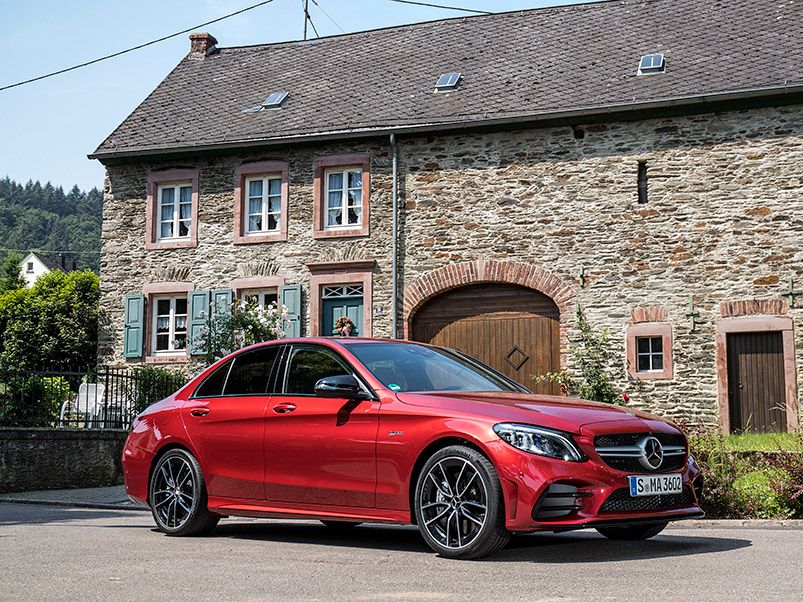 Photo by Mercedes-Benz
2019 Audi A7
The 2019 Audi A7 is not as pure a design as the vehicle it replaces. The hood strakes and door scallops attest to that. But it is darn good-looking anyway, and that has always been the point of this car. The new generation uses a now-trendy 48-volt electrical system, which gives the model a little added punch.
Power now comes from a 335-horsepower turbocharged V6, and it channels its torque through a seven-speed dual-clutch S tronic transmission, which is now deemed smooth enough for this duty. The previous A7 had a supercharged engine and used an eight-speed torque-converter automatic. Even after dropping a speed, the new arrangement should be sportier. Inside the attractive cockpit is a newly redesigned MMI interface controlled by two haptic touchscreens angled toward the driver.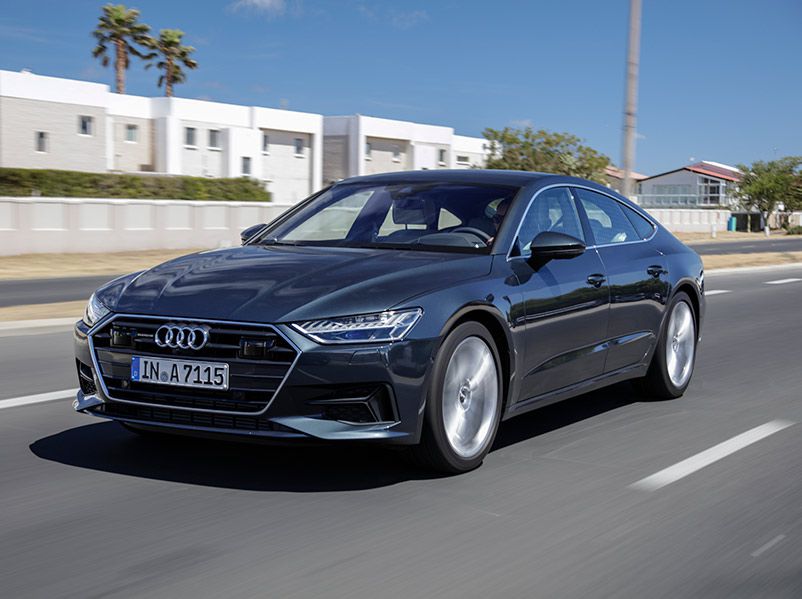 Photo by Audi
2019 Volkswagen Arteon
Not many Americans said yes yes to the Volkswagen CC. So VW has put together a new "halo car" and named it the Arteon. Like the Jetta, it is based on VW's modular MQB architecture, but its wheelbase is significantly longer (111.9 inches versus 105.9). The new platform also enables new cab-forward styling and pushes the wheels out to the corners. The fastback roofline is capped with a decklid spoiler.
Seeking luxury-sedan buyers, the Arteon offers available Nappa leather seating surfaces, ventilated front seats, a massaging driver's seat with memory, and heated rear seats. Keyless access, push-button start, and tri-zone automatic climate control add to the upscale feel, as does the 8-inch touchscreen infotainment system. Power is provided by a 268-horsepower 2.0-liter engine with eight-speed automatic transmission.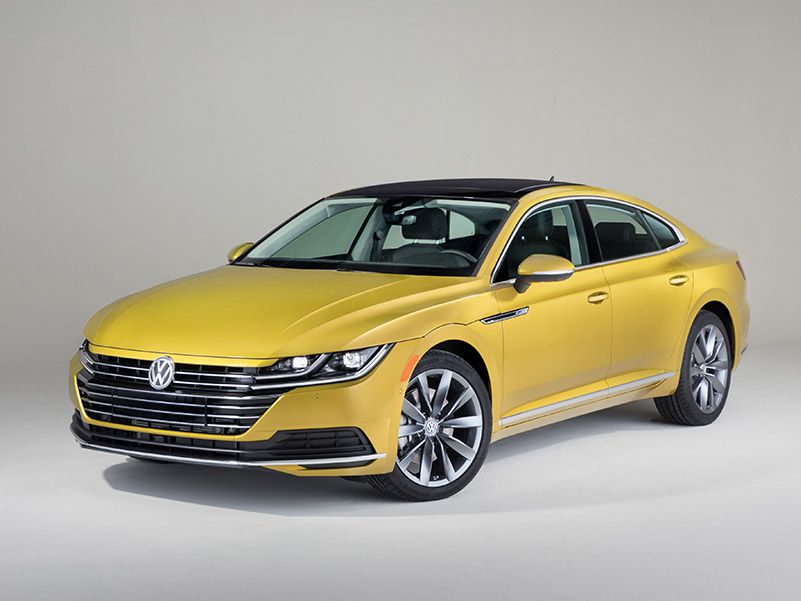 Photo by Volkswagen