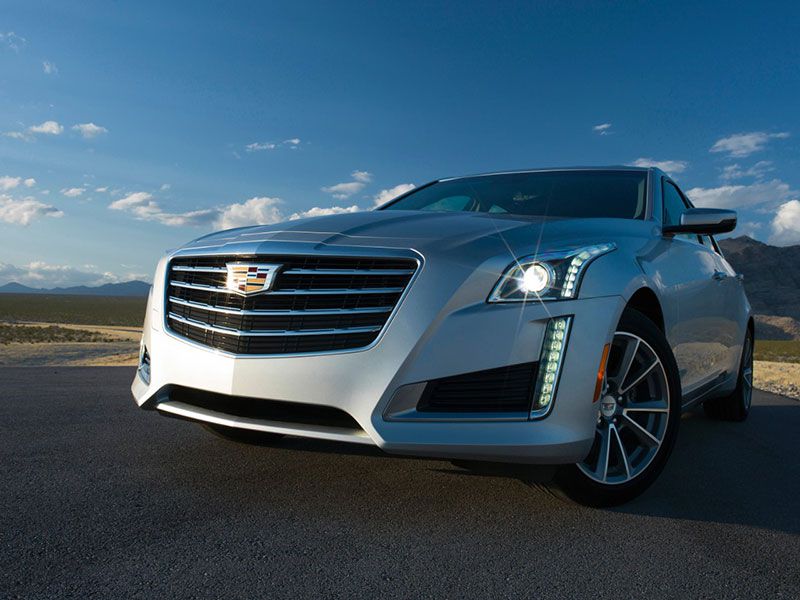 2017 Cadillac CTS exterior front view grille ・ Photo by General Motors
Many New cars are expensive, but if you have a budget of, say, 50 grand, some of the best cars on the market are well within your range. Our focus here is on cars (not crossovers or SUVs), so we took a look at the leaders of each category and came up with our favorites. All cars on this list have an MSRP that starts under $50,000, and some will leave you with plenty of cash to spare. Our list starts off with the most expensive options and then moves on to some real bargains.  Without further ado, we present Autobytel's 10 Best New Cars Under $50,000:
10) 2016 Audi A6—MSRP $46,000
There are a few surprises in the midsize luxury class, namely, that the excellent Audi A6 can be had for such a relatively reasonable price. This 5-passenger sedan offers plenty of fun for the driver (252 turbocharged horsepower in the base model) and great fuel economy, too. Passengers are treated to upscale accommodations, generous rear legroom, and lots of style, thanks to standard leather upholstery, a great audio system, and a generous dose of Audi style. The Audi A6 manages to sneak in under our price cutoff—although, to be fair, pretty much anything other than the base model will be too expensive to meet our objectives. Still, the 2016 Audi A6 is one of the 10 best new cars under $50,000.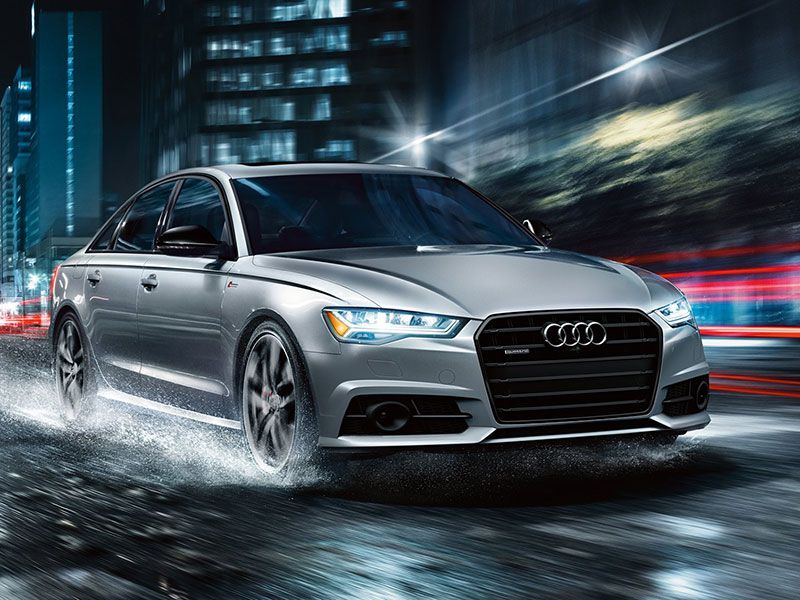 Photo by Audi
9) 2017 Cadillac CTS—MSRP $45,560
The Cadillac CTS is another luxury sedan with a low enough base MSRP to make our price cutoff. The compromise here is that you're stuck with the base 4-cylinder engine on this budget, which provides an adequate 268 horsepower, enough to cruise comfortably but not enough to show off. Regardless, the CTS is a very pleasant car to drive, with a high-end interior and numerous features. Reliability ratings aren't yet available for the 2017 CTS, but it has been tested by the NHTSA, and earned excellent scores. Thanks in part to a number of updates for this year, the 2017 Cadillac CTS earns a spot on our list of the best new cars under $50,000—as long as you don't go too crazy with the upgrades.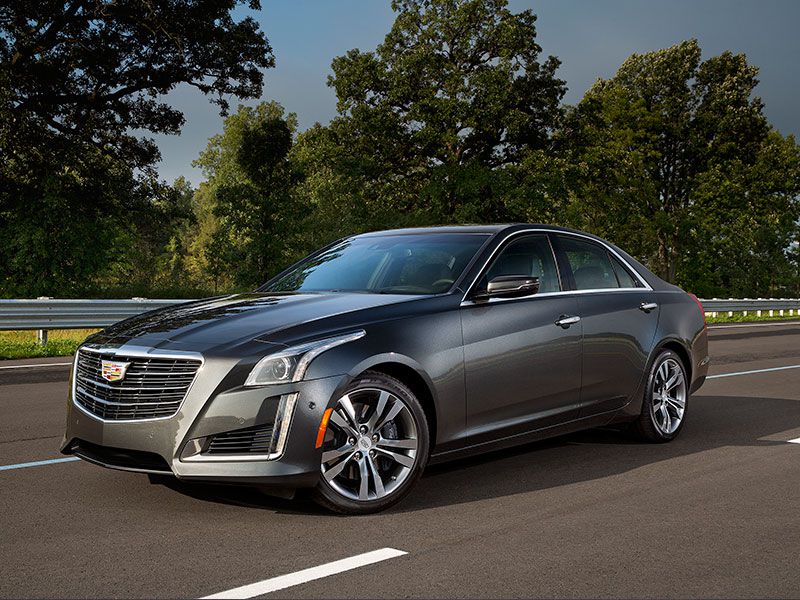 Photo by General Motors
8) 2016 Chevrolet Impala—MSRP $27,095
The 2016 Chevrolet Impala is a class-leading large sedan that provides plenty of value at its entry-level price, but can also be loaded up to near-luxury levels. The family-oriented Impala offers very generous accommodations for five passengers, and the cabin is noted for being one of the most upscale in the class. The cabin layout is easy to navigate and the infotainment system is particularly easy to use. The base 4-cylinder engine makes an adequate 196 horsepower, but with our budget, you can trade up to the available 305-horsepower V6. Buyers shopping for a new large sedan should consider the Impala, one of our 10 best cars for less than $50,000.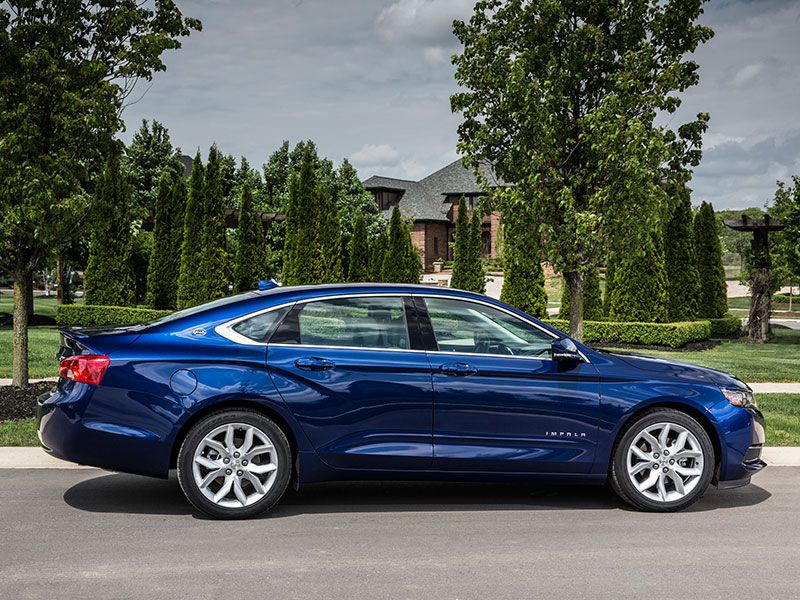 Photo by General Motors
7) 2017 Subaru Outback—MSRP $25,645
The 2017 Subaru Outback is one of the best wagons on the market and one of the better overall values on our list of the top cars under $50,000. We love the Outback for its standard all-wheel-drive system, which is a time-tested standout offering of the Subaru brand. It helps transform the Outback wagon from basic transportation into a capable all-weather warrior. The base 4-cylinder model comes with 175 horsepower, but with our budget, you can upgrade to the 256-horsepower 6-cylinder model and still have tons of cash left over. Though the Outback prioritizes functionality over style, you can rest assured it doesn't skimp on comfort. The 2017 Subaru Outback will provide good reliability for years, and has also earned strong safety ratings.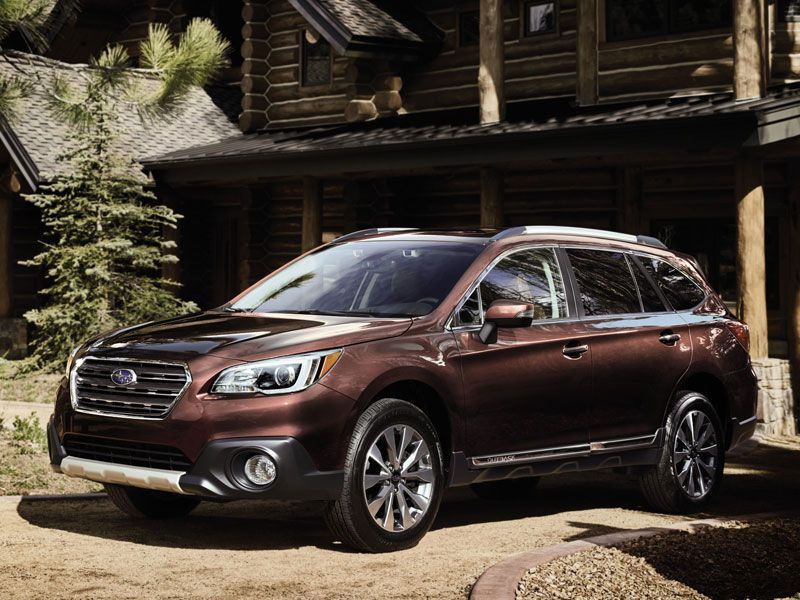 Photo by Subaru
6) 2016 Mazda MX-5 Miata—MSRP $24,915
The 2016 Mazda MX-5 Miata is not only one of the best convertibles on the market, this modest little roadster tops numerous sports car lists, too. It easily earns a spot on our list of the best cars under $50,000 with a base MSRP that's less than half that. Fully redesigned for the 2016 model year, the Miata makes 155 horsepower, which is enough to power through corners and twisties with ease. Mazda has nailed this car's suspension and handling, providing excitement for the driver as well as the lone lucky passenger. Open the top for an even fresher experience. It's no surprise that the Miata, on the road for more than 25 years and now in its fourth generation, has captured countless hearts, imaginations, and autocross trophies.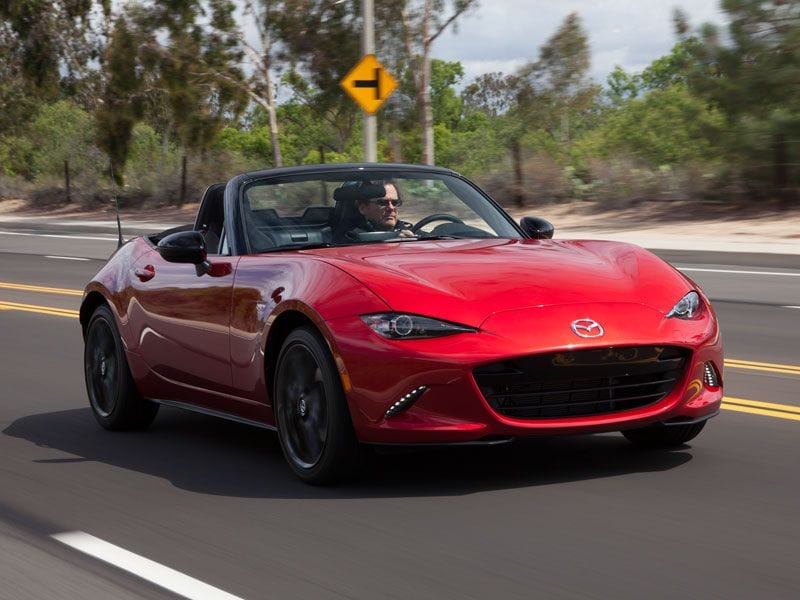 Photo by Mazda
5) 2016 Toyota Camry—MSRP $23,070
For one of the most solid midsize sedans on the market and a great choice for a new car under $50,000, look no further than the 2016 Toyota Camry. The Camry isn't exciting, but it doesn't need to be—it manages to sell in huge numbers thanks to its cheerful yet steadfast nature. The Camry accommodates five passengers with seating that's comfortable, and although the interior design is high quality, it makes no pretense of luxury aspirations. Same thing with the engine—the 178-horsepower 4-cylinder gets the job done, but a 268-horsepower V6 is better and fits well within our $50,000 budget. Great safety and reliability scores also help propel the Toyota Camry to the top of its class year after year.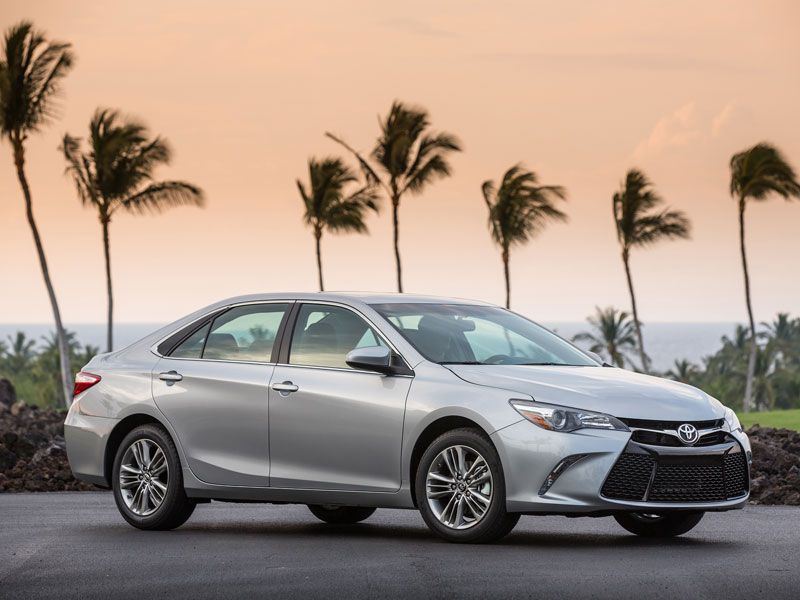 Photo by Toyota
4) 2016 Volkswagen Golf SportWagen—MSRP $21,625
Despite Volkswagen's recent Dieselgate troubles, the company still makes some really good vehicles, and the 2016 Golf SportWagen is one of our favorites. The Golf SportWagen is an affordable wagon that comes in well under our budget but provides a lot of features. Just one engine is currently available, a turbo four that makes 170 horsepower and provides great fuel economy to keep costs low over the long run. The Golf SportWagen also handles well for a vehicle of its size, providing a good balance between ride comfort and agility. All five passengers have plenty of legroom, too. Fun to drive and a strong overall value, the VW Golf SportWagen has earned a spot on our list of 10 best new cars for less than 50 grand.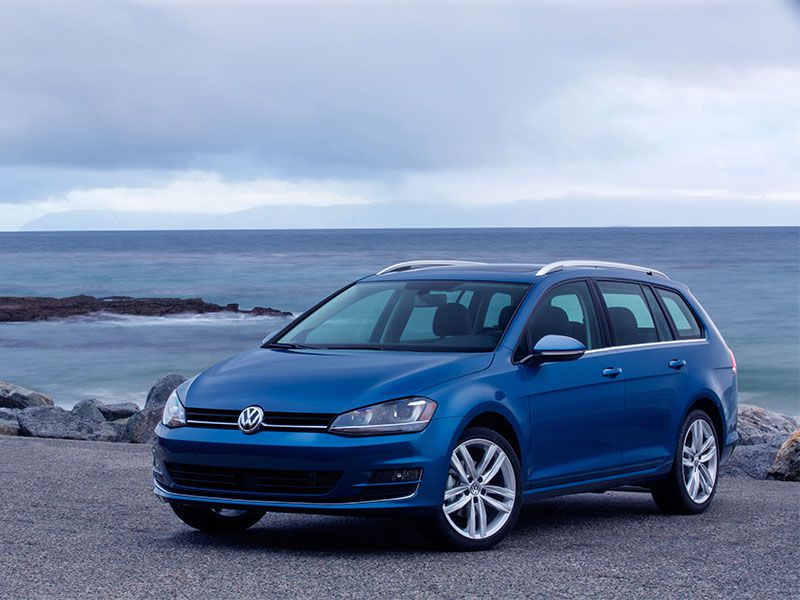 Photo by Volkswagen
3) 2016 Honda Civic—MSRP $18,640
If you don't already know that the Honda Civic is one of the best values on the road, then you haven't been paying attention. And after a full redesign for the 2016 model year, the trusty little Civic is even better than before. It's an easy pick for a list of the 10 best new cars at any price point, and comes in well under our $50,000 budget. This 5-passenger compact is available in your choice of sedan or hatchback, both of which feature fresh styling and engaging performance. The base model produces 158 horsepower, but the higher trim levels, with a 174-horsepower turbo engine, are totally affordable as well. The 2016 Honda Civic has excellent safety test scores and reliability ratings, too.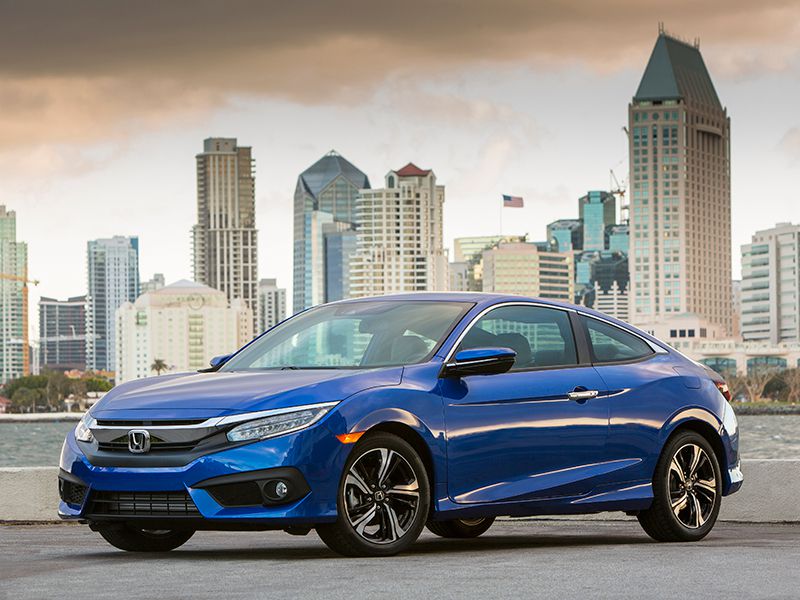 Photo by Honda
2) 2016 Mazda3—MSRP $17,845
The Mazda3 has long been one of the standouts in the compact car class, which makes it an easy pick for our list of the 10 best new vehicles under $50,000. With the choice of sedan and hatchback styles, and two peppy engine options, the Mazda3 provides shoppers with plenty of choices that come in well under budget. The 6-speed manual transmission makes the Mazda3 super fun to drive, but even those who opt for the automatic will enjoy the small car's superb handling and surprisingly comfortable front seats. Mazda loads the Mazda3 with a ton of standard features, improving its value even more. No surprise, the class-leading Mazda3 also has great reliability and safety ratings.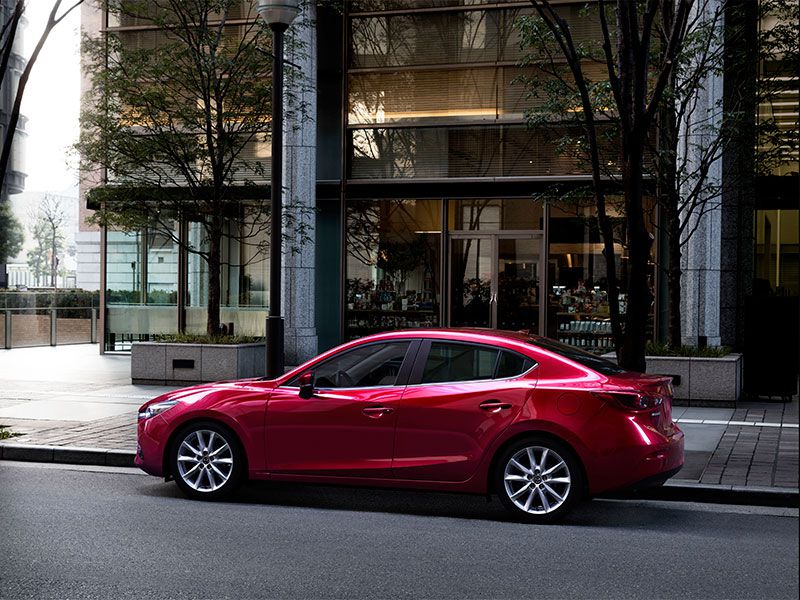 Photo by Mazda
1) 2016 Chevrolet Sonic—MSRP $14,345
Chevy's subcompact Sonic is a serious bargain for a fraction of our budget, and it comes in a range of bright and upbeat colors. The 2016 Sonic is available as a hatchback and a sedan, both of which provide a surprising level of comfort for five passengers. We prefer the hatchback for its larger cargo area. Buyers get the choice of two engines in the Sonic. Both make 138 horsepower, but the more expensive turbocharged model provides better fuel economy and a more fun driving experience. Like the more expensive models featured here, the Chevrolet Sonic scores well in safety tests and reliability statistics, proving that you don't have to overspend to get one of the 10 best new cars under $50,000.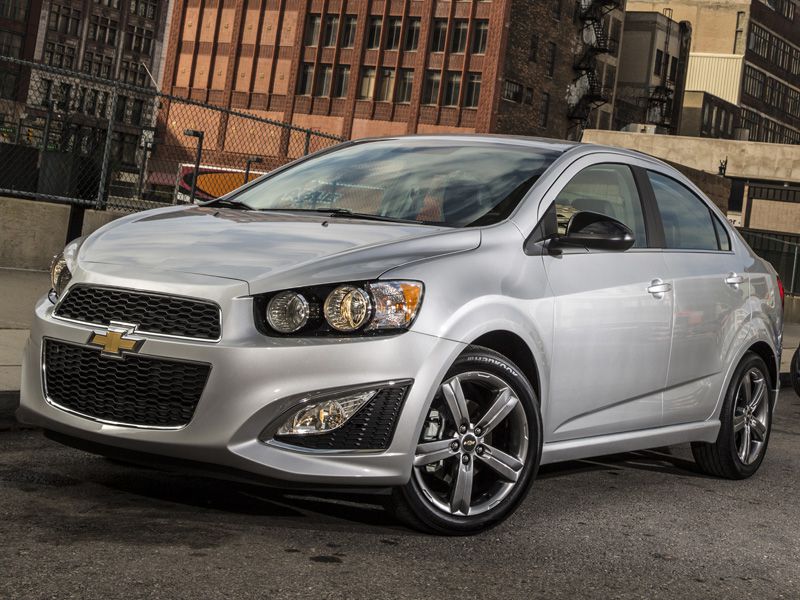 Photo by Chevrolet