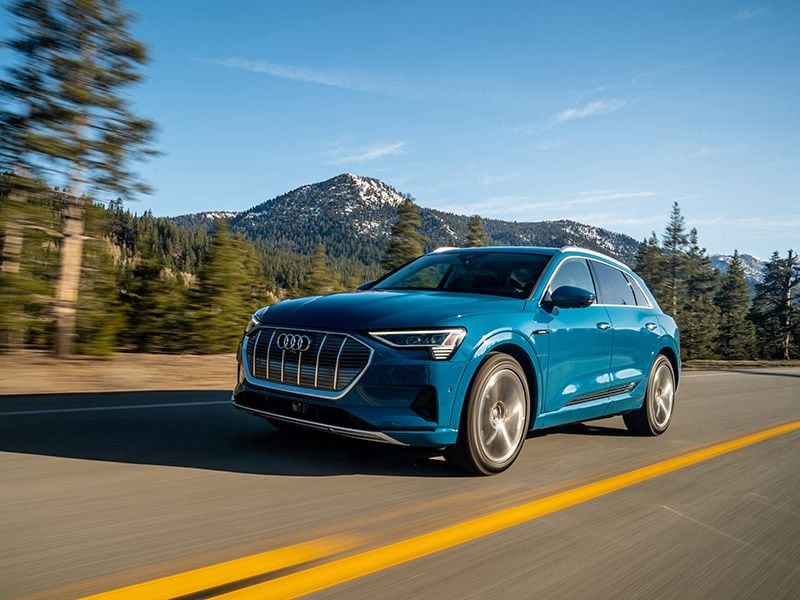 2019 Audi e Tron front three quarter ・ Photo by Audi
Elegant styling. A beautifully finished interior. A stellar driving experience. All the latest comfort, technology, and safety features. These are all qualities you'd reasonably expect in any luxury vehicle. But if you choose a luxury SUV, you also get extra-useful cargo space, an elevated seating position, and, in some cases, performance that can wow you whether you're on the road or in the dirt.
Today's we're looking right at the center of the luxury SUV world. Not the entry-level subcompact or compact models, but also not the gargantuan and super-pricey full-size vehicles. Instead, these 10 best mid-size luxury SUVs offer useful amounts of interior room, ample refinement, and hearty acceleration without going totally over the top. Our selections cover a great variety of models, from seven-passenger family-friendly rides, to high-performance machines, to trail-tackling SUVs, to even an all-electric vehicle. Let's take a look.
2020 Lexus RX 450hL
We'll start off our list of the 10 best mid-size luxury SUVs with the segment's best-seller: the 2020 Lexus RX. The RX enjoys a sterling reputation for comfort, quietness, and reliability at lower prices than European competitors. Recent models have added daring, aggressive styling to the mix.
The base RX 350 starts at $44,150 with lots of standard safety technology and a smooth V6 engine with a hearty 295 horsepower. But for the best of the lineup, we'd make two upgrades: We'd switch from the standard-length RX to the longer RX L, which improves on the base model's skimpy cargo capacity while also picking up a small third-row seat. And we'd upgrade to the RX 450h hybrid, whose electric motors reduce the RX's fuel bill while keeping the vehicle agreeably speedy. Put it together, and that's the Lexus RX 450hL, priced from $50,460 and sipping fuel at an EPA-estimated 29 mpg in mixed driving. All 2020 RX models enjoy updated styling; a redesigned infotainment system with a touchscreen, Android Auto, and Apple CarPlay; and some tweaks to the driving experience.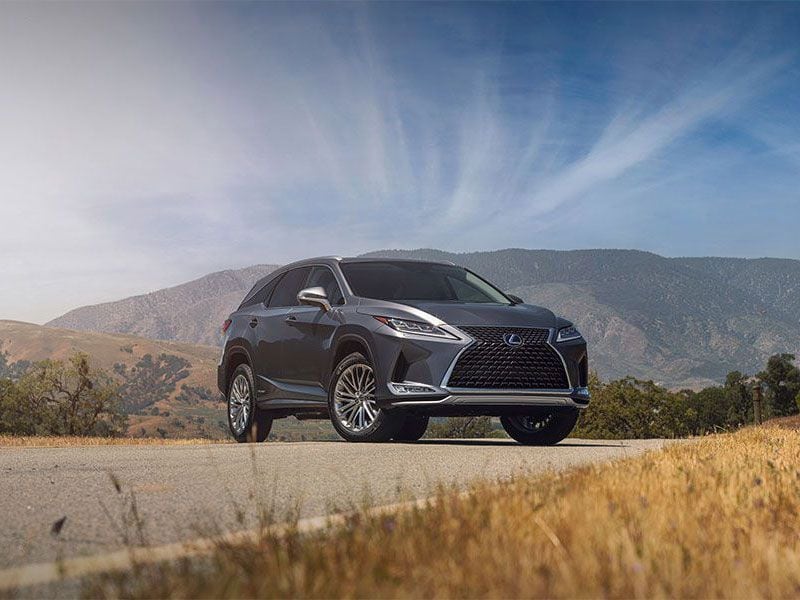 Photo by Lexus
2020 BMW X5
We mentioned that the Lexus RX is more affordable than its European luxury competitors. But sometimes luxury is about paying the big bucks to get the best possible experience. And the ultra-sophisticated 2020 BMW X5, fresh off last year's redesign, is definitely one of the best luxury mid-size SUVs when price isn't an object.
That's not to say the X5 is absurdly expensive, either. Starting at $58,900, it's steep but not truly stratospheric. That's reasonable considering the vehicle's rock-solid driving dynamics — not lithe and nimble like BMWs of yore, but more composed and confidence-inspiring than the less-expensive crop of mid-size luxury SUVs. And its available engines range from powerful to crazy-quick, starting with a 335-horsepower six-cylinder and moving up to a trio of V8s with 456 to 600 horsepower. The X5 comes standard with five-passenger seating, while an optional small third row pushes total capacity to seven.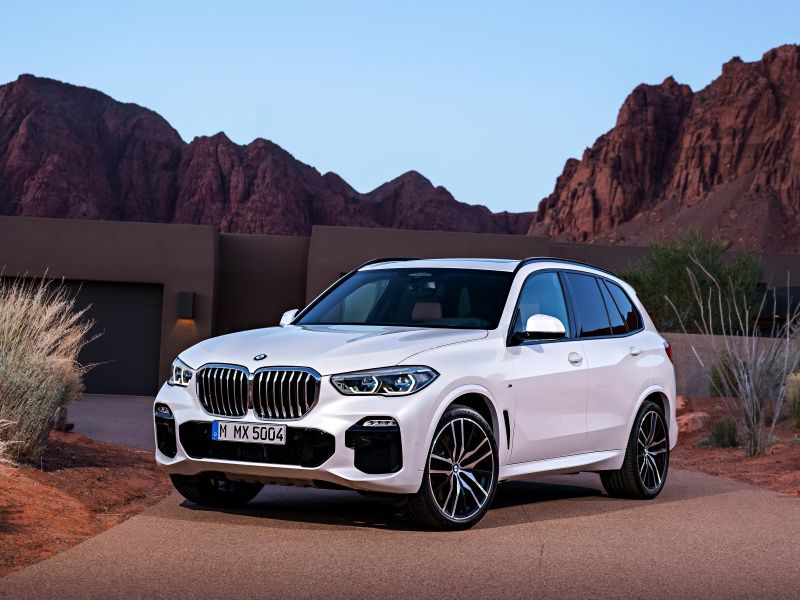 Photo by BMW
2020 Audi Q7
The Audi Q7 is a close rival to the BMW X5, and its advantages are similar. Both German mid-size luxury SUVs offer a stellar driving experience — perhaps with the BMW managing a slightly smoother ride and the Audi offering sharper steering and handling, but neither likely to draw complaints. Unlike most competitors, all Q7s feature seven-passenger seating and all-wheel drive at no extra cost.
The Q7 receives an extensive update for the 2020 model year, including revised styling and an overhauled interior; it's due on sale in early 2020. While even the 2019 model is one of the best mid-size luxury SUVs, the updates make it better than ever. 2020 pricing isn't available as of this writing, but the 2019 Q7 starts at $53,550.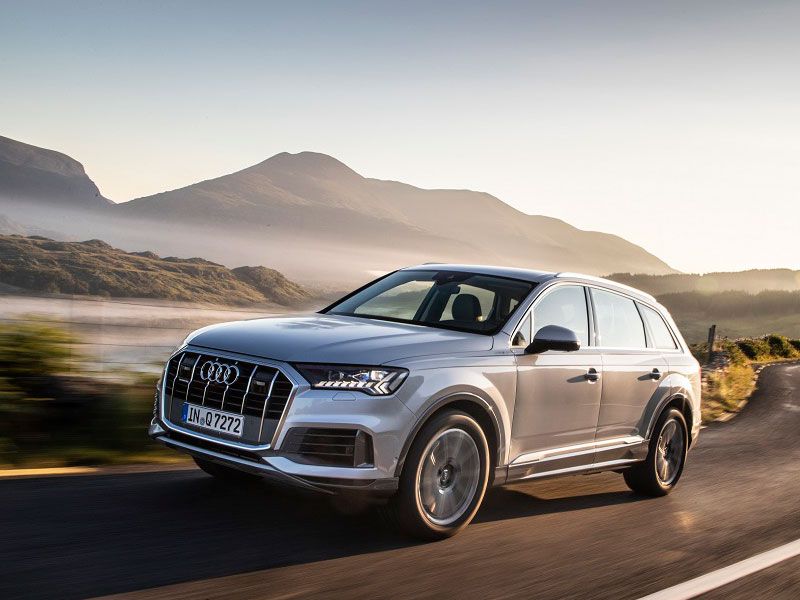 Photo by Audi
2020 Porsche Cayenne
When you're willing to pay big bucks and sacrifice third-row seating, you can get a truly magical driving experience from a mid-size luxury SUV. That's just what Porsche has done with the Cayenne. In addition to available high-power engines (up to 541 horsepower), it delivers the steering and handling precision of a much smaller vehicle. It's a rarer ability than mere horsepower, and Porsche lets you get both. There's even a plug-in hybrid model that combines eye-popping acceleration with up to 13 miles of all-electric range per charge.
The latest Cayenne generation, introduced as a 2019 model, also brings a more attractive exterior design, especially if you trade some cargo space for the new four-door coupe model. Much more than any other Cayenne, the coupe truly looks like a Porsche sports car rather than an ordinary luxury SUV wearing Porsche details. Other upgrades included a higher-tech and more richly finished interior. Prices for the 2020 Porsche Cayenne start at $68,600.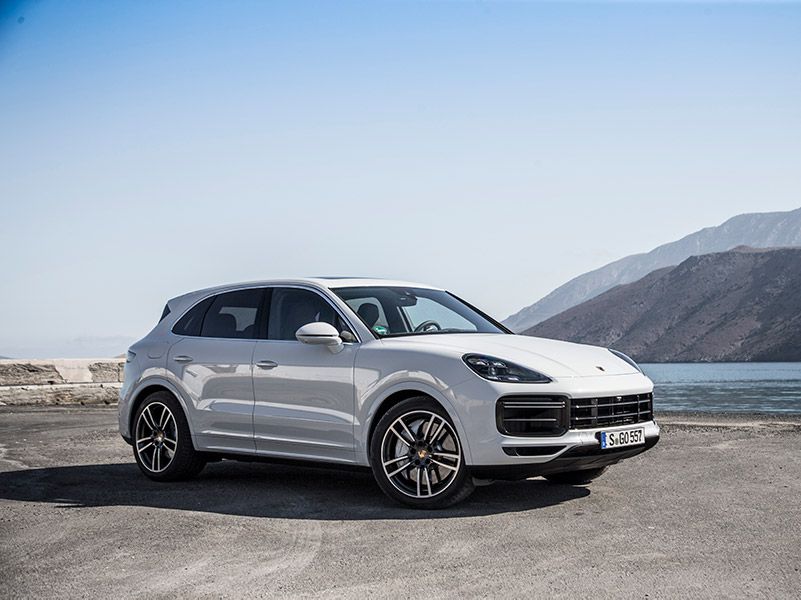 Photo by Porsche
2020 Land Rover Range Rover Sport
While most of the best mid-size luxury SUVs are wonderful to drive on the road, buyers looking for more capability will love the 2020 Land Rover Range Rover Sport. Land Rover's technological wizards have distilled decades of off-road driving skills into the brand's sophisticated off-road electronics, helping even novices slog through mud, climb over rocks, or even ford nearly 3 feet of water.
That's not to say the mid-size Range Rover Sport is only an off-road beast. On pavement, its height-adjustable suspension hunkers down to provide commendable agility for such a capable SUV. An array of powertrain options provide either unexpected fuel efficiency or ridiculous acceleration. Its interior dazzles with sumptuous leather on nearly every conceivable surface, and two brilliant-looking dashboard touchscreens. The Range Rover Sport doesn't have quite the on-road poise or spaciousness as some competitors, despite its optional third-row seat. But it keeps up with the competition for these everyday qualities — and leaves them in the dust when the going gets rough. Prices start at $68,650.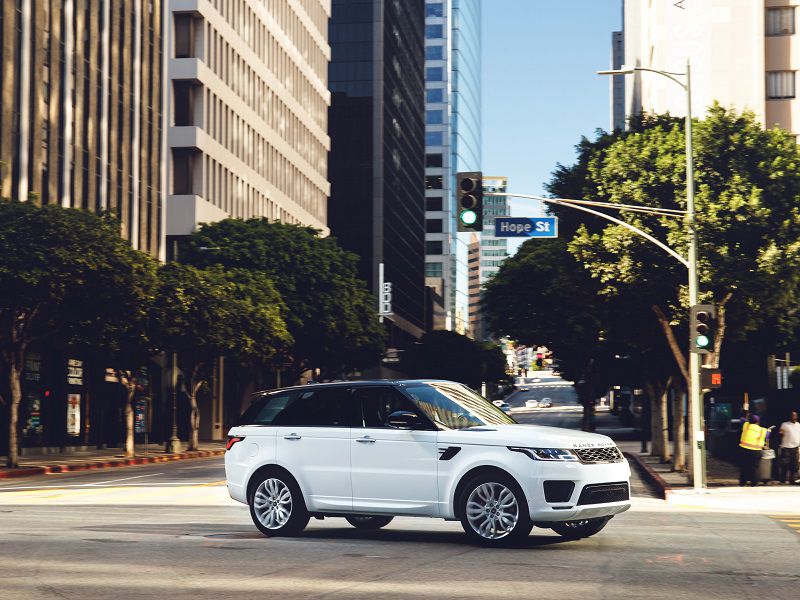 Photo by Land Rover
2020 Audi e-Tron
Buyers looking for an all-electric mid-size luxury SUV now have a bountiful selection. Each one can be excellent for the right buyer, but after careful consideration, we're going with the Audi e-Tron.
The e-Tron is not only a modern electric car — capable of going more than 200 miles per charge and accelerating with electrifying thrust — but it's also a stellar mid-size luxury SUV in other ways. To be sure, the segment-defining Tesla Model X and gorgeous Jaguar E-Pace are even quicker, have even more range per charge, and look the part of a world-changer. But the Audi is the better bridge to the rest of the mid-size luxury SUV class, offering familiar standards for ride quality, interior design, and overall comfort and polish. It's also significantly less money than a Tesla; while 2020 prices aren't yet available, the 2019 Audi e-tron starts at $74,800 and qualifies for a $7,500 federal tax credit. And it's roomier than the low-slung Jaguar or the upcoming Mercedes-Benz EQC.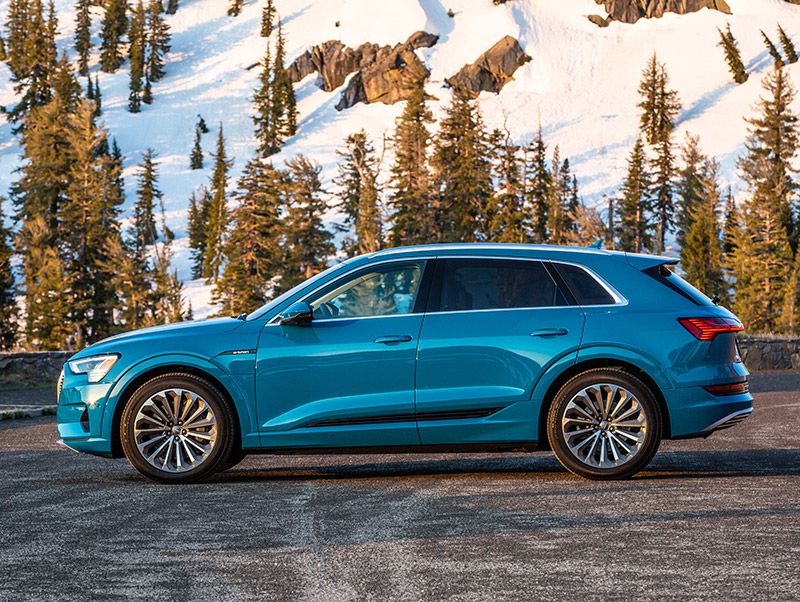 Photo by Audi
2020 Volvo XC90
Few mid-size luxury SUVs offer three spacious rows of seating. Most luxury carmakers reserve extra legroom for their full-size models, meaning that most mid-size models have only a tiny third-row seat — or none at all. But if you're looking for a family-friendly luxury SUV without the bulkiness or expense of a giant BMW X7, Mercedes-Benz GLS, or Lexus LX 570, the 2020 Volvo XC90 has you covered.
The XC90 fits seven real-human seats into an attractive and tidily sized body. Priced from $48,350, Volvo's largest crossover is a family car that's elegant enough for any luxury buyer. Buyers can choose among three fuel-efficient engines, all with the same turbocharged 2.0-liter four-cylinder as a starting point. As you move up the lineup, superchargers and electric motors join the party to rocket the XC90 forward without guzzling gasoline.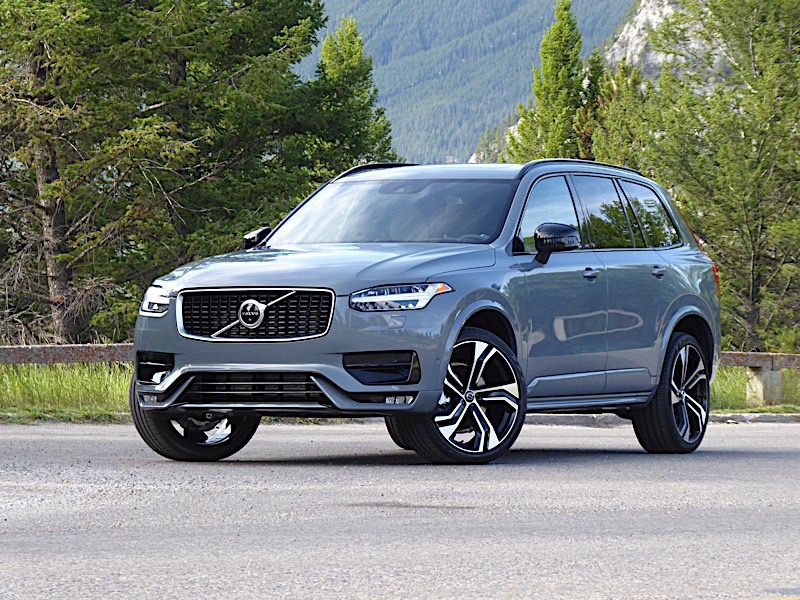 Photo by Ron Sessions
2020 Acura MDX
Many of the best mid-size luxury SUVs feel like big, solid, unstoppable hunks of finely honed metal. There's a secret to that — these are heavy cars, which holds back their acceleration, handling agility, and fuel economy. That's not to say they're bad in any of those ways, just that they'd be even better with a lighter weight.
Enter the 2020 Acura MDX. It may not feel as rock-solid as a BMW X5 or Audi Q7, and its interior decor may not be as magnificent, but the MDX weighs some 700 pounds less despite having a roomier third-row seat. Especially with its optional "Super Handling All-Wheel Drive," the MDX's tidy 4,000-pound curb weight helps it dance more easily through corners. It also means the 290-horsepower V6 can get the vehicle moving effortlessly while also returning EPA ratings of up to 23 mpg in mixed driving — thriftier than some less-powerful four-cylinder SUVs. There's also a gas-electric hybrid that boosts mileage to 27 mpg while also improving performance. This nimble, fuel-efficient, family-friendly mid-size crossover also has an appealing base price of $44,400.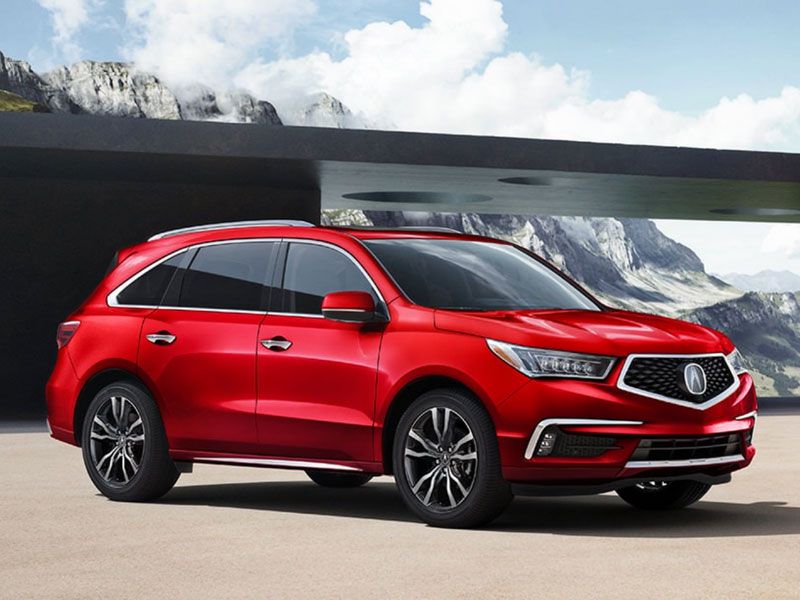 Photo by Acura
2020 Lincoln Nautilus
For maximum value in the mid-size luxury SUV segment, our top choice is the 2020 Lincoln Nautilus. It gets less attention than its larger, newer, and more visually striking Lincoln Aviator, but don't overlook it. The Nautilus brings a smooth, quiet ride; plenty of features; and generous five-passenger comfort for much less money — and even managed better crash-test scores than its stablemate.
The Nautilus (previously called the MKX) is priced from just $41,040. Its lower price means you get a less dazzling interior and less sports-sedan-caliber handling than the Europeans, but you might be pleasantly surprised at how well the Lincoln holds its own. Affordability extends to the fuel pump, where both its standard turbocharged four-cylinder engine and its optional turbocharged V6 get class-competitive gas mileage on low-cost regular-grade fuel.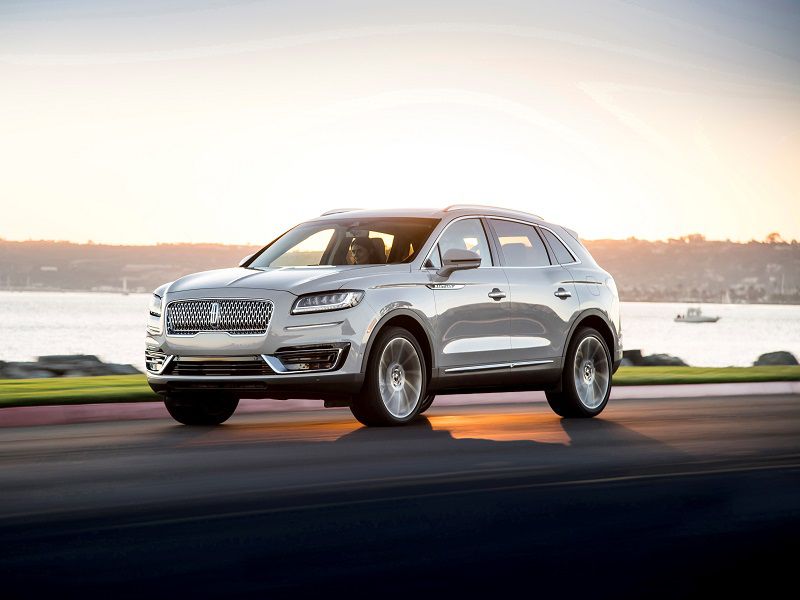 Photo by Lincoln
2020 Mazda CX-9
Mazda isn't officially a luxury brand. But with its elegant designs, feature-laden vehicles, and comfortable yet sporty driving manners, it aims to be a viable alternative to the more affordable luxury marques like Acura and Lincoln. The 2020 Mazda CX-9 mid-size crossover hits the mark. The CX-9 delivers family-friendly space without looking or feeling like a dull family car, and the 2020 model year brings a broader palette of striking interior and exterior colors along with a larger 9-inch infotainment screen.
CX-9 prices start at just $33,790, and even the luxuriously finished Grand Touring and Signature models come in at just $41,450 and $46,115. That means you can get the best features like Nappa leather, real wood trim, and Bose 12-speaker sound system for less money than you'd get on a competitor with vinyl seats, plastic wood, and no-brand audio.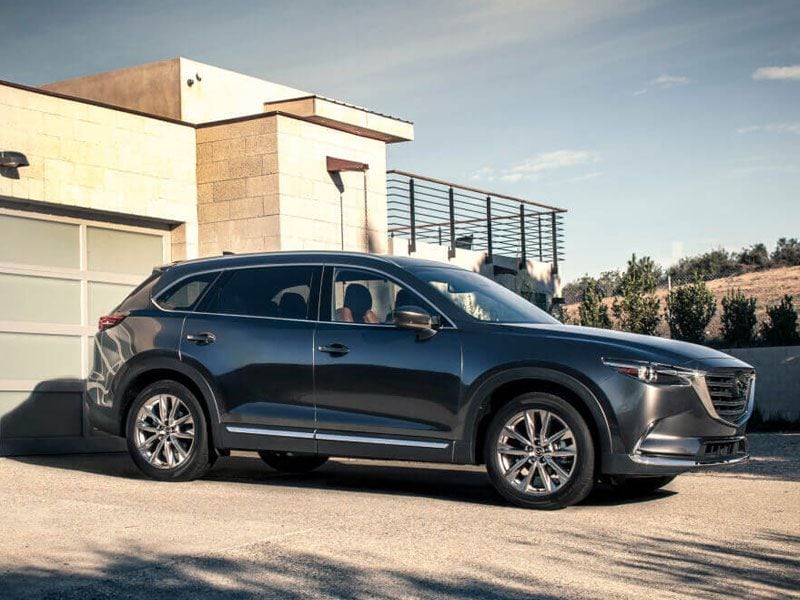 Photo by Mazda