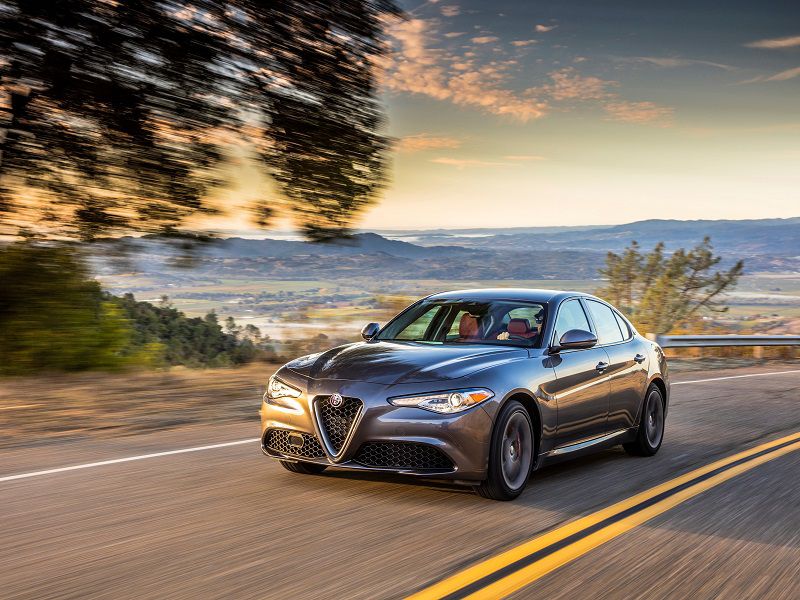 2019 Alfa Romeo Giulia Gray Front Three Quarter
Everyone likes luxury cars, and for good reason. Luxury cars have all the best stuff, they're fast, and they look great. They even impress the neighbors. There's no downside to luxury cars, unless you count paying for them. The problem is, luxury cars usually cost a lot of money. You could buy a used luxury car with some miles on it, but then you're into repair bills that can easily exceed the payments on a fancy new ride.
To solve this problem for you, we've done the homework and found 10 great luxury cars that you can buy for less than $50,000. We'll prove that there's really no reason to pay big bucks, or to live with a car you don't love.
2019 Volvo S90
The 2019 Volvo S90 comes closest to our $50,000 price limit at $47,350. Volvo uses a 2.0-liter turbocharged engine with 250 horsepower. That gets you an eight-speed automatic transmission with front-wheel-drive, but you can get the S90 with all-wheel-drive for $49,850. With either choice, you're getting one of the most comfortable and best luxury driving experiences on the market.
Inside, the mid-size S90 offers world-class comfort and Scandinavian design. There's a nine-inch Sensus Connect touchscreen infotainment system. Sensus supports Android and Apple smartphone integration, and navigation is included. Of course, Volvo's legendary safety is also standard, with features like blind-spot monitoring, parking assist, oncoming lane mitigation, lane-keeping assistance, and Volvo's Pilot Assist adaptive cruise control and steering assistance system.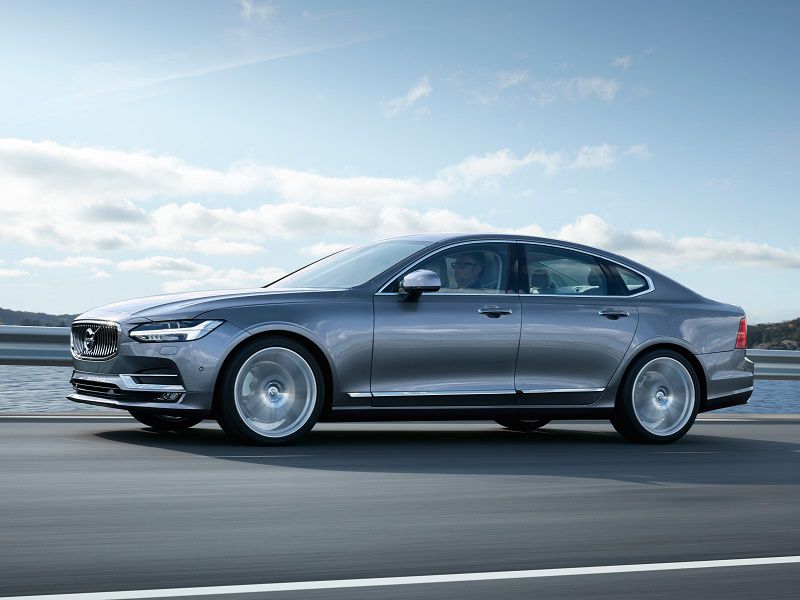 Photo by Volvo
2019 Lexus GS 300
The 2019 Lexus GS 300 is available starting at $46,610. The base model comes well-equipped with a 2.0-liter turbocharged engine making 241 horsepower. The standard transmission is an eight-speed automatic driving the rear wheels. The mid-size GS is efficient, returning up to 22 mpg in the city and 33 mpg in highway driving, but it's still capable of a seven-second 0-60 time.
The interior design of the GS 300 includes 10-way power adjustable front seats, with trim in your choice of walnut, aluminum, or striated black. The infotainment system is an 8-inch high-resolution touchscreen, and every GS comes with a 12-speaker surround-sound audio system. Standard safety features include a pre-collision system with pedestrian detection, a lane-departure alert, automatic high beams, and adaptive cruise control.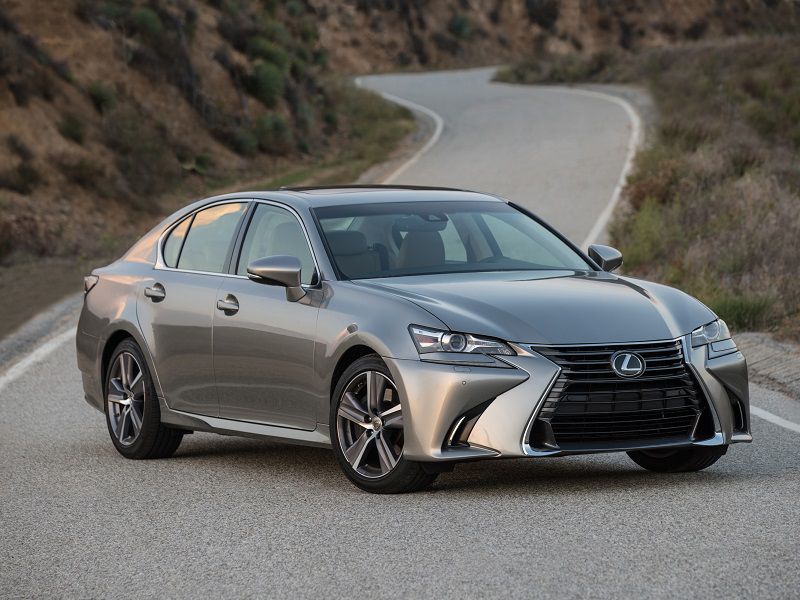 2019 Lincoln Continental
It's surprising, but you can get a 2019 Lincoln Continental for a starting price of $46,145. The Continental features a standard 3.7-liter V6 engine rated at 305 horsepower, and a six-speed automatic transmission. The Lincoln is unusual in that it offers front-wheel drive in a full-size sedan. However, you also get massive 18-inch front disc brakes under 18-inch wheels.
Standard safety equipment includes a rearview camera, automatic emergency braking, lane-keeping, blind-spot monitoring, rear cross-traffic alerts, and automatic high beams. Inside, the Continental is everything you expect from a top-drawer Lincoln. The remote keyless entry unlocks the car as you approach. The cabin is trimmed in real wood, and there's active noise cancellation to make your ride peaceful and serene.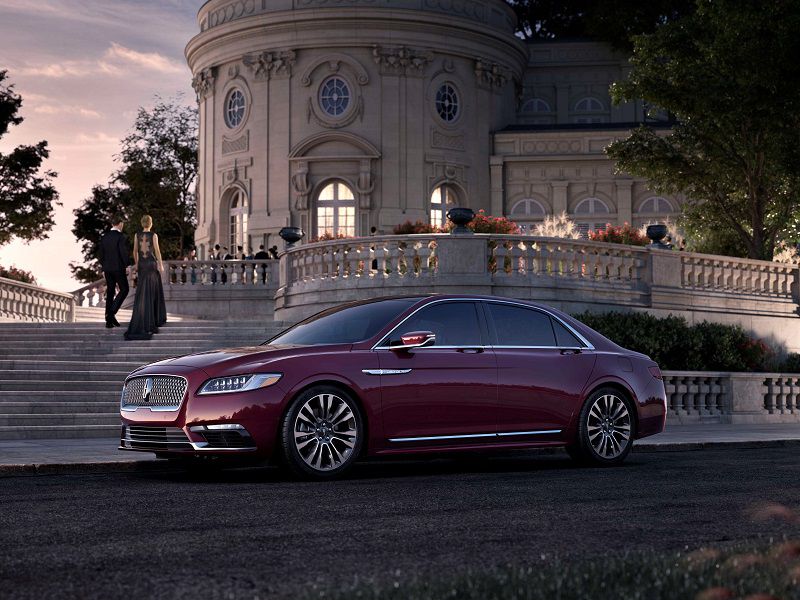 2020 BMW 430 Gran Coupe
The 2019 BMW 430i Gran Coupe is within reach at a starting price of $44,750. You'll get BMW's proven 2.0-liter Twin-Power turbocharged engine at 248 horsepower, and an eight-speed automatic transmission to power the rear wheels. BMW not only includes paddle shifters, but also a choice of driving modes including Eco Pro, Comfort, Sport, and Sport+. The Gran Coupe also includes LED headlights to light up your life.
Open the doors and appreciate the 10-way power front seats, including power side bolster adjustment. Thigh support is also adjustable, and there's a memory for the driver's seat. A voice-controlled 8.8-inch touchscreen infotainment interface plays your tunes and has 20 gigabytes of space for your own audio files. BMW's navigation system and adaptive cruise are also standard equipment.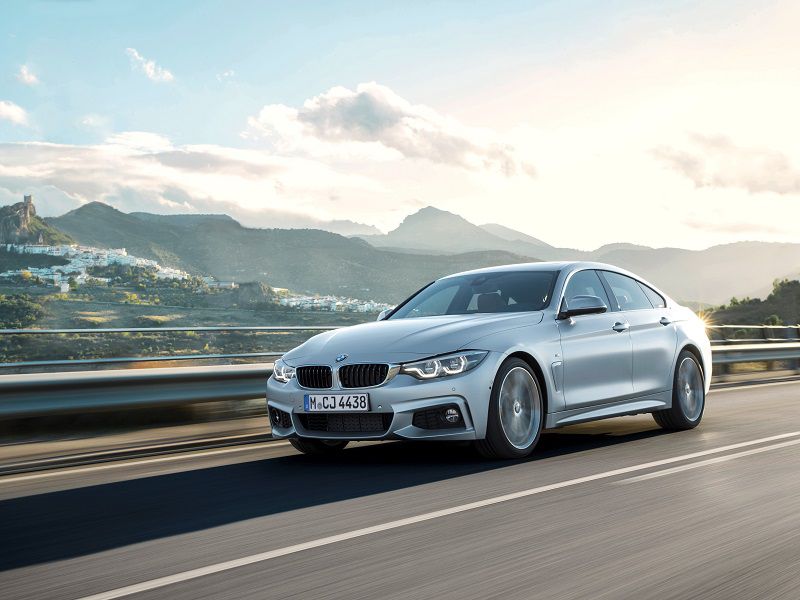 2019 Audi A5 Sportback
The 2019 Audi A5 Sportback offers luxury and top performance for a starting price of $44,200. The standard drivetrain includes a 2.0-liter turbocharged engine with 248 horsepower, paired with a seven-speed twin-clutch automatic and Audi's Quattro all-wheel-drive system. The base A5 Sportback will hit 60 mph in just 5.7 seconds on its way to a top speed of 130 mph.
On the interior, you'll enjoy real dark walnut wood trim, sport seats, and a cockpit more like a jet airplane than a car. One of the great things about the A5 is that it's got full hatch access to the cargo area, with 35 cubic feet of space when the rear seats are down. Technology is also included, with a voice-controlled 7-inch display mounted high on the dash.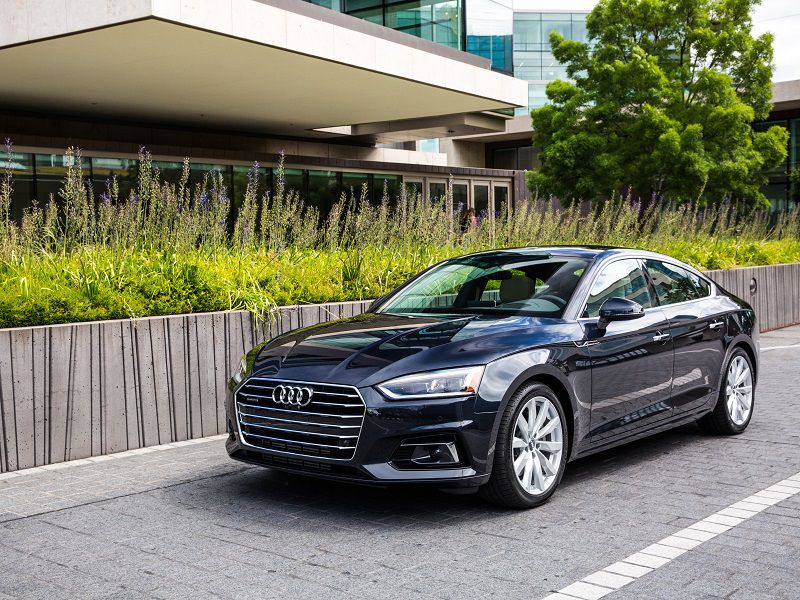 2019 Genesis G80
The 2019 Genesis G80 large sedan carries a starting price of $42,050. That base price buys you the 3.8-liter V6 engine rated at 311 horsepower, mated to an eight-speed paddle-shifted automatic transmission that drives the rear wheels. Safety is standard, with a rearview camera, adaptive cruise control, automatic emergency braking, blind-spot monitoring, rear cross-traffic assist, and lane-change assistance.
The Genesis experience continues in the cabin. Leather is standard throughout, and the steering offers vibrating "haptic" feedback. The front seats are heated and the driver's seat is power-adjustable in 12 different ways. The driver's seat includes a position memory system. The tech interface is an 8-inch touchscreen with GPS navigation included. Satellite radio and a CD player are included as standard equipment.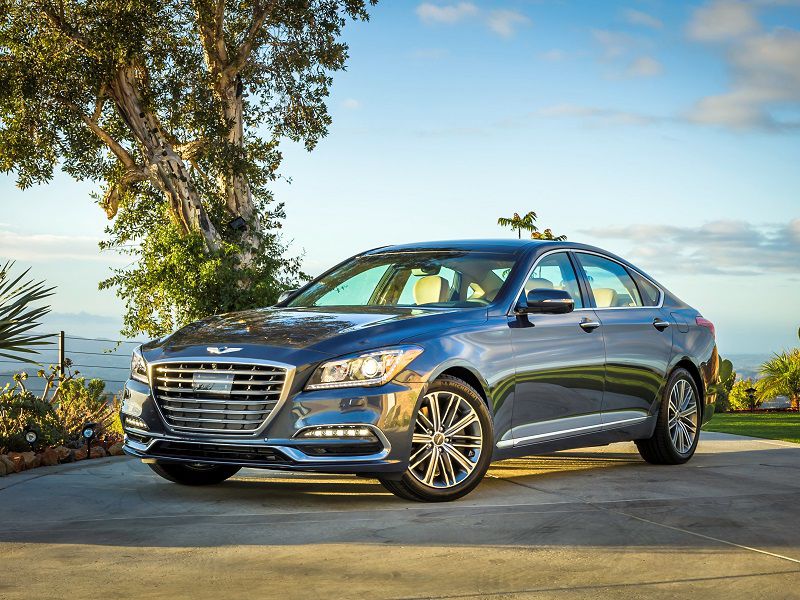 Photo by Genesis
2019 Mercedes-Benz C-Class
For just $41,400, you can find yourself behind the wheel of a new 2019 Mercedes-Benz C 300 compact sedan. At the base price, the C-Class comes with a turbocharged 2.0-liter engine producing 255 horsepower. The C-Class drives the rear wheels with a nine-speed automatic transmission. The base package is good enough to shoot the C 300 from 0-60 mph in just 5.7 seconds.
Mercedes offers a 7-inch high-resolution infotainment display. Android Auto and Apple CarPlay are supported, so navigation and phone services are easy to use. Mercedes seats are supportive and plush, and those in the C-Class are power-adjustable with a driver's seat memory. Advanced safety is also standard with automatic brake assist, LED headlights, and crosswind-assist protection, among many other features.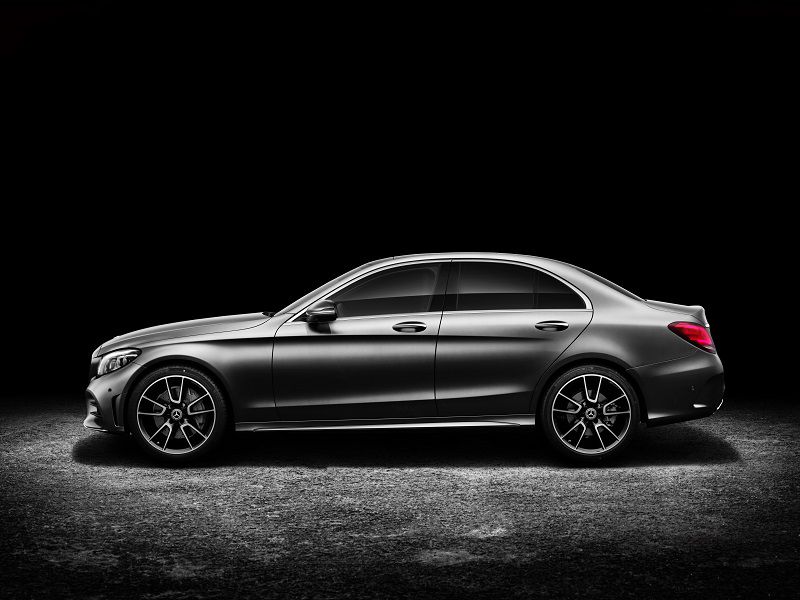 2019 Infiniti Q60
The 2019 Infiniti Q60 is a sporty coupe with impressive luxury, starting at $40,750. For that base price, you get a 300-horsepower twin-turbo V6 engine, matched with an electronic seven-speed automatic transmission and rear-wheel drive. EPA-estimated fuel economy is good at 19 mpg city and 28 mpg highway. For handling, the Q60 includes active trace control, which uses the braking system and engine torque output to sharpen up the cornering response.
Slide behind the wheel and the Q60 greets you with an eight-way power driver's seat with adjustable lumbar support, a leather-wrapped steering wheel, and brushed aluminum interior trim. The infotainment interface consists of dual eight-inch and 7-inch touchscreen displays. A CD player is included, along with a rear-view camera.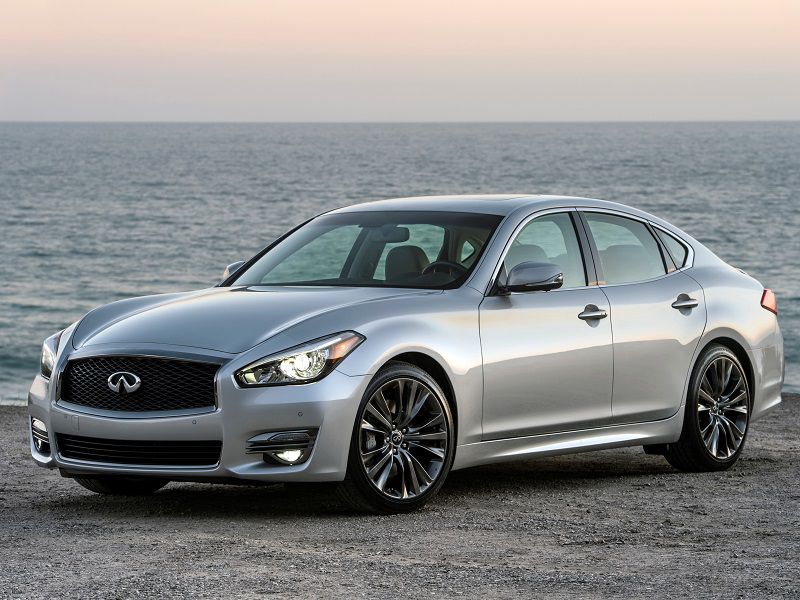 2019 Alfa Romeo Giulia
The 2019 Alfa Romeo Giulia delivers top Italian style for as low as $38,295. The basic Giulia comes with a 2.0-liter turbocharged engine good for 280 horsepower. An eight-speed automatic transmission passes power to the rear wheels through a carbon fiber driveshaft. Hot rod features include a standard set of Brembo brakes, with your choice of black, red, or yellow calipers.
Inside, you'll find a basic AM/FM radio, but both Android Auto and Apple CarPlay are supported, and there's a backup camera. Your six-way power adjustable seats will be trimmed in leather. The steering wheel is also wrapped in leather, and you'll get keyless entry and push-button start. Standard equipment at the base price even includes a coat of bright red paint.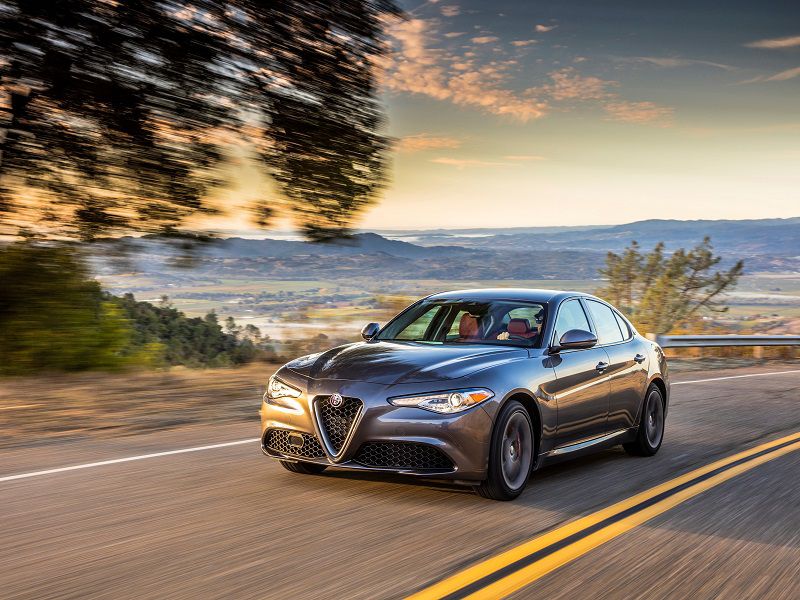 2019 Acura TLX
Our most affordable choice among the best luxury cars under $50,000 is the 2019 Acura TLX. This mid-size sedan starts at $33,000, which is actually a little less than the price of the top-trim 2019 Honda Accord. For that price, you'll get a 206-horsepower 2.4-liter engine paired with an eight-speed dual-clutch transmission. The TLX drives the front wheels, but steers with all four wheels for razor-sharp handling. The TLX includes adaptive cruise with low-speed following, collision mitigation, and lane-keeping assistance.
Inside, the TLX offers a 10-way power-adjustable driver's seat. The front passenger seats is four-way power-adjustable, and both front seats are heated. You also get keyless entry with push-button start. Tech is complete with the On Demand Multi-Use display touchscreen. Android Auto and Apple CarPlay are supported, along with satellite radio and a multi-view rear camera.
Photo by Acura