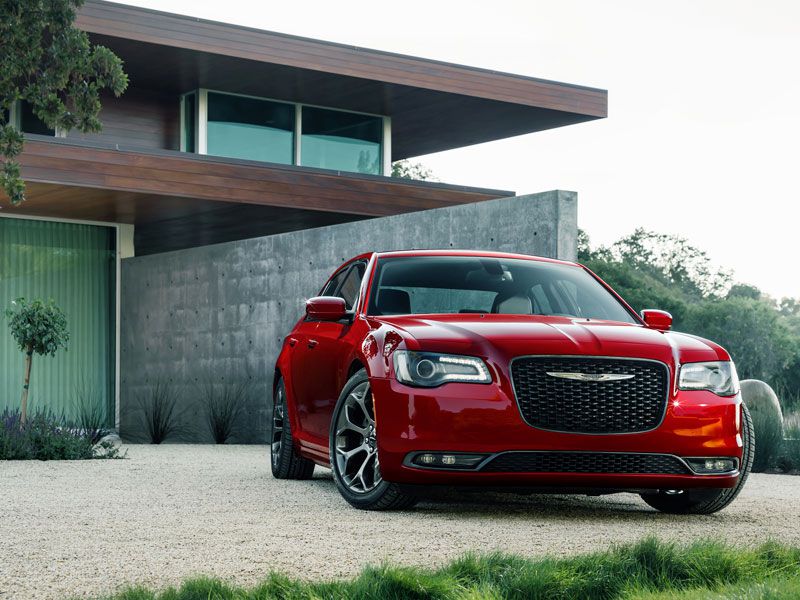 2016 Chrysler 300 in driveway ・ Photo by Chrysler
Sure SUVs and crossovers capture the interest of many families today, but the best large family cars also have advantages of their own. Comfortable seating for five, powerful performance, high efficiency, and lots of leading-edge technology are all available in the industry's favorite family-sized car entries. They also offer an obvious and distinctively different approach to design than their bulkier brethren. So if you need a bit more space than a typical compact, but don't need the overblown style cues of crossovers and their ilk, consider each of the following 10 cars in no particular order.
2016 Chrysler 300
In terms of non-luxury brands, the best large family cars with rear-wheel drive come from Fiat-Chrysler automobiles, with the 2016 Chrysler 300 actually offering a fairly premium ownership experience. It certainly showcases a sophisticated, imposing presence on the road, and the cabin delivers four different city-themed environments, some with quilted leather seating, hand-sanded real-wood accents, and a Harman Kardon sound system. Given today's focus on families, it's worth noting that the 300 also has a new SafetyTec Plus Group for the new model year, combining full-speed forward collision warning, adaptive cruise control, automatic emergency braking, lane-departure/lane-keeping systems, a rearview camera and rear cross-path detection. For families who like to go faster, the 300S has an available 5.7-liter HEMI featuring—per Chrysler—best-in-class V8 outputs of 363 horsepower and 394 lb.-ft. of torque. Conversely, Chrysler 300 ranks best-in-class for its V6 fuel economy, too, thanks to a 292-horsepower engine that achieves 31 mpg highway.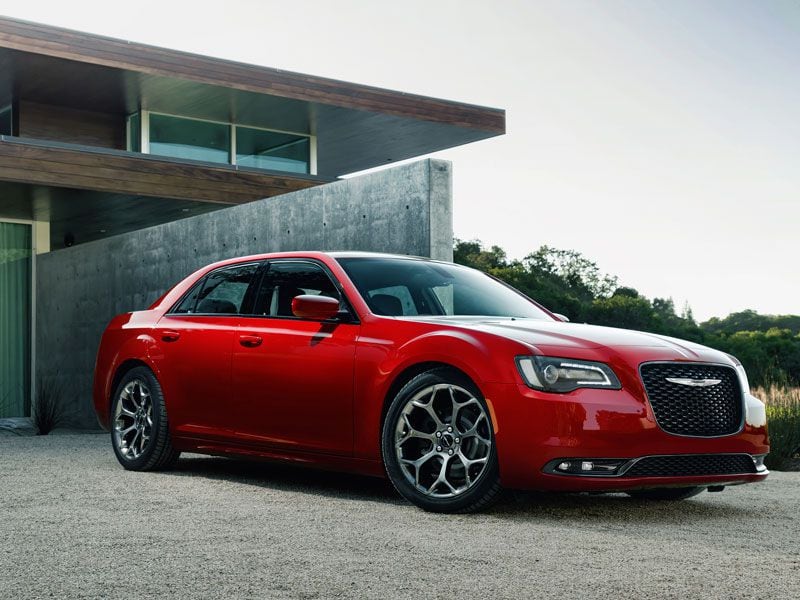 Photo by Chrysler
2016 Dodge Charger
If four doors, full-size dimensions, and seating for five are the basic hallmarks of the best large family cars, the 2016 Dodge Charger fits that description despite its muscle-car heritage. Good news for families who feel the need for speed. After all, in its Hellcat configuration, the Charger can crack the 200-mph barrier at the top end, clock in with a 3.7-second 0-60 time, and kick out 707 horsepower and 650 lb.-ft. of torque from its supercharged 6.2-liter HEMI V8. In fact, it's essentially HEMI heaven in the Charger, since it further offers a 5.7-liter unit worth 370 horsepower and 395 lb.-ft. of torque, along with a 6.4-liter version that can serve up 485 horses and 475 lb.-ft. of twisting power—in the Charger R/T Scat Pack, that's the most horsepower available in this country for less than $40,000 (according to Dodge).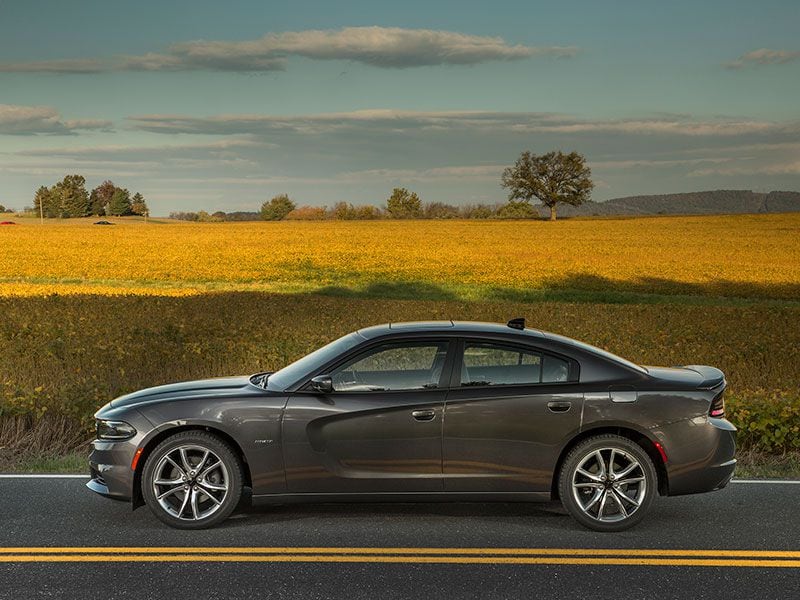 Photo by FCA Media
2016 Mazda Mazda6
Autobytel editorial experts are putting the midsize 2016 Mazda Mazda6 in with our best large family cars to prove a point: You can't judge the size of a car's cabin solely on that vehicle's exterior dimensions. Thus, the Mazda6, as one example, provides more front-seat legroom than some full-size sedans. Shoppers who emphasize safety also should keep something else in mind. When this story was published, the list of IIHS "large family cars" with Top Safety Pick honors was exactly one entry long (see the Toyota Avalon below). But nearly every mainstream midsizer is a Top Safety Pick+, including the Mazda6. Indeed, the (former) Zoom-zoom brand's midsize sedan received the highest possible grades in all IIHS crashworthiness tests as well as in the IIHS evaluation of front crash-avoidance technology. Finally, cars like the Mazda6—capable of 40 mpg on the highway—can boast better EPA grades than full-size rivals.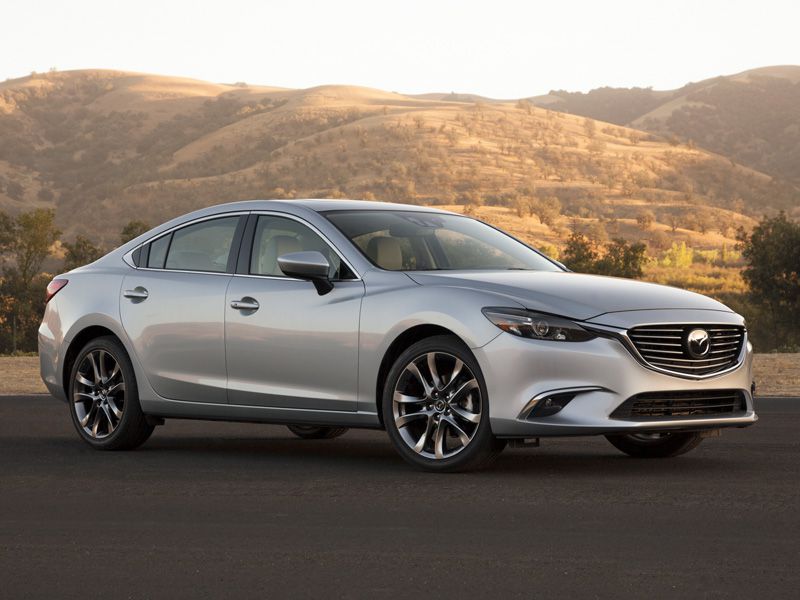 Photo by Mazda
2016 Chevrolet Impala
The Bowtie brand's best large family cars have often born the "Impala" name in the past, and things are no different in the 21st century. Today's 2016 Chevrolet Impala is still the best-selling vehicle in the class, while continuing to supply unmatched, family-friendly benefits like mobile Wi-Fi with 4G LTE connectivity. The Impala also gains Apple CarPlay/Android Auto smartphone integration for the 2016 selling season, along with available wireless phone charging. Technology additionally helps boost the car's occupant-protection performance, with owners able to order all the usual driver-assistance measures, from forward collision alert to a rearview camera. The Impala's impressive powertrain family features a 31-mpg standard engine, a 305-horsepower V6 and a specially engineered V6 that can run on compressed natural gas. The Impala interior then hits the mark for full-size roominess, highlighted by 45.8 inches of front legroom and 18.8 cubic feet of trunk space.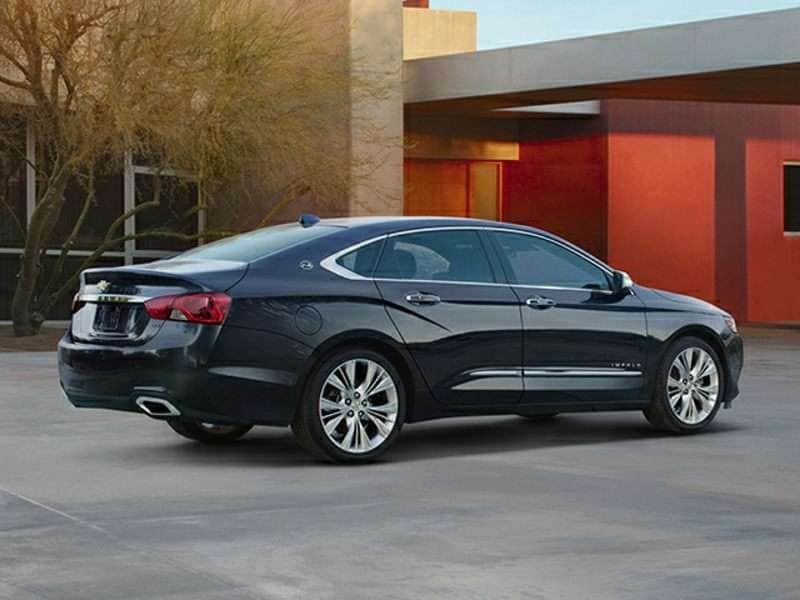 Photo by General Motors
2016 Ford Taurus
When it comes to junk in the trunk, the 2016 Ford Taurus can fit more than 20 cubic feet of it, furnishing owners with plenty of room for groceries, sports equipment and all the other gear that's part of modern family life. Moreover, the 2016 Taurus touts more modern technology, starting with the Blue Oval's latest-generation Sync 3 in-car communications and infotainment system. The setup is quicker and more accurate than previous iterations, and it now supplies a two-mode touchscreen that automatically adjusts for improved visibility in day- or night-time operation. The entry-level Taurus SE also welcomes a newly standard rearview camera system. A returning advantage, even compared to the best large family cars, is Ford's EcoBoost engine technology. The Taurus has two: a 2.0-liter unit that yields 240 horsepower and 29 mpg highway and, in the hi-po Taurus SHO, a V6 version making 365 horsepower and 350 lb.-ft. of torque.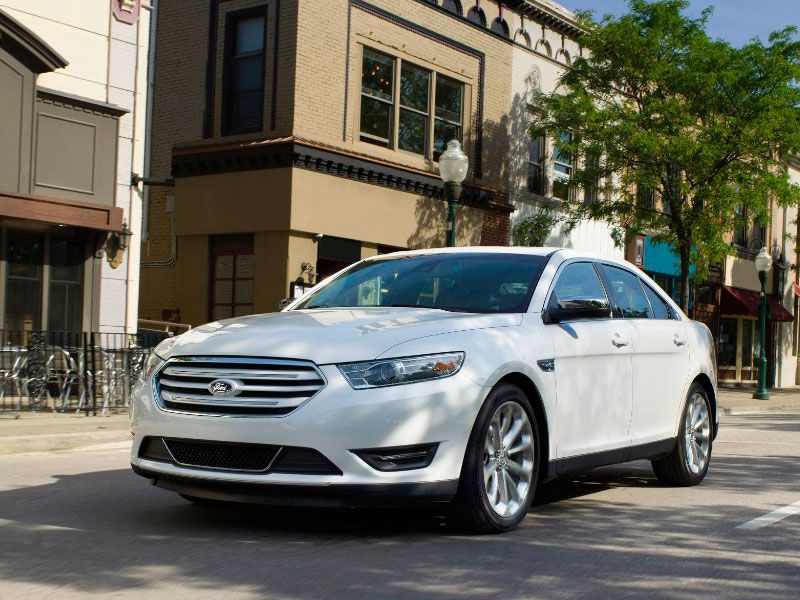 Photo by Ford
2016 Toyota Avalon
As mentioned earlier, the 2016 Toyota Avalon holds a place of distinction among the best large family cars: It's the only one from the 2016 model year to earn Top Safety Pick+ recognition from the IIHS. The Avalon aced all the IIHS tests, including the evaluation for front crash-avoidance technology; Toyota's full-size entry even earned an "acceptable" grade for its premium headlight system, though that new test is not yet an official part of the TPS regimen. Another exclusive benefit here is the Avalon's available hybrid powertrain. That enables drivers to reach EPA estimates of 40 mpg city/39 mpg highway/40 mpg combined. As for the car's premium amenities, well, right out of the box all Avalon models provide standard leather seating with heated front seats. Heated rear seats, as well as a heated and ventilated front row, are available.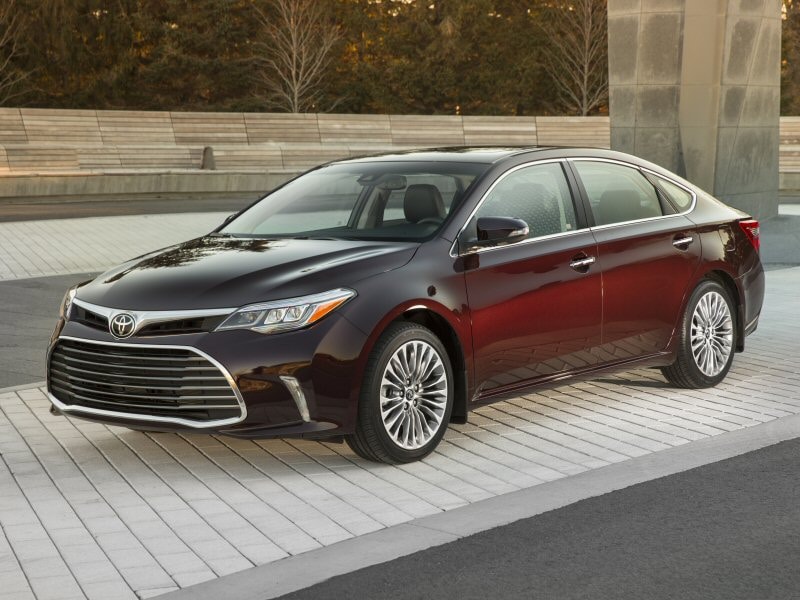 Photo by Toyota
2016 Kia Cadenza
The 2016 Kia Cadenza can deliver a memorable value to those shopping for the best large family cars. Consider: With an MSRP that's been lowered to $32,990 for the current model year, the Cadenza has standard luxury cues like an 8-inch infotainment touchscreen, navigation, and a 12-speaker Infinity audio system. Meanwhile, the Cadenza's cabin comes with standard leather-trimmed seating and an especially comfortable front row—with a 10-way power-adjustable driver's seat, eight-way front-passenger seat and heating in both. An extra first-row comfort comes in the form of the Cadenza's 45.5 inches of front legroom; among the most in the segment. Kia also carried its value strategy to the Premium trim, which adds a newly standard panoramic sunroof despite a price reduction of its own. The Cadenza Limited caps off the roster with such niceties as climate-controlled front seats and a cornucopia of driver-assistance measures.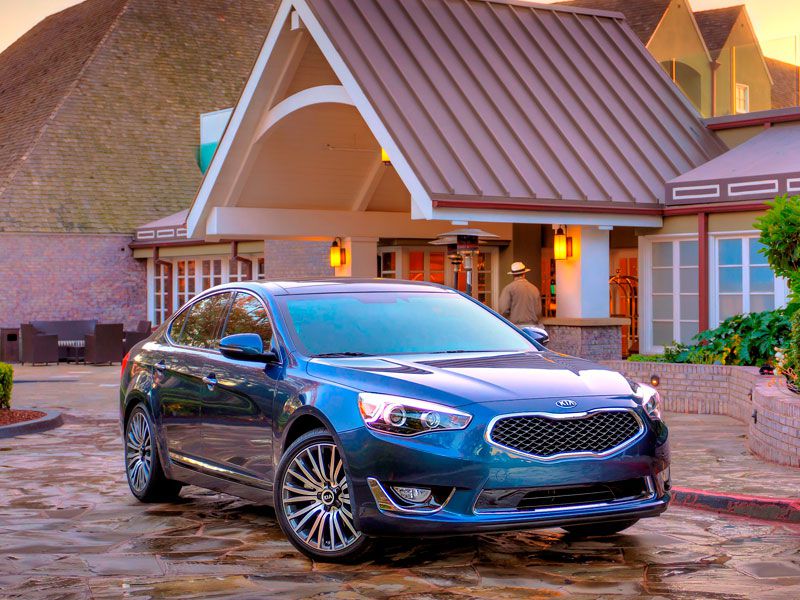 Photo by Kia Media
2016 Hyundai Genesis
Hyundai has two candidates for our honor roll of the best large family cars: the 2016 Hyundai Genesis sedan and the Azera. Autobytel experts give the nod to the former, however, since it's noticeably longer than the Azera, even if neither happen to reach the traditional 200-inch cut-off point for a current full-size sedan. What the Genesis does have is a particularly spacious front row with 45.7 inches of legroom and more passenger volume than many of its larger rivals. Families also enjoy the confidence that comes with a Top Safety Pick+ rating from the IIHS. Now, we had previously reported that only one "large family car" had earned that recognition, and we're weren't lying. The Genesis is called a "large luxury car" by the IIHS, and the car has the premium content to live up to that billing—although a premium MSRP of $53,850 is required for all of it.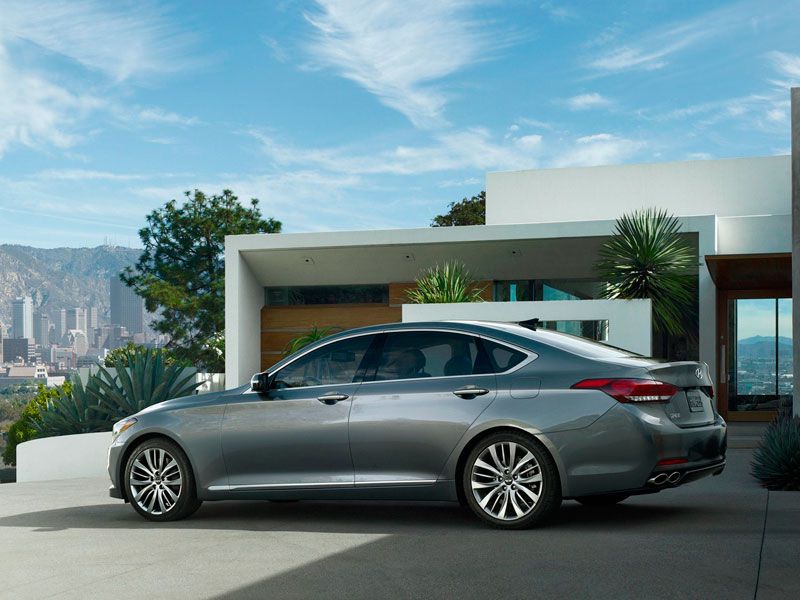 Photo by Hyundai
2017 Buick LaCrosse
Buick will break out its brand-new full-size sedan this summer, when the redesigned 2017 Buick LaCrosse goes on sale with a fresh, streamlined look, enhanced driving dynamics and a plethora of premium technologies. Needless to say, with the 2016 LaCrosse already one of the best large family cars in the country, the next-gen edition should be that much better. Its infotainment resources, for instance, will include the high-tech hat-trick of 4G-enabled mobile Wi-Fi, Android Auto and Apple CarPlay, all supported by wireless charging and a frameless, 8-inch IntelliLink touchscreen. The LaCrosse also looks after rear-seat passengers with nearly 40 inches of second-row legroom, complemented by a design specifically engineered for improved rear-seat entry/exit functionality. Nor does it forget the front row, providing the driver and front passenger with climate-controlled, massage-capable seating that's appointed in perforated leather. Yet even with its lux positioning, the 2017 LaCrosse should start well under $35K.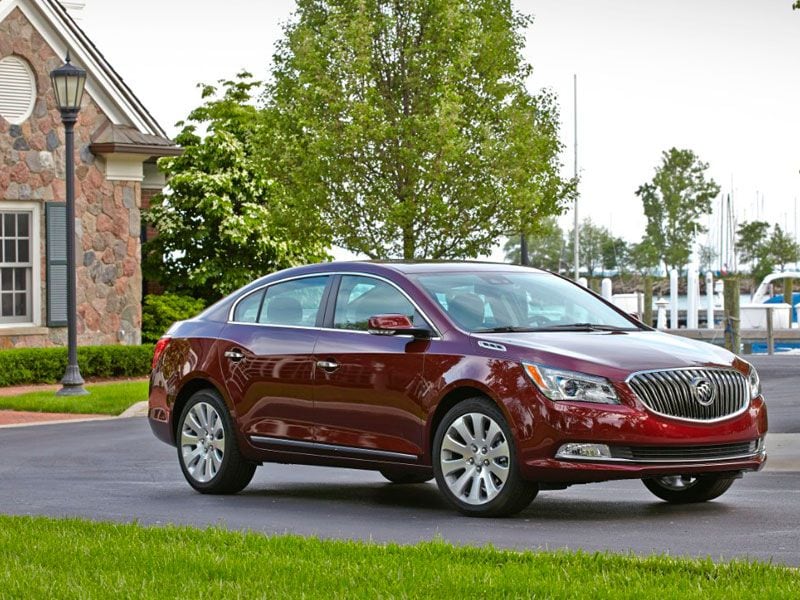 Photo by General Motors
2016 Nissan Altima
Similar to the situation with Mazda, the best large family cars from Nissan are those from its midsize portfolio—and yes, that's taking the Maxima into account. Once famously dubbed the 4-Door Sports Car, the Maxima today is less than an inch longer than the 2016 Nissan Altima, which also furnishes more passenger volume, more front and rear headroom, a bigger trunk, more rear-seat legroom and the same 45 inches of front legroom. Nissan additionally notes that the Altima can be filled with family-oriented features, too, like its extensive array of driver-assistance systems. All the usual suspects are available, earning the Altima a Top Safety Pick+ recognition, and the brand raises ye olde bar with predictive forward collision warning that can monitor vehicles immediately ahead of the Altima and go one vehicle further as well. Family road trips also can be extended in the Altima, as its fuel-economy rating of 39 mpg leads all standard entries in the segment.