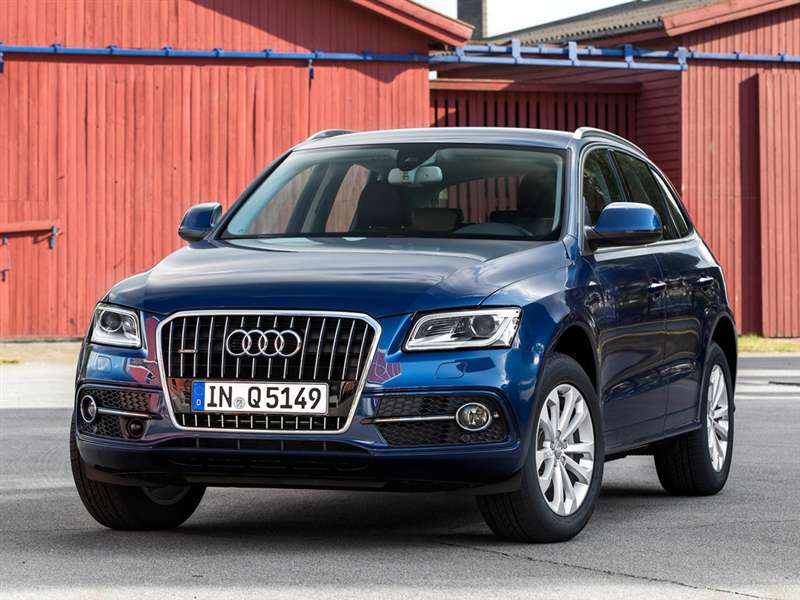 Most people who are looking for a sport utility vehicle aren't necessarily concerned with its handling, as items such as comfort and practicality are often instead at the top of the desired features list. Still, there remains a subset of best handling SUVs that consistently deliver better-than-average agility when asked to corner more rapidly than one might typically require on the commute home. Not everyone needs a nimble SUV, but it's nice to know that there are people-moving options out there that deliver a sporty driving experience over and above their ample cargo capacities. Let's take a quick look at 10 of the best handling SUVs currently on the market.
1) 2015 Subaru Forester XT
The 2015 Subaru Forester XT has recently taken a big step forward with its latest redesign. It provides 250 horses from a 2.0-liter, turbocharged four-cylinder engine and also features a reinforced structure, standard all-wheel drive, and a Sport Sharp setting for its continuously variable automatic transmission that introduces eight "virtual" gear ratios and increased throttle response. With a tighter chassis than ever before, the Forester XT now finally delivers the handling chops to go with its spirited acceleration, making it a legitimate WRX replacement for families who need a bit more interior space.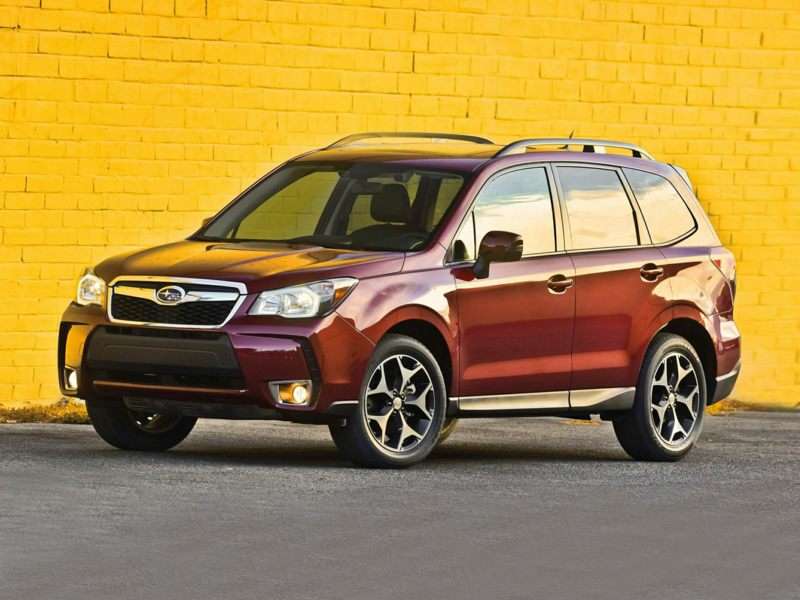 Photo by Subaru
2) 2015 Land Rover Range Rover Sport
The 2015 Land Rover Range Rover Sport comes with all of the same off-road features as its Land Rover siblings: full-time four-wheel drive, excellent ground clearance, and of course a full complement of electronic driver's aides. That being said, the full-size Land Rover Range Rover Sport is even more adept at on-road performance thanks to a carefully-tuned suspension system, a lack of body roll when thrown hard into corners, and a Dynamic Mode for its suspension and drivetrain when ordered in Supercharged trim. That particular version of the Range Rover Sport offers 510 horsepower from a blown 5.0-liter V-8, but the base supercharged 3.0-liter V-6  is still good for 340 horses in total.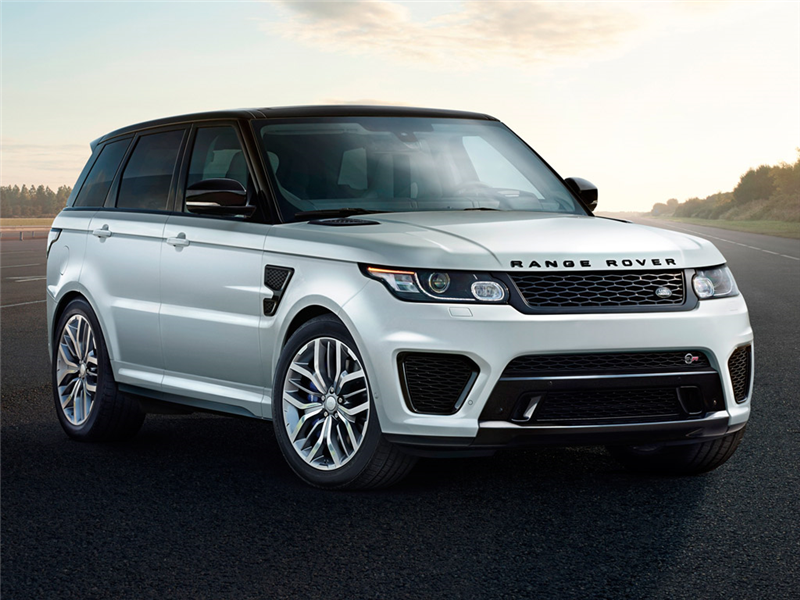 3) 2016 Mazda CX-5
The 2016 Mazda CX-5 brings the same lightness of foot to the compact SUV segment that the Mazda3 offers in the small sedan and hatchback area of the market. The Mazda CX-5's sublime chassis is the secret to the vehicle's success when it comes time to negotiate a corner, and the availability of a manual transmission in the base model helps to introduce even more sportiness into the equation. A 2.0-liter, 155-horsepower four-cylinder engine is standard with the CX-5, while a 184-horsepower, 2.5-liter unit is available in higher trim levels. All-wheel drive can be had throughout the lineup, and each mill's Skyactiv technology helps to keep fuel consumption modest for the SUV.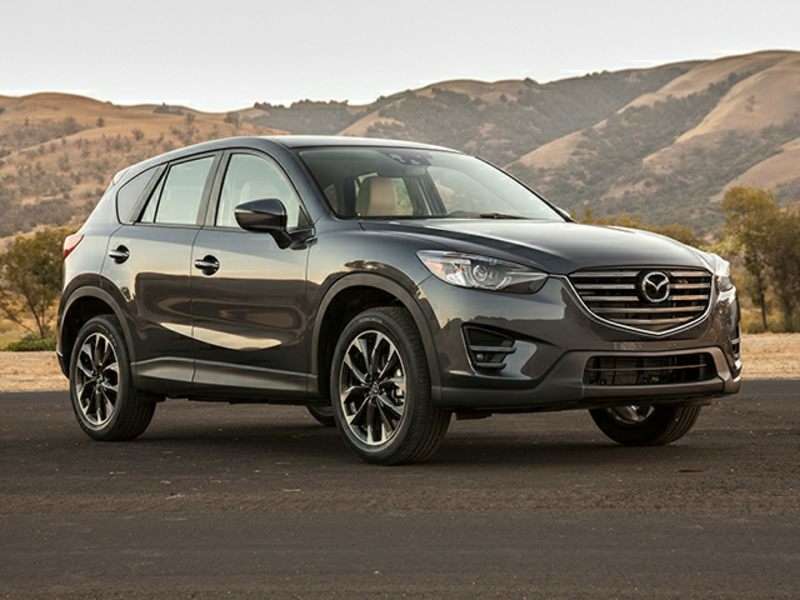 4) 2015 BMW X3
It should come as no surprise that one of the best handling SUVs features a BMW roundel on the hood. The 2015 BMW X3, although larger than older models, is an even more formidable canyon carver than ever before. Based in large part on the same chassis that underpins the lauded 3 Series sedan, the BMW X3 also comes with the Driving Dynamics Control feature that can be set to Sport to really wake up the shift points of its eight-speed automatic transmission. The 240-horsepower, 2.0-liter turbocharged four-cylinder engine that comes with the entry-level version of the X3 offers the lightest, and most willing dance partner for sporty driving, but its available 300-horsepower, turbocharged six-cylinder engine is still in the cards for those who require more power. A  2.0-liter four-cylinder turbodiesel, making 180 horsepower, is new for 2015. All-wheel drive is included free of charge with all iterations of the X3.
5) 2015 Volkswagen Tiguan
The 2015 Volkswagen Tiguan is a more affordable, near-premium compact SUV that, thanks to the common heritage that it shares with the Golf hatchback, remains interesting to drive when the road starts to turn twisty  A 2.0-liter, four-cylinder turbocharged engine (matched to a six-speed automatic transmission) is standard with the Volkswagen Tiguan, and all-wheel drive is available as an option to add a bit more grip to the handling picture. Although not a sports car, the Tiguan's ability to engage drivers makes it a must-drive for those shopping in its price range.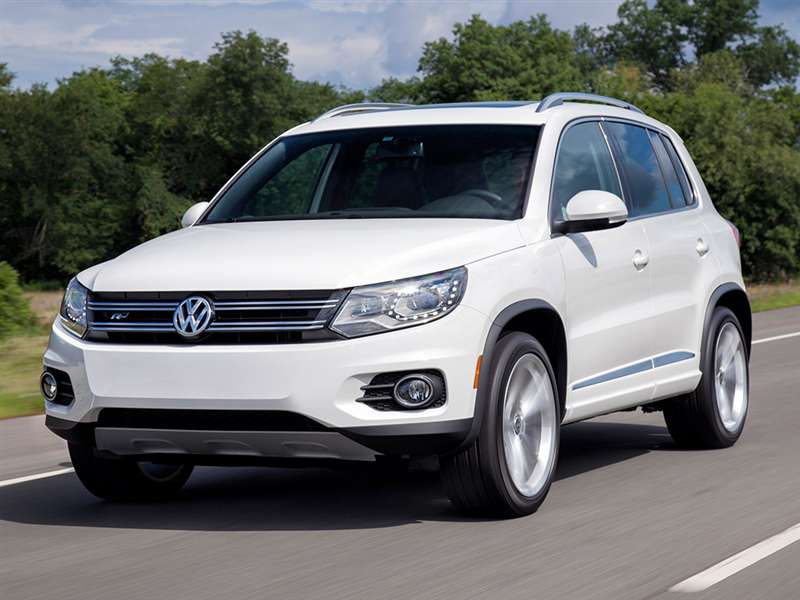 6) 2015 Infiniti QX50
The 2015 Infiniti QX50 might be marketed as a best handling SUV, but it's more be fair to call it a tall wagon due to its slippery looks and small size. The Infiniti QX50 benefits extensively from the use of a rear-wheel drive chassis, as the more natural driving characteristics of this particular drivetrain layout give the vehicle an almost sports sedan feel when driven quickly. All-wheel drive is, of course, obtainable via the Infiniti's options sheet, although it too is a rear-biased setup that aims to stay as transparent as possible when offering additional traction. 325 horsepower are loosed from the QX50's 3.7-liter V-6, and a seven-speed automatic transmission is the only gearbox available with the compact SUV.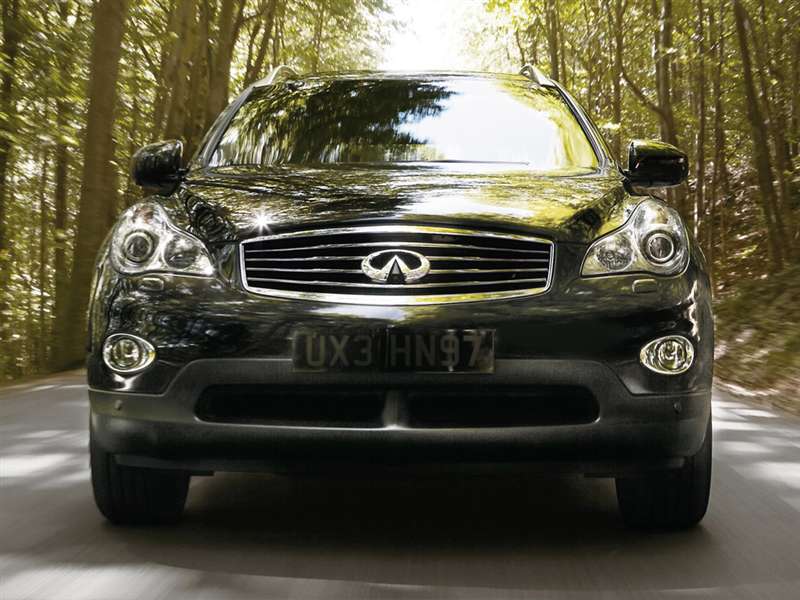 7) 2015 Jeep Grand Cherokee SRT
The 2015 Jeep Grand Cherokee SRT side-steps its traditional role as an off-road chariot and instead swaps in a street-friendly suspension system that rides lower than the standard Grand Cherokee. It also comes with a special all-wheel drive system and a Track mode that does its best to optimize the vehicle's myriad drivetrain and chassis settings in order to offer the best handling that a heavy SUV can offer. Helping to overcome its mass is the vehicle's 470-horsepower, 6.4-liter V-8, an engine that is matched with an eight-speed automatic transmission and one which helps the Jeep Grand Cherokee embarrass sporty SUVs costing tens of thousands more dollars.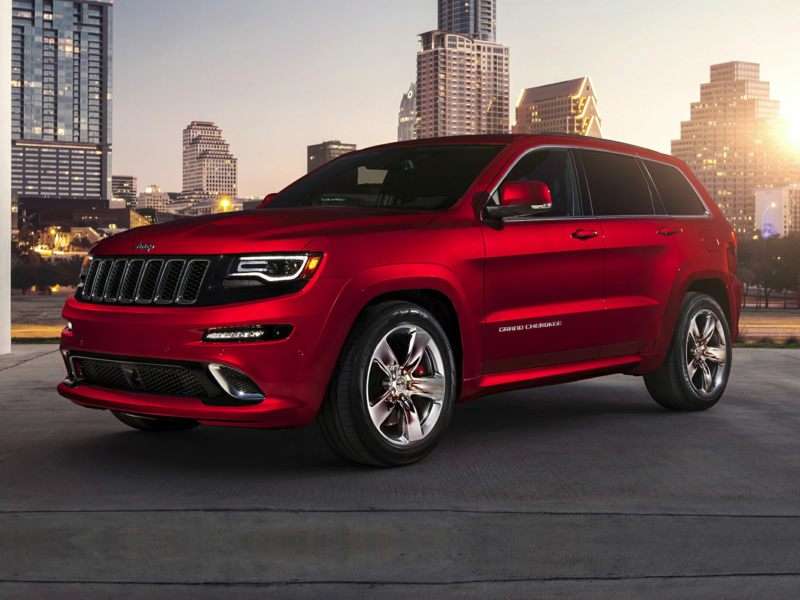 Photo by Jeep
8) 2015 Audi Q5
The 2015 Audi Q5 leverages its sedan chassis to come through with a ride that is not just smooth, but also rewarding for those willing to put the compact SUV through its paces. Featuring a small footprint that helps to keep its weight within reasonable parameters, the Audi Q5's standard quattro all-wheel drive is another factor in its favor when it comes to evaluating its handling chops. Power can be derived from a 2.0-liter, turbocharged four-cylinder (220 or 245 horses), a 3.0-liter V-6 turbodiesel (240 horses), or a 3.0-liter, supercharged V-6 (272 or 354 ponies). An eight-speed automatic transmission handles the shifting duties for the SUV.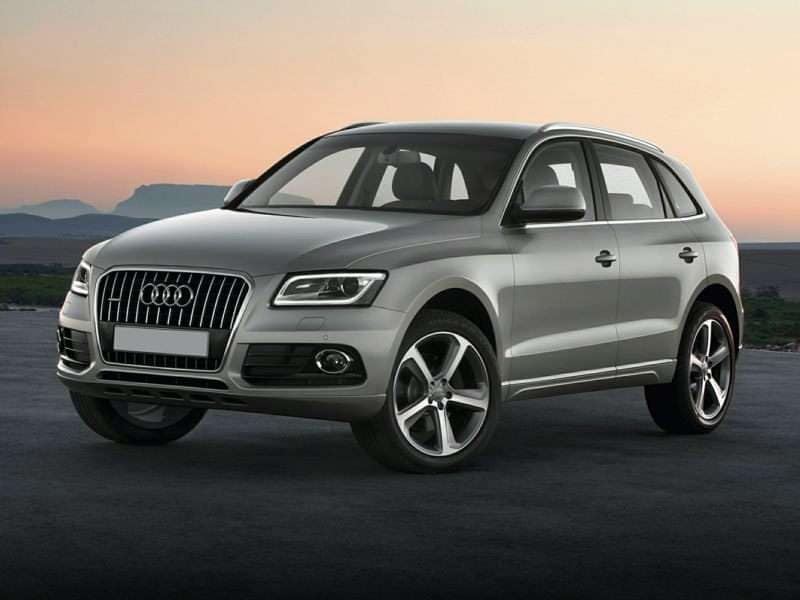 9) 2015 Mazda CX-9
Mazda has taken the lessons learned from its sports car programs and applied them not just to the small CX-5 but also the much larger, three-row Mazda CX-9. The 2015 Mazda CX-9 stands apart from the regular batch of seven-passenger SUVs in the sense that it prizes handling and overall driving dynamics as primary components of its automotive identity. The vehicle's steering feel does a good job of transmitting what's actually happening under its wheels to the driver, and even without optional all-wheel drive installed the SUV's 273-horsepower, 3.7-liter V-6 engine is adept at motivating the Mazda.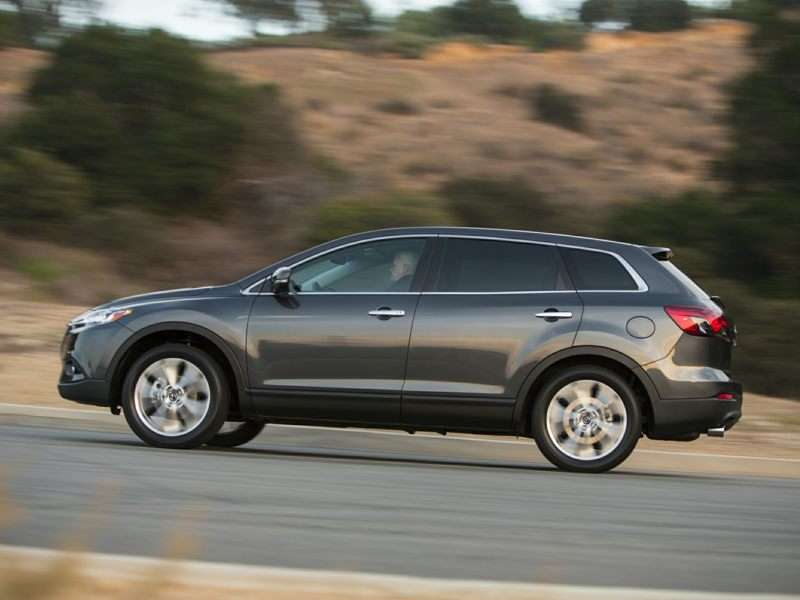 10) 2015 Infiniti QX70
The 2015 Infiniti QX70 is blessed with a platform that is shared with the Infiniti Q60 coupe and Nissan 370Z sports cars. This rear-wheel drive design allows the Infiniti QX70 to flex its muscles on the race track in a way that few other SUVs can, providing it with the kind of handling and natural steering feel that are rare in its class. The QX70 starts out with a 325-horsepower, 3.7-liter V-6 under its hood, and a seven-speed automatic transmission is included. All-wheel drive can be added to help keep the Infiniti a prime performer in slick weather conditions.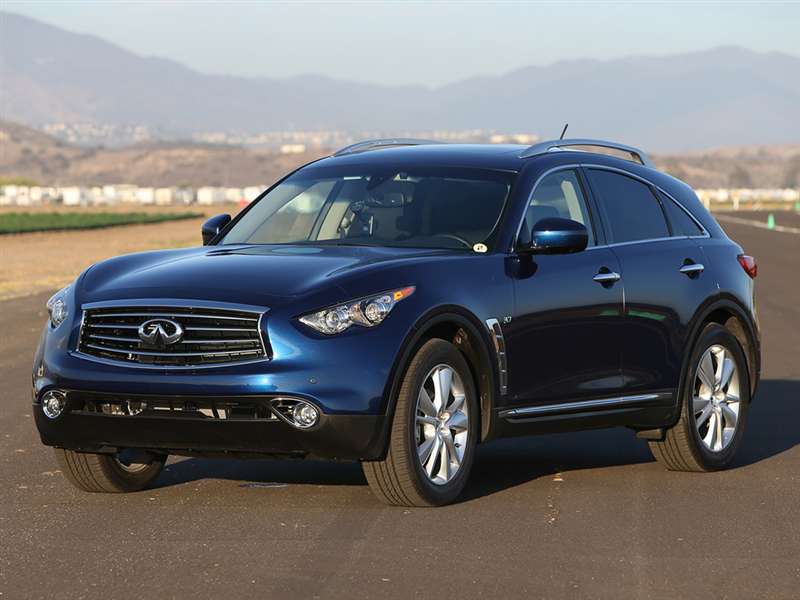 Photo by Infiniti