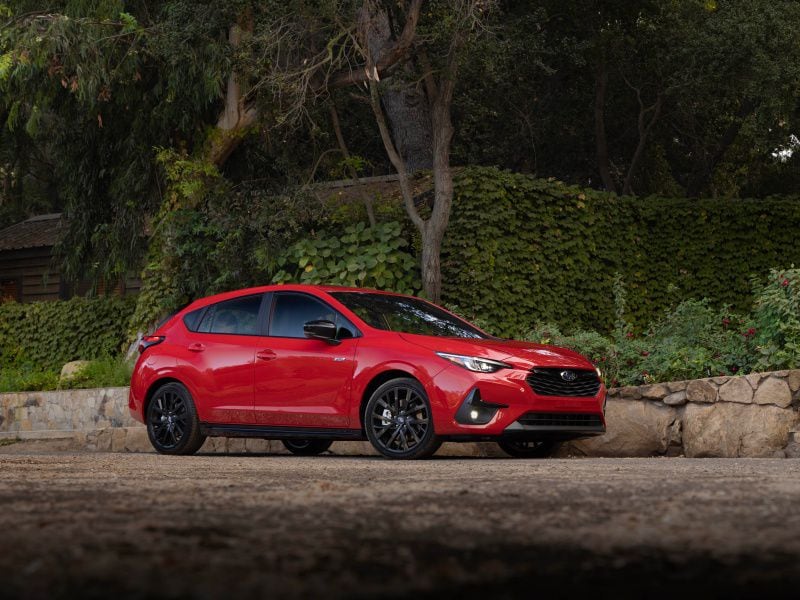 2024 Subaru Impreza ・ Photo by Subaru
The 2024 Subaru Impreza is all-new this year with lots of changes. There's a new RS trim with a more powerful engine and a quieter cabin with a smoother ride. Infotainment now includes an available 11.6-inch touchscreen with wireless smartphone connectivity. Even safety features get an upgrade. There are some things, however, that haven't changed.
There's still standard all-wheel drive that makes the Impreza a great choice for those who live in wintry climates. The lineup is also affordable, so it fits into more modest budgets, and it gets good fuel economy to help you stay on budget if gas prices rise. Here are the 10 best features of the 2024 Subaru Impreza.
Affordable Pricing
Every trim of the Subaru Impreza starts at under $30,000 so it's affordable no matter which trim you choose. The Base trim starts at only $22,995 and still has good standard features so you won't feel like you had to sacrifice. There's a dual-screen infotainment system, Apple CarPlay, and Android Auto. In the middle of the lineup is the Sport, which is priced from $24,995. It adds the larger 11.6-inch infotainment screen along with wireless smartphone connectivity.
At the top of the lineup is the RS. It has the more powerful 2.5-liter engine along with interior and exterior appearance upgrades that give it a sportier look. Pricing for this trim starts at $27,885 so even if you go all the way to the top, it's a budget-minded choice.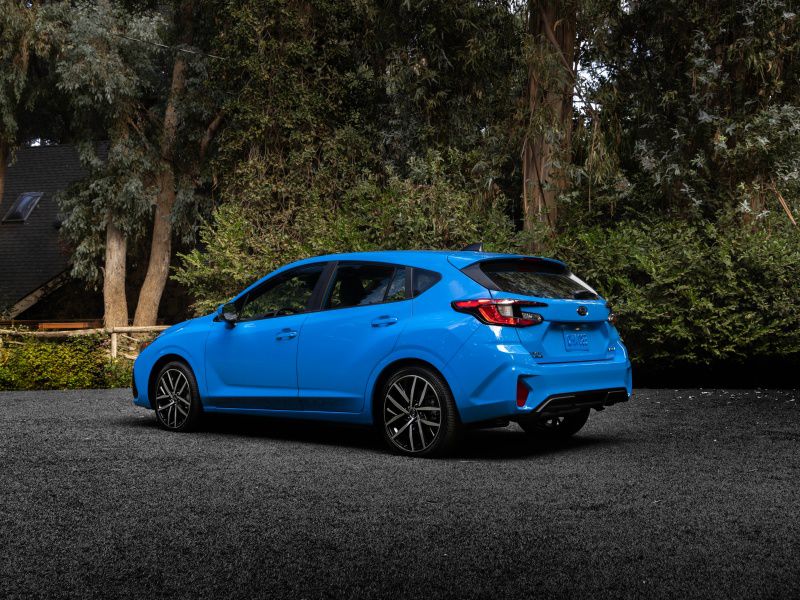 Photo by Subaru
The New RS Trim
The RS is a new trim in the Impreza lineup. It sits at the top of the range as the most performance focused trim of the lot. The biggest difference between it and other Imprezas is the more powerful 2.5-liter engine. It makes the Impreza, if not a hot little hatchback, pretty darn close.
There's also a unique exterior look for the RS that embraces its sportiness. It has RS badging on the front doors and the hatch, along with dark gray 18-inch alloy wheels. Inside, there are carbon fiber style trims, with sport front seats and red bolsters. RS logos adorn the floormats, and there's a leather-wrapped steering wheel.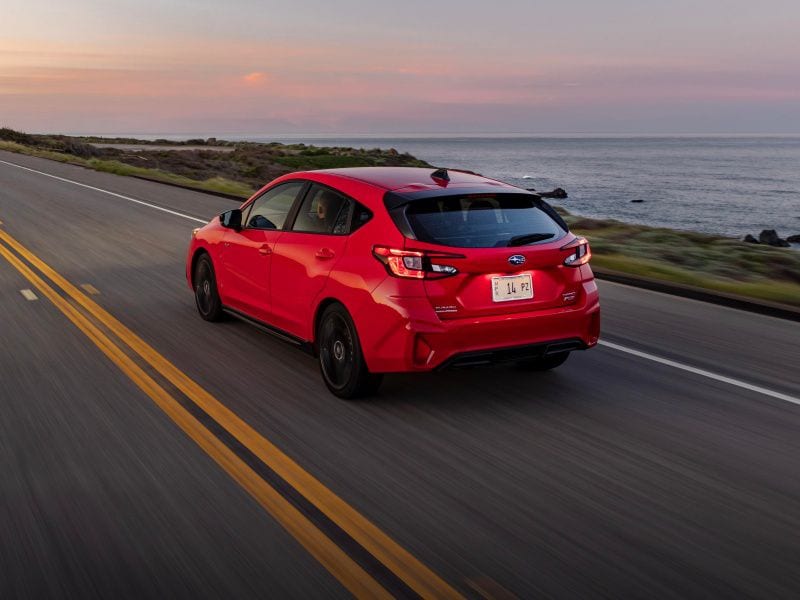 Photo by Subaru
Available 11.6-Inch Infotainment Touchscreen
The Base trim of the Impreza lineup has dual 7-inch screens, but the Sport and RS both get a standard 11.6-inch touchscreen that creates a more modern and more premium vibe. While the dual screen setup does the job just fine, the larger screen is far easier to use, especially when it comes to following complicated navigation routes in urban areas.
The larger screen also comes with wireless smartphone connectivity to eliminate cord clutter. In addition, it gets an upgrade from four speakers to six speakers along with additional USB charging ports. The RS also adds wireless charging and the option for a 10-speaker Harman Kardon audio system.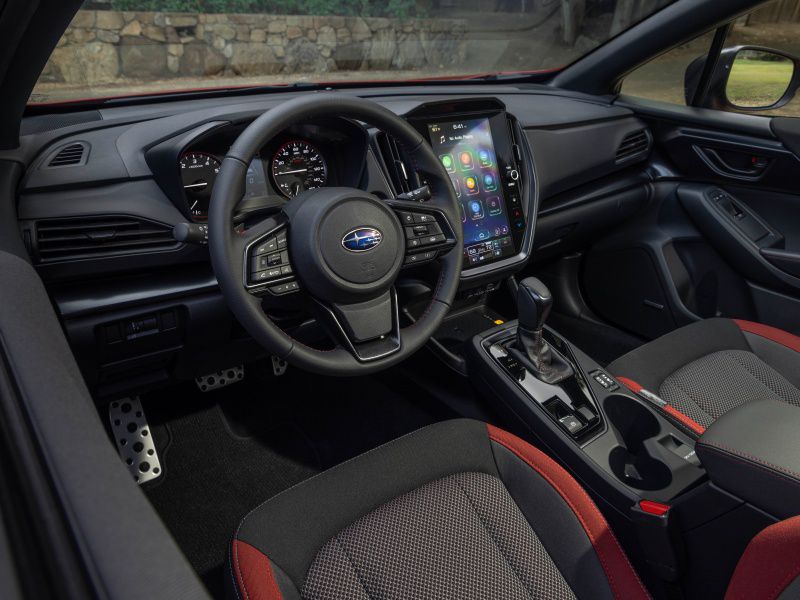 Photo by Subaru
EyeSight Driver assistance Technology
The Subaru Impreza now comes with standard EyeSight driver assistance technologies. Previously, it wasn't available on the full lineup. This suite of safety features includes advanced adaptive cruise control with lane centering, pre-collision braking and throttle management, lane departure warning, and lane keep assist.
This year, the system gets enhanced functionality to improve overall safety. It now has a stereo camera with a much wider field of view. There's also an additional monocular camera. Lastly, there's a new electric brake booster. These system upgrades combine to let the driver assistance systems function in a broader range of conditions and to improve their overall performance.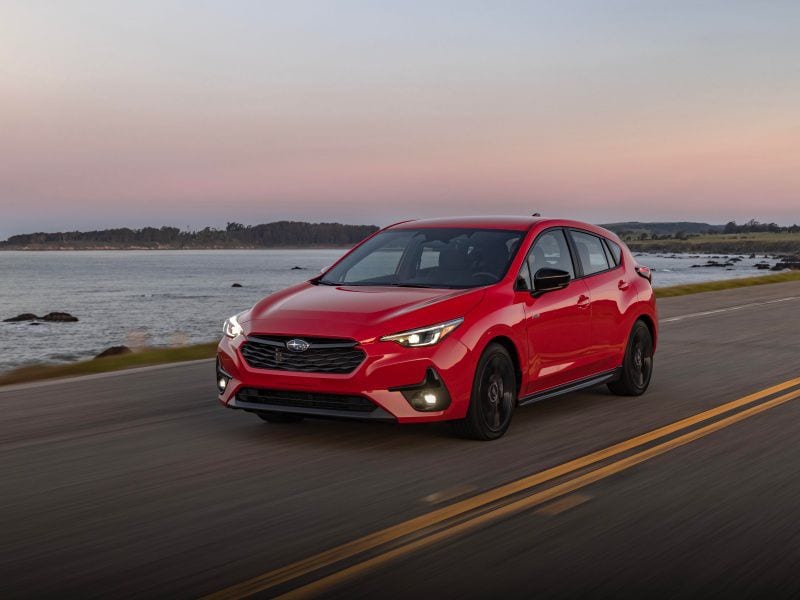 Photo by Subaru
The 2.5-Liter Engine
There are two available engines for the Subaru Impreza. The base engine is a 2.0-liter 4-cylinder with 152 horsepower and 145 lb-ft of torque. It's the only option if you go with the Base or Sport trim. If you go with the RS trim, then you get a more robust 2.5-liter 4-cylinder with 182 horsepower and 178 lb-ft of torque.
That's a big jump, and it's one that makes the Impreza a fun little hatchback with plenty of power for getting up to highway speeds. Both engines are paired to a continuously variable automatic transmission, but the 2.5-liter gets a manual mode that lets you take more control over the driving experience.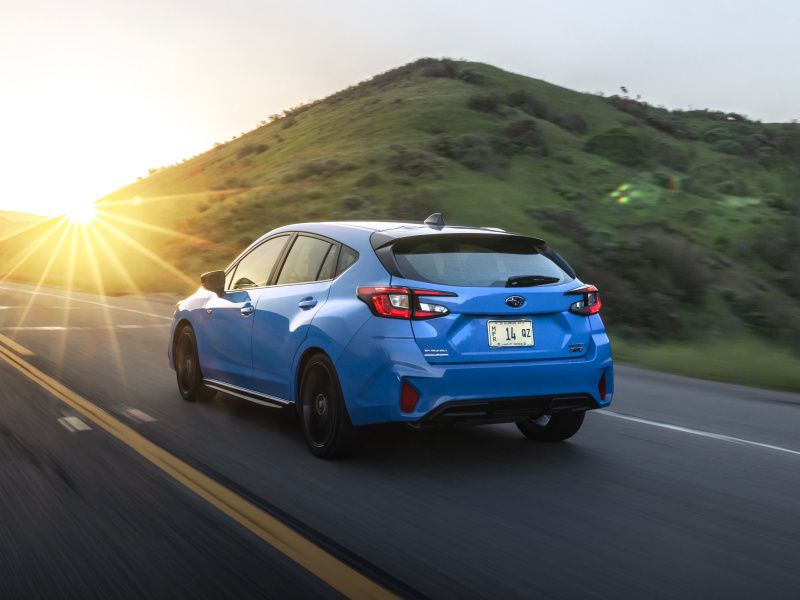 Photo by Subaru
Good Fuel Economy
If a car is affordable but gets lousy fuel economy, then it's not such an affordable choice in the long run. The Subaru Impreza gets good fuel economy with both of its available engines, so even if gas prices rise, you can stay on budget. The base 2.0-liter 4-cylinder engine gets an EPA-estimated 27 mpg in the city, 34 mpg on the highway, and 30 mpg combined.
The figures are slightly lower with the more powerful engine. It gets an EPA-estimated 26 mpg in the city, 33 mpg on the highway, and 29 mpg combined. That's a drop of 1 mpg, which isn't much. If you want the more robust engine on your Impreza, you can get it without having to up your fuel budget.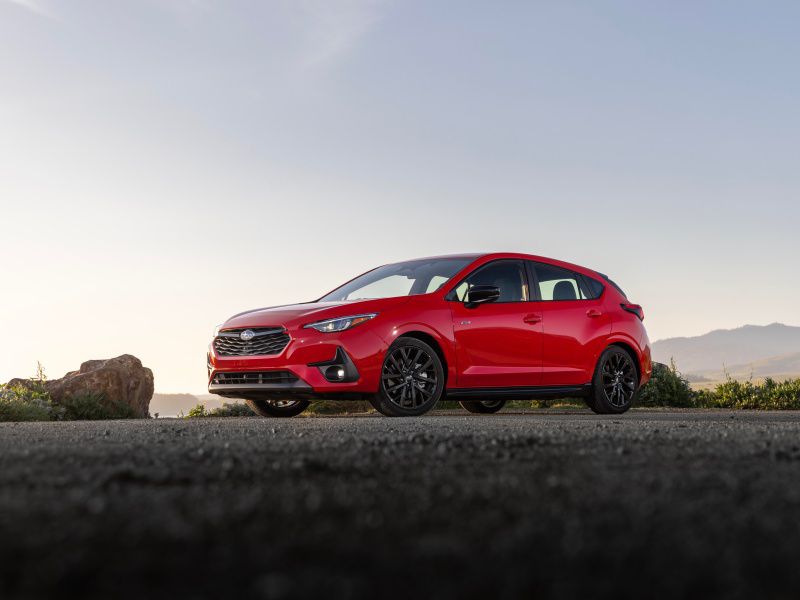 Photo by Subaru
Standard All-Wheel Drive
While many hatchbacks — especially those that are more affordable — feature available all-wheel drive, it's a standard feature on the Impreza. If you live where it snows, this is great news; but even if it doesn't snow where you live, all-wheel drive is an excellent feature. It also helps when the roads are slick from rain so you're less likely to hydroplane.
The Impreza features active torque vectoring to send torque to the wheels that need grip the most and has a revised torque split this year. This improves responsiveness and makes the Impreza easier and more fun to drive.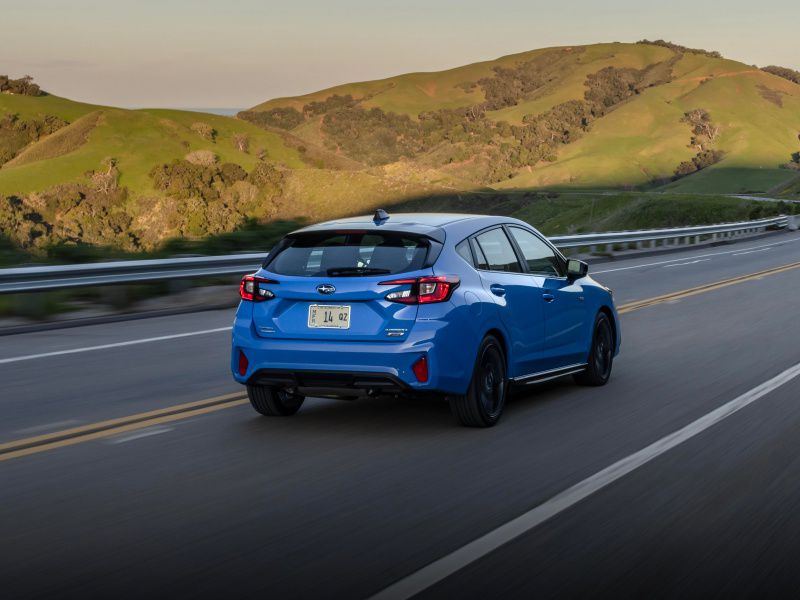 Photo by Subaru
Improved Front Seat Comfort
The Impreza is not a luxury car; in fact, it's at the entry level in the Subaru car lineup. That means it's affordable, but that doesn't mean it's uncomfortable. The front seats are surprisingly spacious with good support and modest bolstering that's not too tight. The fabric trims are also attractive and durable enough to stand up to rugged use.
Subaru designed the front seats differently this year, with a focus on providing better support and reduced body movement. That reduced movement isn't something you necessarily feel, but it helps keep your body more relaxed. The combination of better support and reduced motion make even long drives less tiring at the end of the day.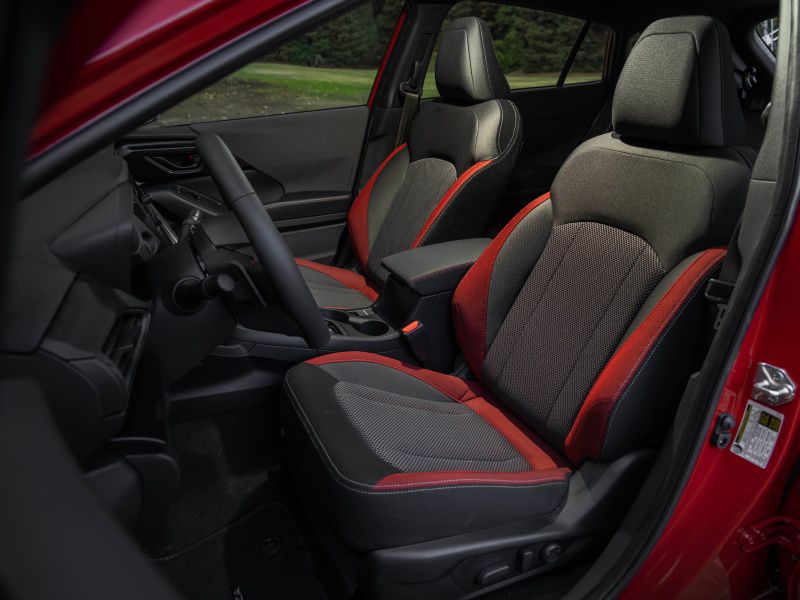 Photo by Subaru
A Smooth Ride
The Subaru Impreza is all-new this year, and it delivers a smoother ride than the previous generation. Drive the old Impreza and the new Impreza back-to-back and the difference is striking. This is due in part to a 10 percent increase in structural rigidity.
Taking corners at speed, the Impreza is well-mannered with a minimum of body roll. This makes for a more pleasant ride for passengers and a more controlled one for the driver. It improves handling so there's less of a need to constantly make steering adjustments. Instead, the Impreza stays firmly planted to the pavement, even during more spirited driving.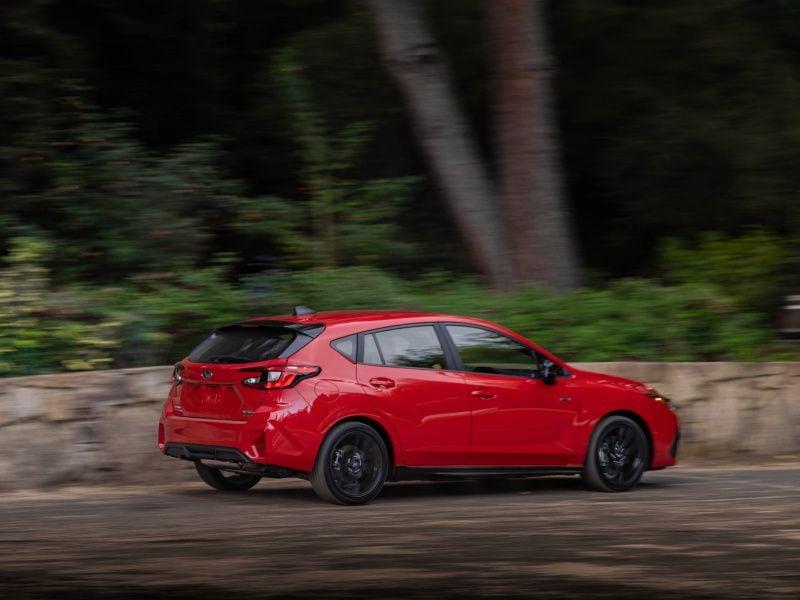 Photo by Subaru
That Versatile Hatchback
The hatchback design of the Impreza makes it a versatile choice for those who plan to carry cargo. Unlike a trunk, which has more limited dimensions, a hatchback makes it easy to take along larger, bulky items. It also offers the ability to carry people one minute and cargo the next. The rear seats split-fold 60/40 so you can even keep one side up for passengers and fold the other down for holding more cargo or longer items.
There's 20.4 cubic feet for cargo behind the rear seats with tie downs for securing items and even grocery hooks so small bags don't roll around in back. This expands to 56.0 cubic feet when those seats are folded, making the compact Impreza a surprisingly good cargo hauler.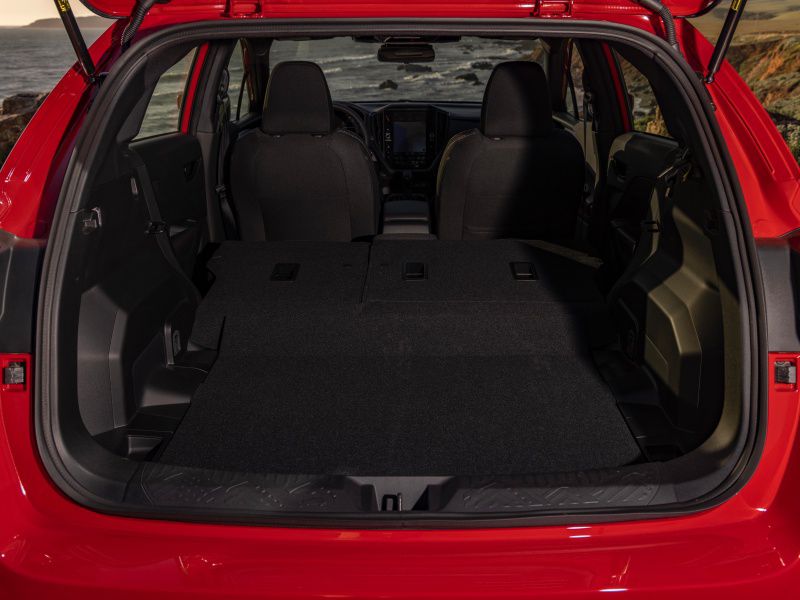 Photo by Subaru