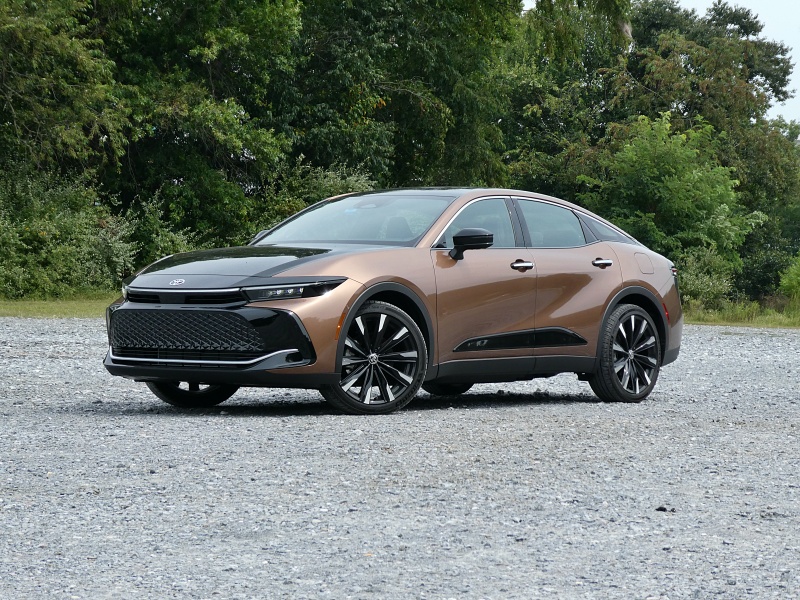 Photo by Brady Holt
Sedans are waning in popularity, and full-size sedans have taken the brunt of it. Everyone, especially folks who want extra space, seems to favor crossover SUVs these days. Nearly every big four-door has either been discontinued or is on its way out the door. This includes the Toyota Avalon, which sat at the top of the company's sedan lineup from 1995 to 2022. 
But unlike Buick, Chevrolet, Ford, Hyundai, or Kia, Toyota hasn't abandoned the full-size sedan segment. Instead, it reimagined it. The all-new 2023 Toyota Crown – priced from $39,950 – enters a dying, dowdy market segment with a radical new shape and a pair of gas-electric hybrid powertrains. We spent a week testing this unusual new Toyota. Here are our 10 favorite things about the new Crown. 
Unique Appearance
If you think modern cars all look the same, the 2023 Toyota Crown aims to prove you wrong. The first thing to jump out at us was our test car's two-tone bronze-and-black paint job. It's not even a roof-vs.-body two-tone, but black on the hood, front bumper, door trim, trunk, and part of the rear fenders and bumper.
This isn't merely an ordinary-looking car with an unconventional color scheme. Even Crowns without the optional two-tone paint are an unusual sight. It has the same 196-inch length as the old Avalon, but at 61 inches high, it's 4 inches taller. The extra height comes in the metal, with a small greenhouse above large doors and even tall fenders. Although the Crown is a sedan, the roof flows toward the trunk like a liftback. Tall for its length and shaped like a hatchback, the Crown has the proportions of a compact car scaled up to full size. Put it all together, and the Crown avoids blending in.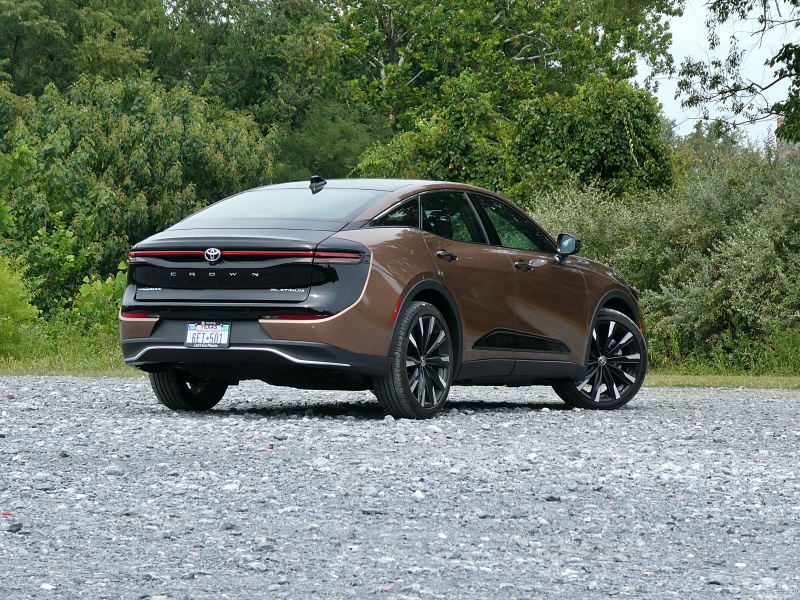 Photo by Brady Holt
Incredible Fuel Economy
Big cars aren't known for great gas mileage, but the 2023 Toyota Crown solves that problem with Toyota's famous hybrid technology. 
Most Crowns pair a 2.5-liter four-cylinder gas engine with two electric motors for a combined output of 236 horsepower. Toyota says that's enough to bring the engine to 60 mph in a respectable 7.6 seconds. More impressively, it gets an EPA-estimated 42 mpg in the city, 41 mpg on the highway, and 41 mpg combined. That's not quite Prius-level fuel-sipping, and it's about 2 mpg behind the hybrid version of the old Toyota Avalon. But it's still exceptional for a big, decently quick sedan with standard all-wheel drive. And when you want your Crown to really hustle, there's another option we'll come to in a minute.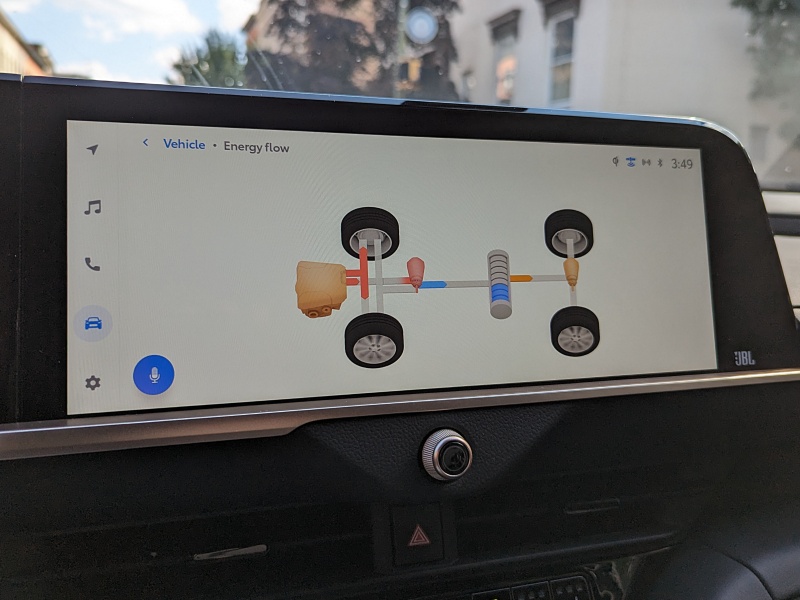 Photo by Brady Holt
Or Lots of Power
The Crown's top Platinum model has a new powertrain that Toyota calls the Hybrid Max, which you'll also find in the Toyota Grand Highlander and Lexus RX 500h SUVs. It's a turbocharged 2.4-liter four-cylinder that works with two electric motors for 340 hp and 400 lb-ft of torque. Toyota says it will zip the Crown to 60 mph in just 5.7 seconds, even quicker than the old V6 non-hybrid version of the Avalon. The Hybrid Max powertrain also swaps the regular hybrid's continuously variable automatic transmission for the more conventional shift quality of a six-speed automatic. 
The Hybrid Max isn't optimized for efficiency like the regular hybrid. EPA ratings drop to 29 mpg in the city, 32 mpg on the highway, and 30 mpg combined. That's the same highway mileage as a V6 Avalon, but city driving improves by 7 mpg. We matched the EPA estimate to average 30 mpg in our Crown Platinum test vehicle, which is still great for a big and powerful AWD sedan. Still, we'll note that we hit 27 mpg in the last V6 Avalon we tested.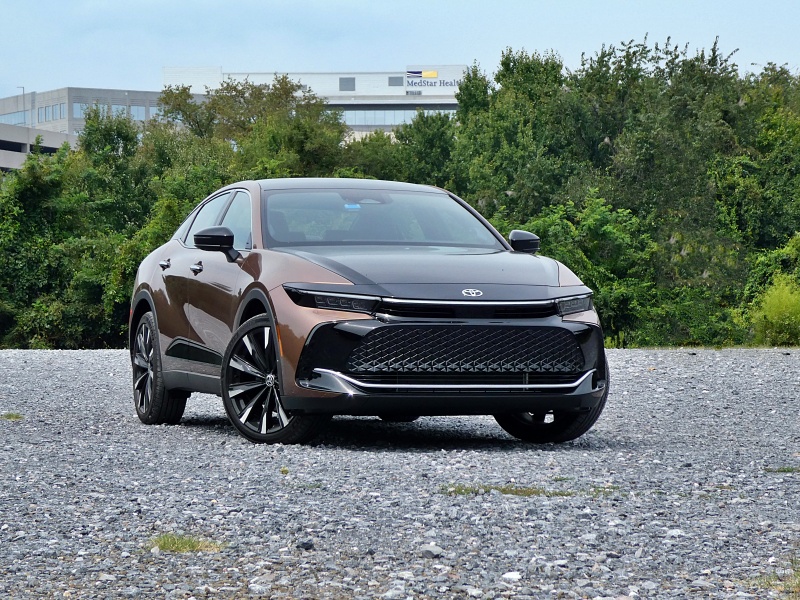 Photo by Brady Holt
Smooth Ride
For all its funkiness, the Crown doesn't forget to be a big, comfortable sedan. It has a smooth and quiet ride, even on our test car's enormous 21-inch wheels. If anything, it's more relaxed than the Avalon, which had positioned itself as something of a sports sedan in its final generation. 
We don't mean the Crown is a clumsy old boat. It's not, especially with the Platinum's adaptive suspension. This system adjusts the suspension tuning automatically in response to road conditions. You can also choose among a variety of driving modes, letting you tighten up the suspension by selecting Sport or Sport+ or keep things cushy with Comfort. Toyota even lets you build a customized driving mode that could pair, for example, sporty steering with eco-friendly acceleration.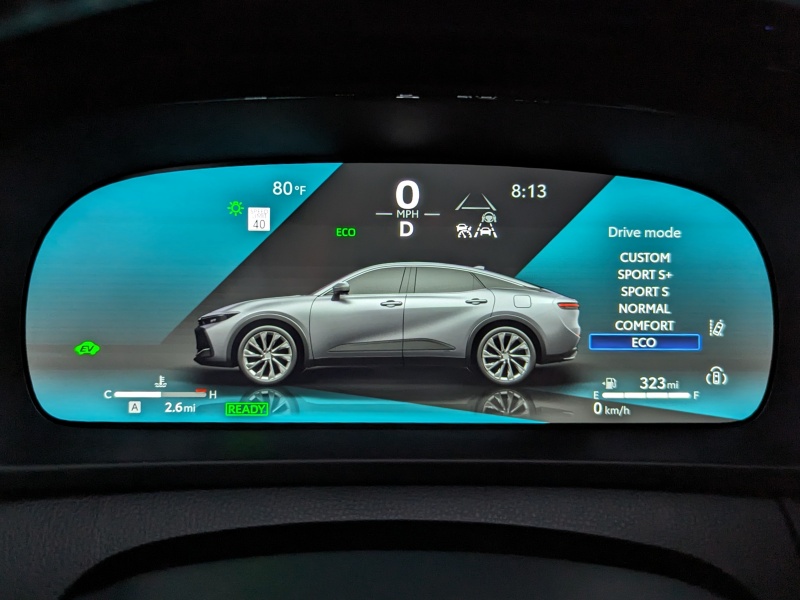 Photo by Brady Holt
Big Touchscreen Meets Real Buttons
Every 2023 Toyota Crown includes a big 12.3-inch infotainment touchscreen at the center of its dashboard. But unlike some tech-focused cars, the Crown also includes physical controls for its climate system and a simple knob for audio volume. The interior is also solidly built and not overly flashy, even with the big screen.
That's not to say it's perfect. Some people will want more overt opulence at prices that can top $50,000. And we also wish Toyota's new infotainment system made better use of the big screen. You have to constantly switch views between, say, GPS maps and information about your radio station. Most cars let you see those things side by side. Fortunately, the system also supports Android Auto and Apple CarPlay wireless smartphone integration. Upper-trim Crowns even let you unlock and start your car using your phone via what Toyota calls a Digital Key. Overall, the Crown has technology without being inaccessible to technophobes.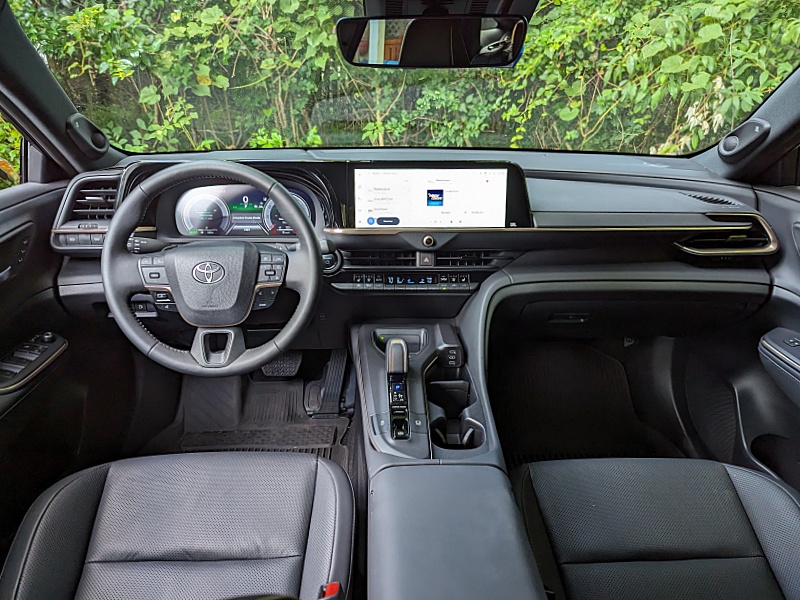 Photo by Brady Holt
High Seating Position
One reason that sedans have fallen out of favor is their low seating positions. The Toyota Avalon was great for people who liked to stretch out low to the ground, but many customers – especially older folks who often buy big, expensive cars – found they prefer sitting up higher. 
The taller Crown aims to win them back. As we mentioned, it's 4 inches taller than the Avalon. That height goes primarily to a higher seat, not extra headroom. This means the Crown is easier to get in and out of, and it means you're not staring up at the SUVs around you. The Crown also has a roomy backseat for two people, though there's little head space in the center-rear position. The trunk is also modest at 15 cubic feet, no bigger than a mid-size Toyota Camry's. And don't let the styling fool you: This is a conventional sedan, not a liftback with an open cargo hold.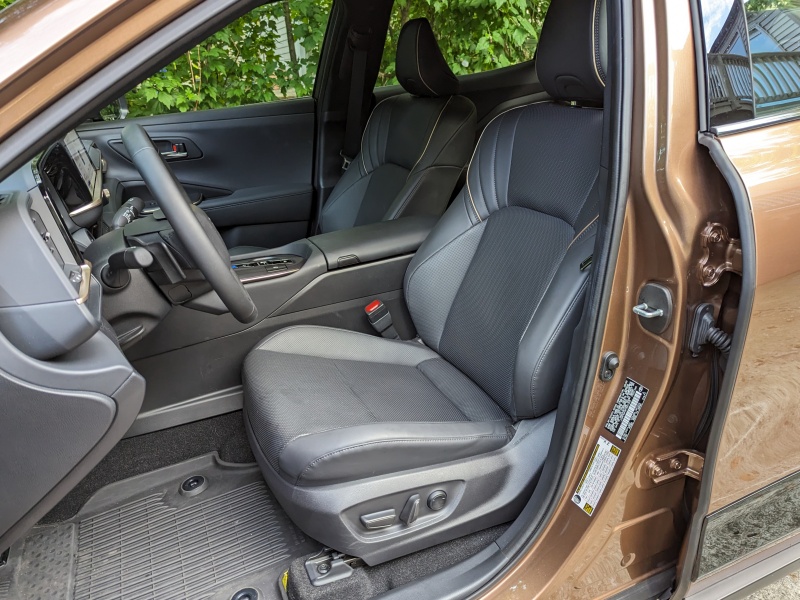 Photo by Brady Holt
Standard All-Wheel Drive
Like the higher seating position, the Crown takes on SUV buyers by coming standard with all-wheel drive on all trim levels. That's a big change from the Avalon, which came only with front-wheel drive for nearly all of its life. (For a single model year, 2021, AWD was available with a base four-cylinder engine but never the Avalon's more powerful V6 or most economical hybrid.)
The Crown isn't a lifted sedan like a quirky old four-door version of the Subaru Outback. At 5.8 inches, its ground clearance is in line with other sedans. But AWD gives the Crown extra traction in slippery conditions and, with the Platinum's Hybrid Max powertrain, under acceleration. The Crown's rear wheels have their own small electric motor that kicks in automatically when it's needed for either maximum power or when the front wheels are slipping. 
Photo by Brady Holt
Lots More Standard Features, Too
The Crown costs about $2,000 more than the base 2022 Avalon Hybrid, at $39,950. But that's a reasonable upcharge for the AWD system alone. In addition, the base Crown XLE includes the 12.3-inch touchscreen, a wireless phone charger, heated and power-adjustable front seats, power-folding mirrors, automatic climate control, 19-inch alloy wheels, and safety and driver-assistance features that include automatic emergency braking, blind-spot monitoring, lane-keeping assistance, and adaptive cruise control. 
Stepping up the Limited, $45,550, buys genuine leather upholstery (upgrading from the XLE's mix of cloth and synthetic leatherette), an 11-speaker stereo (instead of the XLE's six speakers), ventilated front seats, rain-sensing windshield wipers, a heated steering wheel, and a panoramic sunroof. A $2,950 option package adds the Digital Key, 21-inch wheels, and a surround-view parking camera, at a total of $48,500. For $52,530, the Platinum adds those options plus the Hybrid Max powertrain. That's a lot of money for a Toyota, but not necessarily a lot for a big, well-equipped 340-hp sedan that gets more than 30 mpg.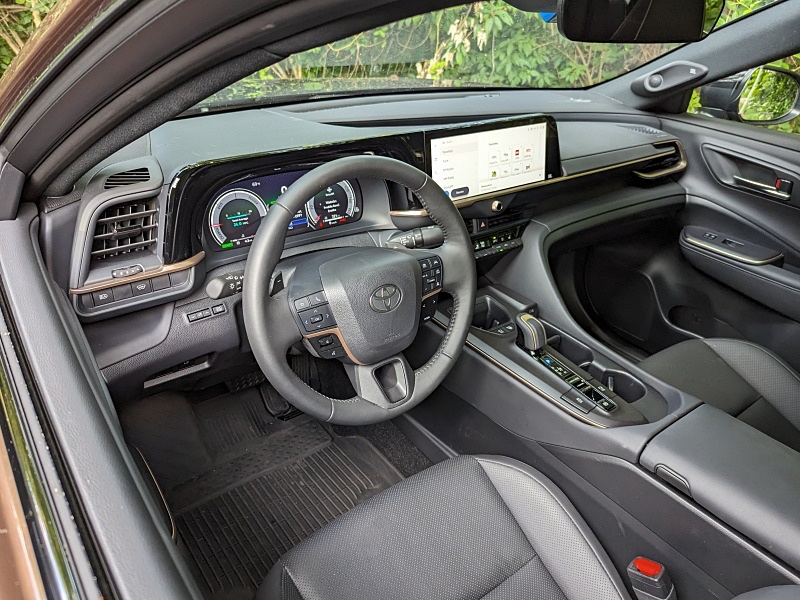 Photo by Brady Holt
Not Many Competitors
It doesn't take long to tally up the list of big AWD hybrid sedans under $50,000: the 2023 Toyota Crown. We expect most customers are also looking at the closest in-house rivals: the slightly smaller, slightly less fancy Toyota Camry Hybrid and the posher Lexus ES 300h. Neither of them has AWD, and you don't get the Crown's slightly elevated seating or available Hybrid Max powertrain. But they're roomy, comfortable, and economical sedans, and the Lexus has a far more lavish interior than the Crown. We'd also shop it against a pair of plug-in hybrids: the smaller BMW 330e and Volvo S60 Recharge. These are upscale, crisp-handling sports sedans that can travel 22 and 40 miles, respectively, before needing any gasoline at all. 
On the other hand, if you're not dedicated to a hybrid, we think you'll love the V6-powered Toyota Camry or Lexus ES 350. They deliver effortlessly smooth, rich-sounding power for much less money than a Crown Hybrid Max. You might also consider a crossover SUV instead of a tall sedan, like the Toyota Venza upscale compact crossover or some of its hybrid competitors: gas-electric versions of the Ford Escape, Honda CR-V, Hyundai Santa Fe, or Kia Sportage.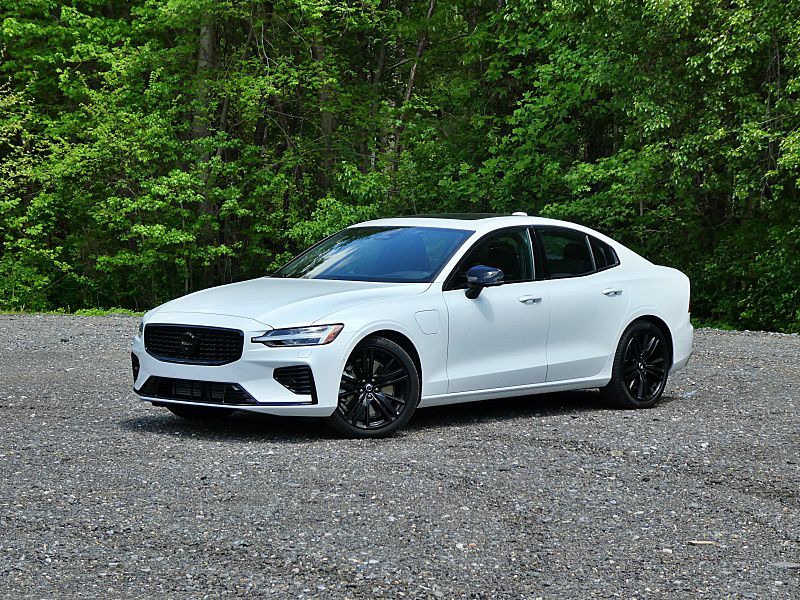 Photo by Brady Holt
The Gas-Electric Big Sedan SUV
Toyota expects about 20,000 Americans to choose the Crown every year. That's not a lot, and even that modest goal might be too ambitious. We're not convinced there's a huge market for a big, gas-electric, AWD sedan with funky styling and an SUV-height seating position.
But maybe you do want the qualities of an SUV, don't need extra cargo space, and prefer the look of a sedan – an unconventional one at that. Maybe outstanding gas mileage matters more to you than extra-speedy power, or you're willing to spend more than $50,000 to go fast. If this sounds like you, the 2023 Toyota Crown awaits you. If you love how it looks, you'll appreciate that the style is backed up by the substance of roominess and fuel efficiency. And even if not, anyone who wants a big sedan has relatively few choices. This quirky, comfortable, all-weather fuel-sipper could belong in your driveway, too.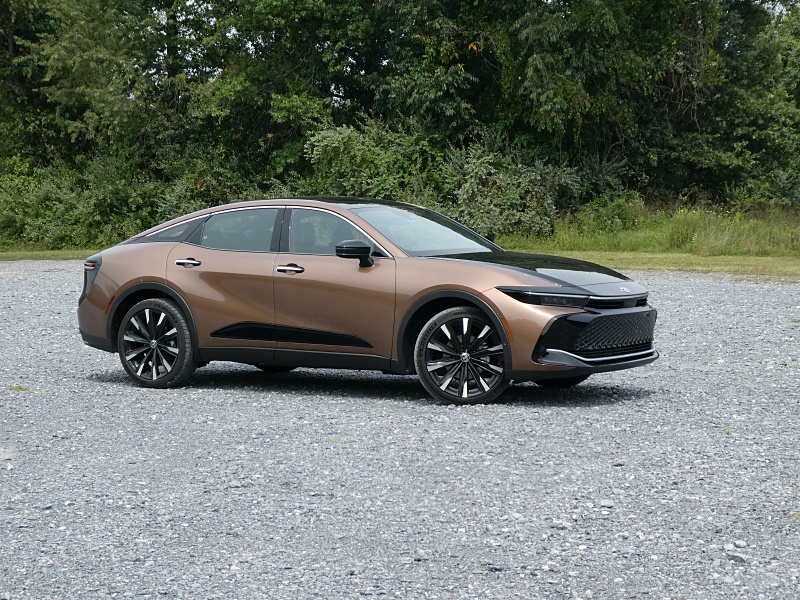 Photo by Brady Holt