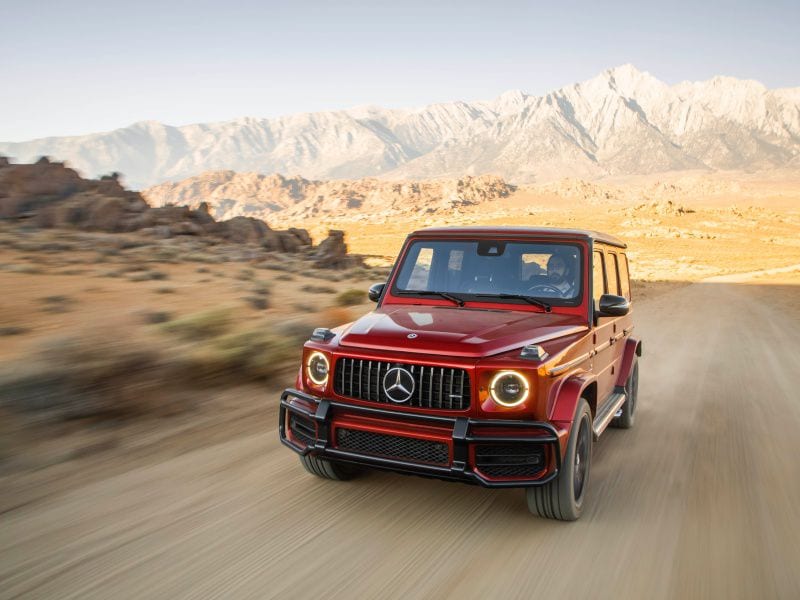 2019 Mercedes-AMG G63 ・ Photo by Mercedes-AMG
The 2023 Mercedes-Benz AMG G63 is a luxury SUV with the capability to go off-road, more power than you'll ever rightly need, and a truly luxurious interior.
This is a luxury car in every sense, and it commands a premium price that starts at around $180,000. It's the kind of car most of us hope to buy one day, and if it's on your shopping list, then lucky you. Here are the 10 best features of the 2023 Mercedes-Benz AMG G63.
The Performance Engine
The Mercedes-Benz AMG G63 has a twin-turbocharged 4.0-liter V8 engine with 577 horsepower and 627 lb-ft of torque. This is paired to a 9-speed automatic transmission with steering-wheel-mounted paddle shifters for those who prefer a bit more control over those transmission shifts. This is not a light vehicle, but when you hit the gas, it accelerates with outright aggression.
There's a 0-60 mph time of 4.5 seconds for this performance SUV, so there's absolutely no issue getting up to highway speeds. It also has plenty of power to pass slower vehicles at speed with ease. If you crave performance from your SUV, then this one will meet your expectations.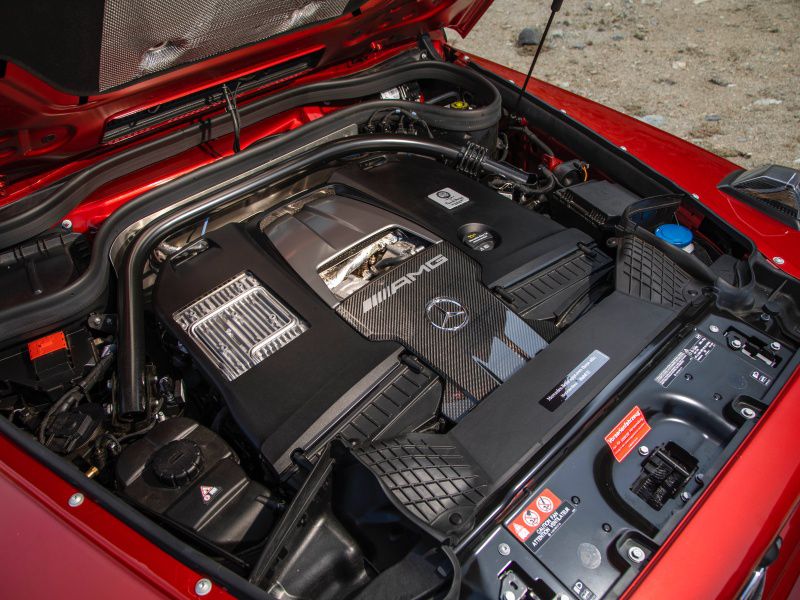 Photo by Mercedes-AMG
Large Cargo Area
This is a large vehicle with a decidedly square design. That makes it roomy for people so everyone can get comfortable, but also makes it easy to stow all kinds of cargo. There's 38.1 cubic feet for cargo behind the rear seats with 68.6 cubic feet if you fold those seats down.
The wide tailgate opening and square body accommodate large, oddly shaped items that might not fit in an SUV with the more traditional sloped roof. There's also a tailgate that swings open to the side like a door rather than up. This makes it easier to manage if you're someplace with a low ceiling that could cause damage to a tailgate that lifts.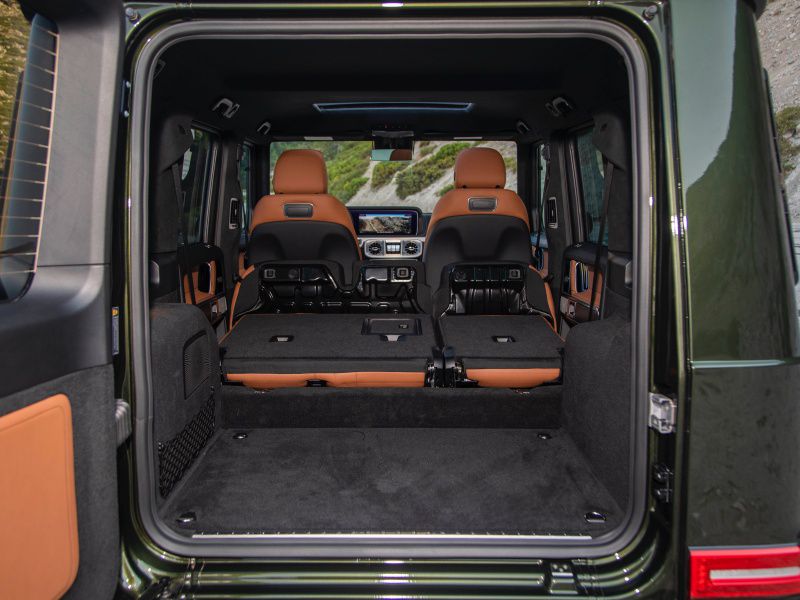 Photo by Mercedes-Benz
The Leather Interior
It's no surprise that the interior of the Mercedes-Benz AMG G63 sports plenty of luxury appointments. These include Nappa leather seating surfaces with a smooth, refined finish. It adorns the seats, headrests, upper and lower portions of the dashboard, and even the trim in the cargo area. It's also hand-fitted so you can be sure that it's perfect without any misalignments or creases.
Those looking for an even more exclusive option can choose to add a diamond stitched pattern that adds visual punch or even G manufaktur Nappa leather. This is available in a single-tone or two-tone color scheme with a variety of color options. Even the overhead grab handles and closing grip on the cargo door are available with leather.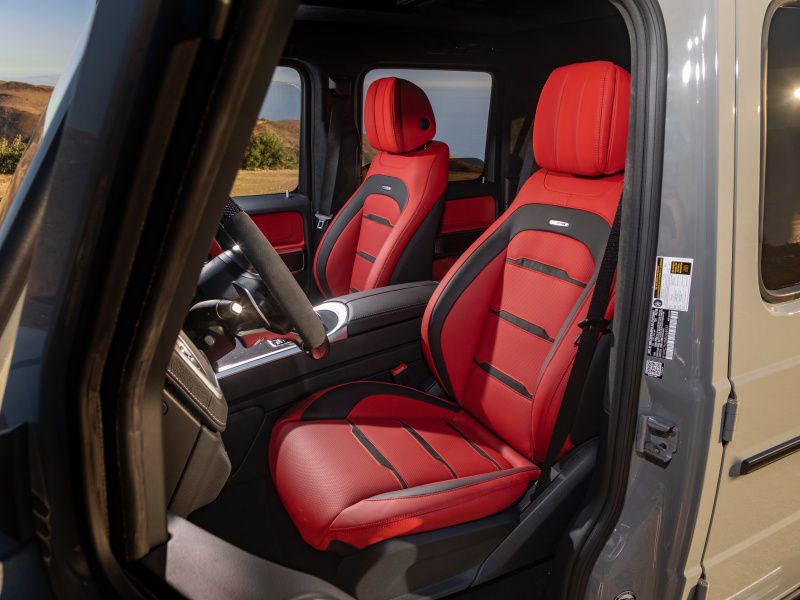 Photo by Mercedes-AMG
Ambient Lighting
The Mercedes-Benz AMG G63 includes ambient lighting that lets you set the mood. There's a choice of 64 colors from which to choose. Whether you want a cool blue or bright red, there's an ambient light hue that's perfect for your mood.
The color glows softly from beneath the dashboard trim, behind the screens on the dashboard, and in the footwells. It's divided into four zones with adjustable brightness. You can even choose a variety of programs to have up to five colors at once or have the color slowly change as you drive. Whether you want bright and fun or soft and muted, there's an ambient lighting setting perfectly suited to every moment.
Photo by Mercedes-AMG
Digital Instrument Cluster
Standard on the Mercedes-Benz AMG G63 is a 12.3-inch digital instrument cluster. It has a customizable display so you can choose exactly what is shown, easily changing what you see depending on how and where you're driving. This multifunction screen has illustrated menus with animation for added visual appeal.
Choose to show performance data, vehicle information and settings, or even driver assistance features. The instrumentation styles are also customizable. Some even change to match whatever driving mode is selected. This large screen makes it easy to see all this vehicle data at a glance so you can stay focused on the road.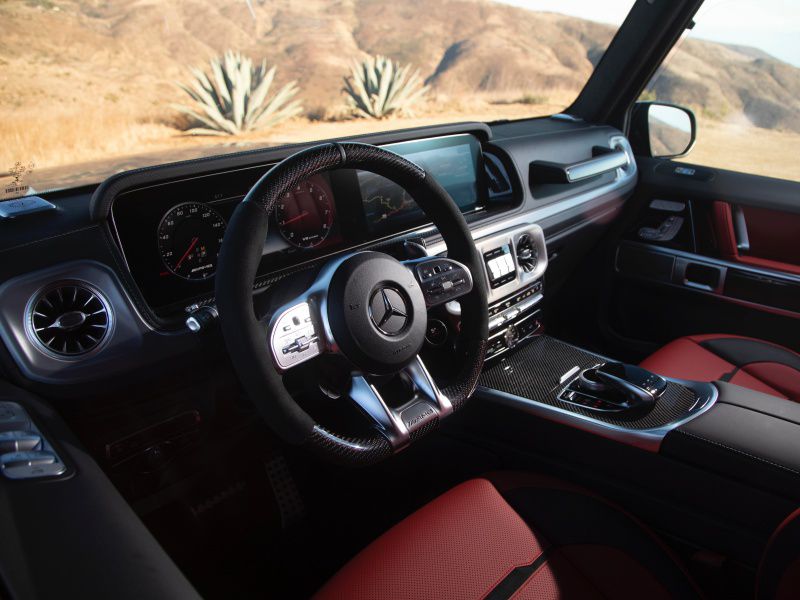 Photo by Mercedes-AMG
The 12.3-inch Infotainment Screen
To the left of the instrument cluster set lengthwise into the dashboard is a 12.3-inch high resolution infotainment screen. It's a separate screen but set into the same display creating one seamless piece that makes the dashboard clean and uncluttered. It automatically adjusts to the ambient light so it's the right brightness no matter the changing light outside.
The system is controlled either by buttons on the steering wheel or through the touchpad controller on the center console. This is shaped a bit like a computer mouse, so it rests naturally beneath your hand with a combination of buttons and a rotary knob. There's even a touchpad that responds to pinching, swiping, and handwriting.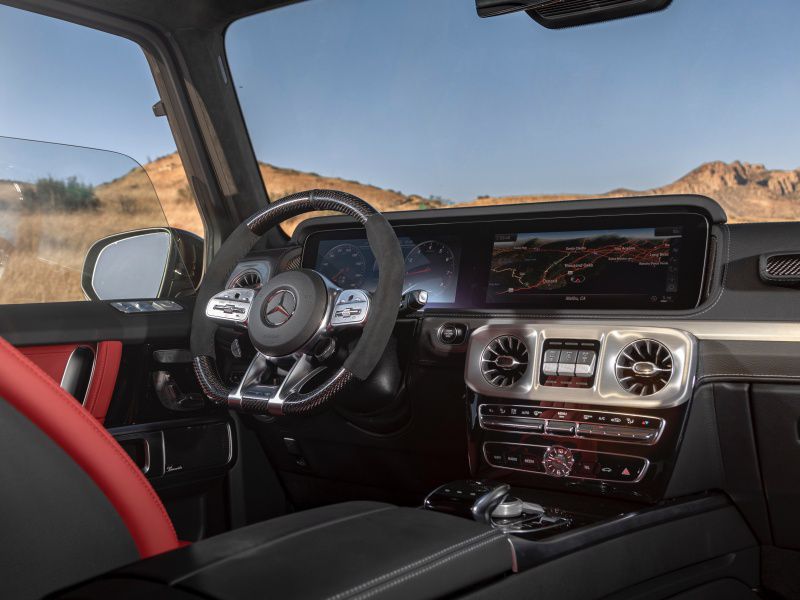 Photo by Mercedes-AMG
Premium Sound System
While some vehicles offer premium sound systems as an upgrade or standard only on select trims, the Mercedes-Benz AMG G63 has a high-end sound system as a standard feature. It was designed by Burmester, which is a German company that makes premium home audio systems. This surround sound system was specifically made for the G-Class to ensure sound quality no matter where you choose to sit.
It includes 15 speakers located throughout the cabin with a 590-watt 10-channel digital amplifier. Not only does it sound fantastic, it looks beautiful with intricately detailed aluminum speaker grilles. It's a treat for the senses in every way.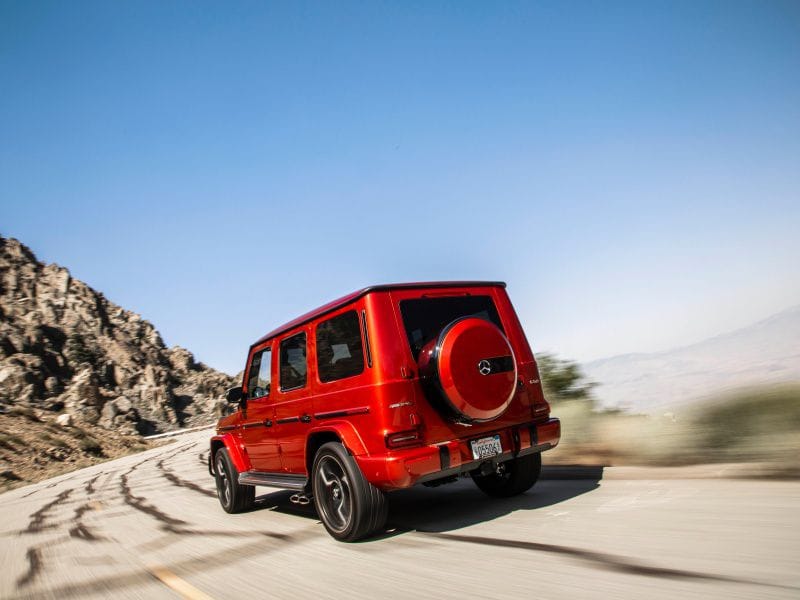 Photo by Mercedes-AMG
Standard Safety Features
There's no shortage of standard safety features on the Mercedes-Benz AMG G63 to help keep you and your loved ones safe. The list includes active brake assist, active distance assist, speed limit assist, blind spot assist, active lane keeping assist, rear cross-traffic alert, adaptive high beams, trailer stability assist, and attention assist.
It even makes parking easier, especially for those who find parallel parking a challenge. Active parking assist looks for a parallel or perpendicular parking spot as you're driving through a parking area. When it finds one, it will then pull in or back into the spot, managing steering and braking. It can even steer you back out again when it's time to leave.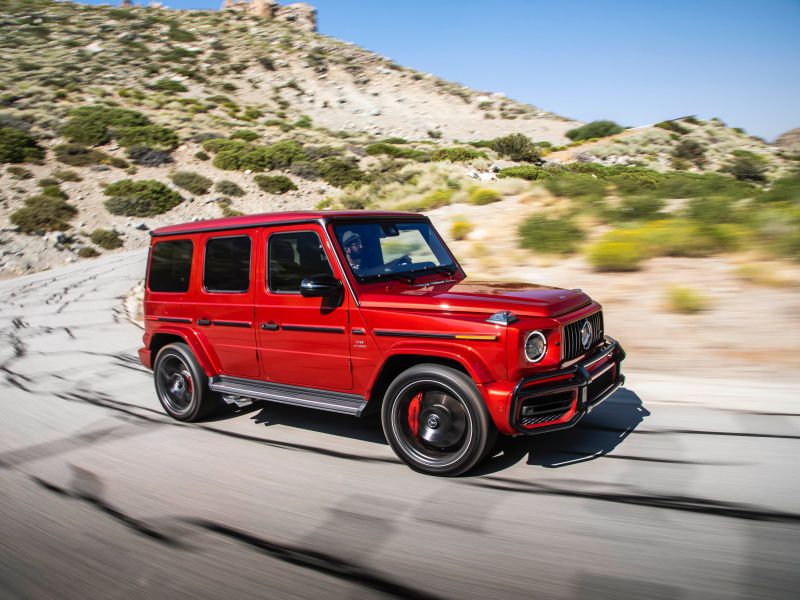 Photo by Mercedes-AMG
Stand-Out Exterior Design
If you're looking for a low-key luxury car, then this is not the car for you. If you're looking for a bold SUV with stand-out styling that turns heads, then the Mercedes-Benz AMG G63 is perfect. Everything about this SUV demands attention, starting with its boxy design. There are chrome trims with special AMG bumpers, wide fender flares, and large mesh intakes that look incredible and serve to cool the engine.
There are black sides strips with AMG logos and 20-inch AMG 10-spoke wheels that feature gray inlays. Vertical chrome grille bars and a matte silver brush guard add to this SUV's imposing presence. The finishing touch up front is the signature round headlamps with LED lights.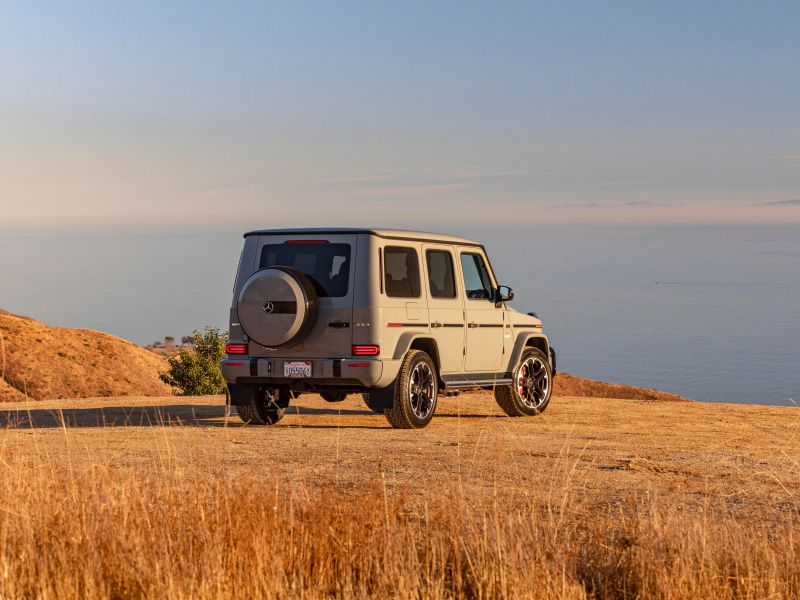 Photo by Mercedes-AMG
Options Galore
As beautifully designed and luxuriously appointed as the Mercedes-Benz AMG G63 is, there are still dozens of options to increase the level of luxury and personalize your vehicle. There are 22-inch wheels in a variety of patterns and colors and black accents for the brush guard, wheels, and roof. Even the spare tire ring comes in different colors.
The interior offers natural grain walnut, brown ash, or light brown sen wood trims and steering wheel options from piano black to microfiber to carbon fiber designs. There's even an available carbon fiber engine cover leaving no part of this SUV untouched by luxury.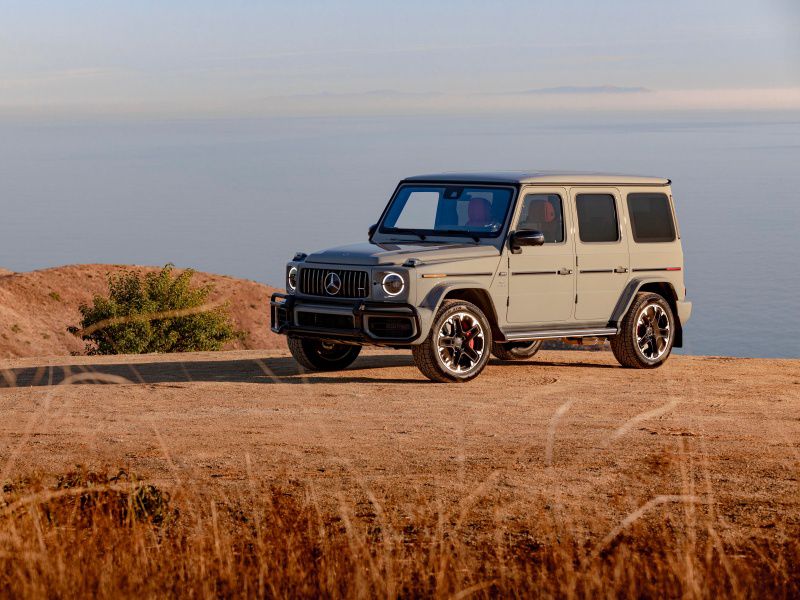 Photo by Mercedes-AMG