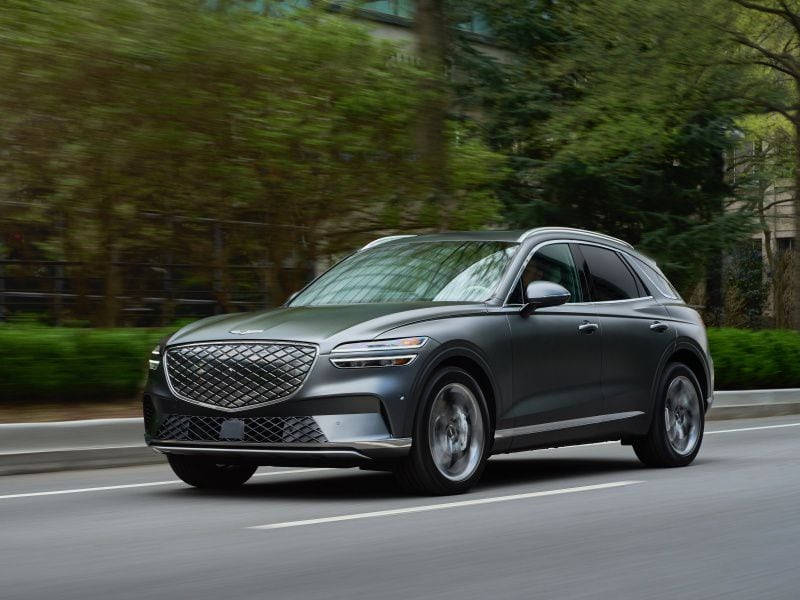 2023 Genesis Electrified GV70 ・ Photo by Genesis
The Genesis Electrified is all-new for 2023. This is the electric version of the GV70 SUV and marks the third electrified model in the Genesis lineup joining the GV60 and Electrified GV80 sedan. It has all the style, elegance, and impressive features of the GV70, just without the gas engine. Instead, the Electrified GV70 adds two electric motors and a battery for breathtaking acceleration.
It also has a slightly smaller trim lineup, getting rid of the Base and Select trims in favor of just the top Advanced with an available Prestige package. The Electrified GV70 is a stunning and well-equipped EV that looks and feels like a luxury car while managing to cost less than the competition. Here are the 10 best features of the 2023 Genesis Electrified GV70.
One Premium Trim Level
The Genesis Electrified GV70 is available in just one trim. The Advanced starts at $65,850 and has standard features including leather seating surfaces, a 14-way power driver's seat, a panoramic sunroof, a 14.5-inch infotainment touchscreen, a handsfree power liftgate, driver attention warning, and both front and rear park distance warning.
Options are available through the Prestige package, which starts at $6,800 and adds Nappa leather seating surfaces, heated rear seats, a premium Lexicon audio system, a 12.3-inch digital instrument cluster, and a head-up display. It's well-equipped even in the base trim with a surprisingly low price for a luxury car with even the package coming in with a modest price for the features.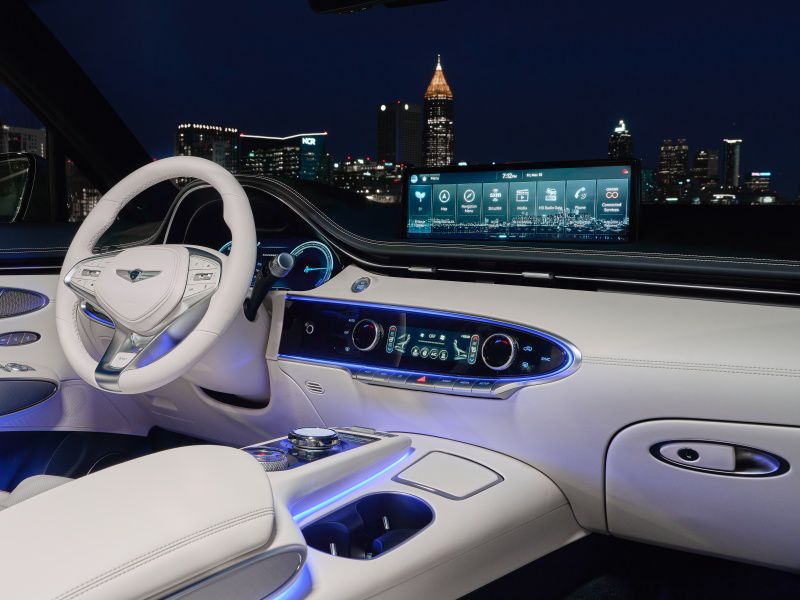 Standard All-Wheel Drive
All-wheel drive is a standard feature on the Genesis Electrified GV70 with one electric motor at each axle. This not only provides all-wheel drive capability but is a part of how this SUV provides such impressive horsepower.
Those who experience snowy winters generally put all-wheel drive at the top of their must-have list when shopping for a new vehicle. While all-wheel drive in the winter is fantastic, that's not the only time it comes in handy. Even if it's simply wet roads from a summer storm, all-wheel drive helps keep you in control. No matter the weather, during moments of more spirited driving, especially in the corners, all-wheel drive again helps you maintain traction for better control.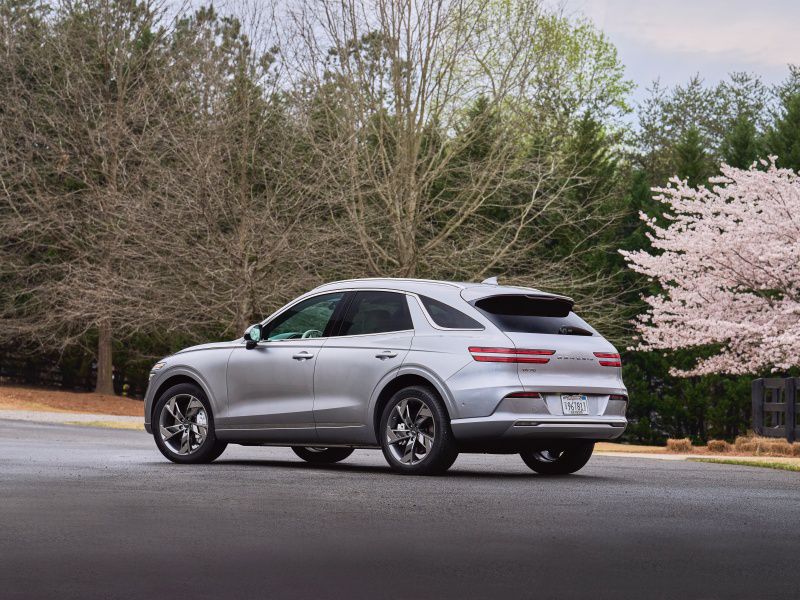 Photo by Genesis
Impressive Power
Part of what makes an electric vehicle so good is how power is delivered. In a gas vehicle, torque ramps up slowly. In an electric vehicle, it's there the moment you press on the accelerator. The Genesis Electrified GV70 provides strong performance with lots of horsepower.
That power comes from two electric motors and a 77.4 kWh battery. Together they deliver 429 horsepower with 516 lb-ft of torque. Those are some big numbers, but they can get even bigger. There's a Boost Mode that delivers 54 extra horsepower for a brief 10-second interval. It's a great feature for those times when you suddenly need extra power at highway speed to quickly get across multiple lanes to exit.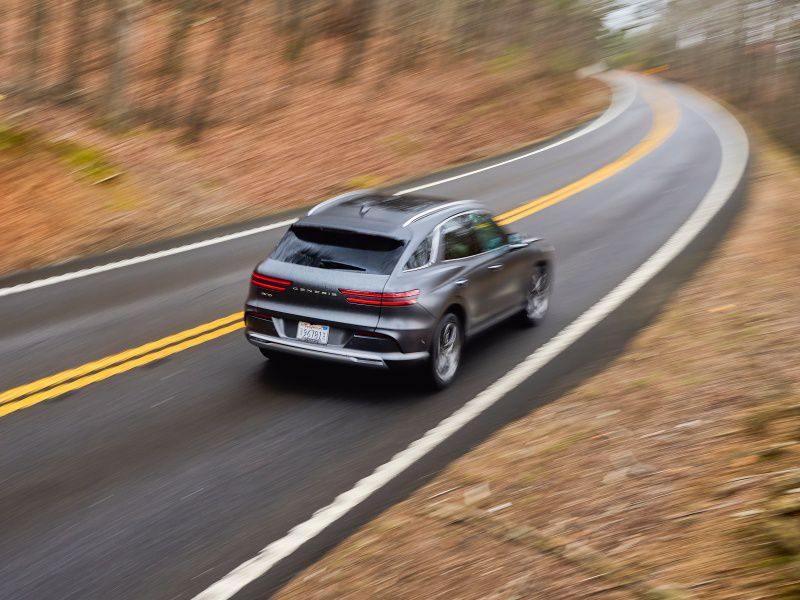 Photo by Genesis
Striking Exterior Design
The full lineup of Genesis vehicles from sedans to SUVs are standouts when it comes to exterior design. They combine the details that make a luxury vehicle look special without being flashy or overdone. Everything about the Electrified GV70 is thoroughly modern, attractive, and upscale. It attracts attention for all the right reasons.
The wheel designs are unique and complement the sleek, sporty curves of the exterior. The focal point of this EV is the grille. While some EVs have a flat panel instead of a grille since there's no engine that needs airflow, the GV70 has a beautiful diamond patterned grille. It makes a strong first impression.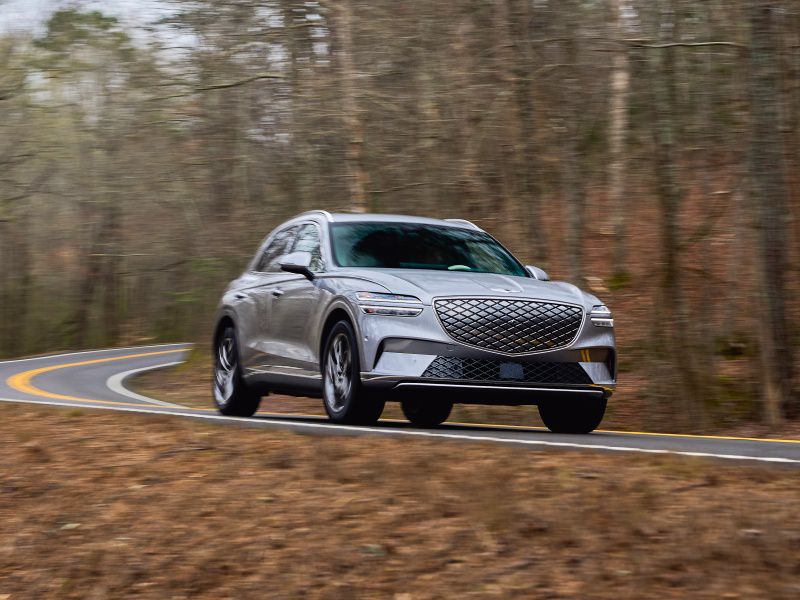 Photo by Genesis
Large Infotainment Touchscreen
The infotainment system in the Genesis Electrified GV70 features a 14.5-inch high-definition touchscreen that runs along the length of the dashboard. It has a crisp, responsive screen with an intuitive system even passengers new to the vehicle can easily navigate. There's also 8-speaker audio, wired Apple CarPlay and Android Auto, and wireless charging. There are two front USB ports and two charging-only USB ports for the rear seats.
Audiophiles will appreciate the available Lexicon premium audio system. It has surround sound, 15 high-efficiency speakers, and a 1,050-watt digital amplifier. It provides high-quality sound that enhances the luxury experience offered by this SUV.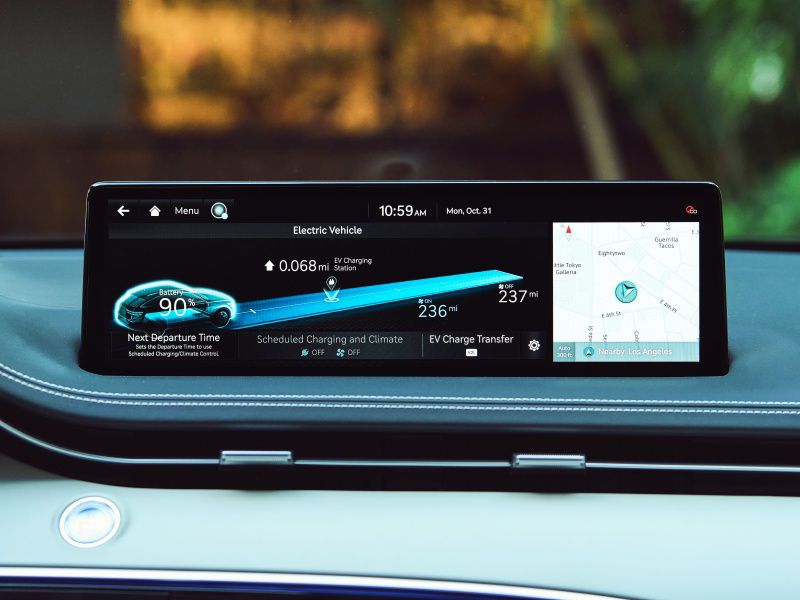 Photo by Genesis
Advanced Safety Features Are Standard
As a luxury vehicle, the Genesis Electrified GV70 has a long list of safety features and almost all of them are standard. These include brake assist, hill-start assist, front and rear park distance warning, rear parking collision avoidance assist, blind -spot collision avoidance assist, rear cross-traffic collision avoidance assist, lane keeping assist, and lane following assist.
There's also forward collision avoidance assist with pedestrian and cyclist detection and junction turning, rear occupant alert, safe exit assist, and driver attention warning. The only option is forward attention warning. It's a large suite of standard safety features to keep you and your loved ones safe and set your mind at ease when you're behind the wheel.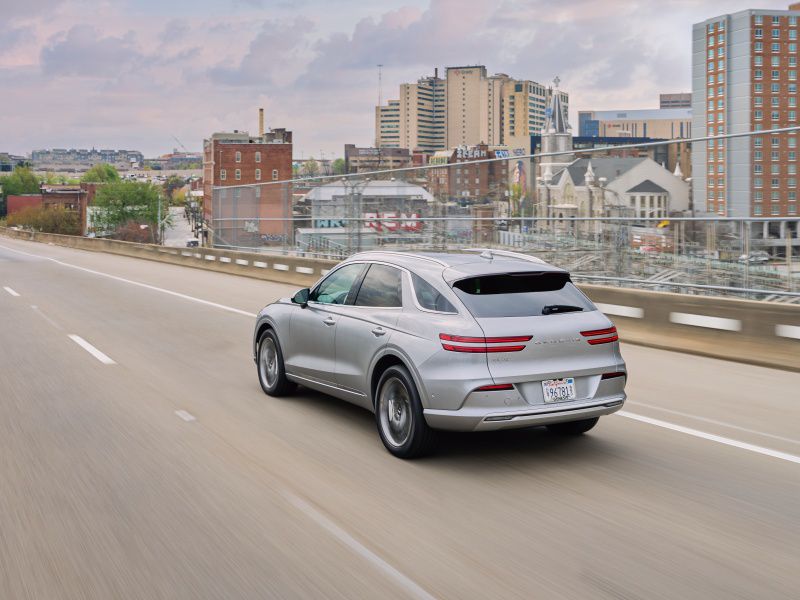 Photo by Genesis
Room for Cargo
The Genesis Electrified GV70 is an SUV so it needs to manage both people and cargo. It's not a full-size SUV but a more compact vehicle that still has room to hold plenty of stuff. There's 28.7 cubic feet behind the rear seats for holding all your cargo. That's a good amount of room for every day or for luggage on vacations.
When there's no one in those rear seats, then fold them down and cargo capacity expands to 56.6 cubic feet. This makes the Electrified GV70 truly versatile. And if you need room but have a full crew of people on board, then hook up a trailer and take advantage of its maximum tow rating of up to 3,500 pounds properly equipped.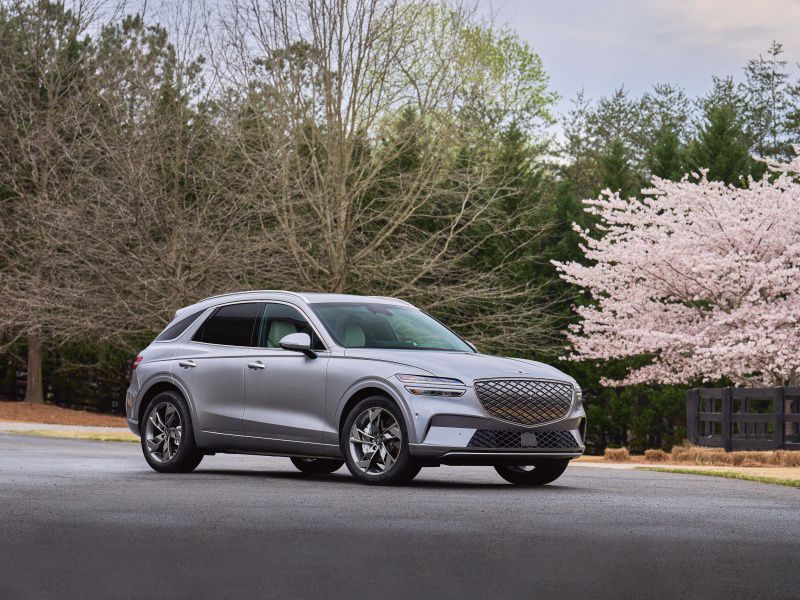 Photo by Genesis
It Charges Quickly
No one wants to sit around waiting for their car to charge. The Genesis Electrified GV70 charges quickly so you can be back on your way in no time. This makes every day easier, although the range of 236 miles makes it likely that charging overnight will do the trick. At a Level Two charger, which is what most people install at home, it fully charges in about 7 hours.
Out and about, it takes just 73 minutes to charge from 10 to 80 percent at a 50kW rapid charger. Charging time drops even lower at a 250kW charger which can take the battery from 10 to 80 percent in as little as 18 minutes. Plugging-in is easy, too, with a charging port built into the front grille.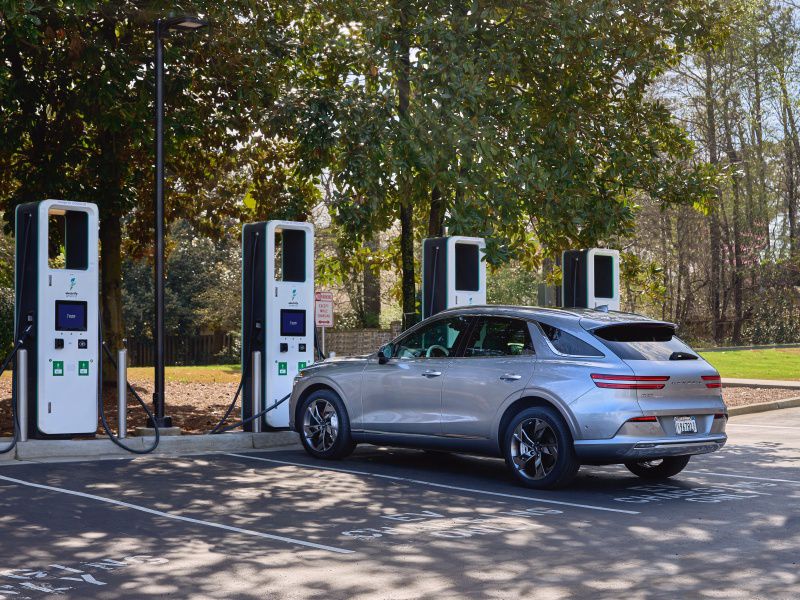 Photo by Genesis
Stunning Interior Design
Genesis is a luxury brand so even the base trim of this electric SUV has a beautiful and comfortable interior. There are leather seating surfaces, 14-way power driver's seat, 12-way power front passenger seat, heated and ventilated front seats, power seat cushion extender, and power bolsters with active motion for the driver. Rear seat occupants aren't forgotten with available heated rear seats and a standard folding center armrest with dual cupholders.
There's a cloth headliner with the option for a microfiber suede headliner. Front and rear stainless steel door sill plates, aluminum trims, tri-zone climate control, and a leather-wrapped steering wheel are also standard. Attention to detail combined with quality materials create a welcoming and luxurious environment.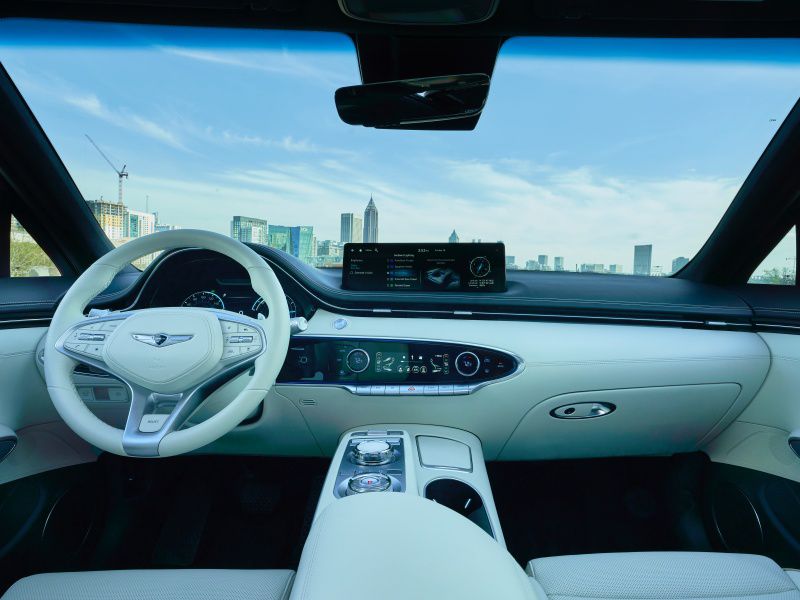 Photo by Genesis
Remarkably Quiet Ride
The Genesis Electrified GV70 is an electric vehicle, so you lose the noise of an engine. This makes for a quiet ride, but it's not simply the lack of an engine under the hood that makes this vehicle quiet. There's also a minimum of road noise with the sound and vibration from pebbled, uneven pavement nicely muted so it goes unnoticed by passengers.
The quiet includes a lack of wind noise so even at highway speeds, the interior of the Electrified GV70 is serene. It helps elevate the drive experience and enhances the ride for passengers allowing for easy, relaxed conversation.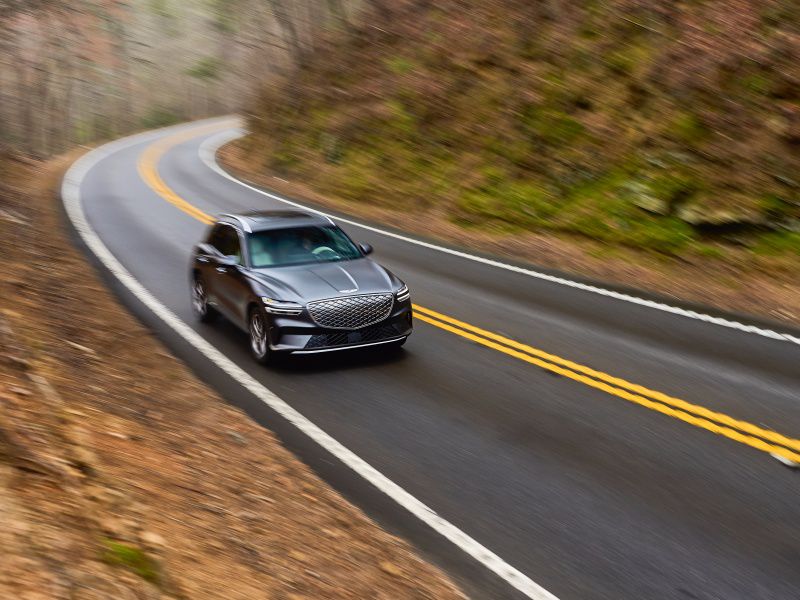 Photo by Genesis