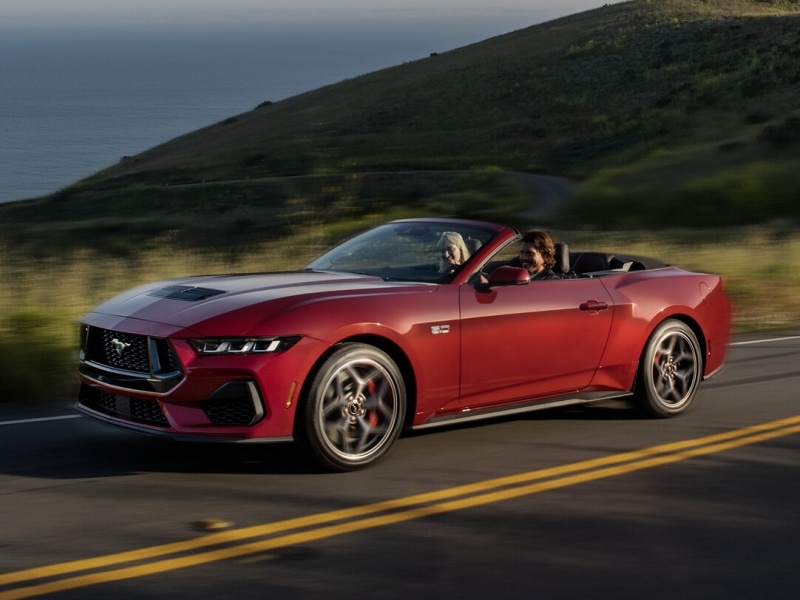 The 2024 Ford Mustang GT is all-new this year, marking the seventh generation of the iconic pony car. Throughout its nearly 60-year history, the Mustang has garnered legions of fans who appreciate its style, performance, and distinctive design.
This year, everything is new with a wide range of trims, multiple body styles, and multiple engines. The Mustang GT sits at the top of the lineup as both a convertible and a coupe with more aggressive exterior styling, an available manual transmission, and a powerful V8 engine. Here are the 10 best features of the 2024 Ford Mustang GT.
The Power of a V8 Engine
The standard engine for the Ford Mustang is a 2.3-liter EcoBoost with 315 horsepower and 350 lb-ft of torque. It's responsive and fun to drive, but if you want a more performance-focused drive experience, then you want the 5.0-liter V8 in the Mustang GT.
This engine delivers 480 horsepower with 415 lb-ft of torque for aggressive acceleration. There's no hesitation when you press on the gas, so getting up to speed for highway merges is a breeze. The combination of not just added horsepower but greater torque makes this version of the Mustang the one to get for driving enthusiasts. There's also an enhanced version of this engine available in the Dark Horse trim with 500 horsepower and 418 lb-ft of torque.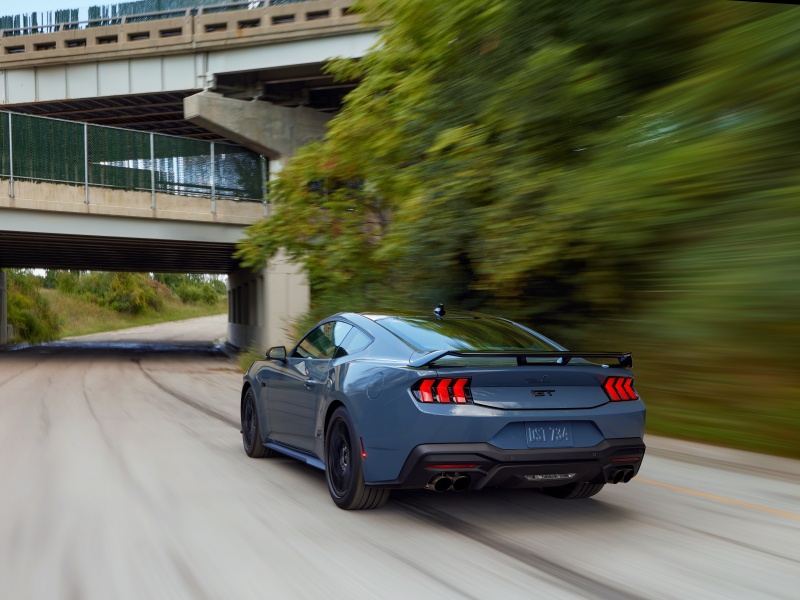 Photo by Ford
Manual or Automatic Transmissions
There are fewer and fewer people who know how to drive a manual transmission, so automakers aren't putting them in as many cars. While you can't get a manual transmission with the EcoBoost engine, it's the standard offering if you go with the V8 in the Mustang GT.
The 6-speed manual transmission is a joy to drive with a short throw and a light clutch that doesn't become cumbersome in stop and go traffic. It adds to the experience of driving such a powerful, sporty car by giving you more control over that power and letting you downshift when you need a burst of speed. If, however, a manual is not for you, there is still an optional 10-speed automatic.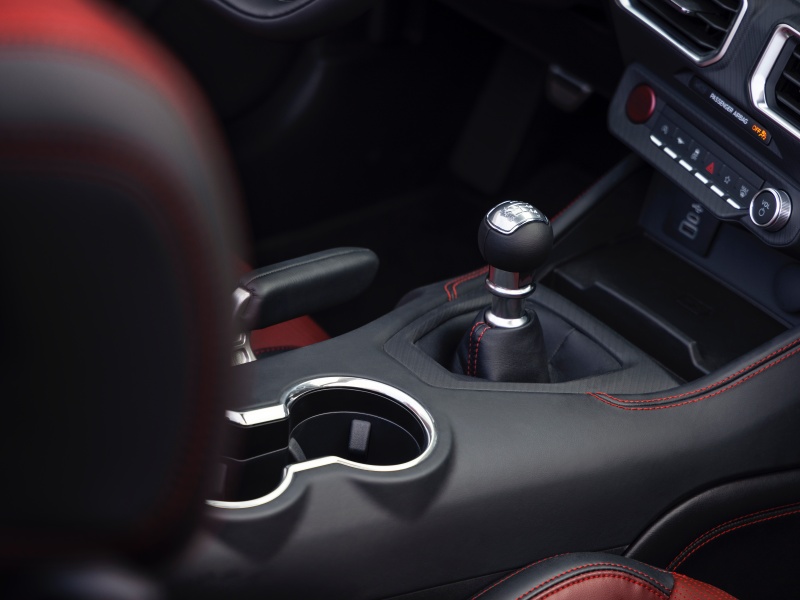 Photo by Ford
Electronic Drift Brake
The 2024 Ford Mustang is a vehicle designed for driving enthusiasts, and Ford caters to those customers with a new electronic drift brake. Whether you already know how to drift a car or are just learning, the drift brake lets you take full advantage of the Mustang's impressive power and handling to refine your drifting skills.
It was designed with the help of Ford's Formula Drift drivers to let you slide through corners just like a pro. This is the first coupe in its class to offer a drift brake. It's a part of the Performance Packages that are available on both EcoBoost and GT versions of the Mustang but becomes a standard feature on the Dark Horse.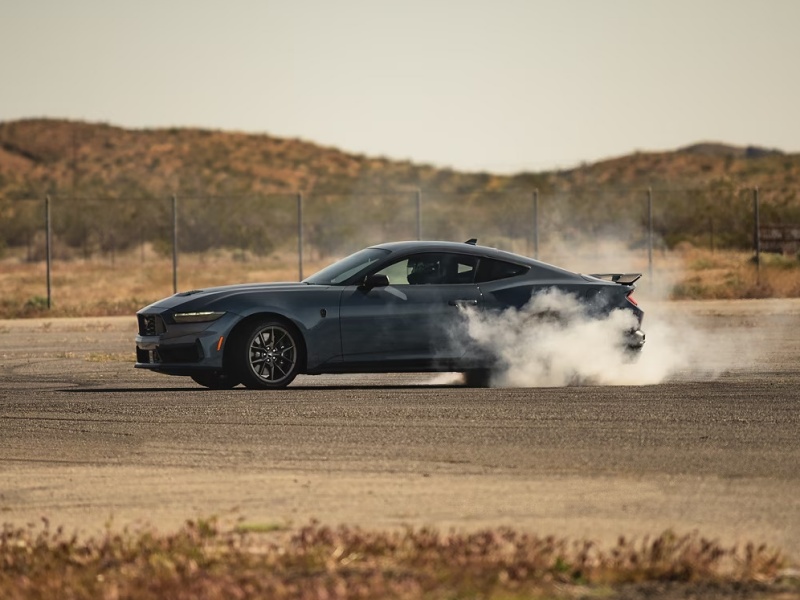 Photo by Ford
Six Drive Modes
There are six available drive modes so you can tailor the drive to your preferences. It's an easy process with buttons on the steering wheel that let you cycle through each mode. There's Normal for everyday driving or Sport for a performance ride. Slippery comes in handy anytime the roads are slick from rain, snow, or ice.
There's a Track mode for when you're doing laps on a track and a Drag Strip mode for when it's all about setting the fastest quarter-mile time possible. Lastly, there's a Custom mode so you can adjust individual vehicle settings independently. Whether you're on the road or at the track, there's a drive mode that helps improve the Mustang experience.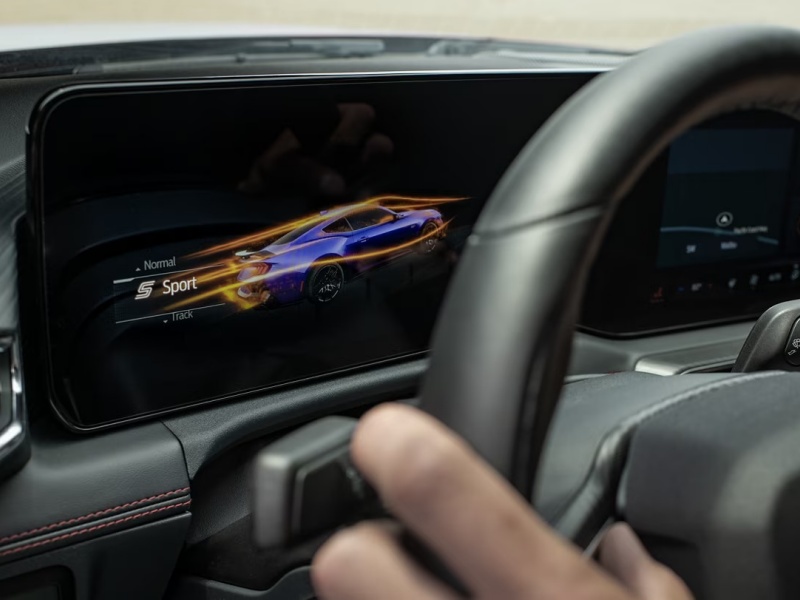 Photo by Ford
Customizable Digital Instrument Cluster
The Ford Mustang has a standard 12.4-inch digital instrument cluster with crisp, clean graphics. It gives the Mustang a premium look and feel, and exactly how it looks can be changed depending on how you're driving or just your mood of the moment. You can choose your cluster theme right in the infotainment screen, where it also displays a preview of how things will look.
There's a choice of five drive modes with Match, Sport, and Track for those times when you're engaged in more spirited driving. There also a Normal mode and a Calm drive mode, which removes some of the information you might not need in view, so the display is clean and uncluttered.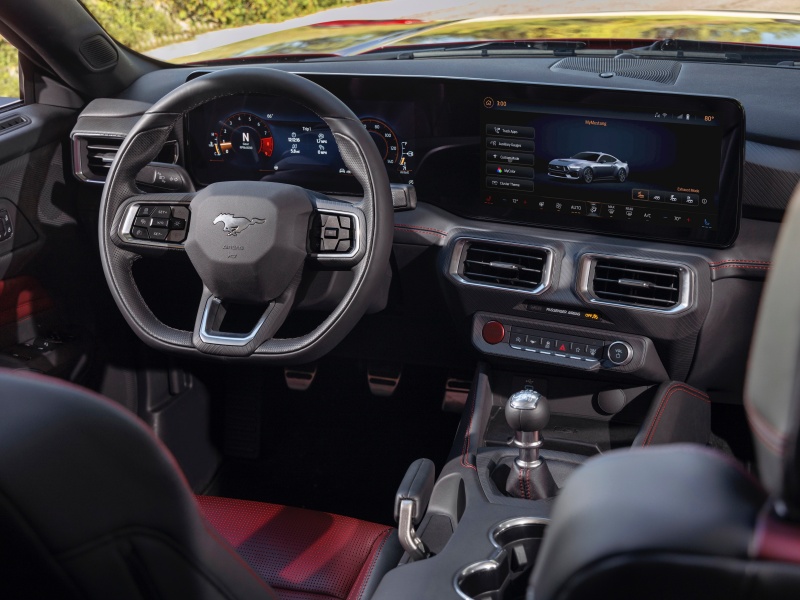 Photo by Ford
Coupe or Convertible
The Ford Mustang comes as either a coupe or a convertible body style. This choice is available for both the EcoBoost and GT versions, while the Dark Horse is available exclusively as a coupe. The quietest ride comes from the coupe, but the soft top convertible is surprisingly quiet with the top up.
The convertible is easy to open and close with a single interior latch to release the roof and then a button that does the work of opening and closing it fully. This makes it easier to enjoy the open air even on a less-than-perfect day since opening and closing the top is such a quick process.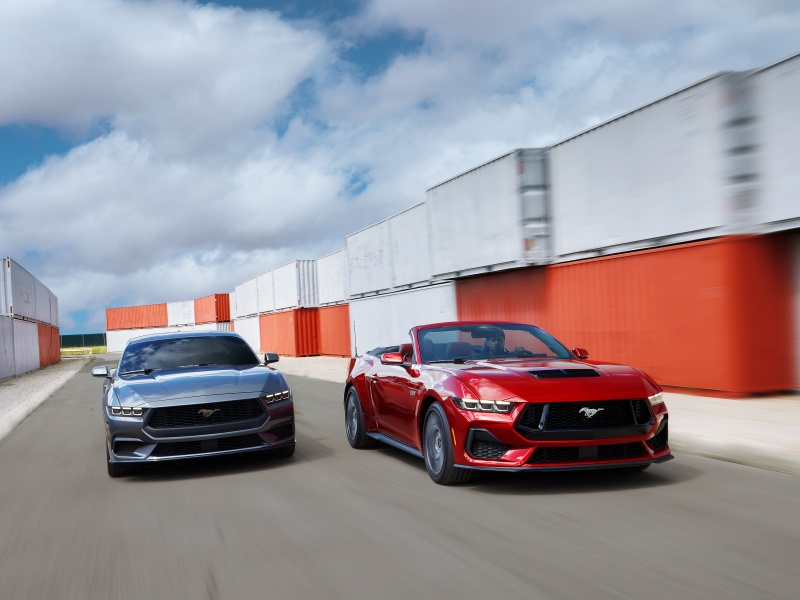 Photo by Ford
Performance Packages
No matter which version of the Ford Mustang you choose, it comes with plenty of performance from power to features. If you crave a bit more performance, then you can add a Performance Package to the mix. This package varies between the EcoBoost and GT. Key features on the EcoBoost package include 19-inch wheels and Brembo brakes, black seat belts, a drift brake, heavy-duty front springs, paddle shifters, a decklid spoiler on the coupe, and unique chassis tuning.
The GT has many of the same package features but with a few differences. It has a different shade of black for the grille, a K-brace, and a performance raised rear wing painted to match the body color in addition to the features on the EcoBoost. No matter which you choose, you get a more responsive version of the Mustang with improved handling and an extra dose of style.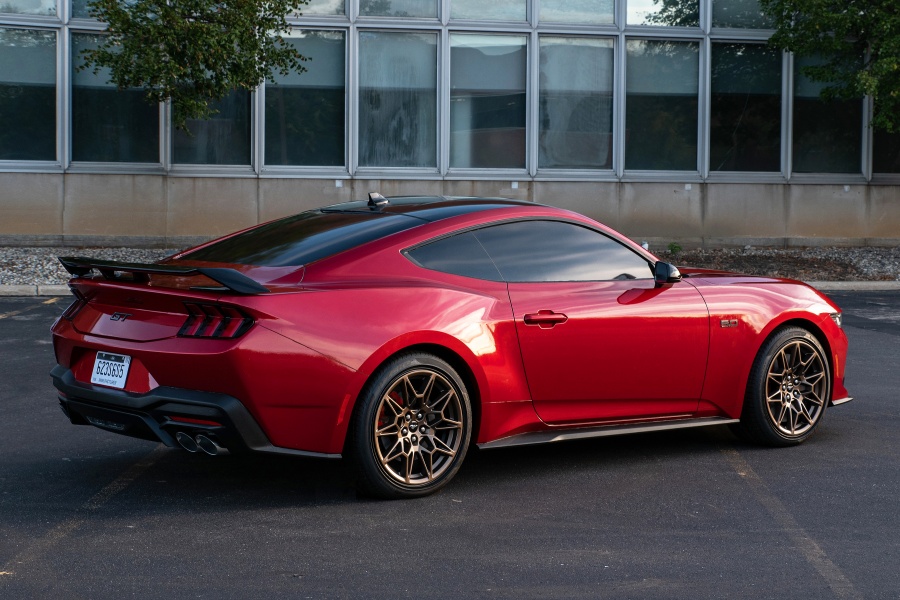 Photo by Ford
Remote Rev
Some of the features on the Ford Mustang are about style, while some are about performance. Remote rev is simply about having a little bit of fun. It lets you rev the engine without even having to be behind the wheel of the Mustang; all you need is the key fob. The first step is to remotely start the engine with the fob. Once the engine is started, press the unlock and lock button and the engine revs to 2,000 rpms.
That's fun, but it does one better. Press the unlock and lock button again and it revs to 3,000 then 4,000 then 5,000 rpms in quick succession. It sounds fantastic, and it's a fun feature. You can show off to friends or annoy your neighbors.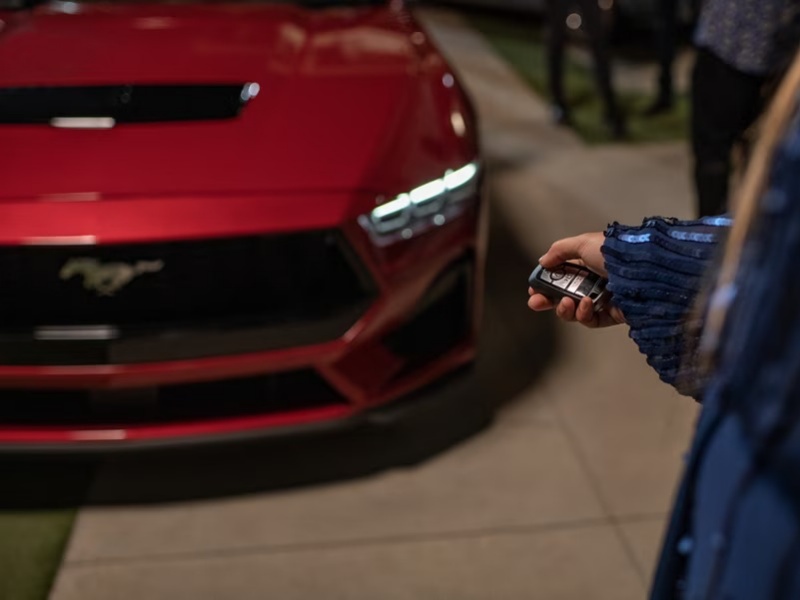 Photo by Ford
Large Standard Infotainment Touchscreen
The full 2024 Ford Mustang lineup features a 13.2-inch infotainment touchscreen. This vibrant screen has great responsiveness with crisp graphics. It sits in the same long display panel that houses the digital instrument cluster for a clean, uncluttered look. The system works well and looks good, adding a tech forward feel to the Mustang's interior. There's also 4G LTE Wi-Fi hotspot connectivity, two USB charging ports, and a 6-speaker audio system.
There's an optional 9-speaker audio system that is standard on all but the base trim while the rest of the lineup gets an optional 12-speaker B&O by Bang & Olufsen sound system. Additional options include navigation and wireless charging.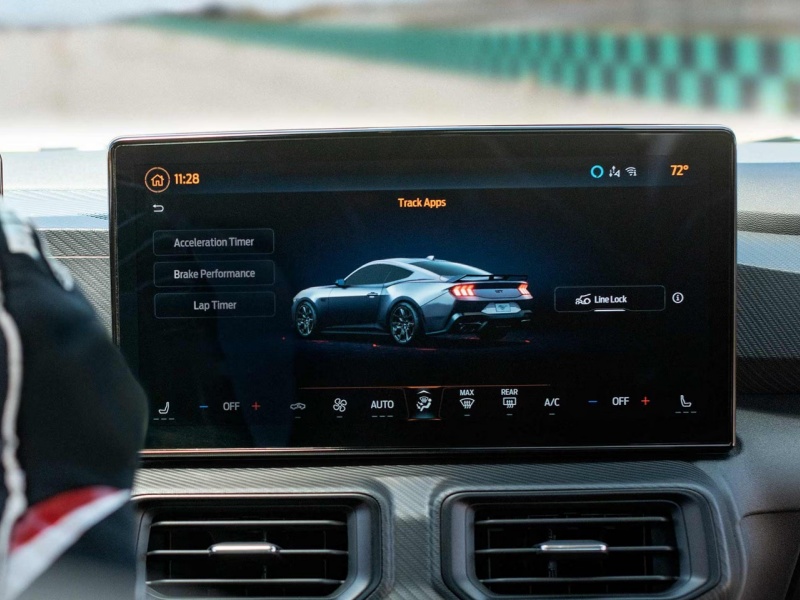 Photo by Ford
Standard Ford Co-Pilot 360
The full 2024 Ford Mustang lineup includes Ford Co-Pilot 360, which is a comprehensive suite of safety features. It includes automatic high beams, blind spot warning with rear cross-traffic alert and braking, exit warning, lane-keeping system, automatic emergency braking, post-impact braking, rain-sensing wipers, and rear parking sensors.
In addition, there are several optional features including adaptive cruise control with stop and go, lane centering, speed assist, and predictive speed assist. That makes most of the safety features on the Mustang standard, even on the base trim, so you don't have to stretch your budget just to get a car with a good safety package.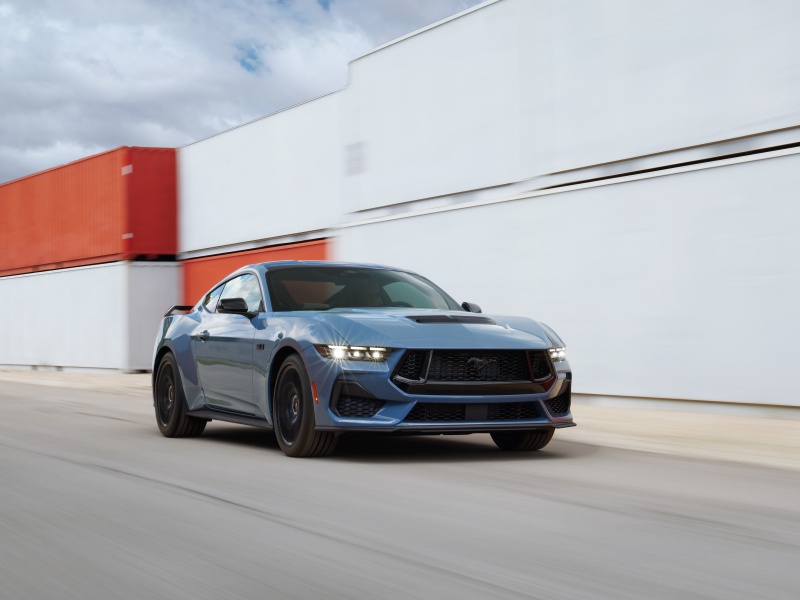 Photo by Ford