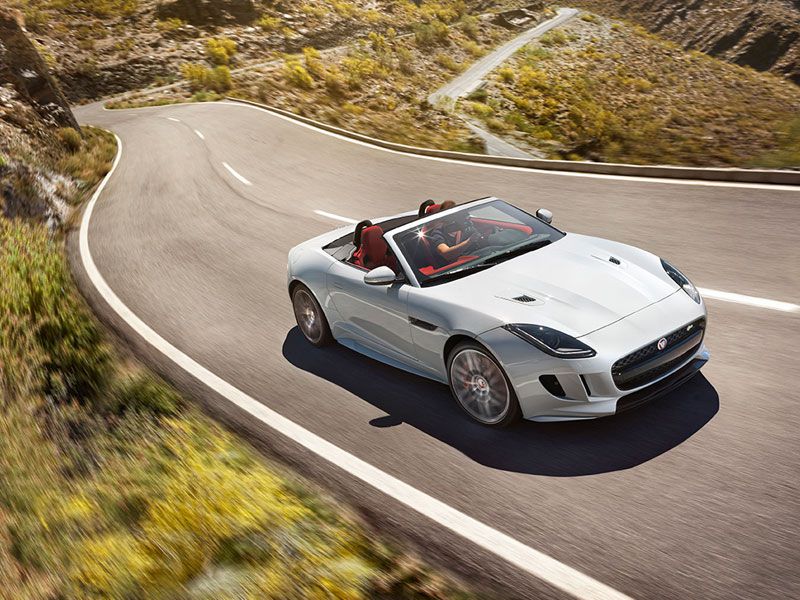 2016 Jaguar F Type convertible ・ Photo by Jaguar
Have you noticed? Convertibles aren't quite as popular as they once were. Neither, unfortunately, are manual transmissions. And since auto manufacturers want to make cars that will actually sell, they've been cutting certain unpopular combinations from their lineups. Even in the last couple of years, the number of shift-it-yourself convertibles has disappeared from some brands' stables almost entirely (here's looking at you, Audi). That said, there are still some open-top 3-pedal models on the market—that is, if you know where to look. And if you don't, Autobytel editors are more than happy to share their expertise. Sports cars are an obvious way to kick off our list of 10 best convertibles with a manual transmission, but you may find some surprises here, as well.
1) 2017 Fiat 124 Spider
The 2017 FIAT 124 Spider, colloquially known as the "Fiata," is one of our favorite new convertibles that greatly benefits from a manual transmission. It's well known by now that the Fiat 124 Spider is based on the architecture of the Mazda MX-5 Miata—a convertible that proves, time and time again, that it's more fun to drive a slow car fast than to drive a fast car slow. Though the 124 Spider is based on the same principle, it approaches this objective differently, with 160 horsepower sourced from the FIAT 500 Abarth. A smooth shifting 6-speed manual transmission completes the package. As for the 124 Spider's partner in crime? We'll get to that in a few.
Photo by Fiat Chrysler Automobiles
2) 2017 Ford Mustang
The 2017 Ford Mustang, in drop-top form, is a compelling car no matter how the gears are changed. The 6-speed manual transmission, which is standard, makes this pony car a lot more fun, though—it's simply the way a car like this should be driven. Ford offers the Mustang with an extensive engine lineup this year, including EcoBoost turbocharged 4-cylinder options and the usual assortment of V6 and high-performance V8 models. Whichever engine you select, the Ford Mustang is a great example of how versatile a modern American muscle car can be. With classic styling and fresh performance technology, the Mustang is easily one of our favorite 10 convertibles with a manual transmission.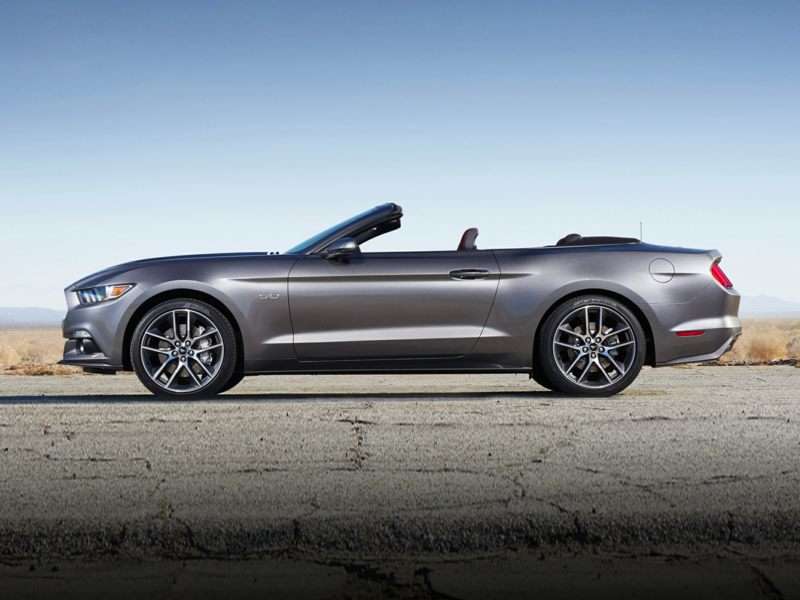 Photo by Ford
3) 2017 Nissan 370Z
It would be a shame if Nissan ever pulled the clutch pedal from the 370Z's lineup, but as long as it remains, it'll hold a spot near the top of our list of our 10 favorite convertibles available with a manual transmission. The sleek and stylish 370Z is one of those rare cars that looks just as good with a convertible top as it does in coupe form, and it also has the benefit of being a relatively affordable performance car. Its strong heritage, as part of the Nissan Z-car family, only adds to its appeal. Buyers who want a convertible that's a little different from the standard muscle car fare should take a look at the 2017 Nissan 370Z.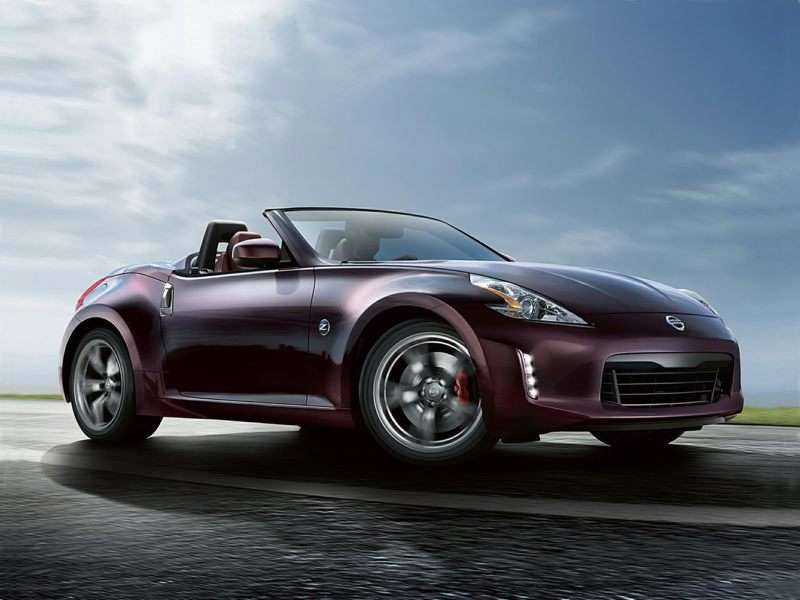 Photo by Nissan USA
4) 2017 Chevrolet Camaro
As long as the Chevy Camaro's cross-town rival, the Ford Mustang, keeps a manual transmission around, chances are the Bowtie's muscle car will also provide a shift-it-yourself option. And of course, we feel that the convertible version of the Camaro, along with a manual gearbox, is a heady combination; there's no doubt it would earn a spot on our list of 10 best convertibles with manual transmissions. The 2017 Camaro convertible is offered with a wide range of engines, from economical to downright exciting, and there's also a ton of trim levels available. Even if you're going for the entry level model, a Chevrolet Camaro convertible with a manual transmission will provide plenty of wholesome fun and entertainment.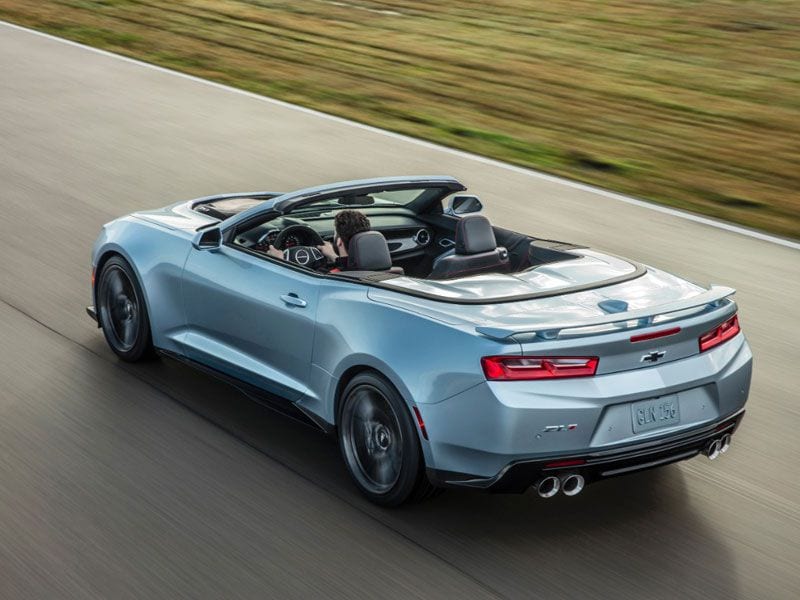 Photo by General Motors
5) 2017 Jeep Wrangler
Some purists might bristle at calling the Wrangler a convertible, but we'd argue that this iconic open-top Jeep certainly possesses the spirit we're looking for, warranting a warm welcome to our list of 10 convertibles with a manual transmission. When the 2017 Wrangler's 3.6-liter V6 is ordered with the manual transmission, the driver is entrusted with plenty of control and can tackle off-road trails as he or she pleases. Of course, removing the soft top (or optional hard top) to experience the great outdoors completely changes the dynamic for the better. The Jeep Wrangler isn't your typical drop-top by a long shot, but it brings the convertible experience to SUV drivers and to all types of terrain.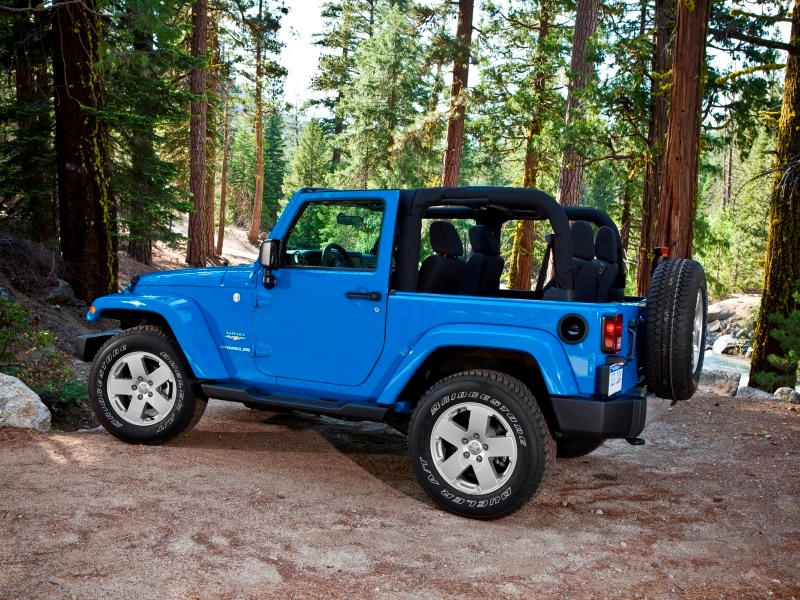 Photo by Jeep
6) 2016 Mazda MX-5 Miata
The Mazda MX-5 Miata is a roadster that's popular with critics, the general public, and Autobytel editors. Modestly powered but an absolute blast to drive, the Miata owes its continued success to its slick, smooth shifting 6-speed manual transmission and its spectacular handling. We're not exaggerating. The Miata's now in its fourth generation and has been on the market for more than 25 years, and that's a stellar track record for any roadster. (No wonder Fiat wanted to tap that.) For the 2017 model year, Mazda's branching out a bit with the RF, or retractable fastback. The Miata RF's fancy power-folding roof provides even sportier styling and adds yet another level of interest to this popular convertible with a manual transmission. Mazda says that only 1000 RFs will be sold in the US.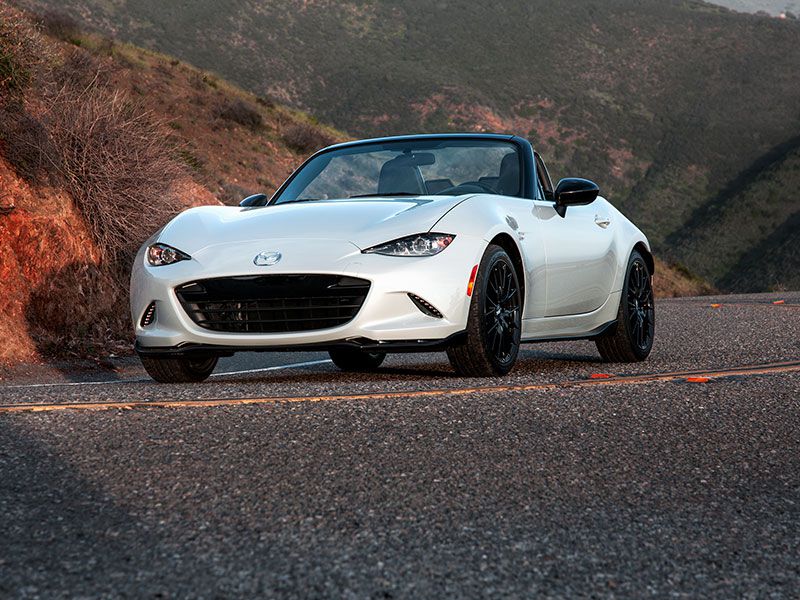 7) 2016 Mini Cooper
Building out a 2016 Mini Cooper can be a mildly intimidating prospect; there is an abundance of trim levels and options to choose. However, this fun little convertible—which has recently been redesigned—provides a charming personality along with seating for four passengers. It'll be a close fight, but enjoyable nevertheless. The 2016 Mini Cooper offers several turbocharged engine options, so whether you want a basic sporty compact or a high-performance machine, you're covered. Autobytel editors recommend the top-of-the-line John Cooper Works model, but can't fault anyone unable to open their wallet that wide. And, of course, we highly recommend keeping the standard 6-speed manual transmission intact. It's by far the best way to enjoy this fun and sporty little car.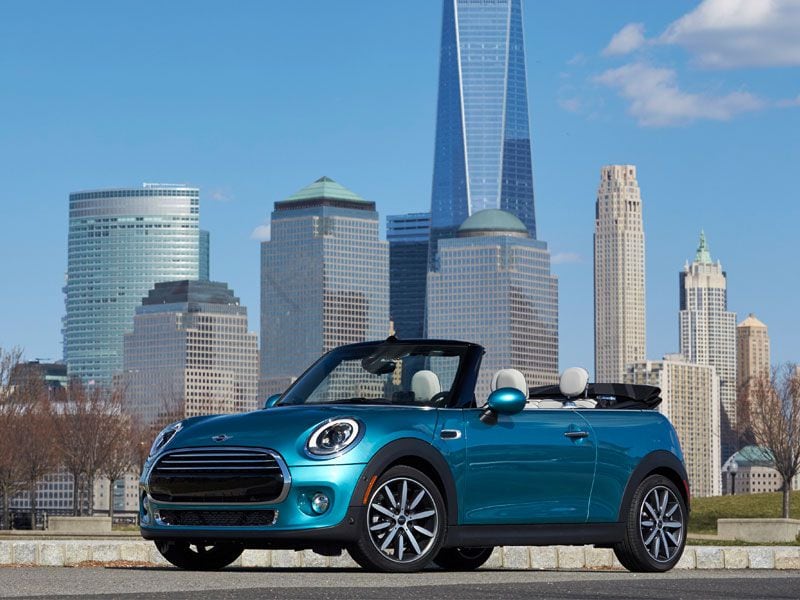 Photo by MINI
8) 2016 Volkswagen Beetle
The Volkswagen Beetle might not have the same novelty value it once did, but the convertible version of the 2016 Bug fills some niches. Its styling no longer turns heads, but it's still fun. It's one of the handful of cars highlighted here that can comfortably seat four passengers. It's relatively affordable (at least, compared to the higher-performance convertible options we've talked about). And, it does all these things while still offering a manual transmission. Volkswagen's thrown some of its customer loyalty to the wind lately, but it's still focused on building driver-oriented cars, as evidenced by the way that manual gearboxes are still available across much of the brand's lineup. We hope the manual Beetle sticks around.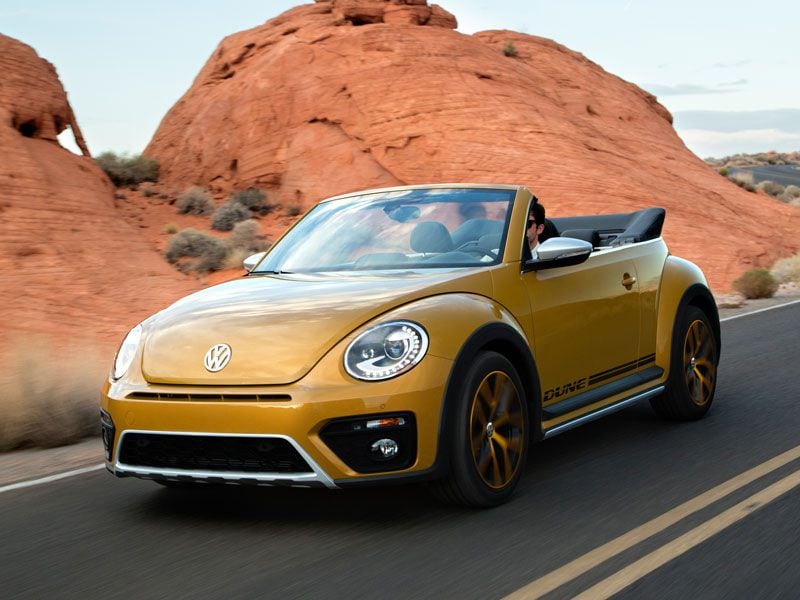 Photo by Volkswagen
9) 2016 BMW Z4
BMW has left its Z4 performance coupe untouched for years, and while that might not be the best strategy for keeping this 2-seat convertible relevant, it's good news for potential buyers who prefer their German sports cars with a manual transmission. Compared to some other models on this list, the 2016 BMW Z4 is practically a relic, but it does come with a 6-speed gearbox and three pedals, which help provide some excitement. Production in Germany of this classic rear-drive roadster has just ended, but for the time being the Z4 will continue to hold its spot on our Autobytel list of 10 favorite convertibles with a manual transmission.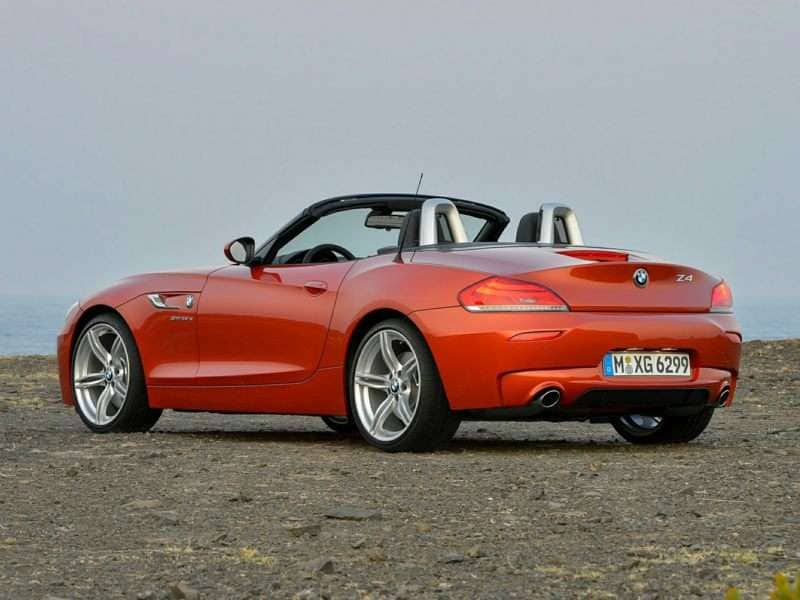 10) 2016 Jaguar F-Type
Loaded with horsepower and high-end features, the 2016 Jaguar F-TYPE drop-top elevates windblown hair and a tired clutch foot to an elegance not seen elsewhere on our list of 10 convertibles with a manual transmission. Jaguar provides plenty of options with this roadster, assuming that what you want isn't included on the long list of standard equipment. The cushy cabin seats just two, and it makes for quite an intimate experience. Even the base F-type has 340 horsepower on tap; the S and R models improve those numbers to 380 and 550, respectively. Unfortunately, if you want your F-Type with the available all-wheel drive, the manual transmission is no longer an option. Hey, we've all got to make sacrifices.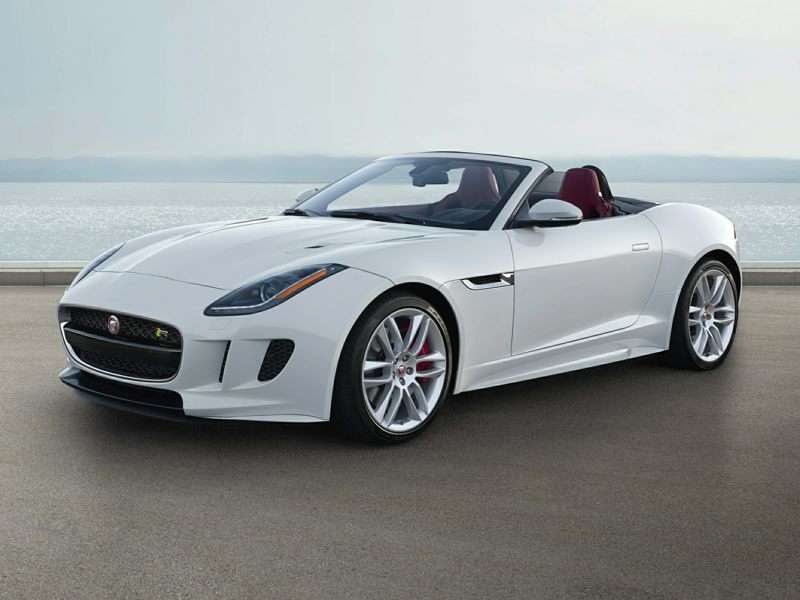 Photo by Jaguar