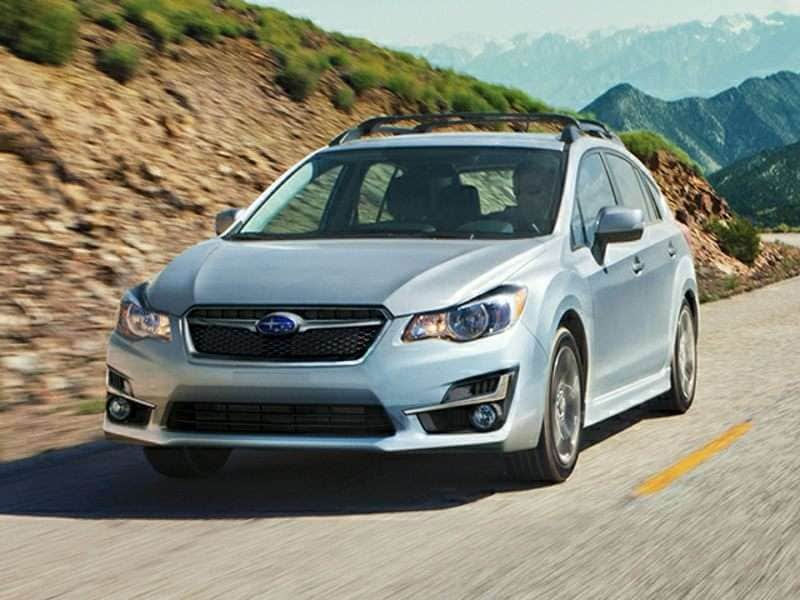 Subaru Impreza
The term "commuter car" can be somewhat misleading, as not everyone has exactly the same set of needs to satisfy when getting to and from work. The best commuter cars aren't always the ones that are designed for the short-haul slog through urban traffic - some people need to be able to comfortably soak up a hundred miles as part of their daily routine. With that in mind, we've put together a diverse list of the 10 best commuter cars that cover the gamut from affordable econo-boxes to full-fledged luxury models. Take a look and see if you agree with our interpretation of what it takes to make a great commuter car.
1) 2015 Honda Civic Hybrid
The 2015 Honda Civic Hybrid is almost a no-brainer on any list of good commuter cars due to its fuel mileage alone. The compact Honda Civic Hybrid sedan is good for an exceptional 44 mpg in stop and go driving and 47 mpg on the highway, which means that whatever your commute looks like, you are going to benefit from the automobile's thrifty engineering. The Civic Hybrid's 1.5-liter, gasoline-powered four-cylinder engine teams up with an electric motor in order to deliver 110 total horsepower and 127 lb-ft of torque, and a continuously variable automatic transmission is standard equipment.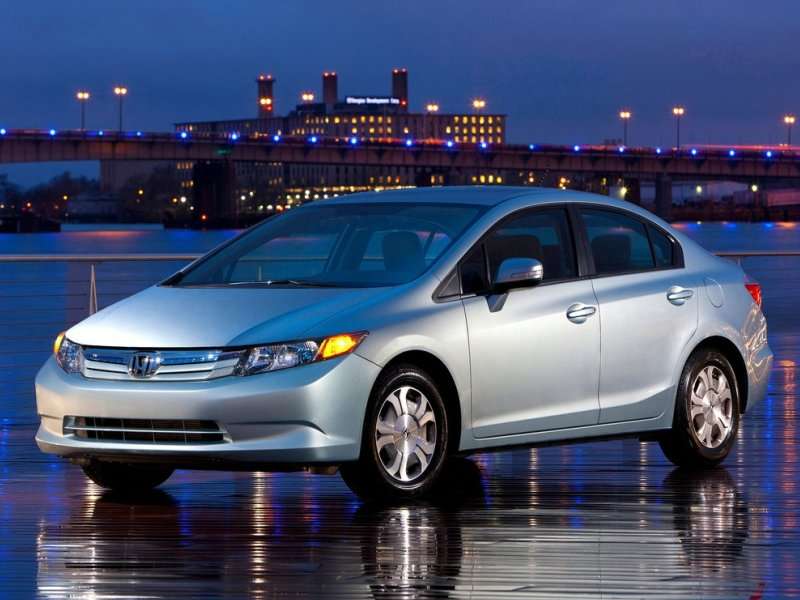 2) 2015 Hyundai Sonata
Fully redesigned for the 2015 model year, the Hyundai Sonata is a mid-size, attractively-styled sedan that does a good job on longer hauls of keeping drivers feeling comfy and relaxed. The base Hyundai Sonata's 2.4-liter, four-cylinder engine produces 185 horsepower and 174 lb-ft of torque (and fuel economy of 24 mpg city, 35 mpg highway). The Sport model makes use of a turbocharger to produce 245 horsepower and 260 lb-ft of torque from a 2.0-liter four-cylinder, which means there is never a want for acceleration when jockeying for position in traffic. The Sport model has fuel economy of 23 mpg city, 32 mpg highway. The Eco model features a turbo 1.6-liter four-cylinder that makes 178 horsepower and 195 lb-ft of torque, yielding 28 mpg city and 38 mpg highway. A six-speed automatic transmission, and the availability of heated leather seats, dual automatic climate control, a panoramic sunroof, and plenty of new safety features round out the Sonata's commuter car appeal.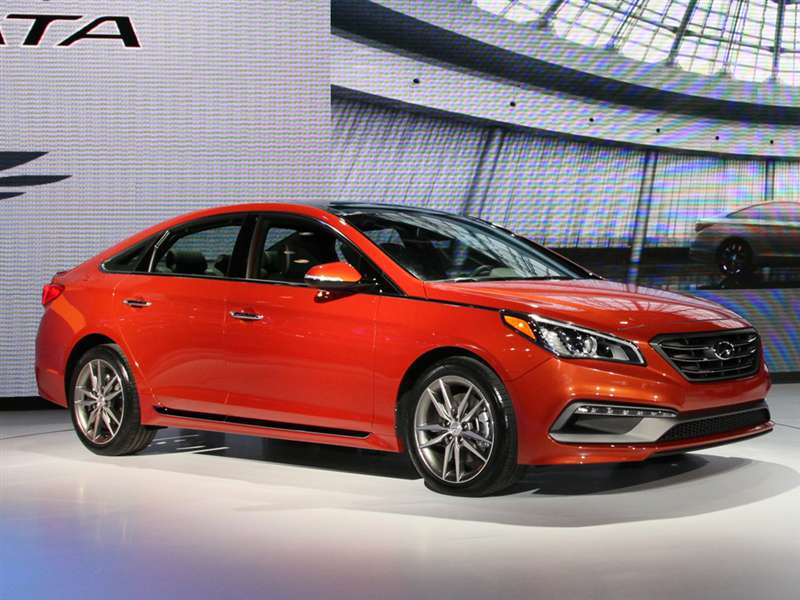 3) 2015 Toyota Corolla
The 2015 Toyota Corolla makes it onto this list of great commuter cars not due to any new-fangled technologies, or spicy design cues, but rather because it represents affordable, basic transportation. Some commuter cars need to be able to take a lot of abuse without complaint, and the solid, if somewhat pedestrian bones of the Toyota Corolla stand up well to the daily grind. Sold with a five-speed manual, a four-speed automatic, or a continuously variable transmission, the compact Corolla sedan delivers 132 horsepower and 128 lb-ft of torque from a 1.8-liter, four-cylinder engine. Fuel mileage checks in at up to 29 mpg around town and 38 mpg highway when equipped with the CVT, the most efficient gearbox of the three.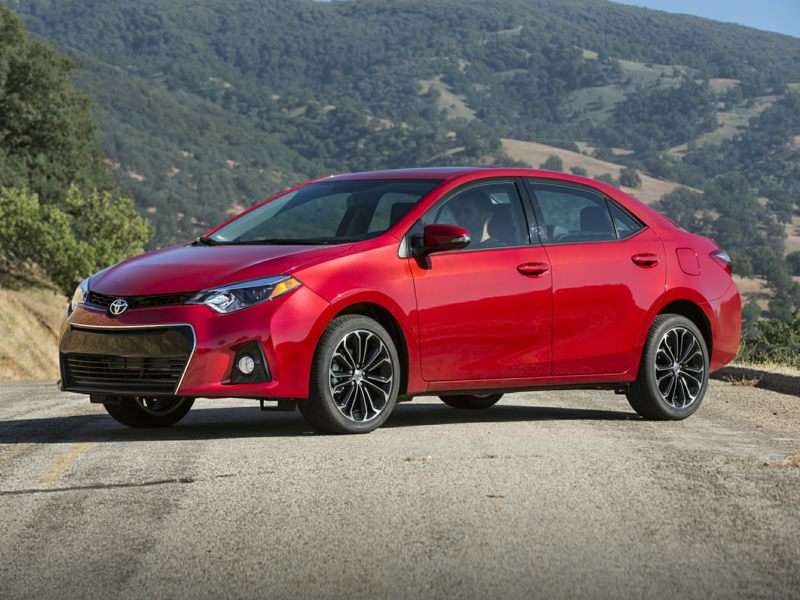 Photo by Toyota Media
4) 2015 Mercedes-Benz C-Class
The 2015 Mercedes-Benz C-Class is a commuter car for anyone who needs upscale comfort and features wrapped in a package that doesn't ding the wallet too much at the pump. The sedan is redesigned for 2015, and it's also available as a coupe. The Mercedes-Benz C-Class provides a suspension system that coddles passengers, and offers options and features such as dual automatic climate control, a sunroof, and Bluetooth connectivity. The most efficient version of the C-Class is the C300 sedan, which makes use of a 2.0-liter turbocharged four-cylinder engine that is matched with a seven-speed automatic. Horsepower (241) and torque (273 lb-ft) are strong, and fuel mileage comes in at 25 mpg city and 34 mpg highway, and all-wheel drive can be ordered as an option.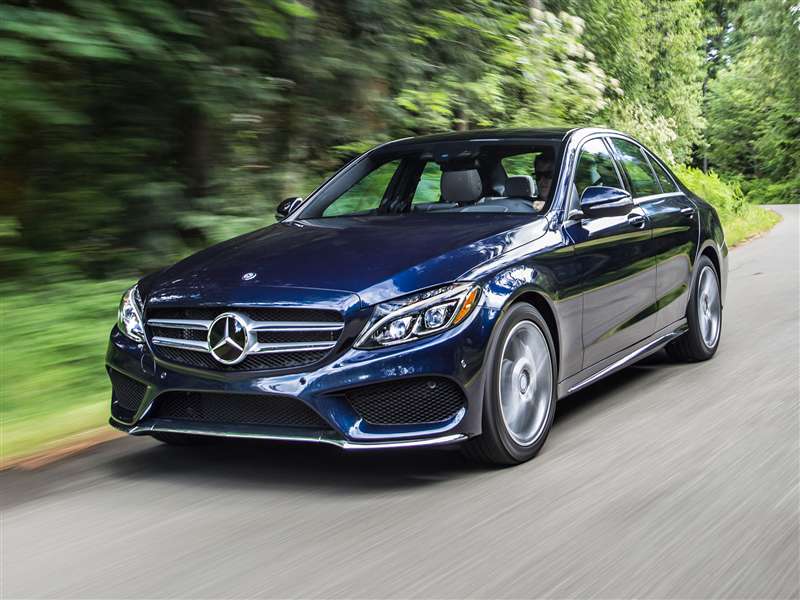 5) 2015 Ford Taurus
The 2015 Ford Taurus is a big cruiser that is designed to ply America's highways while making sure that its occupants don't arrive at their destination all worn out from battling traffic. The Ford Taurus is a full-size sedan that provides the availability of both front-wheel drive and all-wheel drive, which is a major plus for commuters who live in snowy northern states. Underneath the hood the base Taurus is outfitted with a 288-horsepower, 3.5-liter V-6 that also generates 254 lb-ft of torque. A six-speed automatic transmission is standard, and fuel mileage for the four-door automobile shows as 19 mpg city and 29 mpg highway. The EcoBoost version of the Taurus has a 240-horsepower turbocharged 2.0-liter four-cylinder engine with 270 lb-ft of torque, and the Taurus SHO features a twin-turbocharged 3.5-liter V-6 that makes 365 horsepower and 350 lb-ft of torque.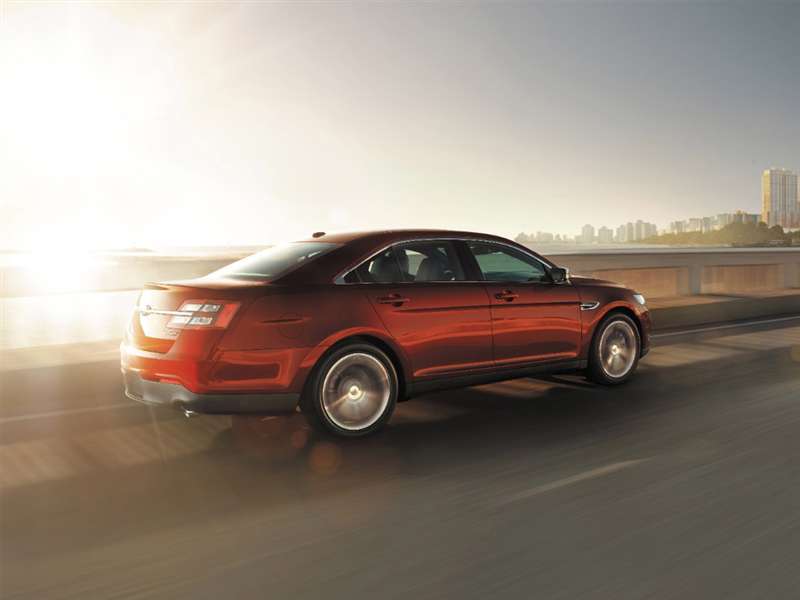 6) 2015 Honda Fit
The Honda Fit, redesigned for 2015, is a subcompact hatchback that is aimed at commuters with an active lifestyle. If your daily driving needs include the ability to haul around a decent amount of cargo then the Honda Fit has you covered, thanks to its ability to swallow up to 52.7 cubic feet of gear with the rear seats folded forward. Drivers will also appreciate the Fit's frugality when it comes to fuel consumption. The hatch's 1.5-liter, four-cylinder engine produces 130 horsepower and 114 lb-ft of torque and is rated at 29 mpg city and 37 mpg highway when matched with its optional continuously variable automatic transmission. A six-speed manual is also available with the Fit.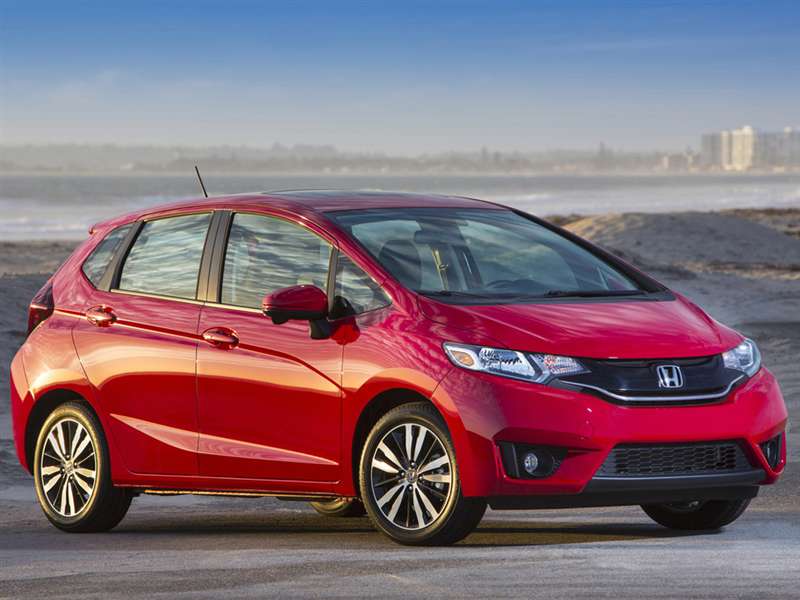 Photo by Honda
7) 2015 Volkswagen Jetta TDI
The refreshed 2015 Volkswagen Jetta TDI is another commuter sedan that turns in an admirable performance whether asked to traverse city streets or cover longer distances between one town and another. The Volkswagen Jetta TDI is larger inside than most other compacts in its class, and it also provides a suspension system that turns aside the shocks and insults of broken pavement with surprising ease. The real appeal of the Jetta TDI, however, is its turbocharged, 2.0-liter four-cylinder diesel engine. 150 horsepower and 236 lb-ft of torque are nothing to sneeze at, and when placed alongside the TDI's top notch 31 mpg city and 46 mpg highway fuel efficiency rating, it's easy to see why this version of the Jetta turns so many commuter heads. Transmission choices for the Jetta TDI include a six-speed dual-clutch automated manual and a traditional six-speed manual.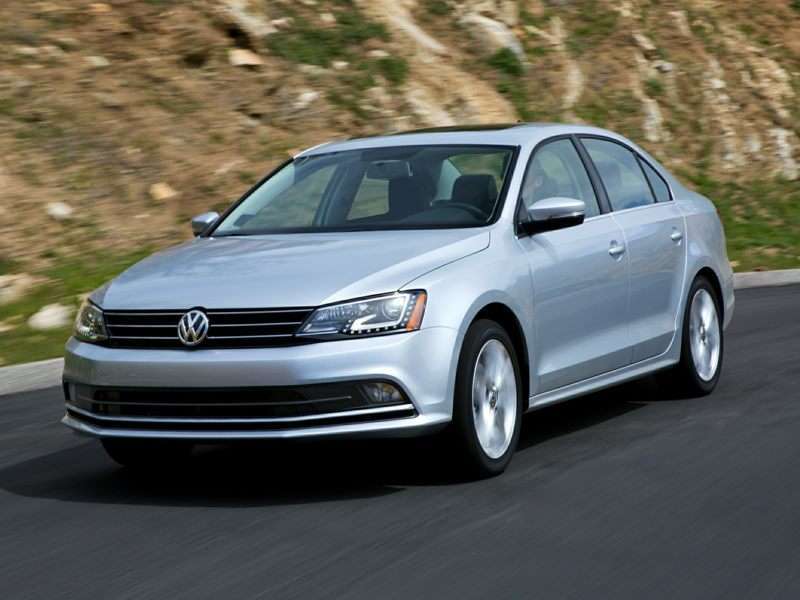 8) 2015 Toyota Camry Hybrid
The 2015 Toyota Camry Hybrid manages to mix the fuel efficiency of a gasoline and electric vehicle with the spacious confines of one of the most popular mid-size family sedans available.  The Toyota Camry Hybrid drives very much like its gas-only cousin, which means that it's an effective commuting weapon in a diverse range of scenarios. 200 horsepower from the vehicle's 2.5-liter four-cylinder engine and electric motor combo ensures that the Camry Hybrid never feels like a laggard off of the line, even with its automatic start/stop technology. Fuel mileage for the Toyota, which is shifted via a continuously variable automatic transmission, is at an exceptional 43 mpg city and 39 mpg highway.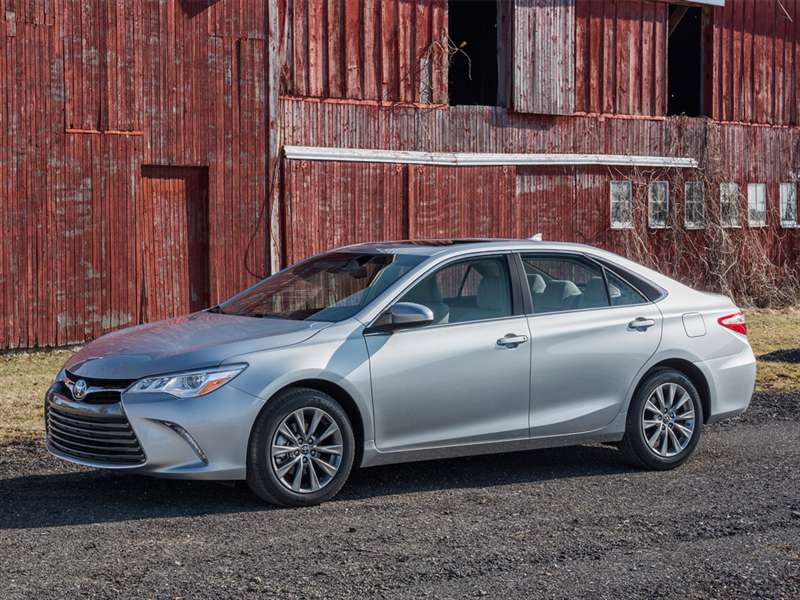 9) 2015 Subaru Impreza
The 2015 Subaru Impreza is one of the most fuel-efficient all-wheel drive cars on the market, making it a great choice for a commuter car in northern climates. The Subaru Impreza's excellent all-wheel drive comes standard, and its continuously variable automatic transmission provides 28 mpg city and 37 mpg highway from a 2.0-liter, 148-horsepower engine. A five-speed manual transmission is available with the car, which is available in both sedan and hatchback editions. The Impreza has always been popular in the snowbelt, but its fuel efficiency has helped it earn respect in regions where all-wheel drive isn't always a necessity on the small car shopping list.
Photo by Subaru Media
10) 2015 Nissan Altima
The 2015 Nissan Altima offers handling that is a cut above most of its competitors, which can be a bonus when the road opens up on the way home from work. Even when you are stuck in heavy traffic, the Nissan Altima impresses with available features such as HID headlights, heated power seats, and a lane-departure system that can keep drivers safe even when their minds are still back at the office. Powerplants offered with the Altima include a 182-horsepower, 2.5-liter four-cylinder and a 3.5-liter V-6 that generates 270 horsepower and 251 lb-ft of torque.  Continuously variable automatic transmissions are standard for each motor, and fuel mileage for the four-cylinder is rated at 27 mpg city and 38 mpg highway.