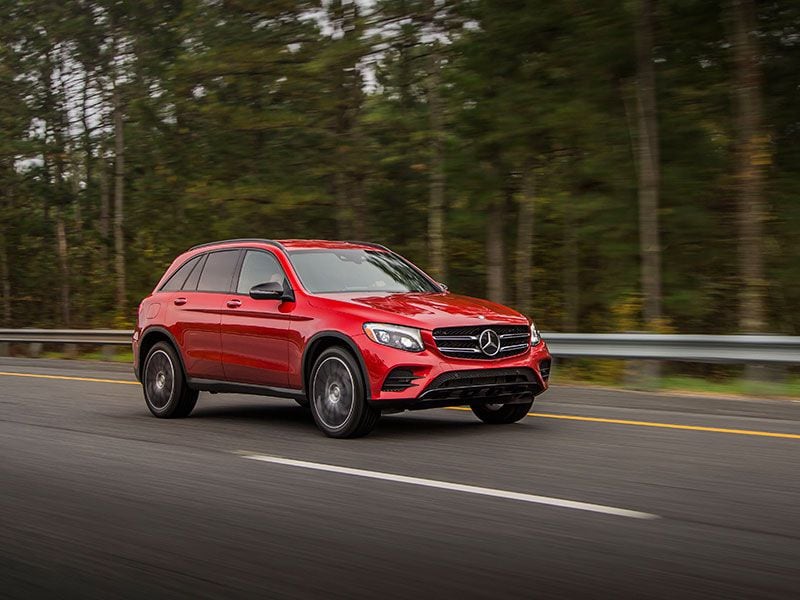 2016 Mercedes Benz GLC300 ・ Photo by Mercedes-Benz
These days, it seems everyone wants a luxury SUV. If you want a nice, quiet ride with leather seats, there's a luxury SUV for that. If you want tons of space and tons of features, there's a luxury SUV for that. And even if you want sports car performance without sports car cargo space, there's a luxury SUV for that, too.
Of course, luxury SUVs can be expensive. They're expensive to buy, and if they suffer a mechanical failure, they can be expensive to repair. That's the advantage of a certified pre-owned (CPO) luxury SUV. Automakers' CPO programs select the best pre-owned vehicles, inspect and recondition them, and provide them with extra warranty coverage. They split the difference between the peace of mind of a new car and the affordability of a typical used car. To find a great CPO luxury SUV, you not only want a top-rated vehicle, but also one with an excellent CPO program. We've rounded up 10 great certified pre-owned luxury SUV options, representing a variety of brands, sizes, and prices, all from the 2015 to 2017 model years.
2015 Lincoln MKC
If you're choosing a certified pre-owned luxury suv to save money, you'll love the value offered by the 2015 Lincoln MKC. It's a great-looking, fun-to-drive compact crossover that you can get for less than $20,000 through Lincoln's CPO program.
The MKC is a luxury version of the best-selling Ford Escape, but the exterior design is all Lincoln, the interior is more richly appointed, and there are more high-end features available. Lincoln's CPO program provides factory warranty coverage for vehicles up to six years old or with 100,000 miles (regardless of the age/mileage at the time of the CPO purchase), meaning that a 2015 MKC has at least another year of warranty if you buy it now. For extra coverage, we even found a few 2017 models for around $20,000.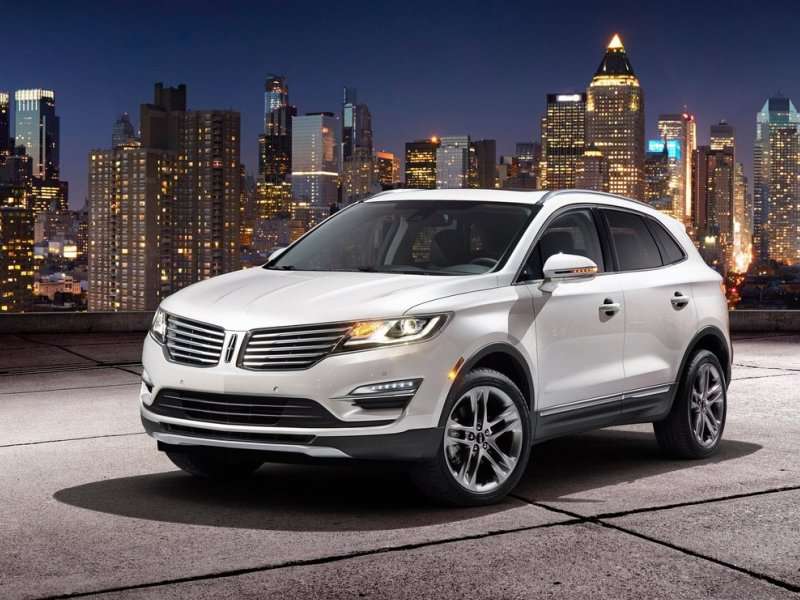 Photo by Lincoln
2016 BMW X1
The premium subcompact crossover class has exploded in popularity, with buyers loving these little SUVs' maneuverability, fuel efficiency, and affordability. One of our favorite subcompact premium crossovers is the BMW X1, because it's not only fun to drive but also uncommonly spacious for its class. That means that you don't need to get a bigger, more expensive SUV to fit all your family or your cargo inside.
The current-generation X1 debuted as a 2016 model, and we found 2016 X1s in BMW's certified pre-owned inventory in the low $20,000s. BMW's CPO program provides an extra year of factory warranty coverage, with unlimited extra miles, after the four-year/50,000-mile new-vehicle warranty has expired.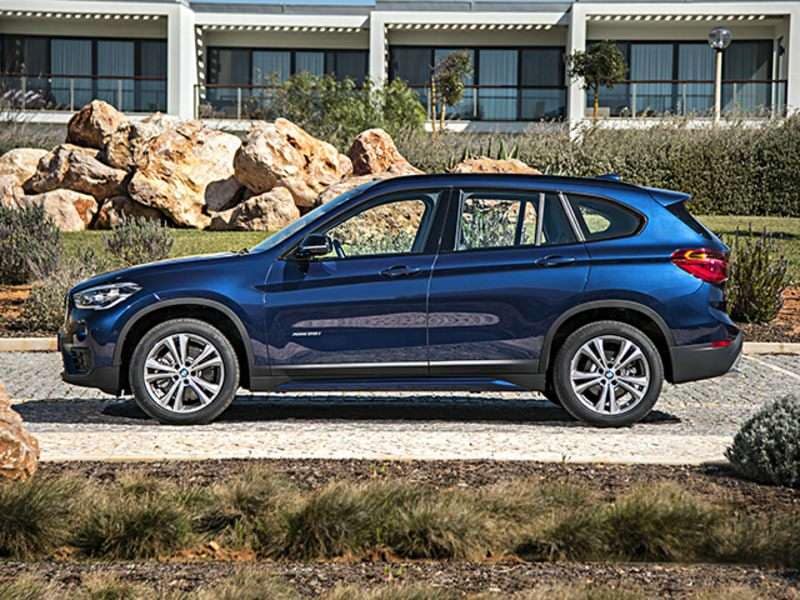 Photo by BMW
2016 Mercedes-Benz GLC
Buying a certified pre-owned luxury suv can get you big savings off the nearly identical model when it's brand-new. For example, check out the Mercedes-Benz GLC, one of the poshest and most composed compact crossovers.
The GLC debuted as a 2016 model and is still on sale today with a base price of $40,700. But if you get a certified pre-owned 2016 GLC 300 today, you can expect to pay something in the upper $20,000s — that's about 50 percent less for the same car. Mercedes backs its CPO vehicles for five years from the date of its original purchase when it was new, regardless of the mileage.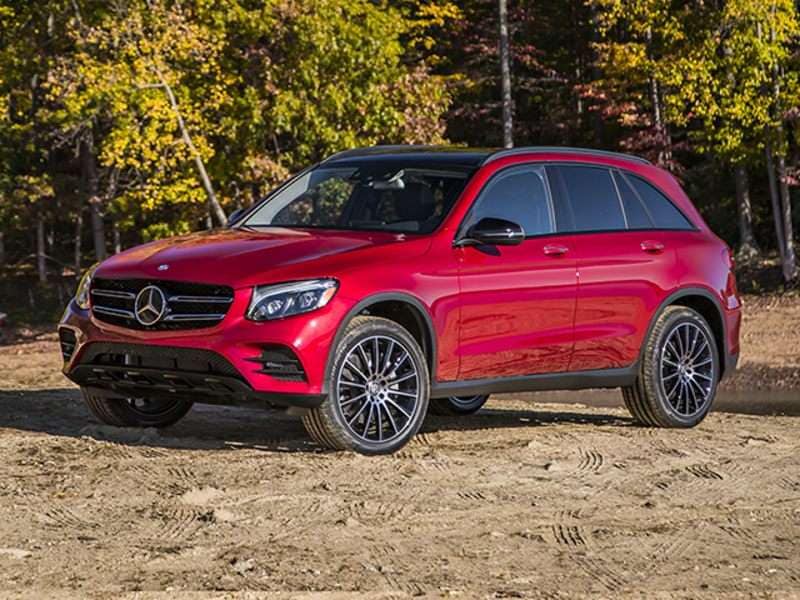 Photo by Mercedes-Benz
2015 Porsche Macan
If you're looking for a luxury suv that drives like a sports car, the Porsche Macan is one of the best options out there. It's smaller and nimbler than the Cayenne — the brand's first SUV, which shocked the automotive world when it arrived back in 2002.
The Macan debuted in 2015, when it came standard with a ferocious 340-horsepower V6 engine to complement its stellar handling. For buyers who want Porsche's handling or styling without demanding the full-on performance experience, a 252-horsepower four-cylinder joined the lineup in 2017. Today, both the 2015 model with the V6 and the 2017 four-cylinder are available for similar prices in Porsche's certified pre-owned program: between about $35,000 and $40,000. Certified pre-owned Porsches include two years or unlimited miles of warranty coverage from the date of a CPO purchase or the expiration of the factory warranty, whichever comes later.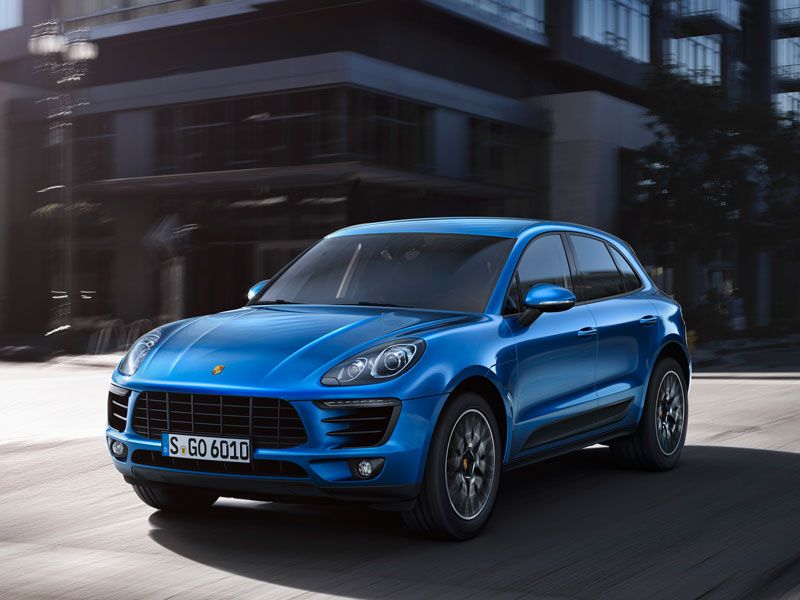 Photo by Porsche
2017 Acura MDX
While some buyers of certified pre-owned luxury SUVs are looking for maximum performance, others are seeking family-friendly comfort and utility in an elegant wrapper. That's where the Acura MDX comes in. This seven-passenger mid-size crossover shares its roots with the Honda Odyssey minivan, but it brings a higher degree of style, sophistication, and sporty performance.
We found some nice 2015 and 2016 MDX vehicles in the Acura CPO program, but we'd spend a little more for the 2017 model. That's when the MDX began coming standard with a suite of advanced accident-avoidance technology — which used to be only available as an option — and they're still relatively affordable in the low $30,000s. Acura CPO vehicles have factory warranty coverage for the engine and transmission until the vehicle is seven years or 100,000 miles old. For other components, Acura adds a year or 12,000 miles to the standard four-year/50,000-mile warranty, which begins either when that warranty expires or, for older CPO Acuras, when you purchase the CPO vehicle.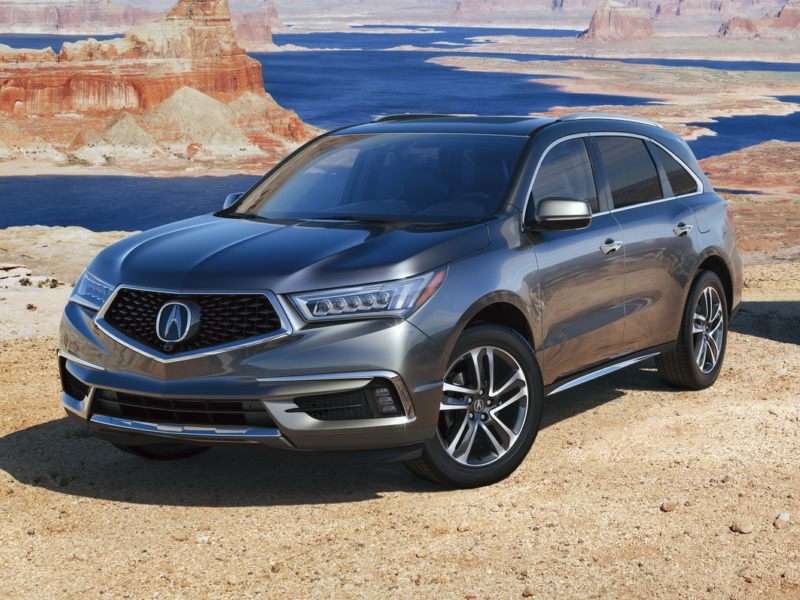 Photo by Acura
2016 Lexus RX 450h
When you buy a certified pre-owned luxury SUV, you can't worry only about your monthly payment. Your fuel costs can add up to a big part of your budget, too — unless you buy a Lexus RX 450h. It's a gas-electric hybrid that combines the zippy power of a V6 engine with the efficiency of an economy car. The EPA estimates this mid-size crossover can achieve up to 30 mpg in mixed driving, with particularly strong savings in stop-and-go conditions.
The RX was newly redesigned for the 2016 model year with flashier styling, sportier handling, and a modernized infotainment system. You should be able to find one for less than $40,000. All Lexus L/Certified CPO vehicles save you even more money with two years or 20,000 miles of free scheduled maintenance. The program's two years of warranty coverage (with no mileage restriction) begins either when you purchase your CPO Lexus or when its new-vehicle warranty expires.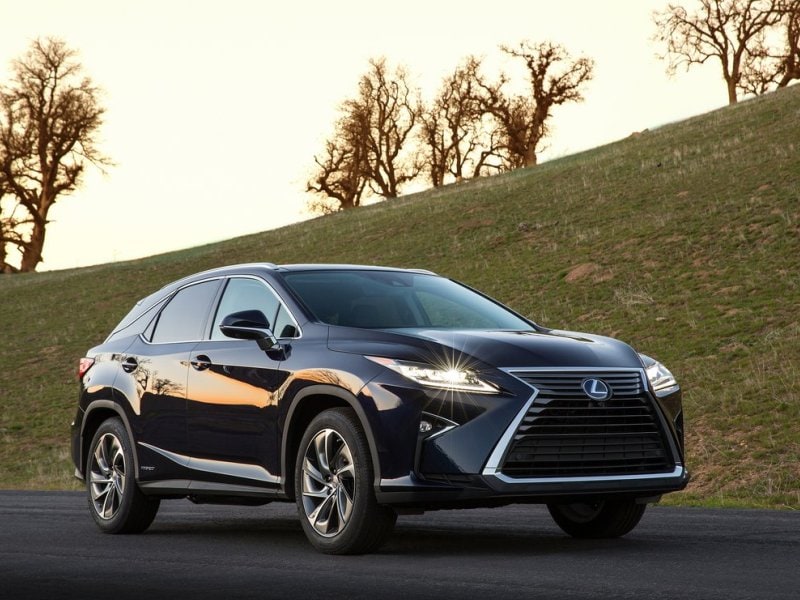 Photo by Lexus
2017 Audi Q7
The current-generation Audi Q7, which debuted as a 2017 model, is one of the best-driving three-row SUVs on the market. It combines family-friendly utility with the turbocharged V6 power and precise, composed handling of a great sports sedan. It also has a beautifully detailed interior, though less advanced in-dash electronics than the newly updated 2020 model.
We found 2017 Q7s in Audi's certified pre-owned program priced in the low $40,000s. Audi provides one year of factory warranty coverage to any CPO vehicle, with no mileage limits, on top of any remaining new-vehicle warranty.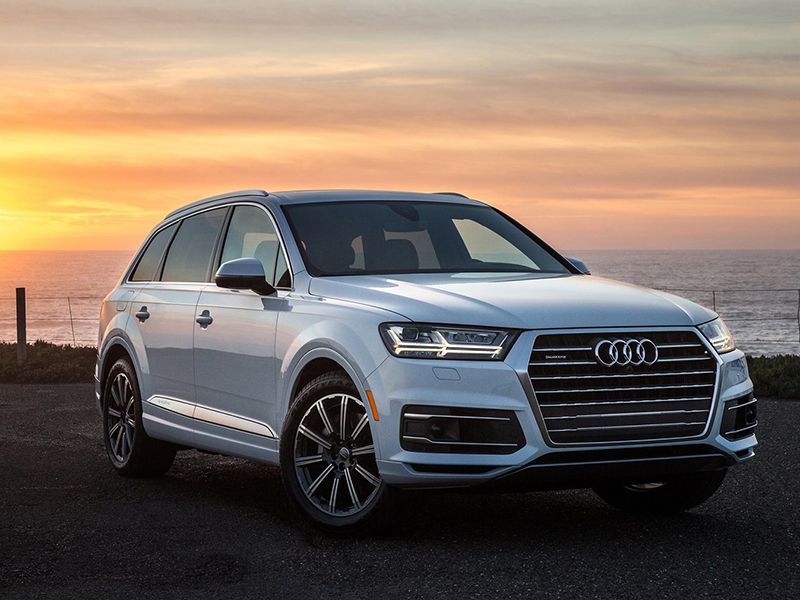 Photo by Audi
2016 Mercedes-Benz GL
When you want a great-driving certified pre-owned luxury SUV but also need an extra-roomy interior, the full-size Mercedes-Benz GL is an excellent option. It doesn't have the sports-sedan moves of the competing Audi Q7, but it has great engines, unflappable composure, a roomier third-row seat, and more cargo room.
We found lots of certified pre-owned 2016 GL 450 vehicles with a 362-horsepower turbocharged V6 in the upper $30,000s. Harder to find but similarly priced, the 2016 GL 350 has a torquey and fuel-efficient turbodiesel. If you're interested in a slightly newer vehicle, note that the GL was renamed GLS for the 2017 model year. Mercedes CPO vehicles have five years with unlimited miles of warranty from the date of its original purchase when it was new.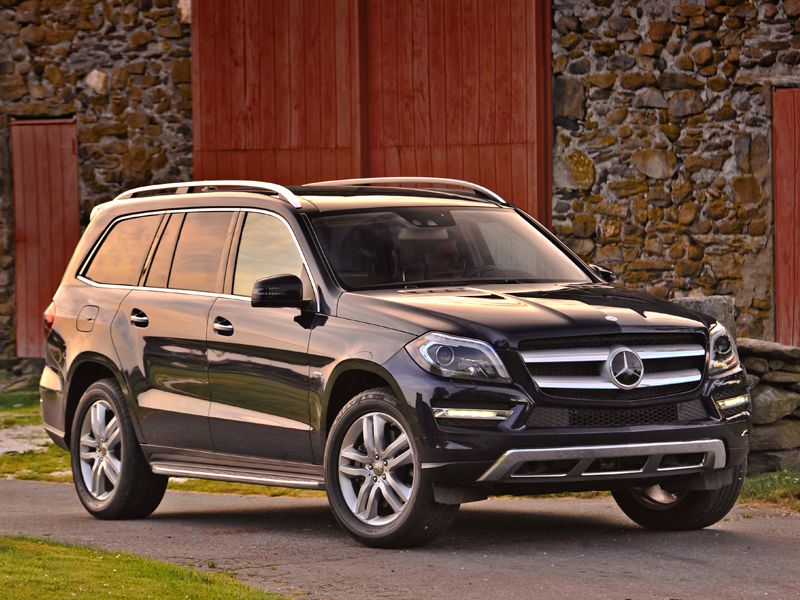 2016 Cadillac Escalade ESV
While the Mercedes-Benz GL balances a spacious interior with a high-end driving experience, some buyers of certified pre-owned luxury SUVs will focus on the former. That's where the Cadillac Escalade ESV comes in. A more luxurious version of the already-fancy Chevrolet Suburban and an extended-length version of the standard Escalade, it offers generous room for eight passengers and their cargo — plus the ability to haul another 8,000 pounds of stuff in a trailer behind them. It drives like a truck instead of like a car, but it's a fancy and useful truck.
Expect to spend about $50,000 for a CPO 2016 Escalade ESV. Cadillac's certified pre-owned warranty lasts for six years or 100,000 miles from the vehicle's original purchase.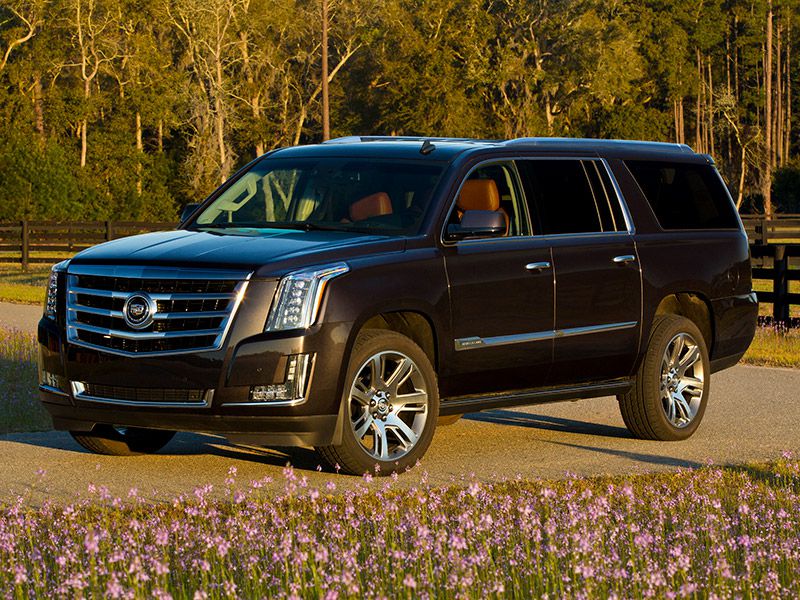 2016 Toyota Land Cruiser
It's easy to forget about mainstream-brand vehicles when shopping for a great certified pre-owned luxury SUV. But the Toyota Land Cruiser is a globally iconic luxury SUV that costs nearly $90,000 new. It combines a well-equipped, well-appointed interior with famously unstoppable off-road capability and an unshakable reliability record.
We've picked the 2016 Land Cruiser, which was updated with new features and a more fuel-thrifty transmission — though the vehicle's flavor is pretty similar whether you buy a 2016, a 2019, or a 2006 Land Cruiser. Inventory is limited, but dedicated buyers won't mind traveling to one of the U.S. dealerships selling a certified pre-owned 2016 Land Cruiser for under $60,000. Toyota's CPO program provides one year or 12,000 miles of bumper-to-bumper warranty coverage that begins when you purchase the pre-owned vehicle, along with powertrain warranty coverage that expires either seven years after you purchase the CPO vehicle or when it hits 100,000 miles.