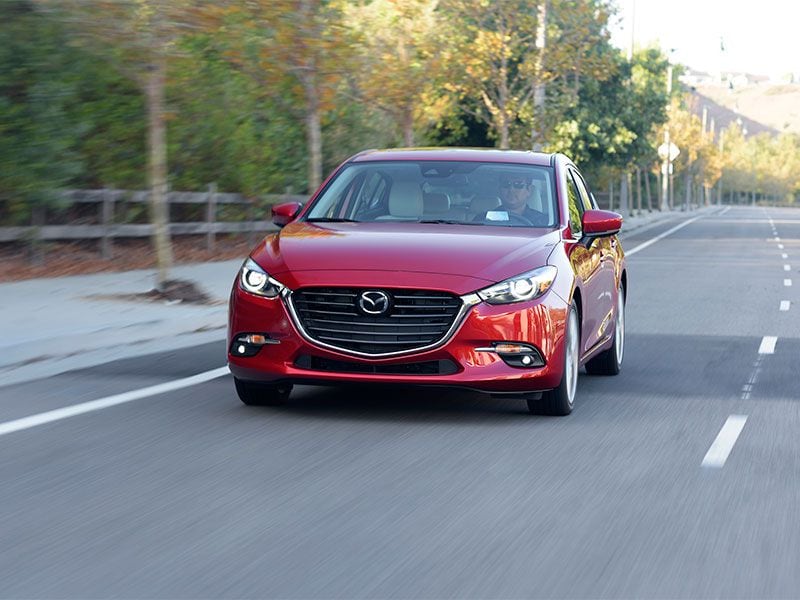 2017 Mazda Mazda3 exterior front view on road ・ Photo by Mazda
In 2012, NHTSA made electronic stability control (ESC) mandatory on nearly all vehicles sold in this country, and as a result, cars with traction control are now the norm. That's because ESC "integrates the mechanisms and functions" of not just traction control but also anti-lock brakes, as explained by NHTSA experts. As to what that means in the real world, ESC can sense if one of the driving wheels of a car is starting to lose traction, then automatically apply braking power and/or reduce engine speed to compensate. It's turned into a key safety feature, too. Also per NHTSA, that technology saved more than 2,200 lives during the 3-year study period that led up to the 2012 ruling. Needless to say, it's still saving lives today in our list of the best vehicles with traction control. 
2016 Volkswagen Passat
Midsize cars with traction control include the 2016 Volkswagen Passat, which has much else to offer on the safety front: With available forward collision warning, automatic braking, adaptive cruise control and more, the Passat has earned both a Top Safety Pick+ rating from the IIHS and a 5-Star Overall Safety Score from NHTSA. It's also been refreshed for the 2016 model year. VW designers began by restyling the front and rear appearance of Passat, offering LED headlights for the first time, and a sportier-looking R-Line trim debuts. The redesigned cabin then welcomes Volkswagen's MIB II infotainment system with support for Android Auto, Apple CarPlay and MirrorLink smartphone integration. As a final touch, the Passat's standard turbo engine combines 170 horsepower and 38 MPG highway.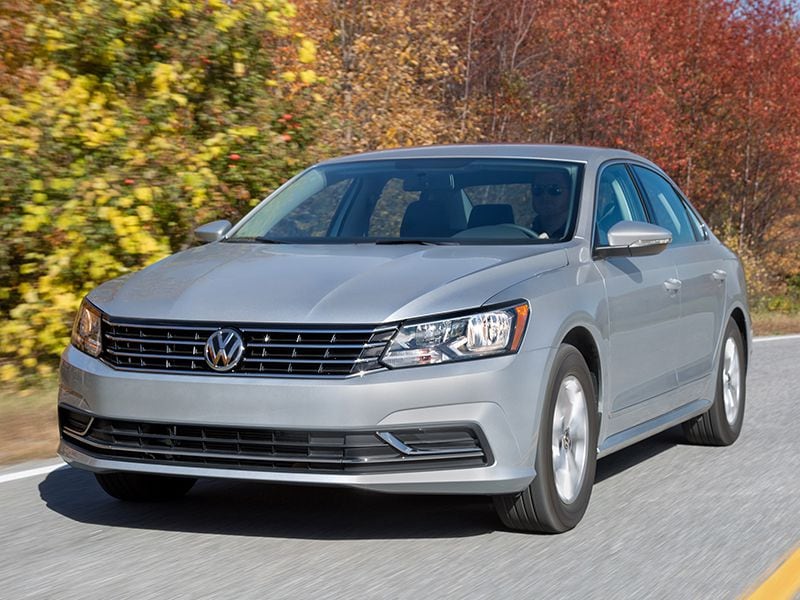 Photo by Volkswagen of America
2016 Toyota Camry
Some of the current cars with traction control do make a bigger point of it than others. Take the 2016 Toyota Camry. Toyota's popular midsize sedan combines technologies like traction control, vehicle stability control, anti-lock braking and electronic brake-force distribution into what it boldly calls the "STAR Safety System." This is another entry with top NHTSA and IIHS ratings, too. What distinguishes the Camry—beyond its status as the best-selling car in the country—is a wide range of trim levels that have been upgraded again for 2016. Thus, the athletically inclined SE and XSE grades have retuned suspensions, while the tech department has added the phone-based Scout GPS Link, for a more affordable alternative to integrated navigation, along with wireless charging for compatible phones.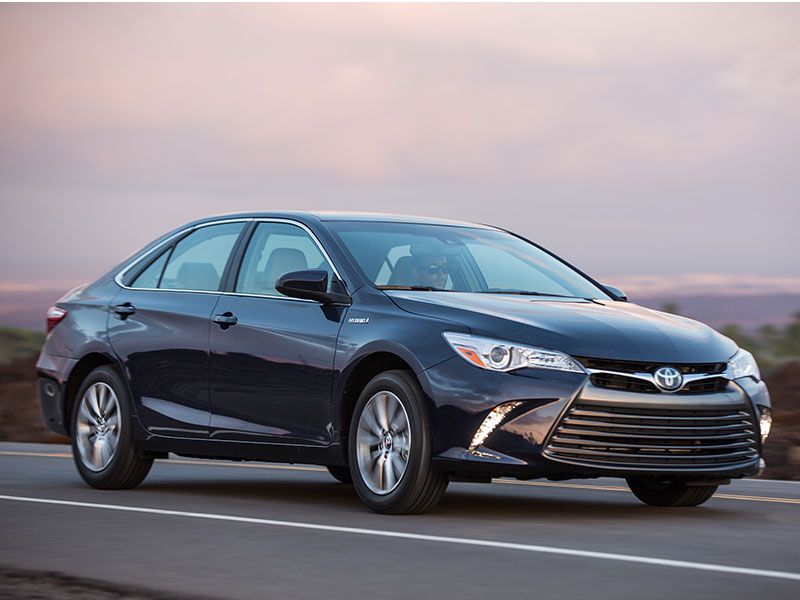 Photo by Toyota
2016 Dodge Dart
compact cars with traction control, such as the 2016 Dodge Dart, show how the technology is available on lower-priced cars along with more expensive choices. The Dart is stickered from $17,995, complete with electronic stability control that also enables all-speed traction control and electronic roll mitigation. Dedicated Dodge fans may recognize that that's a new, higher entry-level MSRP than at the start of the 2016 selling season. But that's only because the brand also has raised the level of standard content to include cruise control, steering-wheel-mounted audio controls, air conditioning, 16-inch aluminum wheels, and a Uconnect infotainment system with Bluetooth connectivity and voice recognition. That change is part of Dodge's decision to streamline the Dart lineup to a 3-trim roster for the rest of 2016.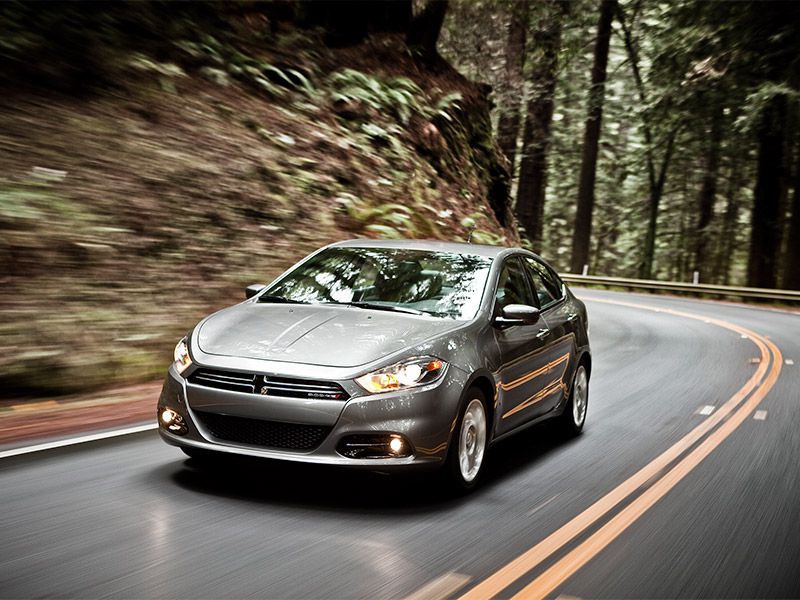 Photo by FCA Media
2016 Mazda Mazda3
At this stage, smaller cars with traction control can have just as many other safety features as larger, more expensive vehicles, and the 2016 Mazda Mazda3 makes a nice case in point. It builds on the mandatory vehicle stability and braking technologies with lane departure warning, forward obstruction warning, and Mazda's Radar Cruise Control and Smart City Brake Support. Additionally, the Mazda3 serves up adaptive front lighting. Not often available in mainstream compacts, adaptive front lighting allows the headlights to pivot as the car turns, to improve visibility. A standard rearview camera, naturally, is standard on all models. And on the topic of models, customers should remember that the  Mazda3 comes in sedan and 5-door hatchback body styles, both of which have their Top Safety Pick+ and 5-Star Overall Safety certifications.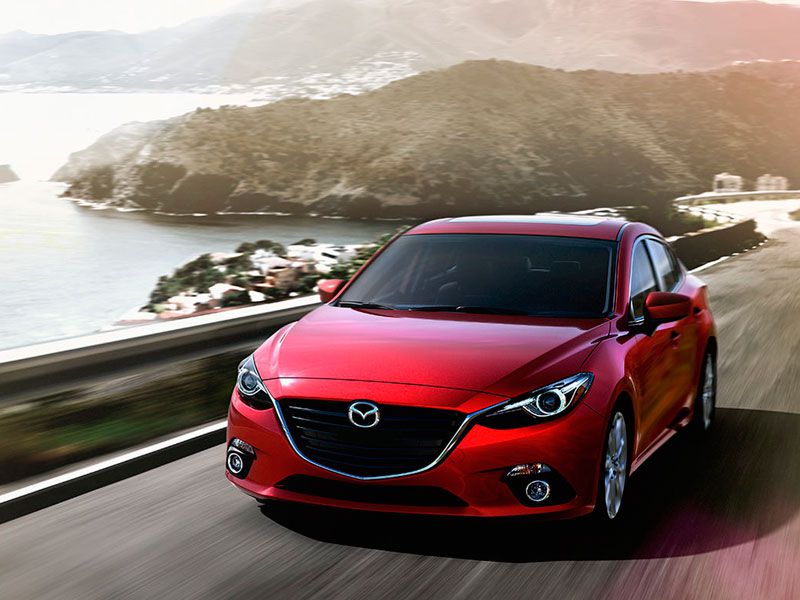 Photo by Mazda
2017 Kia Forte
Kia actually has three compact cars with traction control at its dealerships: The 2017 Kia Forte sedan, the 2017 Forte5 hatchback and the 2016 Forte Koup. To be sure, each member of that trio supplies the typical suite of stability- and traction-control technologies. The 2017 editions, however, have enhanced styling, new powertrain hardware, and more occupant protection technologies. That means things like autonomous emergency braking and forward collision warning for the sedan, and blind spot detection and lane change assistance for the hatch. The 4-door Forte also introduces Dynamic Bending Lights for the 2017 selling season, for adaptive lighting functionality. For owners who are more interested in infotainment, the updated Fortes also provide smartphone integration via Android Auto and Apple CarPlay.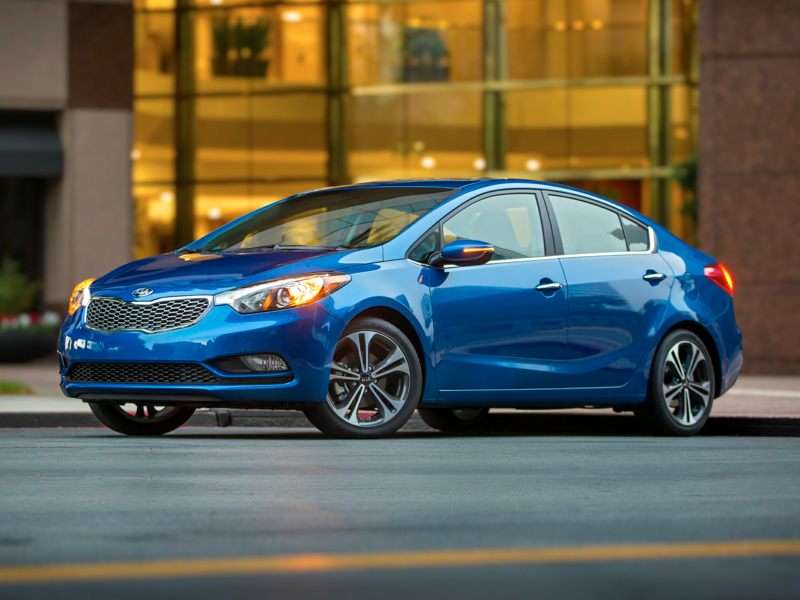 Photo by Kia
2017 Honda Fit
The 2017 Honda Fit is a big seller in the subcompact segment for a lot of reasons: It's incredibly versatile, with a Magic Seat second row that provides four different cargo configurations, and it's highly efficient, too, since it has peak EPA ratings of 33 MPG city/41 MPG highway/36 MPG combined. For infotainment, the Fit features display audio with a 7-inch screen, HondaLink connectivity, and navigation. But what helps make the Fit so attractive is an emphasis on safety that some cars with traction control can't match. Consider the available LaneWatch system. This Honda exclusive relies on a tiny camera, mounted on the passenger-side exterior mirror, to stream video to the car's infotainment display—for a field of view four times greater than a mirror alone.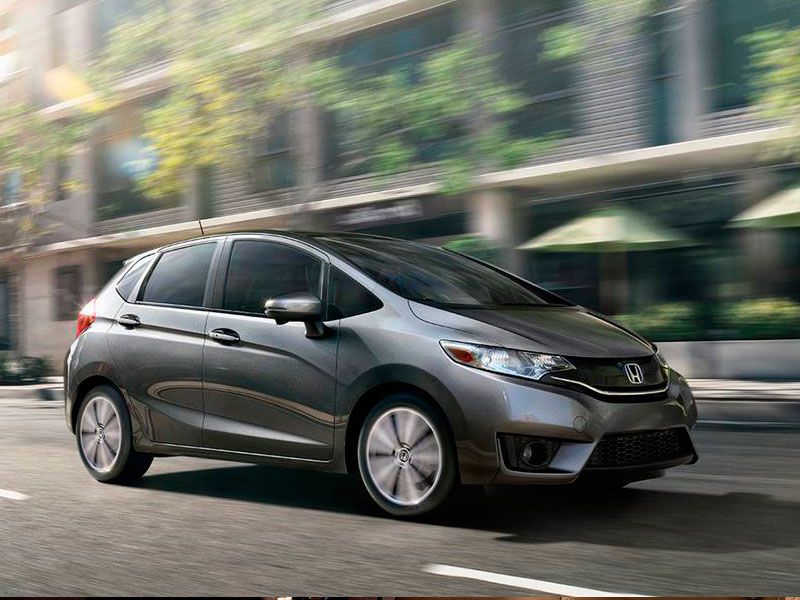 Photo by Honda
2016 Chrysler 200
Cars with traction control already have a big advantage when it comes to grip, but the 2016 Chrysler 200 has another that's worth noting: an available all-wheel-drive system with an automatically disconnecting rear axle. With that technology, owners get the benefit of AWD during extra-slippery driving conditions, and they see the higher fuel economy of front-wheel drive entries during smoother sailing. In fact, the AWD 200 has EPA grades of 18 MPG city/29 MPG highway/22 MPG even though it's motivated by a standard 295-horsepower V6 engine. The car's safety marks are impressive as well, as is its array of high-tech driver-assistance measures, and the upcoming 2017 Alloy Edition will bring it all together with distinctive Dark Bronze and Titanium finishes.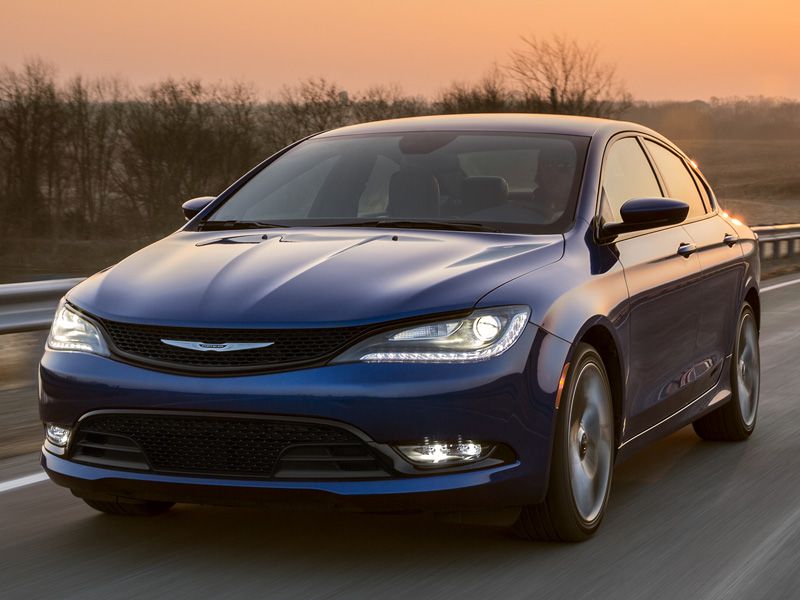 2016 Nissan Versa
Yes, just to be clear, cars with traction control do include the least expensive choices currently available, such as the 2016 Nissan Versa. The surprisingly spacious Versa sedan has an MSRP of $11,990, which covers all the vehicle stability control basics—traction control, anti-lock brakes, electronic brake-force distribution, etc., etc.,—as well as a fair number of modern-day comforts. Indeed, air conditioning, Bluetooth and 4-speaker audio with an auxiliary jack are all standard. Folks also should keep in mind that a similar high-value setup can be found in a hatchback form in the Versa Note. The entry price of a Versa Note is a bit higher, at $14,230, but so are the levels of style and versatility.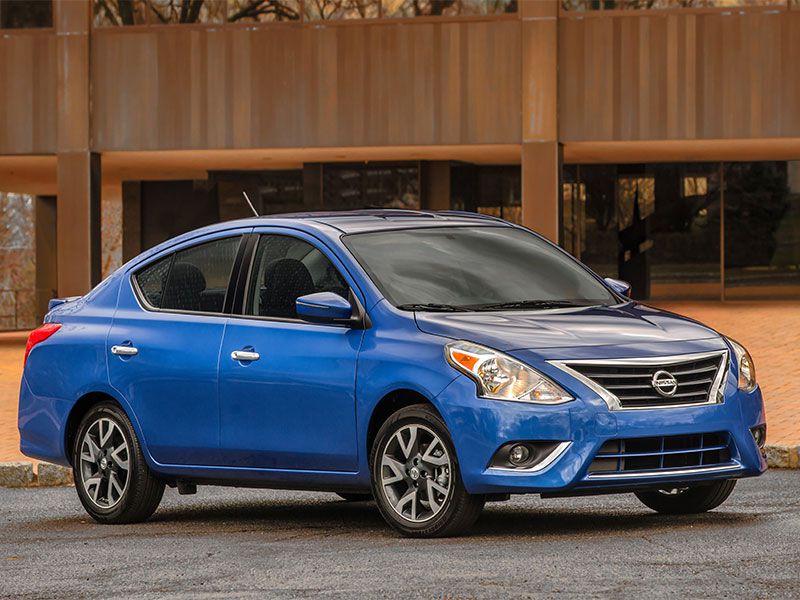 Photo by Nissan
2016 Chevrolet Volt
Cars with traction control can be powered by electricity, too. For instance, the 2016 Chevrolet Volt can travel more than 50 miles on a full battery charge, and after that, the car's gas-powered turbocharged engine takes over to furnish more than 365 more miles of additional range. In either scenario, owners can count on Chevy's StabiliTrak electronic stability control system to assist in "maintaining control in sudden maneuvers, particularly in low-traction conditions." Engineers also pack the Volt with ten airbags, while many of the Bowtie brand's sophisticated driver assistance systems also are available. (Nor did Chevy skimp on connectivity tech, as the Volt further comes standard with 4G LTE service and a mobile Wi-Fi hotspot—bolstered by an 8-inch color touchscreen.)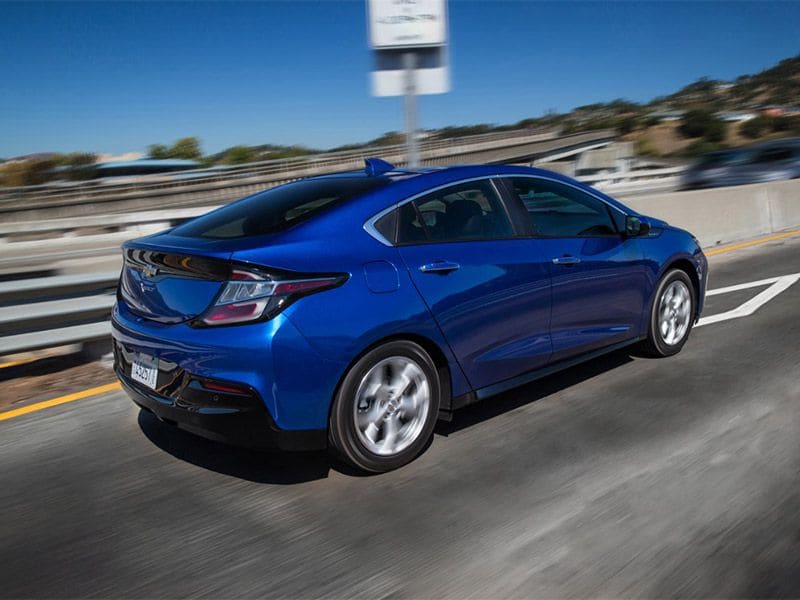 Photo by Chevrolet
2017 Lincoln MKZ
The 2017 Lincoln MKZ then illustrates how premium cars with traction control elevate that latter technology. The MKZ, like many luxury sedans, provides a multi-mode drive system that fine-tunes stability control functions, and others, for specific driving scenarios. That way, owners can benefit from performance that's been optimized for comfort, sport or normal driving. The MKZ also can be fitted with continuously controlled damping for its suspension, along with a "Driver's Package" that includes dynamic torque vectoring for its standard all-wheel drive system. Which no doubt comes in handy, because there's 400 lb.-ft. of torque to deal with, from the only engine that's part of that package: a 3.0-liter turbocharged V6 that also makes 400 horsepower.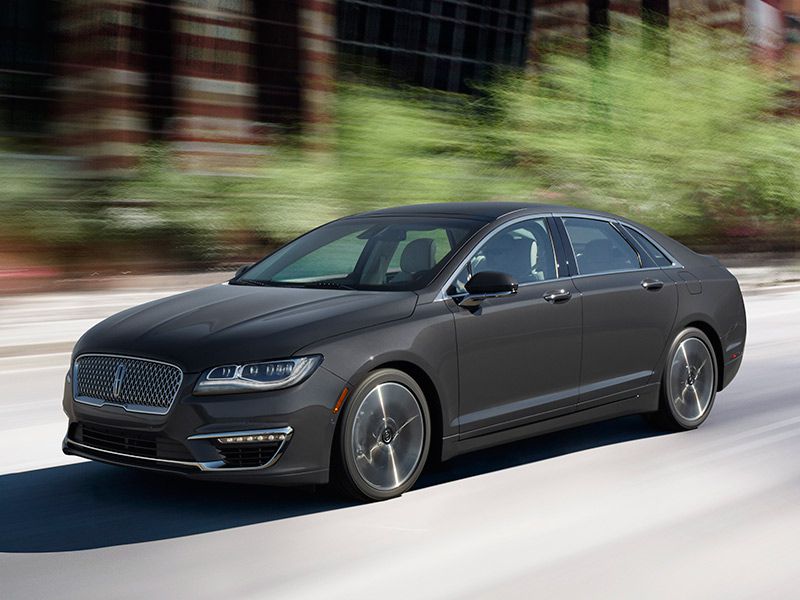 Photo by Lincoln