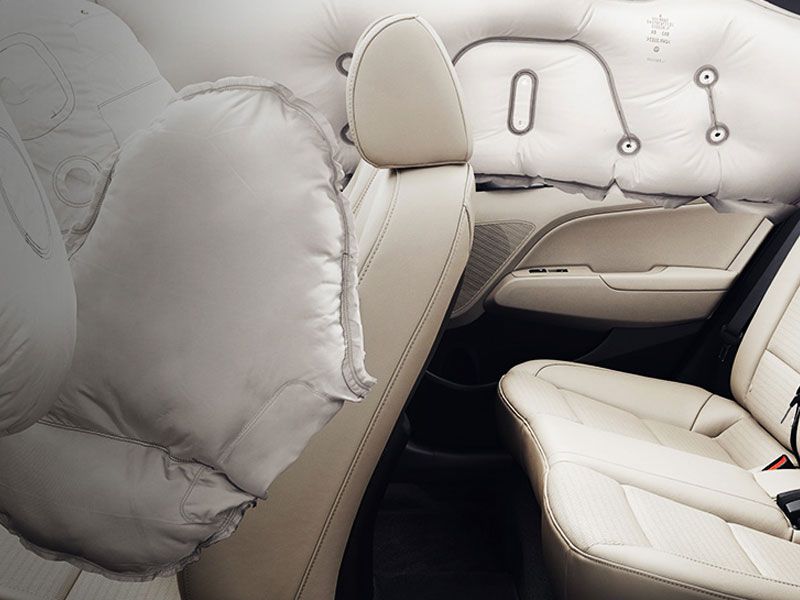 Deployed Airbags in Hyundai ・ Photo by Hyundai
Cars with side airbags used to be right on the cutting edge of occupant protection. A vehicle nowadays has to have high-tech driver assistance measures if it wants to make that claim. On the other hand, side-mounted airbags still play a vital role in vehicle safety, as they were designed to cushion folks in the case of certain side impacts, and sometimes also provide additional protection if there's a rollover incident. They're so common, however, that Autobytel experts had quite a challenge narrowing the field to 10. To overcome it, we relied on our usual focus on value, mostly selecting affordable cars that actually combined side airbags with some of that occupant-protection technology, too — along with strong safety ratings from the IIHS and NHTSA.
2016 Mazda Mazda3
Consider the 2016 Mazda Mazda3: The zoomy compact starts as low as $17,845 in its sedan configuration, and the hatchback has an MSRP of $18,545, and both are cars with side airbags. Indeed, they have standard front seat-mounted side-impact airbags and side-impact air curtains, the latter of which cover the entire window area and also provide protection if the vehicle rolls over. The Mazda3 further touts Top Safety Pick+ status from the IIHS and a 5-Star Overall Safety Score from NHTSA. Notably, Mazda's IIHS results are highlighted by the highest possible grades for crashworthiness and an Advanced rating for available front crash-prevention tech. Credit Mazda's i-ACTIVSENSE package for that — and much more in the way of driver assistance, as well.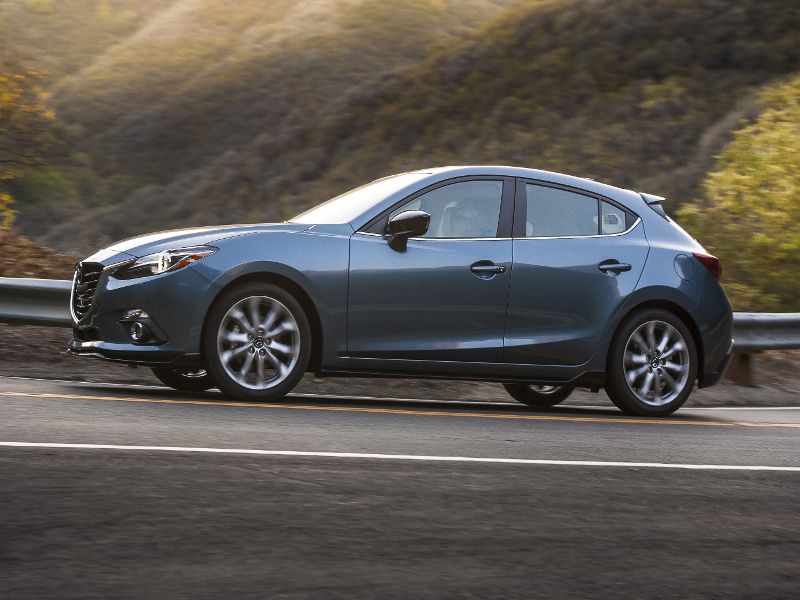 Photo by Mazda
2016 Toyota Camry
Customers often indicate that safety is an important factor when shopping for new vehicles, and that likely helps explain the success of the 2016 Toyota CamryIt's converted impressive safety features into an equally impressive run as the best-selling car in the country. The Camry also ups the ante on smaller cars with side airbags. As a midsize sedan, the Camry comes with 10 airbags in total, including seat-mounted side airbags for the front and rear seats, side-curtain airbags, dedicated knee airbags for the driver and front-seat passenger, and dual-stage front airbags. Of course, that won't earn a Top Safety Pick+ recognition or a 5-Star Overall Safety Score. The Camry claims those accolades by adding a robust body structure and plenty of technology of its own.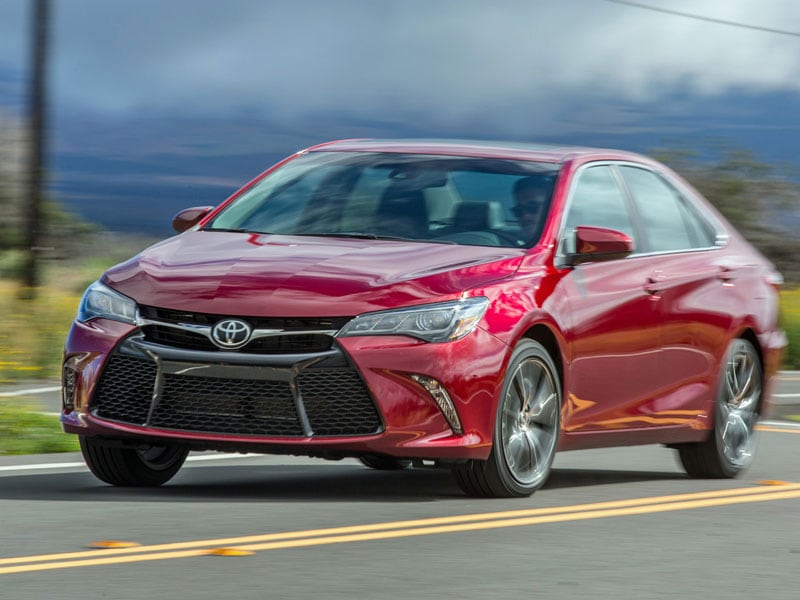 Photo by Toyota
2016 Chrysler 200
Chrysler brags that its midsize sedan can supply "more advanced safety and security features than any other vehicle in its class," and that includes many cars with side airbags. Now, the 200 does have standard side airbags. In fact, it serves up supplemental seat-mounted airbags up front that were designed to offer additional protection for those occupants' pelvic and thoracic regions, and these units are bolstered by side-curtain airbags with protection for front and rear occupants. And those are complemented by front-row knee-protection airbags, a Top Safety Pick+ trophy, a 5-Star Overall Safety grade from NHTSA, and a variety of popular driver-assistance technologies. They're bundled into the SafetyTec Group, which combines forward collision warning, automatic braking, parallel and perpendicular parking assistance, and more.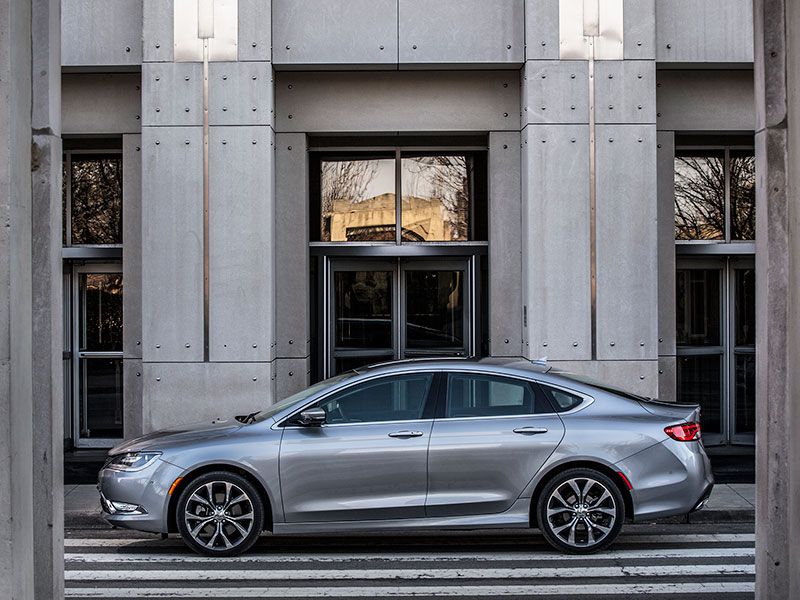 Photo by Subaru
2016 Honda Civic Coupe
Some cars with side airbags are able to blend both affordability and drivability, and such a choice is the 2016 Honda Civic Coupe. To be clear, the IIHS tested the Civic Coupe separately from the 4-door version, and each car aced the Top Safety Pick+ testing with Superior marks for front crash-prevention tech. Also, the Civic roster is equipped with a noticeably high-tech airbag array, with side-curtain airbags and SmartVent side units specifically for the front. These can adjust inflation rates to optimize protection for differently sized occupants, and Honda has brought similar venting technology to the Civics' front airbags as well for 2016. Yet the same safe Civic Coupe is a blast to drive, complete with the most powerful entry engine ever installed in the model.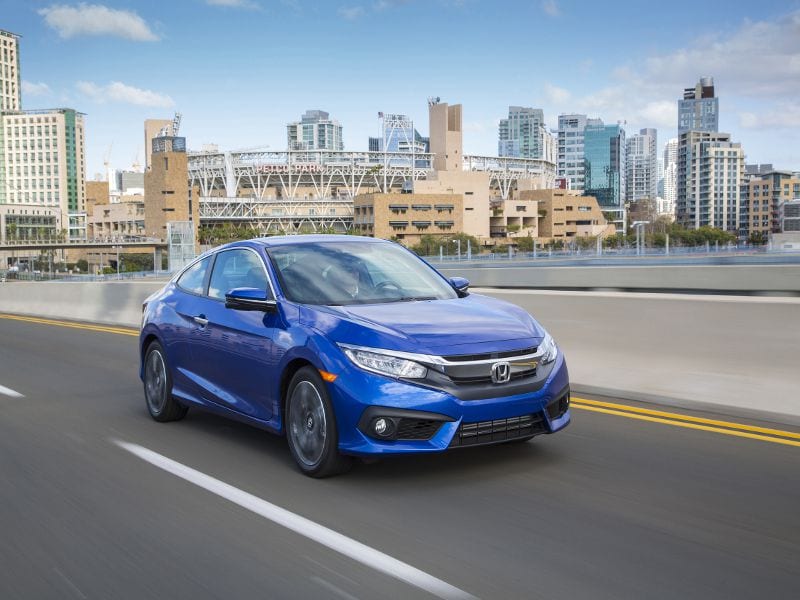 Photo by Honda
2016 Chevrolet Malibu
The 2016 Chevrolet Malibu is one of the all-new cars with side airbags, launching for the current model year as the Bowtie brand's latest midsize sedan. As far as today's topic goes, the new 'Bu checks all the typical airbag boxes, having ten in total: side-impact, seat-mounted units to protect the front row and outboard rear-row passengers, airbags mounted on the roof rails for those same occupants, and knee protection for the people up front. The Malibu also keeps up with the competition with a front passenger-sensing system that monitors that airbag status for that particular seat. Finally, to make our list, the Malibu had to make two other honor rolls: for Top Safety Pick+ vehicles and the ones with 5-Star Overall Safety Scores from NHTSA.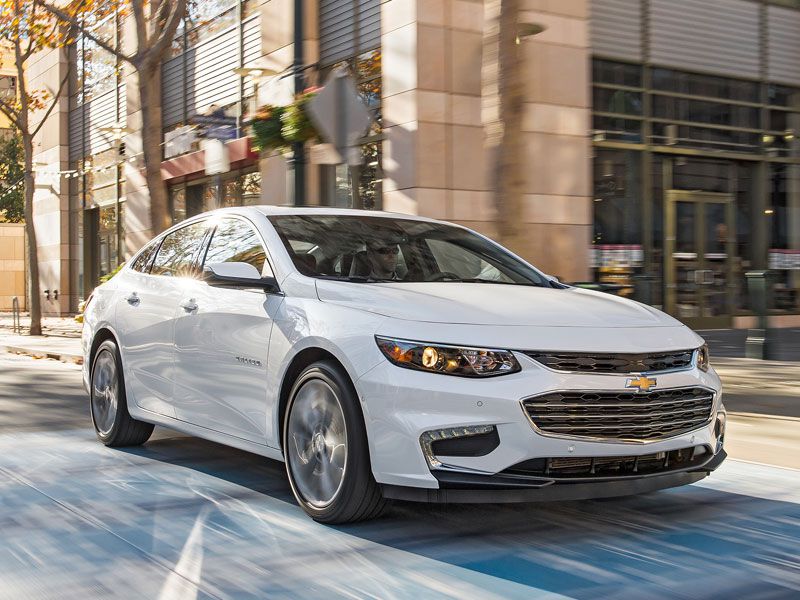 Photo by General Motors
2016 MINI Cooper Hardtop 2-Door
For an out-of-the-box take on fun-to-drive cars with side airbags — and reasonable pricing — the 2016 MINI Cooper Hardtop 2-Door comes to mind. Just think about this: The MINI is stuffed with eight dual-stage airbags as standard equipment, and yes, among them are two side-impact airbags and two side-curtain units mounted on the ceiling; also in the mix are two front-mounted airbags and one each for the driver's and front passenger's knees. This MINI model makes the cut for Top Safety Pick+ status, too, for models built after November of 2015. Meanwhile, for enthusiasts, it makes a daring daily driver that packs a standard TwinPower turbo engine, 6-speed Getrag manual transmission, performance-oriented suspension and multi-mode vehicle-control system.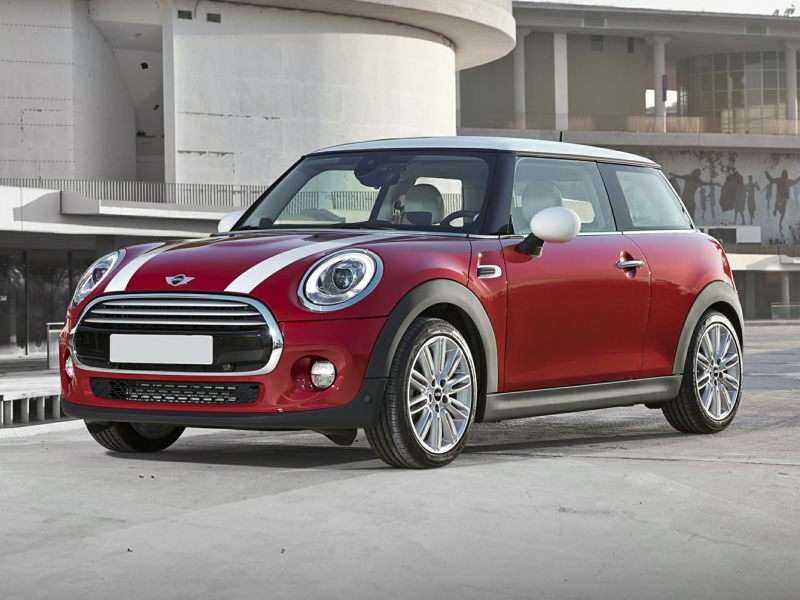 Photo by MINI
2016 Nissan Sentra
Safety and sales also seem to go together in the 2016 Nissan Sentra. Not only does the Sentra's Top Safety Pick+ ranking surpass some rivals, so do its sales. For instance, compact entries from Ford and Chevy don't have IIHS certification, and nor were they anywhere near the Sentra's sales total after the first seven months of the year. Nissan then takes a similarly leading approach to cars with side airbags. Thus, the automaker's Advanced Airbag System is composed of sensor-supported dual-stage supplemental front airbagss, side-impact supplemental airbags mounted in the front two seats, and curtain side-impact airbags, mounted on the ceiling, with rollover sensors for front-seat and outboard-rear occupants.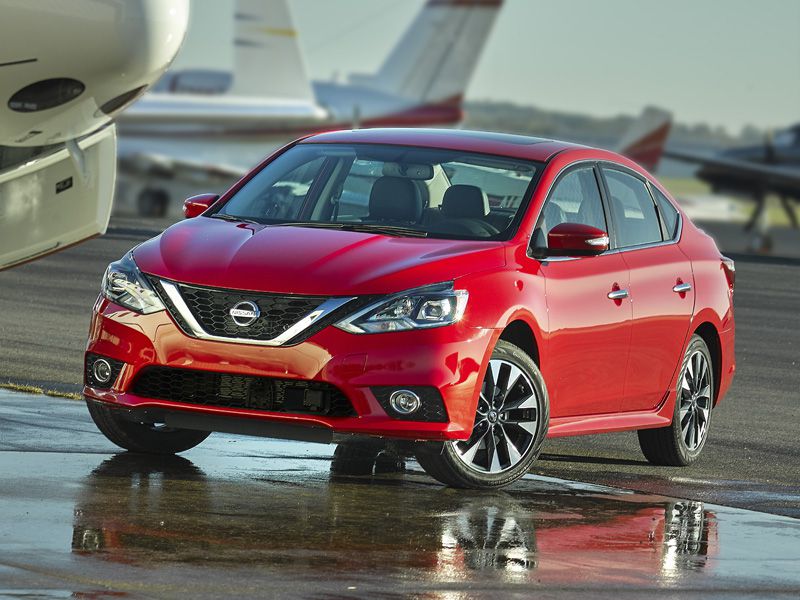 Photo by Nissan
2017 Hyundai Elantra
Yet if the Nissan Sentra stands out for high levels of safety and sales volume compared to rival cars with side airbags, we also have to tip our cap to the 2017 Hyundai Elantra. The brand-new Elantra sedan — which is on sale now with an MSRP of $17,150 — has stepped up its game with a Top Safety Pick+ trophy, and it outsells the Sentra. The IIHS rating covers sedans made after March 2016 when equipped with Hyundai's available front crash-prevention system. That said, all Elantra models are equipped with seven standard airbags, furnishing side-impact and side curtain units as part of that package.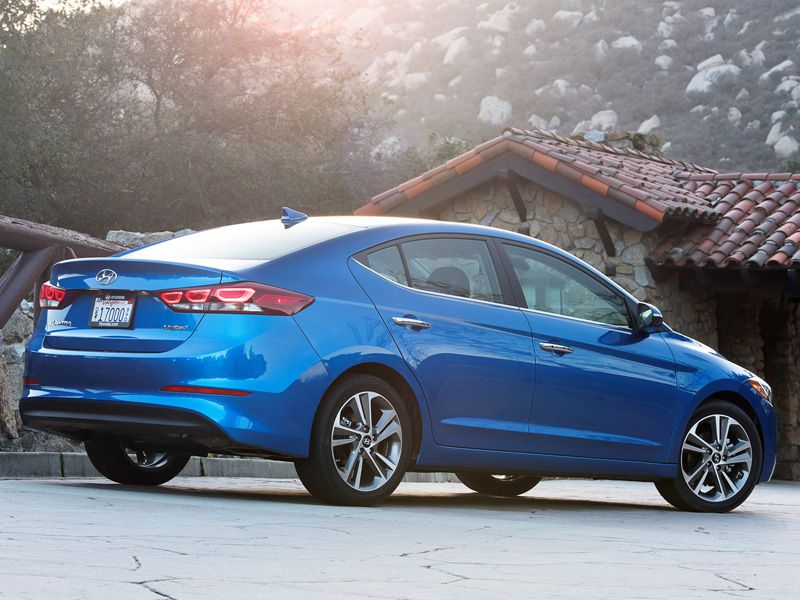 Photo by Hyundai
2016 Volkswagen Golf SportWagen
For extra versatility in cars with side airbags, a handful of automakers continue to build station wagons with those devices. Just one, though, showcases a mainstream MSRP and superior safety scores: VW. The 2016 Volkswagen Golf SportWagen has notched a 5-Star Overall Safety Score from NHTSA, and although it hasn't received a Top Safety Pick+ award, it hasn't been tested, either. Shoppers also should know that the current VW Golf — on which the SportWagen is based — has been tested by the IIHS, and that model does have its Top Safety Pick+ credentials. Returning to the SportWagen, it welcomes six standard airbags, from VW's Side Curtain Protection system for the front and rear to front and side airbags with extra protection for the driver's and front-passenger's thoraxes.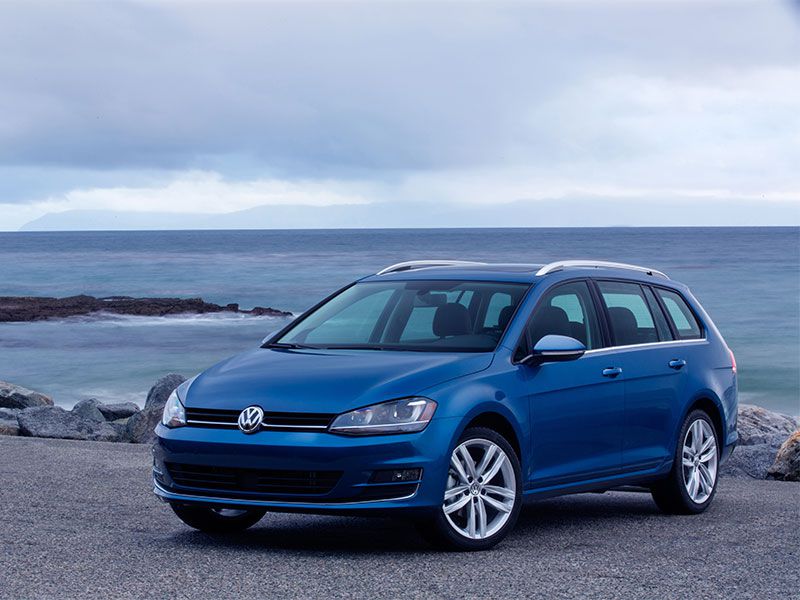 Photo by Volkswagen
2016 Subaru Legacy
The Subaru brand may be best known for its standard symmetrical all-wheel drive, but its commitment to occupant protection doesn't stop there. The 2016 Subaru Legacy, and all of the company's crossovers and cars with side airbags, bring advantages like dual-stage-deployment front airbags, side-curtain airbags that can cushion front-row occupants and outboard passengers in the back, and front-seat-mounted airbags for protection for the pelvis and torso. Last, but certainly not least, the Legacy midsize sedan boasts a Top Safety Pick+ honor from the IIHS — with a Superior grade for frontal driver-assistance technology — and a 5-Star Overall Safety Score with 5 stars in all three of NHTSA's testing categories.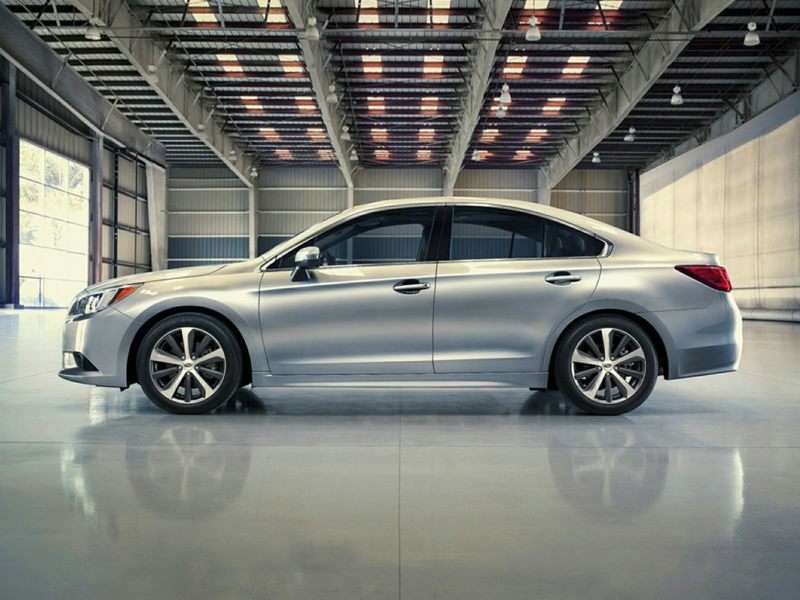 Photo by Subaru