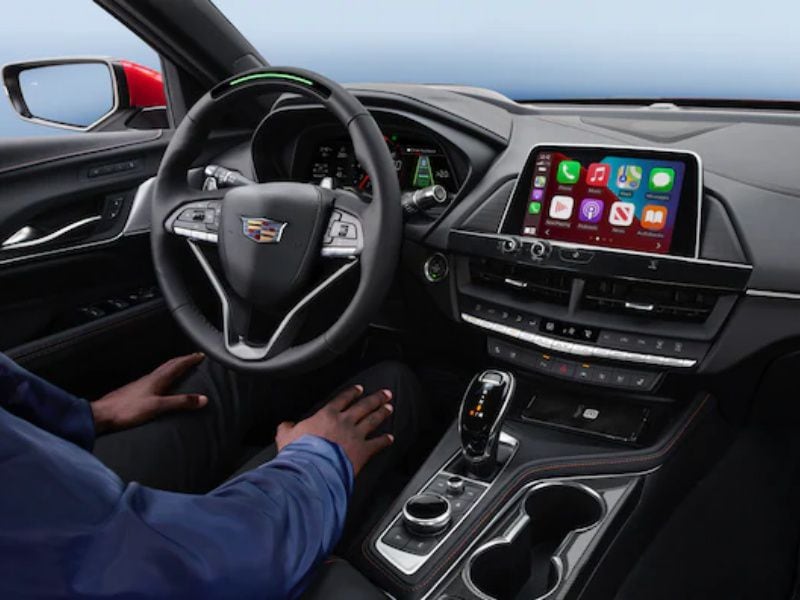 2021 Cadillac CT4 Supercruise ・ Photo by Cadillac
You've probably seen the headlines and debates about self-driving cars — how soon they'll be technologically feasible and legally allowed. Various tech companies are experimenting with systems that let cars drive without human intervention. 
But you don't have to wait for these future technologies. While today's cars won't fully drive themselves — you must stay attentive in all cases, and most require you to hold the steering wheel — many of them have semi-autonomous features that make them safer and easier to drive. These include adaptive cruise control, which maintains a minimum distance from the car in front of you as it slows down and speeds back up; automatic emergency braking, which can autonomously slam the brakes to avoid or mitigate a collision; blind-spot monitoring, which uses radar to help prevent you from changing lanes into another vehicle; a lane-departure warning that lets you know if you stray over the line; and lane-keeping assistance, which automatically steers the car to stay in its lane. Whether you want an affordable compact car or a top-of-the-line luxury model, here are the 10 best cars with self-driving features for 2021. 
1. 2021 Mazda3
We promised you don't have to spend a lot to get a great car with self-driving features, and the 2021 Mazda3 proves it. This is a compact economy car, sold as a four-door sedan or five-door hatchback, which comes with adaptive cruise control, forward automatic emergency braking, and a lane-departure warning with lane-keep assist — all for a base price of just $20,500. You can add blind-spot monitoring as well, for a still-modest $22,700. 
What's more, the Mazda3 isn't a humble cheap car filled with technology. This is a bargain-priced luxury car, with refined driving manners, plenty of power, an elegantly trimmed interior, and high-end features. It's not the roomiest or the most fuel-efficient small car you can buy, but it's the most upscale in its class.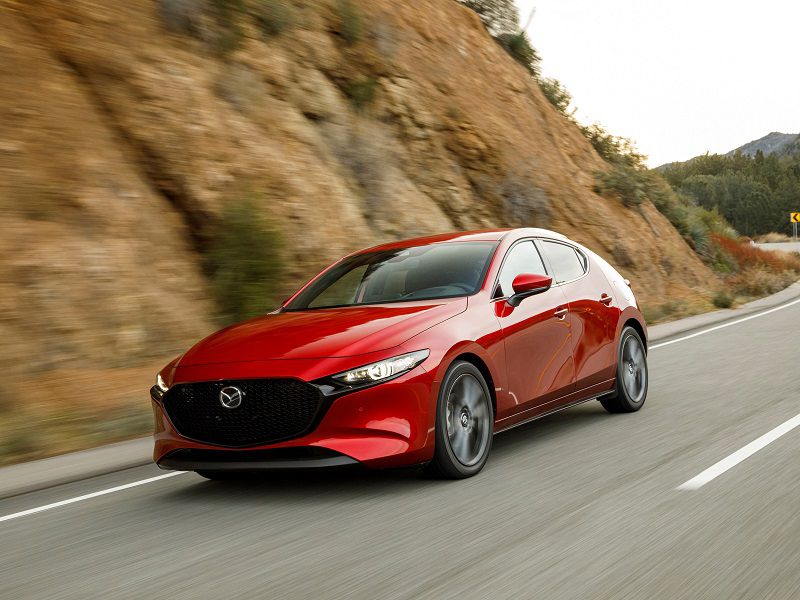 Photo by Mazda
2. 2021 Cadillac CT4
The CT4 is a luxury car, so it's no surprise it has self-driving features. But even though it's Cadillac's smallest, cheapest sedan, the compact CT4 now offers the brand's top-of-the-line self-driving technology. 
While all self-driving technologies use radar, cameras, and other technologies to read road conditions, General Motors' Super Cruise system goes a step further. GM painstakingly taught its system how to drive on specific roads — more than 200,000 miles of U.S. highways and counting — and you can take your hands off the steering wheel on those roads. (Self-driving features are still active elsewhere, but you have to hold the wheel.) The car also keeps an eye on you to make sure you have an eye on the road. Beyond the excellent Super Cruise system, the CT4 is an agile, comfortable sedan with a small backseat. The CT4 is priced from $33,395, but Super Cruise is bundled with other features that bring the total to at least $53,445. Cadillac also offers Super Cruise on the larger CT5 sedan, as well as the Escalade SUV.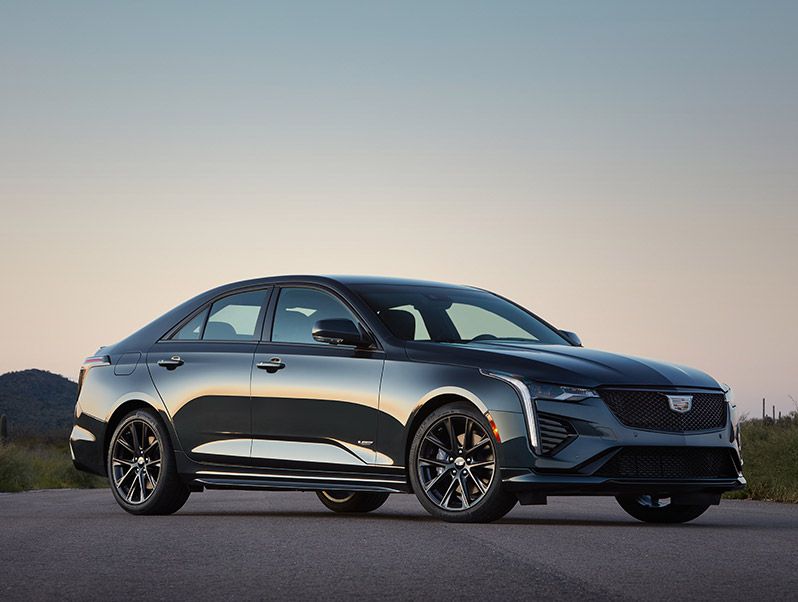 Photo by General Motors
3. 2021 BMW 7 Series
When you want self-driving technology, it's often because you want a comfortable, relaxing vehicle for long slogs behind the wheel. And that's where the BMW 7 Series shines. This is the largest BMW sedan, and it boasts an extra-smooth, extra-quiet ride and extra-cushy seats. And yes, it will partially drive itself. 
BMW's Super Cruise rival is called Extended Traffic Jam Assist, and it lets you take your hands off the steering wheel at speeds up to 37 mph. The idea is that it will drive for you in rush-hour-clogged freeways, but not at higher speeds or more challenging types of roads. As with Super Cruise, you can use the system anywhere as long as you're willing to hold the steering wheel. While the BMW system isn't as fully featured as Super Cruise, BMW automobiles have some other merits over Cadillacs. And if you're willing to give up some interior space and serenity, you can get the same Extended Traffic Jam Assist system in BMWs that cost a fraction of the 7 Series' $86,800 starting price.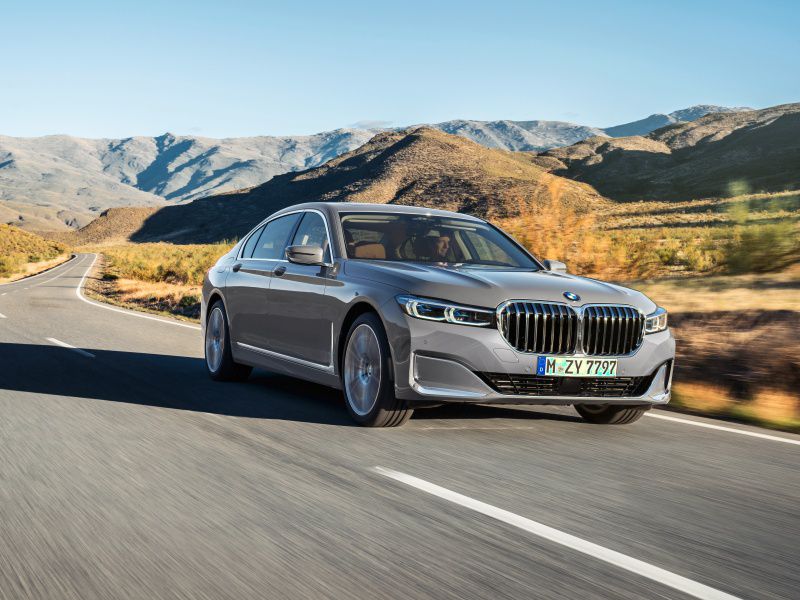 Photo by BMW
4. 2021 Tesla Model 3
Tesla is famous for its self-driving technologies, which are known as Autopilot and Full Self Driving Capability. These systems work with delightful smoothness in routine conditions, and the car presents nifty computer-generated views of the obstacles and other landmarks that the system is recognizing and using to navigate — red lights, lane markings, other traffic, and more. 
However, the systems' names and smooth operation lull some drivers into a false sense of security about their capability. Several high-profile crashes have resulted from drivers who put too much trust in their Teslas. The Tesla self-driving experience is great, but you still must pay attention to the road, keep your hands on the wheel, and step in as needed. Autopilot is standard equipment on the brand's cheapest model — the Model 3 compact sedan, currently priced from $37,490. This all-electric sports sedan also features lightning-fast acceleration, sporty handling, a uniquely high-tech interior (a 15-inch touchscreen sits essentially alone on the dashboard), and decent interior space. Range per charge is between 263 and 353 miles, depending on the version you buy, and Tesla offers the proprietary Supercharger fast-charging network for its customers to use on road trips.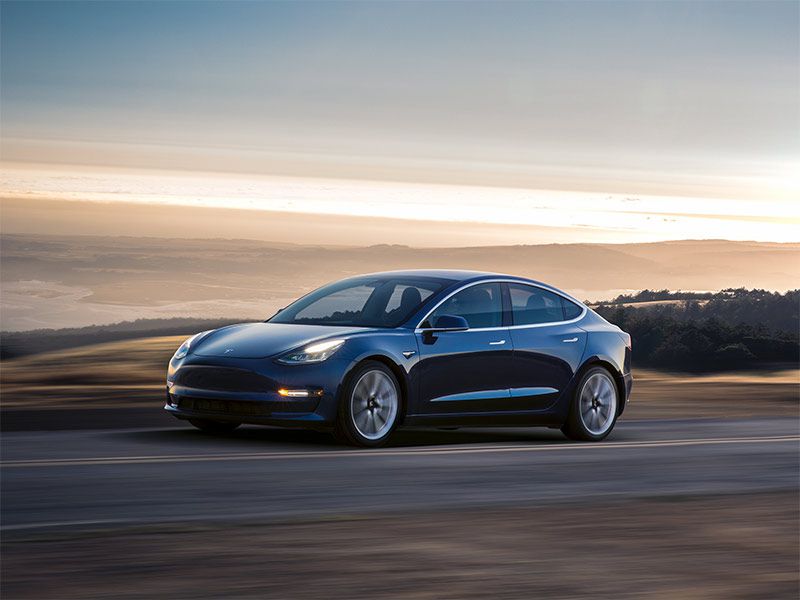 Photo by Tesla
5. 2021 Hyundai Sonata
Turning back to more affordable cars with self-driving features, the 2021 Hyundai Sonata is a spacious, comfortable, and quiet mid-size sedan that's priced from just $23,700. Standard driver-assistance technology includes adaptive cruise control, forward automatic emergency braking, and lane-keeping assistance; blind-spot monitoring (which includes camera displays on upper-trim Sonatas) and reverse automatic braking are also available. 
What sets the Sonata apart from other affordable self-driving cars is Smart Parking Assist, available on high-end trim levels. Just like your image of the future, this system does let the car drive with no one inside the vehicle. Still, it's more like a remote-controlled car than true autonomy. Press and hold a keyfob button, and the Sonata will automatically drive forward or backward at your command, steering itself around obstacles and braking if necessary. You can use the system to get the car in or out of a tight parking spot where there wouldn't be space to open your door, or just when it seems like a cool trick to show off.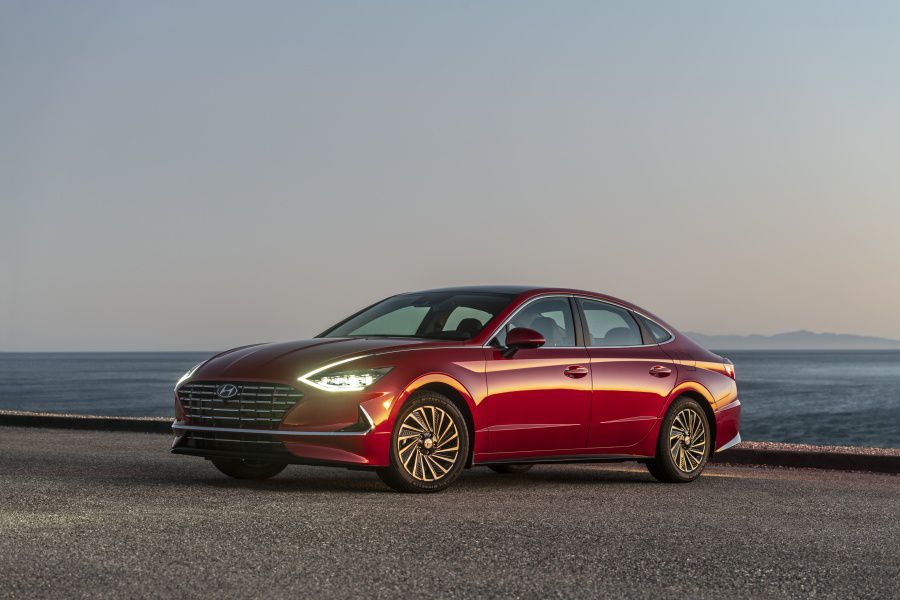 Photo by Hyundai
6. 2021 Mercedes-Benz E-Class
Whether you want to drive it yourself or turn things over to a computer, the updated 2021 Mercedes-Benz E-Class is one of the finest cars on the market. This mid-size luxury car has something for just about everyone: hushed, isolating luxury, yes, but also engaging performance. The interior is unimpeachably comfortable and beautifully finished. And you can get an unusually broad range of body styles: sedan, coupe, convertible, and station wagon. 
And like the other cars on this list, it has extensive driver-assistance technology — a smooth-functioning suite of self-driving features. These include adaptive cruise control that holds the car at a full stop for up to a minute before setting off again automatically when traffic starts to move. Most cars make you at least tap a button to get moving again. And the E-Class has gotten an early start on vehicle-to-vehicle communication, which will make self-driving systems safer as more cars around it start to do likewise. Prices start at $54,250, though some self-driving features cost extra.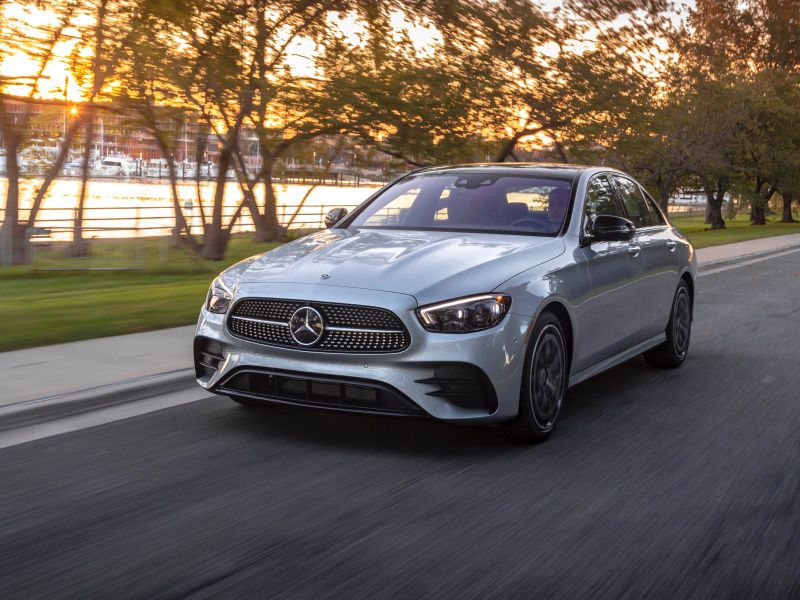 Photo by Mercedes-Benz
7. 2021 Audi A5
Most of the time you want a sports sedan, you settle for a small trunk. But why should you have to? The 2021 Audi A5 Sportback delivers the same crisply composed driving experience, magnificently trimmed interior, and advanced technology as the better-known A4 sedan. But the Sportback's sleek shape disguises its hatchback functionality, which lets it nearly double the A4's capacity for a relatively modest price premium of about $2,700 — the A5 starts at $41,800. 
The A5 is also sold as a less-functional two-door coupe and convertible, while a variant of the A4 — the crossover-themed Allroad wagon — has the most room of all but less-sporty handling. Whichever one you choose, you can get plenty of well-executed self-driving features for the times you don't want to enjoy the vehicle for yourself. As on many luxury cars, though, you'll have to pay extra for many of them.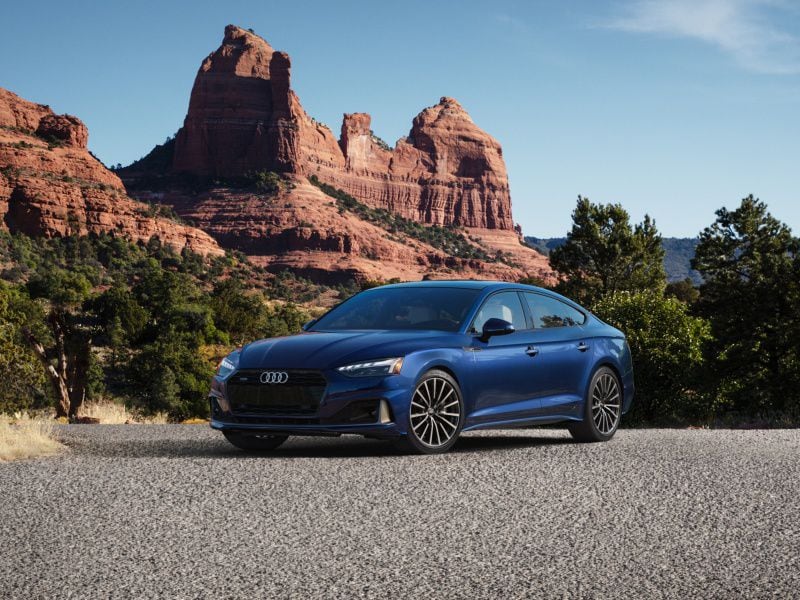 Photo by Audi
8. 2021 Honda Accord
Think of the Honda Accord as the Audi of the mid-size sedan class. You'll feel the similarity in the sporty tuning of the Accord's suspension, its firmly supportive seats, and the perfectly dampened feel of its dashboard buttons. 
Where you won't get the Audi experience, though, is value for the money. That's good news. While the Accord isn't the cheapest mid-size sedan you can buy, it brings lots of self-driving features as standard equipment even at its base price of $24,970. Every 2021 Accord includes adaptive cruise control, automatic emergency braking, and lane-keeping assistance; blind-spot monitoring is the only essential driver aid that costs extra, and it arrives at $31,090. When you combine a premium-grade driving experience with a huge family-friendly backseat, these prices will seem like a steal to the right buyer.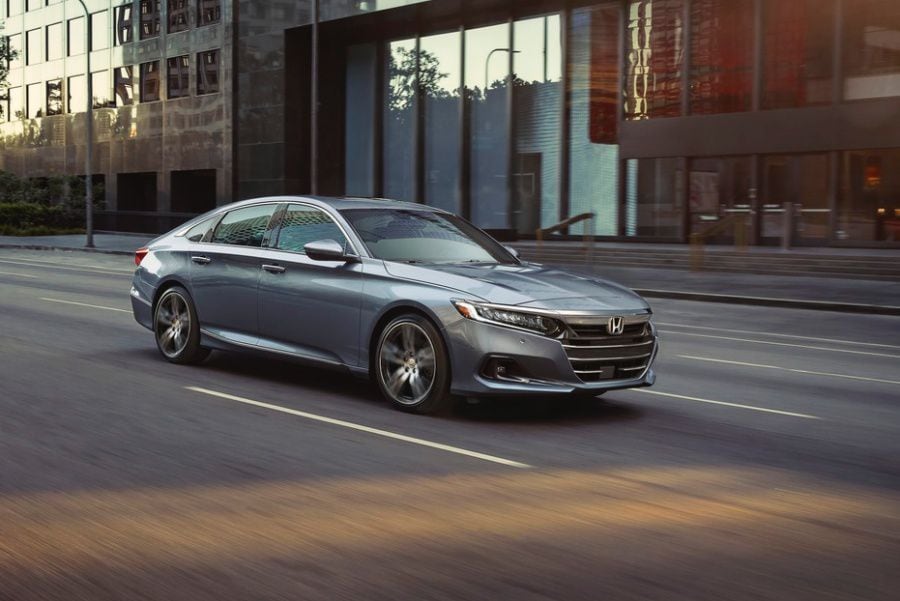 Photo by Honda
9. 2021 Volvo V60
As with the case of the Audi A4 versus A5, we're going to highlight another more practical version of a well-rounded compact sports sedan. That's the 2021 Volvo V60, the station wagon version of the S60 sedan. They share peppy yet fuel-efficient powertrains — including an available plug-in hybrid — comfortable and gorgeously finished interiors, and composed ride and handling. 
They also share lots of standard safety features for the money. While the Volvos might not handle with the Audis' precision, they don't charge you extra for lane-keeping assistance or blind-spot monitoring. And their automatic emergency braking system can not only recognize cars and pedestrians, but also bicyclists and even large animals.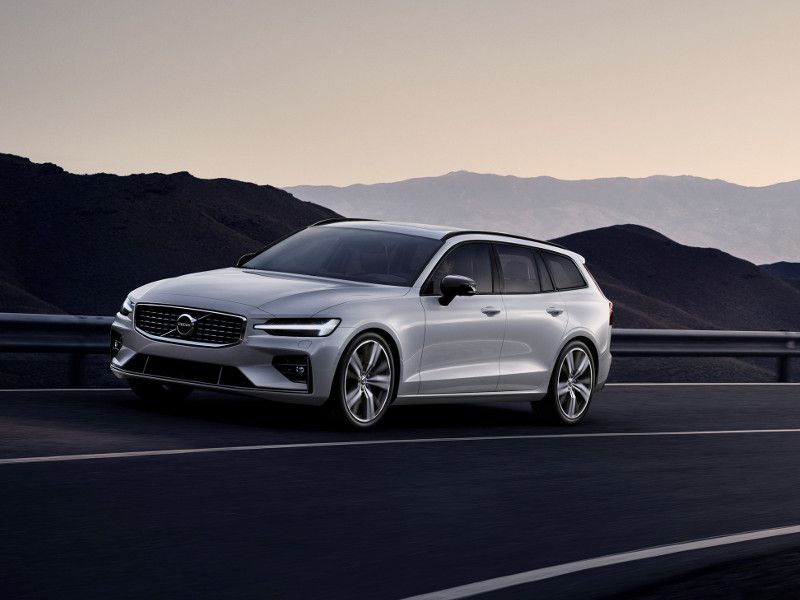 Photo by Volvo
10. 2021 Hyundai Elantra
We opened our list of the 10 best cars with self-driving features with an affordable economy car, and we'll close with another one: the newly redesigned 2021 Hyundai Elantra. The Elantra doesn't rival a BMW or even a Mazda3 for its driving manners and interior quality, but if you're looking for a car that will help you drive, you won't find many that cost less. 
Even at its base price of $19,650, the Elantra includes forward automatic emergency braking, lane-keep assist, and blind-spot monitoring. (Good luck getting all that standard in a BMW.) And stepping up just one trim level to the still-affordable SEL model ($20,900) adds adaptive cruise control and bicylist-detection capabilities. This is a thoroughly competent and somewhat flashy-looking sedan that's affordable, comfortable, economical, and easy to drive — especially when the computer helps you do it.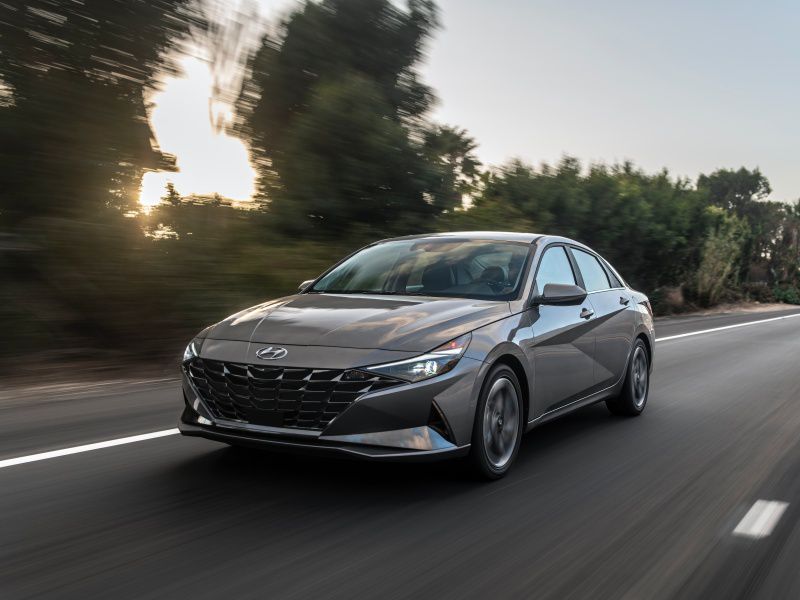 Photo by Hyundai