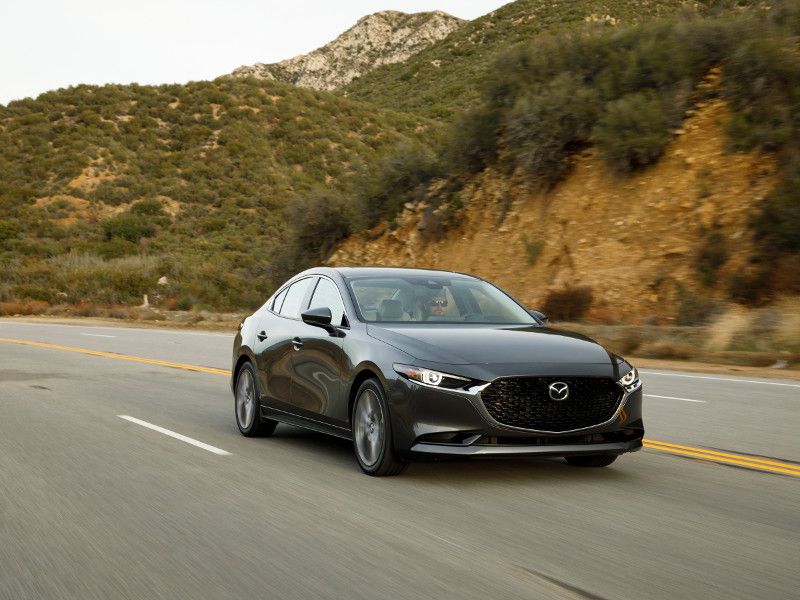 2019 Mazda3 Sedan ・ Photo by Mazda
As the nation seems to be peeking its head out from under the covers of the COVID-19 pandemic, the auto market is showing some signs of returning to normal. That shift is welcome. But at the same time, it might signal that the days of incredibly fat purchase incentives and deals will rapidly come to an end. The takeaway might be that if you are going to be in the market for a car this year, this month might be the time to pull the trigger and make a deal.
The cars that made this list aren't just cars with big discounts or hot financing arrangements. They are also excellent cars, among the top in their class, that anyone could be proud to own. The news right now is that car loan interest rates remain low, incentives are high, and credit is widely accessible. The month represents a buyers' market with plenty of great deals available on a variety of excellent cars. Here are the 10 best car deals right now.
2021 Hyundai Sonata
It is surprising that the Sonata has remained on this list for a number of months because it is such a satisfying sedan all around. One of the best-looking sedans on the road, it is filled with comfort and convenience equipment features that might surprise you. Included on that list of niceties are a panoramic sunroof, electric parking brake, hands-free "smart" trunk, and high-speed wireless smartphone charging pad with a cooling fan. The Sonata features two available drivetrains — a 180-horsepower 1.6-liter turbocharged 4-cylinder and a 191-horsepower 2.5-liter 4-cylinder — and both are worthy choices. On the tech front, the top-level infotainment display is a customizable 10.25-inch touchscreen that features cloud-based speech recognition.
The 2021 Sonata is the subject of a wide variety of offers, including 0% financing for up to 60 months with the first payment deferred 90 days. Customers can lease a '21 Sonata for $229 per month for 36 months with $0 due at lease signing.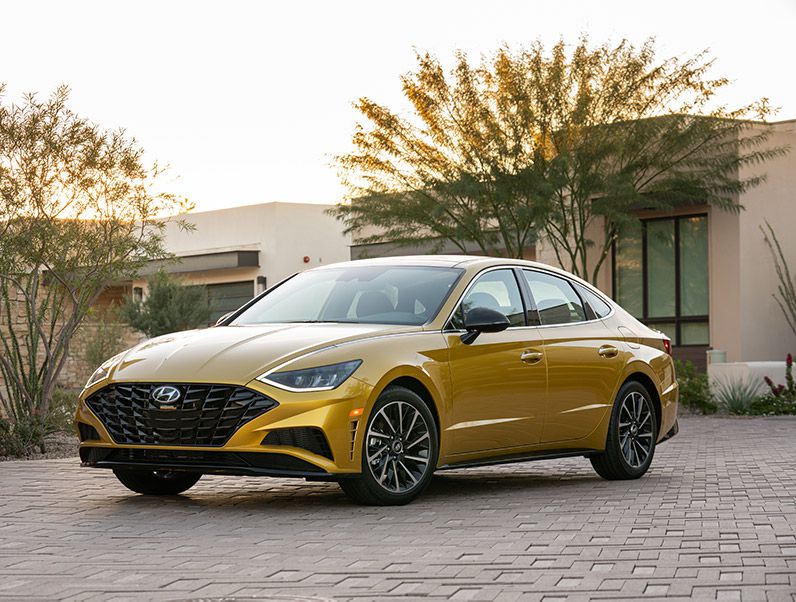 Photo by Hyundai
2021 Toyota Corolla
One of the most popular small cars of all-time, the Toyota Corolla sedan rides on a 106.3-inch wheelbase helping the car handle like a larger vehicle. The SE and XSE trims are the sportiest, including a body-color chin spoiler and aero stabilizing fins to emphasize the wide stance. The slim LED headlamps wrap deeply into the front fenders, and 18-inch wheels are standard on the SE and XSE grades.
Inside high-gloss materials are paired with matte elements, and the result is called "sensuous minimalism." At the center of the instrument panel, within easy view for the driver and front passenger, is an 8-inch multimedia touchscreen in all but the lowest trim level. The standard multimedia system includes six speakers; Apple CarPlay, Amazon Alexa, and Scout GPS Link compatibility. The Corolla sedan L, LE, and XLE grades use a 1.8-liter 4-cylinder engine, while the SE and XSE trims are powered by a 2.0-liter direct-injection inline 4-cylinder engine with 169 peak horsepower. Right now in many locales, Corollas are being offered with 0% financing for 60 months. The lease offer could be as low as $189 per month for 36 months with  $1,999 due at signing.
2021 Hyundai Elantra
The 2021 North American Car of the Year, the all-new 2021 Hyundai Elantra compact sedan is one of the hottest of the great deals on this list. The new vehicle's platform provides it with a longer wheelbase, wider stance, and lower roofline so the Elantra looks, rides, and handles like a more expensive car. Wireless Apple CarPlay and Android Auto make things easy for drivers on the connectivity front. The Elantra's 2.0-liter 4-cylinder engine utilizes Atkinson cycle technology for better efficiency. The powerplant is paired with a standard 6-speed manual or the available Intelligent Variable Transmission (IVT). The engine produces 147 horsepower and 132 lb-ft of torque, enough to provide praiseworthy performance.
The 2021 Hyundai Elantra is available with 0% financing for up to 60 months with deferred payments for 90 days after purchase. Alternatively, you can lease a 2021 Elantra for $159 per month for 36 months with $2,899 due at delivery.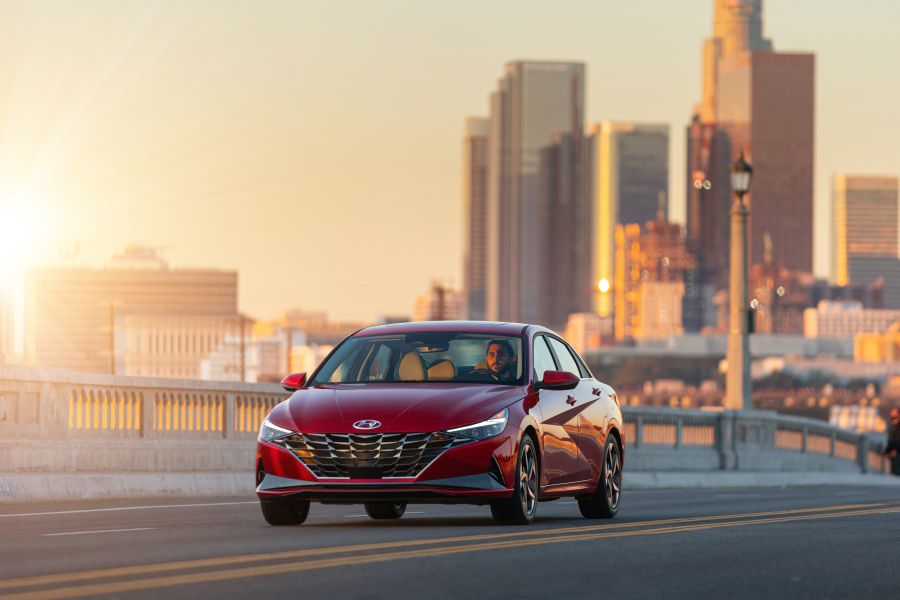 Photo by Hyundai
2021 Chevrolet Bolt EV
The Chevrolet Bolt EV battery-electric car is due for a complete change soon, so Chevy is pulling out the incentives to sell out the remaining 2020 and 2021 models. With 200 horsepower from its single electric motor, the Bolt EV is surprisingly fun to drive with satisfying acceleration. The handy hatchback has a small footprint that makes it easy to maneuver and park. Its EPA-certified range of 259 miles on a full charge means it can be used as a super-economical commuter car.
If you act right now you'll find the 2021 Bolt EV LT with DC fast charging can be financed with 0% interest for 72 months plus $7,000 in customer cash. One key item to remember is that the Bolt EV does not qualify for the $7,500 Federal tax credit that has subsidized so many EV purchases.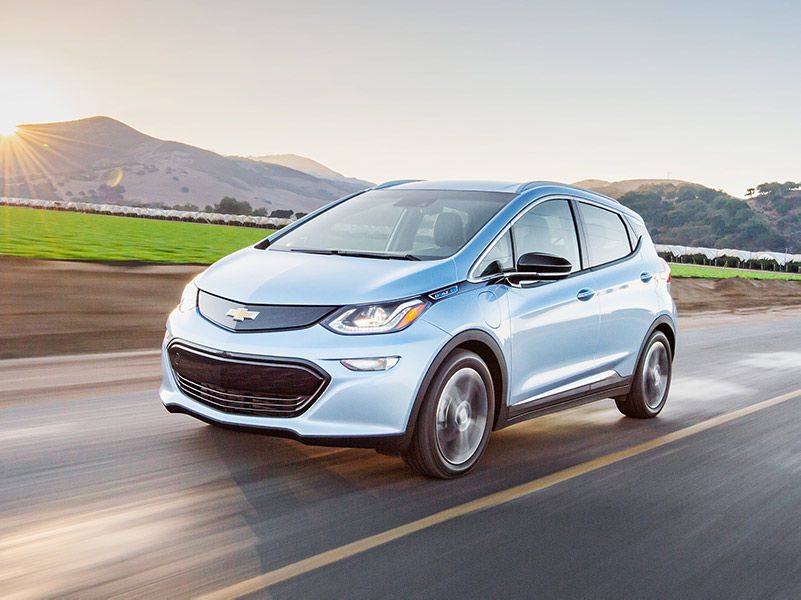 Photo by Chevrolet
2021 Volkswagen Arteon
The Volkswagen Arteon specialty 4-door coupe delivers the look and feel of a European luxury car. It has been updated for the 2021 model year with a new front end, greater levels of interior refinement, advanced connectivity, and new driver assistance options. Up to five adults plus an amazing amount of luggage will slide easily into the Arteon's tantalizing shape. Available massaging driver's seat, ventilated front seats, heated rear seats, leather seating surfaces, and harman/kardon premium audio set a high tone in the cabin. The 2.0-liter turbocharged 4-cylinder engine offers 268 horsepower and 258 lb-ft of peak torque. If you need bad-weather traction, the VW 4MOTION all-wheel-drive system is available. In standard trim, the Arteon is a front-driver.
The updated 2021 Arteon can be leased with $0 down, $0 security deposit, $0 first month's lease payment with $0 due at signing for $409 per month for 39 months. Or it can be purchased with 0% financing for 72 months.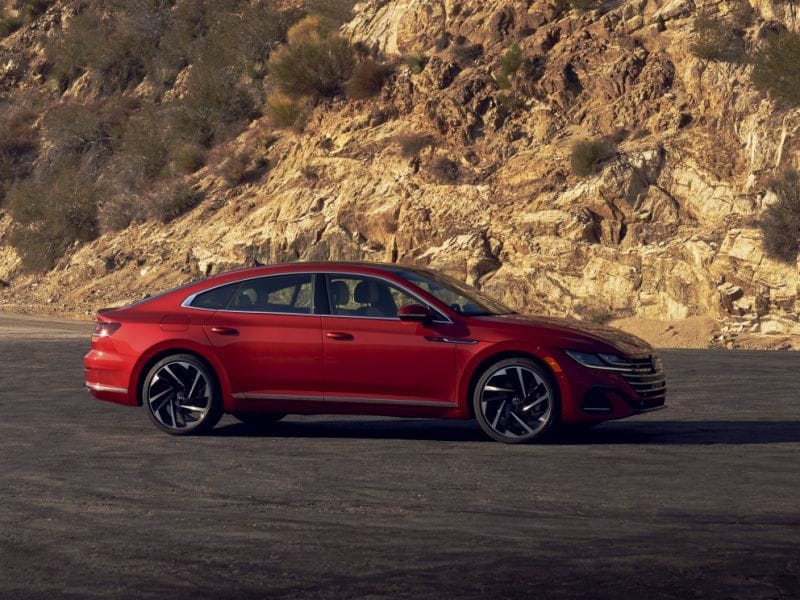 Photo by Volkswagen
2021 Toyota Avalon
The Toyota Avalon full-size 5-passenger sedan provides attractive style and driving fun in addition to its well-known reputation of high quality and utter reliability. These days the Avalon's interior style is upscale, and the car features a functional, easy-to-operate infotainment system. Under the hood, the Avalon offers a 301-horsepower V-6 engine and front-wheel drive. The XLE and Limited grades can be equipped with Dynamic Torque Control all-wheel-drive combined with a 205-horsepower 2.5-liter 4-cylinder engine teamed with an 8-speed automatic transmission. All Avalon models come with the Toyota Safety Sense-P suite of active safety systems. It includes pre-collision system with pedestrian detection, adaptive cruise control, lane departure alert with steering control, and automatic high-beams. Blindspot monitor with rear cross-traffic alert and Intelligent Clearance Sonar with rear cross-traffic braking are also available.
Toyota is offering 0% financing on the Avalon with $1,000 "bonus cash" in some areas of the country. In areas where 0% is not available other low-interest financing offers typically are.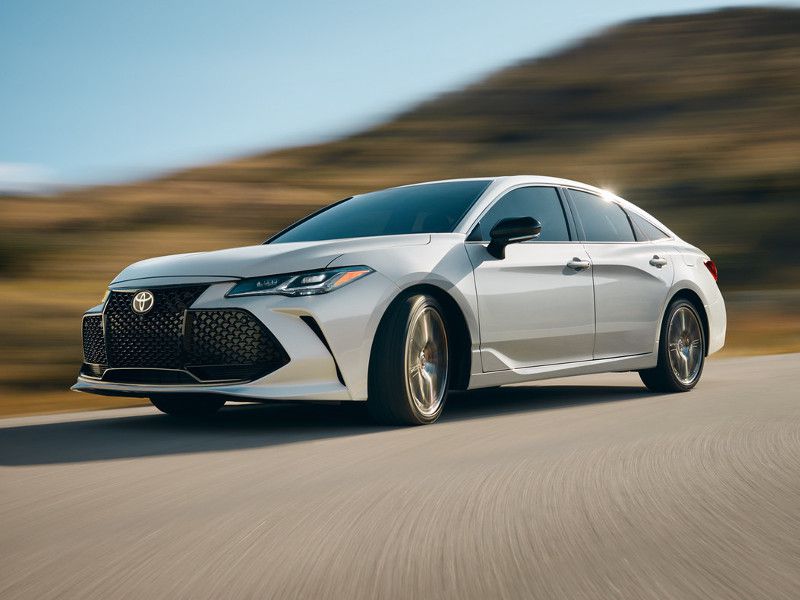 Photo by Toyota
2021 Chevrolet Malibu
If you are seeking a high-quality, high-value sedan, it might be time to take a good look at the 2021 Chevrolet Malibu. A front-drive vehicle, the Malibu boasts an impressive record of reliability, seats up to five, and delivers an unexpected level of luxury. The Malibu is equipped with Chevy's well-regarded infotainment system with new wireless Android Auto, wireless Apple CarPlay, and 4G LTE internet connectivity. Integral navigation, wireless charging, and Bose premium stereo are optional features.
Available active safety features include lane keep assist, forward collision warning, automatic emergency braking, and adaptive cruise control. The sleek sedan gives you the choice of two turbocharged 4-cylinder engines: a 163-horsepower 1.5-liter paired with a continuously variable transmission or a 250-horsepower 2.0-liter 9-speed automatic. Chevrolet is offering 0% financing for 72 months on the Malibu plus $1,500 in cash or $3,000 in discount cash.
2021 Nissan LEAF
The Nissan LEAF is all-electric, and while its performance might not be equally electric, the car can offer great service as a commuter or around-town errand-runner. For an EV its price is low when compared to competitive EVs like the Chevrolet Bolt EV and Kia Niro EV. While its standard 40.0-kWh battery pack is good for less than 150 miles of range on a charge, if you top it off every night you can commute to your heart's content. The base LEAF comes with a 147-horsepower electric motor, while LEAF Plus models have a 214-horsepower motor. Inside the lower-end models are pretty plain, while the upper-level models cost considerably more.
Nissan is offering 0% financing for 60 months plus a $1,000 purchase allowance on 2021 LEAF models. Or you can lease a LEAF for $199 per month for 36 months with just $600 due at lease signing.
2021 Subaru Outback
One of the rare station wagons available on the American market, the Subaru Outback continues to be offered with 0% financing for up to 63 months. The off-road-oriented wagon offers a wealth of interior room, all-wheel-drive traction, and impressive safety technology. Base engine is a 182-horsepower 2.5-liter horizontally opposed 4-cylinder engine, while the uplevel engine is a 260-horsepower 2.4-liter "boxer" 4-cylinder. The Steering Responsive LED headlights, standard on all trim levels, aim the headlight beams in the direction the vehicle is traveling on curved roads.
On top of a list of other safety features, Rear Seat Reminder is standard for 2021 on all Outback trims. Inside, the base infotainment system has two 7-inch touchscreens, Android Auto, and Apple CarPlay, and most trims offer an upgraded 11.6-inch touchscreen. Navigation, wireless phone charging, and the choice of two premium audio systems are also potential additions. Subaru is currently offering 0% financing for 63 months on the 2021 Outback.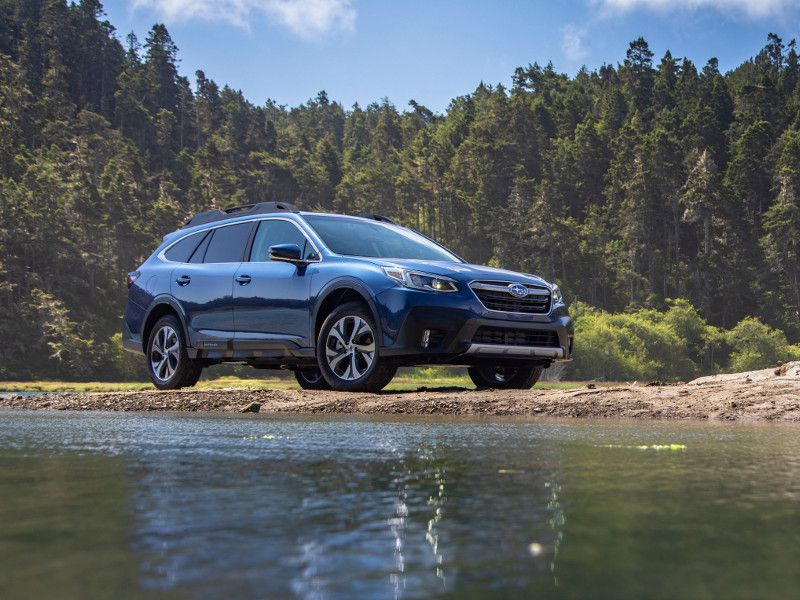 Photo by Subaru