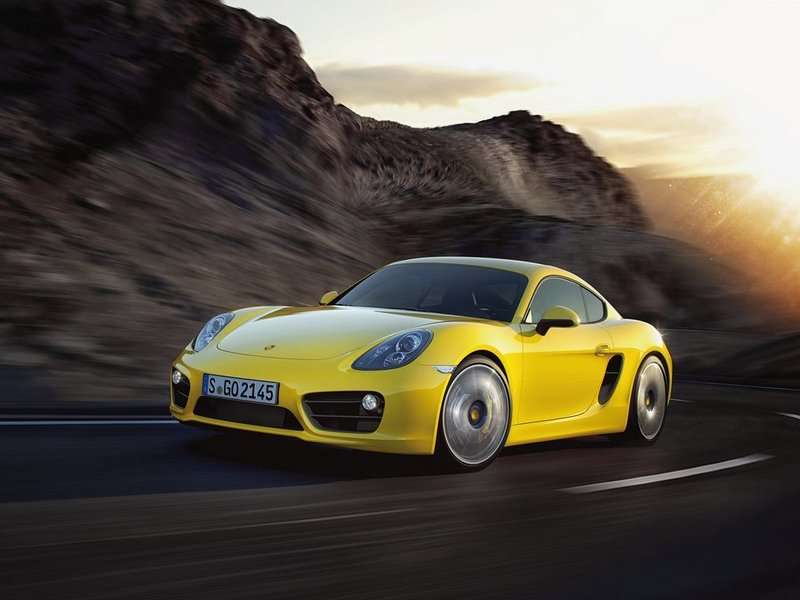 Shout "name the best two-door sports car!" into a room full of auto enthusiasts, and you're likely to be arrested for inciting a riot. First, the gang has to agree to terms. What's a sports car? A few punches are thrown before the crowd calms down with this definition: "a low-slung automobile, usually a two-seater, designed for nimble handling and enthusiastic performance. Racetrack-only vehicles need not apply."
Fisticuffs break out again when it's time to define "Best." When the dust has settled, "Best" means "excelling in one or more aspects of being a sports car, including (but not limited to): performance, handling, versatility, balance, design, and value." The terms have now been defined. The next round may never be settled, but we're going to put a stake in the ground so that you know where we stand. Here are the 10 best two-door sports cars of 2019.
2019 Audi R8 V10 plus
The 2019 Audi R8 V10 plus is a mid-engine two-seater that has a 602-horsepower V10 engine, Quattro all-wheel drive, a seven-speed dual-clutch automatic transmission (DCT), and a starting price of $194,400. That's a combination that makes it one of the 10 best two-door sports cars of 2019.
Though it shares a platform with its Volkswagen Group stablemate Lamborghini Huracan, the R8 has a comfortable, roomy cabin for two that is versatile, and styling that is more subdued yet still quite striking. As a mid-engine coupe with all-wheel drive, The R8 handles beautifully, with razor-sharp cornering and precise steering. The DCT can be manually triggered with paddle shifters, or sophisticated smart electronics can handle the gear changes with ESP-like prescience, keeping you in the right gear for the best performance. The R8 is often overlooked in the sports car roundups, but a single ride reveals its worthiness.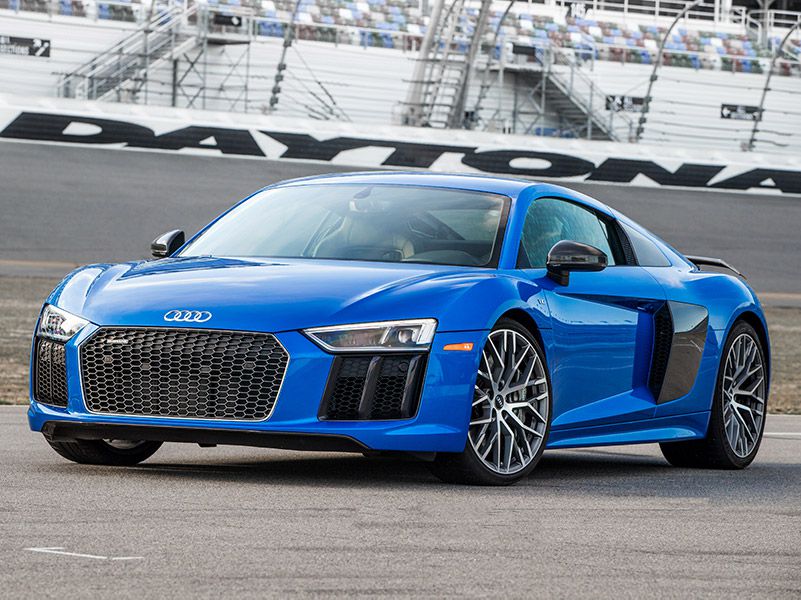 2019 Bugatti Chiron Sport
"2019 Bugatti Chiron Sport" is the easy answer to the question "Which sports car would you buy if you had all the money in the world?" You don't actually need all of the money in the world – just $3,260,000.
For the price, you get an 8.0-liter turbocharged W16 engine that churns 1,500 hp and 1,180 lb-ft of torque into a seven-speed automatic transmission with all-wheel drive. That powertrain fits into a hand-built two-seater with a very high level of luxury, supreme comfort, sophisticated technology features, and exclusivity that virtually assures that your sports car will remain valuable as long as you own it. It takes money to make money, but the Chiron Sport qualifies as an investment vehicle – and maybe even a value, considering how rapidly prices for previously owned examples have risen.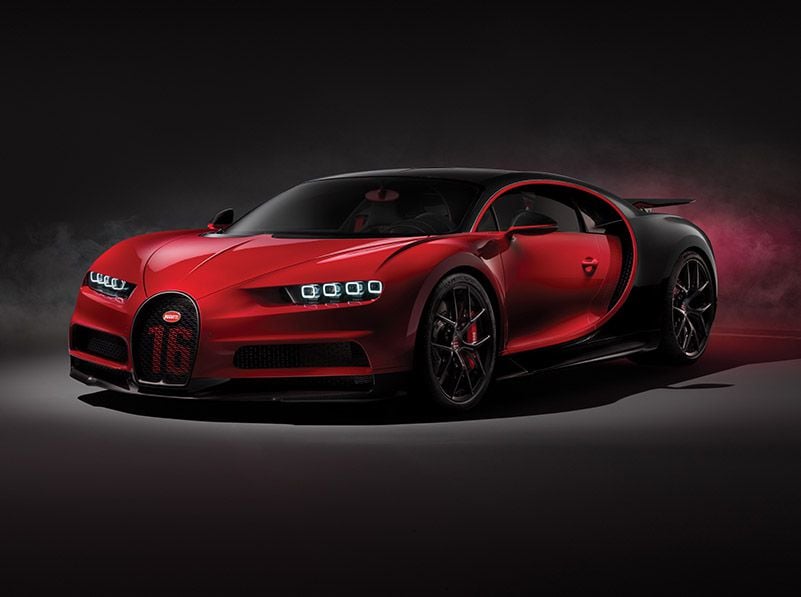 2019 Chevrolet Corvette ZR1
"America's sports car" has inspired songs, films, and legends, and it even has its own museum. On the eve of a new generation of Corvette (the C8) that will completely remake this sports car into a mid-engine supercar, the 2019 Chevrolet ZR1 is so far the most potent and capable edition ever to roll out of the factory in Bowling Green, Kentucky.
The 2019 ZR1's front-mounted 6.2-liter supercharged LT5 V8 engine is GM's first to use a dual fuel injection system (primary direct injection plus supplemental port injection), and it manages to squeeze out 755 hp and 715 lb-ft of torque. Extensive use of carbon fiber has been used to reduce weight, and it allows the ZR1 to scoot from 0-60 mph in 2.85 seconds on the way to a top speed of 212 mph. Prices start at $123,000.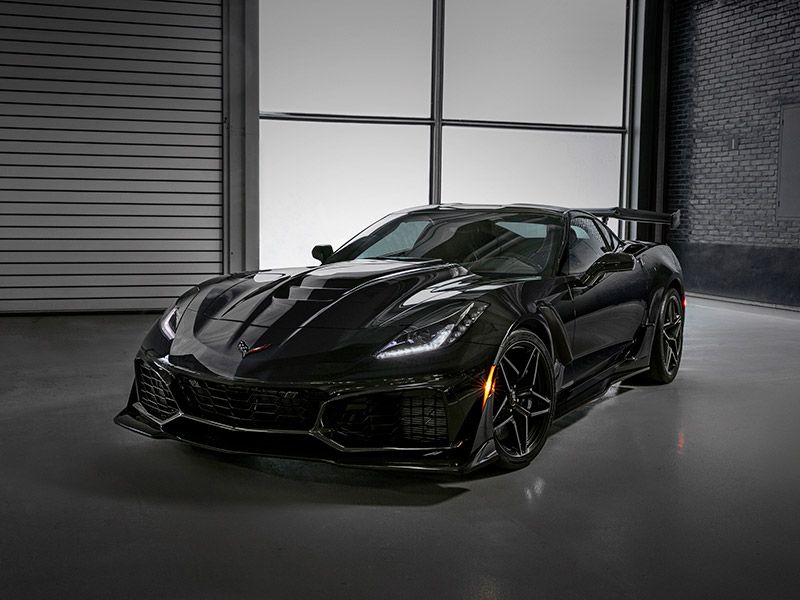 2019 Dodge Challenger SRT Hellcat Redeye
It's not the prettiest. It's not the most sophisticated. But it is the most badass sports car on the planet right now, hands-down, and it's one of the most accessible vehicles among the 10 best two-door sports cars of 2019. The 2019 Dodge Challenger SRT Hellcat Redeye takes many of the lessons learned from the limited-production 2018 Dodge Demon, and puts them to use in a two-door coupe that is available in wide production.
Let others get mired in the muscle car/sports car debate. Just enjoy this supercharged 6.2-liter Hemi V8 with 797 hp and 707 lb-ft of torque. Launch mode helps the Hellcat Redeye get down the strip with a 0-60 mph time of 3.4 seconds on the way to a 10.8-second quarter-mile at 131 mph and a top speed of 203 mph. Is it a sports car? Chase it to find out. Prices start at $71,350.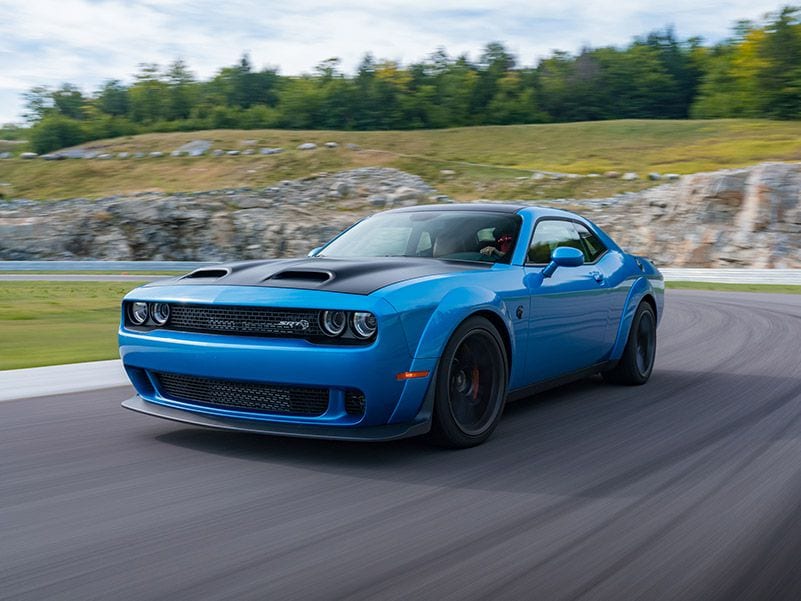 Photo by Fiat Chrysler Automobiles
2019 Ferrari Portofino
Some would load up their choices for the best two-door sports cars with Ferrari after Ferrari, and who could take issue with that? However, we're including just one – the "entry-level" 2019 Ferrari Portofino.
The Portofino makes our list thanks to its extreme beauty and luxury. While mid-engine Ferrari models are renowned for their performance, they must bow to the front-engine, rear-drive Portofino when it comes to comfort and all-around drivability. This is the sports car that you can drive every day – and on a beautiful day, the retractable hardtop can be stowed in just 14 seconds, while the Portofino drives along at low speed. Prices start at around $214,000 with a 591-hp twin-turbocharged 3.9-liter V8 engine, carbon-ceramic brakes, an adaptive suspension, and an electronic limited-slip differential.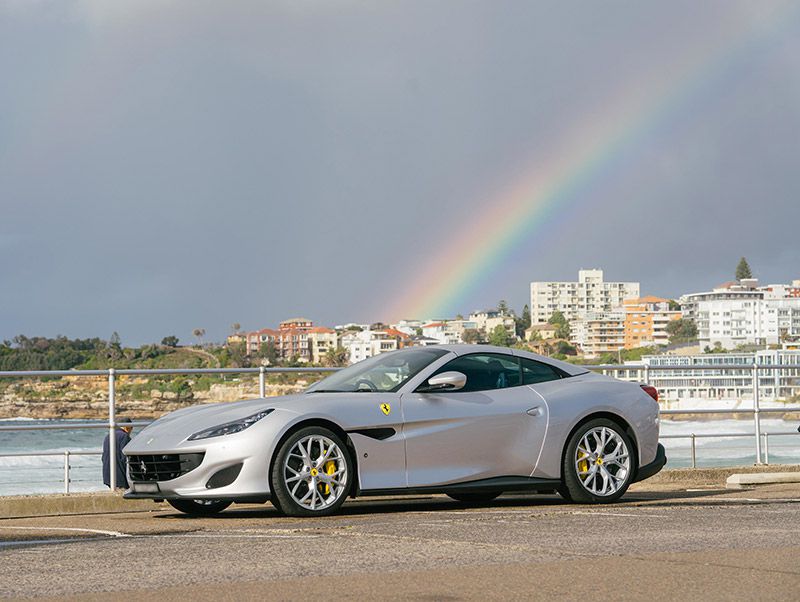 2019 Lamborghini Aventador SVJ
Nine hundred lucky buyers will have the chance to buy a new, limited-production 2019 Lamborghini Aventador SVJ. That crowd of under 1,000 will lay out at least $517,770 each for the privilege of owning one of the best two-door sports cars. "SVJ" stands for "Superveloce Jota," or "Superfast Jota."
The SVJ makes extensive use of carbon fiber in its construction, most notably in its monocoque. This lightweight, yet strong and rigid material is also used as an aesthetic element in the car's interior. The vehicle also features an innovative four-wheel active steering system, along with four-wheel active suspension, resulting in lightning-fast steering response and incredible stability and controlled body movement – essential when you're dealing with a car that uses a 770-hp V12 to get from 0-62 mph in just 2.8 seconds.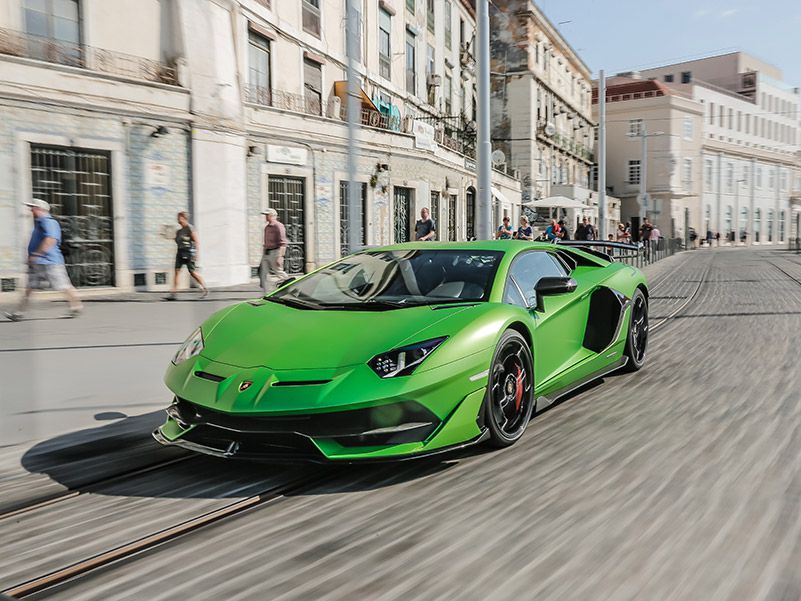 2019 Lexus LC 500
Even the best two-door sports cars are finicky and uncomfortable, right? Not anymore. Luxury, comfort, and dependability have been baked into models like the 2019 Lexus LC 500. Starting at $92,200, the LC 500 takes the lessons learned from the company's LF-A supercar and translates them into a gorgeous, capable, comfortable form.
This low-slung front-engine, rear-drive two-seater somehow integrates Lexus design DNA into a body that swoops and curves. Inside, Lexus quality is visible and tactile throughout, with a high degree of attention paid to ergonomics and ease of use. Under the hood, a lusty 5.0-liter naturally aspirated (non-turbo) V8 engine pumps out 471 hp and 398 lb-ft of torque through a 10-speed automatic transmission. The throaty exhaust note growls "sports car," while the serene cabin whispers "Lexus."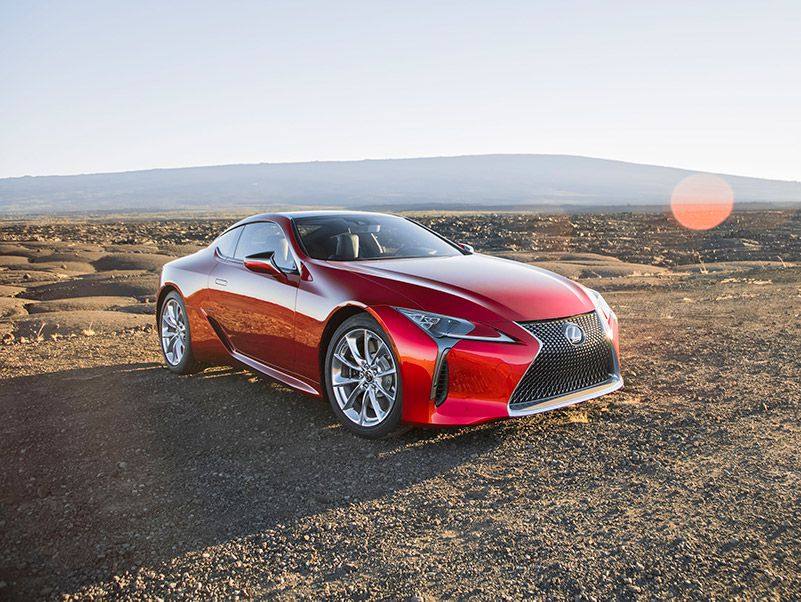 Photo by Lexus
2019 Mazda MX-5 Miata RF
How does a $32,345 Mazda with just 181 hp join the list of the best two-door sports cars? By remaining true to its mission to be one of the most perfectly balanced cars on the road, and an incredible value for anyone who appreciates driving dynamics.
We chose the Miata RF over the soft-top version for our list, because it ups the versatility of the MX-5 without significantly raising the cost or weight. While the soft-top Miata is quiet and comfortable, the RF's partially retractable hardtop delivers even greater levels of serenity, and still transforms to open-air delight in moments. The Miata lets you wring out more of its potential performance than any other car on this list, and more smiles per mile per dollar is an important equation when you're calculating which sports car is the best.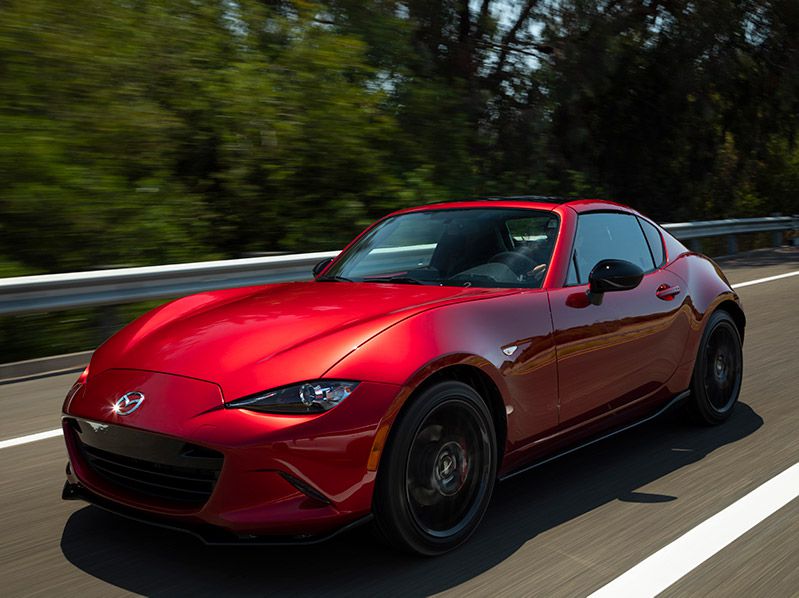 2019 Mercedes-AMG GT R
Both retro and incredibly modern, the 2019 Mercedes-AMG GT R coupe is a wonder of engineering and design. With prices starting at $159,350, this two-door sports car presents a menacing face in front of a long hood, steeply raked windshield, sleek greenhouse, and truncated deck lid dressed with a race-inspired spoiler. Big side air intakes and deeply scalloped doors add to the exterior's distinctive, Art Deco-inspired look, while the interior is tailored, aircraft-influenced and high-tech.
A twin-turbocharged 4.0-liter hand-assembled AMG V8 engine (featuring 577 hp and 516 lb-ft of torque) sends power to the rear wheels via a seven-speed dual-clutch automatic transmission. Four-wheel independent double-wishbone suspension with three-stage electronically controlled shock absorbers deliver a controlled ride in all conditions. If ever a sports car felt like it was carved from a single, solid piece of material, the AMG GT R is that vehicle, and it's one of the best two-door sports cars around.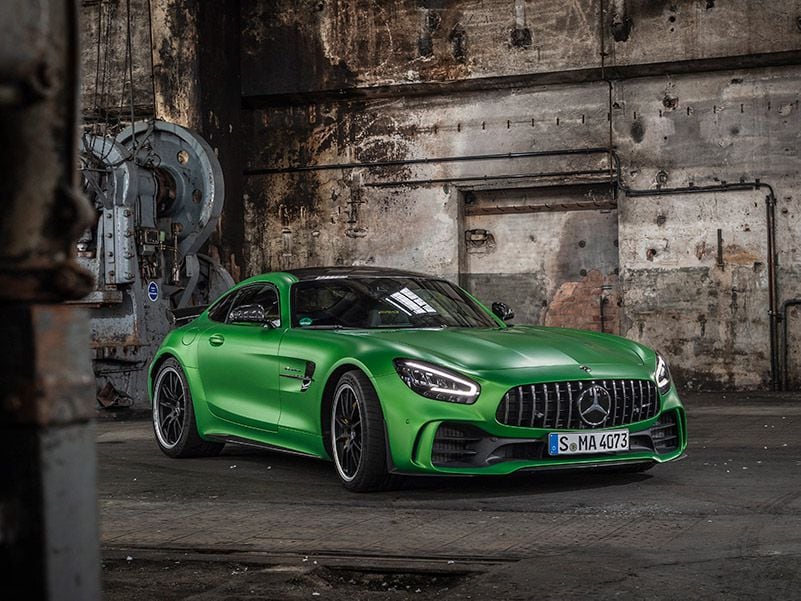 Photo by Mercedes-AMG
2019 Porsche 911 Speedster
The new 2020 Porsche 911 (992) is on its way, but the last hurrah of the 991 generation will leave its mark, joining our list of the best two-door sports cars. The 2019 Porsche 911 Speedster will be a limited-production model, with just 1,948 examples produced.
With a body based on the 911 Carrera 4 Cabriolet, the Speedster features carbon fiber composite fenders, hood and trunk lid mounted on a 911 GT3 chassis. It has shortened window frames with a lower cowl top, smaller side windows, and a double-bubble cover behind the seats. A lightweight tonneau cover secured by buttons takes the place of the convertible top. A naturally aspirated flat-six engine with 493 hp on tap sends power to the rear wheels. Prices will start at $274,500 for this instant collectible. Gentlemen, start your checkbooks.