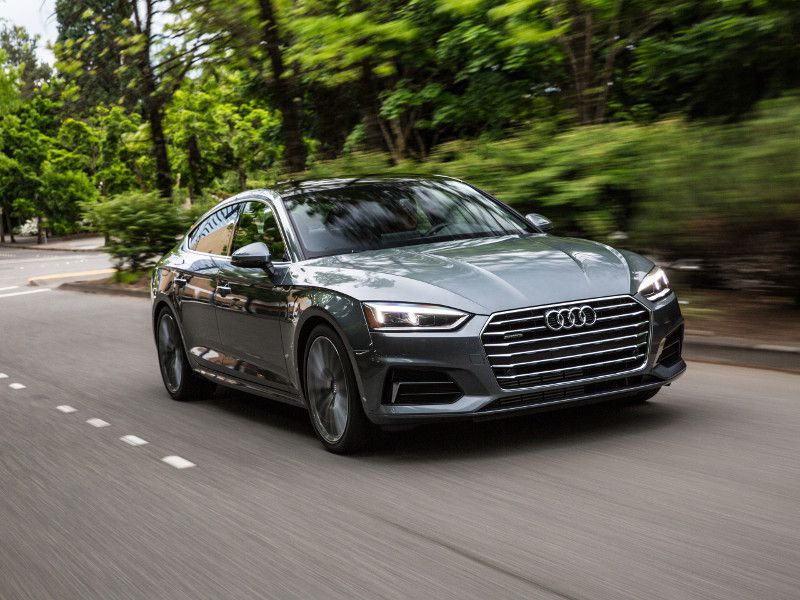 2018 Audi A5 Sportback driving ・ Photo by Audi
The A5 has occupied the middle of the Audi lineup since its debut as a 2008 model, in close relationship to the A4 and A6. Now in its second generation, the A5 can be the "just right" choice for an executive who can't decide between the even-numbered options.
The 2019 Audi A5 is available in three body styles: coupe (two-door), Cabriolet (two-door soft-top convertible), and Sportback (four-door liftback). Coupe and Cabriolet models are set up for four passengers, and the Sportback adds capacity for a fifth passenger. The coupe gets a 108.8-inch wheelbase, the Cabriolet's is a smidge longer at 108.9 inches, while the Sportback's is stretched to 111.0 inches. There are also S5 variants of each body style, along with an RS5 Coupe and RS5 Sportback. A5 prices start at $44,200 for the Sportback and coupe and $51,200 for the Cabriolet. Here are 10 Audi A5 competitors to consider, listed alphabetically.
2019 Acura TLX
Though it is frequently overlooked as a competitor for the A5, the 2019 Acura TLX is a solid, luxurious and technologically advanced compact sedan that packs a secret weapon — it is a member of the Honda family. Over the past decade, that has meant superior reliability and durability, and leading safety features. AcuraWatch technology is standard on every trim level, and includes collision-mitigating braking, adaptive cruise control, and lane-keeping assist.
Only one body style, a sedan, is available. But there are two engine choices: a 206-hp 2.4-liter four-cylinder or a 290-hp 3.5-liter V6. All-wheel steering comes with each engine, or you can select all-wheel drive with the V6. TLX prices start at $33,000 and top out at $45,950 with all the boxes checked.
Photo by Acura
2019 Audi A4
Audi does a good job of stepping up the content from model to model, but there's a case to be made for considering the 2019 Audi A4 over the A5. The A4 is available in two body styles: a traditional notchback four-door sedan and a station wagon Audi calls the Allroad. Like the A5, the engine is a 2.0-liter turbocharged four-cylinder. A detuned 188-hp version comes with the front-wheel drive A4, while a 248-hp version comes with Quattro and Allroad models, matching the A5's setup.
The A4 sedan and A5 Sportback have the same 111.0-inch wheelbase. The Allroad's wheelbase is 0.1 inches shorter. When similarly equipped, the A4 is about $1,300 less than the A5, and it has a starting price of $37,400 for the Premium with front-wheel drive — $4,800 less than the lowest-priced A5.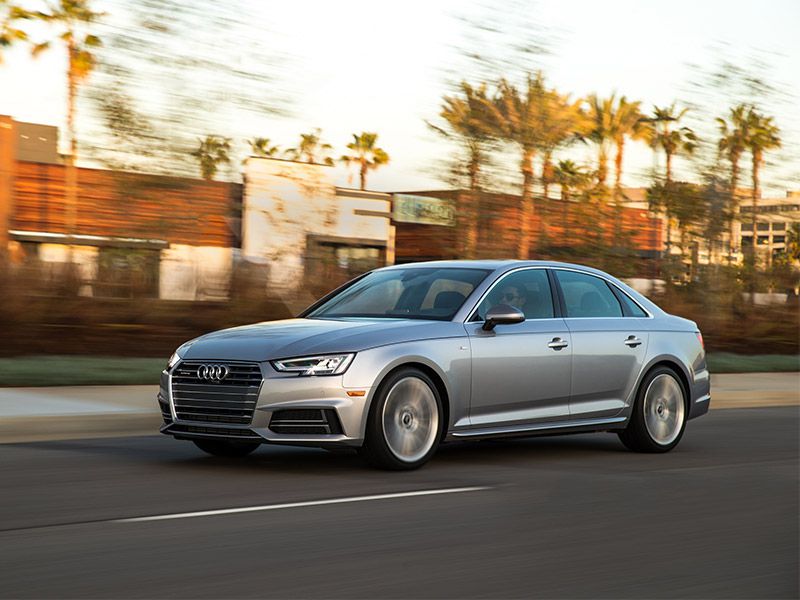 Photo by Audi
2019 BMW 4 Series
Like its Audi A5 competitor, the BMW 4 Series was shoehorned into its brand lineup after starting life as a variant of the 3 Series. The 4 Series is available in three body styles, matching the A5: a two-door coupe (starting at $44,600), a liftback four-door Gran Coupe (starting at $44,600), and a two-door convertible (starting at $52,950). Unlike the A5's droptop, the 4 Series convertible features a retractable hardtop.
Two engine choices are available in the 4 Series: a 248-hp 2.0-liter twin-turbocharged four-cylinder and a 320-hp 3.0-liter twin-turbocharged inline six-cylinder. Rear-wheel drive is standard with all-wheel drive optional. BMW also offers performance versions of the 4 Series: the M4 coupe (starting at $69,150) and M4 convertible (starting at $77,650), matching up with the RS5 and packing a 425-hp version of the 3.0-liter twin-turbocharged inline six-cylinder.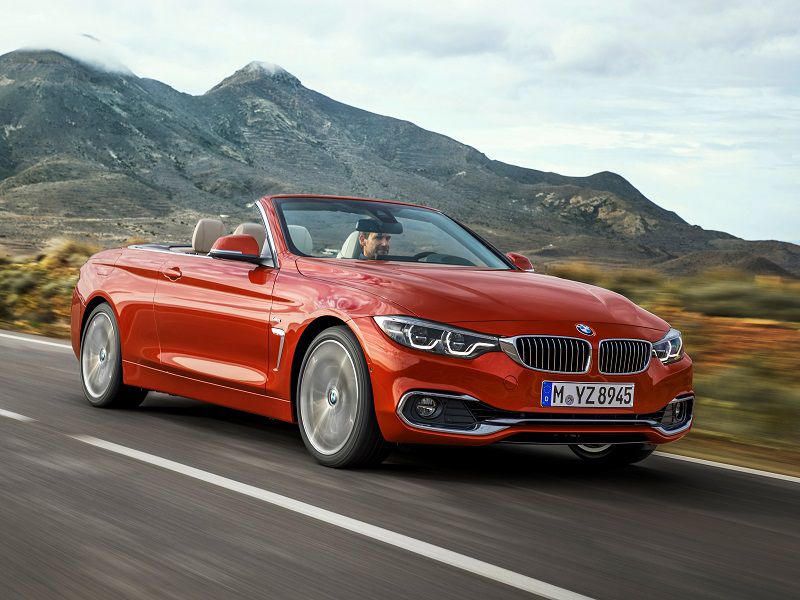 Photo by BMW
2019 Cadillac ATS
Not too many years ago, putting a Cadillac on the list of competitors for a German performance car would be seen as jingoistic. But that was before the Cadillac ATS came along to go toe-to-toe with the Audi A5. Debuting as a 2013 model, the ATS has been praised for its European character, performance, and driving dynamics.
The 2019 Cadillac ATS is a rear-wheel drive or all-wheel drive two-door coupe that seats four. It is available with a 2.0-liter turbocharged four-cylinder engine (with 272 hp and 295 lb-ft of torque) or a naturally aspirated (non-turbo) 3.6-liter V6 engine with 335 hp and 285 lb-ft of torque. Topping that, there's a performance version, the ATS-V (starting at $67,795), that comes with a 3.6-liter twin-turbocharged V6 that produces 464 hp and 445 lb-ft of torque, and can rocket from 0 to 60 mph in 3.8 seconds. That's one quick Caddy!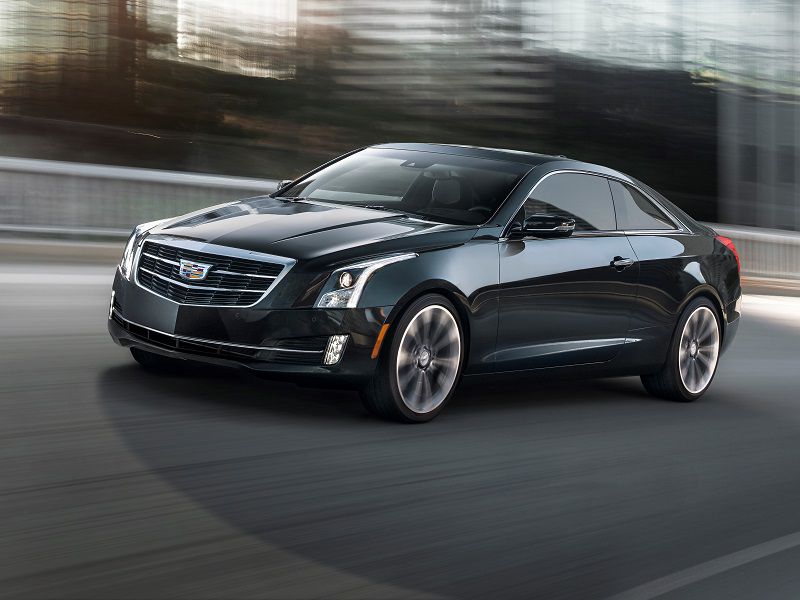 Photo by Cadillac
2019 Genesis G70
If you follow the car awards very closely, you probably noticed the piles of honors recently heaped on the 2019 Genesis G70, marking it as a noteworthy competitor for the Audi A5. As the newly minted Genesis brand, derived from parent company Hyundai in 2017, fills in its lineup, the G70 takes its place as the marque's smallest sedan offering, slotting in beneath the G80 and G90 models.
The G70 is a front-engine, rear-wheel drive or all-wheel drive four-door sedan with sporty styling and a host of technology and luxury features. Starting at $34,900, the G70 comes with a choice of two turbocharged engines: a 252-hp 2.0-liter four-cylinder and a 365-hp 3.3-liter V6. Enthusiast drivers will appreciate the availability of a six-speed manual transmission with the G70 2.0T RWD, which also comes with sporty features like aluminum trim, alloy pedals, and Brembo brakes.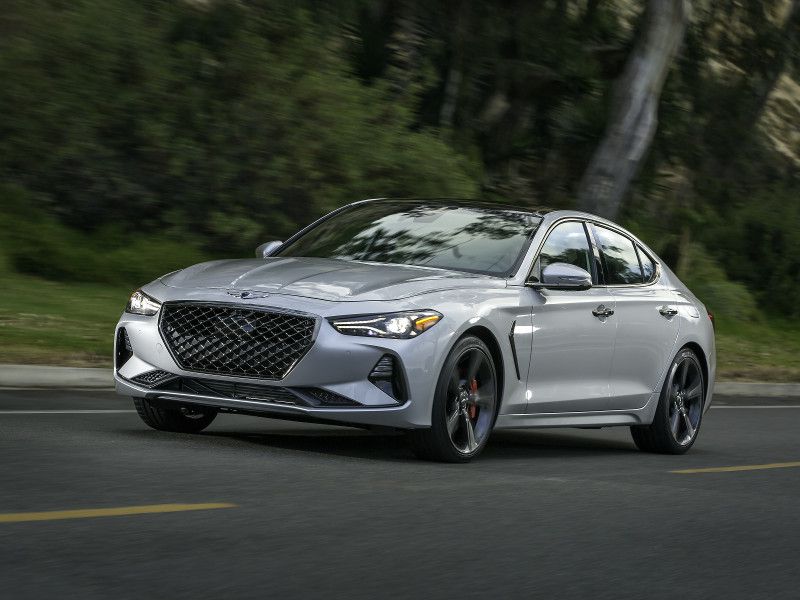 Photo by Genesis
2019 Infiniti Q60
Like the Acura TLX, the Infiniti Q60 is often overlooked on the list of competitors for the Audi A5. It's a mistake to ignore the 2019 Infiniti Q60, especially if you appreciate craftsmanship and truly high levels of fit and finish.
This two-door is set up as a front-engine, rear-wheel drive or all-wheel drive coupe that seats four. It comes with a twin-turbo 3.0-liter V6 engine and seven-speed automatic transmission. In its Pure and Luxe trim levels, the engine is tuned to deliver 300 hp. In Red Sport trim, output is boosted to 400 hp, which really livens up performance. Handling is enhanced with Infiniti's intelligent all-wheel drive system, which uses torque vectoring to improve cornering performance. Prices start at $40,750 for the Pure RWD and go up to $56,900 for the Red Sport 400 AWD.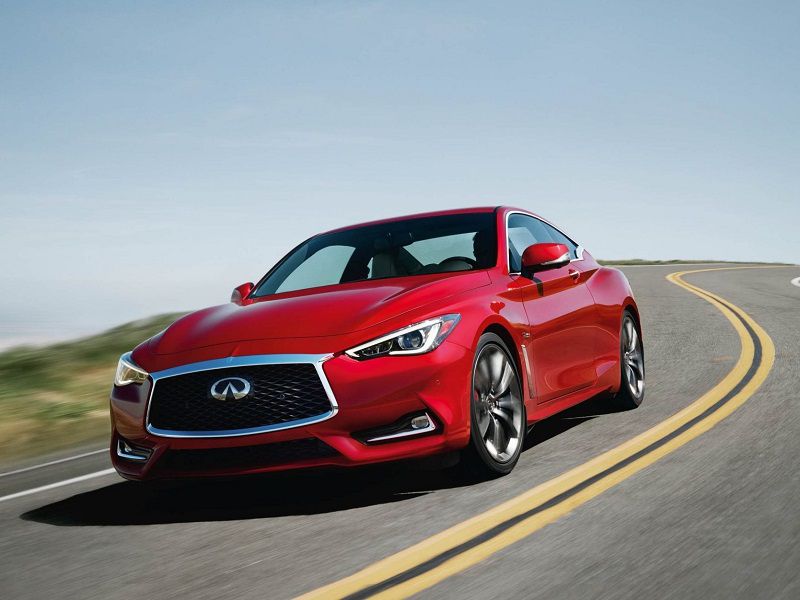 Photo by Infiniti
2019 Jaguar XE
If you're looking for a stylish compact luxury car with an available diesel powertrain, you'll have to look beyond the Audi A5 to the 2019 Jaguar XE. The four-door sedan is available with a choice of a 2.0-liter turbocharged four-cylinder diesel engine, a 2.0-liter turbocharged four-cylinder gasoline engine, or a supercharged 3.0-liter V6.
The big advantage of the diesel engine is big torque (317 lb-ft), and fuel economy as high as 42 mpg. The turbo gas engine is no slouch, either, delivering up to 34 mpg, and available in two states of tune (247 hp and 296 hp), and the supercharged gas V6 manages to squeeze out 30 mpg while pumping 380 hp. Being a Jaguar, it offers multiple levels of luxury and performance trim, from the base XE (starting at $36,995) all the way to the Portfolio AWD (starting at $60,090).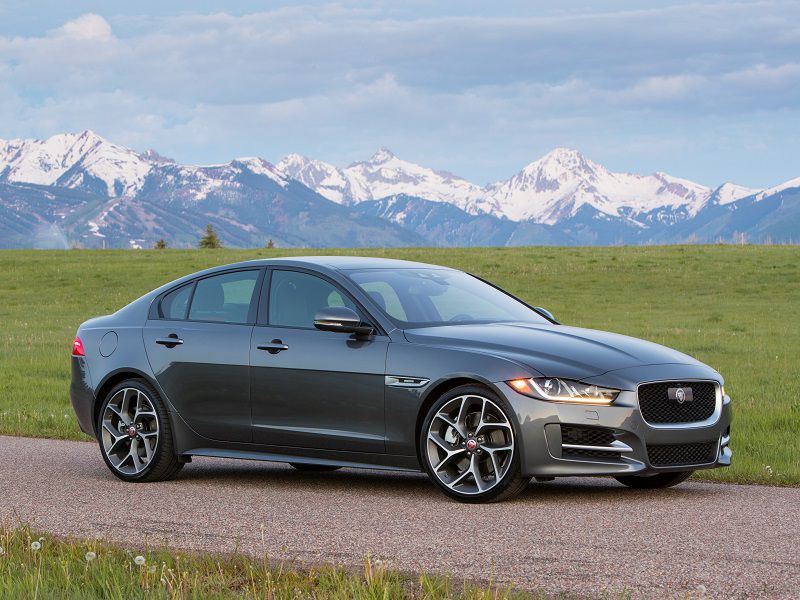 Photo by Jaguar
2019 Lexus RC
You know that Lexus has turned a design corner when we call the 2019 Lexus RC one of the sexiest cars in the lineup. The RC has to cede the "sexiest Lexus" designation to the LC, but not by much. And when it comes to premium performance coupes, the two-door RC is a car that A5 shoppers would be wise to consider.
The RC can be outfitted with either a 241-hp 2.0-liter turbocharged inline four-cylinder engine or a 311-hp 3.5-liter naturally aspirated V6 gas engine. Prices for the RC 300 RWD start at $41,145 and go up to $52,400 for RC 350 F Sport AWD. The RC has also spawned a high-performance variant, the RC F, that comes with a 5.0-liter naturally aspirated V8 that puts out 467 hp, starting at $65,745.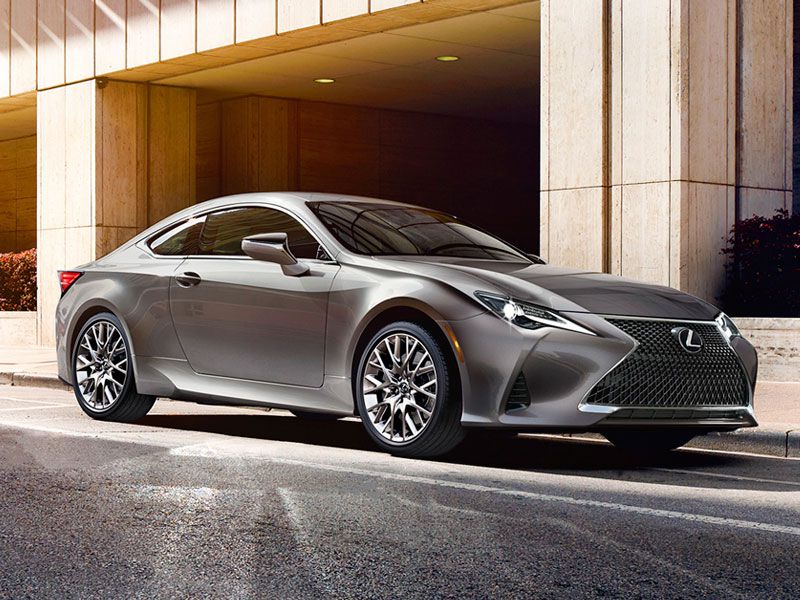 Photo by Lexus
2019 Mercedes-Benz C-Class
The most veteran model in our roundup of A5 competitors, the 2019 Mercedes-Benz C-Class is the latest in a line of compact luxury cars that stretches back four generations to the 1994 model year. Like the A5, the C-Class is available as a two-door coupe (starting at $43,800), a four-door sedan (starting at $41,400), and a two-door soft-top cabriolet (starting at $51,850).
One advantage for C-Class sedan over A5 is the availability of a plug-in hybrid gasoline-electric (PHEV) version, the C350e (starting at $47,900), which is capable of up to nine miles of electric-only range. Mercedes-Benz's performance division, AMG, performs its magic on the C-Class, too, delivering nine different C-Class variants with ever-increasing performance potential, and prices from $55,250 for the AMG C 43 sedan to $83,800 for the 503-hp AMG C 63 S Cabriolet.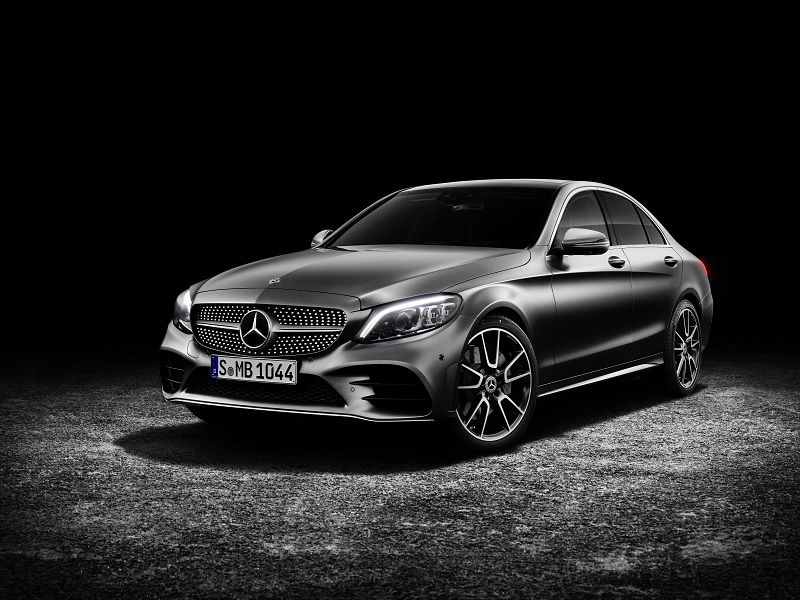 Photo by Mercedes-Benz
2019 Volvo S60
As the Swedish brand has been remaking its lineup over the past few years, the 2019 Volvo S60 has finally gotten the treatment and moved to the Scalable Product Architecture (SPA) platform that underlies the successful XC90, XC60, S90, and V90. Nevertheless, S60 is available as a four-door sedan starting at $35,800 for the Momentum trim, while its V60 wagon variant starts at $38,900.
Beyond the range of powertrains available, including a T8 plug-in hybrid, one of S60's big competitive differences is Care by Volvo, a subscription service that is an alternative to traditional buying or leasing. A Care by Volvo subscription includes the vehicle, insurance, maintenance, and roadside assistance in one flat-rate monthly payment, as low as $750 per month for the Momentum or $850 per month for the upper-level R-Design.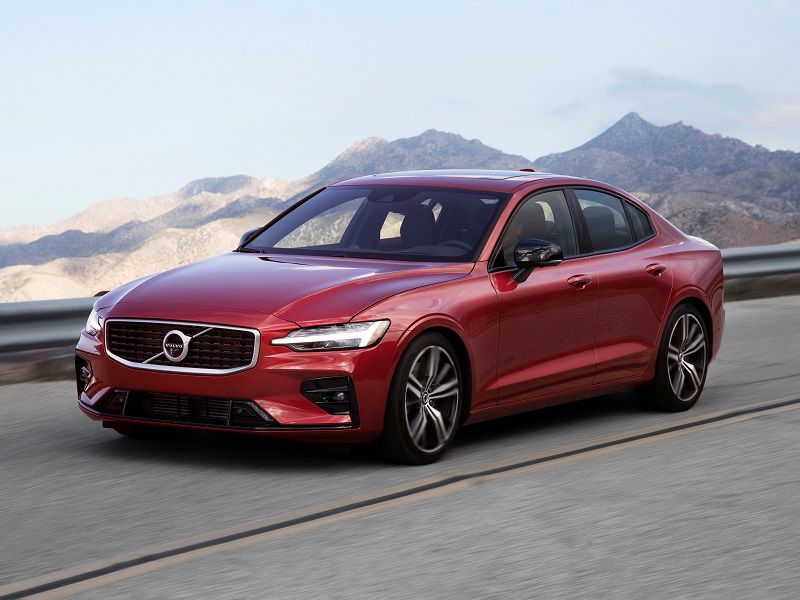 Photo by Volvo